This birthday rainbow cake is the ultimate colorful birthday cake of my dreams! It is a 6 layer cake with each layer a different color. This cake is filled and slathered in a creamy cream cheese frosting. It is topped with rainbow sprinkles and a pink white chocolate drip. You have to make this cake at your next birthday party.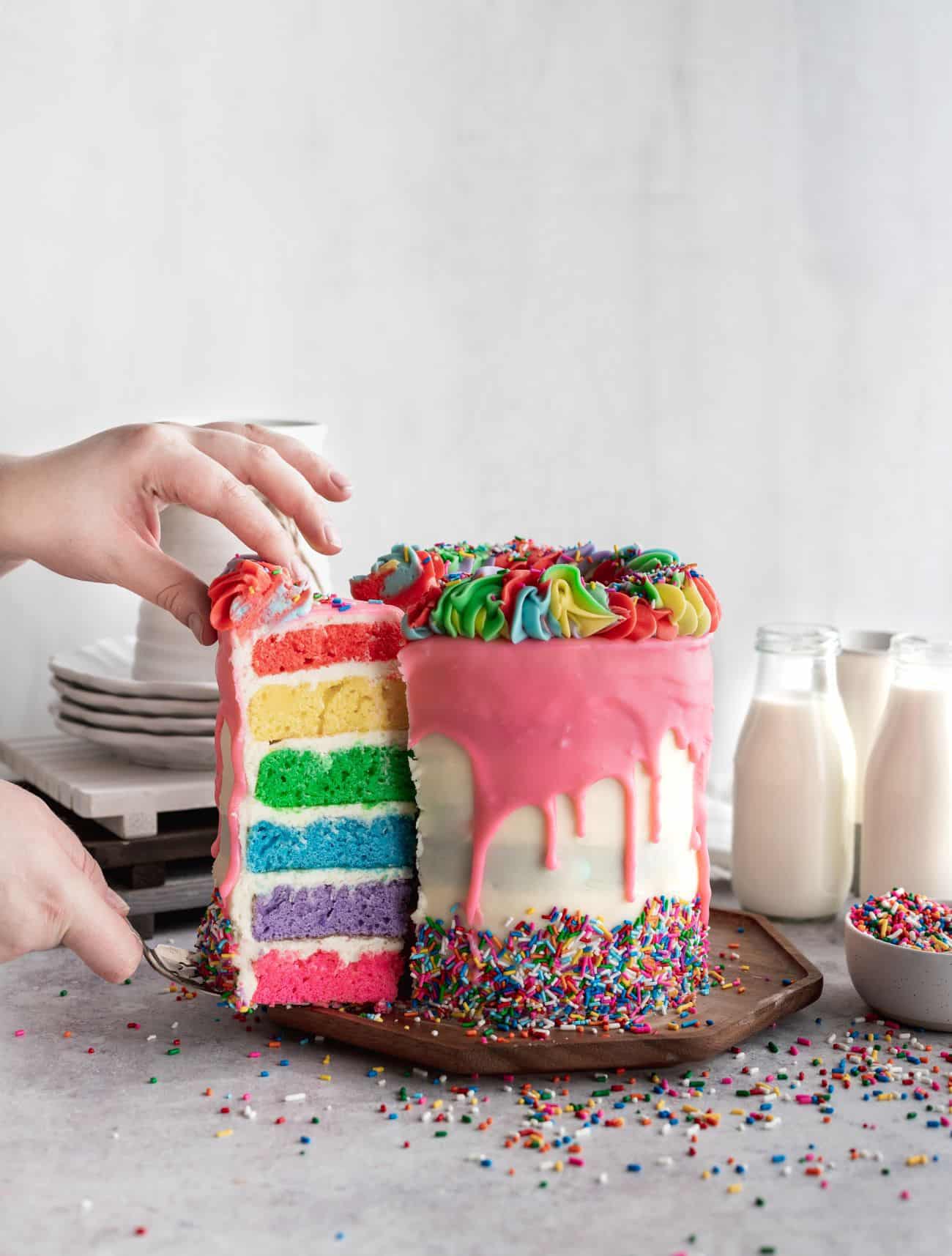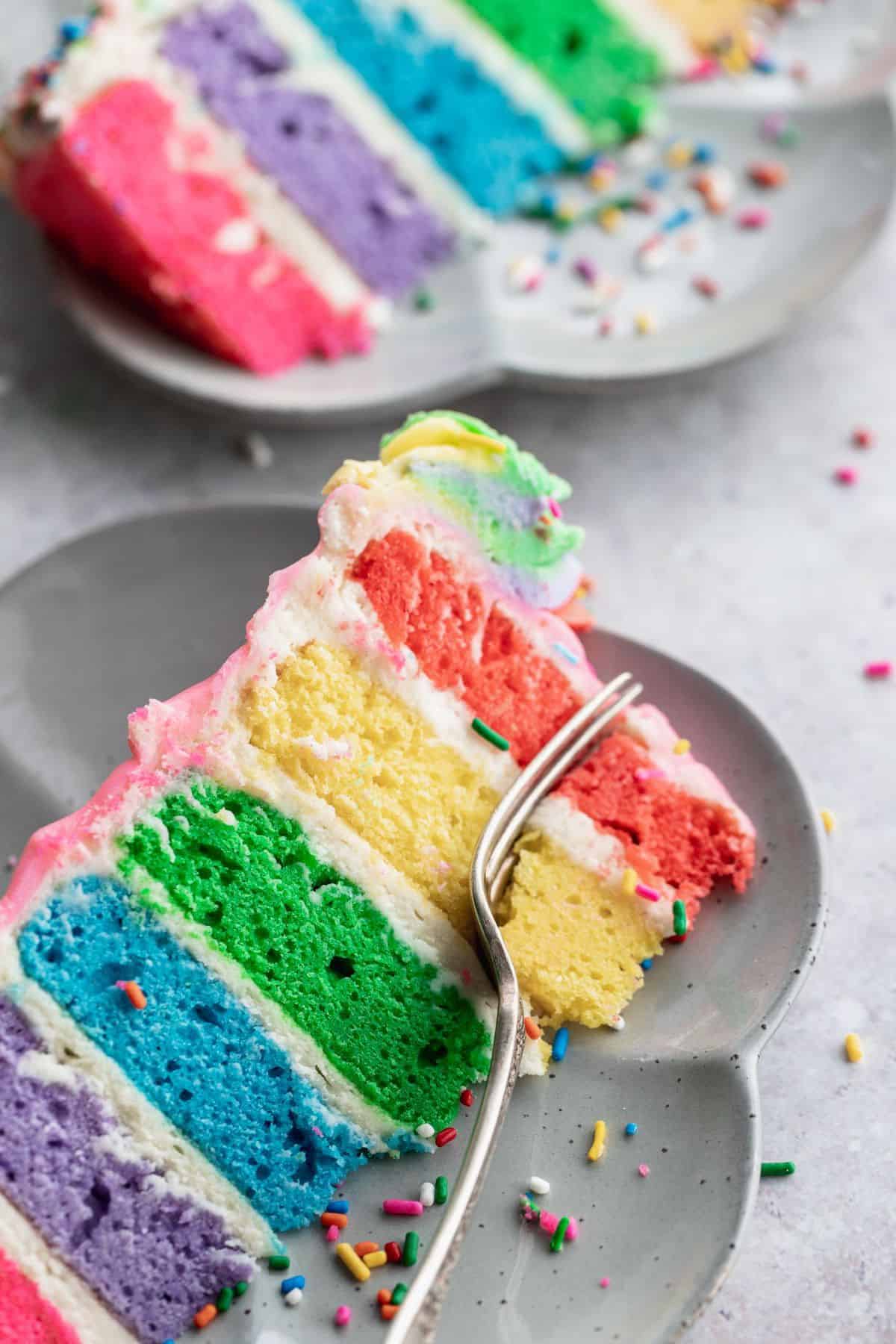 What Size Pans To Use
This part is the best place to start. I tried making this cake in both 8 inch cake pans and 6 inch cake pans. Separating the cake into 6 layers for the 6 colors, means there is not a lot of batter per pan.
The 8 inch cake pan makes the cake layers into flat pancake layers. The 6 inch cake pans will give the cake good layers.
To prevent the cake from sticking to the pans, make sure to spray with a baking non-stick spray. Then, place a 6 inch parchment circle on top of the bottom.
How To Make Cake Batter
Mix dry ingredients- Make sure to use a sifter with the flour. This will give the flour a much lighter texture which helps the cake.
Beat butter and sugar- Beat these two together for 3 minutes. The butter should be super light in texture.
Add in sour cream- The sour cream needs to be full fat. The fat content helps to break down the gluten.
Add in egg whites and eggs- Add each egg one a time. Let the egg get mixed in fully before you add the next one.
Clear imitation vanilla- This vanilla is sweeter in taste than pure vanilla extract. I chose this vanilla to play on this sweet cake.
Add dry ingredients and buttermilk- Add both of these in intervals. If you don't have buttermilk, you can use 1 cup cow milk, and 1 tablespoon of lemon juice. Let it sit for 10 minutes before using.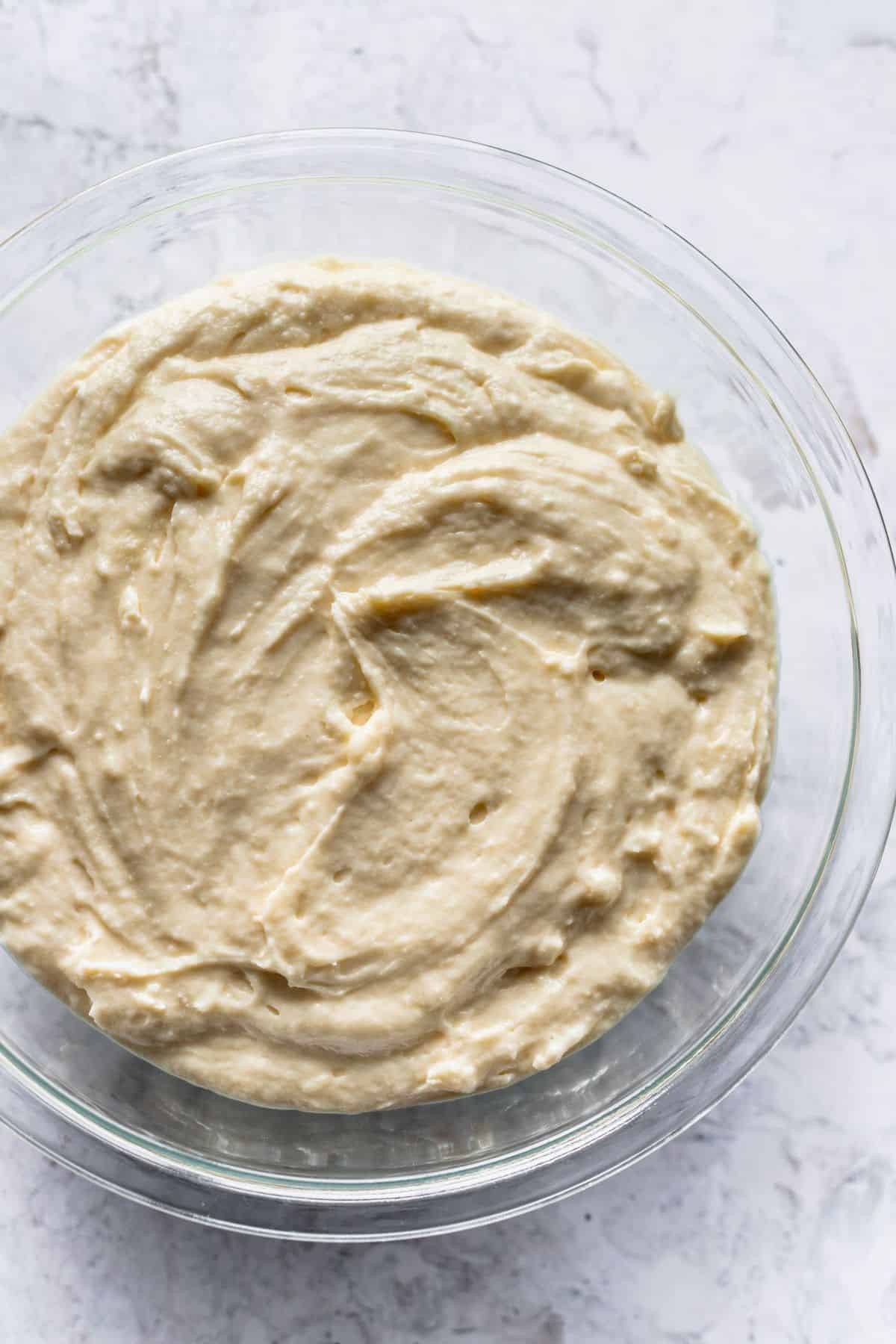 What Type Of Food Dye To Use
My favorite gel food dye is Americolor. It gives a strong color with only a tiny bit of dye. Each layer of birthday rainbow cake should only use a tiny drop of dye. It is the when you eat a colorful dessert and it tastes like food dye.
Make sure to fold the dye gently into batter. Over mixing will cause it to be too tough.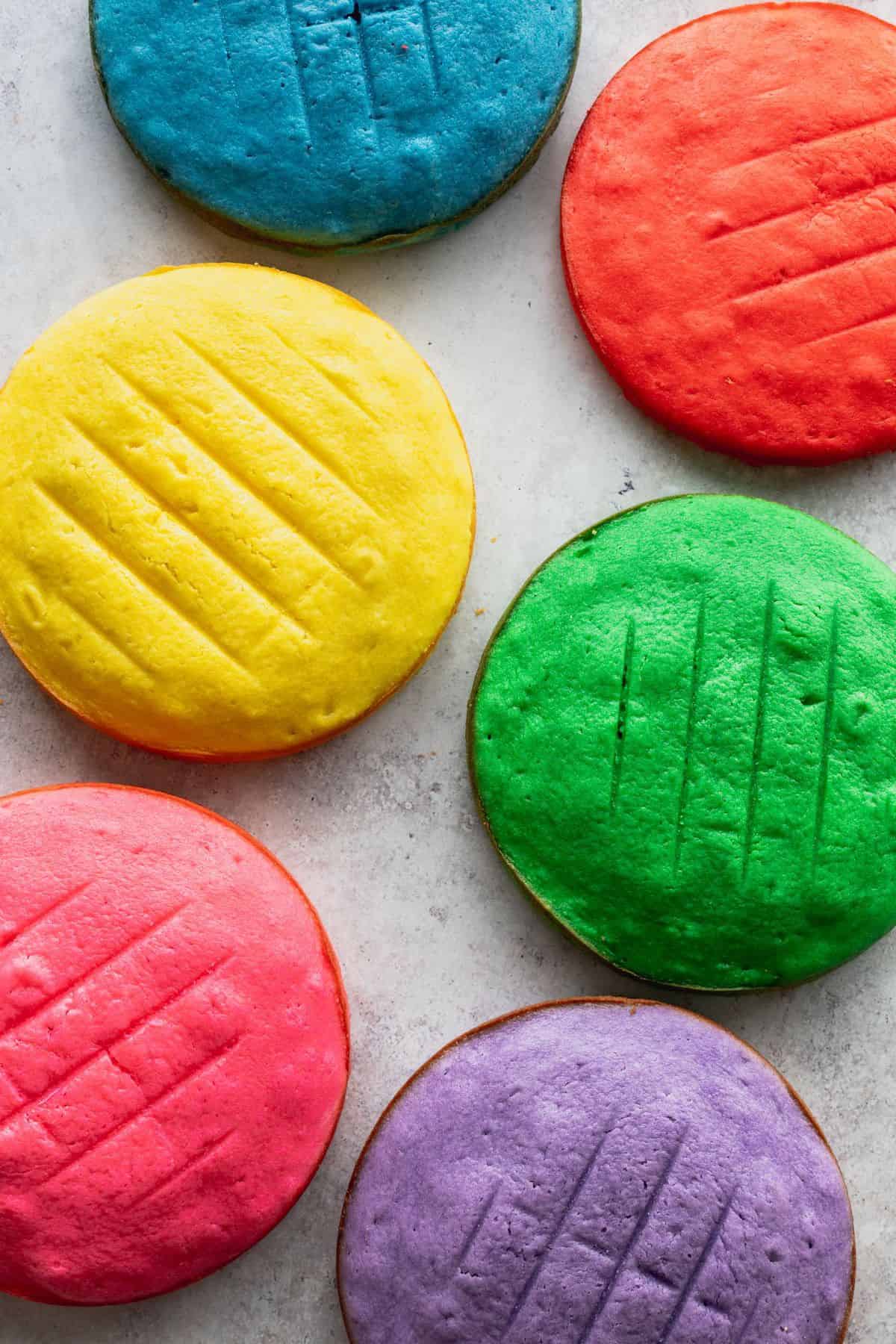 Cream Cheese Frosting
This is my favorite cream cheese frosting. This frosting is thick enough to frost the cake in a sturdy layer of frosting, but still has that tangy cream cheese flavor.
The first tip is to pull the cream cheese out 2 hours before baking. Room temperature cream cheese is a lot easier to blend until smooth.
Use a mixer to beat the cream cheese and slightly cold butter. Slightly cold butter is butter that sits out for 30 minutes. It is slightly cold to the touch, but will be easier to beat the butter with the mixer.
Then, add in the powdered sugar. It HAS to be sifted before you use it. If not, your frosting can be gritty.
Next, add in vanilla and heavy cream and then beat on high for 1-2 minutes until fluffy.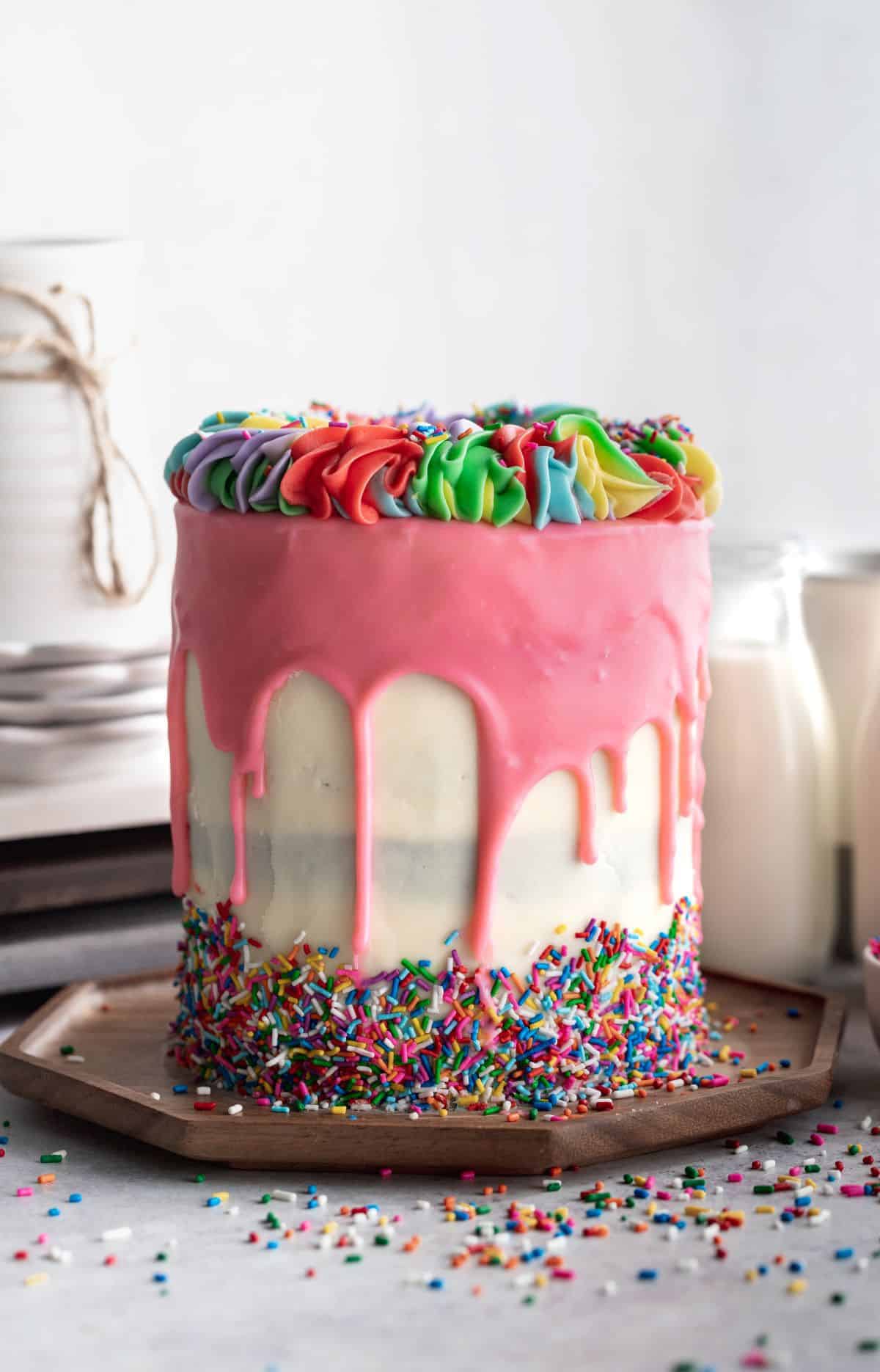 White Chocolate Ganache Drip
I don't recommend using candy melts to make the drip. Usually it has a fake vanilla taste and it is hard to manipulate. This white chocolate drip is very easy to color and it tastes like a good white chocolate.
Speaking of, make sure to use a good quality white chocolate chips. Like Guittard or Ghirardelli. Nestle white chocolate is vanilla flavored not actual white chocolate.
Then, pour hot heavy cream over the white chocolate chips. I start by pouring only ⅓ cup of heavy cream over the chips. Then, let it sit before you mix. If the chips aren't fully melted, heat in the microwave for 10 seconds and mix again.
It is optional to dye the drip, use a toothpick to dip the dye into the chocolate. You won't need much to dye the chocolate.
Now, the consistency should be able to drip off the edge of the cake, but don't drip all the way off the cake. To test this, I turned a glass cup upside down, and tried to drip the chocolate down the side of the glass.
Add a little bit of the remaining heavy cream at a time until you receive the best consistency.
Assembling The Cake
This cake is actually very easy to assemble, there are just many layers.
Place a small amount of frosting on the bottom of plate, cardboard circle, or what ever you are decorating the cake on. This acts as the glue to hold down your cake.
Place your first layer bottom side down. For even layers, make sure you take any domes on the cake off before decorating.
Use an ice cream scoop and place 1 ½ scoops of frosting per layer. Smooth it completely before adding the next layer.
Repeat with the rest of the layers. For the last layer, place it bottom side up. This give it the flattest surface possible for the top of the cake.
Frost a very light layer of frosting around the cake. Then, freeze for 15 minutes. This will lock in the crumbs.
Next, frost the rest of the cake.
While the cake is "wet" from the frosting, apply any sprinkles.
Then, freeze the birthday rainbow cake for 10 minutes before adding the drip to the cake.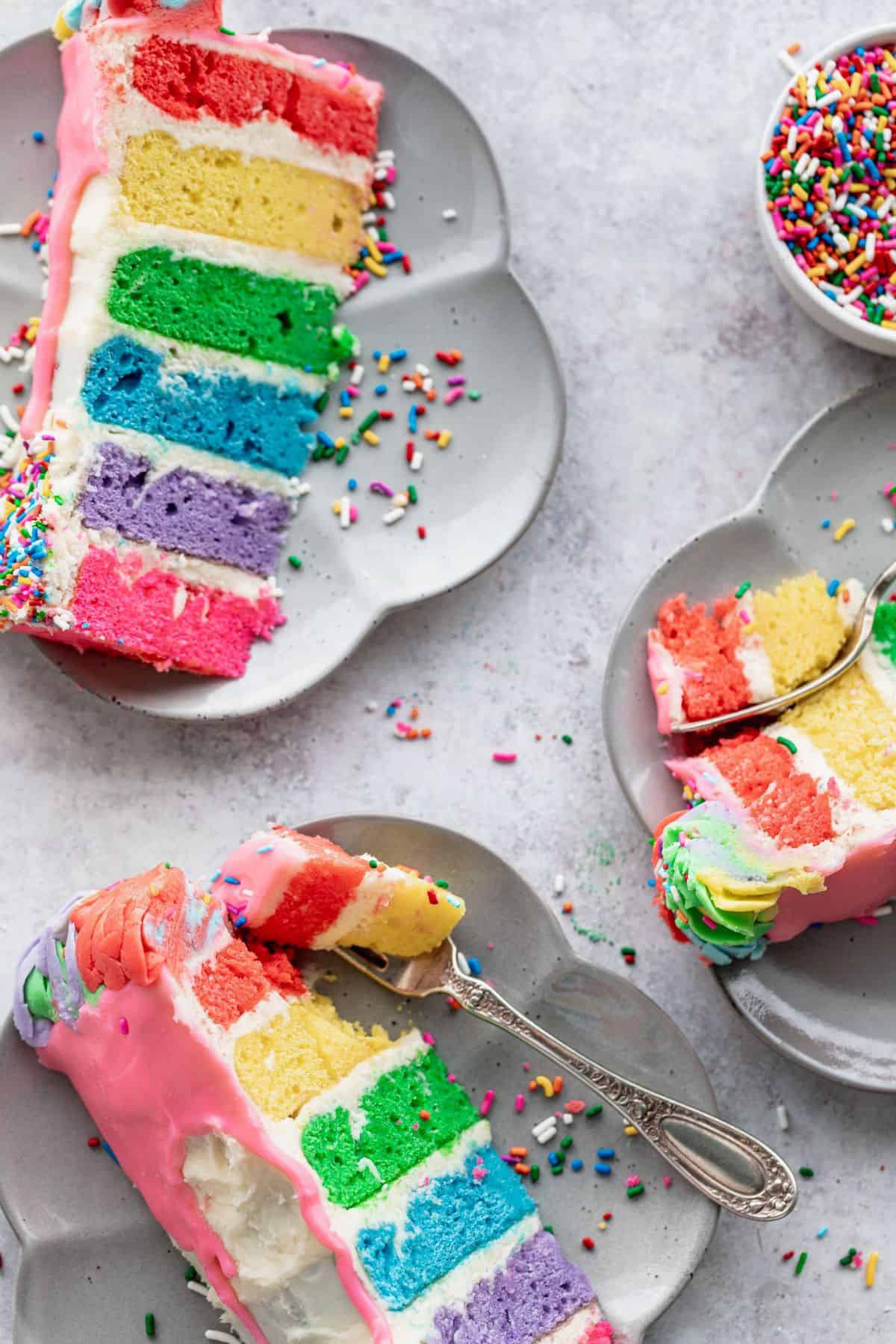 Storing The Cake
This cake has cream cheese frosting, so it needs to be stored in the fridge in a cake carrier or an air tight container. It will last up to 5 days.
The cake will taste more moist at room temperature. Before serving, pull the cake out 1-2 hours before serving.
Freezing The Cake
You can freeze the birthday rainbow cake layers before you are ready to decorate. In fact, that is what I did!
Wrap each cake layer tightly in cling wrap. Then, freeze. I only freeze the cakes at max about 3 days.
Pull the cake layers out 1 hour before decorating.
You can also freeze the individual cake slices. Wrap each cake slice in cling wrap, then store in an air tight container. To thaw, take out the cake 1-2 hours before serving.
Other Cake Recipes To Try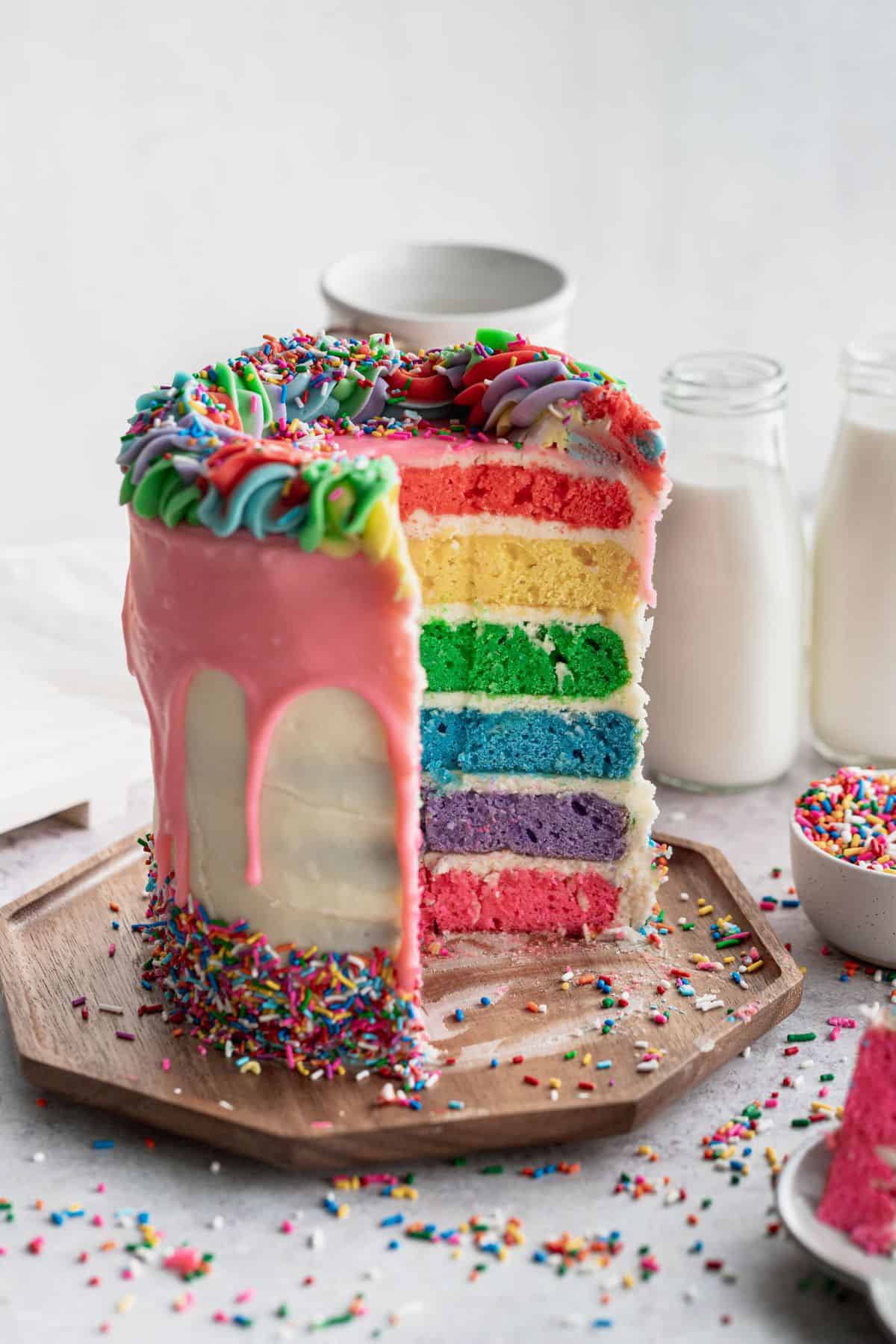 Make sure to tag me on Instagram @stephaniesweettreats and leave me a review below if you made this cake. I hope you loved it! To get more ideas follow me on Pinterest.
📖 Recipe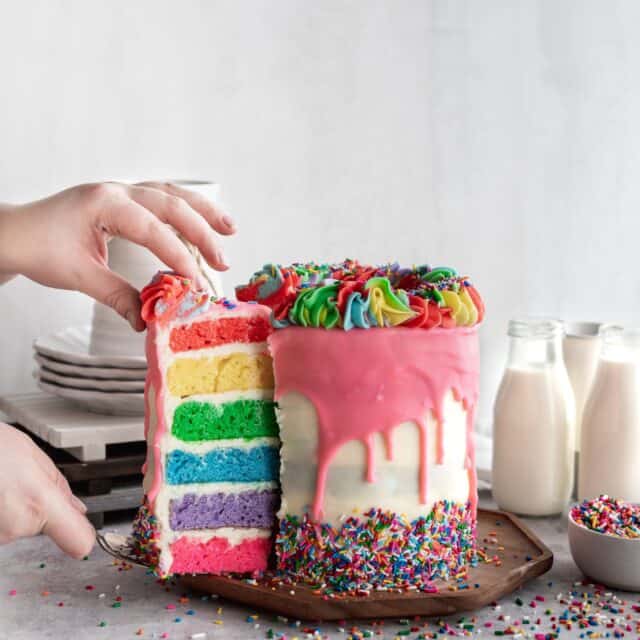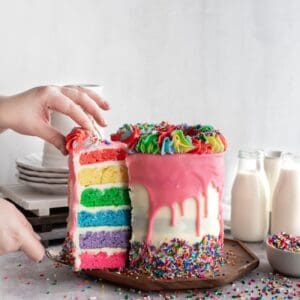 Birthday Rainbow Cake
This birthday rainbow cake is a moist vanilla cake dyed to look like a rainbow. It has a cream cheese frosting with tons of sprinkles and a pink drip.
Ingredients
Vanilla Cake
3 ¼

cup

All-purpose flour

1

tablespoon

Baking powder

1

teaspoon

Salt

1

cup

Unsalted butter

room temperature

1 ¾

cup

White granulated sugar

½

cup

Sour cream

room temperature

4

Egg whites

room temperature

2

Large eggs

room temperature

1

tablespoon

Clear vanilla extract

1 ⅛

cup

Buttermilk

room temperature
Cream Cheese Frosting
1 ½

cups

Unsalted butter

slightly cold

8

oz

Cream cheese

room temperature

9 ½

cups

Powdered sugar

sifted

3

teaspoon

Pure vanilla extract

¼

cup

Heavy Cream

*This is enough frosting to only frost the cake.
White Chocolate Drip
1

cup

White chocolate chips

use a quality brand

⅓-1/2

cup

Heavy cream
Instructions
Vanilla Cake
Preheat the oven to 350°F. This cake makes 6 layers in 6 inch cake pans. Spray cake pans with baking non-stick spray. Place a parchment circle on the bottom of the pan and spray again.

In a mixing bowl, sift the flour, baking powder, and salt. Using a mixer, beat the butter and sugar together. Beat on medium-high for 3 minutes. Beat until light and fluffy. Add in sour cream and vanilla. Scrape the bowl. Mix until combined.

Add in eggs and egg whites one a time on medium-low. Scrape the bowl halfway through.

Add in ⅓ of the dry ingredients and half of the buttermilk. Mix until slightly combined on low. Add in another ⅓ of the dry ingredients and the rest of the buttermilk. Mix. Add in the rest of the dry ingredients. Scrape the bowl and mix for 15 seconds.

Separate the batter evenly in 6 bowls. Color each batter a separate color of the rainbow. Mix gently. Pour each color into pans.

Bake for 18-20 minutes. The cakes are done baking when a toothpick inserted comes out clean. Let the cakes sit in the pans for 10 minutes before transferring to a cooling rack. Allow the cakes to cool completely.
Cream Cheese Frosting
Set the butter on the counter for 30 minutes to get slightly cold. While waiting, sift the powdered sugar.

Beat the room temperature cream cheese on high for 1 minute. Add in butter and beat for 1-2 minutes until the butter is mixed in with no butter chunks remaining. Slowly add in powdered sugar.

Add in heavy cream and vanilla. Mix on low until just combined. Switch to high and beat for 1-2 minutes until it becomes slightly lighter in texture. Chill for 15 minutes before decorating cake.
White Chocolate Drip
Pour white chocolate chips in a bowl and set aside. Heat heavy cream in a saucepan over medium-low heat. Heat until hot and steaming. Pour ⅓ of the cream over white chocolate chips and let it sit for 1 minute and 30 seconds. Mix until smooth. The consistency should be smooth and pourable down the sides of the cake. Add a little bit of the leftover hot cream into the ganache. Mix until smooth. I didn't use all of the leftover cream.

Optional* add a tiny amount of pink food dye.
Assembly
Place first layer of cake bottom side down. Frost the inside with frosting. Repeat with 2nd-5th layers. Place last layer bottom side up.

Apply a light layer of frosting over the cake. This will act as the crumb coat layer. Freeze for 15 minutes. Then, frost the rest of the cake.

Apply rainbow sprinkles on the bottom of the cake for a waterfall look. Pour the white chocolate ganache on top of the cake. Use an offset spatula to push the chocolate over the edges of the cake.
Notes
Flour- Make sure flour is spooned and leveled or use a kitchen scale. Compacted flour can dry out the cake.
High altitude baking- Add an extra 3 tablespoon of flour.
Pull out dairy ingredients 2 hours before baking
If you want enough frosting to top the cake with a border. Increase frosting to:
2 ¼ cup butter
12 oz cream cheese
13 ½ cups powdered sugar
1 tablespoon vanilla
¼ cup heavy cream plus 1 TBSP.
Nutrition
Calories:
796
kcal
Carbohydrates:
166
g
Protein:
8
g
Fat:
56
g
Saturated Fat:
35
g
Trans Fat:
2
g
Cholesterol:
147
mg
Sodium:
432
mg
Potassium:
186
mg
Fiber:
1
g
Sugar:
40
g
Vitamin A:
1683
IU
Vitamin C:
1
mg
Calcium:
168
mg
Iron:
2
mg