These butterscotch pear turnovers are made of flaky pastry and homemade butterscotch sauce. Inside they have ripe green Anjou pears coated in cinnamon and nutmeg. These little pies are perfect for any season!
This post is sponsored by USA Pears and all thoughts and opinions are my own. Thank you for supporting the brands that make Stephanie's Sweet Treats possible!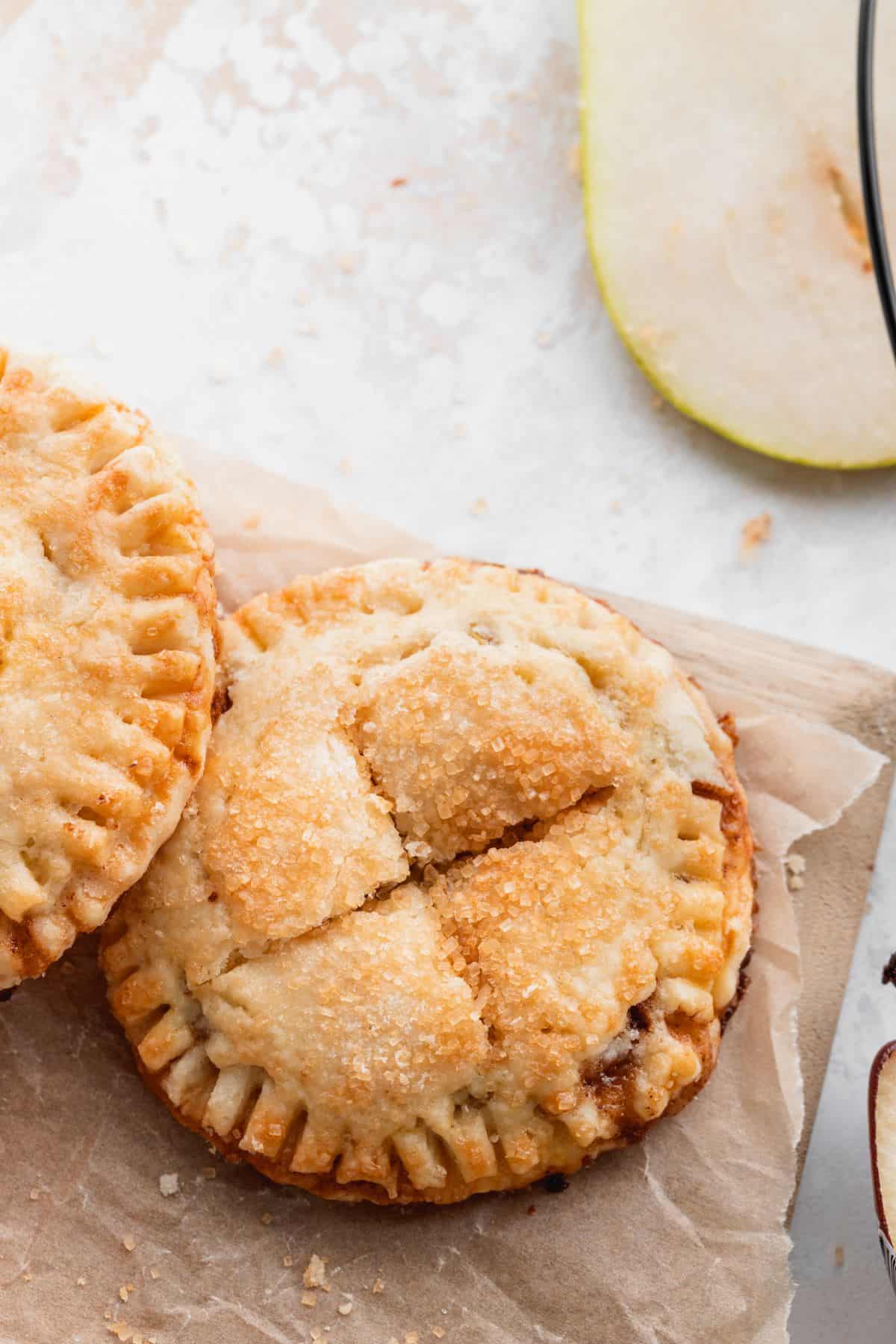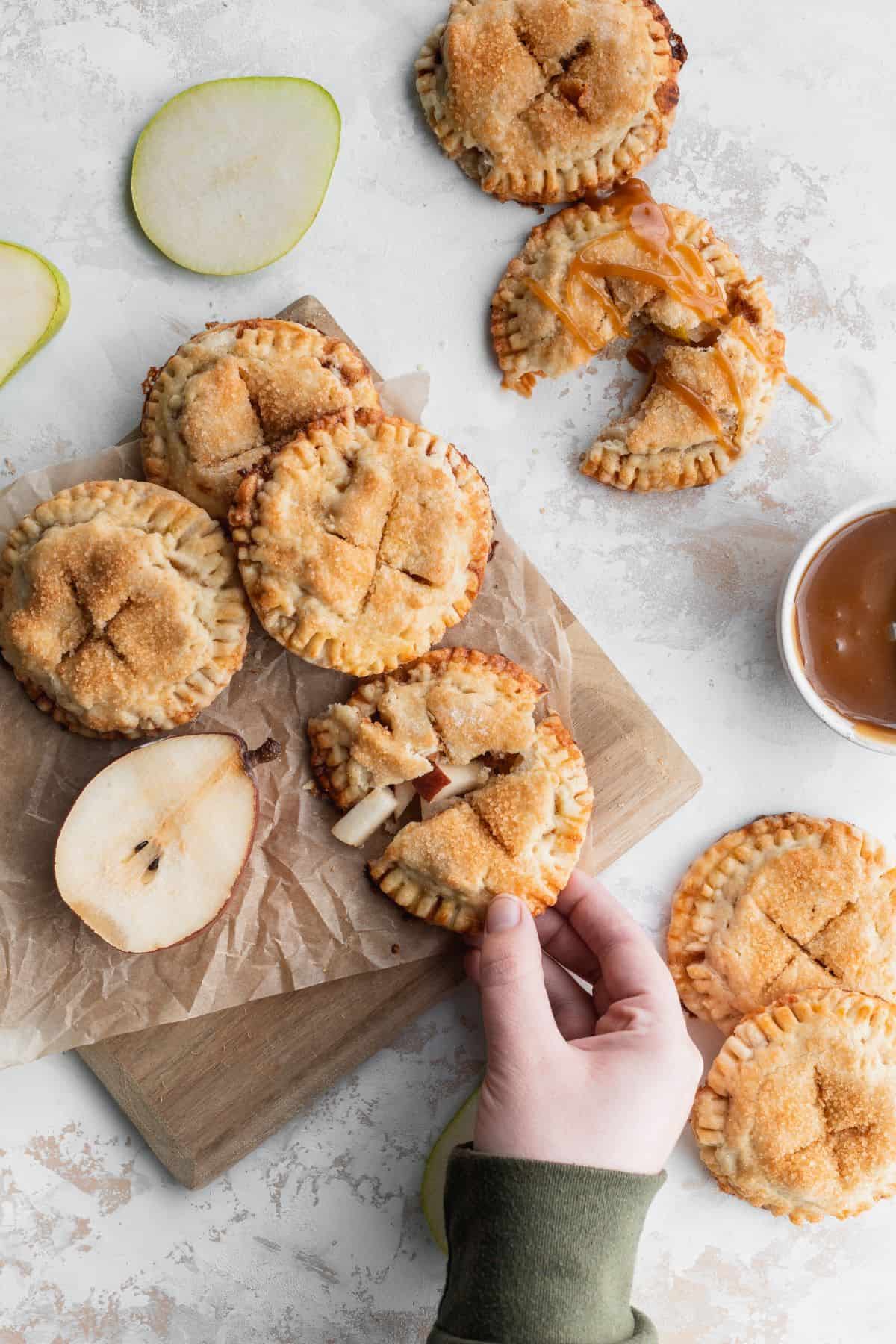 Pears As The Best Pie Filling
Pears are the most underrated fruit. When they are ripe, they are so juicy and make an amazing pie filling!
I used USA Pears green and red Anjou pears. These pears are perfect for baking. They are very sweet, but aren't overly sweet.
The pears pair well with cinnamon and nutmeg. They have a sweet and warm taste mixed with buttery pastry. USA Pears has the most fresh pears!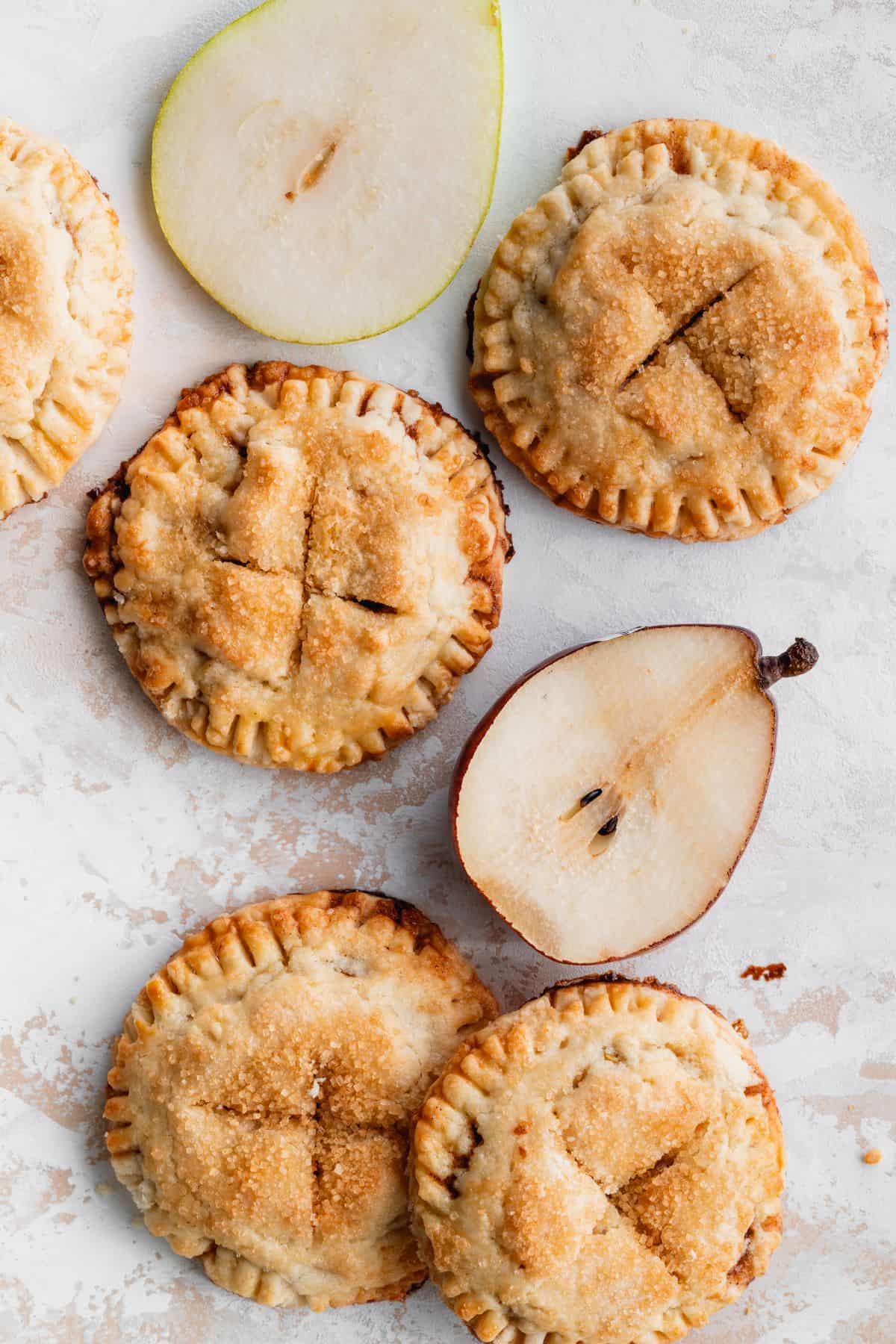 How To Make Pastry Dough
This dough makes the flakiest pastry dough. It melts in your mouth and is full of butter. It is also incredibly easy to make.
Cut butter into cubes- The butter needs to be cut into cubes and chilled back in the fridge until you are ready to use. It has to be as cold as possible.
Use food processor- Food processor will be the easiest way to make this dough. If you don't have one, you can use your fingers or a pastry cutter.
Blend dry ingredients and butter- Use the pulse mode on the food processor to blend until butter starts to clump. It should look like the picture below. Keep blending until it clumps into the size of blueberries
Add ice water- I only needed a tiny bit of water. So, add a little bit at time.
Don't knead- Kneading the pastry will cause it to be too tough. Instead, squeeze the dough together with your hands. Do this just until it is combined.
Flatten and chill- Flatten the dough into a disc and wrap in cling wrap. This will make it easier to roll out. Then, chill for 30 minutes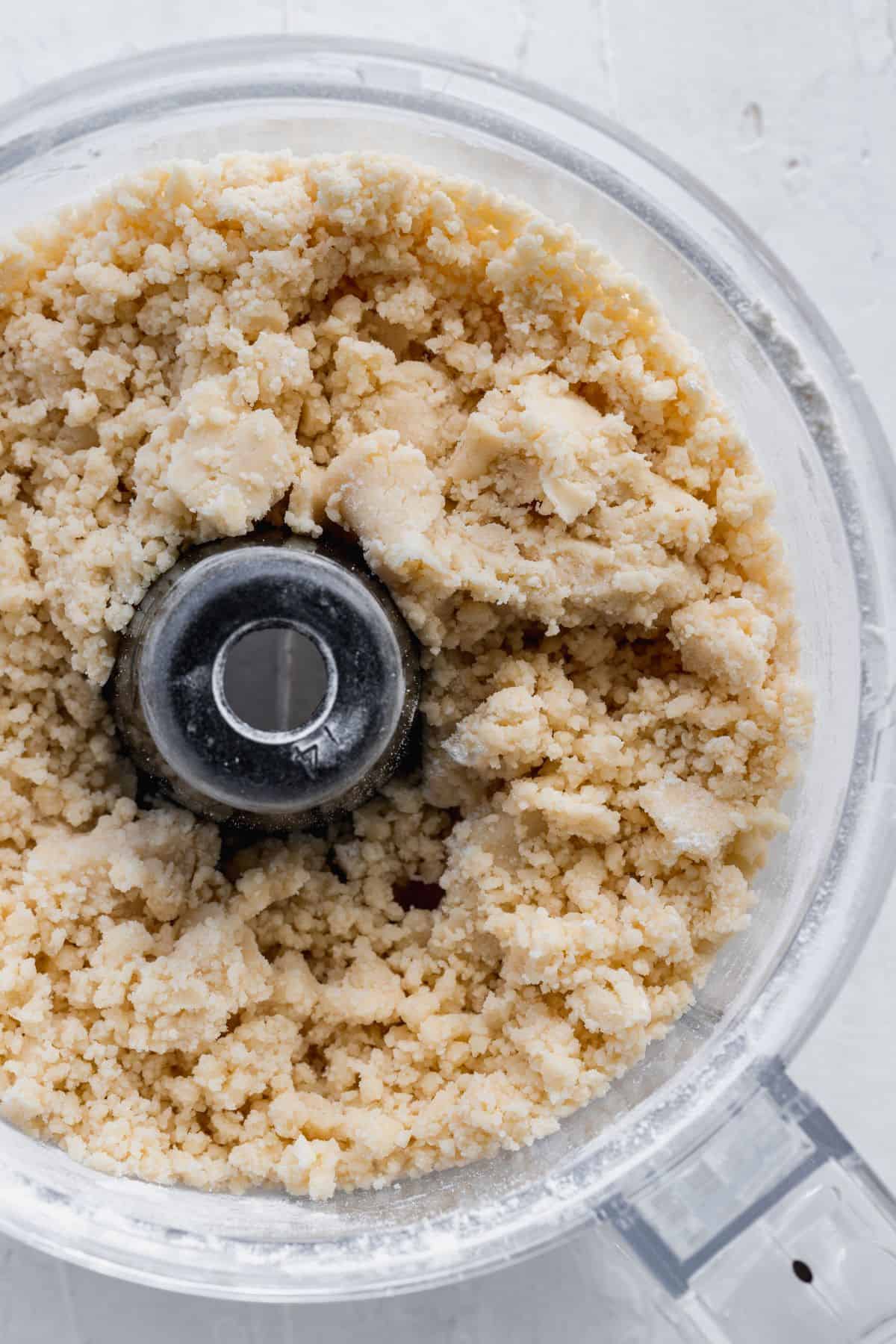 Pies VS Turnovers
There is actually very little difference between hand pies and turnovers.
Hand pies are always going to be using pie dough. Meanwhile turnovers use either a buttery pastry or puff pastry.
Turnovers need to have flaky layers of pastry while stuffed with filling.
Rolling Out The Dough
After the 30 minutes of chilling is done, it should be ready to roll out.
Sprinkle your counter with flour and roll the pastry until nice and thin. If it is too thick, there will be too much pastry to filling.
Then, use a 3 inch biscuit cutter to cut out circles. You can reroll the dough once to get more circles, but don't roll it any more than that.
Place the circles on a cookie sheet with parchment paper.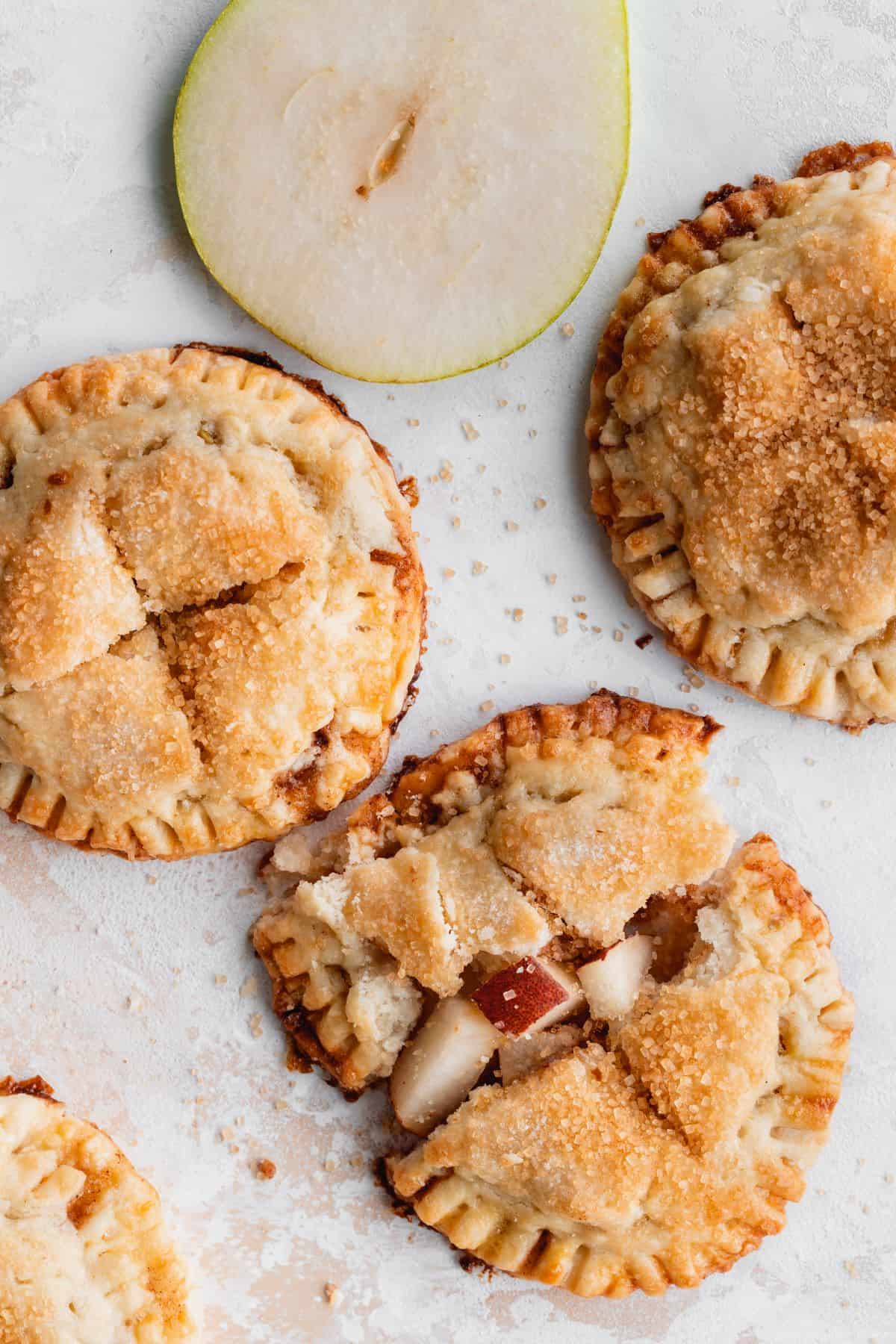 Homemade Butterscotch Sauce
This butterscotch is the BEST. It is made with brown sugar and tastes way better than store bought sauce.
First, melt the butter in the sauce pan. Once melted, add in brown sugar. You can use light or brown sugar. If you want a richer sauce, use brown sugar.
Stir the brown sugar with the butter and cook until it melts a little and looks liquid.
Next, add in the heavy cream a little at a time. The heavy cream has to be room temperature or it will seize up in the hot sugar.
Then, cook until it reaches 220F. I strongly recommend using a kitchen thermometer to measure how hot it is. It needs to get that hot so all the sugar crystals melt.
Once it is hot enough, add in the salt and vanilla. This is where the sauce goes from meh to amazing. The vanilla added flavor and the salt makes it taste like salted caramel.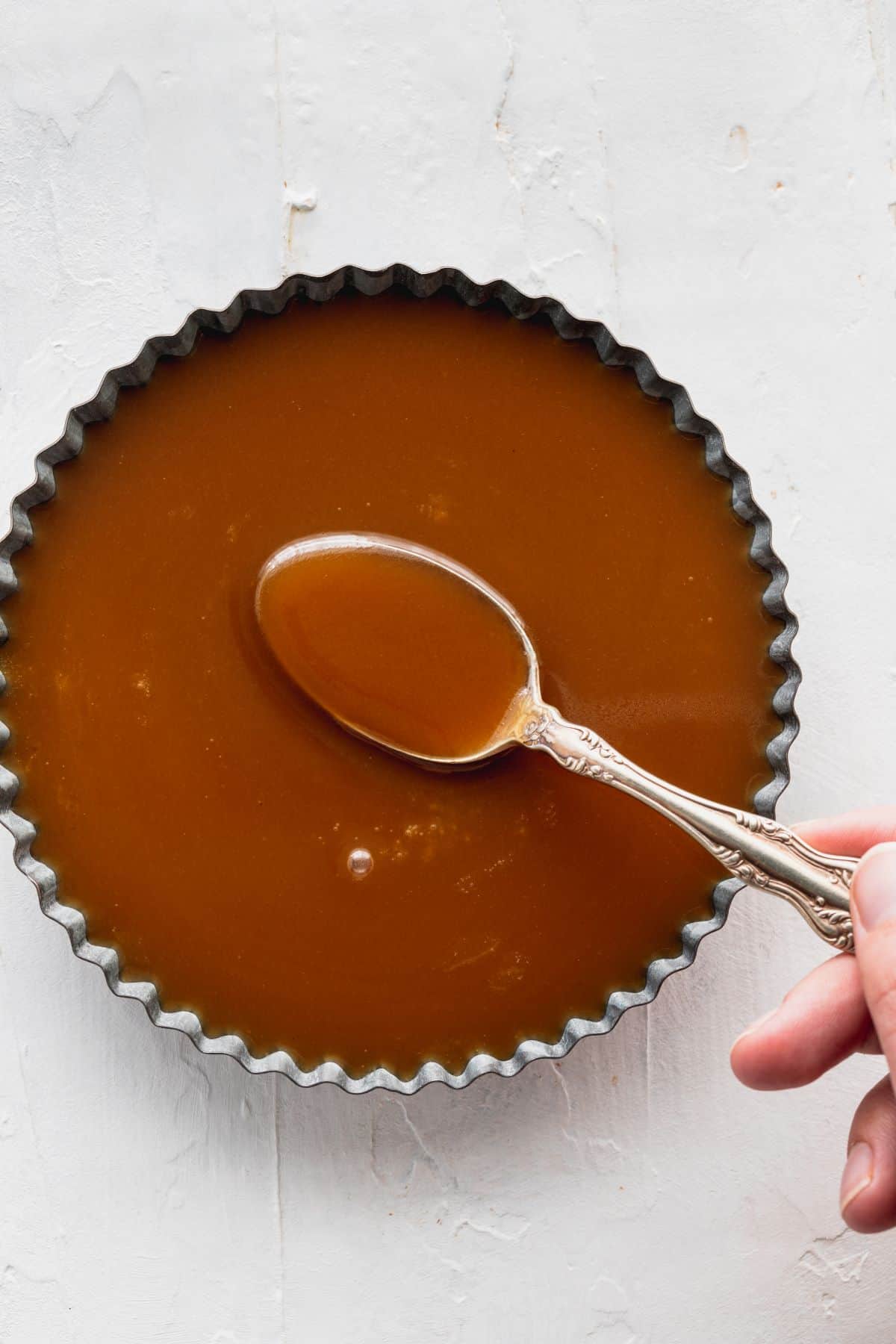 Filling The Turnovers
First, cut the pear into small cubes. It should be small, so you can fill up the pies. Then, mix the butterscotch sauce, cinnamon, and nutmeg with the pear cubes.
Now, fill the pies with the pear filling. Lay each pear piece down and leave the edges clear, so you can crimp the two circles together. Use a fork to crimp them.
Immediately place the butterscotch pear turnovers in the fridge for 15 minutes. This lets the pastry rest and the butter chill again. This will prevent melting pastry once it bakes.
Next, top with the egg wash, so the pastry shines, and top with coarse sugar and white granulated sugar. I went crazy with the coarse sugar so it has plenty of texture on top.
Don't forget to cut slits in the pies for the steam to escape!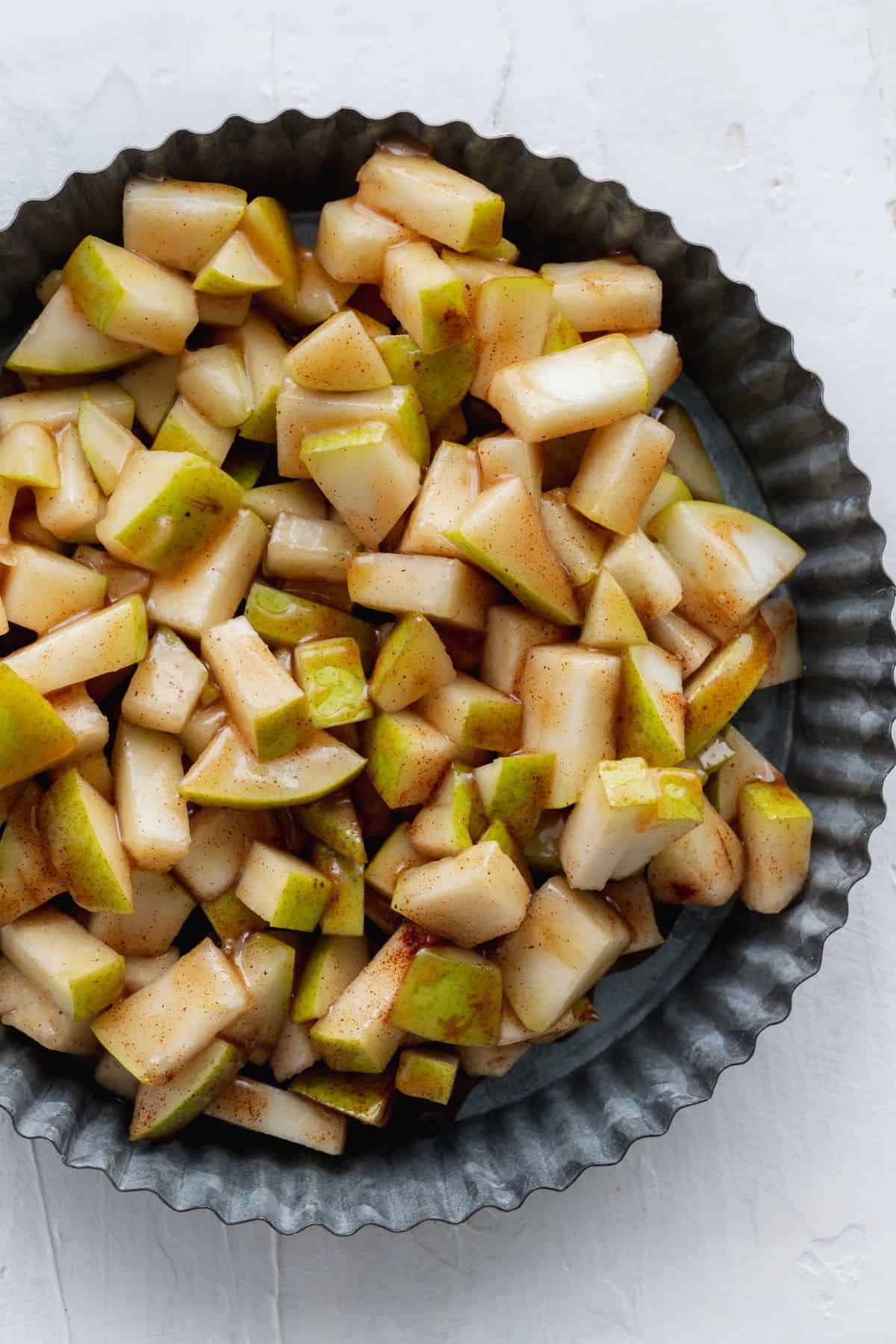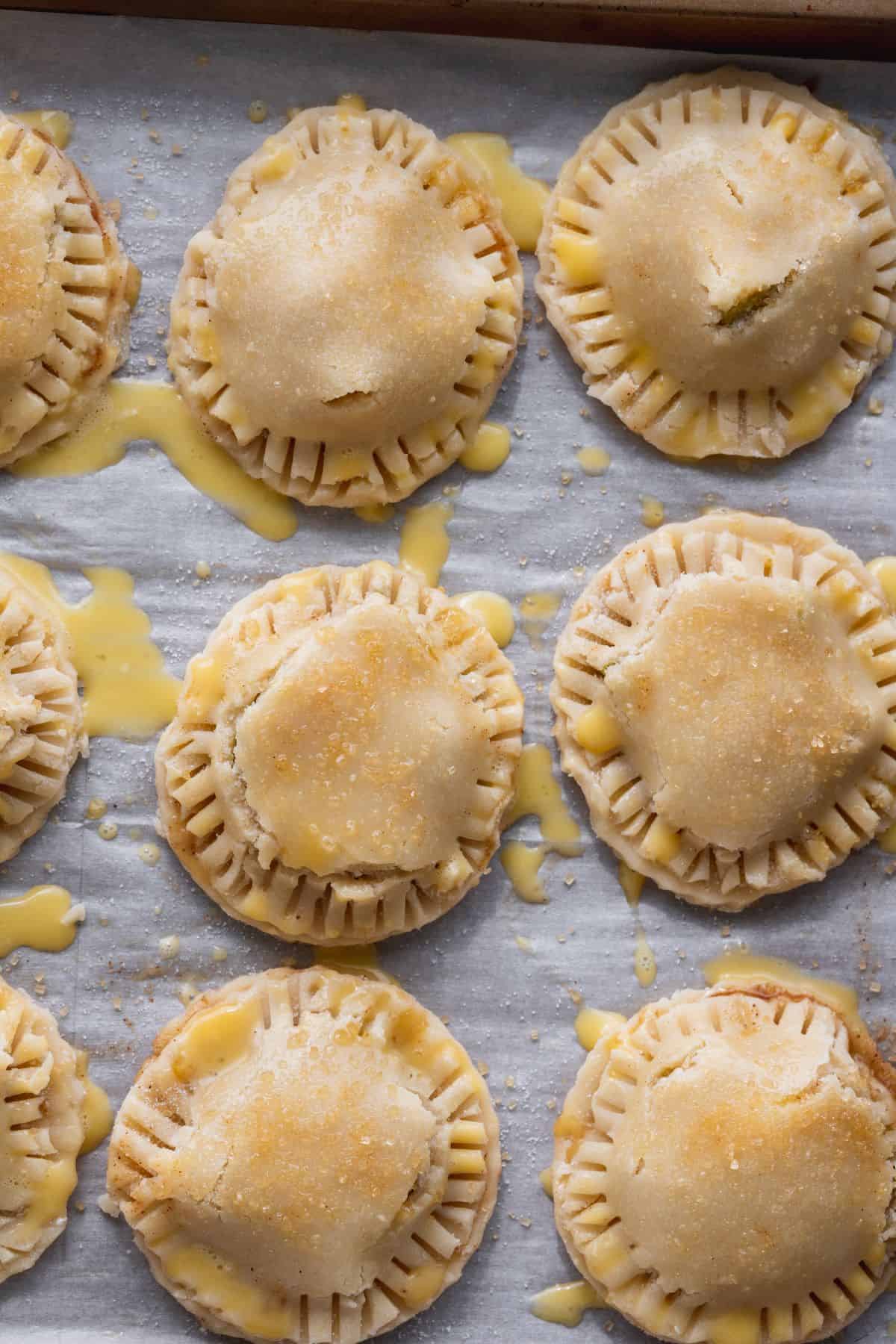 Topping The Turnovers
Once the pies are done baking and have cooled, top with extra butterscotch sauce. You may notice none of the pictures here have the sauce on top. That is honestly because it is hard to photograph that way.
This recipe gets pushed over the top when you drizzle more sauce on top! If the butterscotch sauce is too thick, heat in the microwave for 15 seconds until thin again.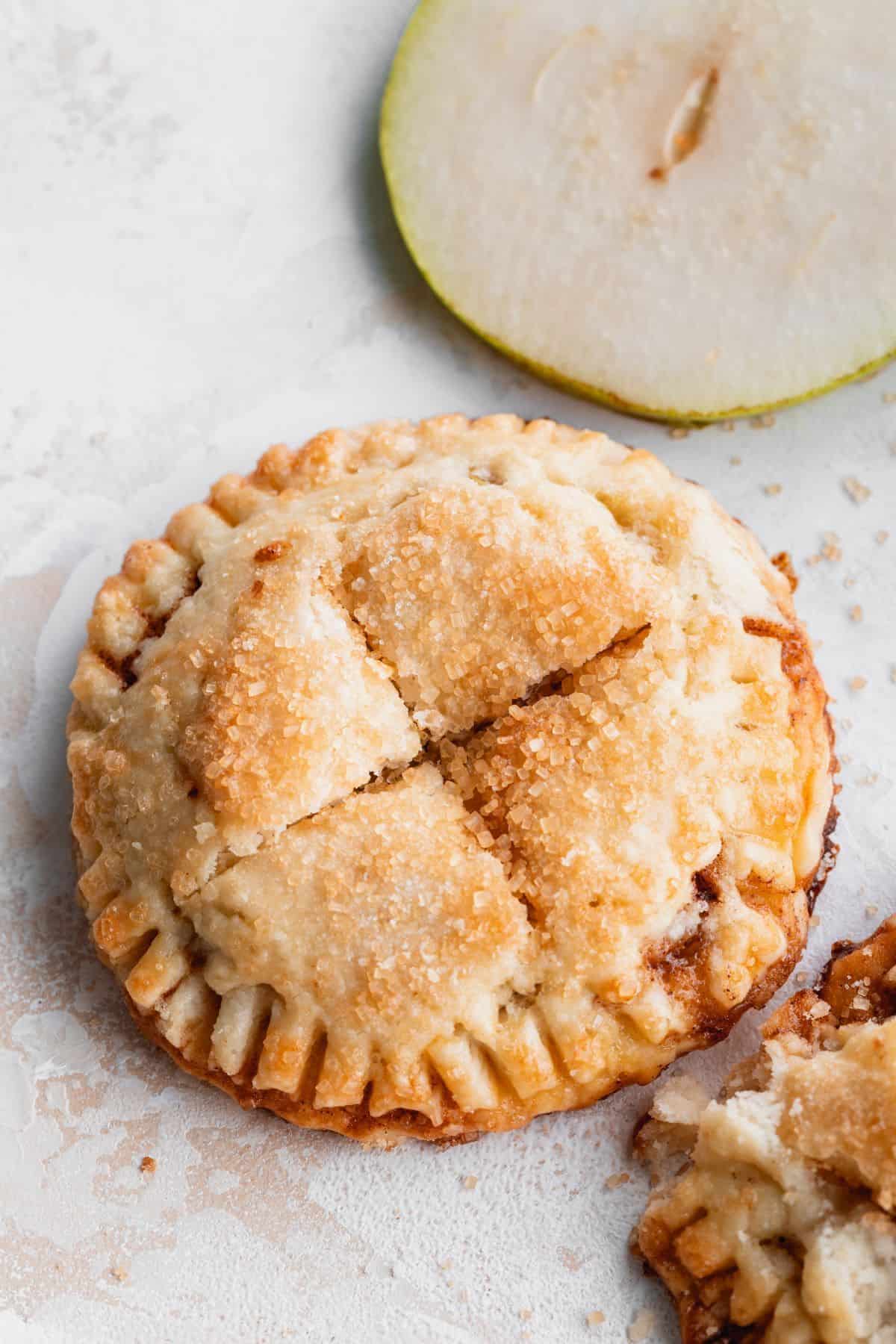 Storing The Pies
These butterscotch pear turnovers should be stored in an air tight container at room temperature. They will last up to 5 days. The pears will stay nice and fresh in the pastry!
Other Recipes To Try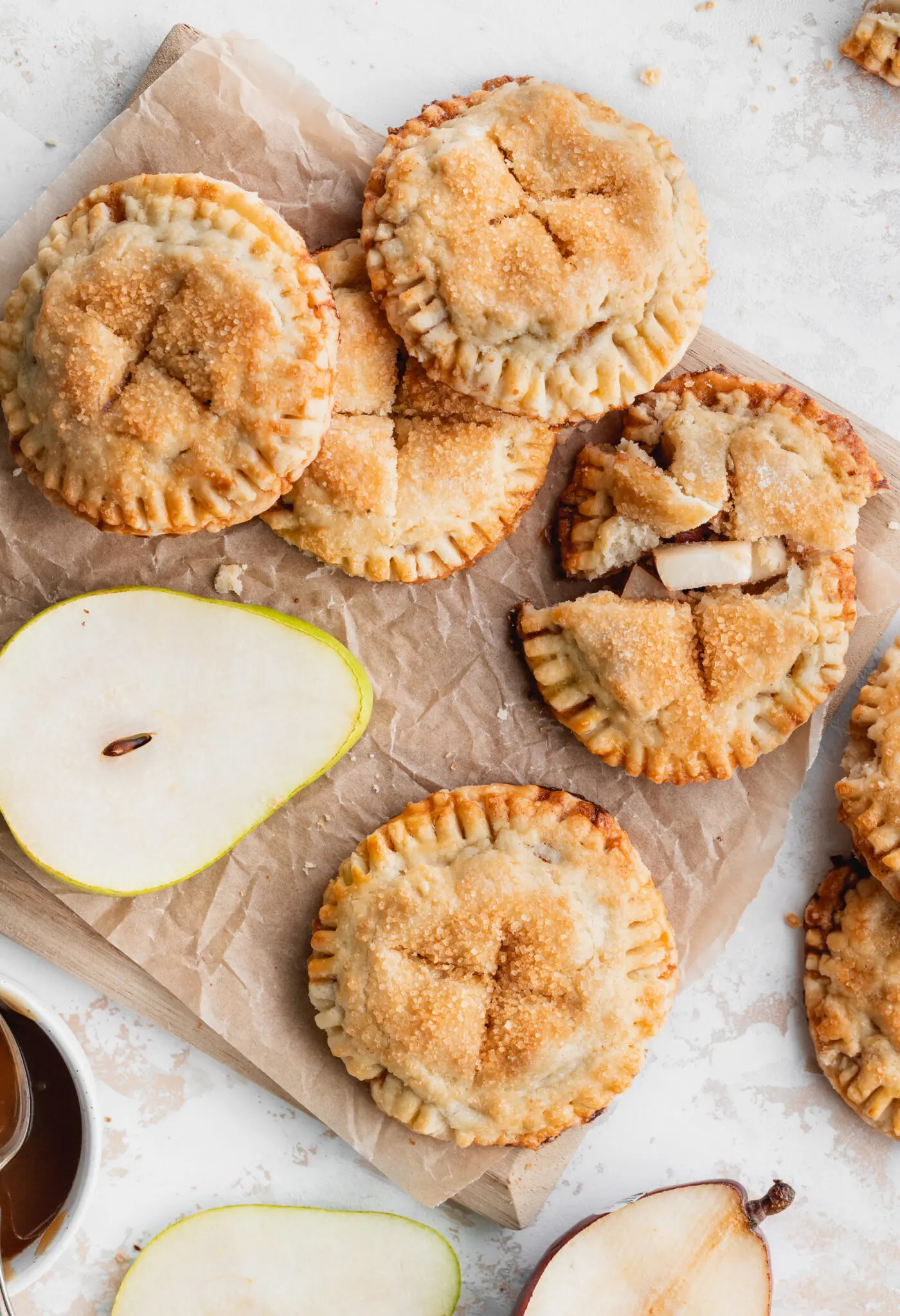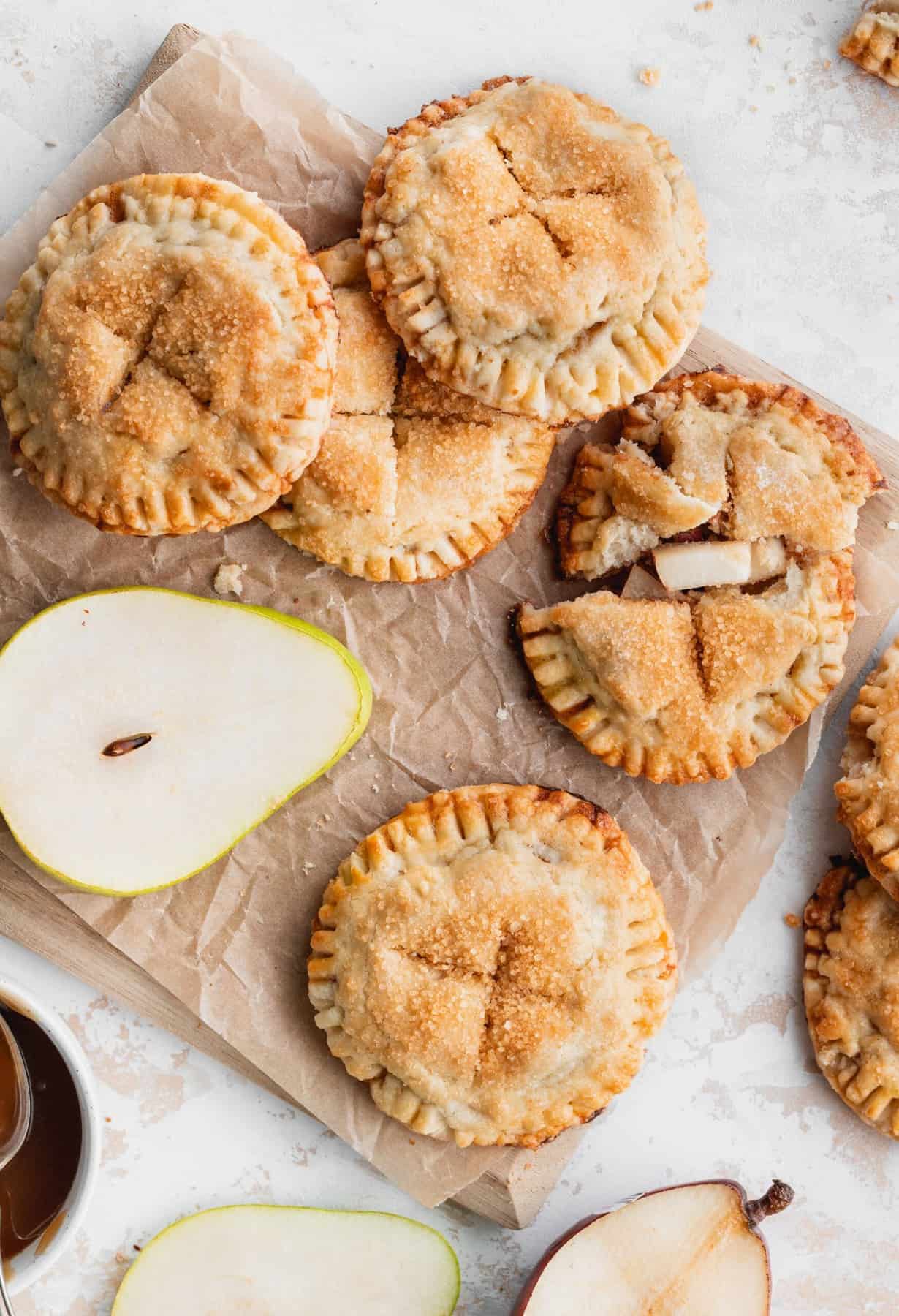 Make sure to tag me on Instagram @stephaniesweettreats and leave me a review below if you made these turnovers. I hope you loved it! To get more ideas follow me on Pinterest.
📖 Recipe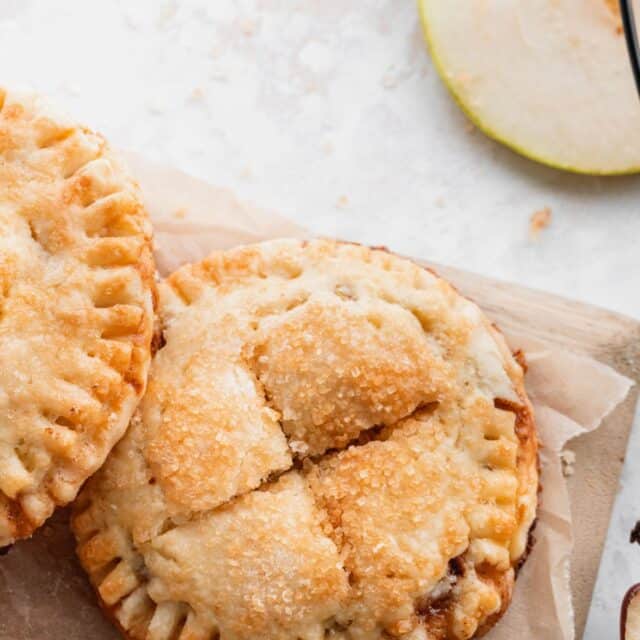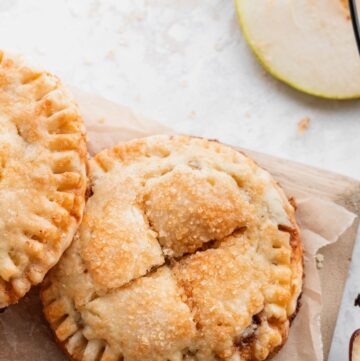 Butterscotch Pear Turnovers
These butterscotch pear turnovers are made with a buttery pastry. It is filled with homemade butterscotch sauce, pears, and cinnamon.
Ingredients
Pastry Dough
2 ¾

cups

All-purpose flour

3

teaspoon

White granulated sugar

½

teaspoon

Salt

1

cup

Unsalted butter

cubed and cold

¼

cup

Ice water

won't use all of it.

1

Large egg

for egg wash

1

tablespoon

Water

for egg wash

White granulated sugar

for topping

Raw coarse sugar

for topping
Butterscotch Sauce
4

tablespoon

Unsalted butter

¾

cup

Brown sugar

light or dark packed

½

cup

Plus 1 tablespoon Heavy cream

room temperature

¾

teaspoon

Salt

¾

tablespoon

Pure vanilla extract
Instructions
Butterscotch Sauce
Make this first or a day ahead. In a saucepan, over medium heat, melt the butter. Add in the brown sugar. Use a whisk to mix. Heat until the texture resembles a liquid. This take 1-2 minutes. Add the heavy cream in 3 intervals. Mix well in between each interval.

Heat the sauce until it reaches 220°F. It will eventually bubble up once the sugar crystals start to melt. This process takes about 10 minutes. Once hot enough, pull off heat. Add in salt and vanilla and stir. Pour into a glass container. Let it cool completely.
Pastry Dough
Cut the butter into cubes and place back into the fridge to get cold. Sift the flour in a separate bowl. Add flour, sugar, and salt to a food processor. Add in the cubed butter. Pulse until it starts to clump together. First it will look dry, keep pulsing until it resembles the picture above. The butter clumps should be the size of blueberries.

Transfer the dough to a bowl. Very slowly add a little bit of the ice water (remove the ice). Add a very little bit at a time until the dough ball forms. Use your hands to squeeze the dough into a ball. Don't knead or the dough will get overworked.

Place a large sheet of cling wrap on the counter. Place dough on top of cling wrap. Flatten into a disc and place in the fridge for 30 minutes.
Assembly
Rollout the dough until ¼ inch thick. It should be relatively thin. Use a 3 inch circle biscuit cutter. Cut as many circles as you can. You can reroll the dough once to get more circles. Place circles on cookie sheet with parchment paper.

Mix cubed pears, cinnamon, nutmeg, and butterscotch sauce together. On half of the circles, place ½ tablespoon of filling. Make sure almost the whole circle is filled, lay the pear cubes down.

Top with the remaining circle. Use your fingers to press in the dough around the edges. Then, use a fork to crimp the edges.

Chill for 15 minutes in the fridge. Preheat the oven to 400°F. Mix the egg and water in a bowl. Use a pastry brush to brush the egg wash over the tops of the pies. Top with both sugars. Cut an X slit on top for the steam to exit.

Bake for 15-20 minutes. Bake until the pastry is light golden brown. Let it sit on the pan for 10 minutes before transferring to a cooling rack. Let them cool all the way before drizzling more butterscotch sauce on top.
Notes
To prevent the pastry from melting in the oven, make sure dough is cold.
If you don't have a food processor, use a pastry cutter.
Nutrition
Calories:
399
kcal
Carbohydrates:
44
g
Protein:
4
g
Fat:
23
g
Saturated Fat:
15
g
Trans Fat:
1
g
Cholesterol:
61
mg
Sodium:
300
mg
Potassium:
68
mg
Fiber:
1
g
Sugar:
17
g
Vitamin A:
708
IU
Vitamin C:
1
mg
Calcium:
27
mg
Iron:
2
mg