Easy S'mores Bars- These chewy and gooey baked easy s'mores bars are made with graham cracker chunks, mini marshmallows, and chocolate chips. They are topped with more marshmallows, graham crackers and a chocolate ganache drizzle. They are very easy to make and don't require a mixer.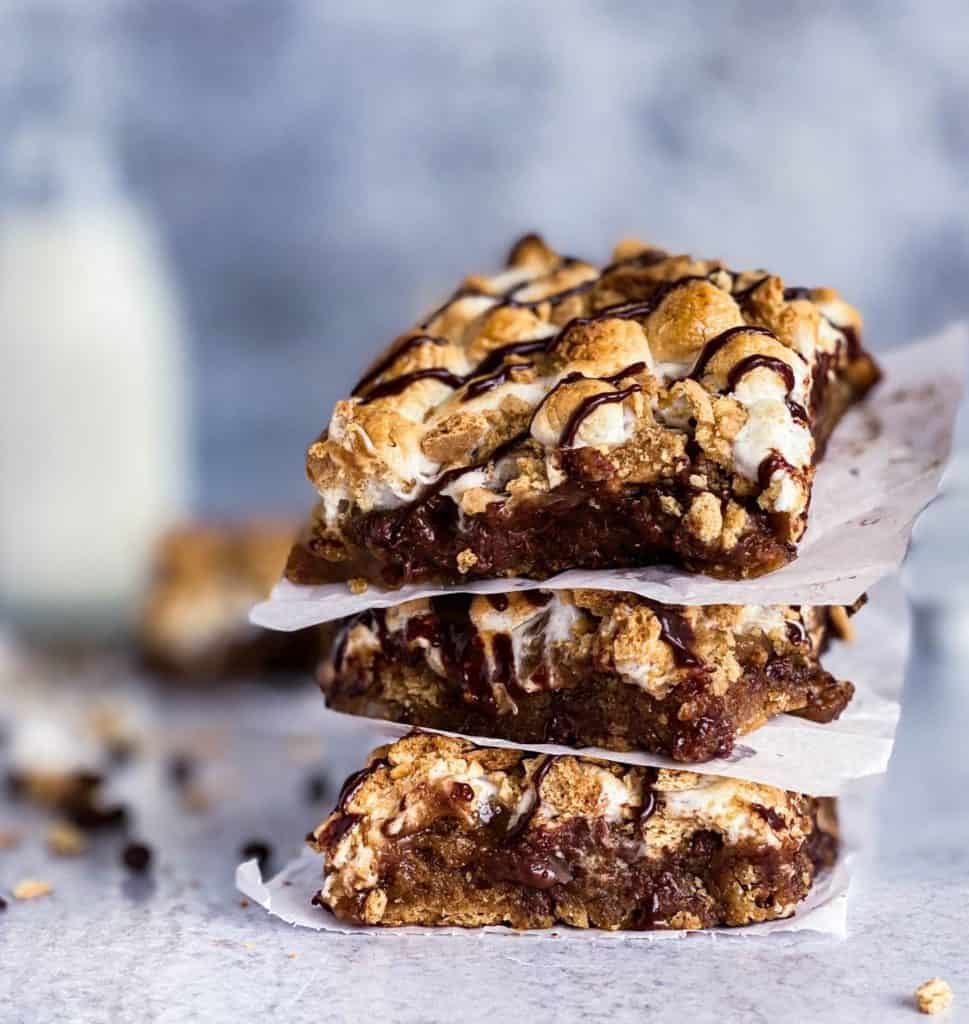 The BEST Easy S'mores Bars
These are the best for a good reason. These bars are gooey, chewy, full of chocolate, and super EASY. They don't even require a mixer! They only need a few ingredients and you will end up with an amazing s'mores dessert.
My favorite thing about these s'mores bars is though they are baked, they taste just like a s'more you would get at a campfire. The marshmallows on top get toasted the perfect amount. It is perfect!
This blog receives a commission for using Amazon products for the food recipes that I shared with you in my posts. Although I receive a commission for using and linking their products, they are extremely good for my food recipes and all my opinions and suggestions are unbiased.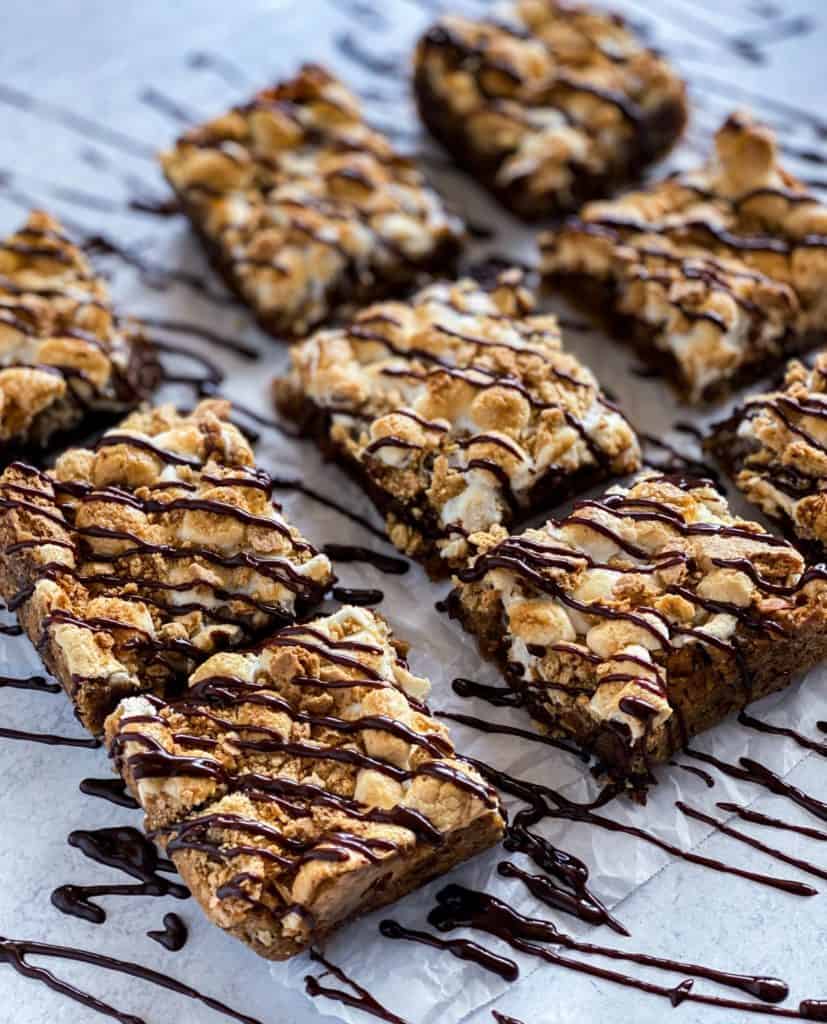 Ingredients Needed To Bake S'mores Bars
You don't need that many ingredients to bake these bars, which is why I love them so much. They are a quick and yummy dessert. The ingredients you need are:
Melted butter
Brown sugar
1 Large egg
Vanilla
Flour
Salt
Graham crackers
Mini marshmallows
Chocolate chips
Baking The S'mores Bars Batter
To start, preheat the oven to 350F. Then, prepare an 8X8 pan with non-stick spray.
When I cut out the bars I want them to be perfectly even. The best way to do that is to line the pan on one side with parchment paper. There should be enough paper coming up the sides that you can grab the paper to pull out the bars. It is super helpful!
If you put parchment paper in the pan, make sure you spray again with non stick spray.
To make the batter, start by sifting together the flour and salt. Make sure you sift because you don't want any flour lumps in your batter.
Next, whisk together melted butter and brown sugar. I used dark brown sugar because there is higher count of molasses, this helps to get more of the chewy and gooey texture for these s'mores bars.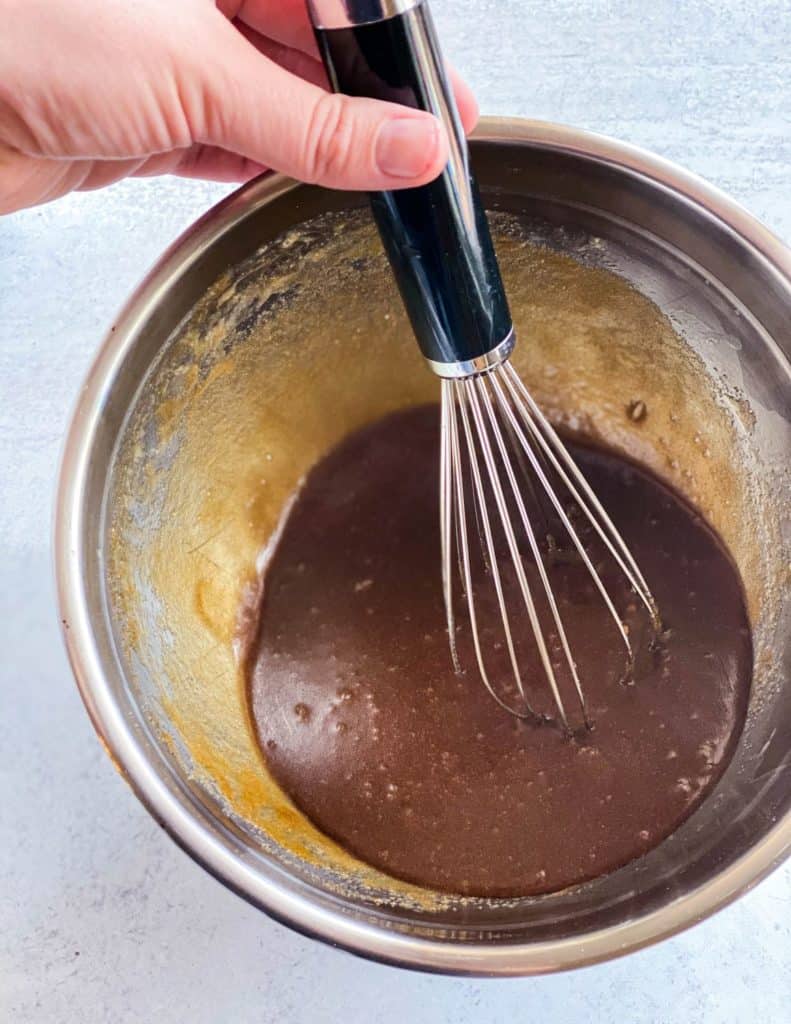 Then, add in the 1 egg and vanilla. Make sure that the egg is room temperature because it will blend more smoothly with the other ingredients. Next, pour all of the dry ingredients in the bowl and whisk until smooth.
The batter will be very smooth and glossy, it will be more golden brown in color.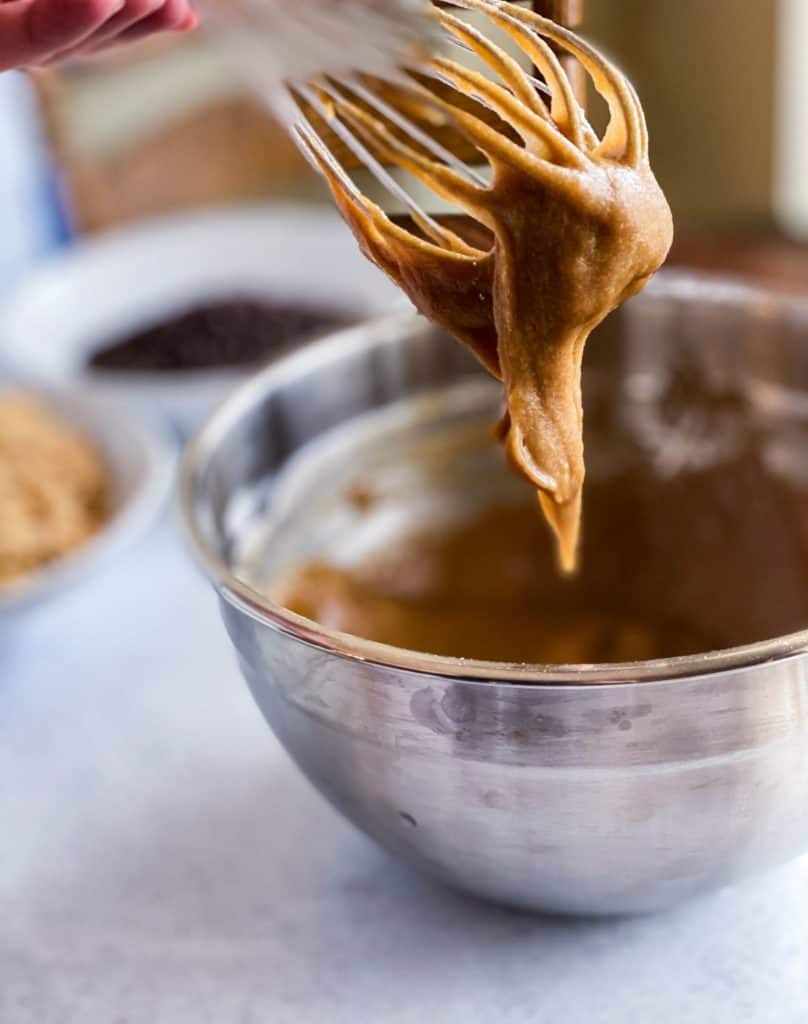 Finally, add in the graham cracker chunks, mini marshmallows, and both chocolate chips. The batter will become very thick. Then, pour the batter into the pan.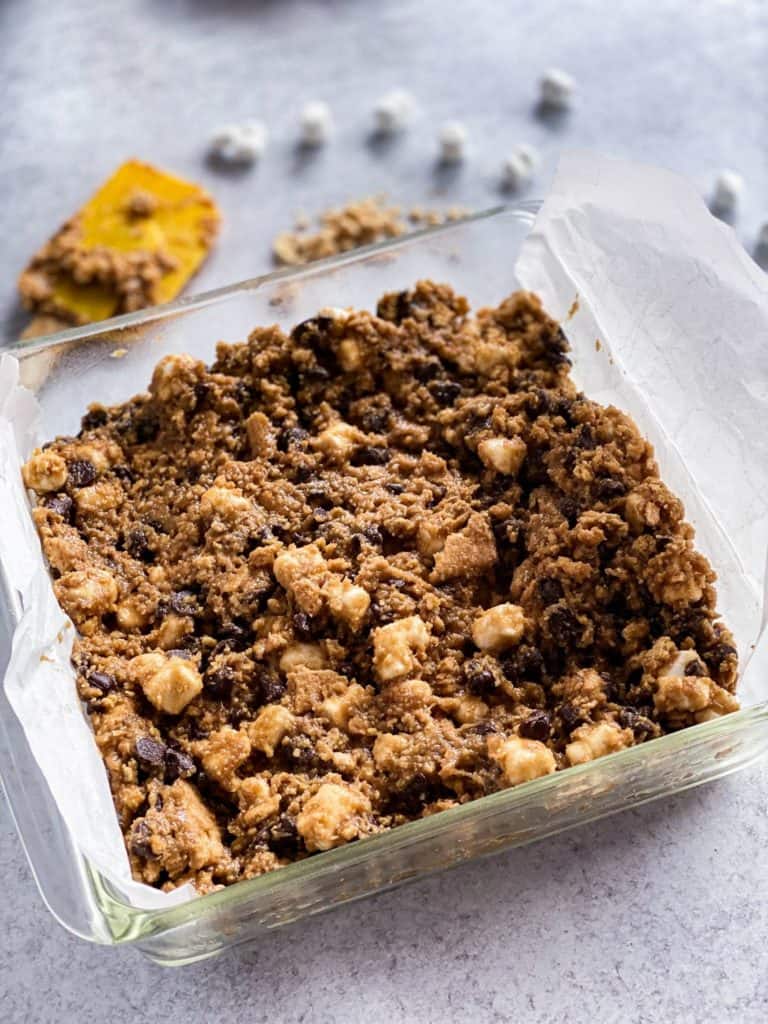 What Texture Should The Graham Crackers Be?
The graham crackers I used were the honey graham crackers. If you desire you can use the cinnamon or chocolate ones, it will change up the flavor a little. I like the honey ones because they traditionally go with s'mores.
I use a blender/food processer to blend the graham crackers up easily. You can put them in a ziplock baggie and crush them, but the blender is a lot easier.
The texture you are going for isn't super fine crumbs, like you would use for a cheesecake crust. You are looking for chunks of graham cracker that are the size of a small grape. You won't want them too big, but you do want to bite in and a get the crunch of the graham cracker.
When you are preparing the graham crackers (it took 2 packs of graham crackers) make sure you make enough to put some on top of the dessert. When they are baked on top, you get more of a crunchy texture.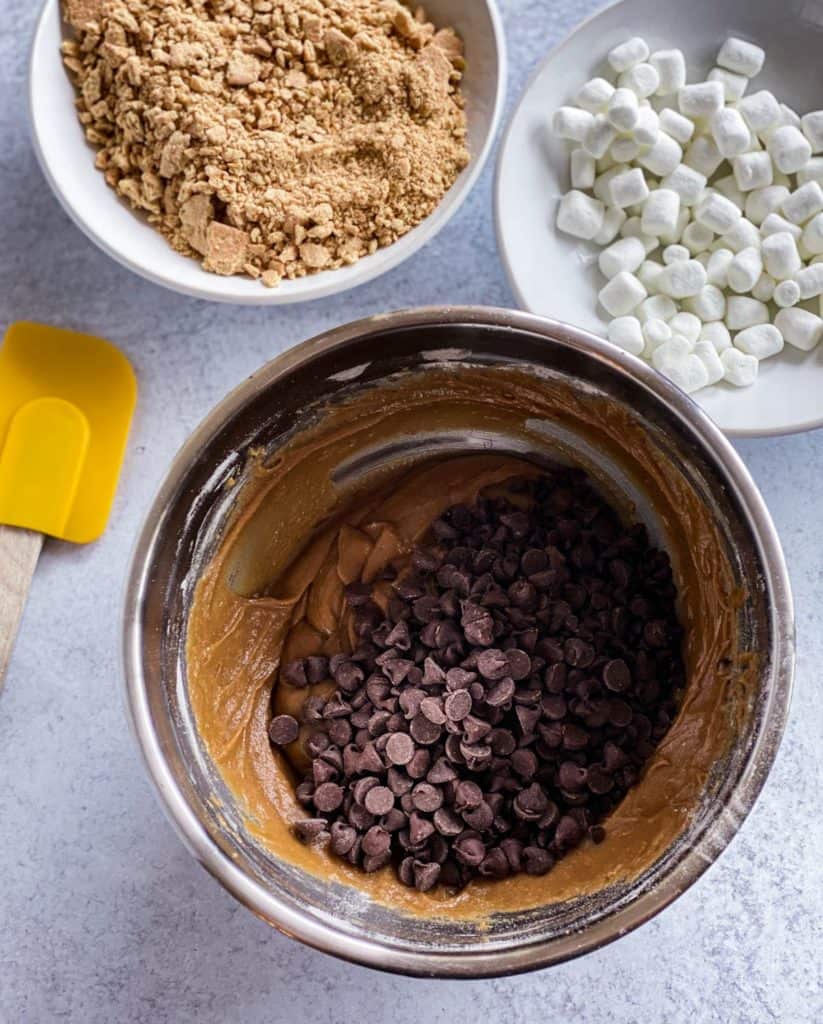 Tips On Baking The Easy S'mores Bars
The hardest part of these s'mores bars is telling when they are done. It could be easy to over bake them. Here are my best tips to get perfectly baked s'more bars.
Pour a lot of graham crackers and mini marshmallows on top- First, pour a very generous helping of marshmallows on top. When the marshmallows are on top, it gives it the toasted marshmallow look to it.
Bake for at least 35 minutes- Baking for any less time, will cause the bars to be under done. The edges should be set and the middle will still be underdone/gooey.
To see if the edges are done, pull on the parchment paper to see the edges of the bars- When I pulled on the parchment paper, I poked the edges to see if they are done yet. The color should be golden brown. When you touch it, it should be slightly soft, but it holds well.
Like brownies, they cook more while sitting in the pan- When they are still hot, they will continue to cook. You want them slightly underdone in the middle, so they don't over bake while they are "cooling". That's why you should wait for at least 45 minutes to move them from the pan. Ideally you should wait until they are completely cooled.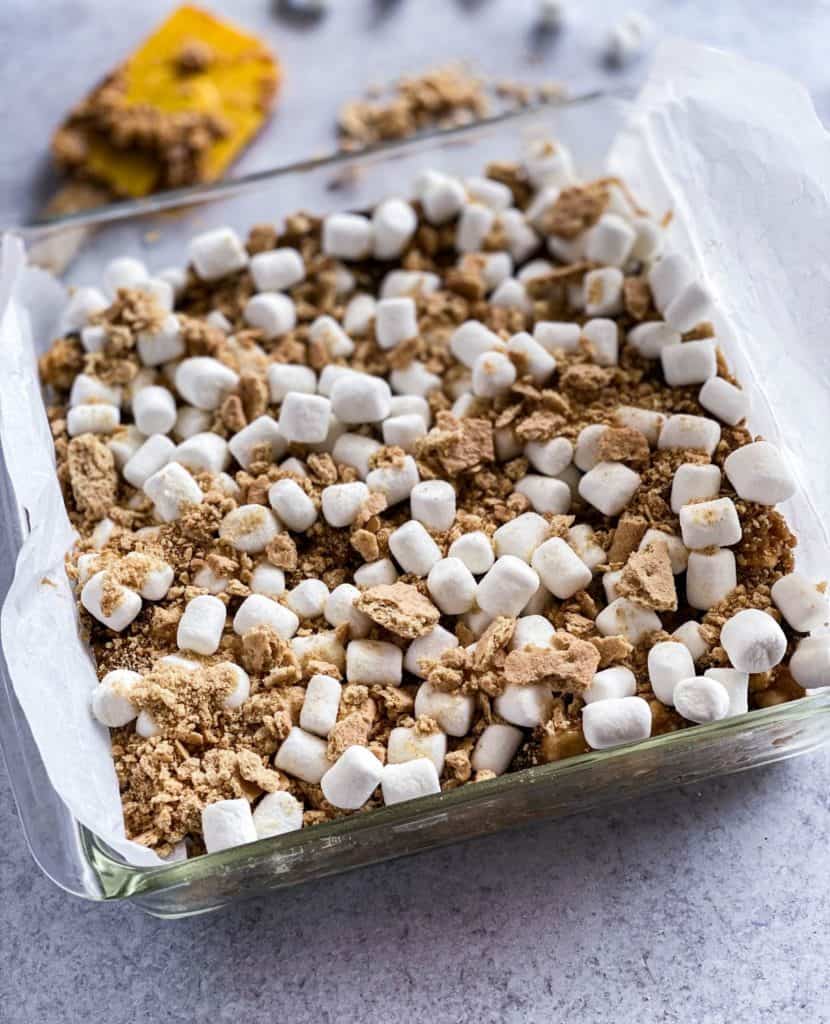 How To Get A Perfect Clean Cut Every Time.
Marshmallows are a messy and sticky buisness. It is hard to cut them and have them look pretty if you don't have the knowledge on how to do that.
First, I will stick the s'mores bars in the freezer for 10 minutes after they have completely cooled at room temperature. Chilling them will make it 100 times easier to cut them. When they are cold, they will stick together better.
Next, place the easy s'mores bars on a cutting board. After every cut you make, wash the knife off with hot water. Every. Single. Time. A clean and warm knife will cut through all the yummy marshmallows very easily.
If you don't clean your knife, all the of the chocolate and marshmallow stickiness will then get on the edges of the next bar you are cutting. You are left with a messy s'mores bar. If you clean your knife with hot water you won't have that problem.
Optional Mix ins
I love the taste of a traditonal s'mores bar. However, if you want to change up the taste, you can use cinnamon or chocolate graham crackers like I mentioned earlier.
You can also add, toffee peices, butterscotch chips, peanut butter chips, nuts, or caramel sauce drizzle on top. The options are endless!
If you do add extras, you will want to scale back on the chocolate chips, since there is a lot being added to the batter already.
How To Make Gluten Free Easy S'mores Bars
If you would like your bars to be gluten free, you can substitute your graham crackers for these gluten free ones. There won't be much difference between the regular and gluten free crackers when it comes to taste in the recipe.
You can also switch the all-purpose flour for 1:1 gluten free flour. I recommend this flour.
Can I Cut This Recipe In Half?
Yes, you definitely can. You can bake these in a bread loaf pan. You would just need to split all the ingredients down the middle. For the egg, keep it as 1 whole egg.
The only thing that would change is the baking time. I would check it at 20 minutes first, and continue to watch it until it is ready.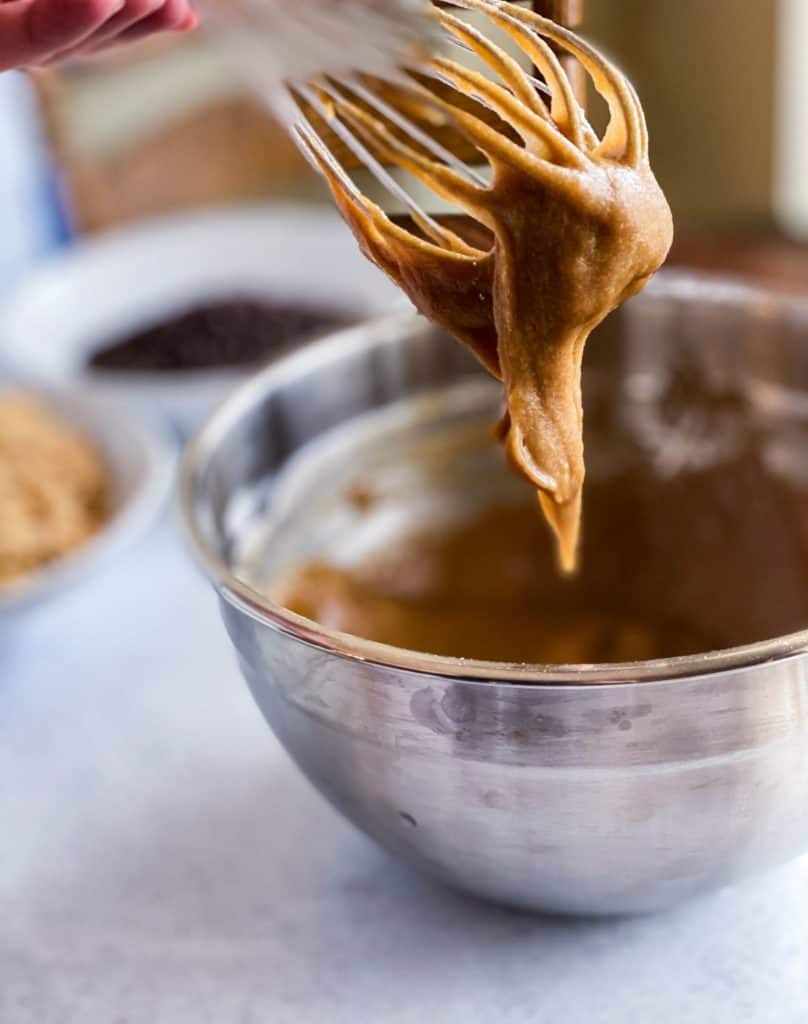 How To Store The S'mores Bars
First, cut them into squares. Then, you can store them in a Tupperare container. The Tupperware will seal in moisture, keeping the bars nice and chewy.
Can I Freeze The Bars
You can freeze them. I personally wouldn't though, because freezing and thawing marshmallows can change the texture. If you want to freeze them anyways, wrap up each bar tightly using cling wrap and place in freezer.
To thaw, place on the counter for over 24 hours. After they have thawed, you can place them back in the oven for 5-10 minutes.
More Easy Recipes To Try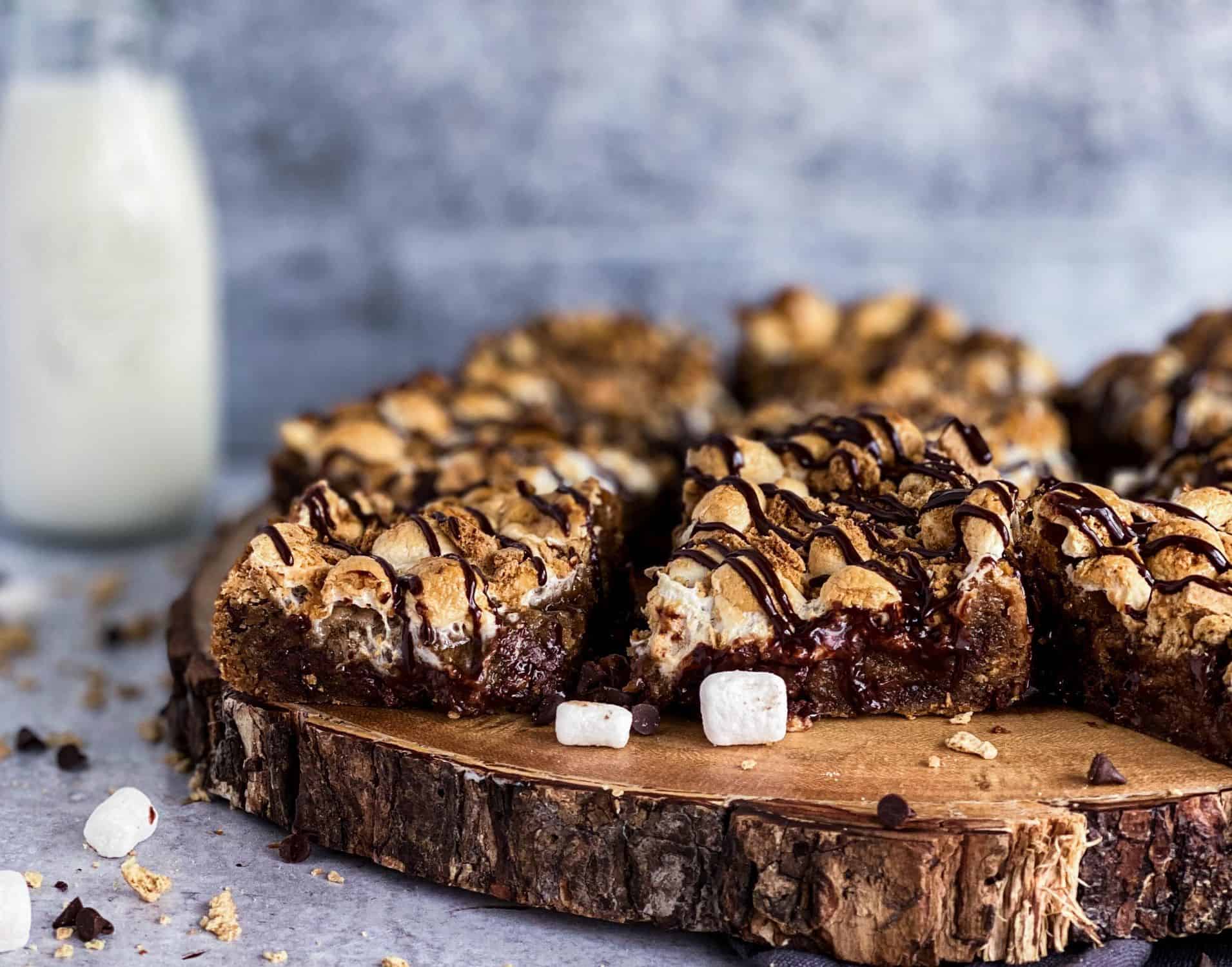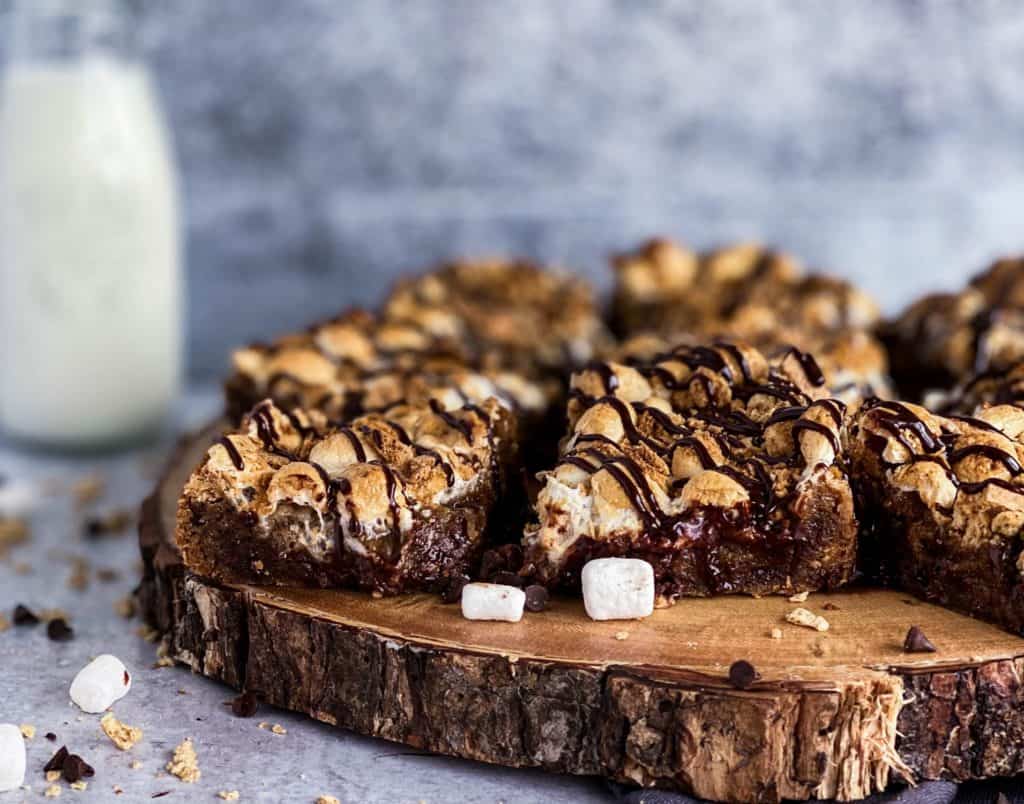 Make sure to tag me on Instagram @stephaniesweettreats and leave me a review below if you made these s'mores bars. I hope you loved it! To get more ideas follow me on Pinterest.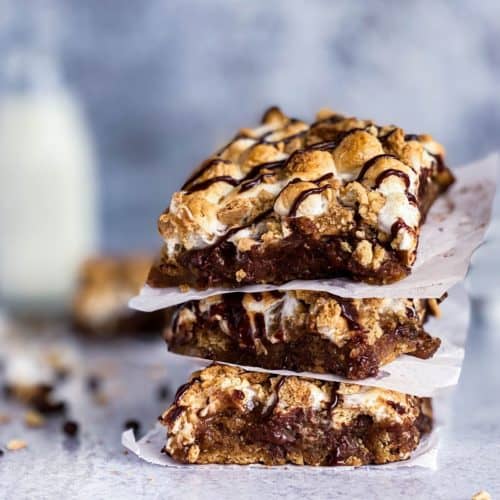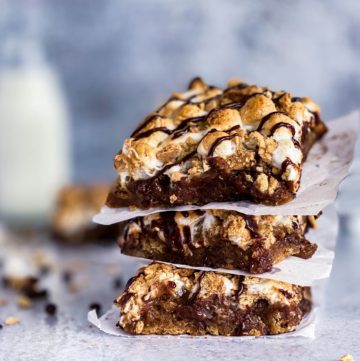 Easy S'mores Bars
These easy s'mores bars are quick to make. They have graham cracker chunks, mini marshmallows, and chocolate chip inside them. These gooey and chewy bars have toasted marshmallows and graham cracker crumbs on top. It is all finished off with a chocolate ganache drizzle.
Ingredients
½

cup

Unsalted butter

melted

1

cup

Packed dark brown sugar

1

Large egg

room temperature

1

tablespoon

Pure vanilla extract

¾

cup

All-purpose flour

¾

teaspoon

Salt

2

cups

Graham cracker chunks

Not very fine crumbs, just smaller chunks. Plus more for topping

1

cup

Mini marshmallows

Plus more for topping

¾

cup

Semi-sweet chocolate chips

¼

cup

Mini chocolate chips
Chocolate Ganache Drizzle
¼

cup

Heavy cream

½

cup

Semi-sweet chocolate chips
Instructions
Preheat oven to 350F. Spray an 8X8 baking pan with non stick spray. Place parchment paper on the bottom of the pan (leave enough paper coming up the sides that you can easily grab it to pull the bars out of the oven) and spray again.

In a small bowl, sift together flour and salt.

In a medium bowl, whisk together melted butter and brown sugar until smooth. It will appear a little grainy. Add in room temperature egg and vanilla extra. Whisk until smooth.

Add in dry ingredients and whisk together until smooth. The color should be more golden brown and should be very smooth and glossy. Add in the graham cracker chunks, mini marshmallows, and both chocolate chips. Use a rubber spatula to fold everything together.

Pour batter into the baking pan. Sprinkle a generous amount of mini marshmallows and graham cracker chunks. See picture above.

Bake for 35 minutes. The marshmallows will be golden brown and the edges should be set. Let the s'mores bars sit for 45 minutes until pulling them out of pan to cut them. They can be placed in fridge to chill to help make even looking bars.
Chocolate Ganache Drizzle.
Place chocolate chips in a small bowl and set aside.

In a saucepan, heat heavy cream on medium-low until steaming and hot. Pour hot cream over chocolate chips and let sit for 1 minute and 30 seconds.

Stir continuously until the chocolate is smooth and glossy. Use a spoon, squeeze bottle, or piping bag to drizzle chocolate over cut brownies. Leave the s'mores bars at room temperature.
Notes
For high altitude baking add an extra ¾ tablespoon of flour.
Nutrition