These Christmas light cupcakes are perfect light cupcakes your kids will LOVE to help make for the holidays. They are a moist vanilla cupcake filled with mini M&Ms. To make them soft and light they are topped with a whipped cream cheese and decorated like Christmas lights.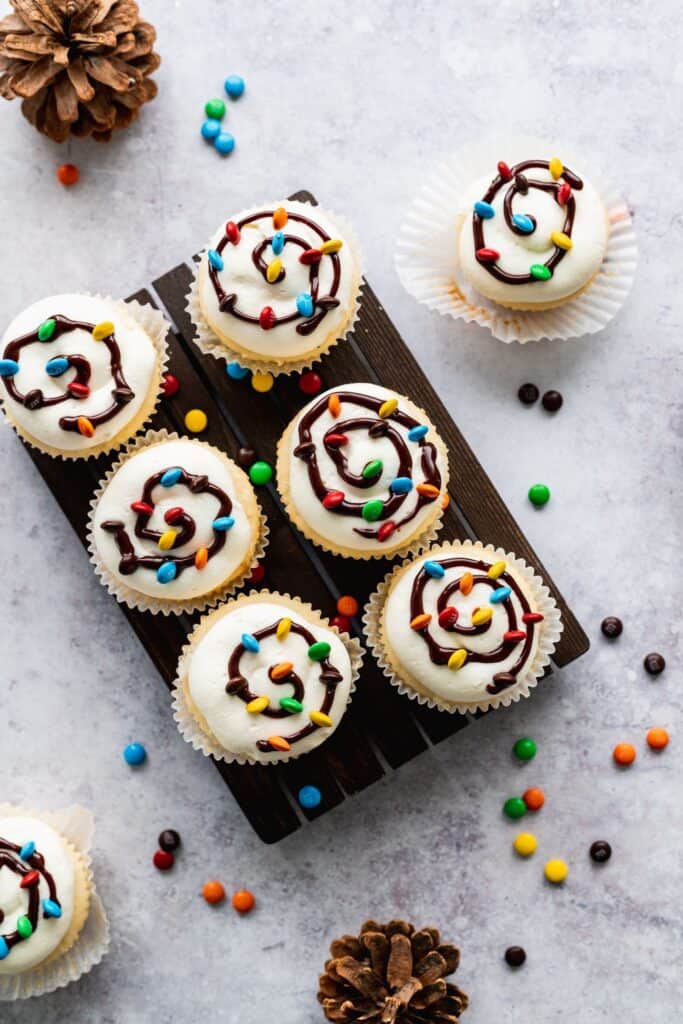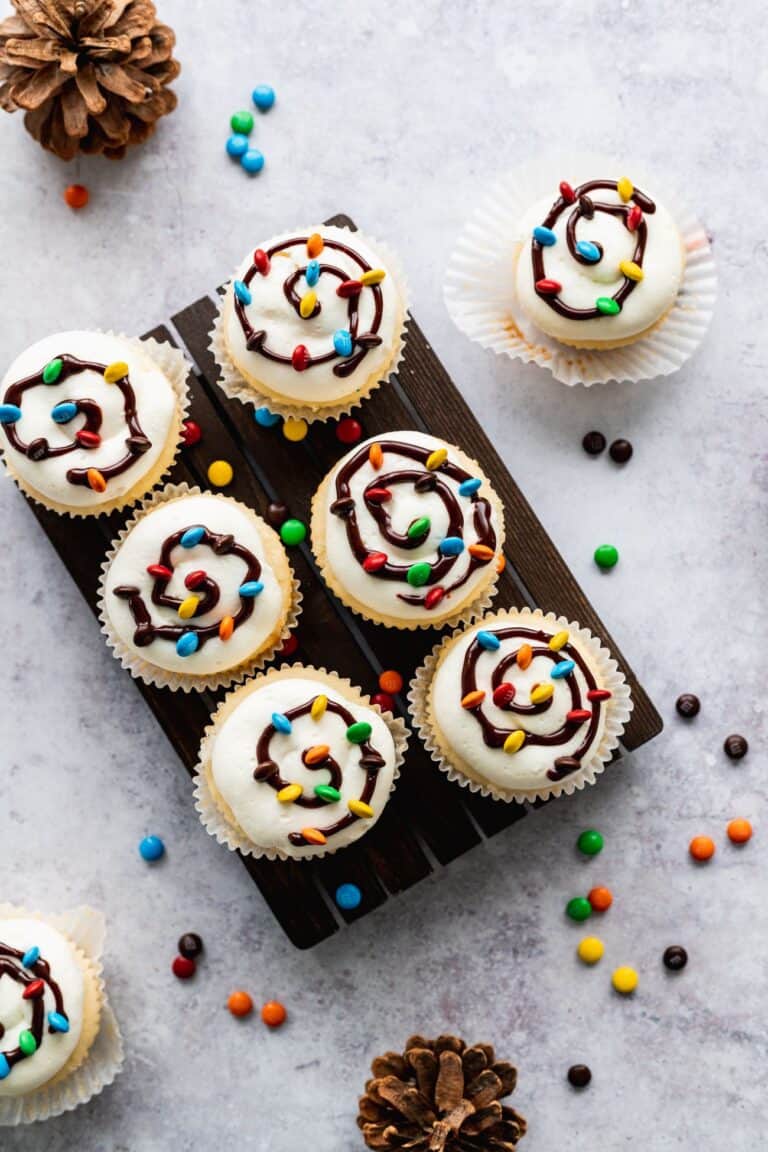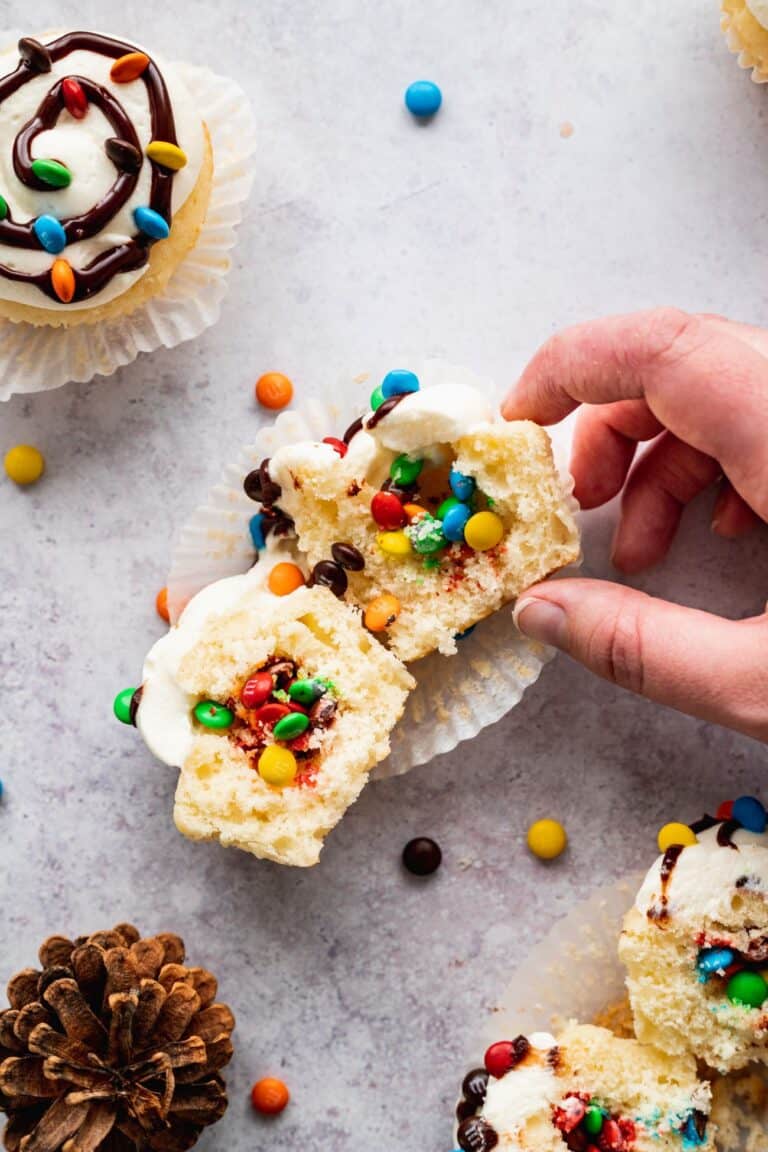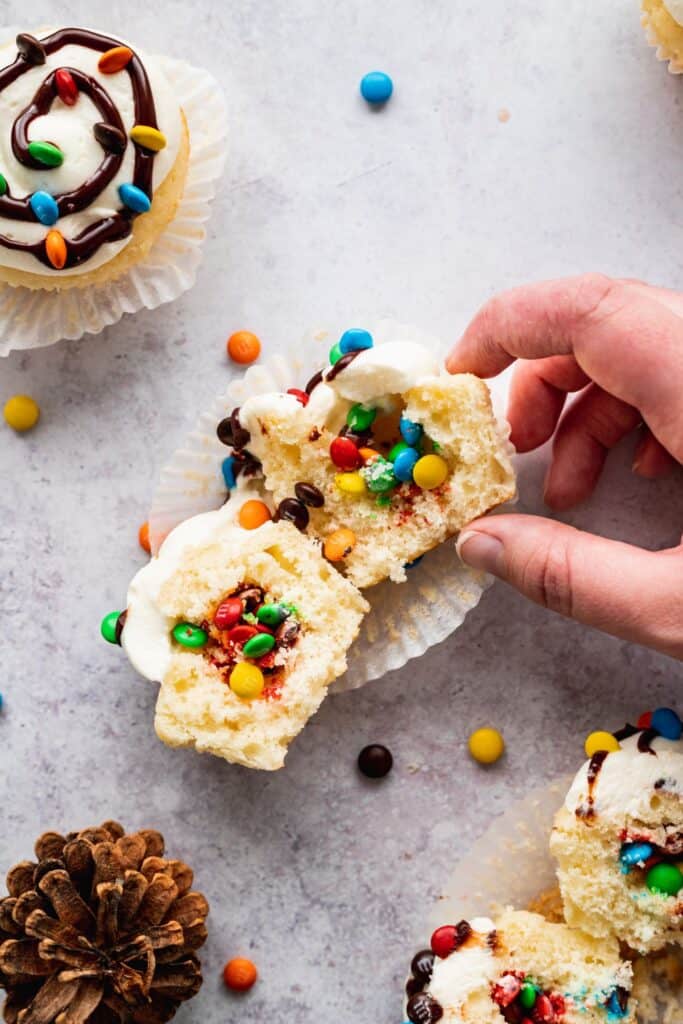 How To Make Vanilla Cupcakes
These cupcakes have a strong vanilla flavor and yet they are soft and light! Here is how to make the batter:
Mix dry ingredients- Make sure to mix all dry ingredients together. This prevents any flour clumps in the batter.
Beat butter and sugar- The butter and sugar need to be beaten for 3 whole minutes. This introduces air into the butter and creates a lighter texture.
Sour cream- Sour cream helps to add more moisture to the cupcakes. It has a higher level of fat which helps break down gluten.
Add in eggs- Make sure to add the eggs one at a time. Mix until all the butter is combined with the eggs.
Alternate dry ingredients and buttermilk- By alternating the ingredients, it will keep the batter moist. Mix on low because mixing more air while introducing gluten can cause the cake to sink.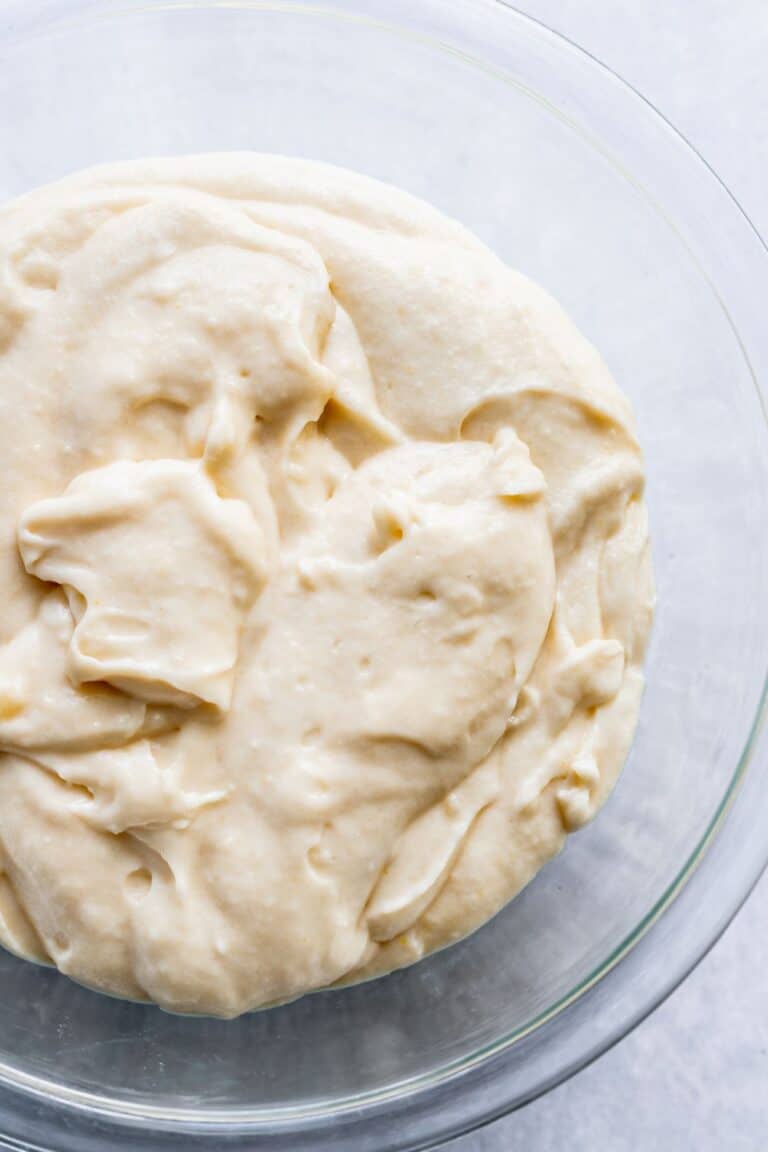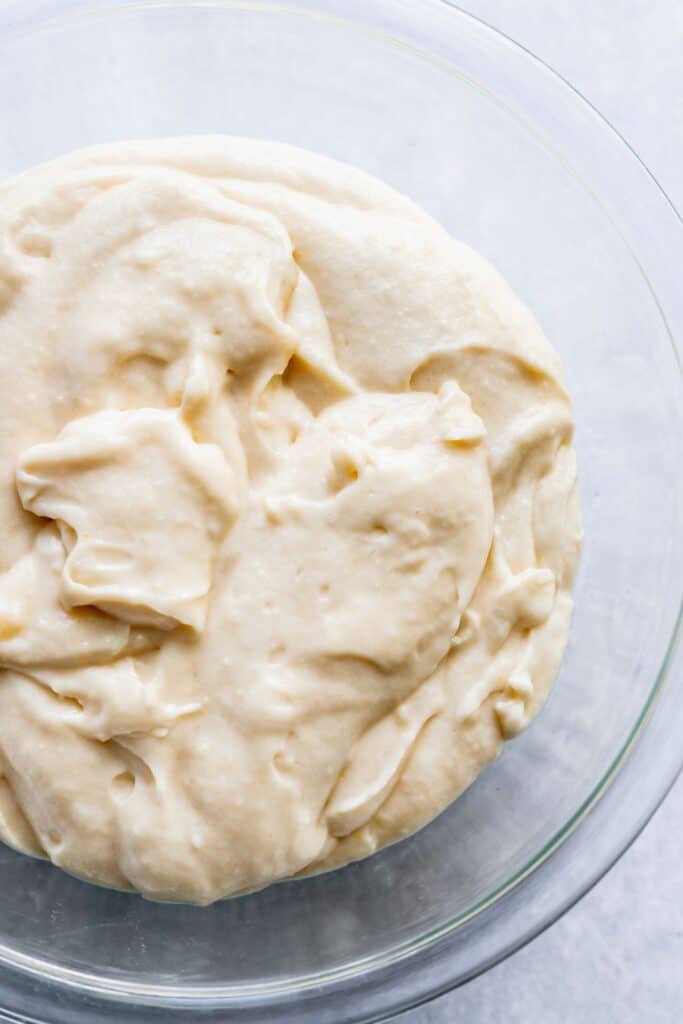 Cake Flour Vs All-Purpose Flour
For this recipe you need to use cake flour. Cake flour has less gluten and is a finer flour. All-purpose flour does have more gluten than you want here.
Cake flour is great when you need a light and delicate cake. I tend to use all-purpose flour for a cake that needs a stronger structure.
While you can use all-purpose for this recipe, it will result in a drier cupcake.
Baking The Cupcakes
Once the batter is ready, it is time to scoop the batter!
You will need a 12 cup muffin tin with muffin liners. Then, use a cookie scoop and fill the muffin tin about ¾ full. It should make 13 cupcakes.
Next, bake the cupcakes for 16-20 minutes.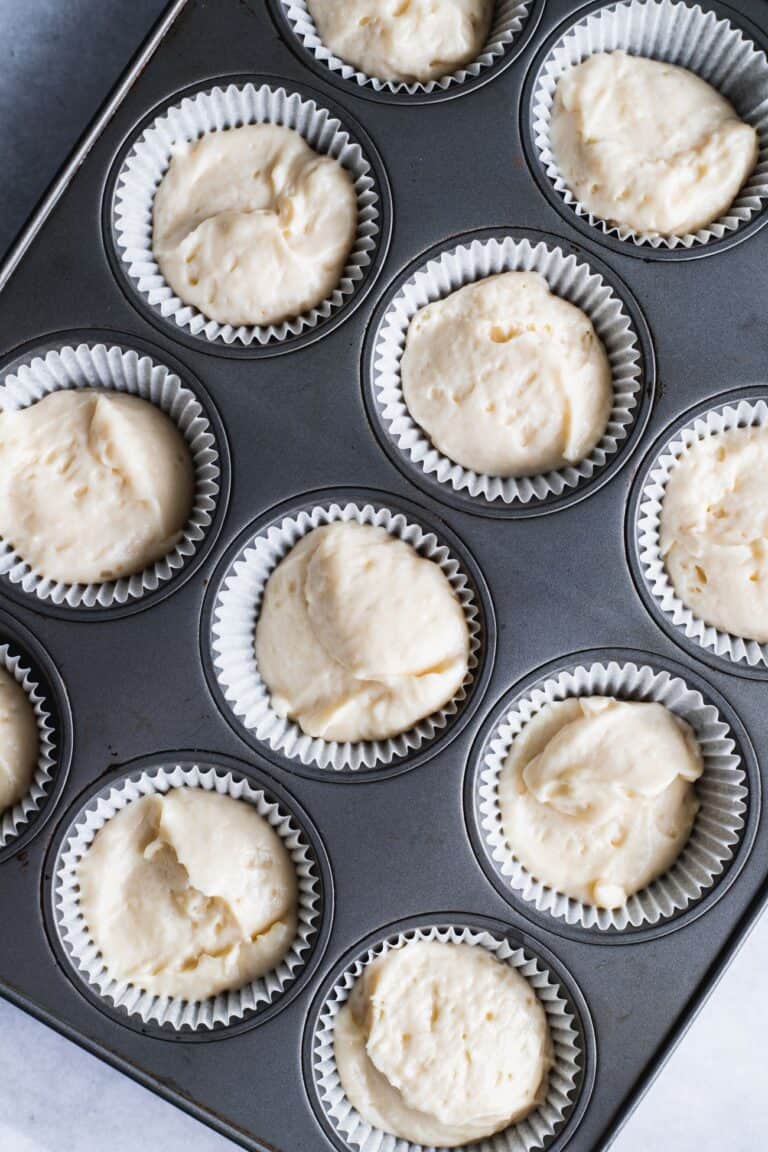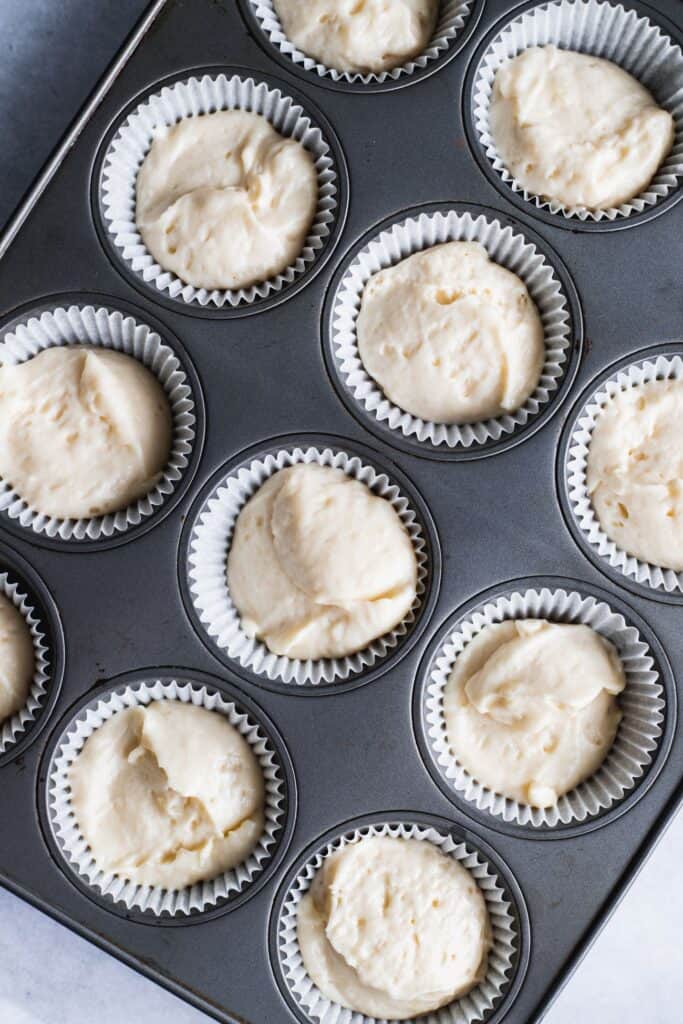 Filling The Cupcakes
One of the best parts about these cupcakes is that they are filled! Filling them with mini M&Ms is going to make them a HIT with the kids (and me). The idea is to make them look like more like lights on the inside of the cupcakes.
To fill the cupcakes, use a cupcake corer. I got mine at Michaels, but you can get this one here.
Cut down into the cupcakes about ⅔rds down. Make sure to save the tops! Then, fill the cupcakes all the way with the mini M&Ms. Once filled, replace the tops.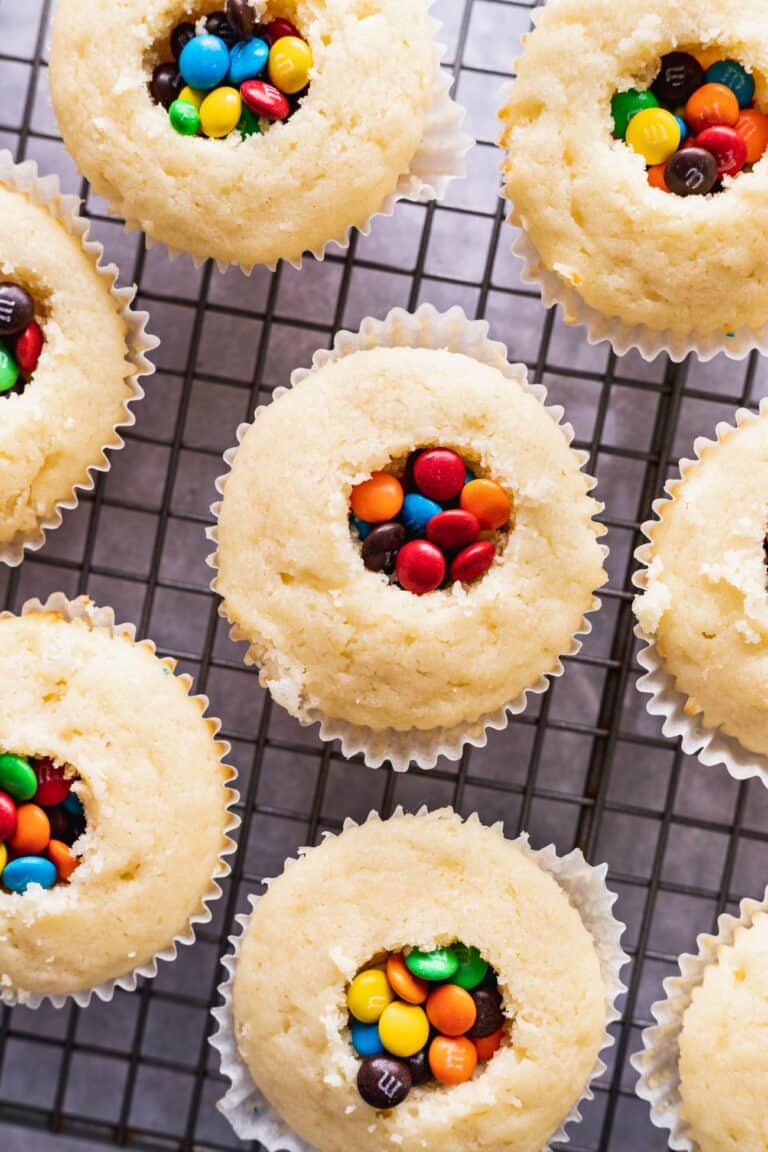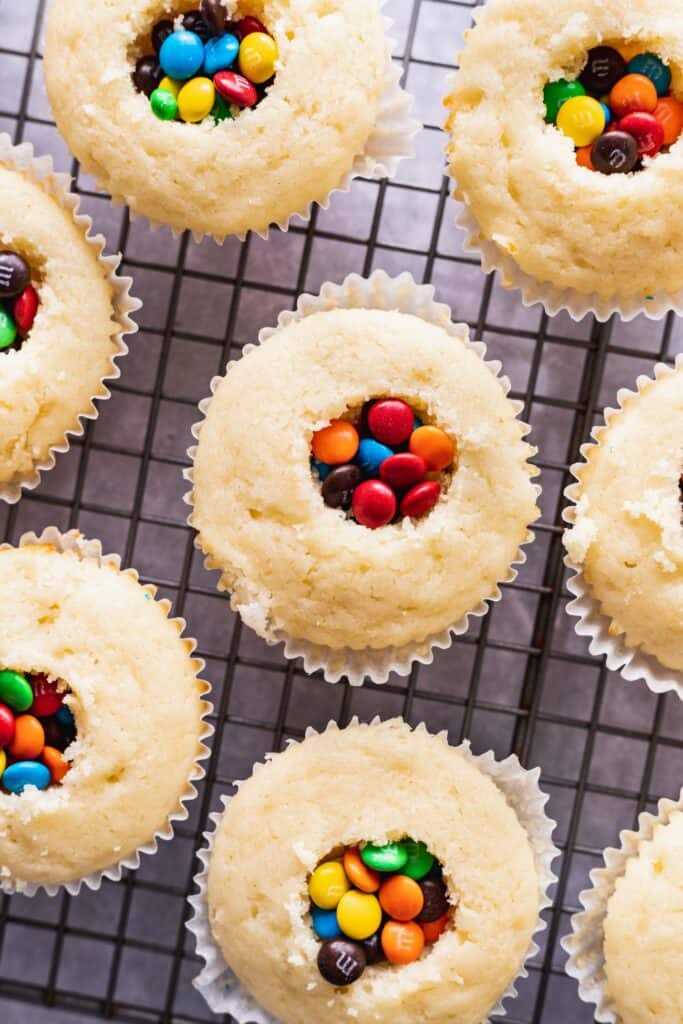 Tips To Decorate The Cupcakes
Here all the tips to easily decorate Christmas light cupcakes like Christmas lights.
Make whipped cream cheese-

Use a cold bowl- Make sure the bowl is frozen and cold before making the whipped cream.
Room temperature cream cheese- Pull the cream cheese out 2 hours before using. It is so much easier to blend until smooth if it is room temperature.
Sifted powdered sugar- To avoid the whipped cream cheese from being grainy, make sure to sift the powdered sugar.
Slowly fold in whipped cream- You need to be gentle when folding in whipped cream otherwise you can deflate all the air! Fold until everything is combined

Use a squeeze bottle for the chocolate ganache- The easiest way to create the swirl on top of the whipped cream, is to use a squeeze bottle. Create a simple swirl. A more complicated swirl will be too crowded to place M&Ms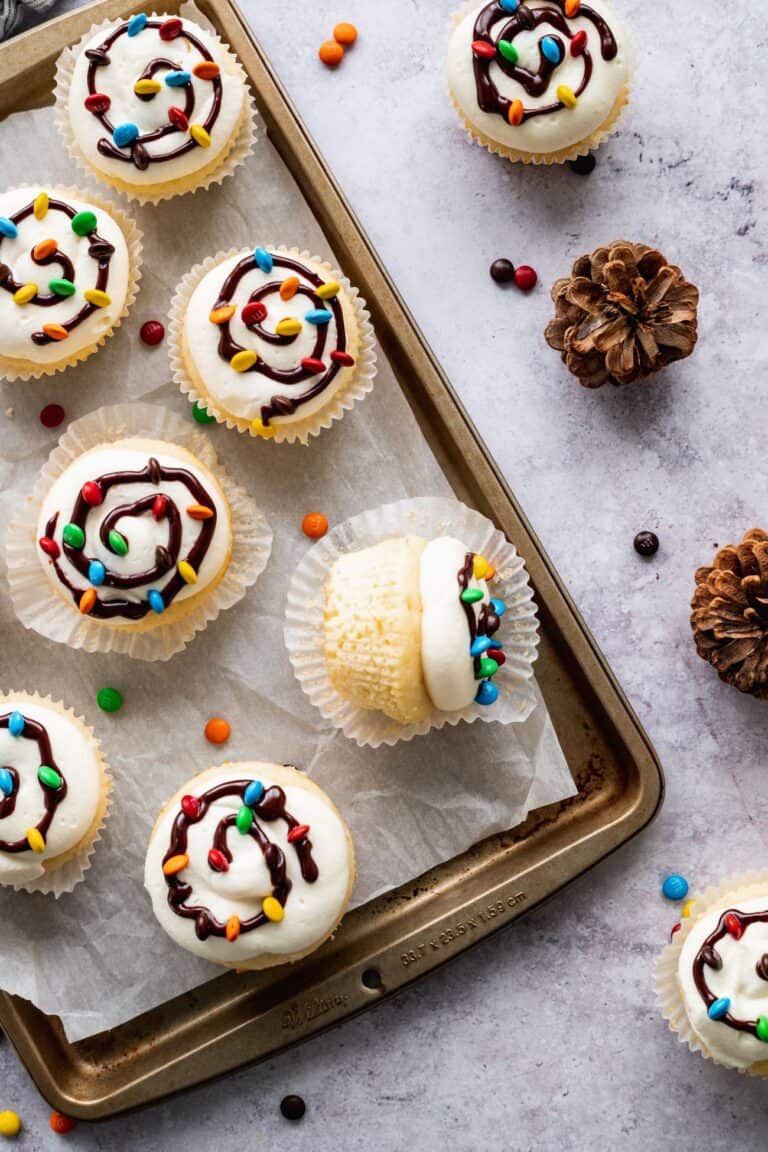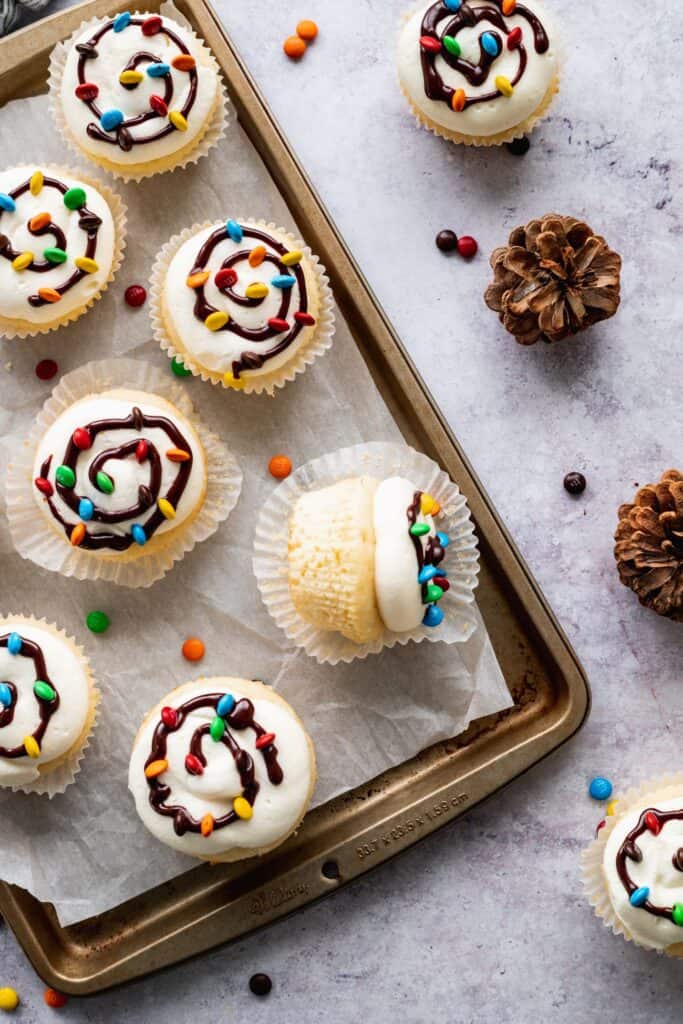 Serving The Cupcakes
Only top the Christmas light cupcakes with mini M&Ms right before serving.
I noticed after I stored the decorated cupcakes in the fridge, the color from the M&Ms ran all over the whipped cream cheese.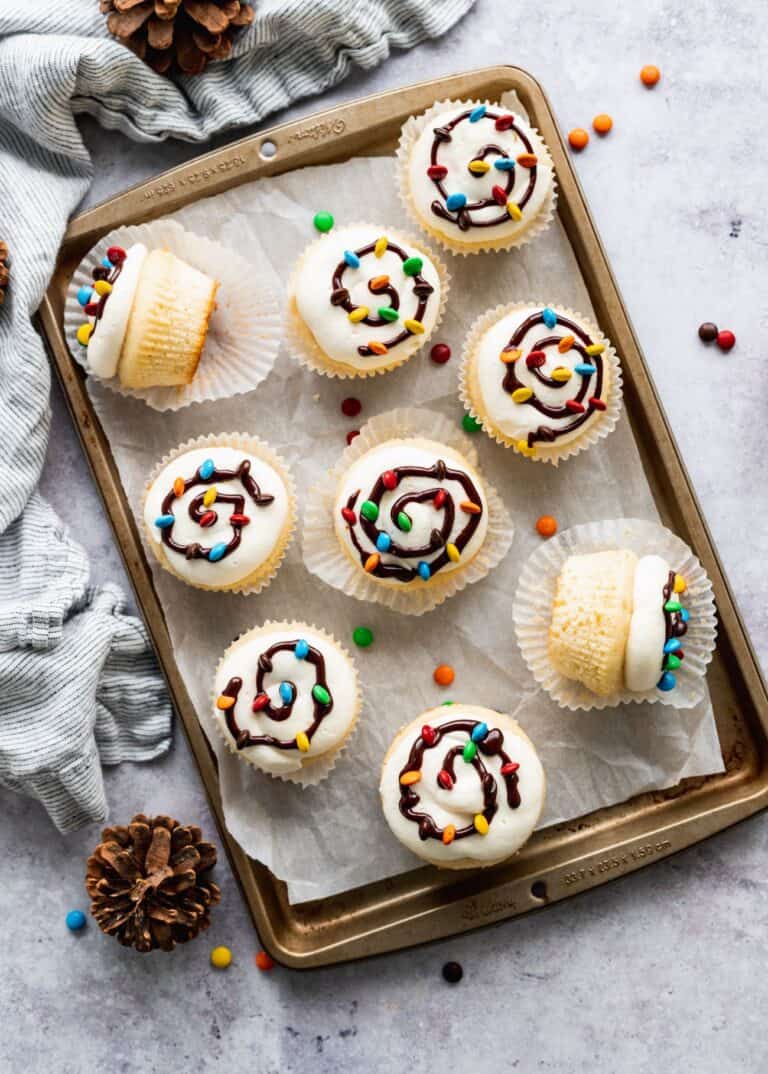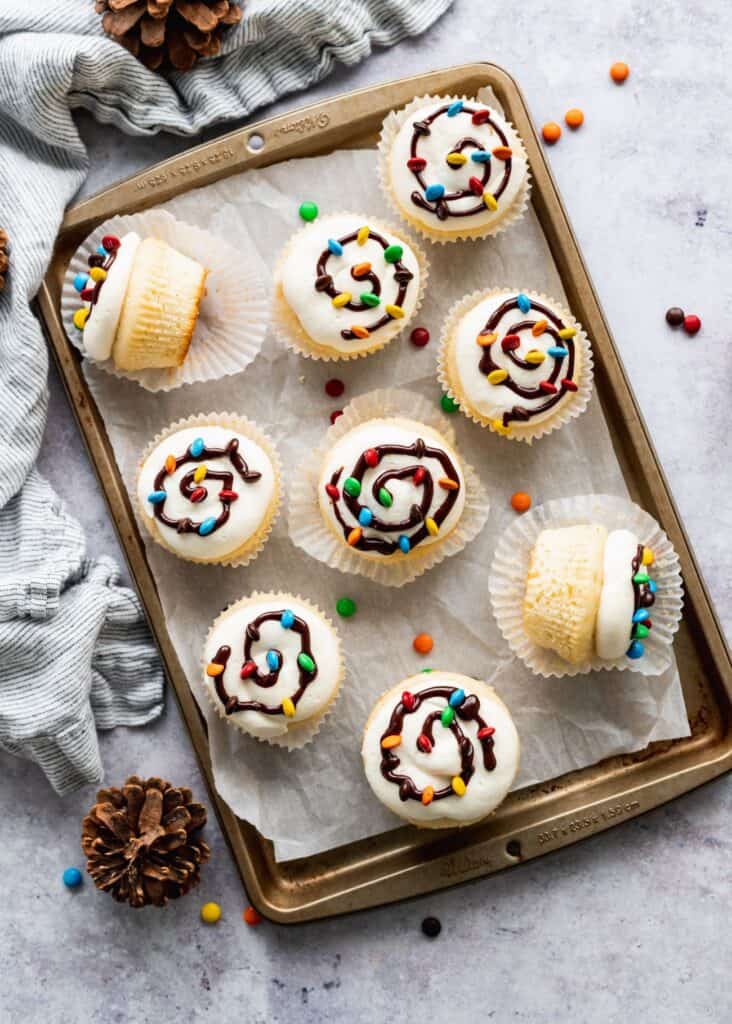 Storing the Christmas Cupcakes
Since there is whipped cream cheese, these Christmas light cupcakes need to be stored in the fridge. They will be good up to 5 days in the fridge. Store the cupcakes in an air tight container.
Other Holiday Recipes To Try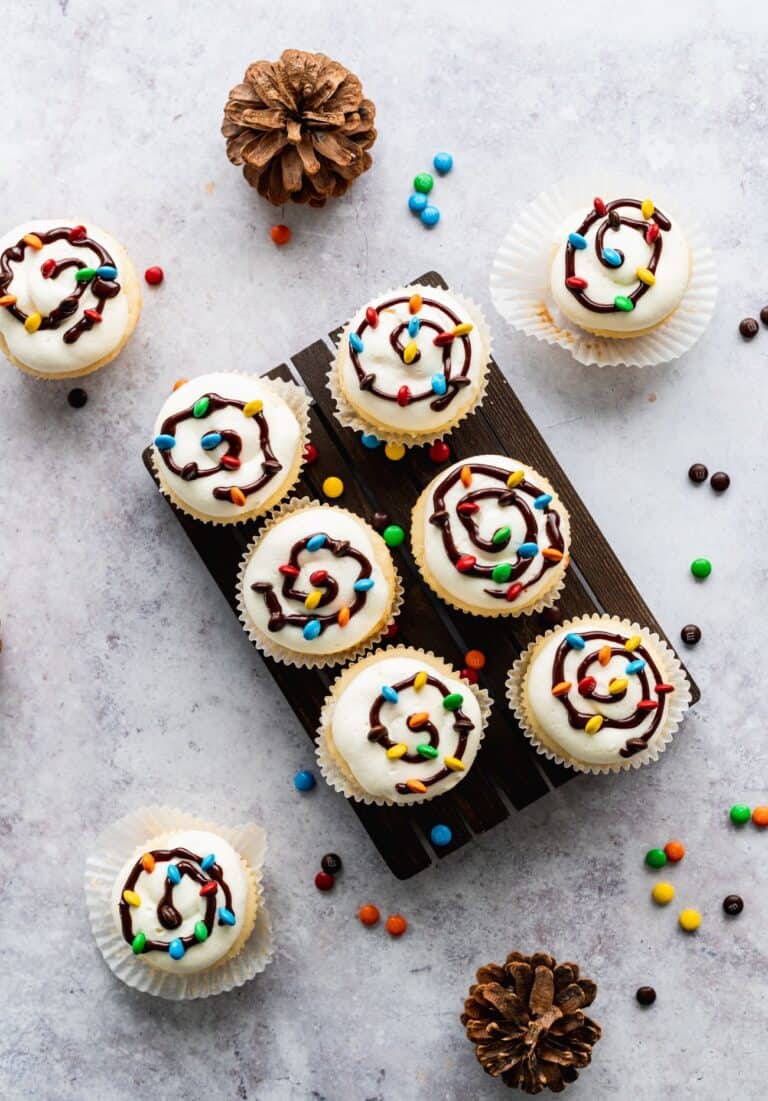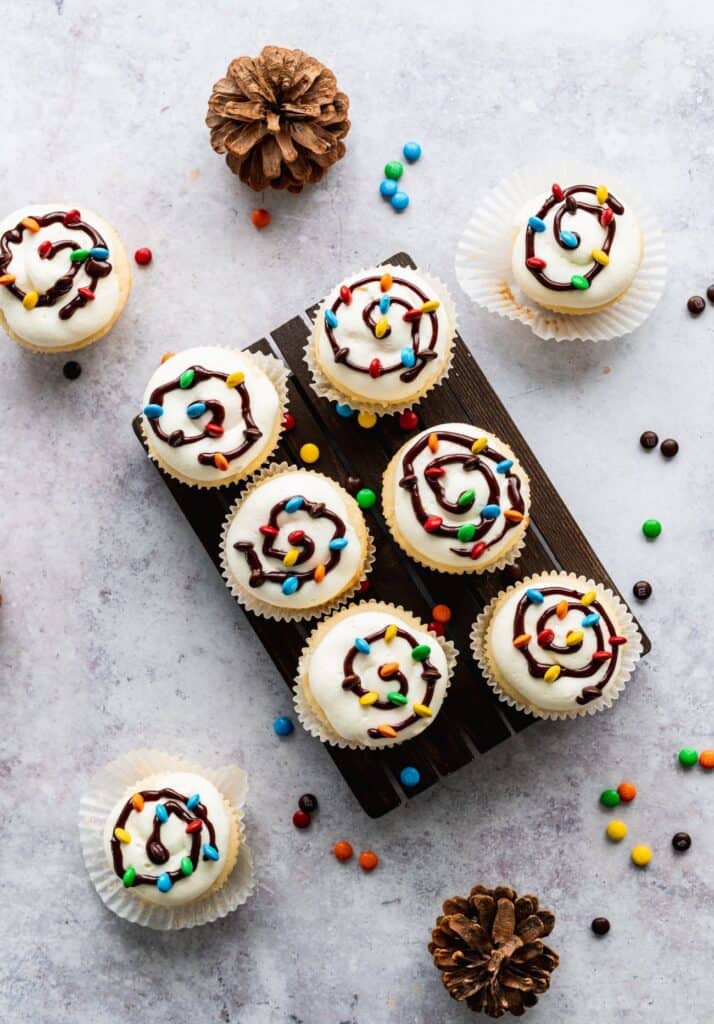 Make sure to tag me on Instagram @stephaniesweettreats and leave me a review below if you made these cupcakes. I hope you loved it! To get more ideas follow me on Pinterest.
📖 Recipe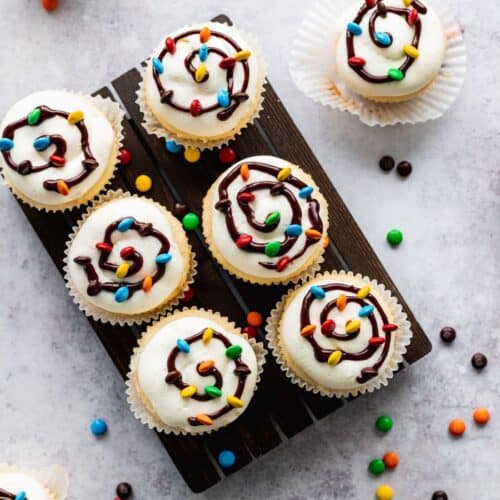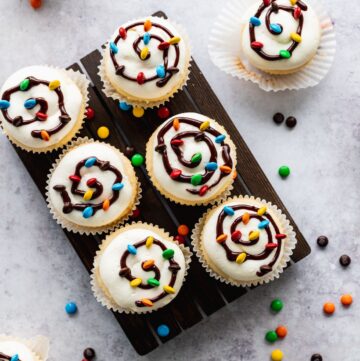 Christmas Light Cupcakes
These Christmas light cupcakes are moist vanilla cupcakes filled with mini M&Ms. They are topped with whipped cream cheese, chocolate ganache swirl and more mini M&Ms.
Ingredients
Vanilla cupcakes
1 ¾

cups

Cake flour

½

tablespoon

Baking powder

½

teaspoon

Salt

½

cup

Unsalted butter

room temperature

¾

cup

White granulated sugar

¼

cup

Sour cream

room temperature

½

tablespoon

Pure vanilla extract

2

Egg whites

room temperature

1

Large egg

room temperature

½

cup

Buttermilk

room temperature
Whipped Cream Cheese
8

oz

Cream cheese

room temperature

1 ½

cups

Powdered sugar

1

teaspoon

Pure vanilla extract

1

teaspoon

Milk

1

cup

Heavy cream

cold

Mini M&Ms

for filling and decoration
Chocolate Ganache
½

cup

Semi-sweet chocolate chips

¼

cup

Heavy cream
Instructions
Vanilla Cupcakes
Preheat oven to 350°F. Line a 12 cup muffin tin with muffin liners. Set aside.

In a mixing bowl, sift together cake flour, baking powder, and salt. Set aside.

Using a mixer, beat the butter and sugar together on medium. Beat for 3 minutes so it is light and fluffy. Add in sour cream and vanilla. Mix on medium until combined.

Add in egg whites and egg one at a time. Mix until just combined. Scrape the bowl and mix again.

Add in ⅓ of dry ingredients and half of the buttermilk. Mix until almost combined. Add another ⅓ of the dry ingredients and the rest of the buttermilk and mix. Then, add the rest of the dry ingredients. Scrape the bowl and mix for 20 seconds.

Fill up muffin tin about ¾ full. Bake for 16-20 minutes. The cupcakes are done baking when a toothpick inserted comes out clean. Let the cupcakes sit in the tin for 10 minutes. Then, transfer to a cooling rack. Allow them to cool completely.

Use a cupcake corer or a sharp knife and remove the center of the cupcakes. Go about ⅔rds down. Save the tops of the cupcakes. Fill all the way with mini M&Ms. Replace the tops.
Whipped Cream Cheese
Place metal mixing bowl and whisk attachment in the freezer for 10 minutes. Then, sift powdered sugar in a small bowl. Set aside.

Using a mixer, beat the cream cheese on high for 1 minute. Then, add in powdered sugar. Mix on low until combined. Turn to high and beat until smooth.

Add in vanilla and milk. Mix until combined. Use the cold bowl and whisk attachment and beat the heavy cream on high until stiff peaks form.

Pour whipped cream into cream cheese bowl. Use a rubber spatula and gently fold in the whipped cream. Once thoroughly combined, frost the cupcakes. I used wilton tip 2A.
Chocolate Ganache
Pour chocolate chips in a small bowl. Heat heavy cream in a saucepan over medium-low heat. Heat until hot and steaming. Pour hot cream over chocolate chips.

Let it sit for 1 minute and 30 seconds. Use a rubber spatula and mix until smooth and glossy. Pour chocolate in a squeeze bottle or piping bag. Pipe a swirl over the frosted cupcakes. Place mini M&Ms on the swirl to create a Christmas light look.
Notes
Flour- Make sure to use cake flour. Make sure it is spooned and leveled or use a kitchen scale. Compacted flour can dry out the cupcakes.
Make sure butter, eggs, buttermilk, and sour cream are room temperature. Pull out 2 hours before baking.
Nutrition
Calories:
397
kcal
Carbohydrates:
48
g
Protein:
5
g
Fat:
28
g
Saturated Fat:
17
g
Cholesterol:
79
mg
Sodium:
245
mg
Potassium:
134
mg
Fiber:
1
g
Sugar:
17
g
Vitamin A:
901
IU
Vitamin C:
1
mg
Calcium:
90
mg
Iron:
1
mg