These cinnamon roll muffins with cream cheese glaze taste exactly like a cinnamon roll, but in muffin form. The moist cinnamon muffin is filled and topped with cinnamon roll filling which gives it extra flavor. It is all topped with cream cheese glaze drizzle. These muffins are so delicious and are bound to be your new favorite breakfast treat!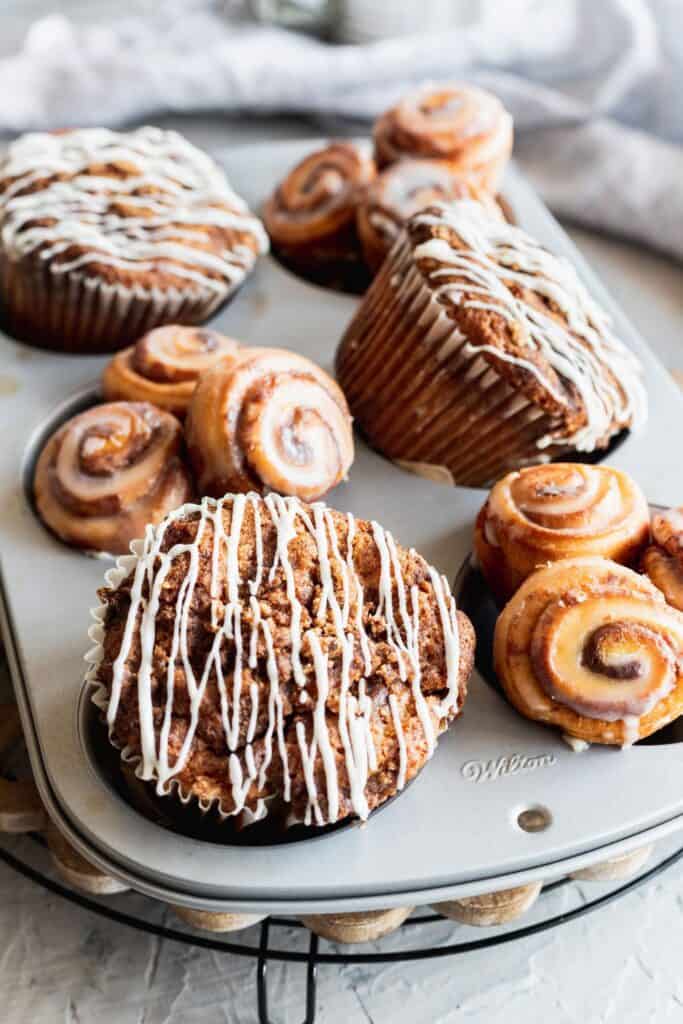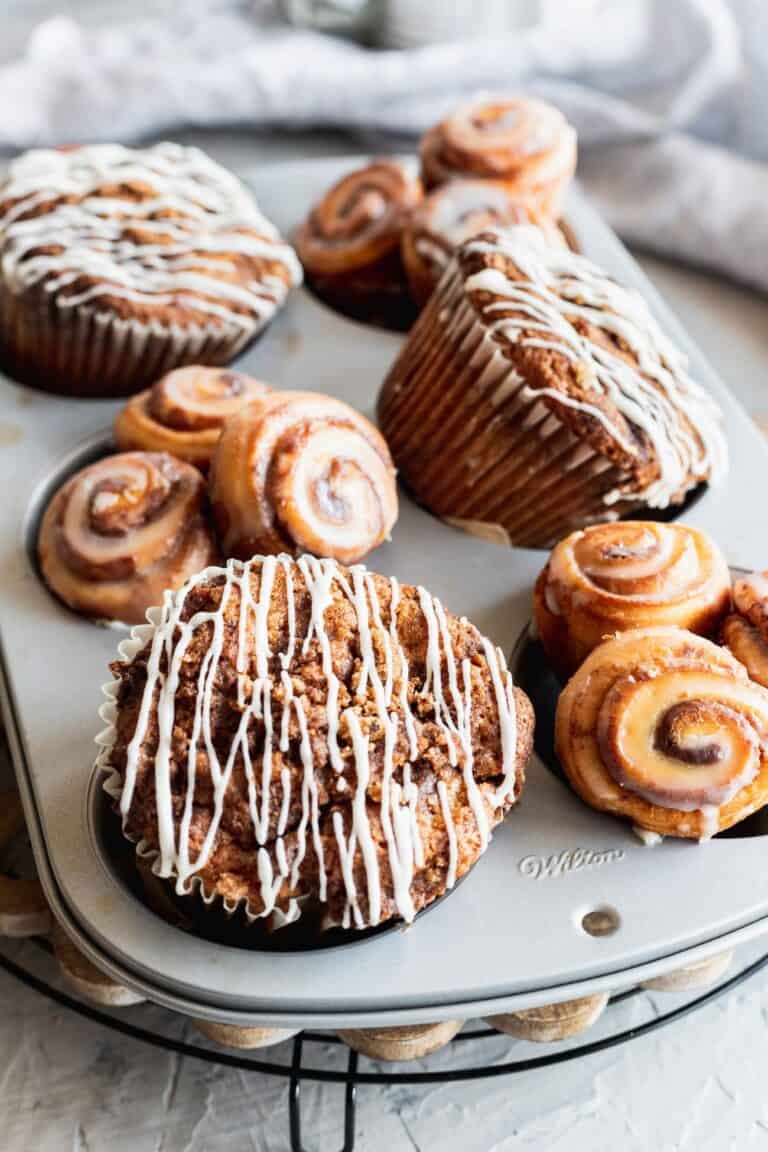 The Best Cinnamon Roll Muffins with Cream Cheese Glaze
What makes these muffins stand out from any regular cinnamon muffins, is the cinnamon roll topping. The best part about a cinnamon roll is the filling. It has melted butter, cinnamon and brown sugar, all mixed into the muffins.
Not only is it mixed into the batter, the filling is also on top of the muffins acting as a crumble topping. There is cinnamon throughout the entire muffin. It is not lacking in flavor, that is for sure.
You can't have a cinnamon roll without cream cheese glaze! It is drizzled on top, which completes the entire muffin.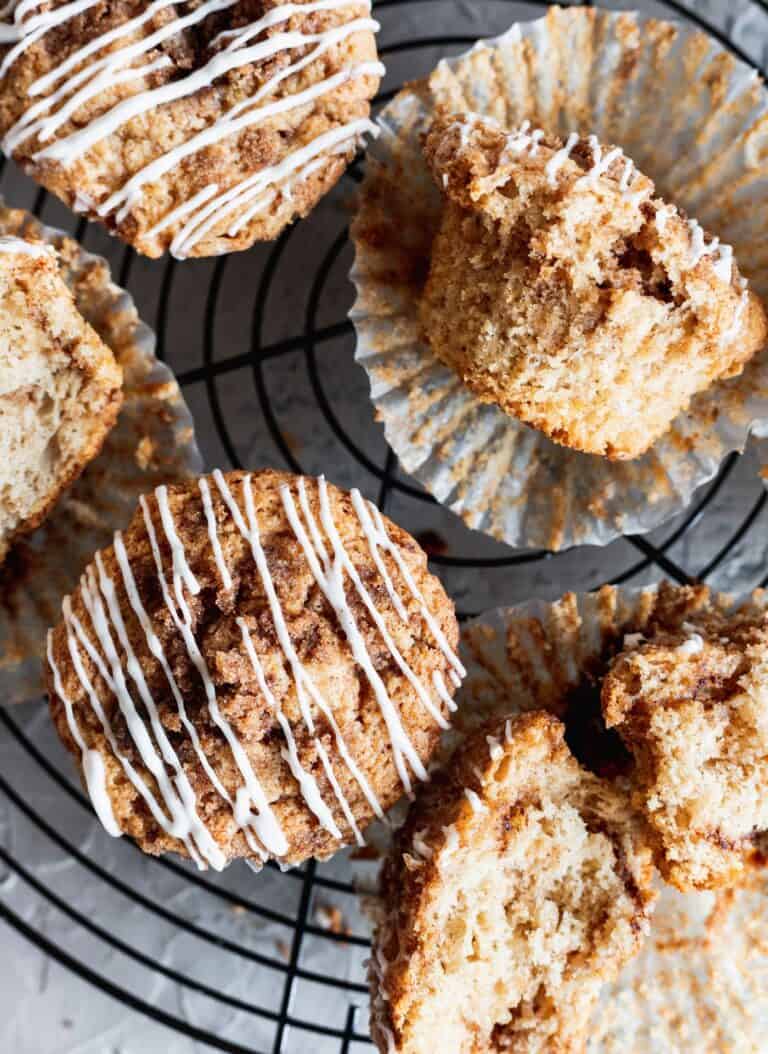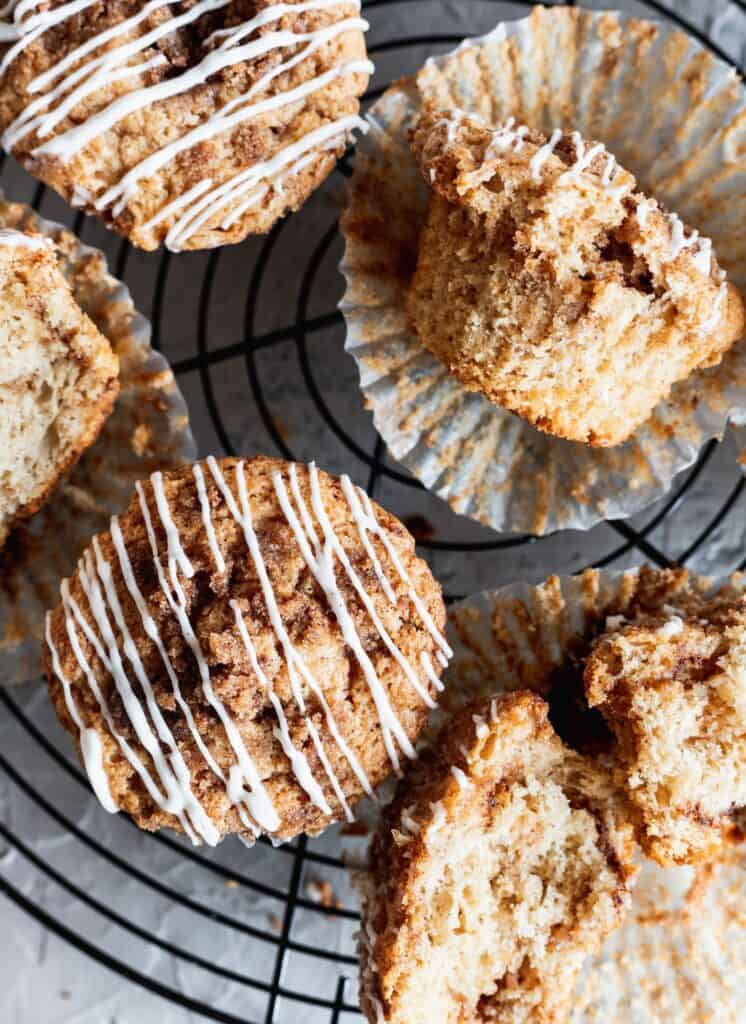 Tips On Making Cinnamon Muffins
For these muffins, I strongly recommend making them in a jumbo muffin tin. It bakes tall and creates a bakery style type muffin. You can also use a regular 12 cup muffin tin. It is just more special when you make them jumbo.
Here are my best tips to bake the cinnamon muffins with cream cheese glaze:
Sift the dry ingredients- Make sure to use a sifter to get all of the flour lumps out. When baking muffins, you can get pockets of flour if you don't sift it.
Beat the butter and sugar for 2 straight minutes- This part is so important. Beating the butter helps to aerate it and get fluffier muffins. It also helps the rise of the muffin.
Use room temperature ingredients- Room temperature dairy ingredients (butter, eggs, buttermilk, and sour cream) will create a better rise in the muffin. Cold ingredients will result in a dense and flat muffin.
Use only half of the cinnamon roll filling- For the batter only use half of the filling because much more will effect the rise of the muffin. Too much will cause the muffins to sink in the middle.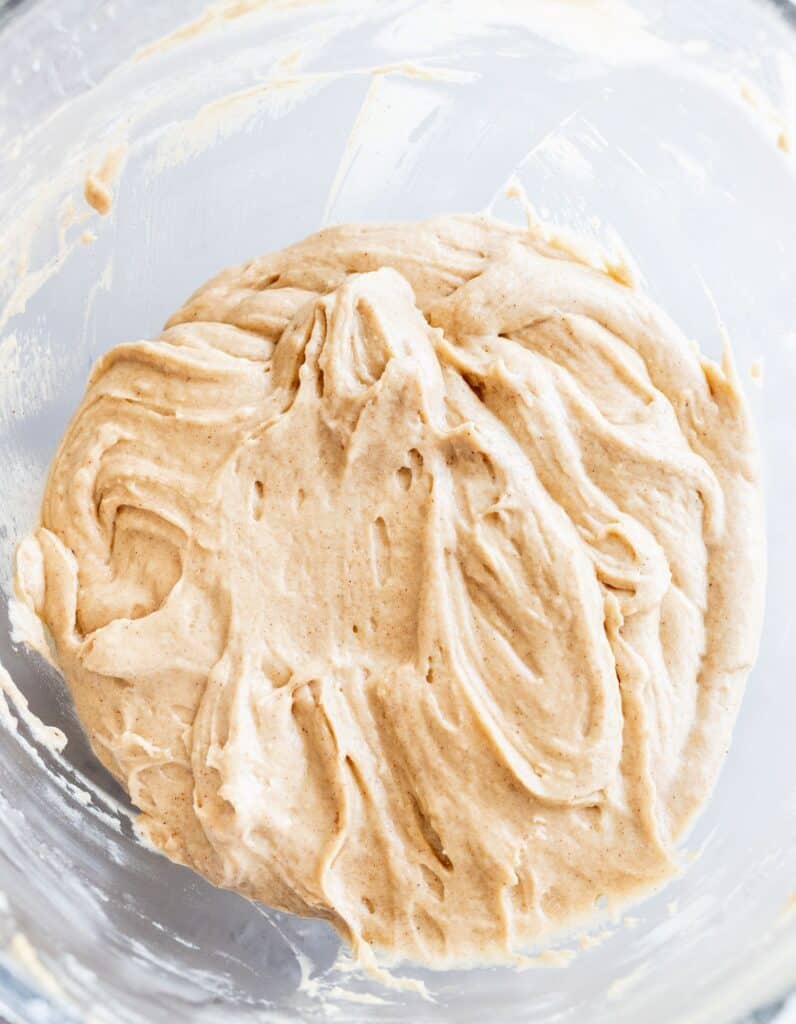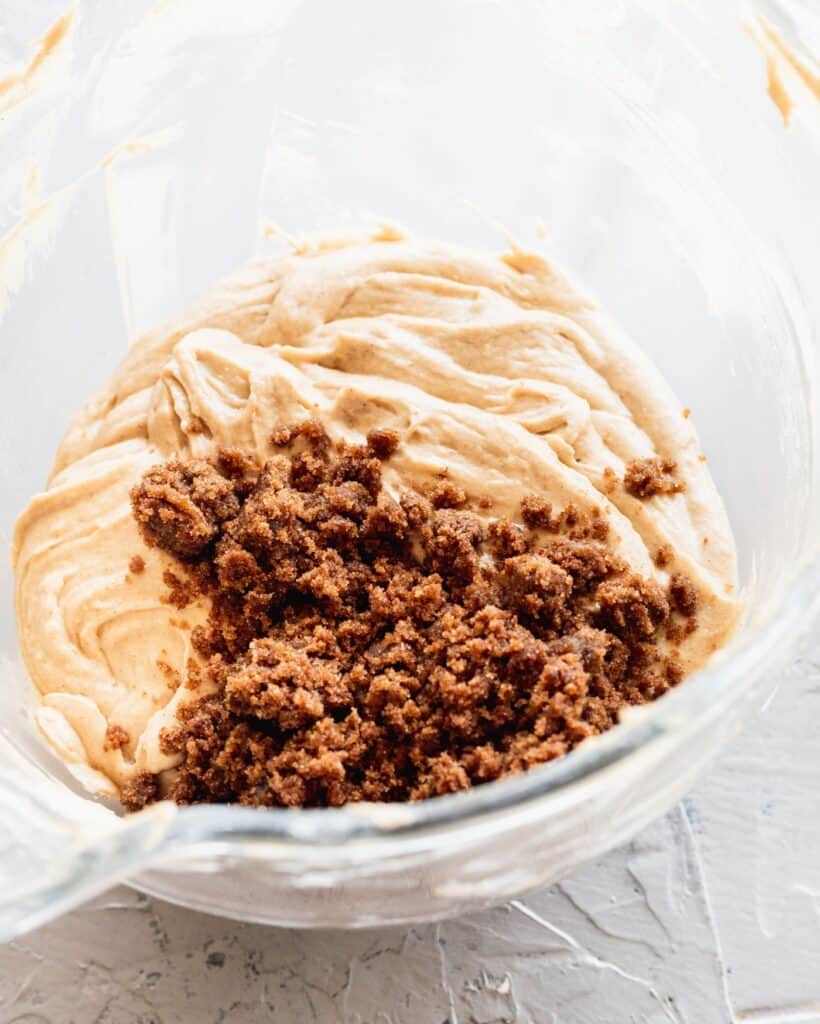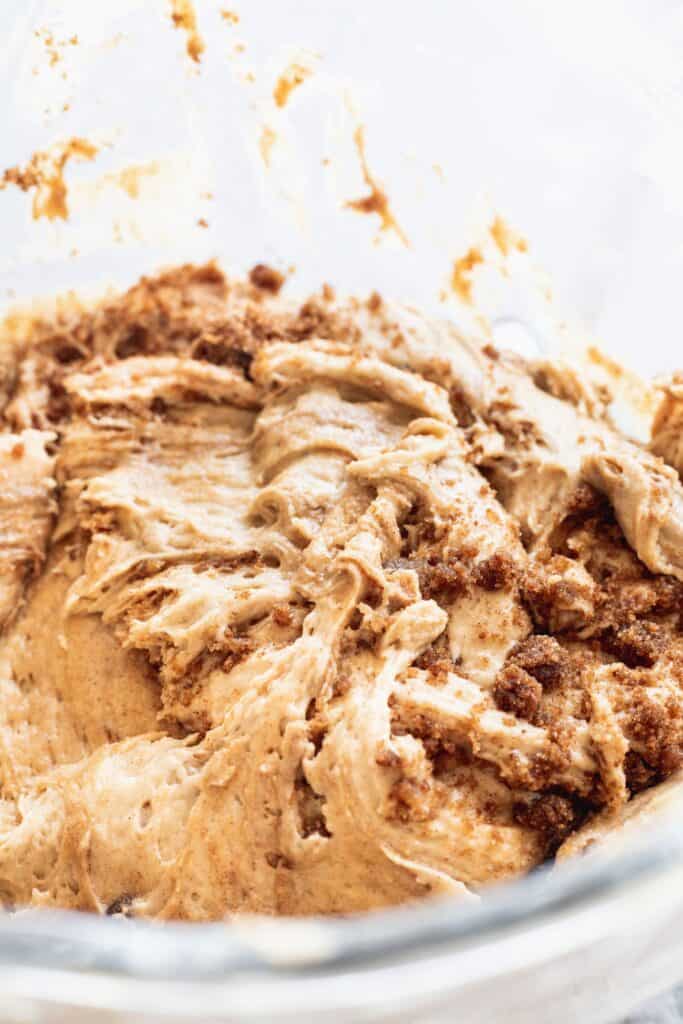 Filling and Baking The Muffins
To fill the muffins use a cookie scoop. If you are making these with a jumbo pan you can even use a large ice cream scoop! This is the easy and mess free way to get an even amount of batter in each muffin.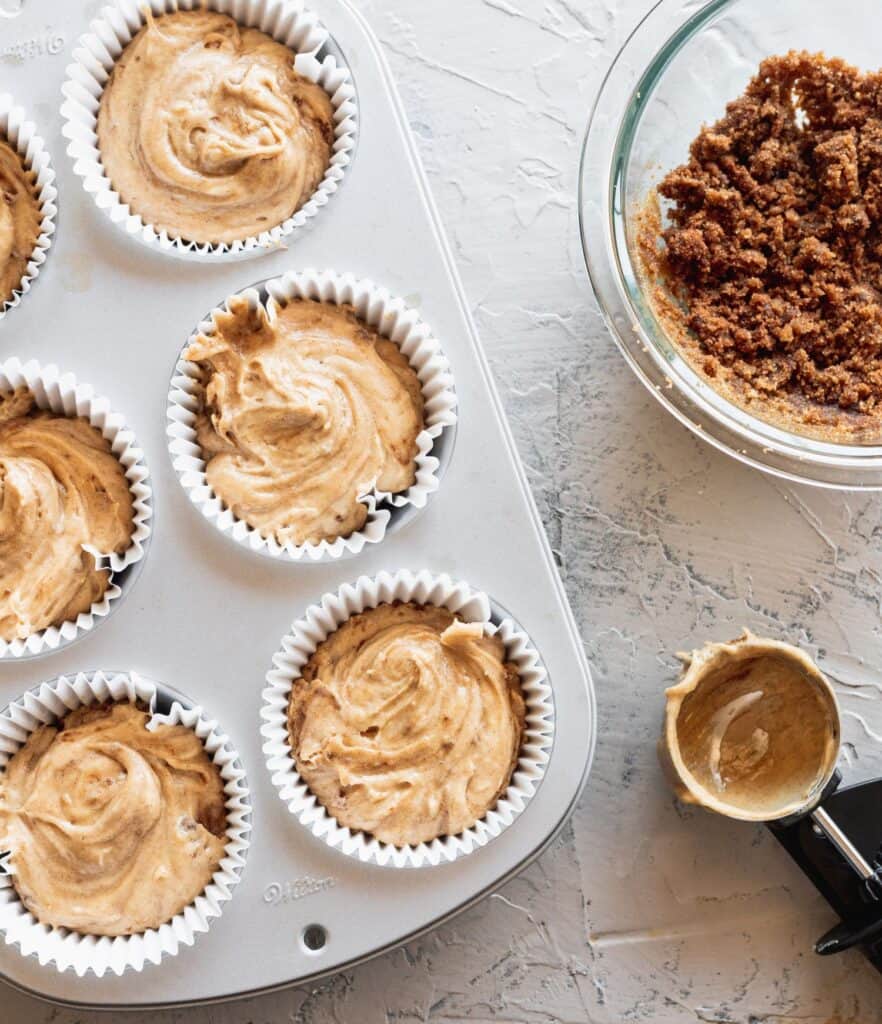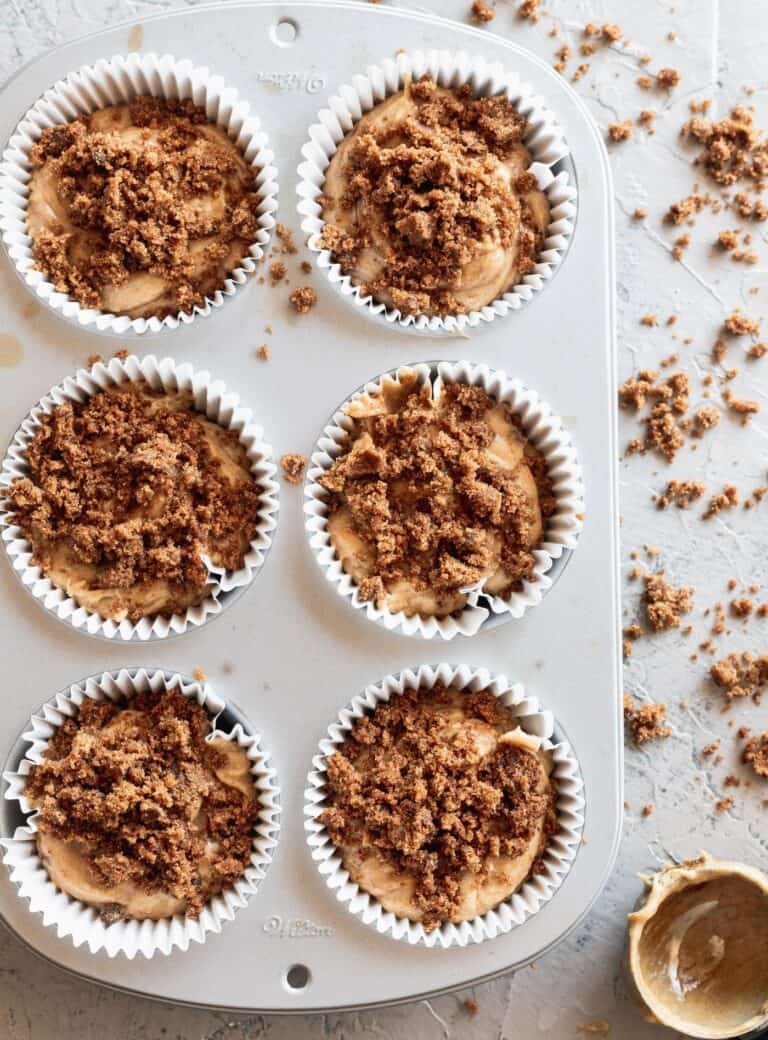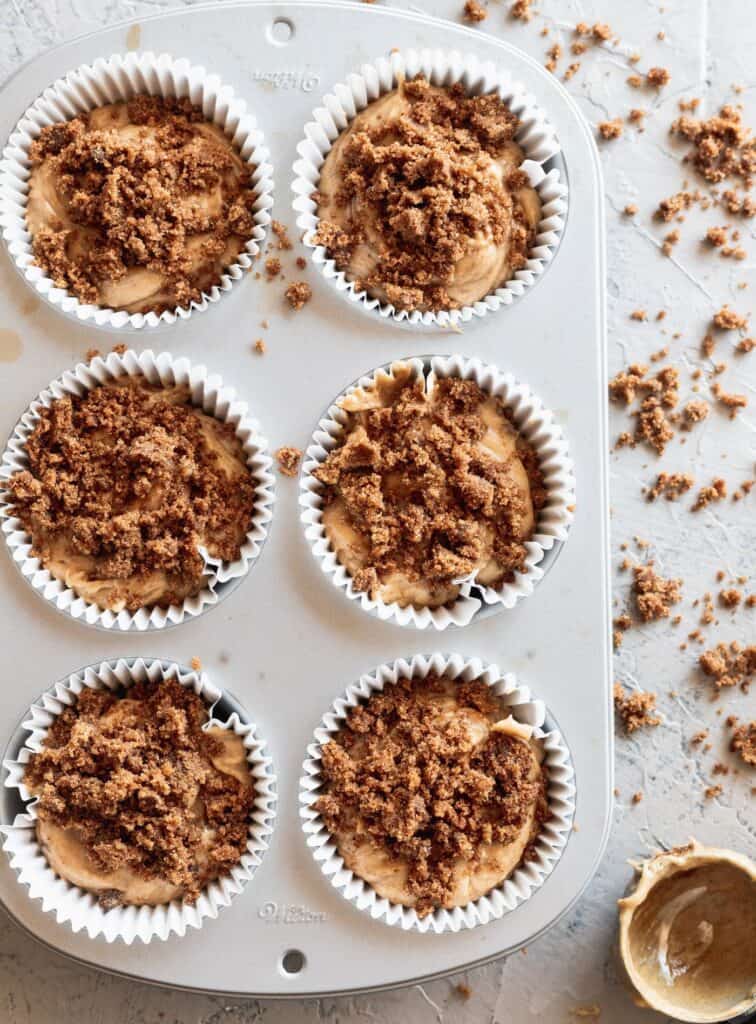 Next, fill the batter up ¾ full. Then, take the cinnamon roll filling and sprinkle it on top. Now, don't go crazy and use a lot of the filling. Since it is brown sugar and melted, it will go everywhere if it's just too much. If you want more on the muffin, add the extra after it is baked.
Then, bake these muffins first at 425F. The high heat helps to get a higher rise in the muffin and helps to crisp up the tops. Then, lowering the heat as muffins continue to bake will help make sure they don't dry out.
If you do make these muffins in a 12 cup muffin tin, it will need far less time than a jumbo muffin tin.
The Rise On These Muffins
Okay, honest talk here. Since there is a lot of extra sugar and butter in the muffins from the filling, it does effect the rise in the muffin. It doesn't rise as high as a bunch of the other muffins on my blog, like the lemon blueberry muffins.
The muffins do appear slightly flat, but they definitely do rise. They are packed with cinnamon flavor though!
Cream Cheese Glaze Drizzle
Let's be honest, the glaze is the best part of the muffin. It is also the best part of a regular cinnamon roll too!
This glaze is made using cream cheese, powdered sugar, vanilla paste, and milk. This glaze is best made when the cream cheese is room temperature. Pull the cream cheese at least an hour before decorating the muffins.
Since there is also so little of this glaze, it is easiest to make with a hand mixer. It gives you more control over blending the cream cheese. You can also add all of the sifted powdered sugar at once and blend it until smooth.
The vanilla bean paste makes this glaze so fun. There are tiny speckles in the glaze which gives it a bit more character. You can also use pure vanilla extract if you don't have the paste.
Before you drizzle the cream cheese glaze, make sure the muffins are completely cool. Otherwise the glaze will melt!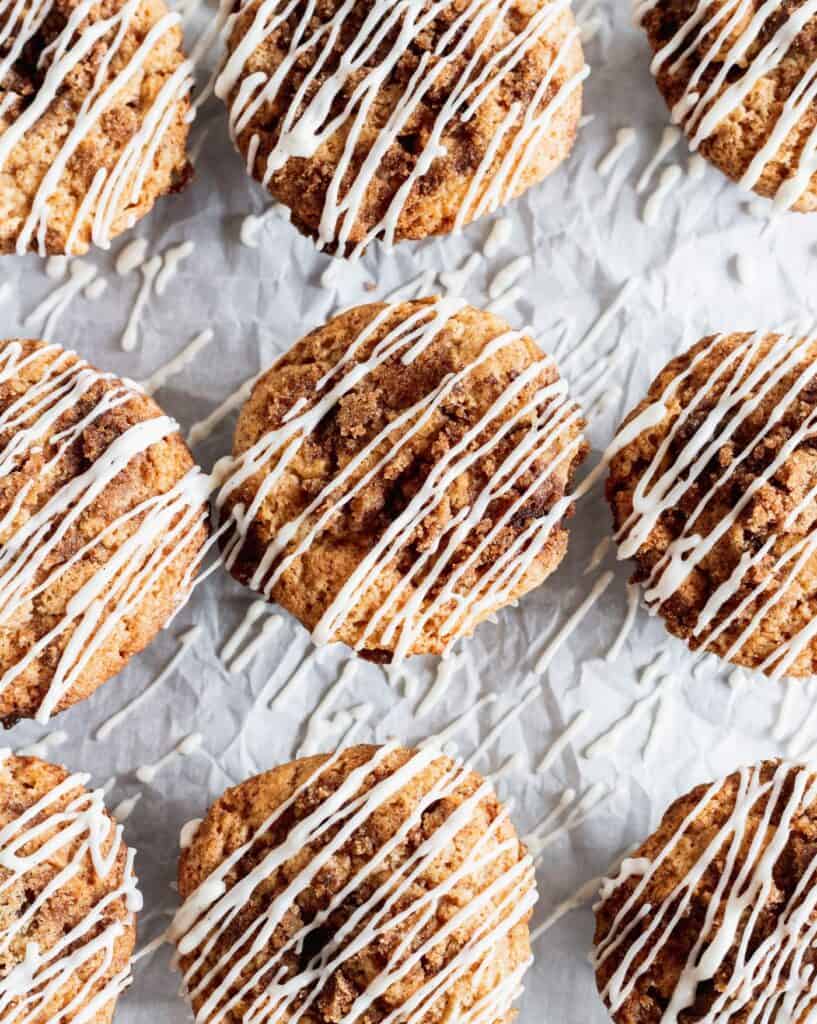 How To Store The Cinnamon Roll Muffins with Cream Cheese Glaze
If you don't eat them right away, store these muffins in the fridge in an air tight container. Since it has cream cheese, it will need to be cooled. Store them in the fridge for up to 5 days.
If you can, let the muffins get to room temperature before eating. A cold muffin will appear not as moist compared to a room temperature muffin. Allow the muffin to sit at room temperature for at least 30 minutes before eating.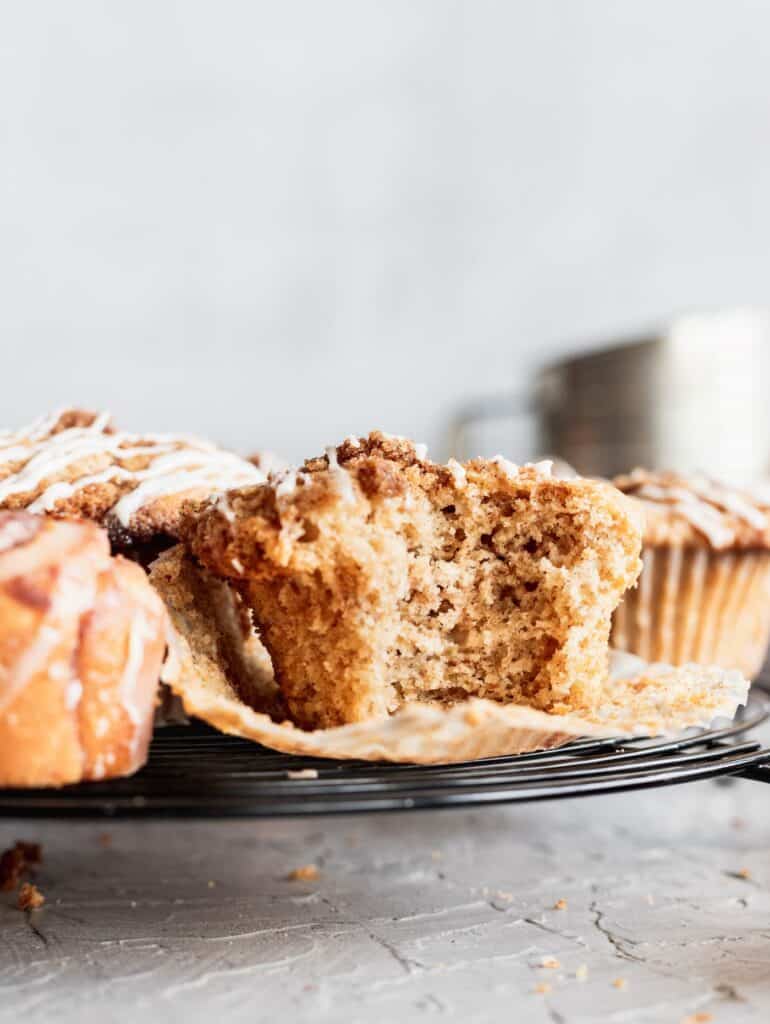 Freezing The Muffins
Yes you can freeze the cinnamon roll muffins. Before you glaze them, wrap them up individually with cling wrap and store in an airtight container for up to 30 days.
Allow the muffins to thaw on the counter for 1-2 hours before glazing and eating.
Other Muffin Recipes To Try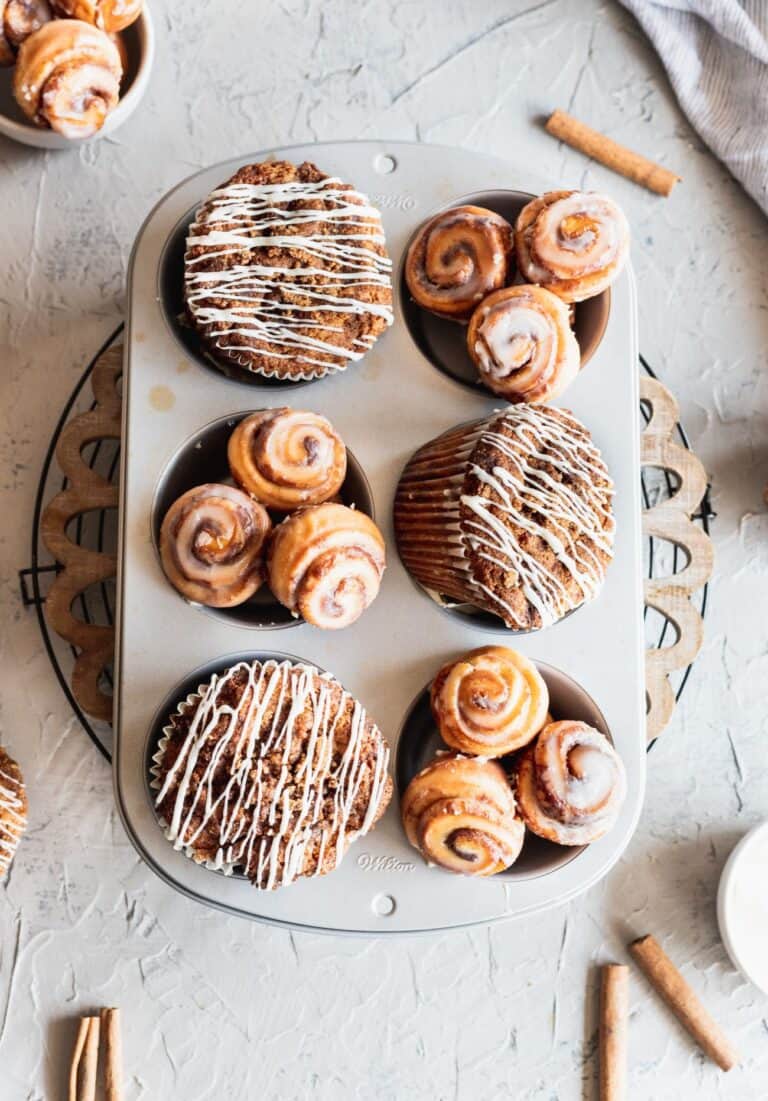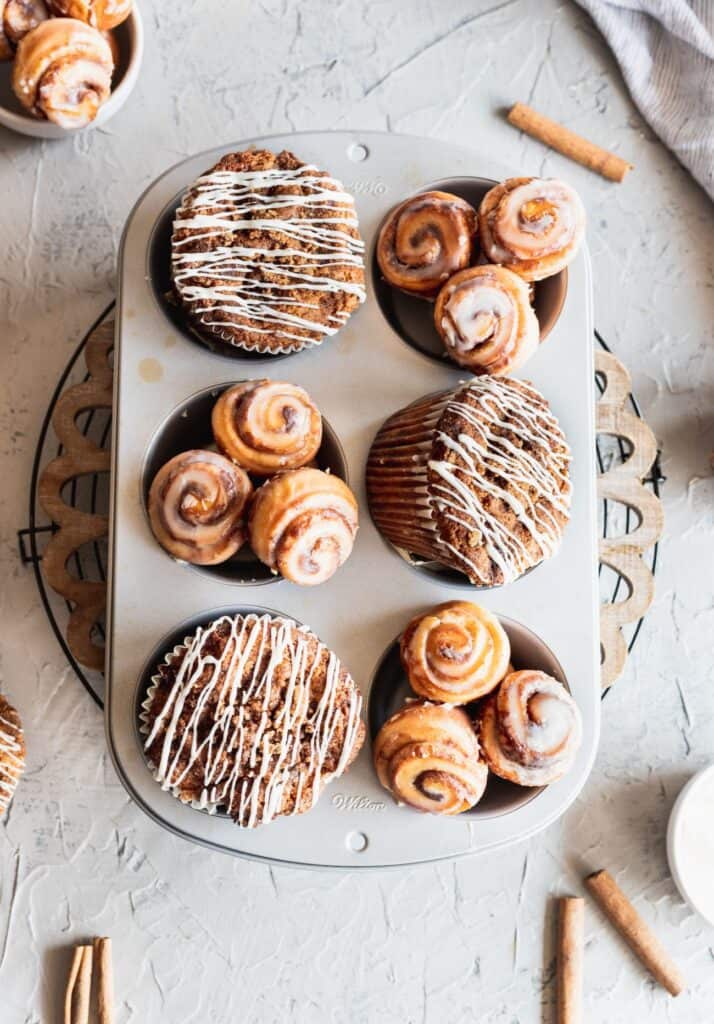 Make sure to tag me on Instagram @stephaniesweettreats and leave me a review below if you made these muffins. I hope you loved it! To get more ideas follow me on Pinterest.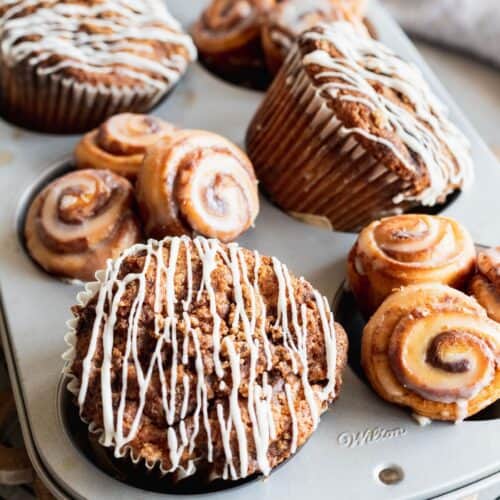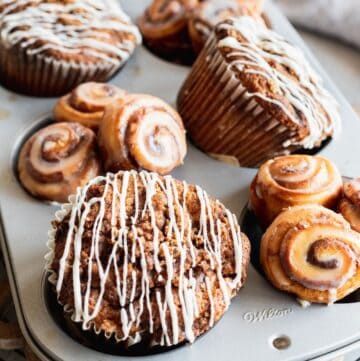 Cinnamon Roll Muffins with Cream Cheese Glaze
These bakery style muffins are baked with cinnamon roll filling baked in the middle of cake. It is topped with more cinnamon filling with cream cheese glaze
Ingredients
Cinnamon Muffins
2

cups

All-purpose flour

2

teaspoon

Ground cinnamon

2

teaspoon

Baking powder

½

teaspoon

Salt

½

cup

Unsalted butter

room temperature

¾

cup

Brown sugar

packed light or dark

½

cup

White granulated sugar

1

teaspoon

Pure vanilla extract

2

Large eggs

room temperature

½

cup

Buttermilk

room temperature

¼

cup

Sour cream

room temperature
Cinnamon Roll Topping
1

cup

Brown sugar

packed light or dark

3

teaspoon

Ground cinnamon

3

tablespoon

Unsalted butter

melted
Cream Cheese Glaze
3

oz

Cream cheese

room temperature

1

cup

Powdered sugar

sifted

1

tablespoon

Milk

½

teaspoon

Vanilla bean paste

can also use regular vanilla
Instructions
Cinnamon Muffins
Preheat oven to 425°F Line a jumbo muffin pan or a 12 cup muffin tin with muffin liners.

In a medium bowl, sift together flour, cinnamon, baking powder, and salt. Set aside. In a small bowl, mix brown sugar, cinnamon and melted butter with a fork. It should be wet and resemble cinnamon roll filling. Set aside.

Using a mixer, beat the butter, brown sugar, and white sugar. Beat for 2 minutes until butter is light and fluffy. Scrape the bowl and add the vanilla. Add in the eggs one at a time. Scrape the bowl between each egg addition.

Add in ⅓ of the dry ingredients and half of the buttermilk. Mix until starting to combine. Add in the next ⅓ of the dry ingredients and the rest of the buttermilk. Mix until combined. Add in the rest of the dry ingredients and sour cream. Scrape the bowl and mix for 10-15 seconds.

Add in half of the cinnamon roll filling into the batter and use a rubber spatula to gently fold in the filling. Use an ice cream scoop for easy pouring to fill the muffin tins ¾th full. Sprinkle a little bit of the cinnamon roll topping on top of each muffin.

Bake at 425°F for 10 mins with a jumbo pan and 8 minutes with a 12 cup muffin pan. Turn the heat down to 375°F and bake for 10-12 minutes for jumbo pan and 6-8 minutes with the 12 cup muffin pan. The muffins are done baking when a toothpick inserted comes out clean.

Let muffins sit in the pan for 10 minutes before transferring to a cooling rack. Allow muffins to cool completely before making the glaze.
Cream Cheese Glaze
Use a hand mixer and beat the cream cheese for 1 minute on high until light and fluffy. Add in the sifted powdered sugar and mix on low until combined. Then, turn to high and beat for 30 seconds.

Add in the milk and vanilla bean paste. Mix on low until combined, then mix on high for 30 seconds. The glaze should be smooth and creamy.

Use a spoon or piping bag and drizzle cream cheese icing on top of muffins.
Notes
High altitude baking- add in 2 extra tablespoon of flour.
Flour- make sure flour is spooned and leveled in a measuring cup.
Buttermilk substitution- ½ cup milk plus ½ tablespoon of lemon juice.
Make sure all dairy ingredients are room temperature.
Nutrition
Calories:
368
kcal
Carbohydrates:
68
g
Protein:
3
g
Fat:
15
g
Saturated Fat:
9
g
Cholesterol:
39
mg
Sodium:
227
mg
Potassium:
95
mg
Fiber:
1
g
Sugar:
41
g
Vitamin A:
467
IU
Calcium:
111
mg
Iron:
1
mg