Easy Angel Food Cupcakes- light and fluffy angel food cupcakes, with a sugared berry filling, and a whipped cream cheese topping. These are the perfect light dessert.
This blog receives a commission for using Amazon products for the food recipes that I shared with you in my posts. Although I receive a commission for using and linking their products, they are extremely good for my food recipes and all my opinions and suggestions are unbiased.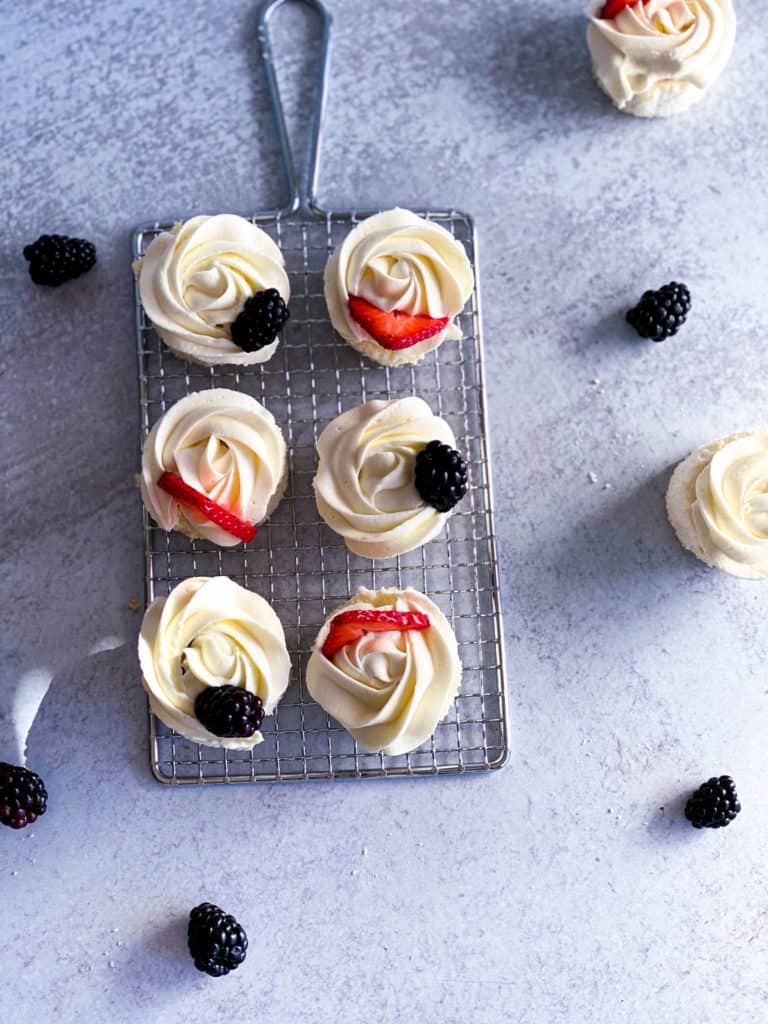 These easy angel food cupcakes are a super light and moist cake. They are very easy to make, but look so impressive to all of your friends and family. They are filled with a berry of your choice and topped with the whipped cream cheese. Personally, I think the whipped cream cheese is the best part of the whole cupcake. You are gonna want to use the whipped cream cheese on every single dessert you make.
How To Properly Bake Easy Angel Food Cupcakes
Making angel food cake cupcakes is actually pretty easy. It feels a lot easier than making a whole angel food cake. I used to always be intimidated by angel food cake because whipping egg whites, so the cake had enough air, was hard. Don't worry though, I will walk you through it and you will be a pro at the end.
Use a food processor to pulse the white granulated sugar to create very fine sugar. Super fine sugar provides the best structure for the egg whites.
Use cake flour because it is much lighter than all-purpose and has a better gluten structure.
Pulse the dry ingredients together to make it super light.
Use a stand mixer or a good handmixer for whipping the egg whites.
Whip up the eggs whites, cream of tartar, and warm water until they begin to get foamy.
Then, slowly (when I say slowly, I mean very slowly!) add in the ½ cup sugar. You have to add the sugar super slowly because adding it too quick won't get the right rise with the egg whites. Whip the egg whites until soft peaks form.
Add in dry ingredients a little at a time and fold it into the egg whites. Adding too much at a time causes the egg whites to deflate and it won't rise as well.
The Most Important Tip
Make sure you sift your dry ingredients. I mean really sift them. You want the dry ingredients to be light with 0 clumps. It really helps to create the light and fluffy texture that angel food cake has.
Also, make sure to not over whip the egg whites. You should stop whipping it as soon as soft peaks form. Whipping it more than that, will cause the texture of the cake to become dense.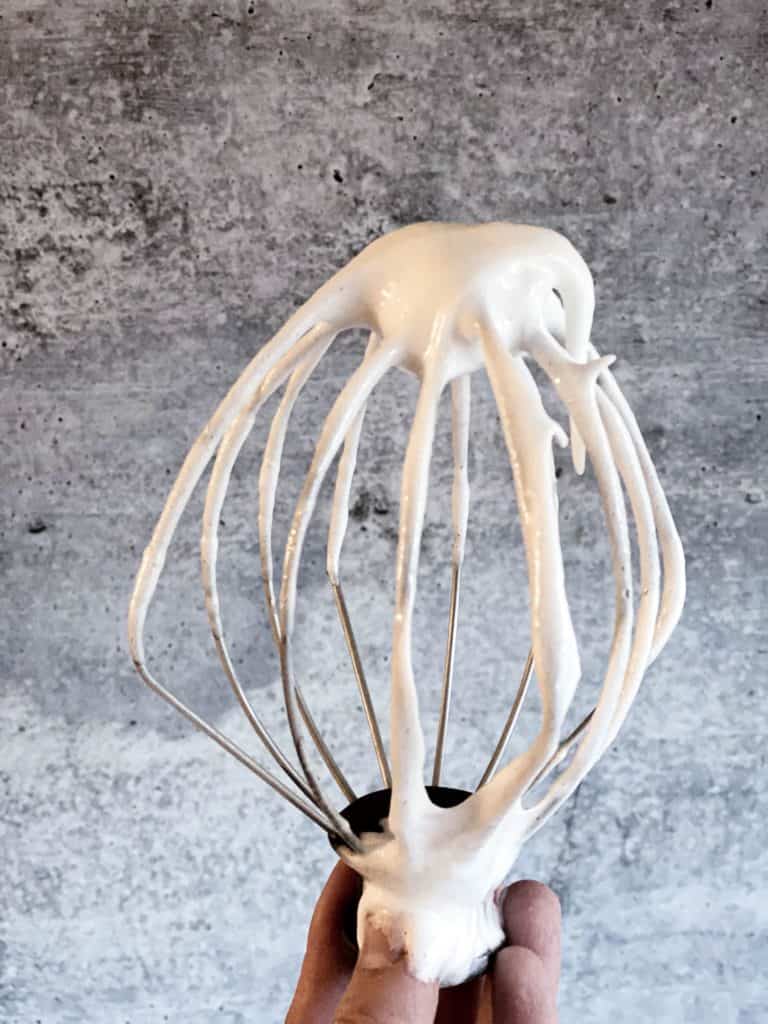 How To Add The Filling To The Cupcakes
Like traditional strawberry shortcakes, I like to use berries that have been coated in sugar. Super sweet berries make a delicious filling.
This going to sounds super simple, but I use a knife to cut out holes in the cupcakes. I will save the tops to put back on after I add the filling. See? Super simple right? Actually, it is a bit trickier than it sounds. Since the structure of angel food cake is so delicate, disrupting the structures can cause the cupcake to crack. You just have to have a light touch and it will be fine.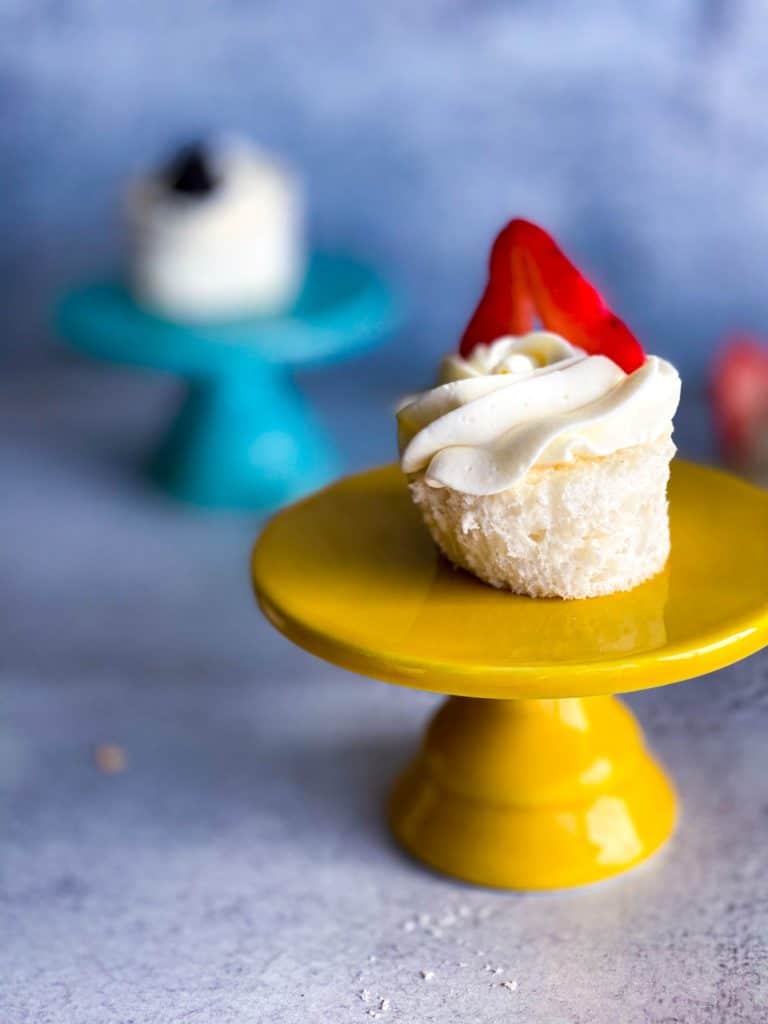 The Most AMAZING Whipped Cream Cheese
As I am writing this, I am drooling over how good that whipped cream cheese is. It is basically cream cheese frosting and whipped cream combined. Since there is cream cheese, the whipped cream part is much more stable which makes it easy to pipe.
The recipe makes a lot of whipped cream cheese, much more than you need for 12 angel food cupcakes. You can either double the recipe and have it for 24 cupcakes, or use it for something else. What I did was save it to make a slightly different batch of my valentine cupcakes. It was delicious! You can also re-whip it so it is nice and fluffy again. Then, it is ready to pipe on those beautiful cupcakes.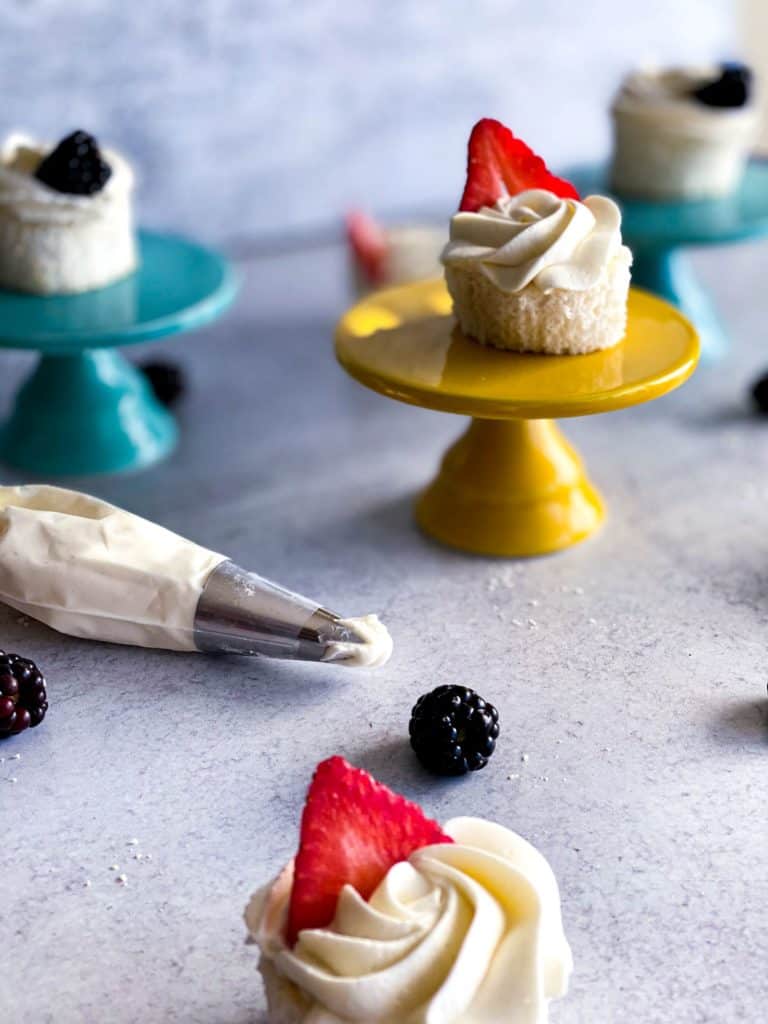 How Long Will The Angel Food Cupcakes Last?
Before adding any filling or frosting, it can be in the fridge for 5 days. You can freeze them, just wrap them up well before you do. To thaw, place them in the fridge for 24 hours before adding the filling.
After they are decorated, they will only last 3-5 days in the fridge. Since the topping is whipped cream cheese, the topping will get soft after a few days. I recommend decorating only when ready to serve.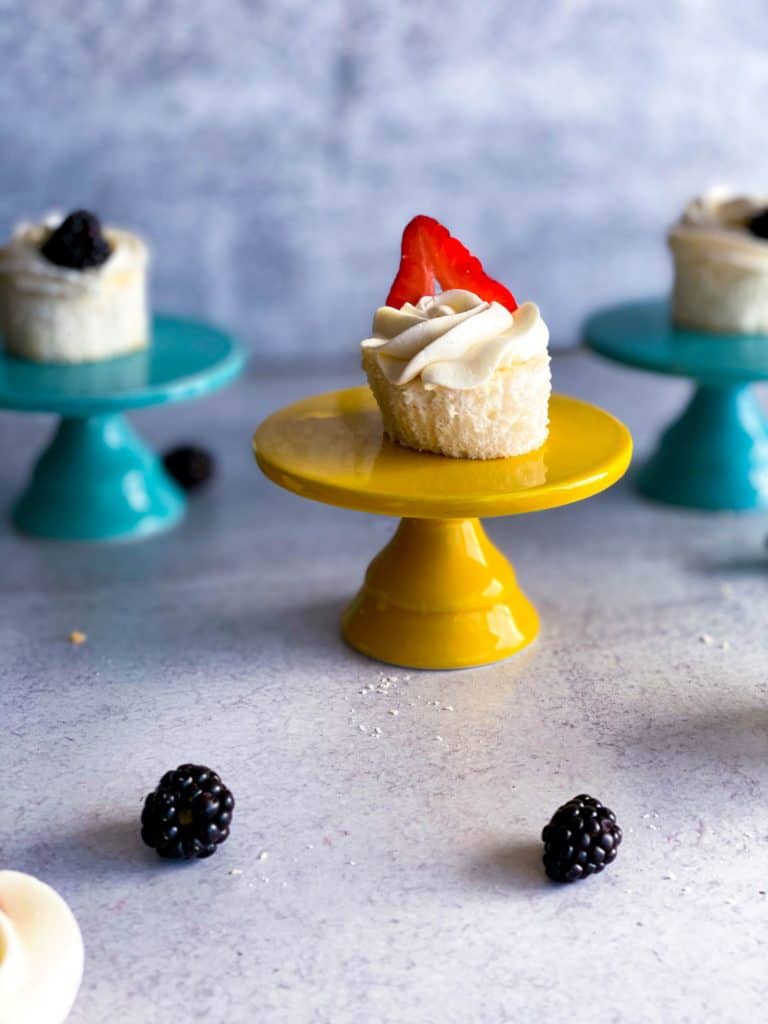 Other Fun Recipes To Try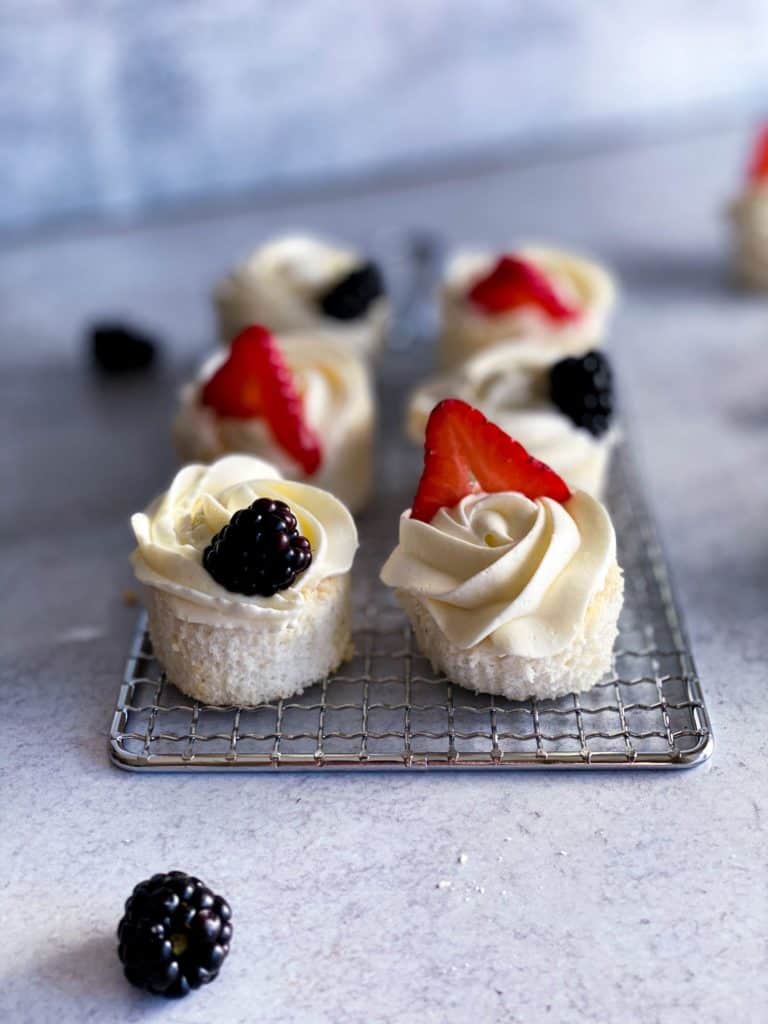 I hope you guys get a chance to try out this recipe. Please comment and leave a review below of what you think. Also, don't forget to tag me on Instagram @stephaniesweettreats.
📖 Recipe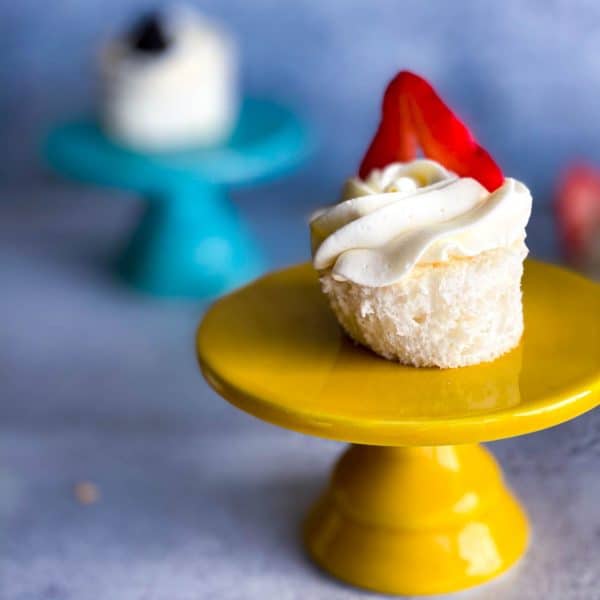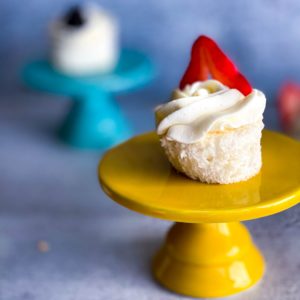 Angel Food Cupcakes
Delicate and fluffy angel food cupcakes. Filled with sugared fruit and topped with a whipped cream cheese frosting.
Ingredients
Cupcakes
¾

cup

White granulated sugar

½

cup

Cake flour

⅛

teaspoon

Salt

6

Egg whites

room temperature

1

tablespoon

Warm water

1

teaspoon

Cream of tartar

1

teaspoon

Pure vanilla extract
Filling
½

cup

Berries (of your choice)

washed and chopped

1 ½

tablespoon

White granulated sugar
Whipped Cream Cheese
8

oz

Cream cheese

room temperature

1

teaspoon

Pure vanilla extract

1 ½

cup

Powdered sugar

sifted

2 ½

cup

Heavy cream

cold
Instructions
Preheat oven to 325F and line 12 cup muffin pan with cupcake liners.

In a food processor, pulse the sugar until super fine. Set aside ½ cup of sugar. Add flour and salt to sugar in the food processor and pulse 10 times. The texture should be very light and fine. Set aside.

In a mixing bowl and using a mixer with a whisk attachment, whisk up egg whites, water, and cream of tartar until starting to foam. Turn mixer to medium-high and very slowly add in ½ cup super fine sugar. Whisk until soft peaks form. Remove bowl from mixer and very slowly fold in dry ingredients. It should be just a little at a time, we want to keep as much air as possible.

Spoon batter into cupcake liners. It should be ⅔ full. Bake 17-20 minutes until after a toothpick is inserted it comes out clean. Let cupcakes sit in tin for 10 minutes before removing to cooling rack. Let cool completely before chilling in the fridge. Chill for at least 2 hours or overnight.
Filling
Cut up washed berries into a small bowl. Cut into small pieces. Mix in sugar and let sit for 5 minutes.

Using a knife, cut holes in the cupcake big enough to hold a little bit of berries. Saves the tops of the holes. Fill with the berries and place the tops back on. After filling cupcakes, it is optional to take off the cupcake liners
Whipped Cream Cheese
Using a mixer with a paddle attachment, beat cream cheese until smooth. About 2 minutes. Add in vanilla and beat. Mix in powdered sugar until all combined. Switch to a whisk attachment and add in heavy cream. Start on low and slowly start turning up speed once the cream cheese and whipped cream becomes combined. Turn the speed to high and whisk until stiff peaks form.

Place whipped cream cheese in a piping bag with a 1M tip. Pipe rosettes on angel food cupcakes and top with a berry.
Nutrition