This homemade pear pancetta pizza is the perfect combination of a sweet and savory pizza. It has fluffy homemade pizza dough and pizza sauce. It is topped with provolone and mozzarella cheese, pancetta, and salami. To take this pizza over the top it has a fresh and juicy pear. You get an awesome pizza topped with a sweet pear.
This post is sponsored by USA Pears but all thoughts and opinions are my own. Thank you for supporting the brands that make Stephanie's Sweet Treats possible!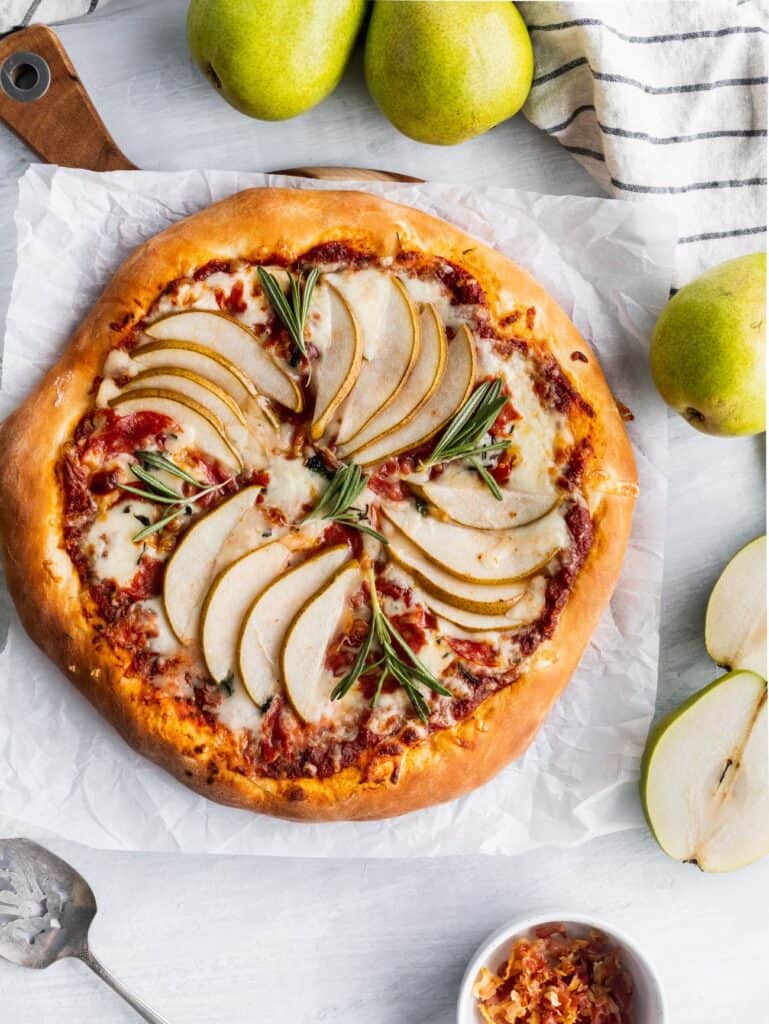 Pears On A Savory Pizza
Now, pears might not be your first thought when you think of a topping for a pizza. However, pears are slightly sweet and juicy and they pair so nicely with a salty pizza. Move over pineapple pizza, because homemade pear pancetta pizza is where it's at!
Pears are the type of fruit you can get year round at your local grocery store, so you can have pear pizza no matter the season.
Since the pears are a sweet fruit, you will need something salty in the pizza to balance it out. The pancetta is cooked 'til crispy and tastes just like bacon, except for the smoky flavor.
The pizza is also topped with fresh rosemary, which goes so nicely with the pears.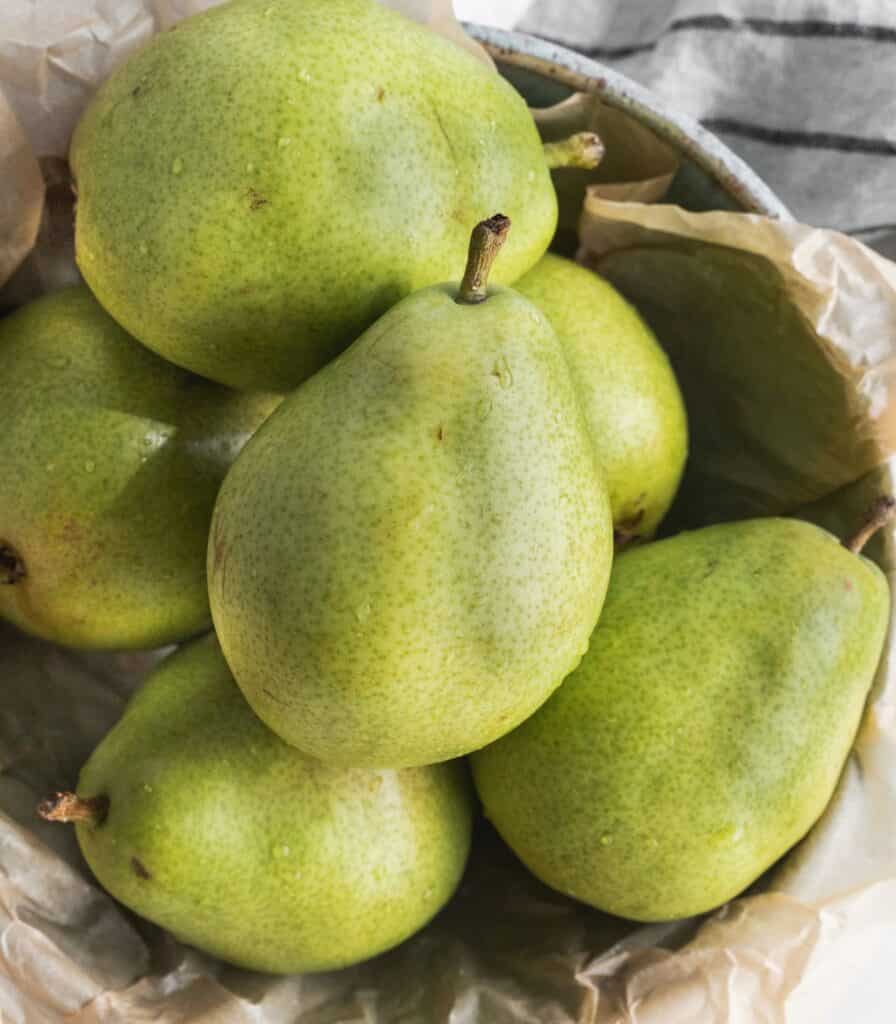 How To Make Homemade Pizza Dough
During 2020, I started to experiment with making homemade pizza dough, because what else are you going to do? Making pizza dough from scratch is SO good. It is fluffy and is ready to be made into a pizza in 35 minutes. Here are the steps to make it:
Step 1: Sift the bread flour and salt- In a separate bowl sift the flour and salt.
Step 2: Mix yeast and sugar- You will need a whole packet of yeast and sugar. This recipe is for a stand mixer, but I will have instruction for mixing it by hand later.
Step 3 Warm the water- The water has to be around 110F. It should be warm and not too hot. Hot water can kill the yeast. Combine the warm water and olive oil with the yeast.
Step 4: Add the flour- Pour all of the flour in the bowl with a dough hook and mix on low until a dough forms. Then, turn it to medium and mix for 5 minutes. This kneads the dough for you and helps to develop the gluten.
Step 5: Cover the dough- Spray a large mixing bowl with non-stick spray, place the dough inside, and cover it with a kitchen towel. Then, let it rise for 30 minutes.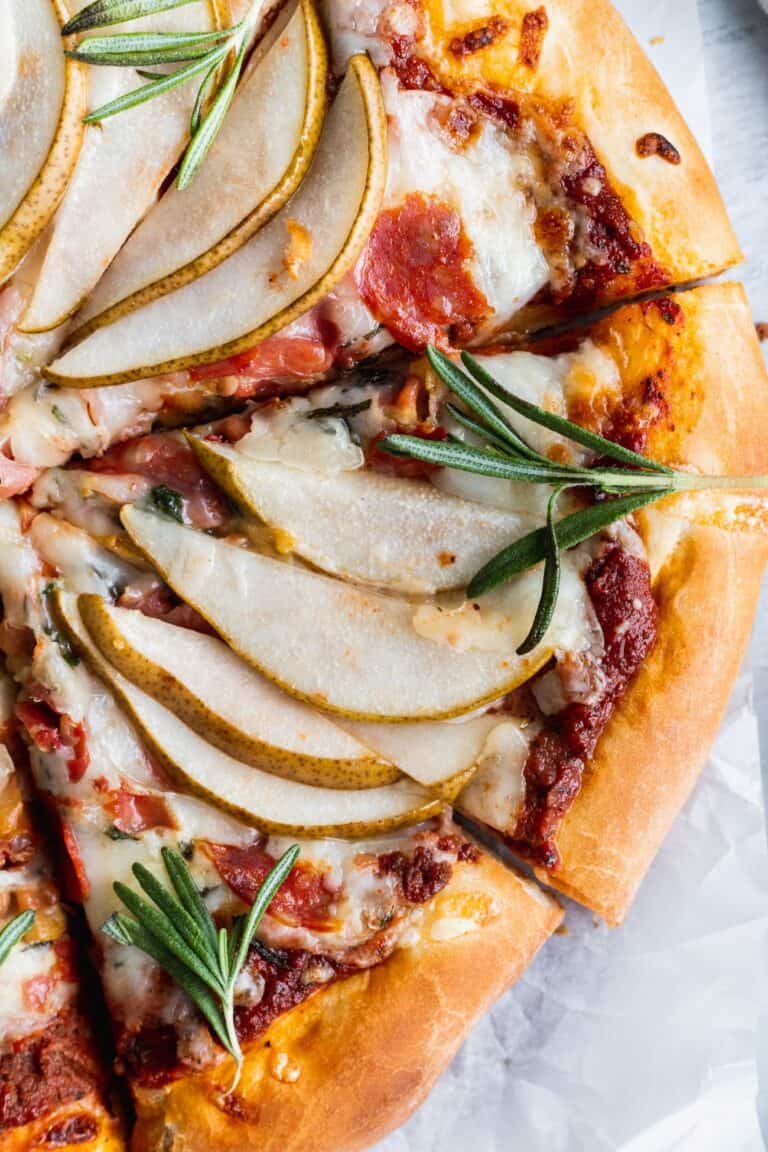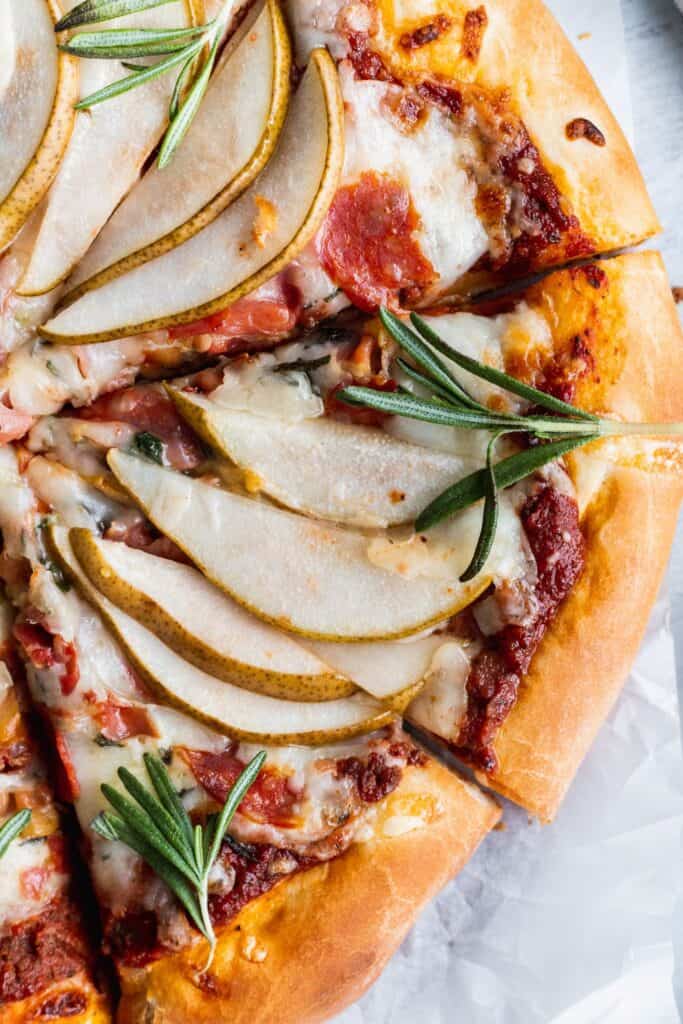 Can All-Purpose Flour Be Used?
No all-purpose flour can't be used. It needs to be bread flour because it has a higher level of gluten. This will let the dough rise faster and make into a fluffier pizza crust.
What Type Of Pizza Stone To Use
To make this pizza, it needs to be baked in the oven at the highest temperature it can go. For most ovens it is 550F. Place the pizza stone in the oven the entire time the dough is rising. A hot pizza stone is key to getting a crispier crust.
This is the pizza stone that I use. Although it is square, it works perfectly!
How To Make A Round Pizza Crust
When I was first starting out, all my pizzas were an odd rectangle shape. To get a round crust is actually pretty easy!
First, lay a large parchment paper on the counter with a light dusting of flour. We are gonna press the dough on the parchment paper, and then it will bake on the hot pizza stone. After it is done baking, simply remove the parchment paper.
Then, punch the dough one time and form it into a round ball. Use your finger to press the dough out into a circle.
Once you spread it as much as it will go with your fingers, (it will start refusing to spread more at a certain point) then grab the edges and lift it up to stretch it out. As you pull it, it will start to stretch as gravity will help do most of the work.
Spread it out until 10-11.5 inches long. Once it is all spread out, go around the edges and push it into an even circle.
Once the crust is ready, spread the pizza sauce on the dough. Use the back of the spoon to spread it evenly across. Leave 1 inch of dough along the edges free from sauce.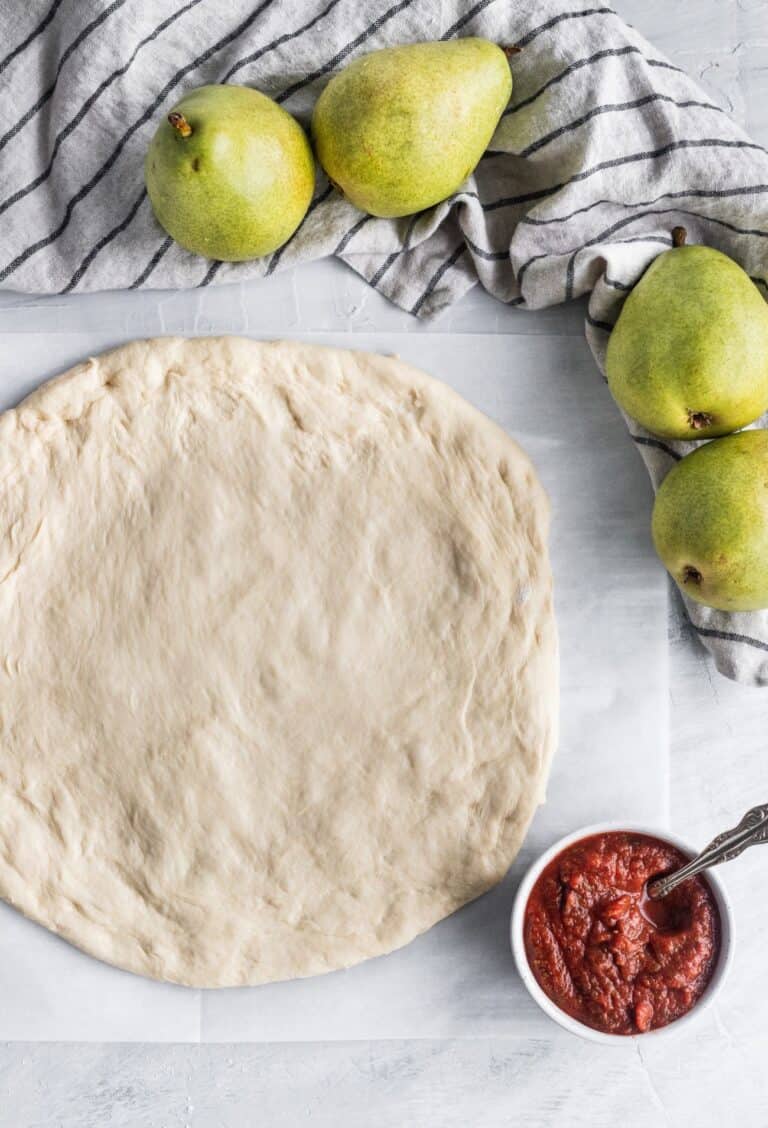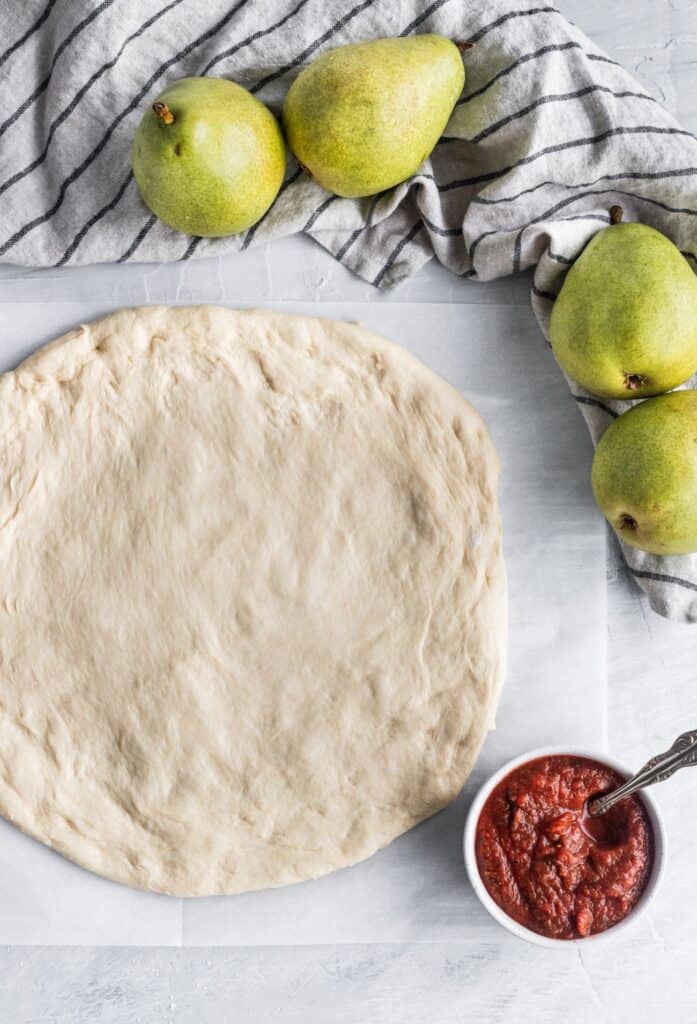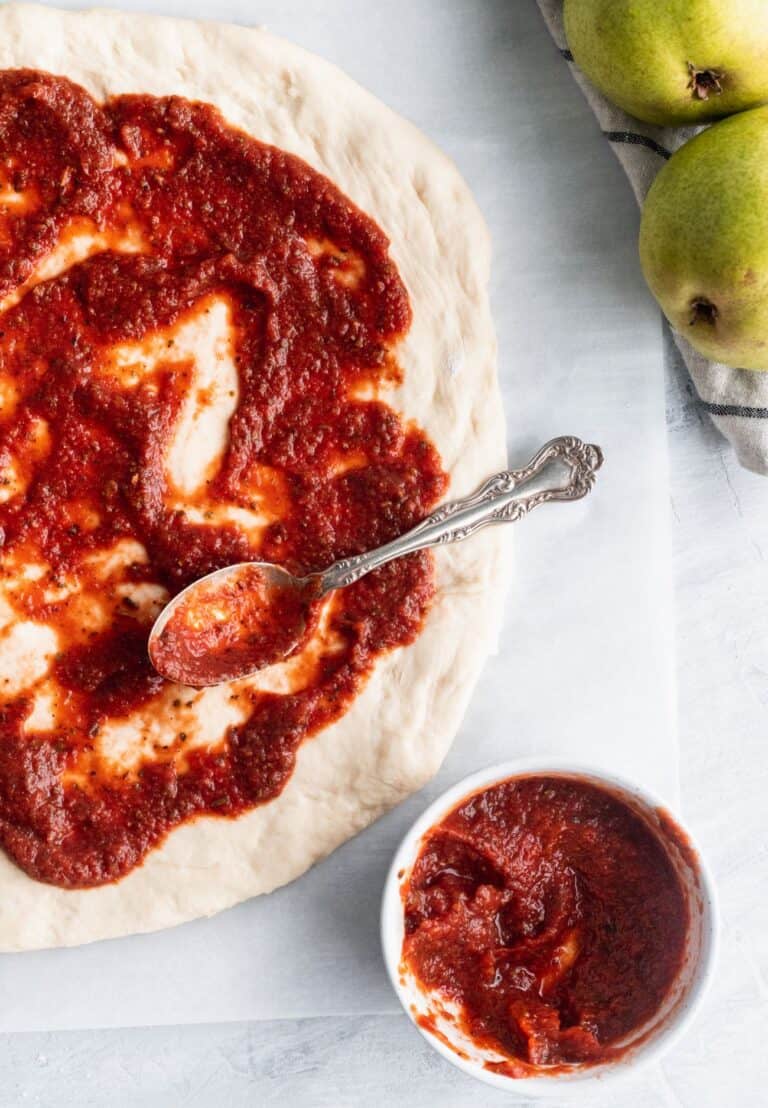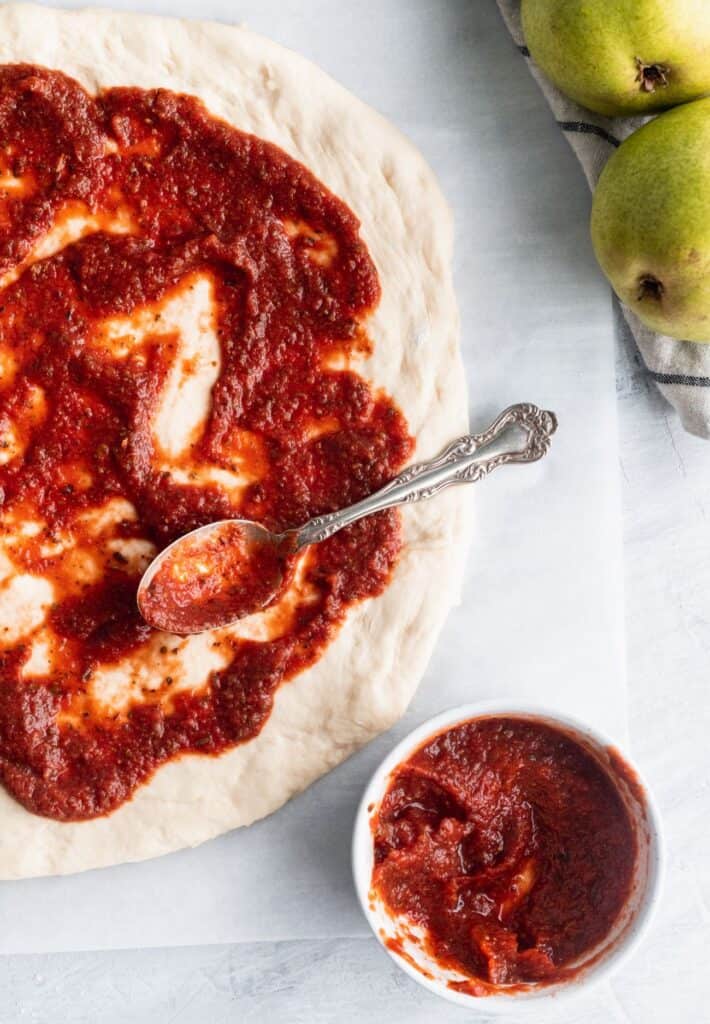 Pizza Toppings
This homemade pear pancetta pizza has so many toppings! That is what makes it so special.
Provolone cheese- Shred the provolone cheese. I got this cheese in the deli section at the grocery store. The prepackaged cheese section only had slices which are difficult to shred.
Mozzarella cheese- I used the regular shredded mozzarella cheese. If you can't find provolone, then you can use all mozzarella.
Chopped rosemary and basil- Make sure these are fresh and not dried. I used a food processor to chop them up finely.
Pancetta- The pancetta at the grocery store is uncured, which means it needs to be cooked before it goes on the pizza.
Specialty salami- This isn't regular sandwich salami. This is the type of salami you would get on a charcuterie board. I got this salami also in the deli section.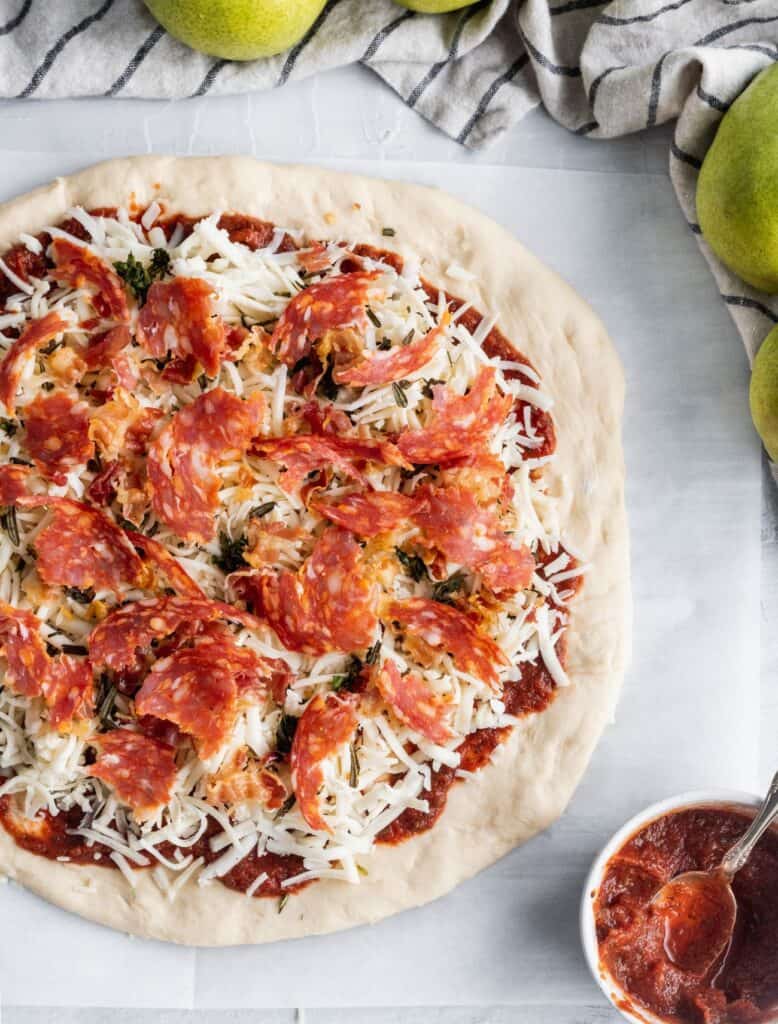 The Best Type Of Pears To Use
For this pizza, I used USA Pears green anjou pear. I loved the fresh green color and it has the perfect level of juiciness. It is important that you use it when the pear isn't too ripe. If it is too ripe, too much juice will escape while baking.
Keep the skin on the this pear and cut it into super thin slices. It needs to be thin because too thick of a slice will cause more juice on the pizza.
You can top the pizza any way you like with pear slices, I like doing the fan look.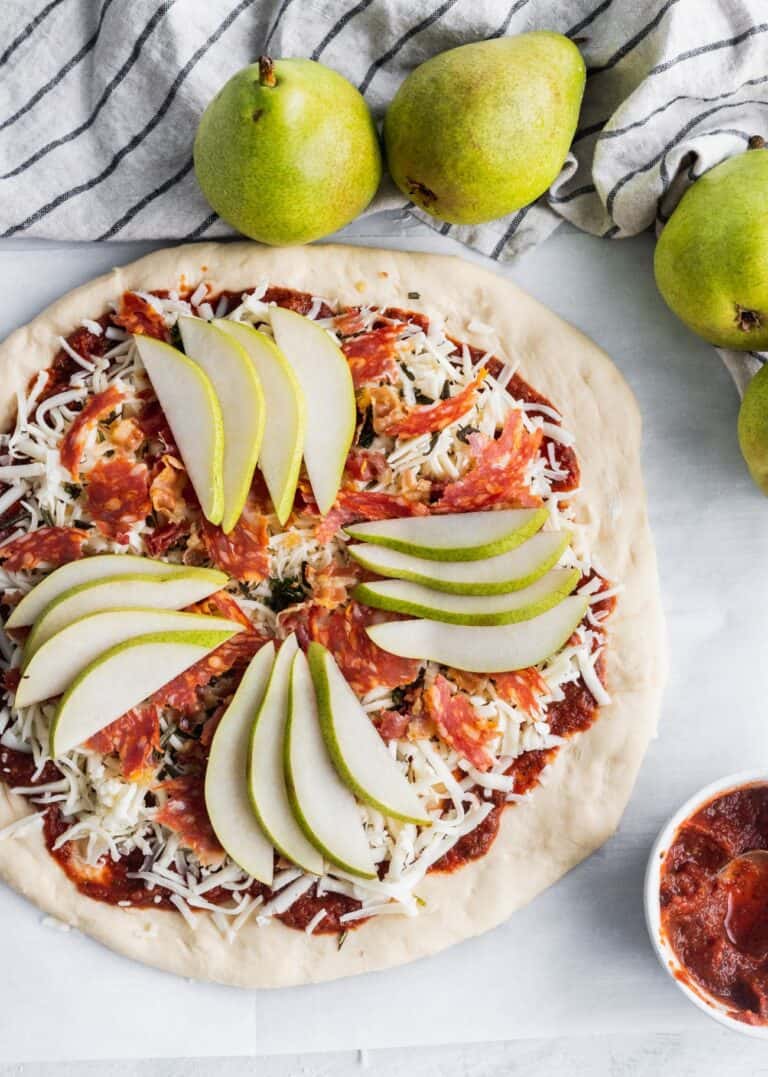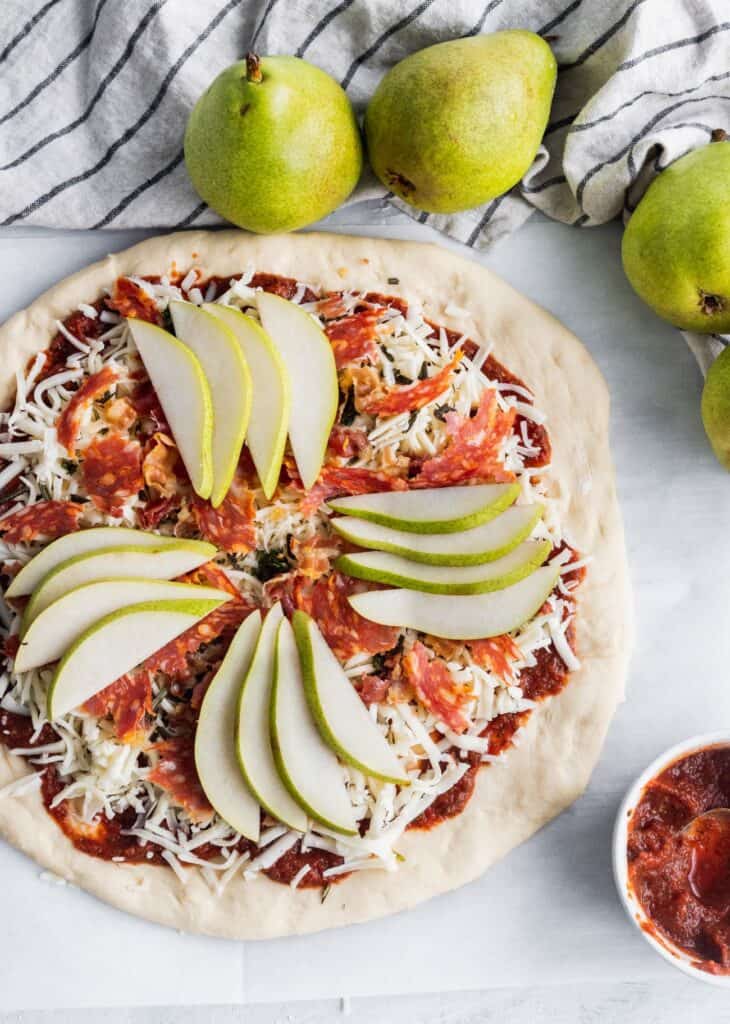 Baking The Pizza
When the homemade pear pancetta pizza is all ready to be baked. Transfer it to a cutting board. Keep the parchment paper with it! Then, it can be easily transferred to the very hot pizza stone.
It only needs to be baked for 6-7 minutes. It doesn't take long because the oven is so hot.
The pizza should be bubbly and lightly golden brown.
When the pizza is done baking, take a wad of paper towels and press it into the pears on the pizza. This will soak up the juices and leave you a nice pear pizza.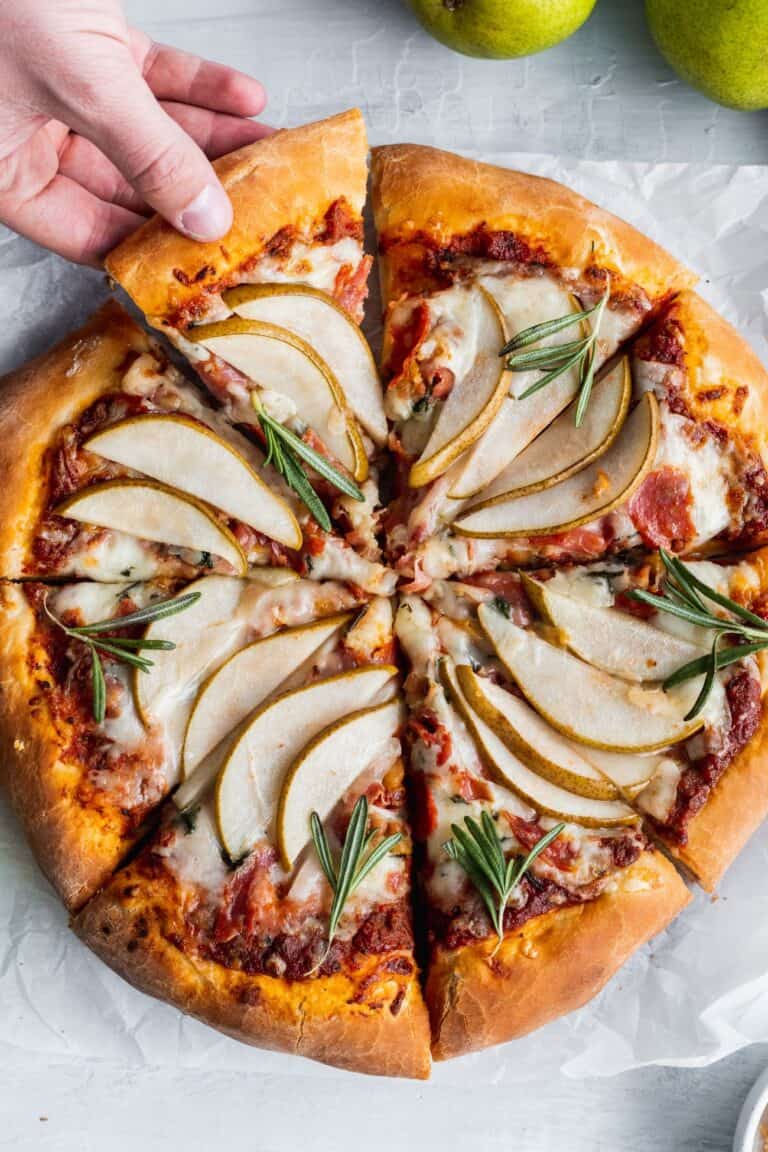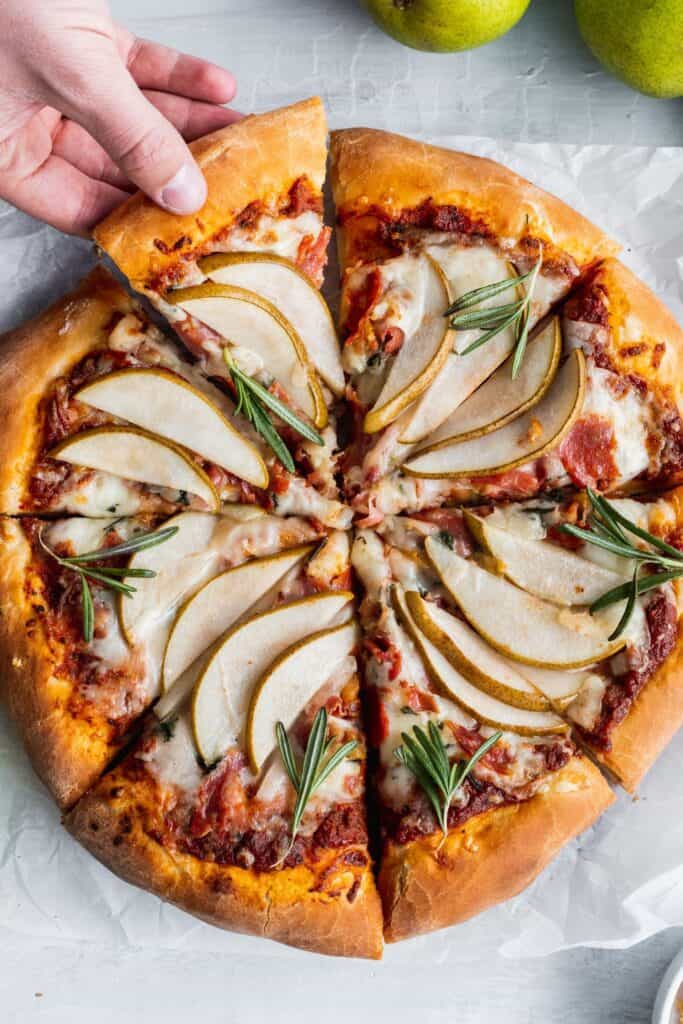 How To Store The Pizza
This pizza is best when served immediately. However, you can store the slices in an air tight container and leave it in the fridge for up to 5 days.
To heat the pizza, place it on a cookie sheet and bake in the oven at 400F. Bake for 5 minutes or until hot. Heating it in the oven will keep the crust crisp.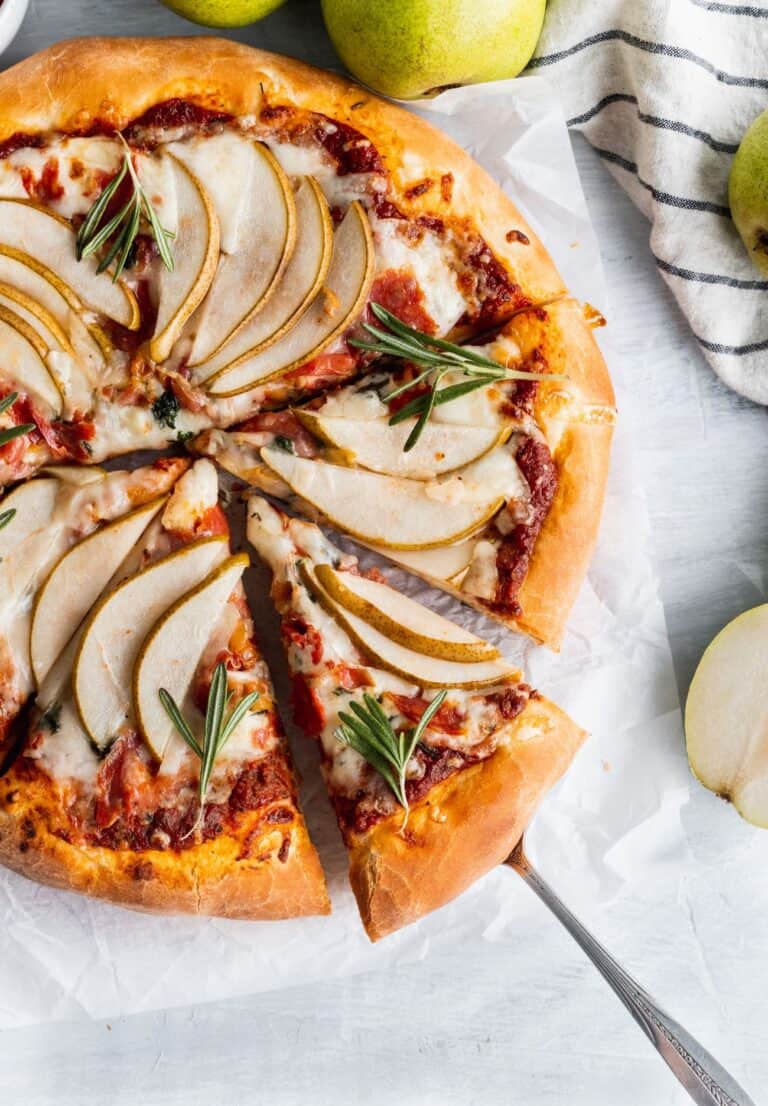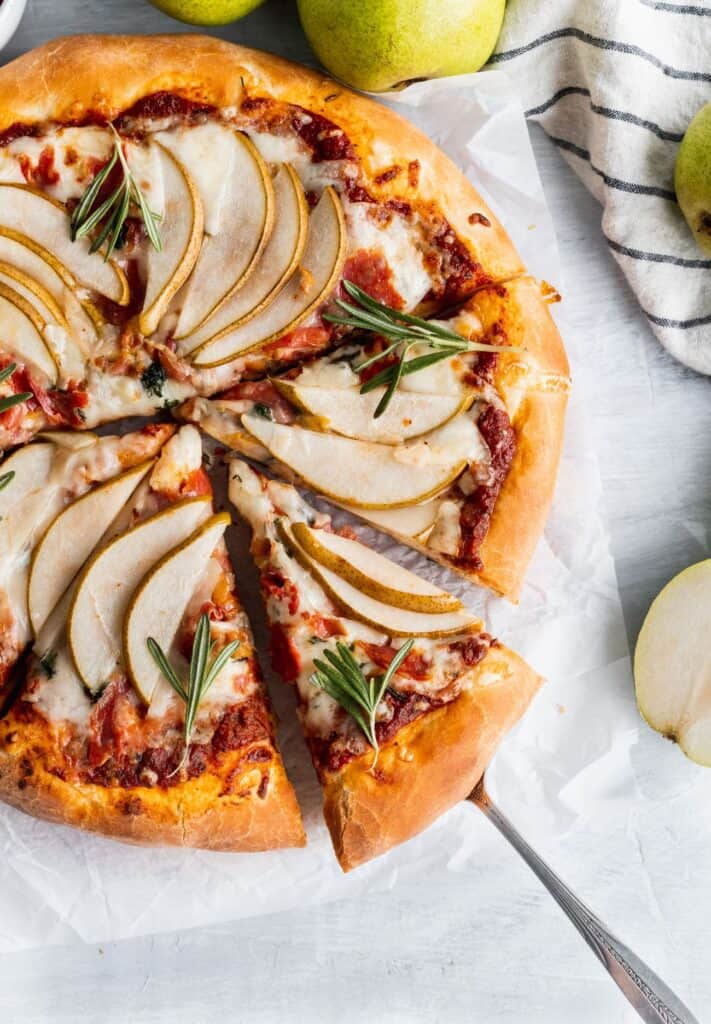 Other Recipes To Try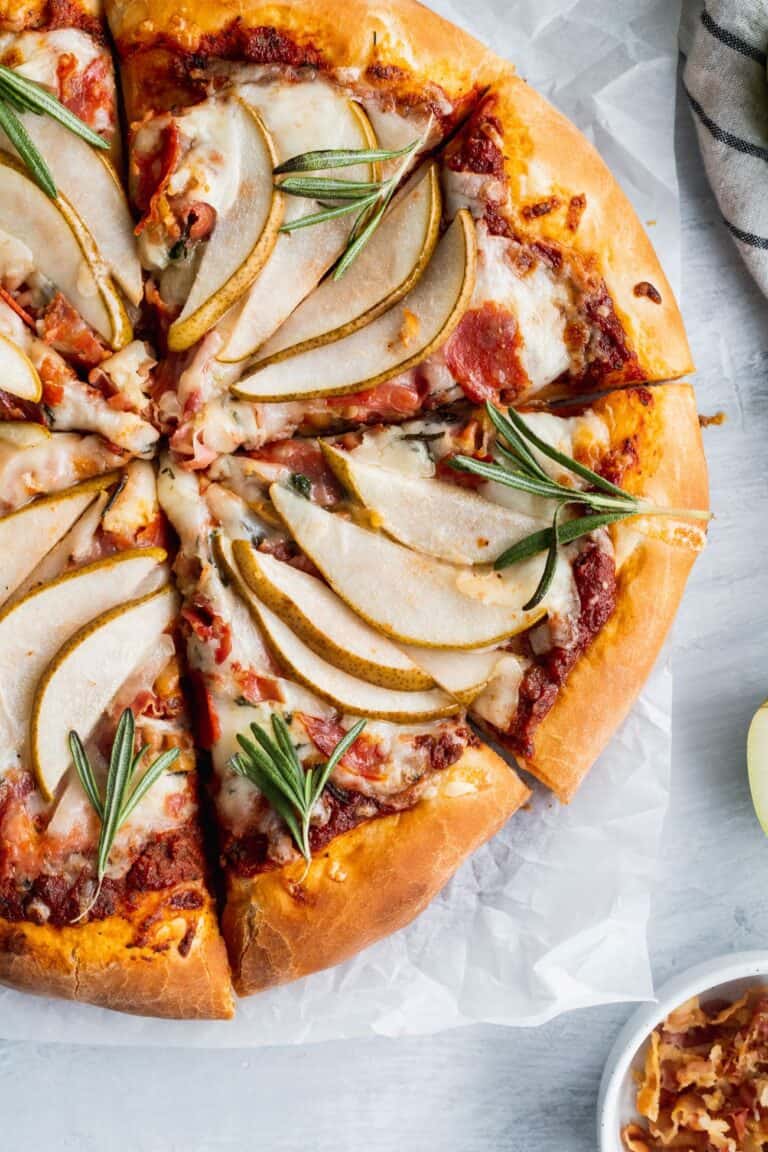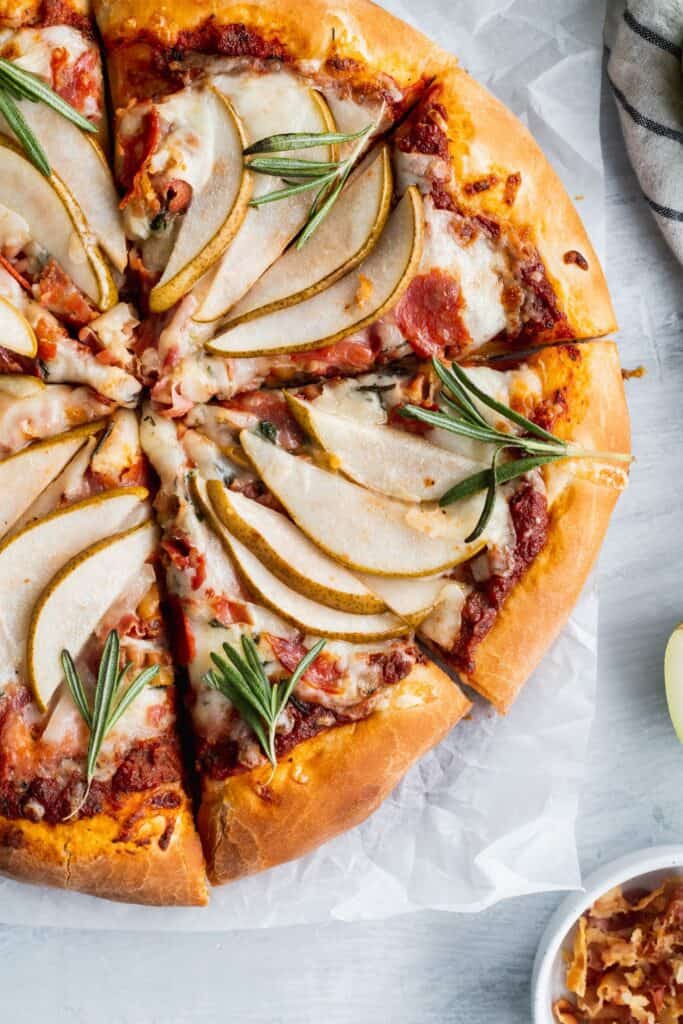 Make sure to tag me on Instagram @stephaniesweettreats and leave me a review below if you made this pizza. I hope you loved it! To get more ideas follow me on Pinterest.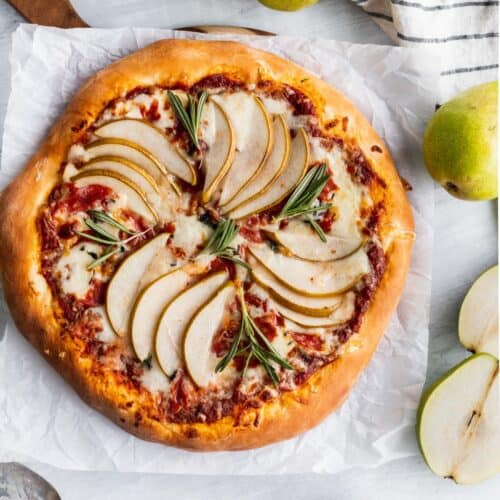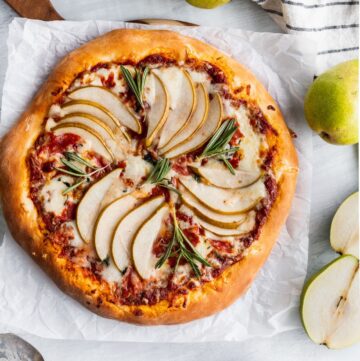 Homemade Pear Pancetta Pizza
This homemade pear pancetta pizza uses a homemade pizza dough and sauce. It is topped with provolone cheese, mozzarella cheese, cooked pancetta, specialty salami, rosemary, basil, and fresh pears.
Ingredients
Pizza Dough
2

cups

Bread flour

1

teaspoon

Salt

2 ¼

teaspoon

Fast rise yeast

the whole packet

1

teaspoon

White granulated sugar

¾

cup

Warm water

warmed to 110°F

1

tablespoon

Olive oil
Pizza Sauce
8

oz

Tomato sauce

1

teaspoon

Ground oregano

½

teaspoon

Ground thyme

½

teaspoon

Dried basil

½

teaspoon

Onion powder

½

teaspoon

Garlic powder

1

teaspoon

White granulated sugar

¼

teaspoon

Salt

⅛

teaspoon

Black pepper
Pizza Toppings
8

oz

Provolone cheese

shredded

1

cup

Shredded mozzarella cheese

1

teaspoon

Fresh rosemary

chopped

1

teaspoon

Fresh basil

chopped

2

oz

Uncured pancetta

cooked until crispy

¼

cup

Specialty salami

shredded into small pieces

1

USA Pear

thinly sliced
Instructions
Pizza Dough
In a large mixing bowl, sift together bread flour and salt. Using a mixer, combine yeast and sugar. Mix by hand instructions are in the notes. Warm up water until it reaches 110°F. Pour into the bowl with the yeast. Add in the olive oil. Mix for 10 seconds.

Using a dough hook, add in all of the flour and start mixing on low. Once a dough starts to form, mix on medium for 5 minutes. The dough should be slightly sticky.

Place dough ball in large measuring bowl that has been lightly sprayed with a non-stick spray. Cover with a kitchen towel and let it rise for 30 minutes.

Preheat oven to 550°F as hot as your oven can go. Place a pizza stone in the oven while it preheats. The stone should be heating up the whole time the dough is rising.

Once it is double in size, punch the dough down once with your fist. Place a large parchment paper on the counter that is lightly sprinkled with flour. Make sure dough ball is circular before placing on the parchment paper.

Use your fingers to spread the dough evenly. Once it won't spread any more. Pull the dough with your hands letting gravity do it's job. Go along all the edges. The pizza should be between 10-11.5 inches wide and be circular.
Pizza Sauce
This sauce can be made ahead of time. In a sauce pan over medium-low heat, combine tomato sauce and all of the seasonings. Heat until sauce is boiling. Remove from heat.

Spread the pizza sauce on top of the pizza dough. Use the back of the spoon to spread it evenly. Keep about 1 inch of pizza dough along the edge free of sauce.
Pizza Toppings
Sprinkle all of the shredded provolone cheese on top of the sauce. Fill in the gaps with the mozzarella cheese. The whole pizza should be covered in cheese. Sprinkle the chopped basil and chopped rosemary on top of the cheese.

Top the cheese with the pancetta and salami. Line the pizza with the pears.

Place the parchment paper with the pizza on a large cutting board. Place the parchment paper and pizza on the hot pizza stone. Bake for 6-8 minutes. Check it at 6 minutes. Bake until cheese is starting to become golden brown

Once the pizza comes out of the oven, there will be a lot of juice from the pears. Dab the pizza with a paper towel to soak up the juices. Cut the pizza and serve.
Notes
Flour- Use bread flour and not all-purpose flour. Make sure it is spooned and leveled or use a scale. Compacted flour can dry out the dough.
No mixer dough instructions.
Mix all of the wet ingredients in a bowl using a whisk. Add in the flour. Use a rubber spatula and fold in the flour until a dough starts to form. Place dough on a lightly floured surface. Knead by hand for 10 minutes. Follow the rest of the instructions.
Pizza sauce and cooking the pancetta can be done ahead of time.
Nutrition
Calories:
268
kcal
Carbohydrates:
27
g
Protein:
15
g
Fat:
11
g
Saturated Fat:
7
g
Cholesterol:
31
mg
Sodium:
865
mg
Potassium:
175
mg
Fiber:
1
g
Sugar:
3
g
Vitamin A:
467
IU
Vitamin C:
2
mg
Calcium:
295
mg
Iron:
1
mg