These lemon blueberry muffins are incredibly moist, large bakery style, and have a zesty lemon crumb topping. These easy muffins are bursting with fresh blueberries and lemons. You can make these muffins into large jumbo muffins or regular size. Either way, they are topped with a lemon crumb topping, making these muffins PERFECT.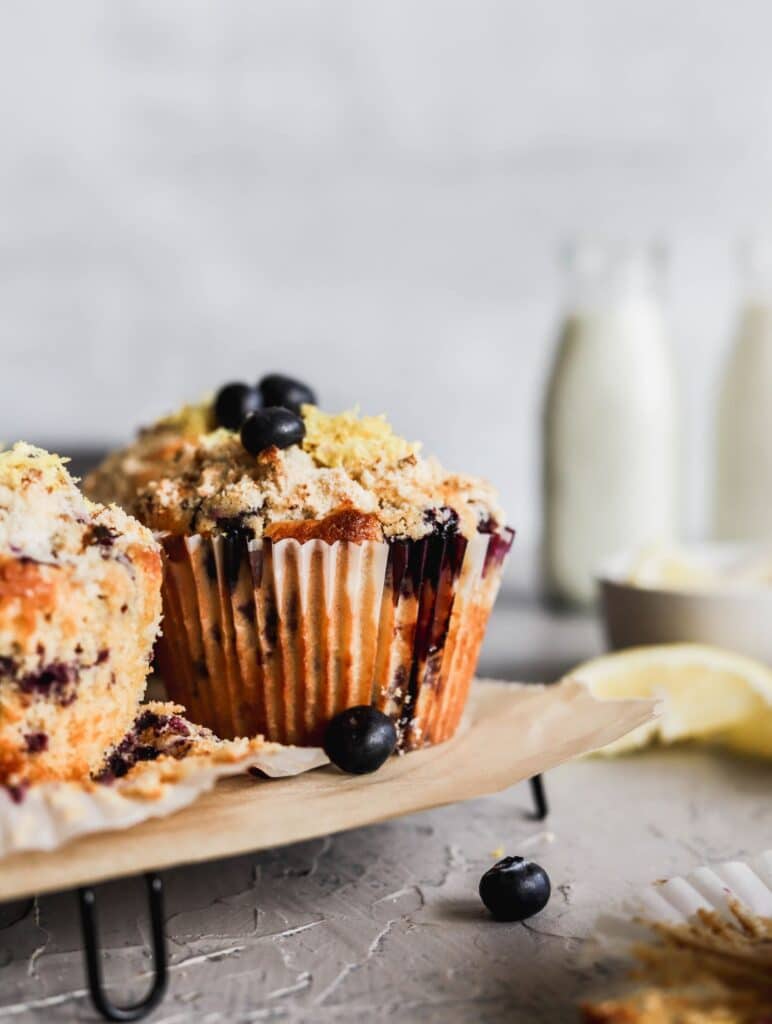 The Best Lemon Blueberry Muffins EVER
There is something so comforting with a large and fresh muffin for breakfast. One that is still warm from a bakery or coffee shop. These muffins are EXACTLY like that.
These are large muffins with rounded tops. They are super moist and made with only the freshest ingredients. What puts these muffins over the top is the lemon crumb topping.
The zesty lemon crumb topping is made with fresh lemon zest and gives the muffin a little more texture. The best muffins always have an amazing crumb topping. I also add extra lemon zest on top to give it a sharper flavor.
These are the type of muffins that are so moist, and they stay moist even days later. The trick is the buttermilk. The fat content in the buttermilk helps to break down the gluten in the flour. This means a MOIST muffin for days!
This blog receives a commission for using Amazon products for the food recipes that I shared with you in my posts. Although I receive a commission for using and linking their products, they are extremely good for my food recipes and all my opinions and suggestions are unbiased.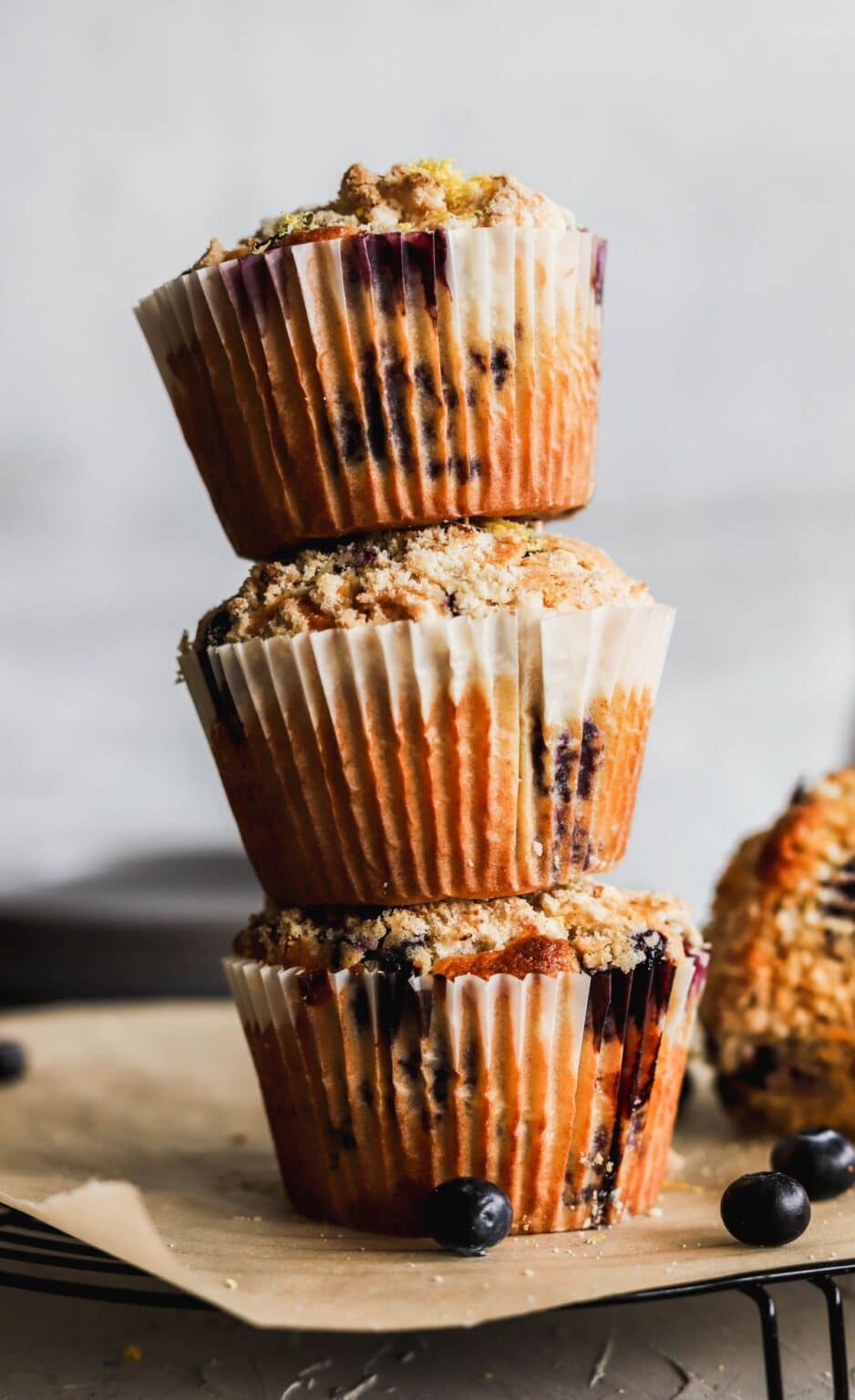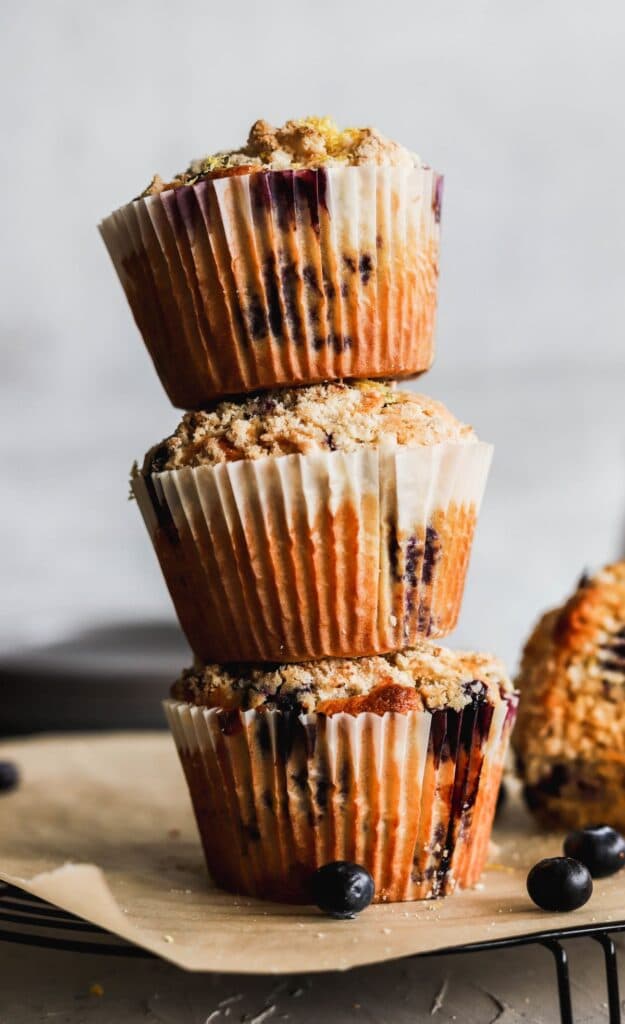 Steps In Making The Blueberry Muffins
To make these muffins, it only needs 6 simple steps!
Step 1- Prepare the fresh blueberries and lemons.
Step 2- Mix the dry ingredients. Use a sifter to make sure all flour lumps are gone!
Step 3- Cream together the butter and sugars. Use a mixer to beat the butter and sugars together. This will help to aerate the butter properly.
Step 4- Add the lemons, vanilla, and eggs.
Step 5- Mix in the dry ingredients and buttermilk. I do this in sections and not all at once.
Step 6- Fold in blueberries.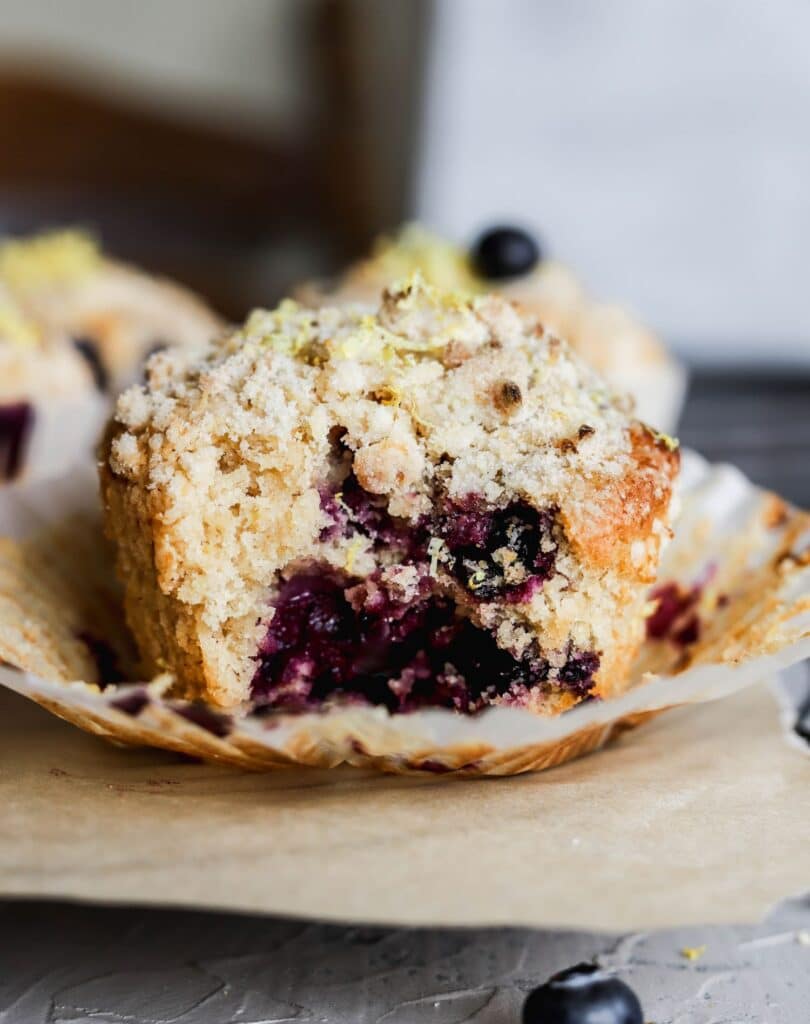 Can I Use Frozen Blueberries?
No, I don't recommend using frozen blueberries. Frozen blueberries have a different texture than fresh blueberries. They also bleed a lot into the muffins. Trust me, fresh blueberries are the way to go!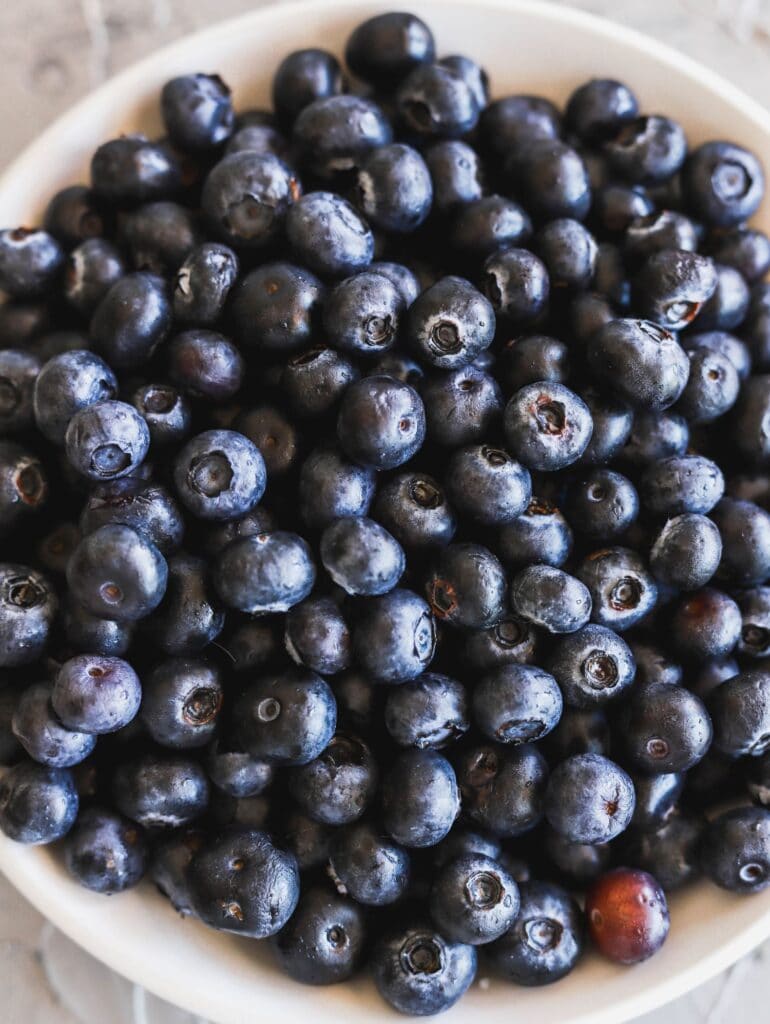 How To Make Lemon Blueberry Muffin Batter
To make these muffins, you need to start with your fresh produce. The blueberries should be washed and dried very thoroughly. Then, coat them in the 1 tablespoon of flour. The flour helps prevent the blueberries from sinking to the bottom. We want an equal amount of blueberries throughout the whole muffins.
Then, use a zester, and zest the lemons. We need enough for the muffin batter, crumb topping, and extra for the tops. It is a lot of lemon zest! It takes 4 large lemons.
Take 1 of the lemons you zested, and use a juicer to get the lemon juice. Fresh lemon juice is where it's at. Using concentrated lemon juice isn't the same.
Next, whisk together the flour, baking powder, salt, and cinnamon. Then, use a mixer to cream together the butter and both sugar. I beat mine for 1 minute, it will be super light and fluffy.
Then, add in the lemon zest, lemon juice and vanilla. Next, add in the eggs one at a time. The batter will be wet.
Add the dry ingredients and buttermilk in sections. Add a little bit of the dry and buttermilk at a time, everything will have a chance to mix together. I will do the dry ingredients in thirds, and the buttermilk in halves.
Stop mixing immediately when mixed together. Over mixing the batter will cause the muffins to not rise in the oven.
Pour in the blueberries and use a rubber spatula to gently fold them in. If you are too harsh, the blueberries will bleed into the batter.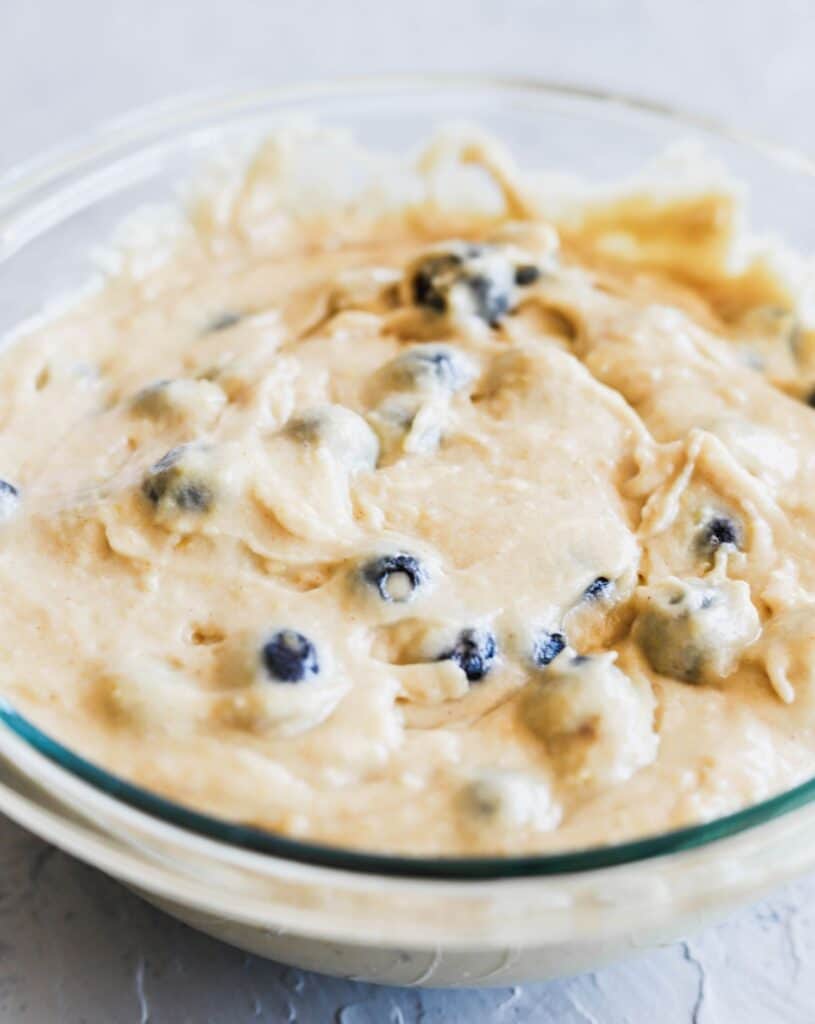 What Size Muffin Tin To Use For The Lemon Blueberry Muffins?
I strongly recommend you get the jumbo muffin tin with the jumbo muffin liners. These makes those giant bakery style muffins. Since they are so big, it allows plenty of space to get those rounded tops.
You can use a regular size 12 cup muffin tin as well. The muffins won't rise as much as the jumbo, but they still taste SO good. You have to adjust the cooking time for smaller muffin tin. It takes 10 minutes at 450F and then 6-8 minutes at 375F.
Either pan you use, it should be filled ¾ full.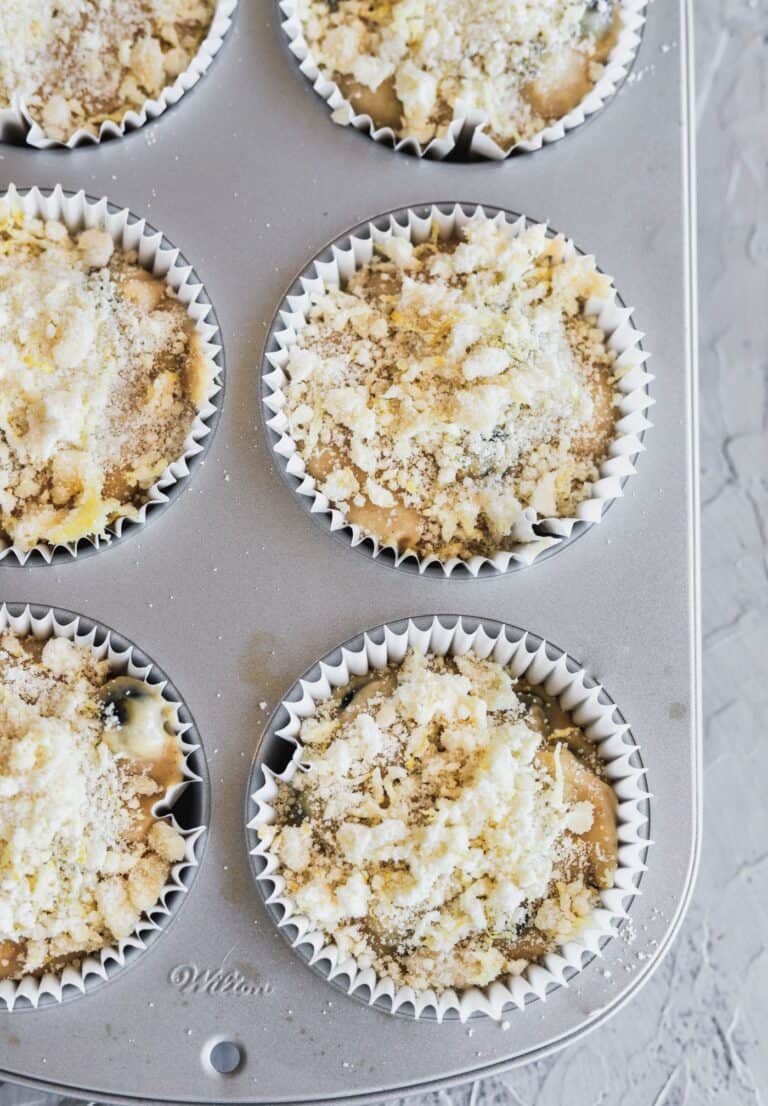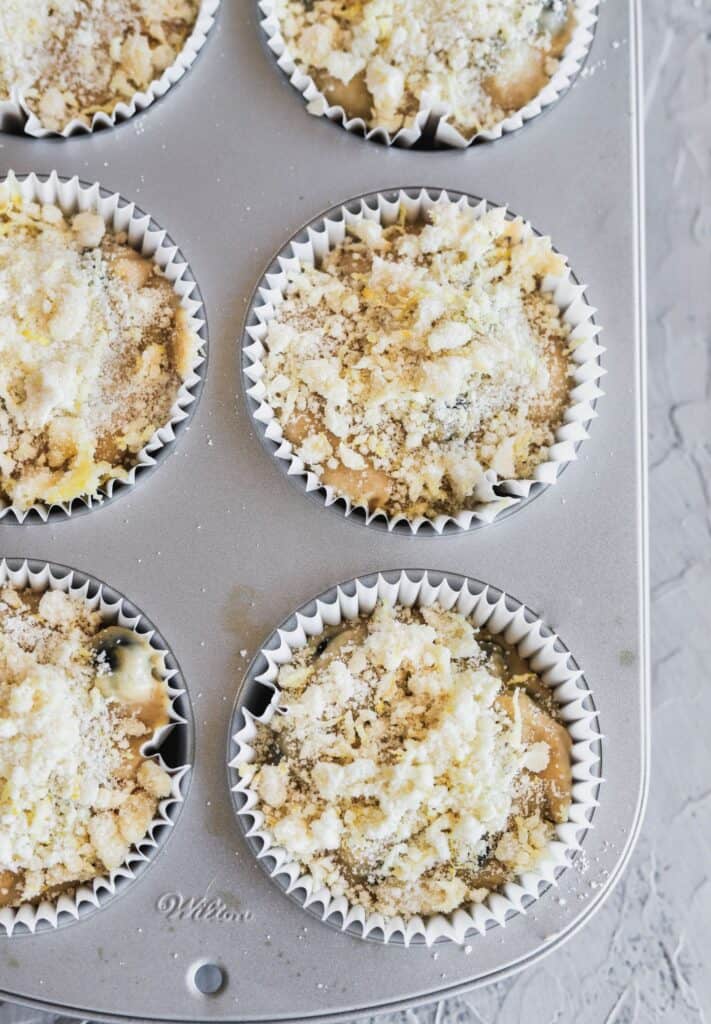 Why The 2 Different Baking Temperatures?
You will notice it says to start the muffins at 450F for 10 minutes. The higher baking temperature will give enough heat to give the muffins a great rise. It also helps to crisp the tops.
Then, reduce the temperature to 375F. This gives the lemon blueberry muffins a high enough heat to give it a better rise, but the lower heat will prevent over baking.
Zesty Lemon Crumb Topping
One of the best parts of these muffins is the topping. I LOVE a good topping on my muffins. This topping is made with 4 simple ingredients.
Flour
Sugar
Melted butter
Lemon zest
It is so easy peasy to make! Combine all the ingredients in the bowl with a fork. If it is too wet, you will need to add more flour. Make sure to very generously sprinkle the crumb topping on top of the batter. The more topping the better!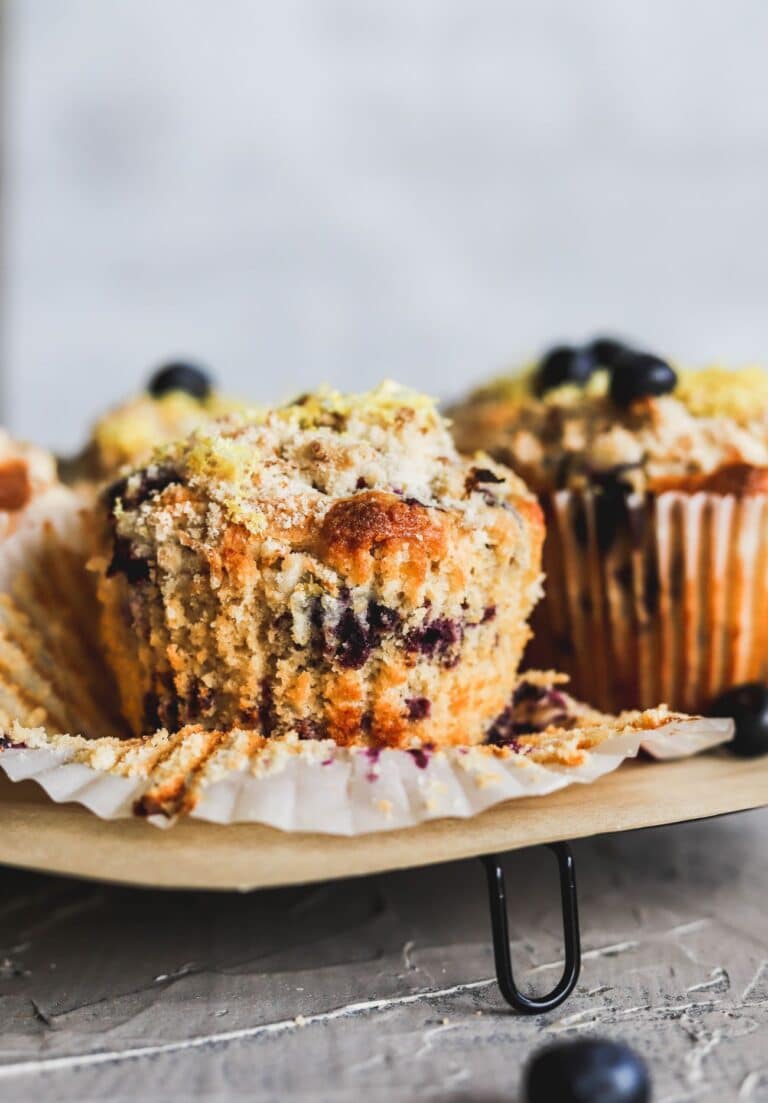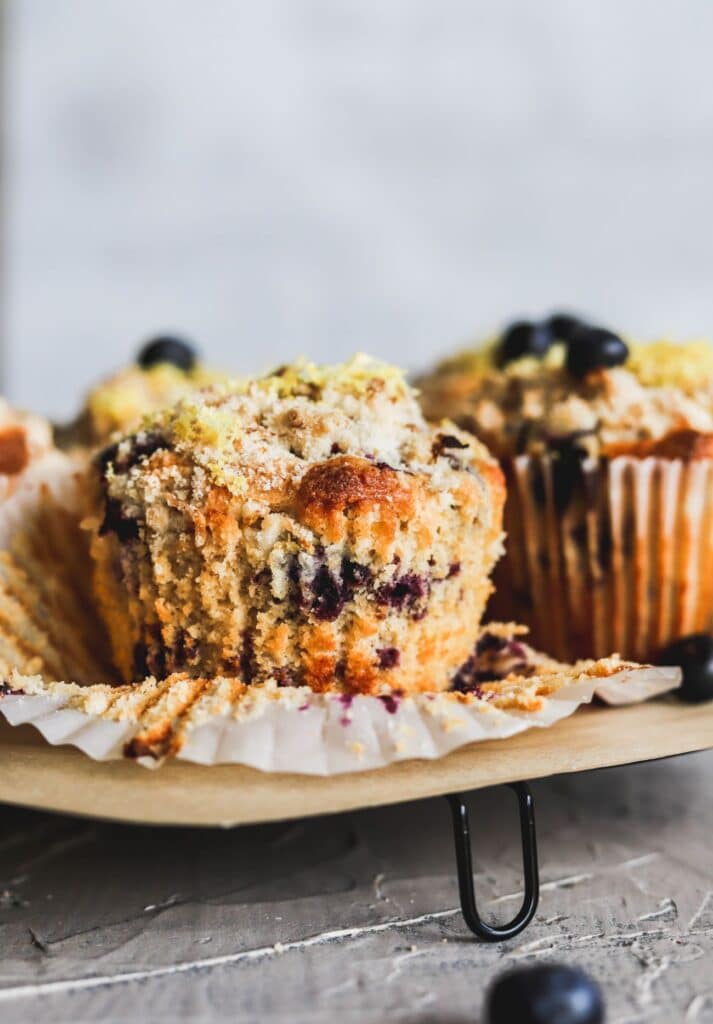 Baking The Lemon Blueberry Muffins
Use an ice cream scoop to fill up the muffin tin. This is easiest (and most mess free!) way to fill up the muffin pan.
Then, bake the muffins at 450F for 10 minutes. Then, switch the oven to 375F and bake for another 15-20 minutes.
The lemon blueberry muffins will be golden brown, and when a tooth pick is inserted it comes out clean.
Then, leave the muffins in the pan for 10 minutes before transferring to a cooling rack.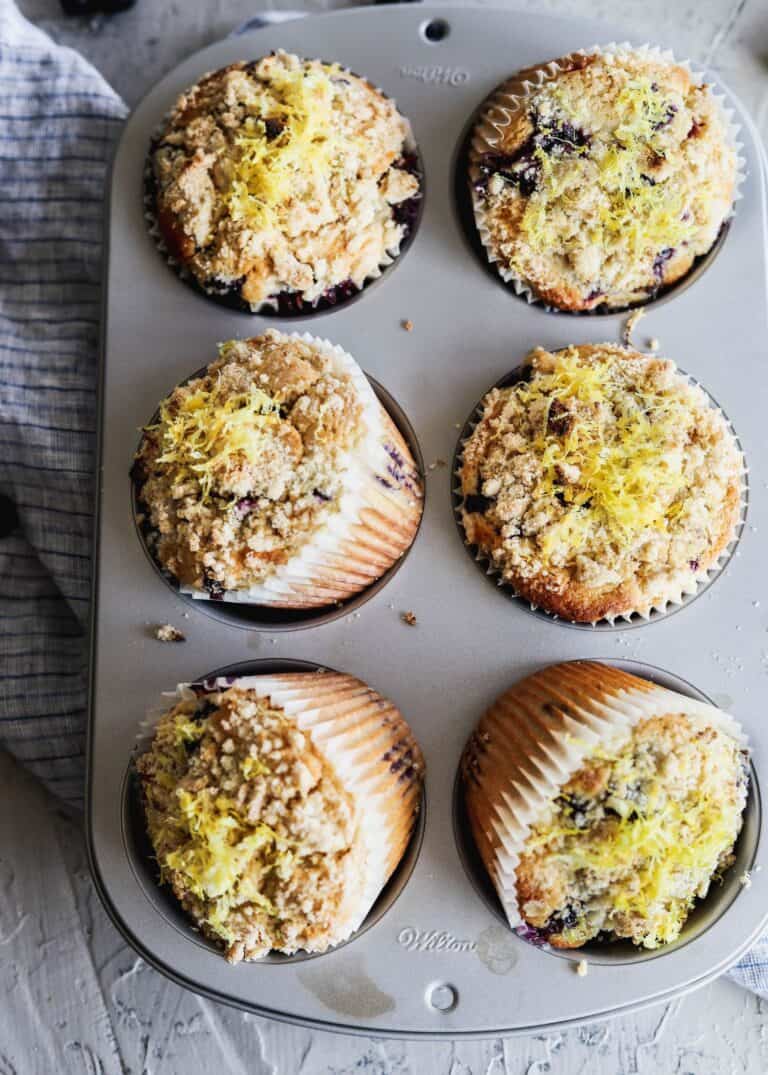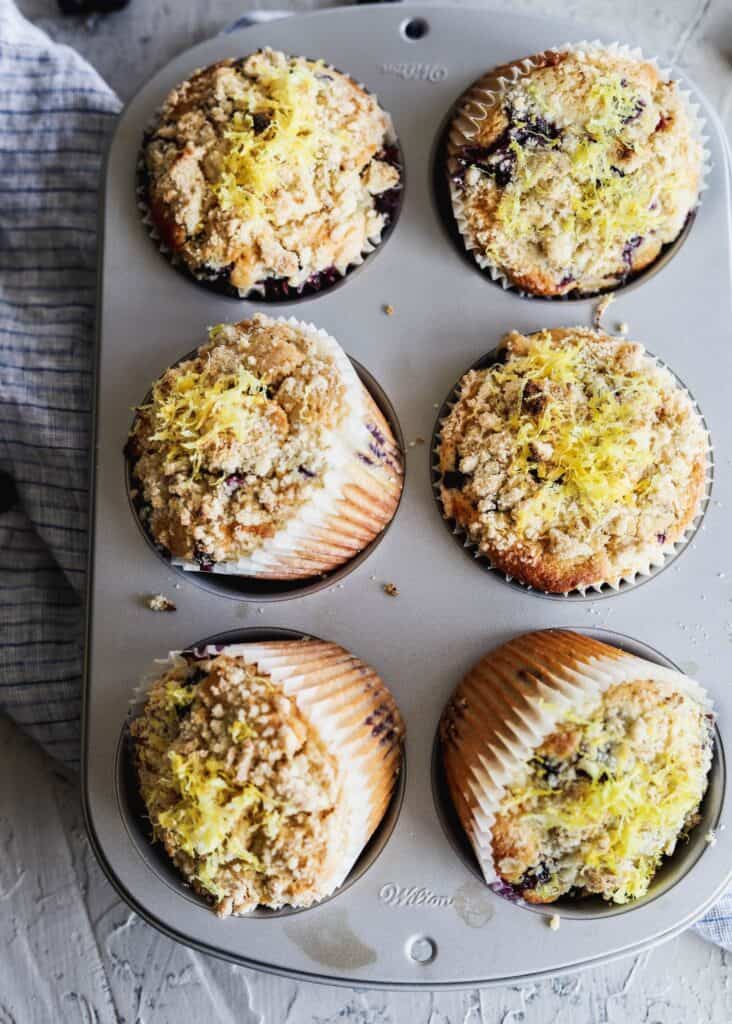 How To Store Easy Lemon Blueberry Muffins
To store these muffins, cover and store at room temperature. I usually store these muffins in an aluminum foil container and cover with more aluminum foil. You can also store in an air tight container.
They last up to 4 days at room temperature. If they aren't eaten first!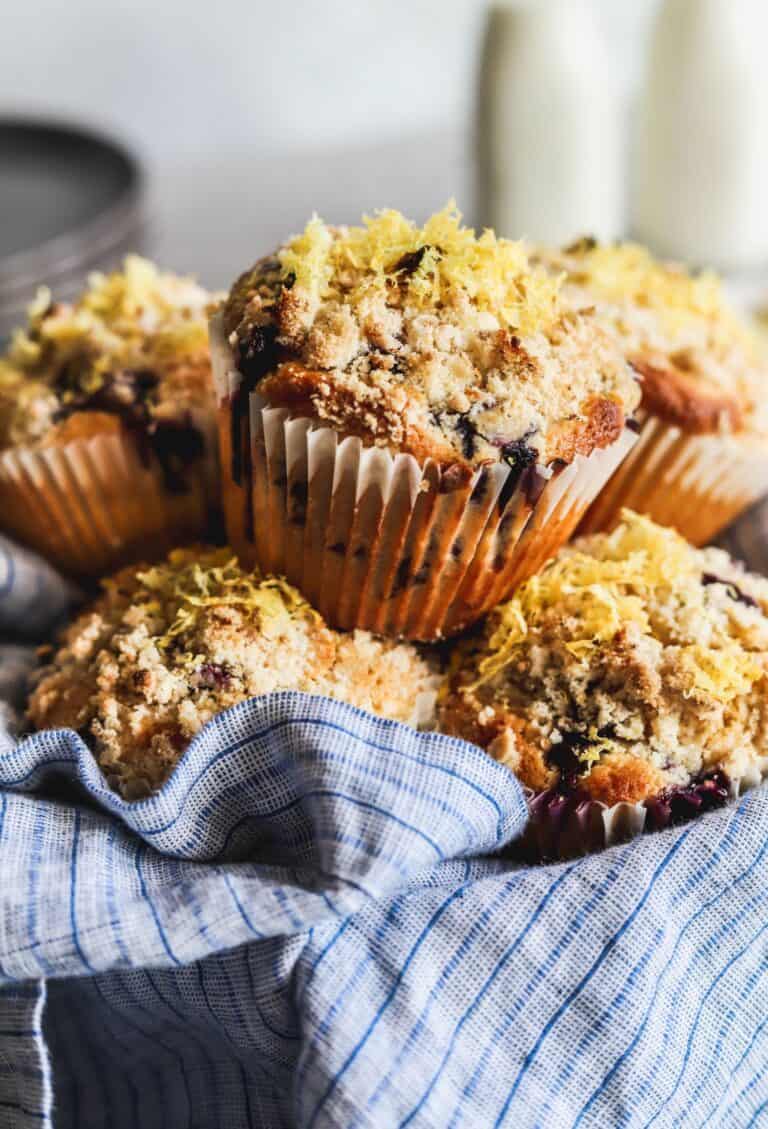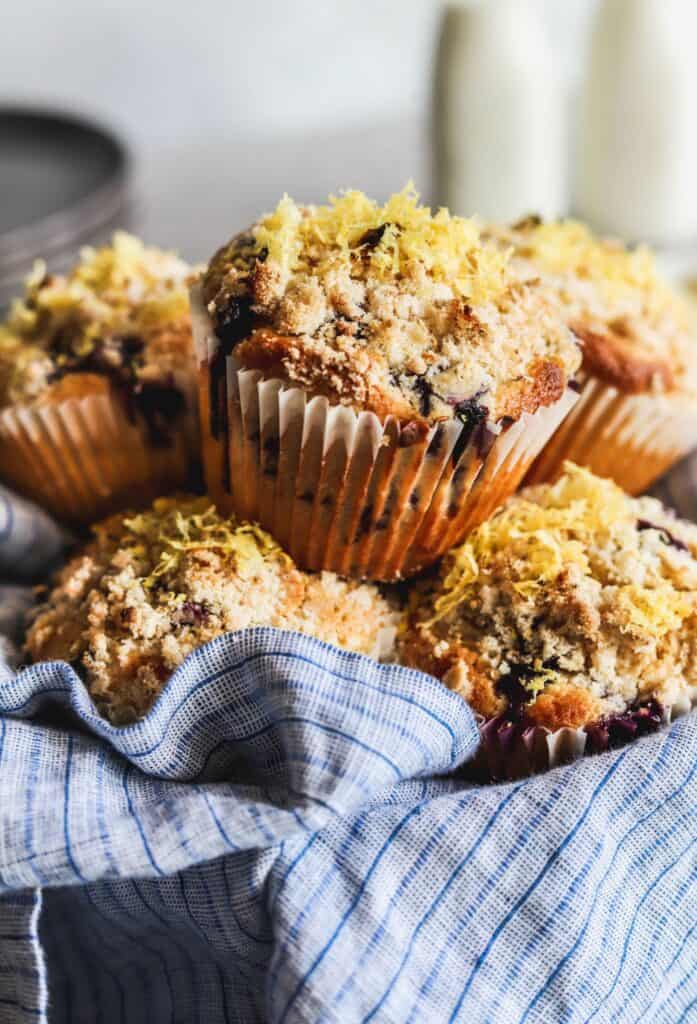 Other Breakfast Recipes To Try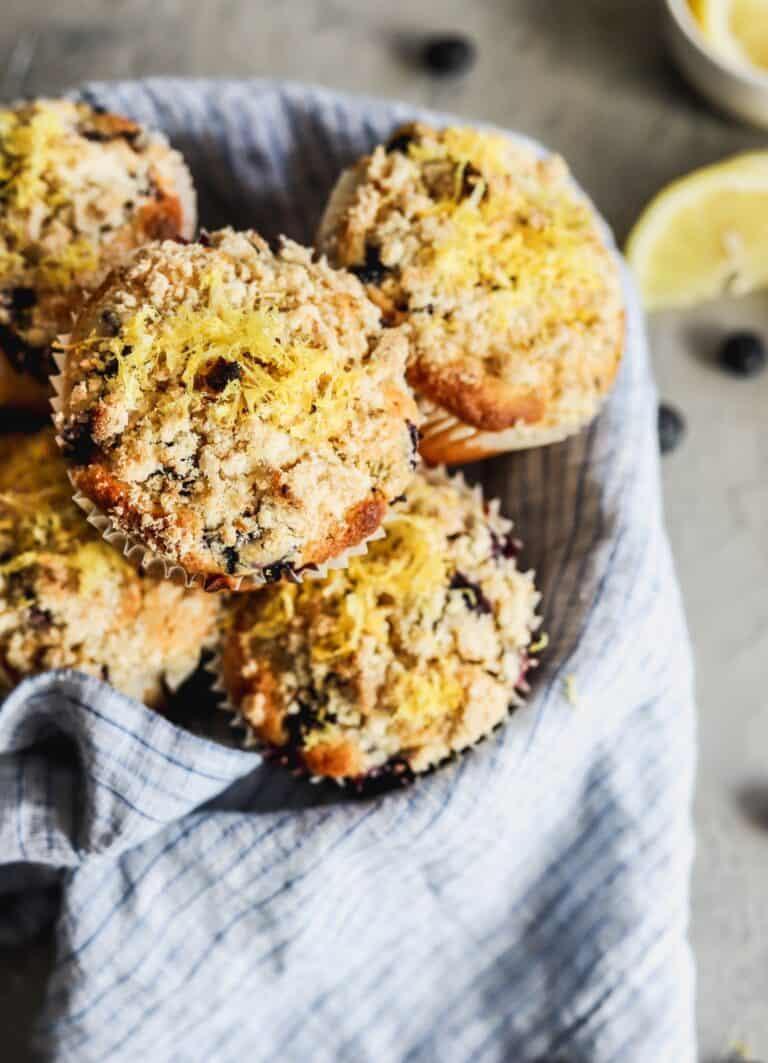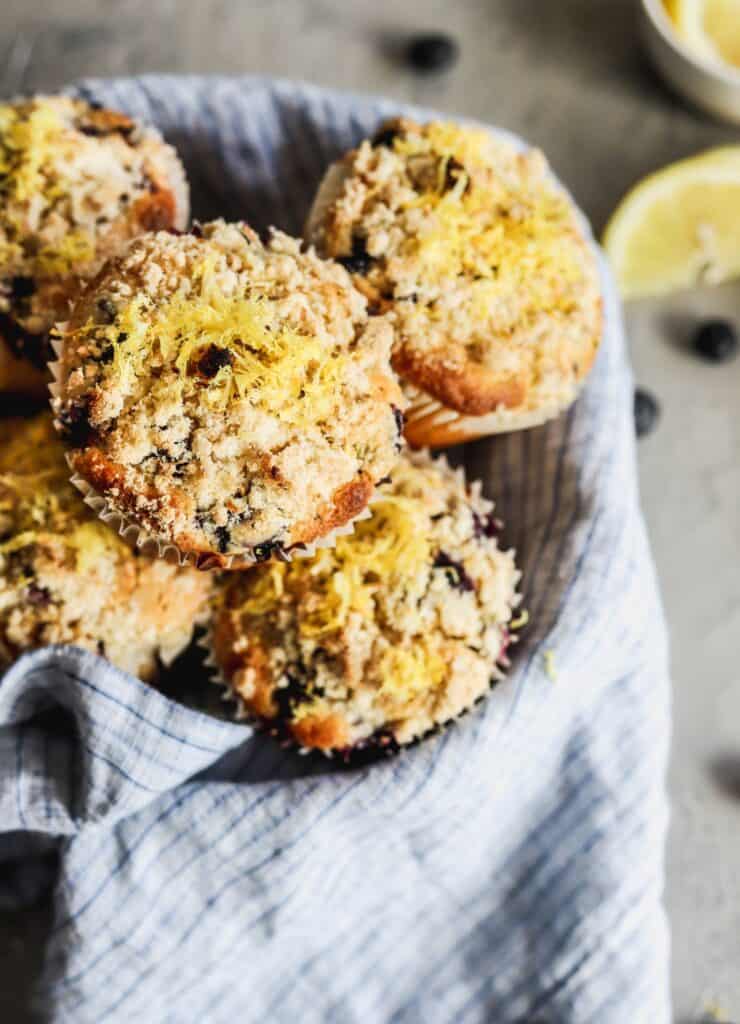 Make sure to tag me on Instagram @stephaniesweettreats and leave me a review below if you made these muffins. I hope you loved it! To get more ideas follow me on Pinterest.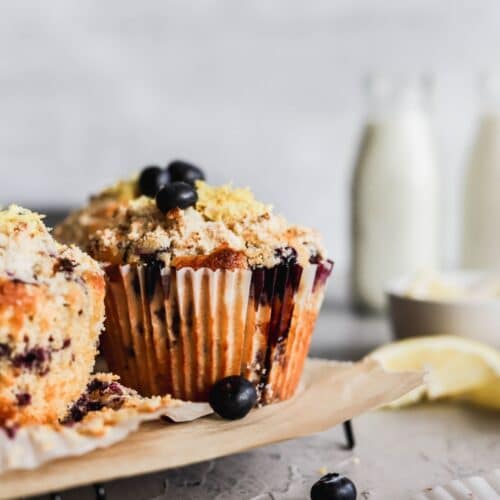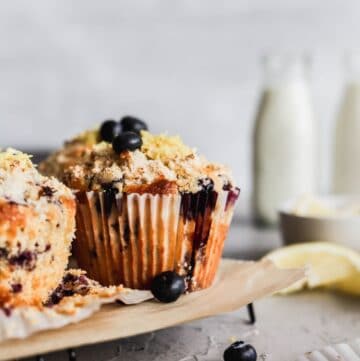 Lemon Blueberry Muffins
These lemon blueberry muffins are topped with a zesty crumb topping. These muffins are bakery style, moist, and made with buttermilk. They make for the perfect breakfast!
Ingredients
2

cups

All-purpose flour

2

teaspoon

Baking powder

½

teaspoon

Salt

½

teaspoon

Ground cinnamon

½

cup

Unsalted butter

room temperature

1

cup

White granulated sugar

¼

cup

Brown sugar

packed light or dark

1

teaspoon

Pure vanilla extract

2

tablespoon

Lemon zest

or 2 large lemons

Juice of 1 large lemon

2

Large eggs

room temperature

½

cup

Buttermilk

room temperature

2

cups

Blueberries

Fresh, washed, and dried.

1

tablespoon

All-purpose flour
Lemon Crumb Topping
⅓

cup

All-purpose flour

3

tablespoon

White granulated sugar

1

tablespoon

Lemon zest

plus extra to go on top after muffins bake.

1 ½

tablespoon

Unsalted butter

melted
Instructions
Preheat oven to 450F. Line a jumbo muffin tin with muffin liners. Set aside.

Prepare the lemon zest and lemon juice. Set aside. Wash and dry the blueberries. In a small bowl fold in 1 tablespoon of flour. Set aside.

In a medium sized bowl, whisk the flour, baking powder, salt, and cinnamon together.

Using a mixer, beat the butter, sugar, and brown sugar for 1 minute on medium. The butter should be light and fluffy. Add in the vanilla. lemon juice, and lemon zest. Mix until combined.

Add in the eggs one at a time. Mix on low until just combined. Add ⅓ of the dry ingredients and ½ of the buttermilk. Mix until mostly combined. Add another ⅓ of the dry ingredients and the rest of the buttermilk. Then, add the rest of the dry ingredients. Take off the mixer once combined.

Use a rubber spatula and scrape the bowl. Gently fold in the blueberries. Use an ice cream scoop to fill the muffin tin ¾ full.
Lemon Crumb Topping
Mix together the flour, sugar, lemon zest, and melted butter with a fork. Once combined, sprinkle generously on top of the muffin batter.

Bake for 10 minutes. Then lower oven temperature to 375F. Then, bake for 15-20 minutes. The muffins should be lightly golden brown, and when a toothpick is inserted it comes out clean.

Let the muffins sit in the tin for 10 minutes. Then, transfer to a cooling rack and allow to cool completely.
Notes
High altitude baking- add an extra 2 tablespoon of flour
For 12 regular sized muffins- reduce baking time to 450F for 10 minutes. 375F 7-9 minutes.
Flour- make sure flour is spooned and leveled. 
Nutrition