These Oreo blondies are what happens if you take a fudgy brownie, take out the cocoa powder and add in a bunch of chopped Oreos. They are SO good. These cookies and cream blondies also use brown butter to give them a rich and gourmet flavor.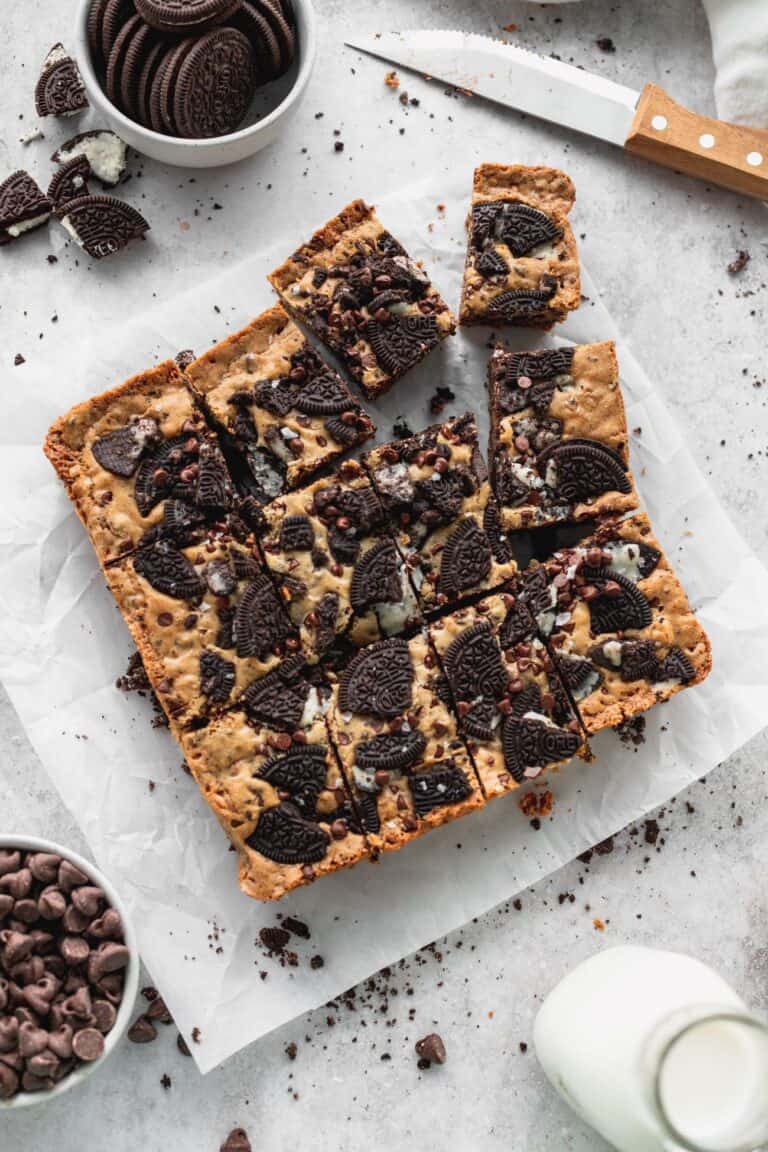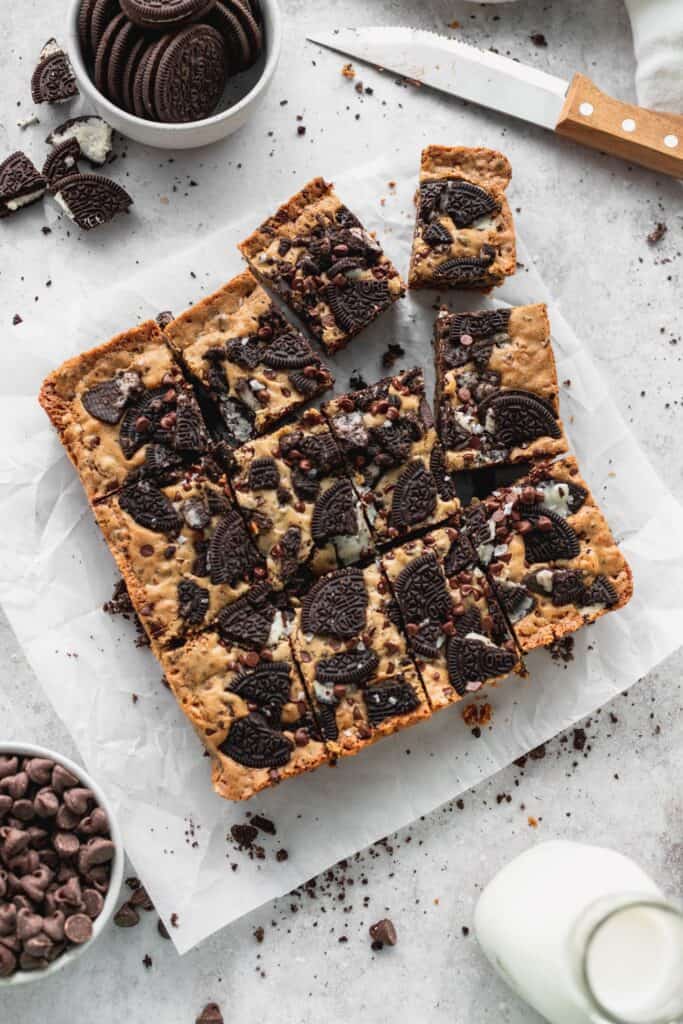 How To Make Brown Butter
Brown butter is when you melt the butter down until the milk deposits separate and the butter browns. It turns into a rich, nutty melted butter. Here are the steps to make it:
Use a frying pan- Don't use a sauce pan for browning butter. A bigger surface area like a frying pan will make it easier and faster to brown the butter.
Melt the butter- First step is to melt the butter in the pan.
Let it bubble- Next, it will bubble. Occasionally stir at this point.
Foam- It will start by lightly foaming, then once it foams enough that it is hard to see the bottom, that means it is almost there.
Browning the butter- Next, the milk deposits will separate. There will be brown flecks at the bottom of the pan. Stir consistently until butter browns. Take off the pan.
Cool- Let it cool for 15 minutes before you bake with it.
Now, you can just use regular melted butter, but the browned butter gives a much richer flavor.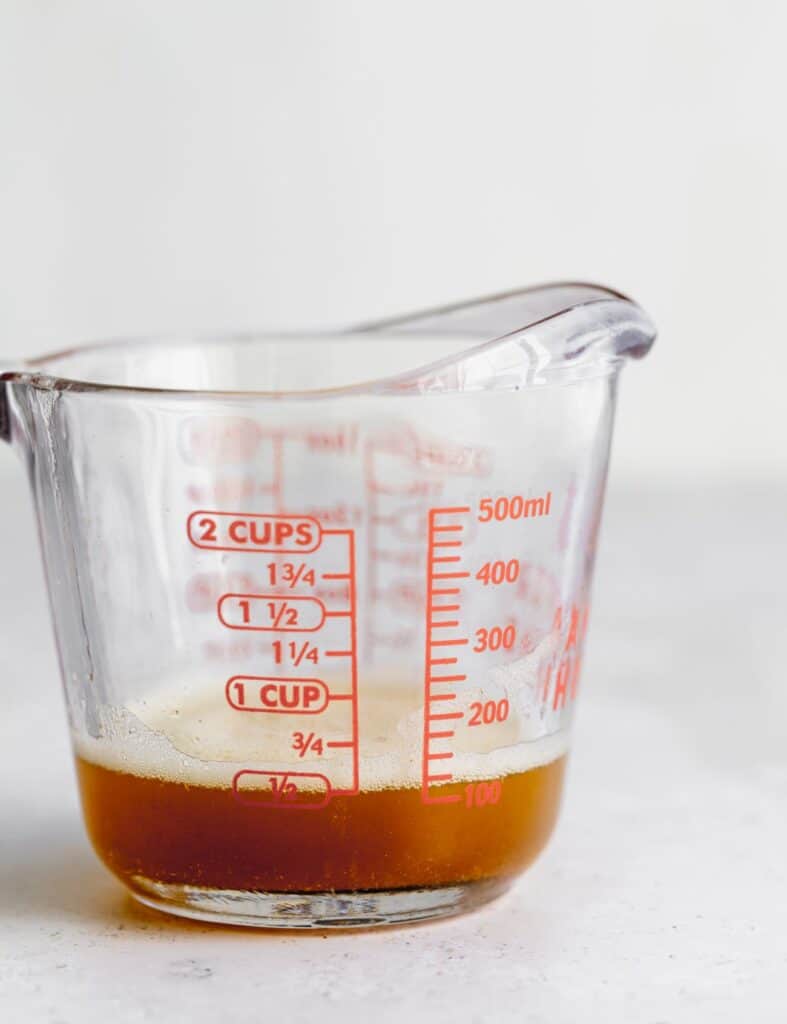 Making Blondie Batter
To make the rest of the batter, you don't need a mixer. You don't even need a whisk. A rubber spatula will do.
First mix the sugars and brown butter together. The sugar will look wet.
Next, add in the vanilla, eggs, and egg yolks. The egg yolks give the blondies the fudgy texture.
Once mixed add the the dry ingredients. This will take a few minutes to mix. Then, add the chopped Oreos and mini chocolate chips.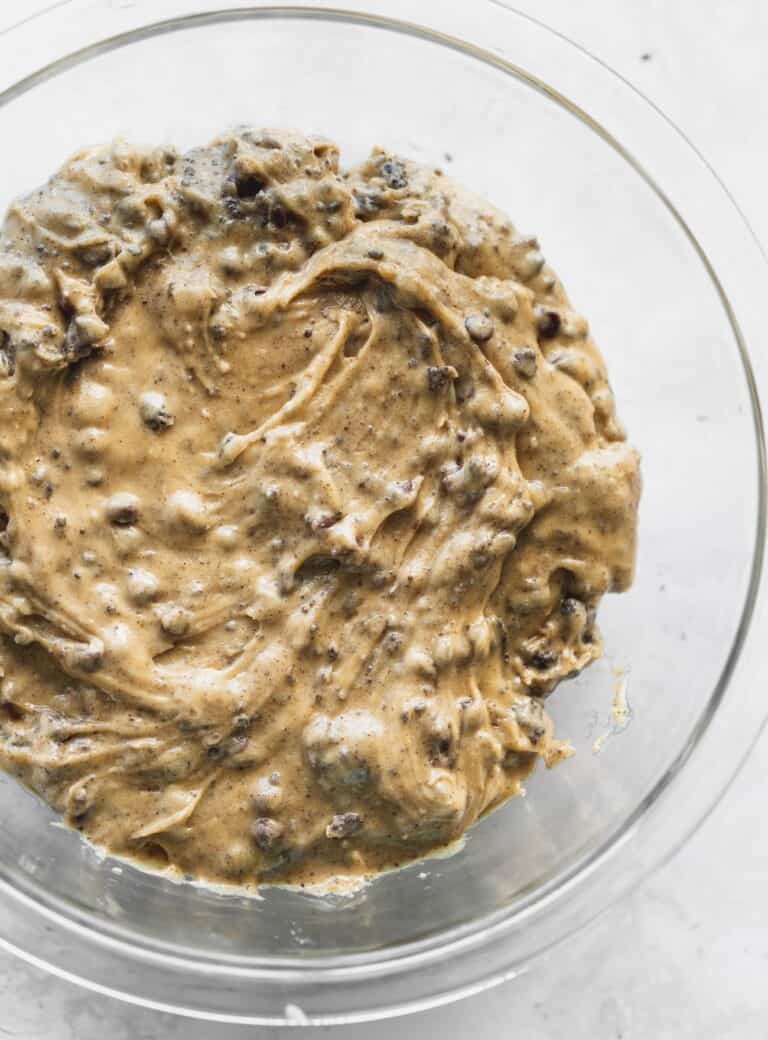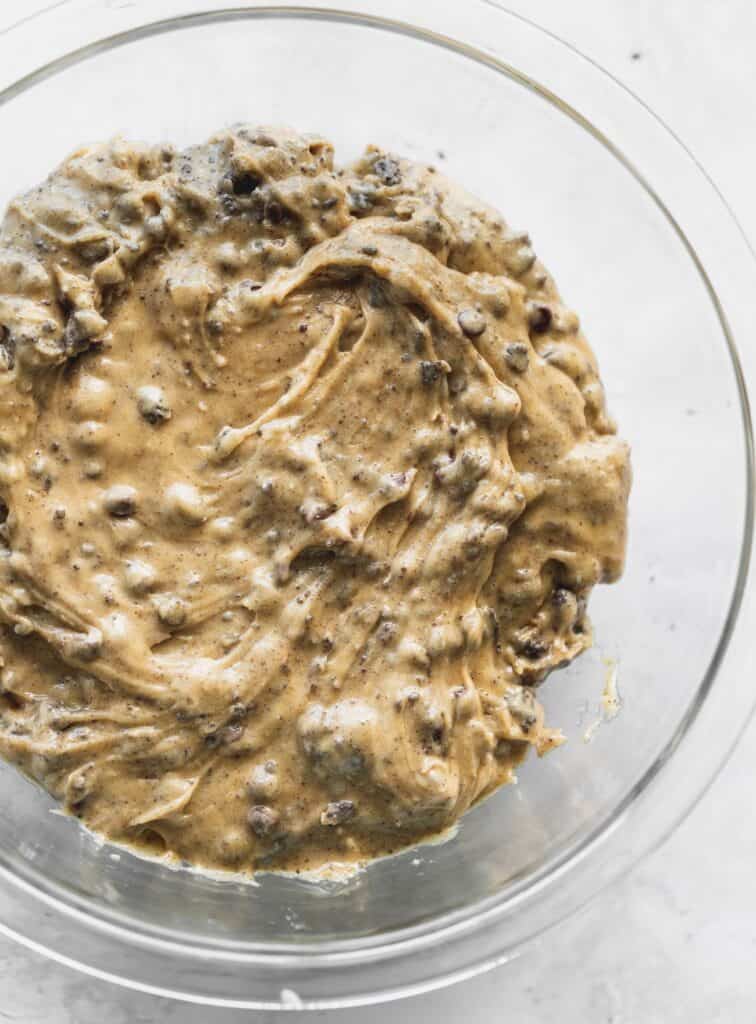 How To Remove Blondies From Pan Easily
First, you need an 8X8 pan. Spray the pan well with a baking non-stick spray. The kind with flour in it. Next, line the bottom and 2 sides of the pan with parchment paper. Leave some sticking out on the top so you can pull the blondies out. Then, spray again.
Once the blondies are done baking, make sure they cool completely. Then, you can pull them out of the pan and remove the parchment paper.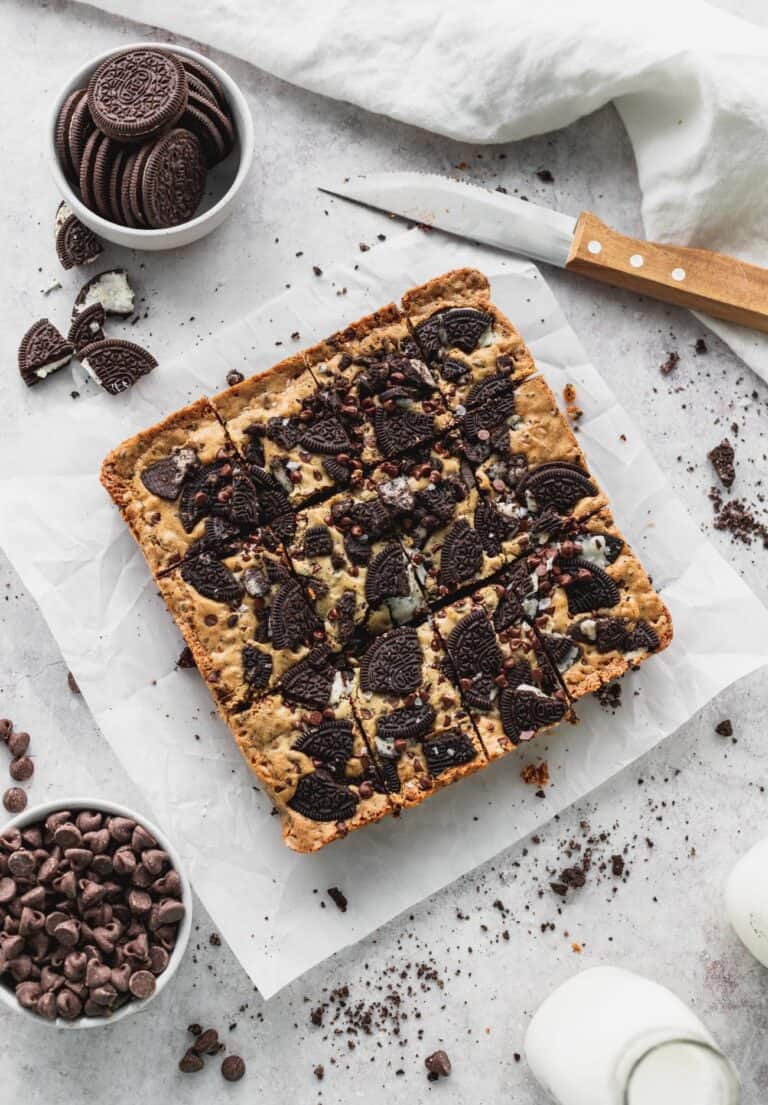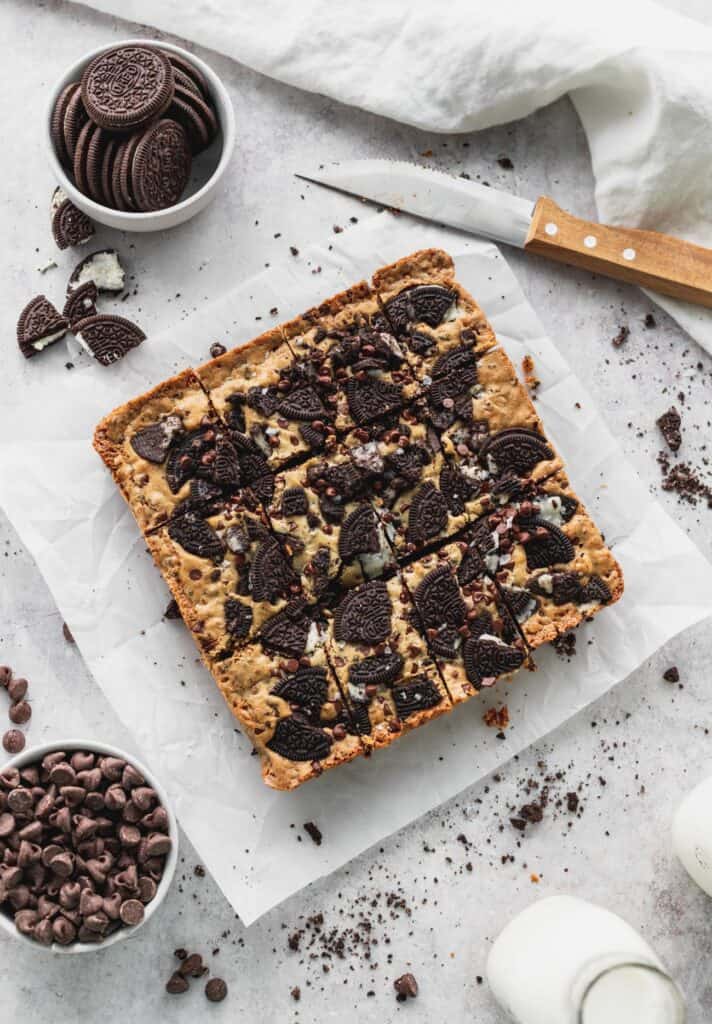 Topping The Bars
To make these Oreo blondies look good, they need to be topped with extra Oreo pieces and mini chocolate chips.
Scatter a bunch around on the top of the batter. Then, bake.
When you pull the blondies out they will be slightly underdone in the middle. They will finish baking as they cool down.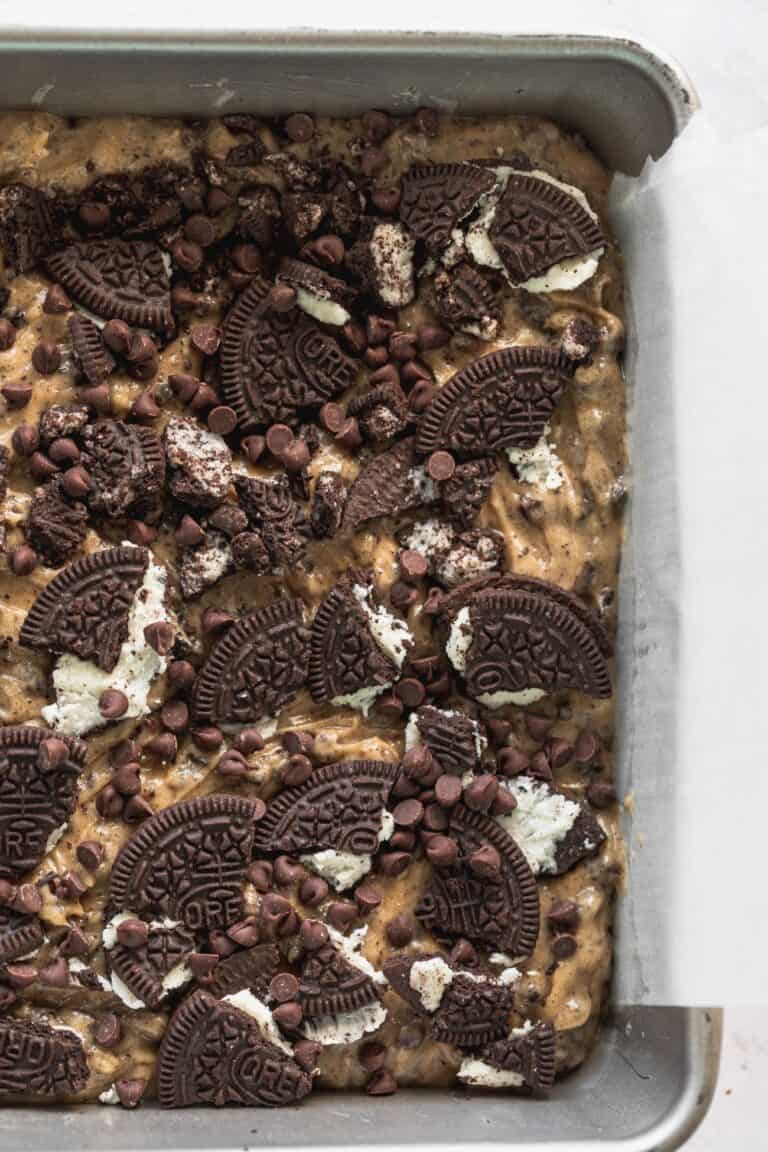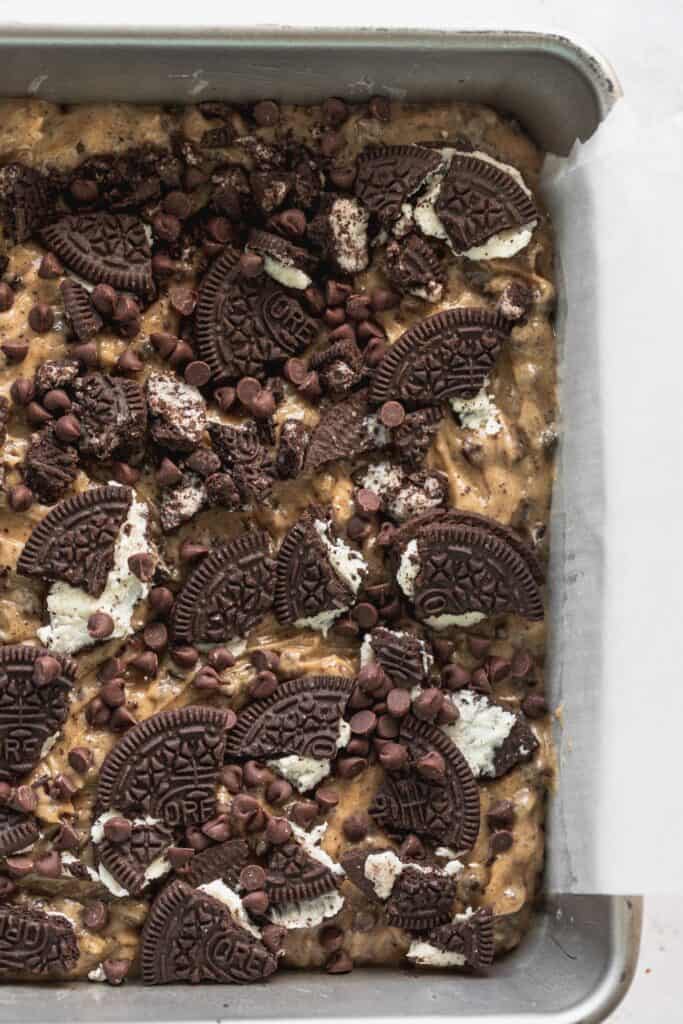 Getting The Perfect Square
My biggest tips to getting a perfect cut with these bars are these 3 things:
Let the blondies cool completely before getting into them. The bottom of the pan should be room temperature.
Freeze for 10 minutes. To get a perfect cut, it helps if they are slightly cold.
Take off the parchment paper and cut the bars on a cutting board. Use a sharp knife to get clean cuts.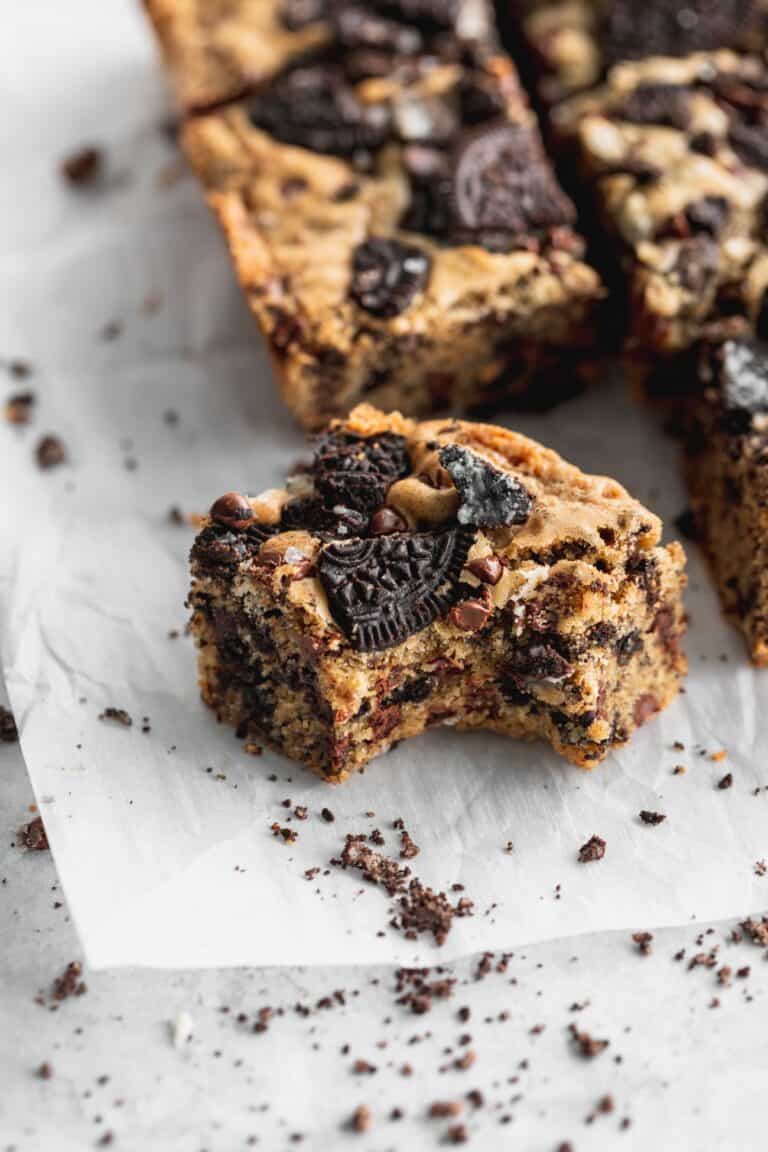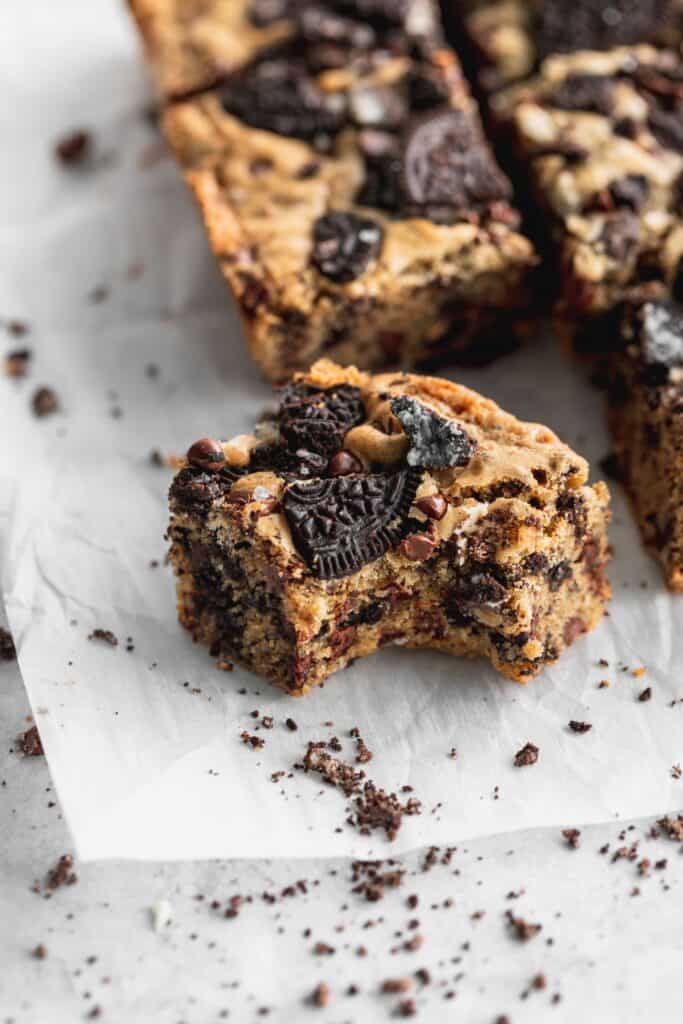 How To Store The Bars
These Oreo blondies can be stored at room temperature in an air tight container. They will last up to 5 days.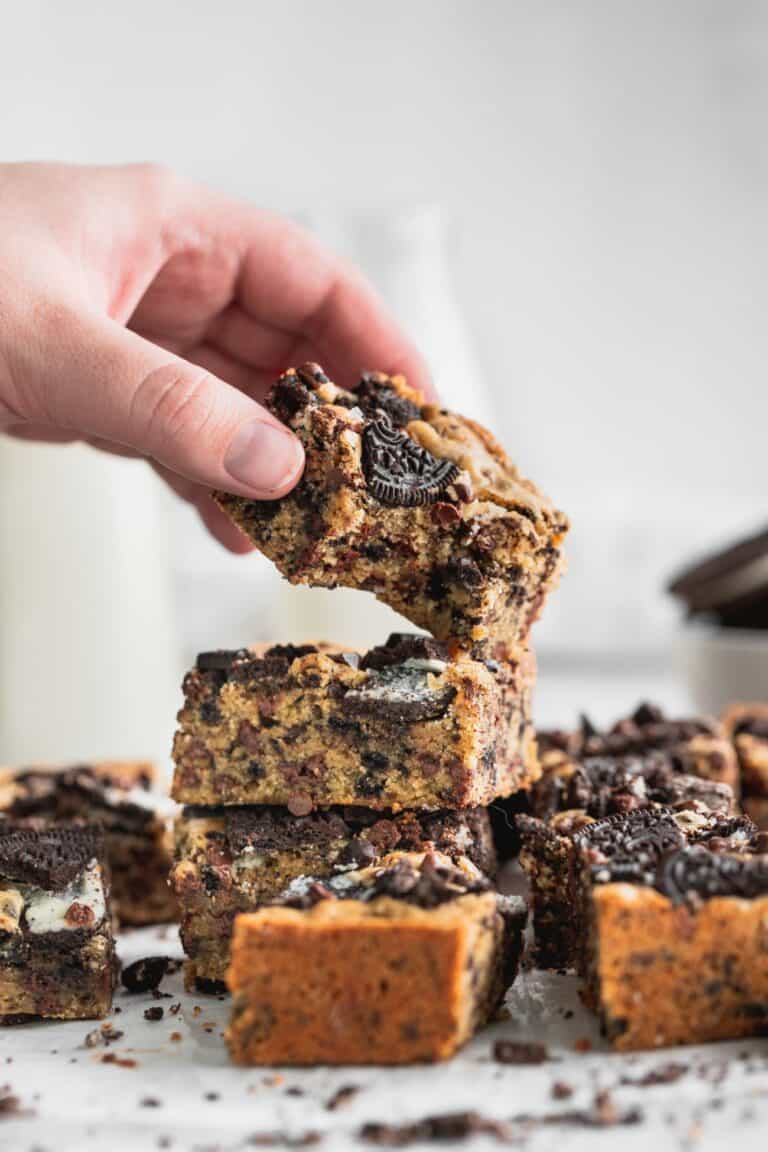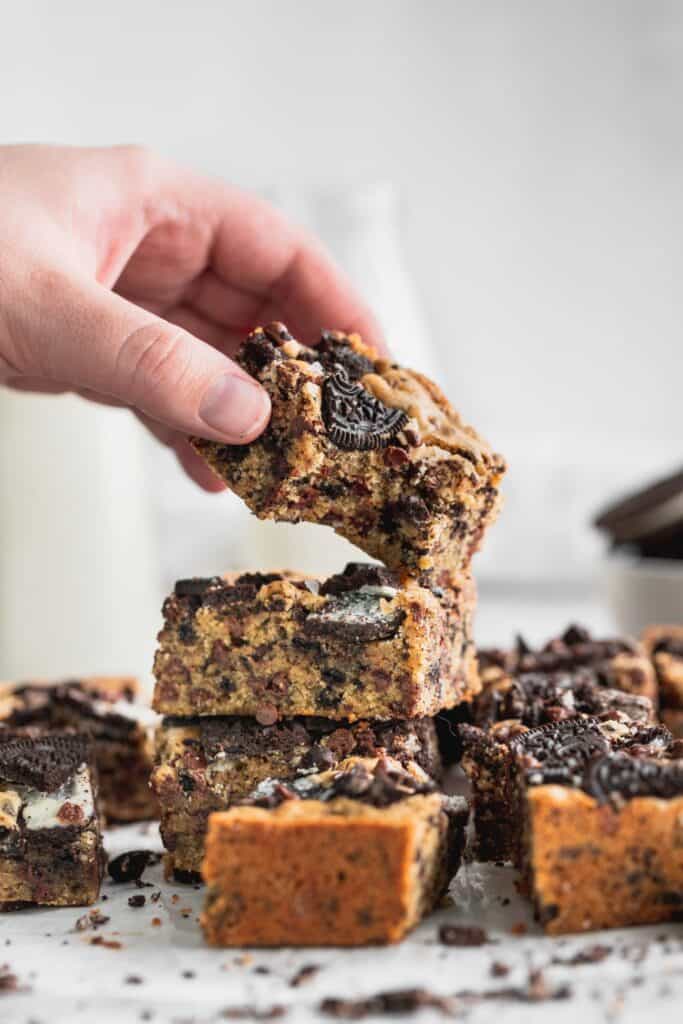 Other Recipes To Try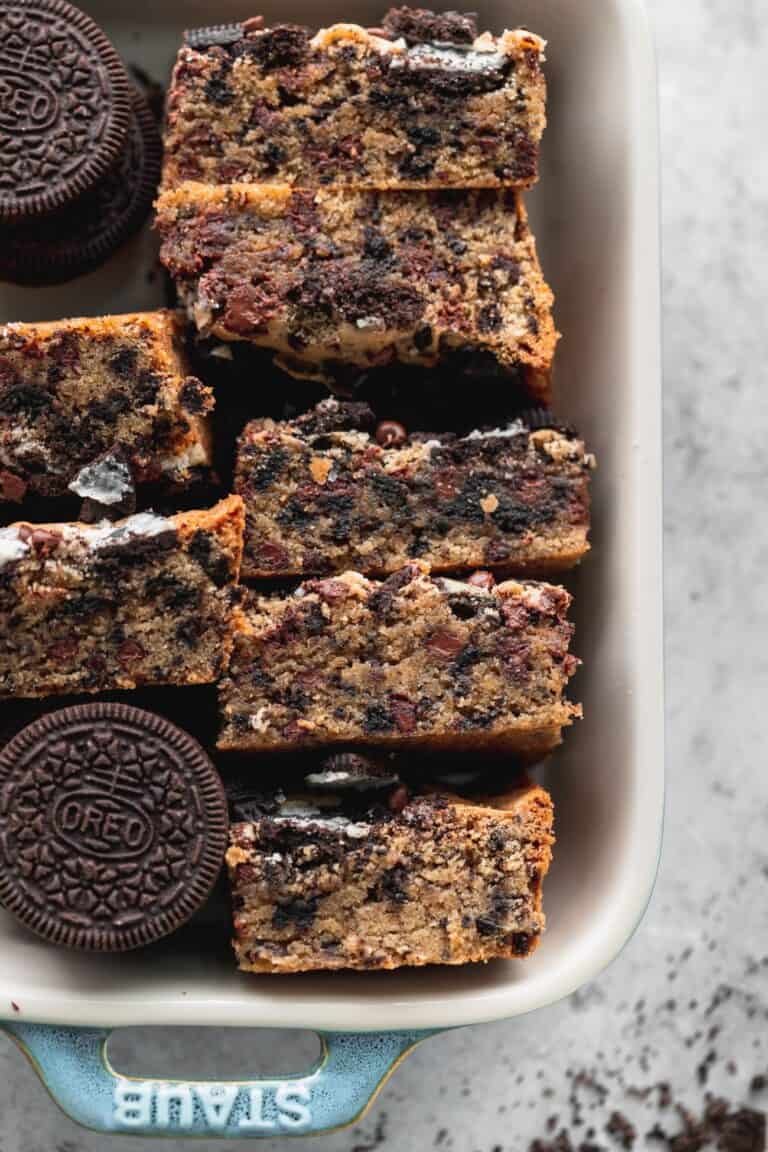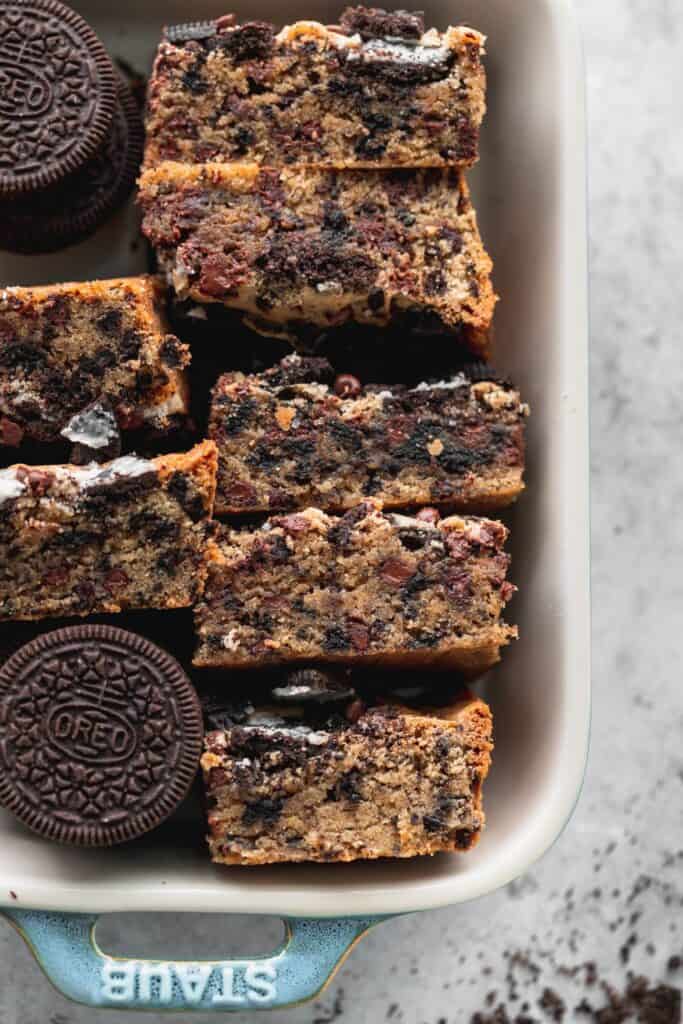 Make sure to tag me on Instagram @stephaniesweettreats and leave me a review below if you made these blondies. I hope you loved it! To get more ideas follow me on Pinterest.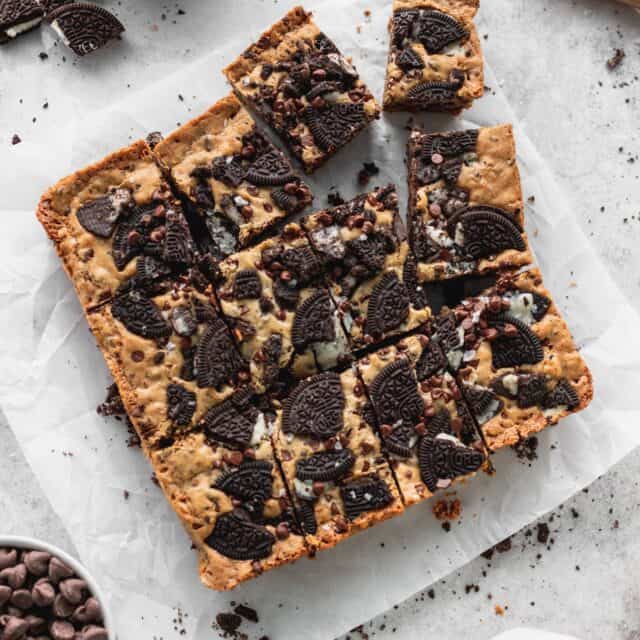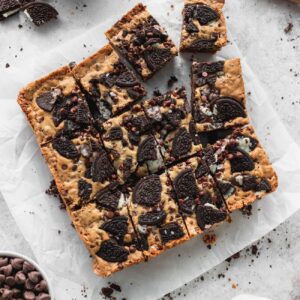 Oreo Blondies
These Oreo blondies use brown butter to give them a gooey and rich center. They are full of Oreo pieces.
Ingredients
1/2

cup

Unsalted butter

browned

1/2

cup

Brown sugar

packed light or dark

1/2

cup

White granulated sugar

1

tsp

Pure vanilla extract

2

Large egg

cold

2

Egg yolk

cold

1

cup

All-purpose flour

1/4

tsp

Salt

1

cup

Chopped Oreos

1/2

cup

Mini chocolate chips
Instructions
Preheat oven to 325°F. Spray an 8×8 pan with baking non-stick spray. Line the bottom and 2 sides of the pan with parchment paper. Spray again.

Place butter in a frying pan over medium heat. Let the butter melt. Use a whisk to keep whisking. First it will bubble, then it will foam up. Once it starts to foam keeping whisking until the milk deposits separate from the butter. Keep whisking until the butter browns slightly. Take off heat and keep stirring for 1 minute. This process takes about 10 minutes.

Pour butter into a glass measuring cup and let it cool for 15 minutes before using. Make sure to use all the brown flecks at the bottom of the pan because this is where the flavor is!

In a mixing bowl, sift the flour and salt together.

In a separate bowl, mix the browned butter, brown sugar, and white sugar together using a whisk. Add in the vanilla, egg, and egg yolk. Mix until combined.

Add in the dry ingredients. Mix until combined. Add in the chopped Oreos and mini chocolate chips. Use a rubber spatula and fold it in.

Pour batter into the pan. Top with additional Oreos and mini chocolate chips. Bake for 30-40 minutes. Let it cool completely before eating.
Notes
Flour- Make sure flour is spooned and leveled or use a kitchen scale. Compacted flour can dry out the blondies.
High altitude baking- Add an extra 1 1/2 TBSP of flour.
Nutrition
Calories:
314
kcal
Carbohydrates:
46
g
Protein:
3
g
Fat:
13
g
Saturated Fat:
8
g
Trans Fat:
1
g
Cholesterol:
50
mg
Sodium:
78
mg
Potassium:
45
mg
Fiber:
1
g
Sugar:
29
g
Vitamin A:
366
IU
Vitamin C:
1
mg
Calcium:
31
mg
Iron:
1
mg