S'mores Mini Cheesecakes- Moist mini cheesecakes baked in a muffin tin, with a graham cracker crust with a layer of chocolate. Topped with a layer of original cheesecake, hot fudge and a toasted marshmallow.
This blog receives a commission for using Amazon products for the food recipes that I shared with you in my posts. Although I receive a commission for using and linking their products, they are extremely good for my food recipes and all my opinions and suggestions are unbiased.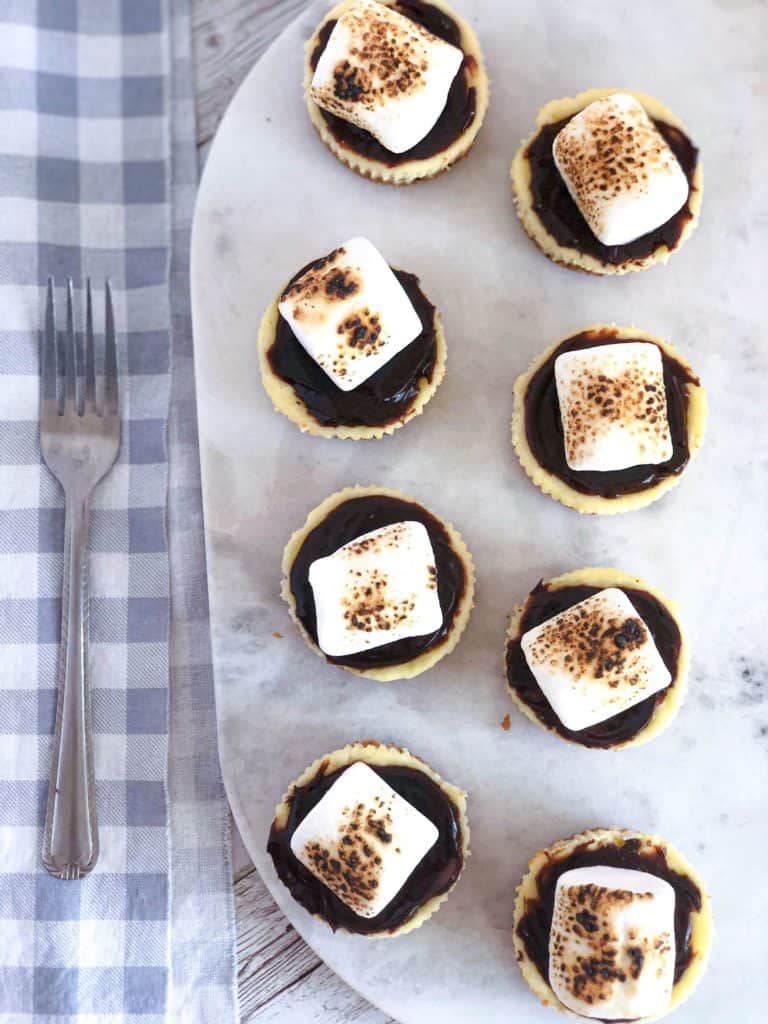 These s'mores mini cheesecakes are SO GOOD! I love all desserts that come in mini size, but especially cheesecakes. There is a wonderful amount of crust to cheesecake ratio that is crazy good. I also added mini chocolate chips between the crust and cheesecake and hot fudge on top with a toasted marshmallow. I am drooling thinking about how good these are.
S'mores Mini Cheesecake?
Yes. Seriously, so good. What makes this dessert so special is actually the cheesecake batter. The batter is so creamy when you bite into it. Why? Sour cream. Sour cream and heavy whipping cream are what make cheesecake so moist and creamy.
It is ¼ cup of sour cream per 8oz of cream cheese. I don't typically do the heavy whipping cream unless it is in a full cheesecake and then I want to up the creaminess factor.
The Easiest Way To Bake Them?
Bake them in a 12 cup muffin pan! I recommend a quality one like this one. A quality muffin pan allows for more even baking. I use cupcake liners and use 1 tablespoon of crust to form the base.
They do hold their shape after cooking. Be careful not to pull on them too much when they come out of the oven. They can easily be crushed, but letting them chill in the fridge will fix that problem.
Simply pull off the liners after they are chilled and they will be good to go!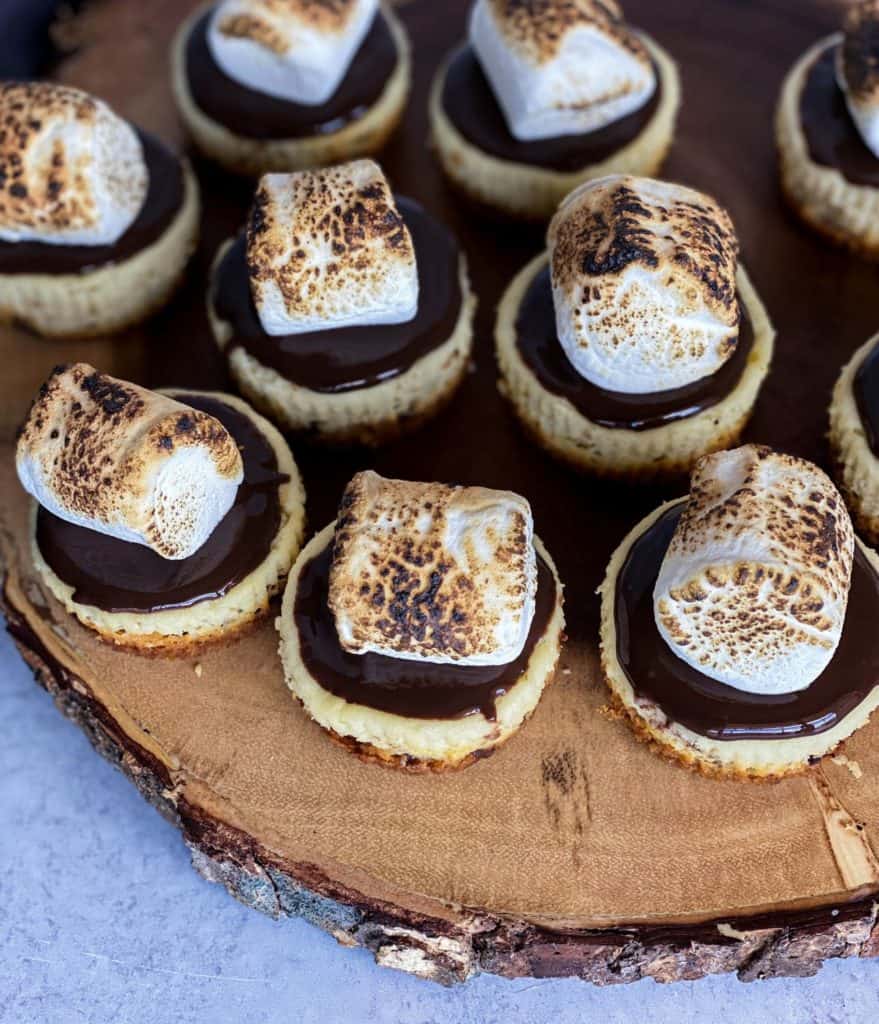 How Do I Store S'mores Mini Cheesecakes?
They are cheesecakes and must remain refrigerated. Up to 4-5 days in the fridge is when they are the best. I usually store them covered in a tupperware of some sort.
Can I Freeze The Cheesecakes?
Yes you can. I don't usually freeze my mini cheesecakes ( I want to eat them right away!). If you do want to freeze them make sure to wrap them very well. Then, when you are ready for them, let them defrost in the fridge for 24 hours. Also, make sure it is just the cheesecakes you are freezing and not the whole thing decorated. Otherwise, it should be great!
Let's Bake The S'mores Mini Cheesecakes!
First thing is first, make sure to line your muffin pan with cupcake liners. You can't bake these without them ( the cheesecake will be way too sticky in the pan).
Next, we need to make the delicious graham cracker crust! For making a whole 2 dozen cheesecakes, I use a whole packet of graham crackers and crush them in my blender. Then, add brown sugar and melted butter and combine together.
The melted butter is only a half stick of butter because I don't like when you bake the cheesecakes and it leaves a pool of excess butter from the crust. That is why it is only 4 Tbsp.
Then, take a 1 tablespoon and scoop out into each section. I actually use a spice jar to squish the crust down so it is nice and compact. The perfect fit!
Since these are s'mores mini cheesecakes, I sprinkle some mini chocolate chips on top of the crust. I love the extra chocolate in the middle.
Next, it is time to make the cheesecake batter. This batter is very easy to do as long as all your cold ingredients are room temperature.
Start with beating the cream cheese and white sugar together. I want the cream cheese to be nice and full. Next, add the eggs one at a time, being careful not to over beat. It is time to add the sour cream and a pinch of salt to the batter.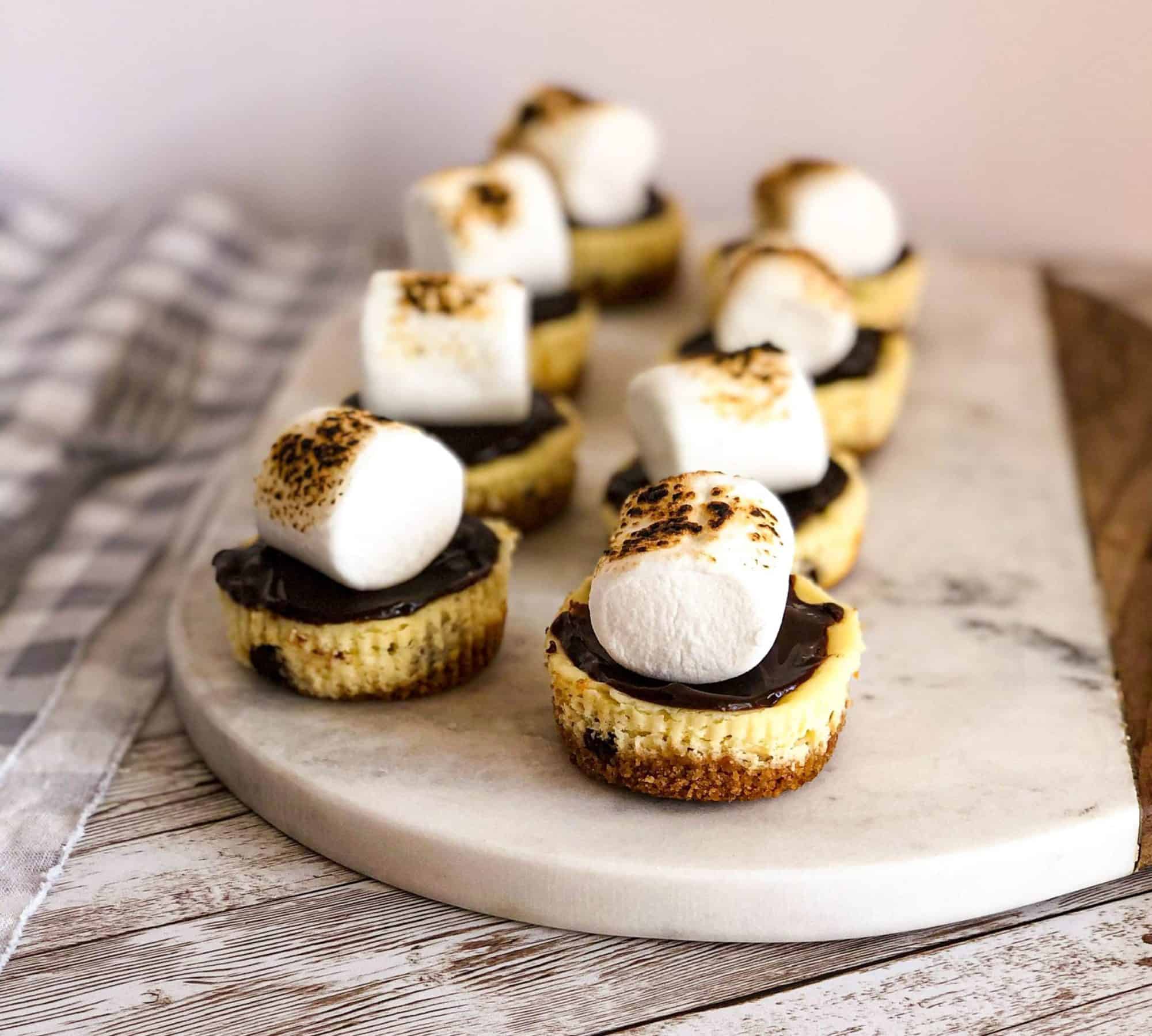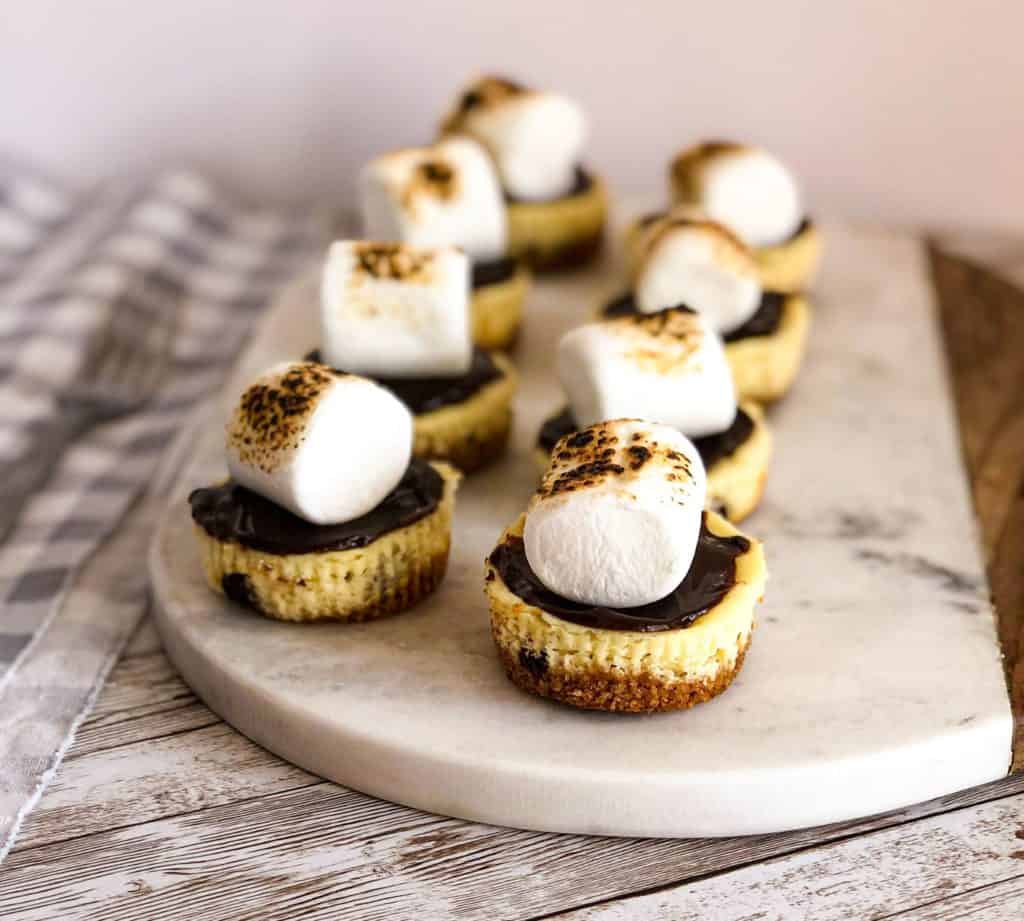 Next, take a 1 inch cookie scoop and pour half of a scoop in each section. These are mini cheesecakes, there isn't supposed to be a lot of batter in each.
Then, smooth the tops and bake them! Cheesecakes are done when the edges are set and the middle has a slight jiggle.
Decorating The Mini Cheesecakes
Next, let's decorate these beauties! Time to start heating up the hot fudge. I get the hot fudge in the ice cream section at my local grocery store. I heat up the hot fudge on the stove just until it can be easily spreadable. Then, a ½ tablespoon of hot fudge per cheesecake (or more a little more if you love chocolate).
Next, I add a regular sized marshmallow, which looks jumbo on the mini cheesecake, and I torch it. I use this one. This one worked so well. I just had to buy extra fuel.
If you don't have a torch, you can set your oven to broil on high and broil them 2-3 mins until the marshmallow is more golden brown. Don't they look oh so good!
Other Cheesecake Recipes to Try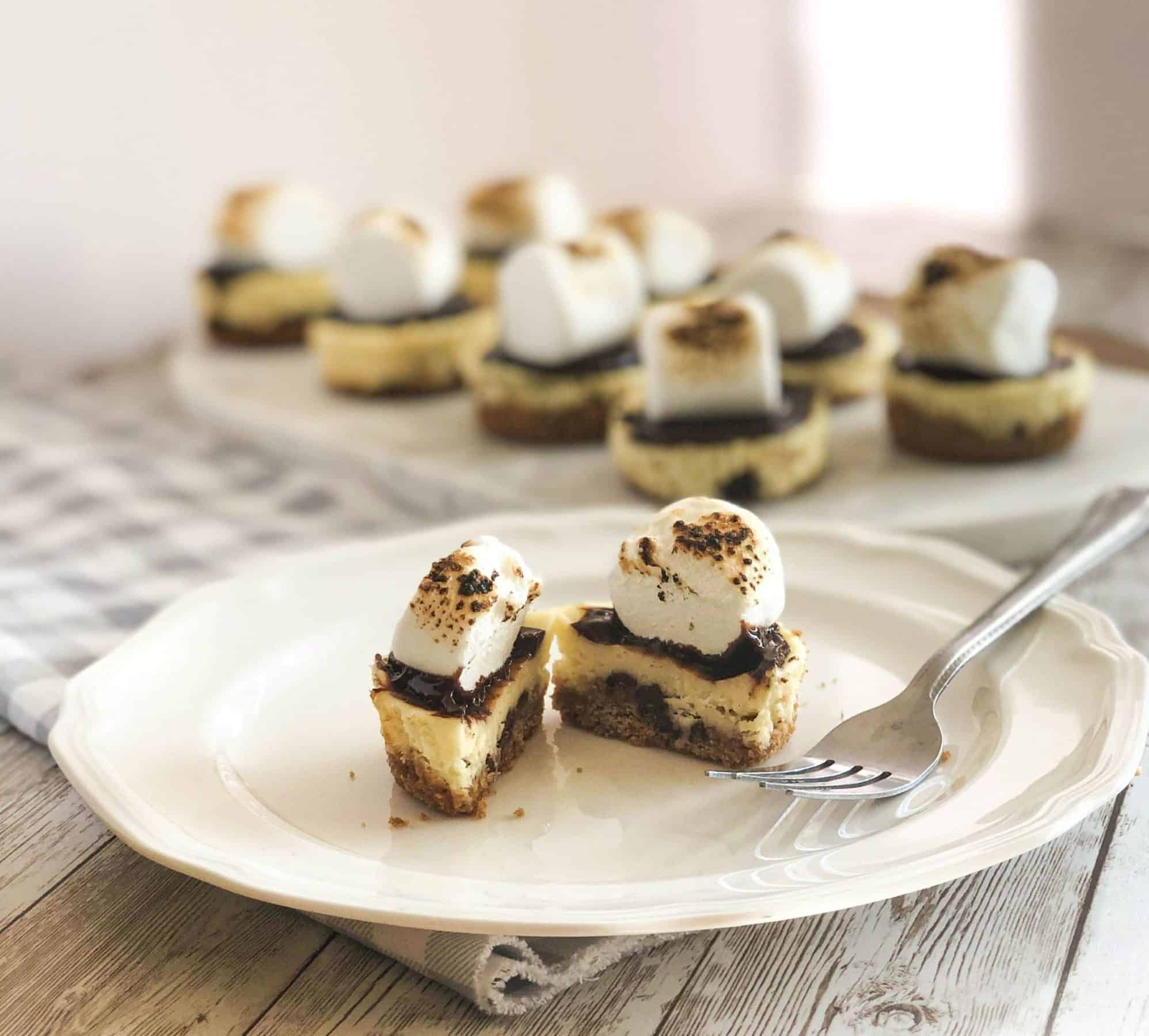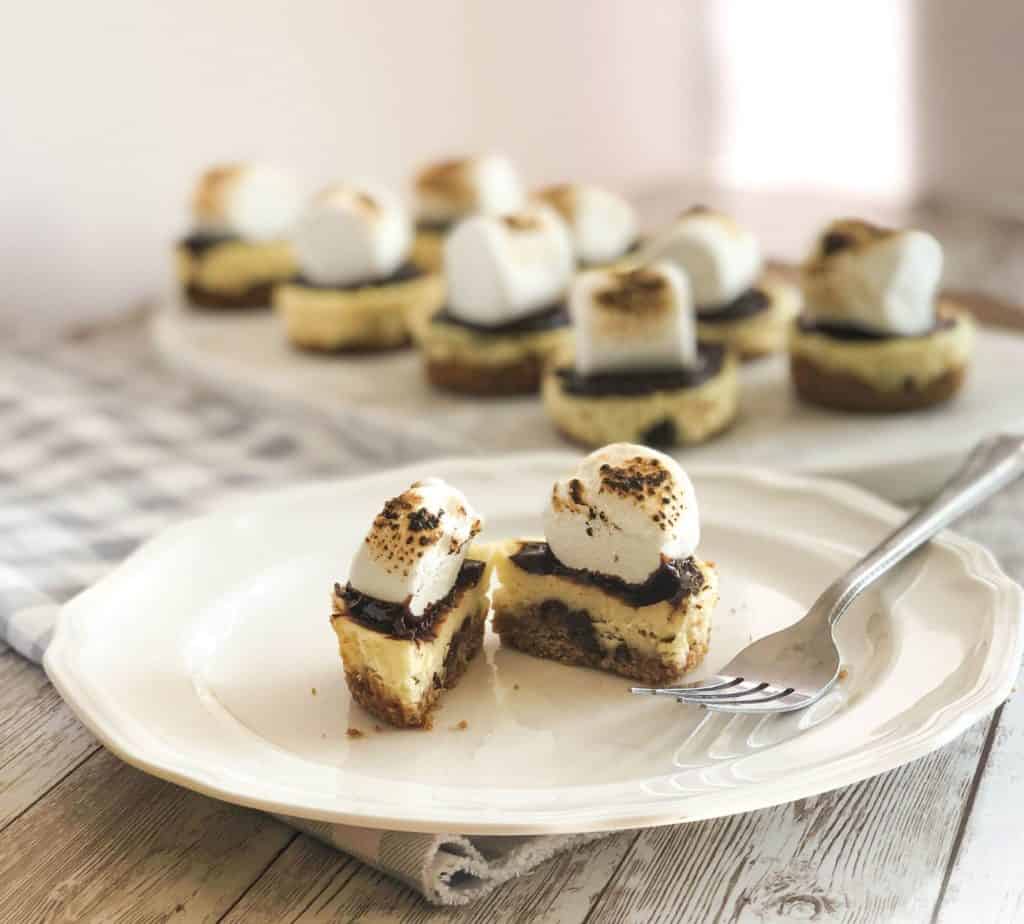 Make sure to tag me on Instagram @stephaniesweettreats and leave me a review below if you made these mini cheesecakes. I hope you loved it! To get more ideas follow me on Pinterest.
📖 Recipe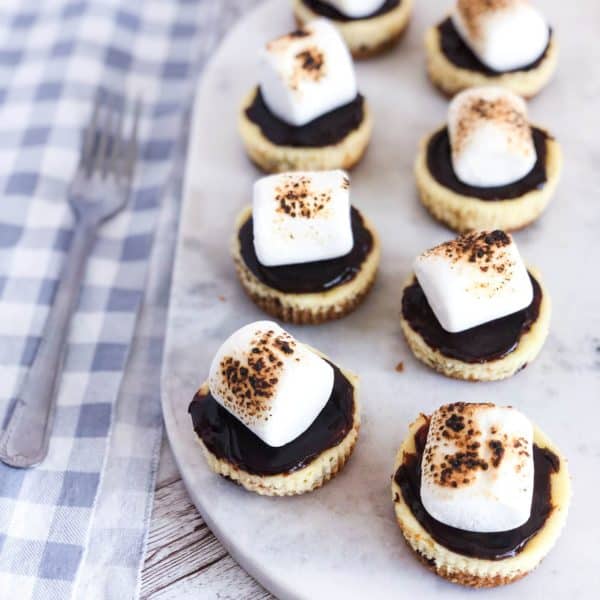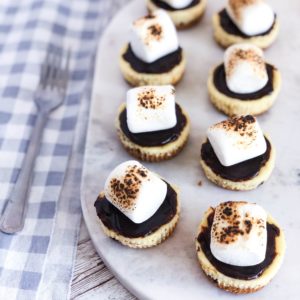 S'mores Mini Cheesecakes
Small and delicious dessert. The graham cracker crust is very flavorful and cheesecake is very moist. Plus, that hot fudge and toasted marshmallow!
Equipment
Mixer or hand mixer

12 cup muffin pan
Ingredients
2 ½

cup

Crushed graham crackers

3

tablespoon

Brown sugar

4

tablespoon

Melted butter

¾

cup

Mini chocolate chips

16

oz

Cream cheese

room temperature

½

cup

White sugar

2

Eggs

room temperature

½

cup

Sour Cream

room temperature

2

teaspoon

Vanilla

Pinch

Salt

2

jars

Hot fudge

24

Regular marshmallows
Instructions
Preheat oven to 350 and line a 12 cup muffin pan with liners

In a small bowl, combine graham cracker crumbs, brown sugar and melted butter. Use a 1 tablespoon scoop out graham cracker into muffin pan. Then, press the bottoms down. I use a spice jar to push it down. Sprinkle the mini chocolate chips over the crust evenly.

Using a mixer or hand mixer on medium, combine cream cheese and white sugar until the cream cheese is more fluffy. On low, add in eggs one at a time. Don't over mix. Add in sour cream, vanilla and pinch of salt.

Using a 1 inch cookie scoop, scoop out batter into muffin pan. Make sure to smooth out each one. Bake for 18-24 minutes. It is done when the middle still has a little jiggle and the edges are set. Let sit in pan for 10 minutes and then pull out each one and set on a cooling rack.. Wait 'til they cool all the way and place in fridge for at least 3 hours or overnight. Then, unwrap the cupcake liners

Heat up both jars of hot fudge on the stove over low heat. Just until the fudge is spreadable. Scoop ½ - 1 tablespoon of hot fudge per mini cheesecake.

Place 1 marshmallow on each cheesecake. Torch marshmallows or broil on high in oven for 2-3 mins until gold brown.
Nutrition
Calories:
130
kcal
Carbohydrates:
10
g
Protein:
2
g
Fat:
9
g
Saturated Fat:
5
g
Trans Fat:
1
g
Cholesterol:
38
mg
Sodium:
265
mg
Potassium:
41
mg
Fiber:
1
g
Sugar:
6
g
Vitamin A:
316
IU
Vitamin C:
1
mg
Calcium:
34
mg
Iron:
1
mg