These strawberry hand pies are in the shape of a heart to celebrate Valentine's Day. However, they are good no matter the season! There is a flaky pie crust with a strawberry filling. They are topped with a pink icing with sprinkles. I have all the tips and trick to make the perfect pie crust!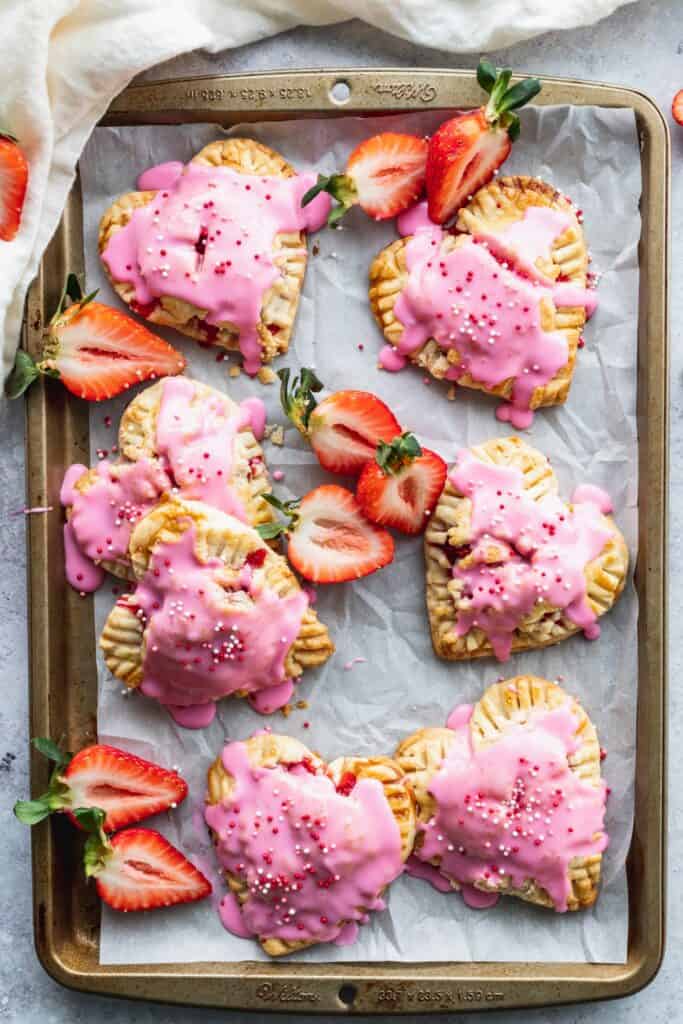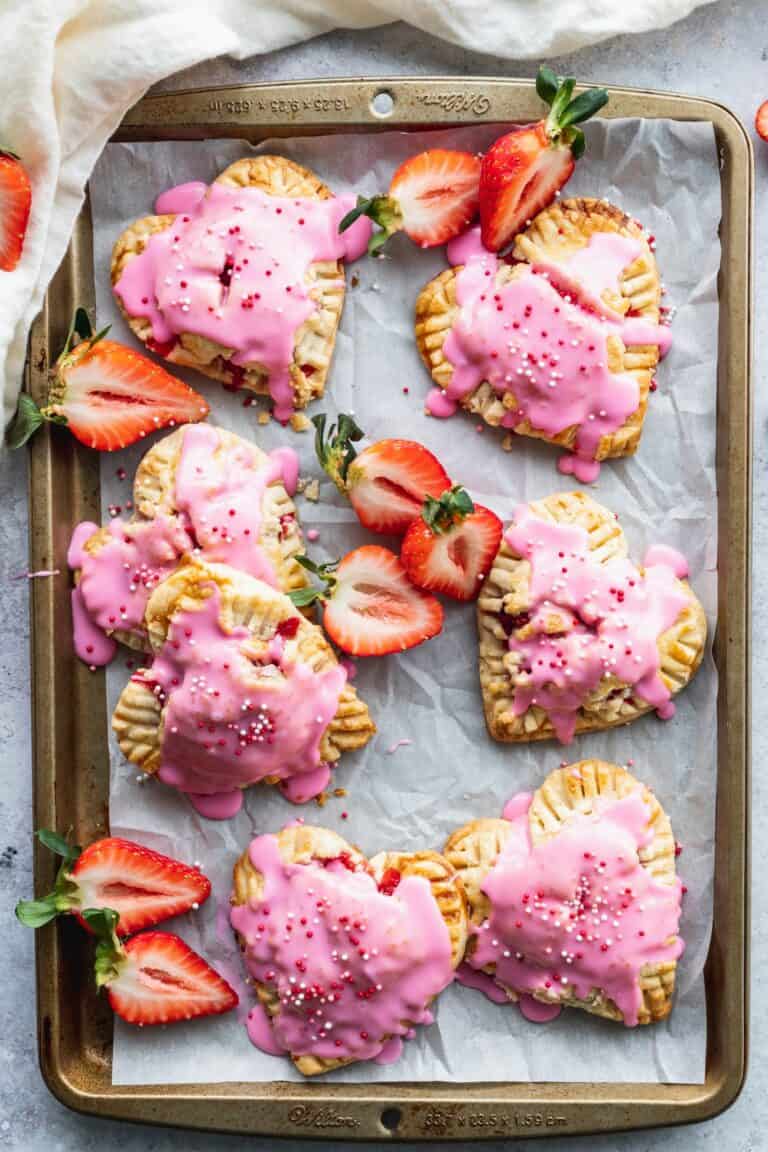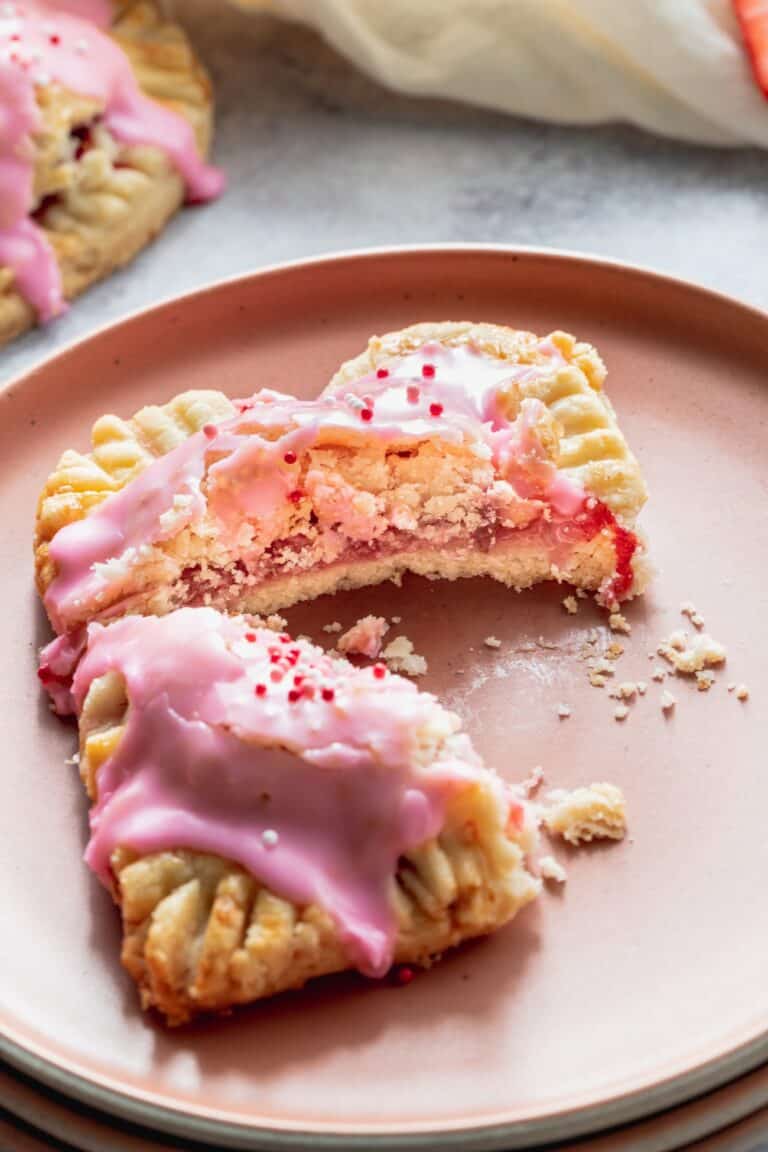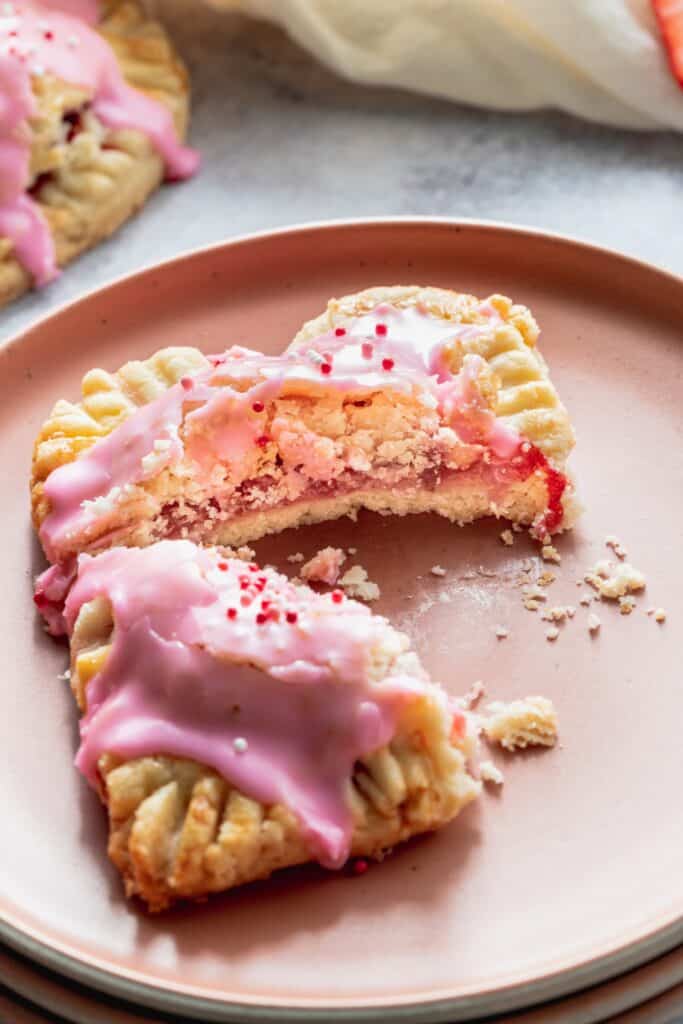 Tips For Making Pie Dough
Here are all my best tips and tricks for making pie dough. Pie crust used to be the hardest thing for me to bake, but not any more!
Use a food processor- During the beginning part where you need to blend up the cold butter, a food processor is the only way to go when making the dough.
Cold butter- The colder the butter the better. Cold butter will help create layers of butter in the crust. This will result in a flakier crust.
Move to a bowl- Once the butter has started to clump together in the food processor, transfer to a bowl and do the rest by hand.
Clumped butter- The butter should be clumped and be shaped like a big blueberry. I used to see that the butter should be pea sized but it needs to be bigger than that. To avoid shrinkage of the dough, it needs to be taken a step further.
Add a tiny bit of ice water- Add a little bit of cold water at a time. Don't add too much at once, or the crust will be too wet. Add a little water and knead it in with your hands until a dough forms.
Chill dough- I like to make the dough the day before so it can chill over night.
Before you chill the dough, separate it into 2 discs. Then wrap tightly with cling wrap.
Once you are ready to roll it out, leave it on the counter for 20-30 minutes for it to warm up. It is very hard to roll out cold dough, so let it warm first.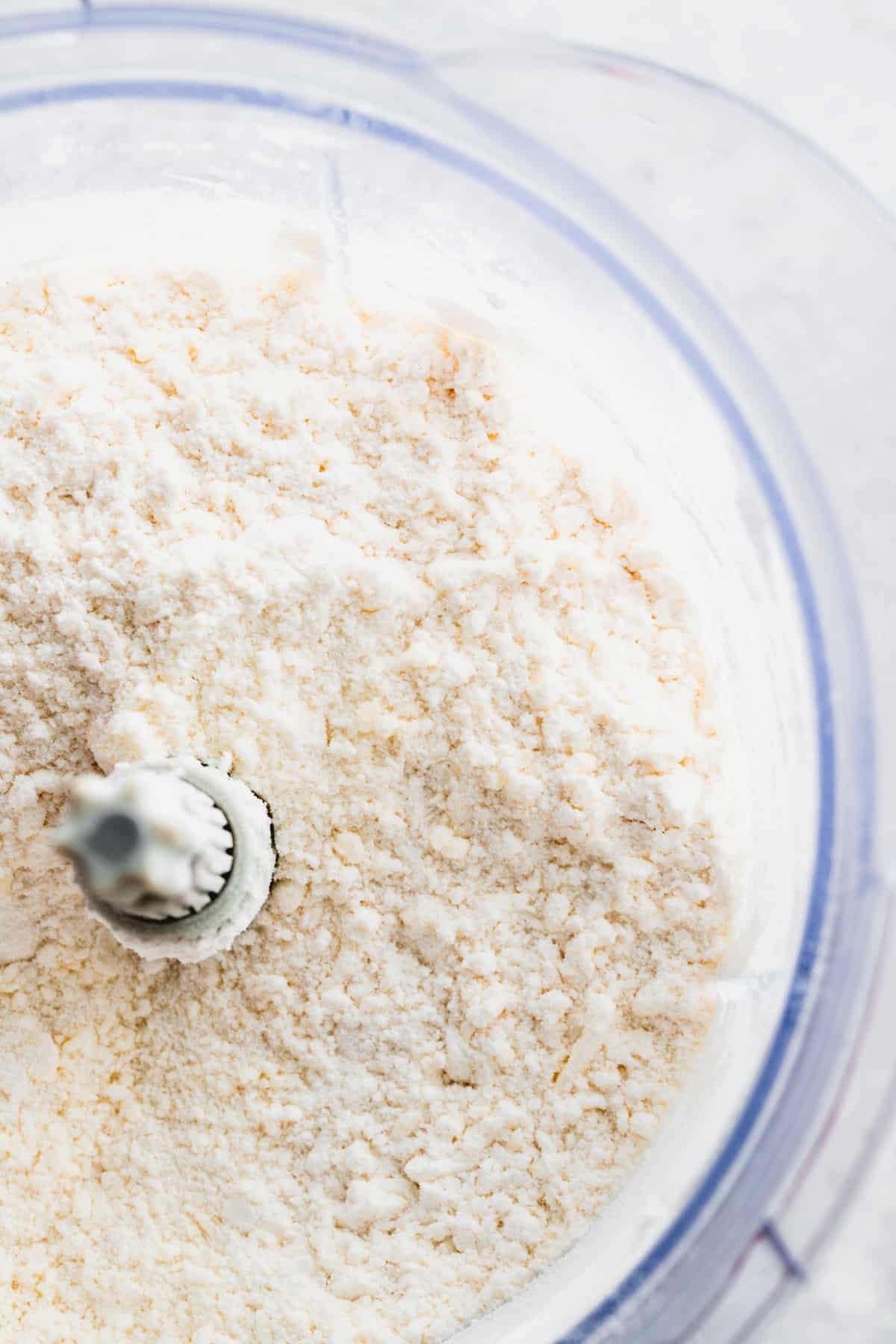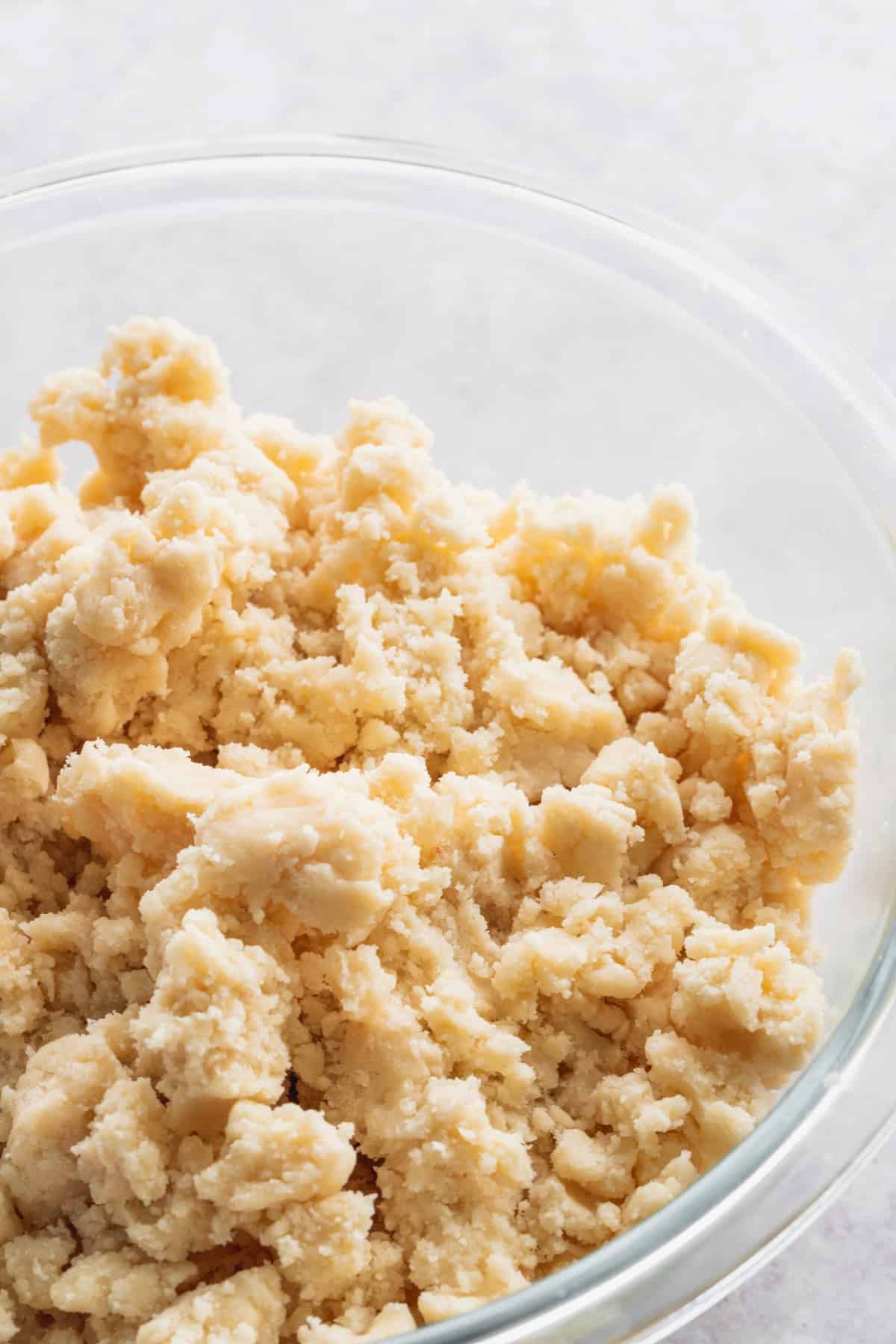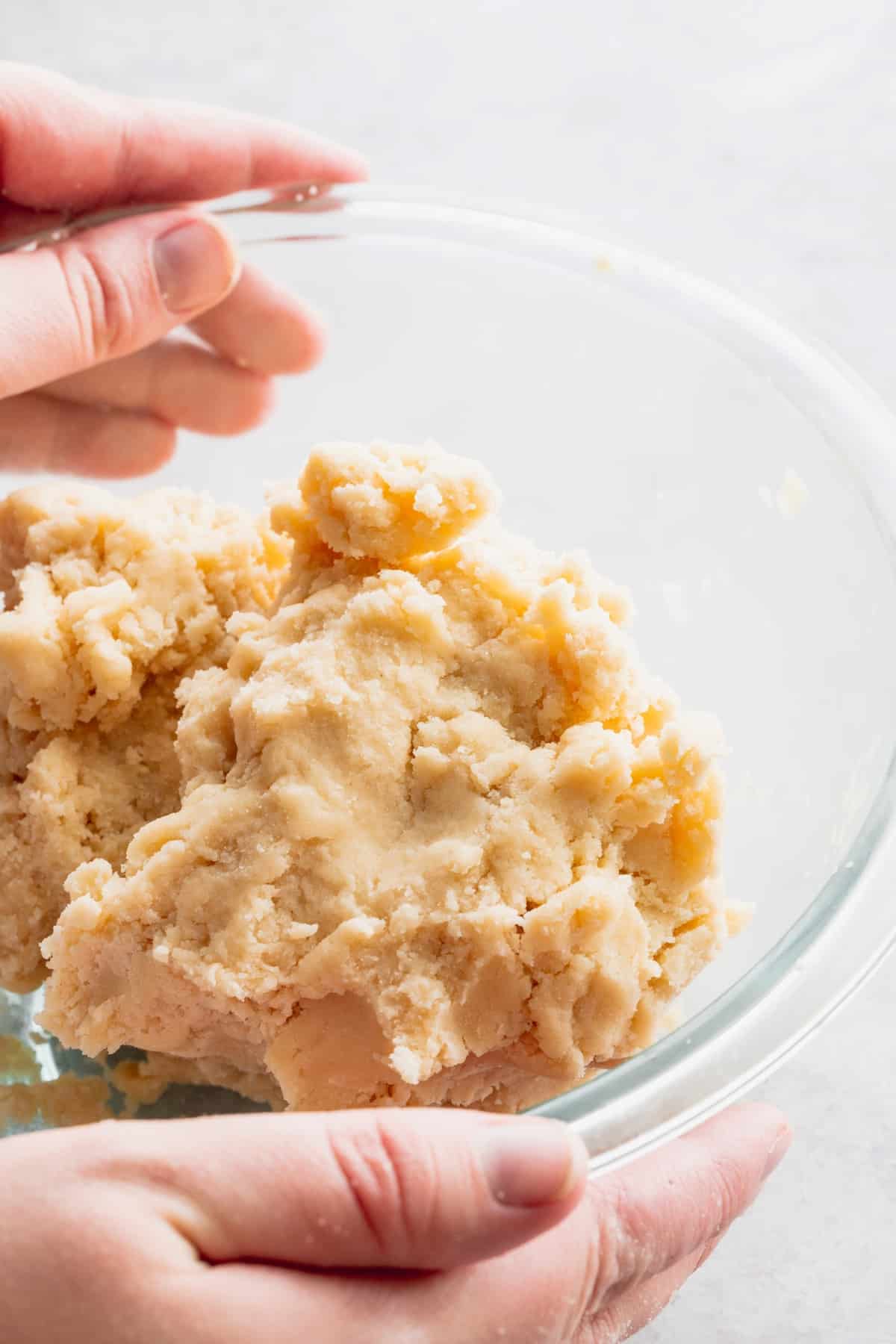 What Cookie Cutters To Use
I made these with Valentine's Day in mind, so I used cookie cutters. I got these ones from Williams Sonoma. (not an ad) They are sturdy metal that comes in all sorts of sizes. They also have a handle on top!
I used the biggest size they had for these pies. You can use whichever cookie cutter you would like, but it needs to be large. At least 4 inches wide.
Rolling The Dough
This pie dough should be rolled to ⅛-1/4 inch thick. Next, take your cookie cutter and cut out the shapes.
For each half of the dough (remember we divided the dough into 2) you can reroll the dough once to cut more shapes. Don't reroll after that, otherwise the crust will get too tough.
Place the hearts on to a cookie sheet with parchment paper. Then, to avoid butter leaking or the dough shrinking, place back in the fridge for 20 minutes. This will allow the butter to firm and for the dough to rest.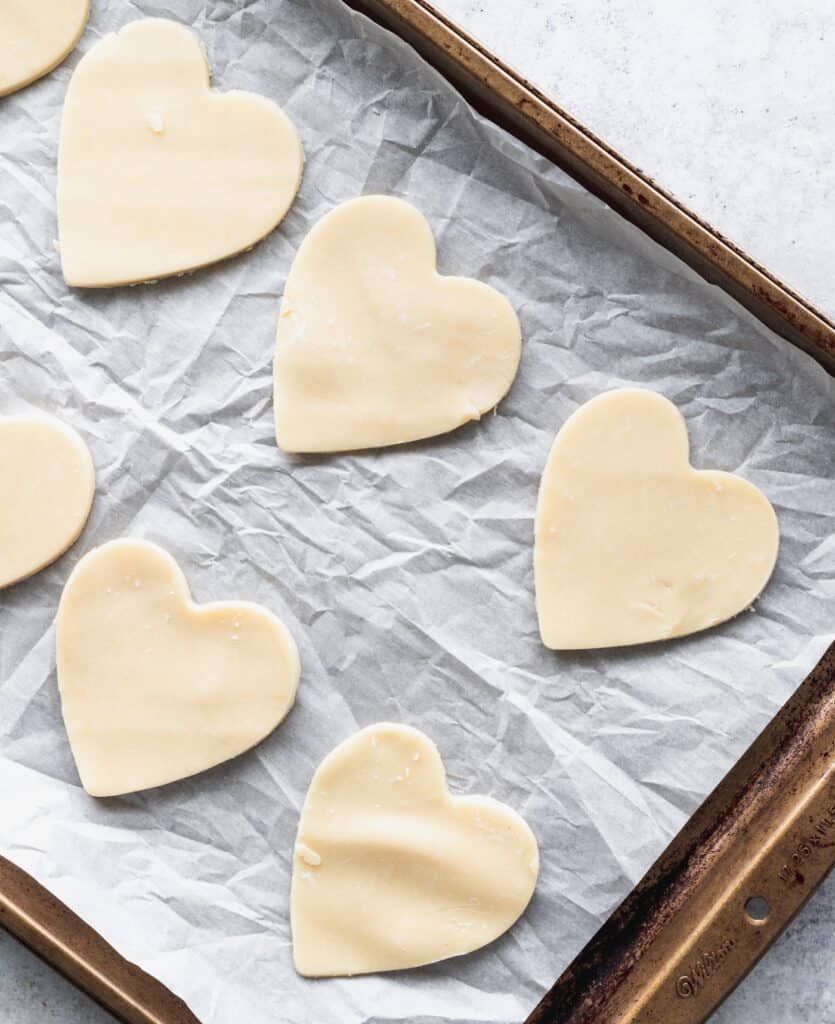 Easiest Strawberry Filling
This strawberry filling is seriously so easy. You only need 4 ingredients:
Diced strawberries
Cornstarch
Sugar
Vanilla
All you have to do is dice the strawberries into small chunks, then mix everything together. Let it sit for 5 minutes to get it nice and juicy.
Next, use a tablespoon to scoop a heaping scoop of strawberries on the hearts. Place a second heart on top. Then, grab a fork to seal the edges to prevent strawberries from leaking.
Once the strawberry hand pies are filled, top with an egg wash and sugar. The egg wash is what will make it look shiny. Both the white sugar and coarse sugar will add extra texture to the top. Don't skip this step!
Next, BAKE!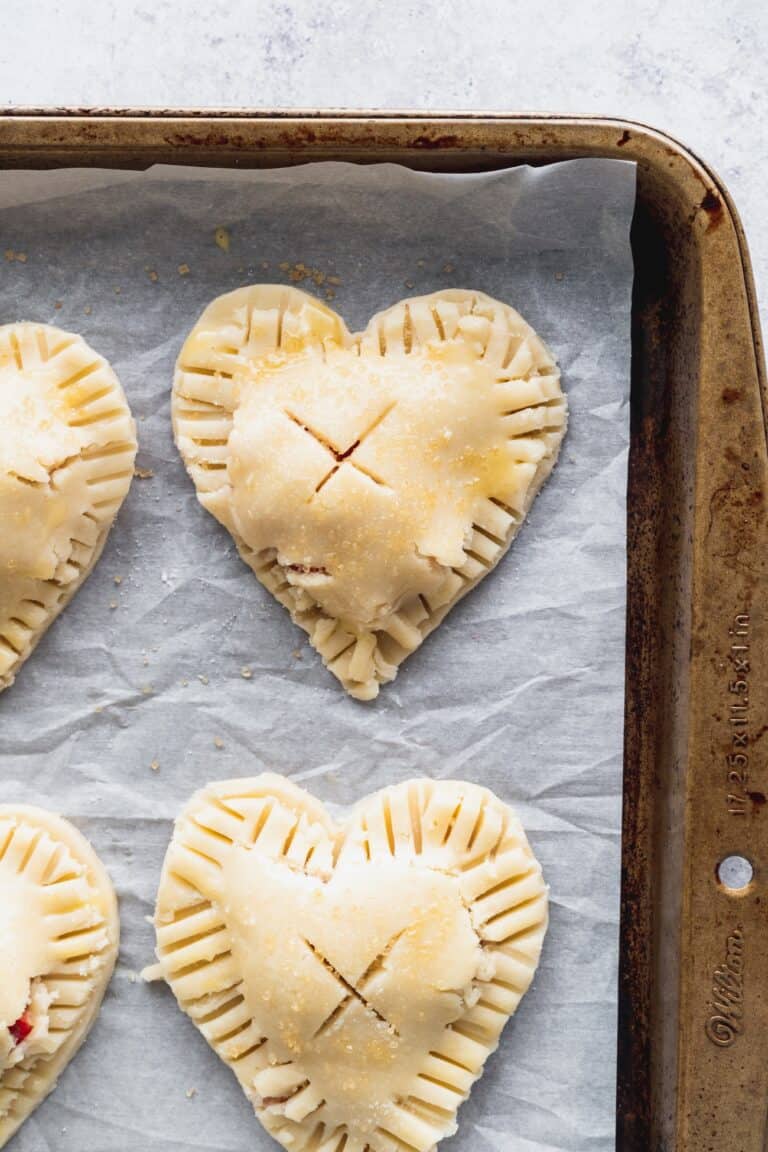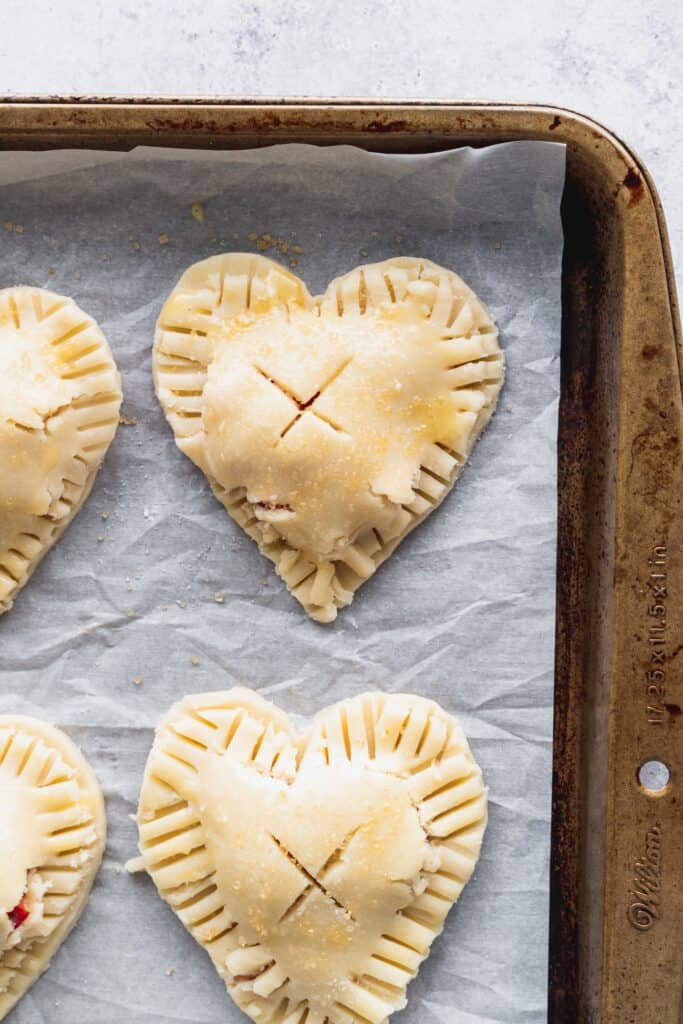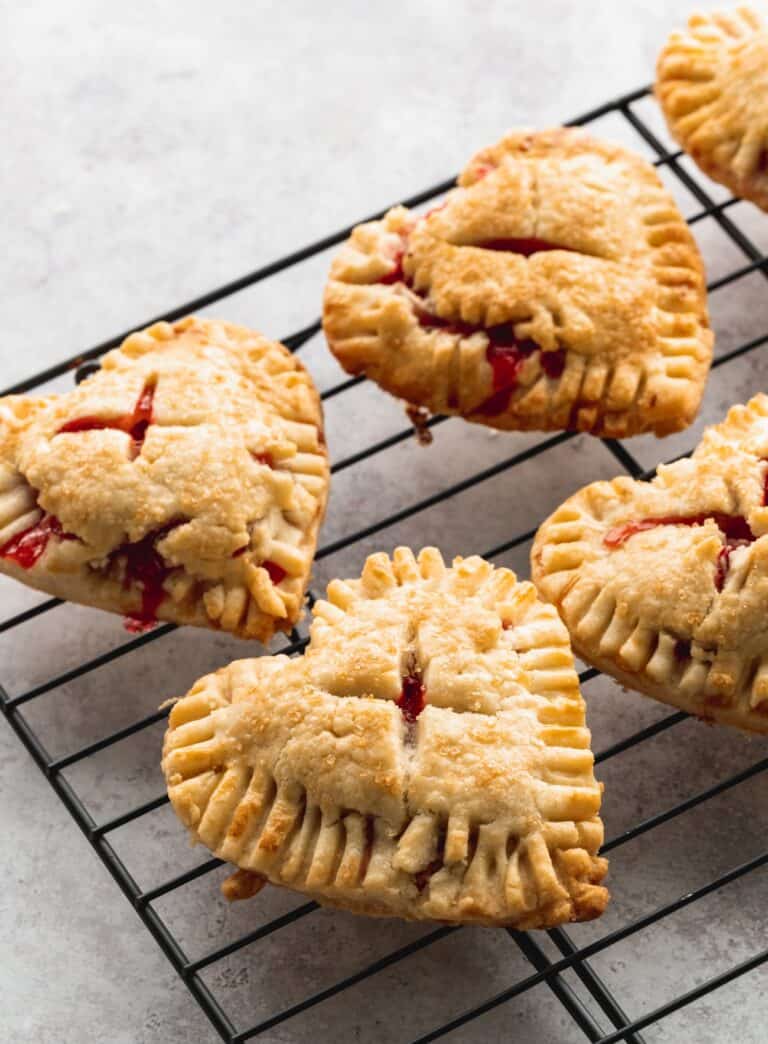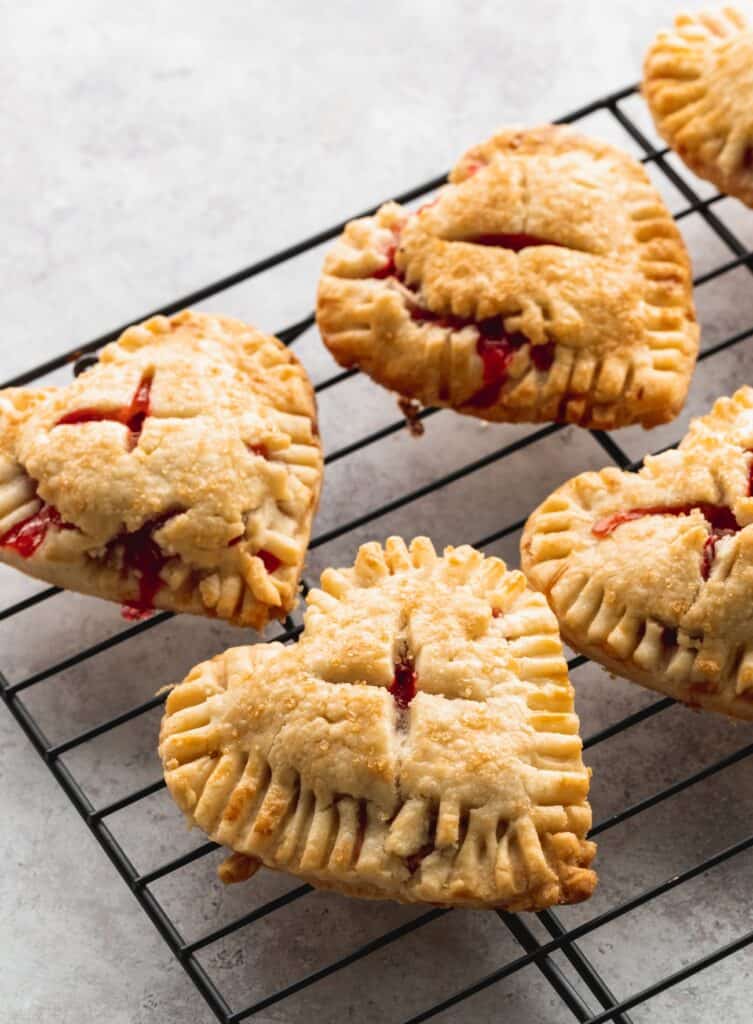 Pink Valentine's Day Icing
There is nothing that screams Valentine's Day like the color pink! Having pink icing is optional, you can do regular white icing if you don't want it pink. However, these pies need this icing! It adds another level of sweetness and moisture to the edges of the pies.
To get the right color of pink, separate the icing in to 2 bowls. Do 1 small drop of pink gel food coloring into one bowl. Mix well, it will be a bright pink.
Next, mix in the rest of the icing. The white icing will help soften the color a little bit.
Pour the icing right away on top of the hand pies. I used a spoon to drizzle it on. Top with sprinkles!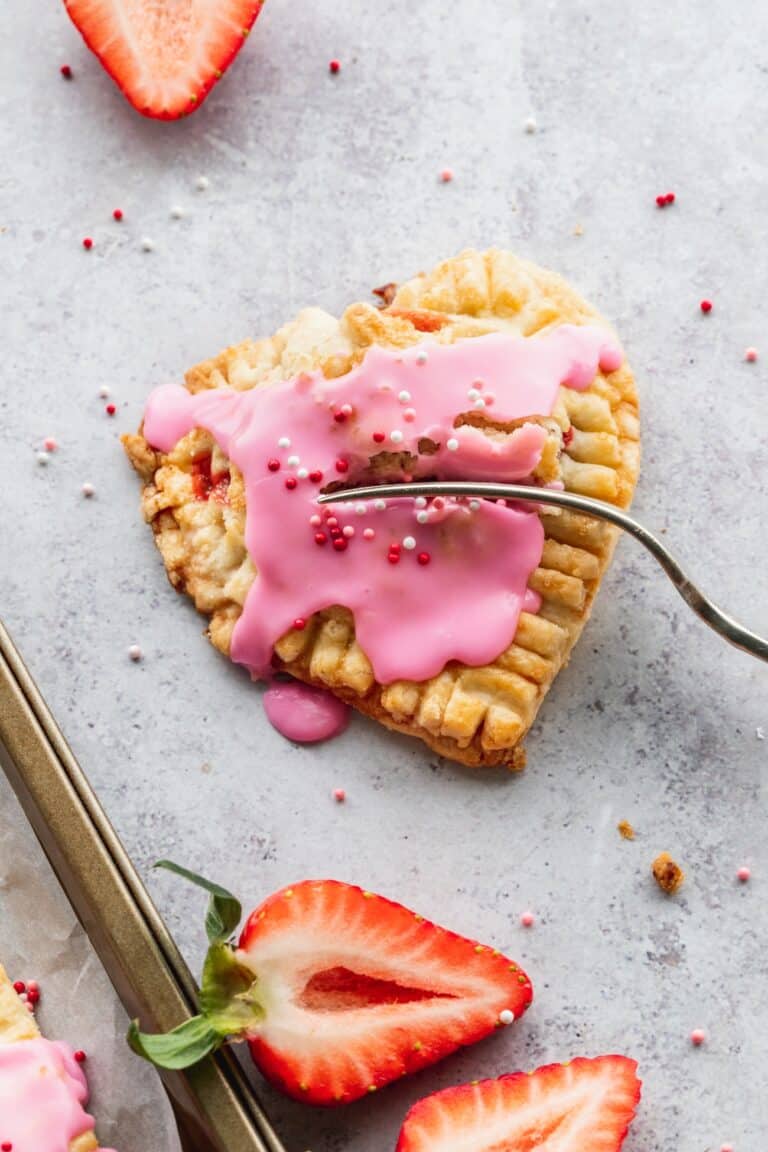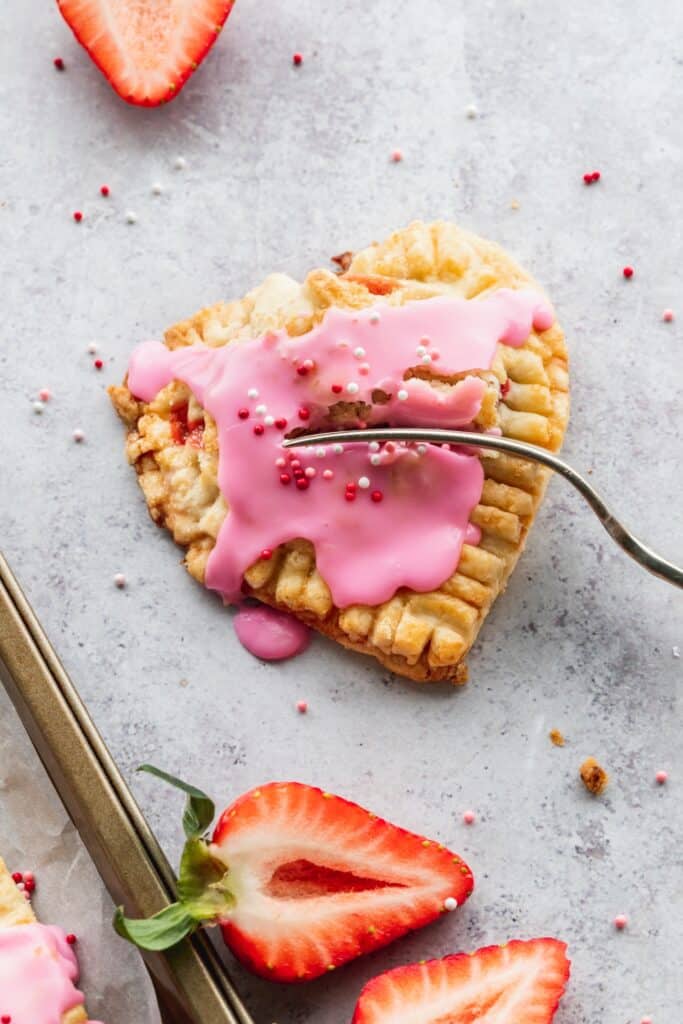 How To Store The Pies
Store the strawberry hand pies in an air tight container at room temperature. They will last up to 5 days.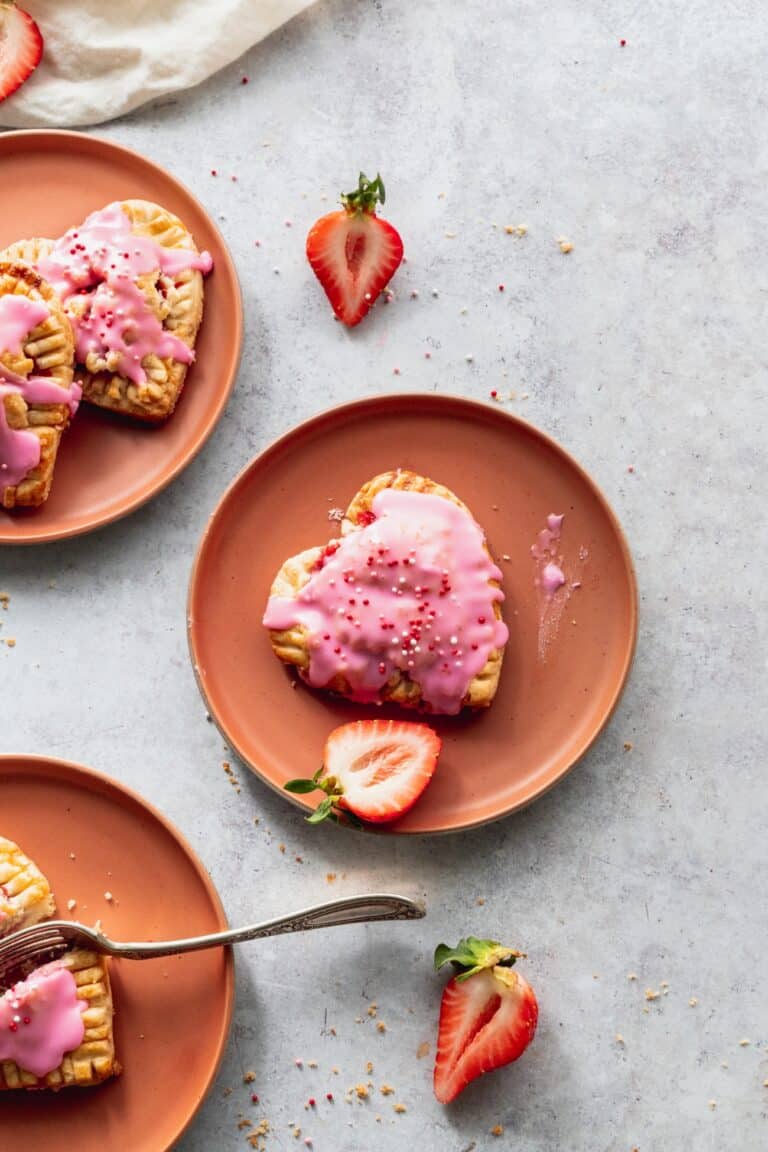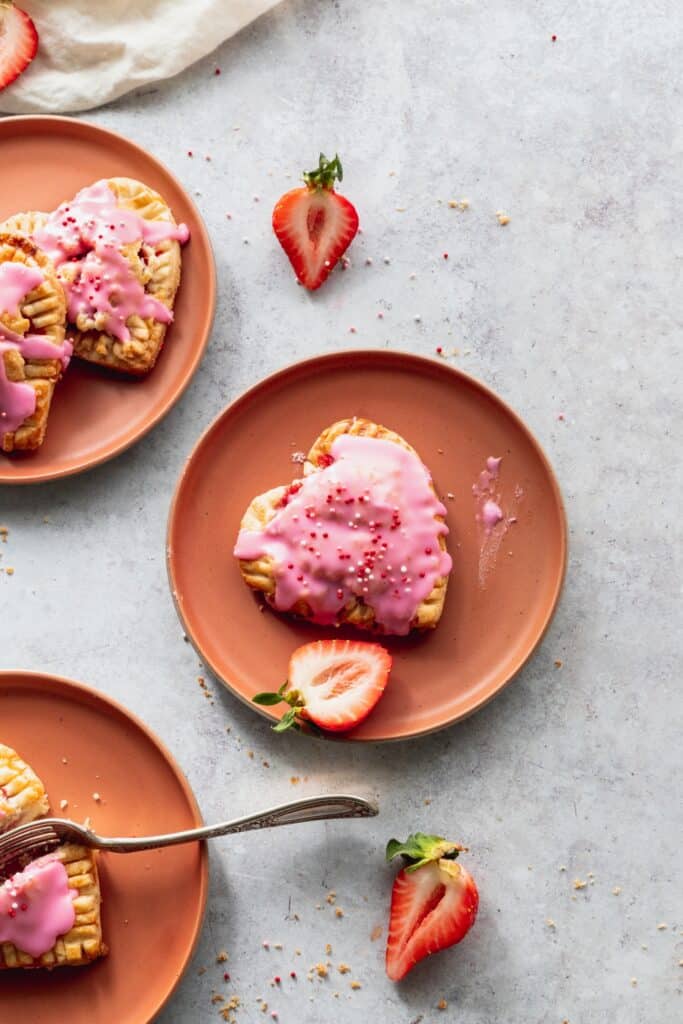 Other Recipes To Try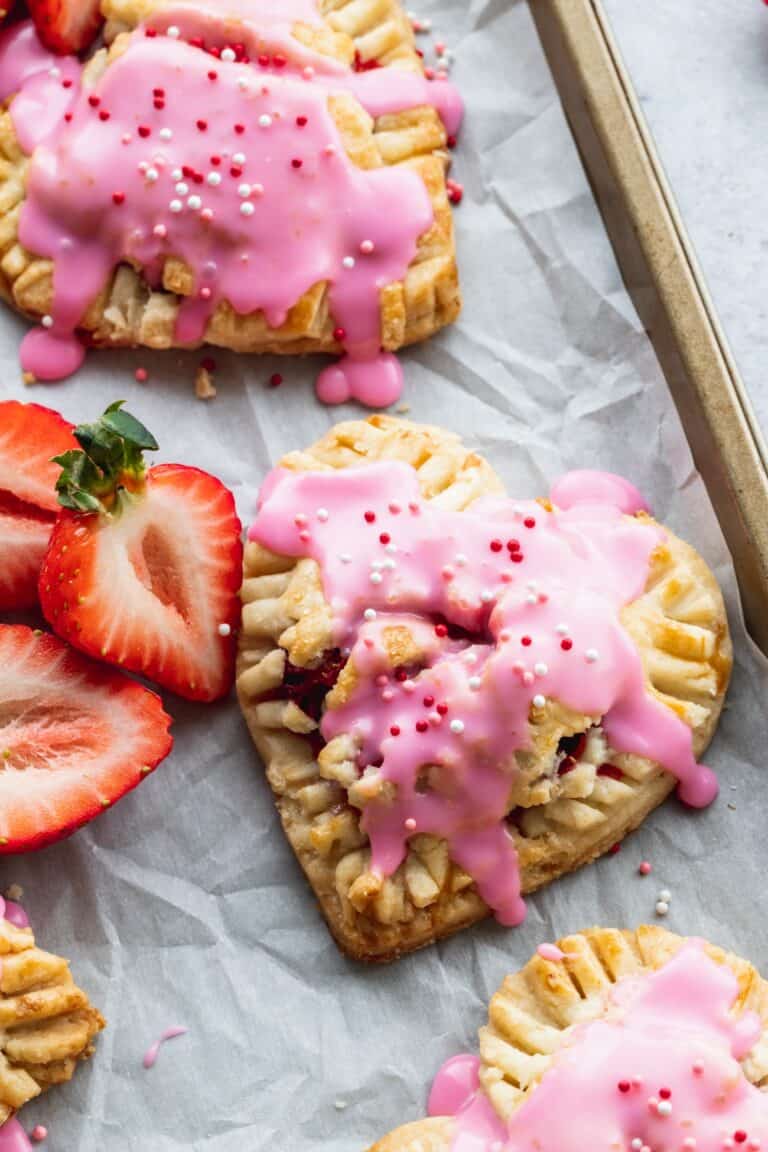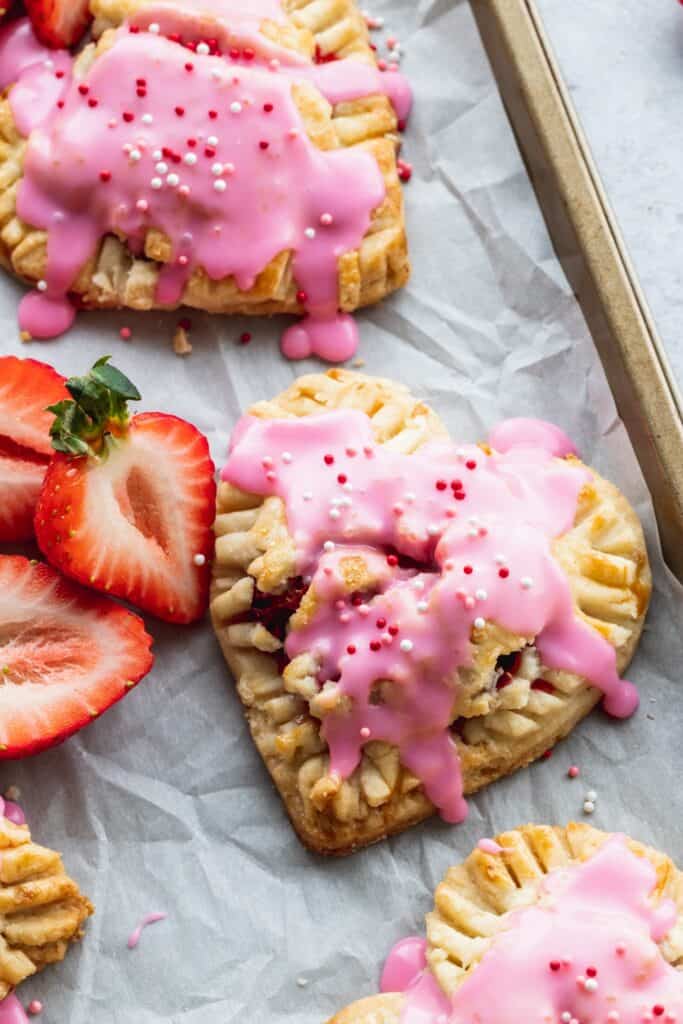 Make sure to tag me on Instagram @stephaniesweettreats and leave me a review below if you made these pies. I hope you loved it! To get more ideas follow me on Pinterest.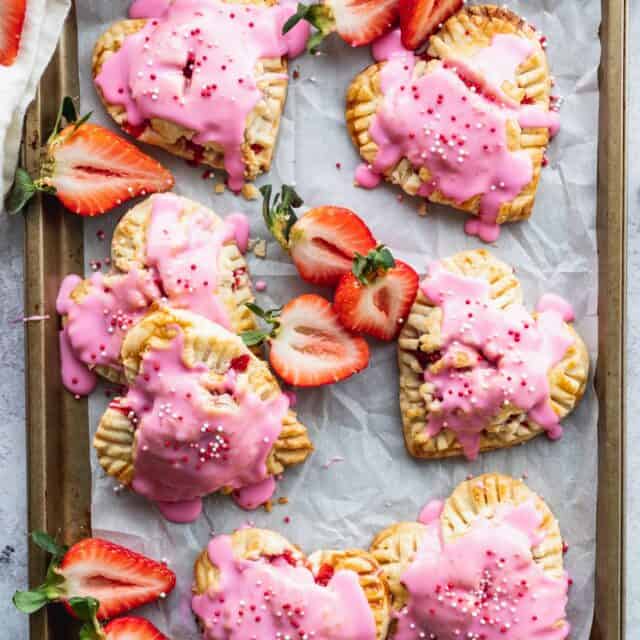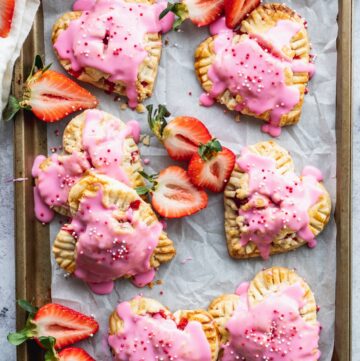 Strawberry Hand Pies
These heart shaped strawberry hand pies have a flaky pie crust, strawberry filling, and are topped with a pink icing.
Ingredients
Pie Crust
2 ¾

cups

All-purpose flour

3

teaspoon

White granulated sugar

½

teaspoon

Salt

1

cup

Unsalted butter

very cold cut into cubes

¼

cup

Ice water

1

Large egg

for egg wash

1

tablespoon

Water

for egg wash

Coarse sugar

for topping

White granulated sugar

for topping
Strawberry Filling
1 ½

cups

Diced strawberries

washed and dried

2

tablespoon

White granulated sugar

1

tablespoon

Cornstarch

½

teaspoon

Pure vanilla extract
Vanilla Glaze
1

cup

Powdered sugar

sifted

1

teaspoon

Vanilla

1-2

tablespoon

Milk

Pink food coloring

optional
Instructions
Pie Crust
Dice up the butter into cubes. Place back in fridge to get really cold

Use a food processor. Pour in flour, sugar, and salt. Place cold butter on top of flour. Blend until the butter starts to clump together. The butter will turn into pea size, but keep going until it starts to clump together.

Pour into a large mixing bowl. Use your fingers to evenly blend everything together until it resembles butter clumps shaped like blueberries. See photos above. Pour a tiny bit of ice water (remove the ice!) at a time into your flour.

Knead the water into the dough. It should feel like a bit dry dough. If there is too much water, it won't be flaky. Knead until it is just combined and stop. Over working the dough will create a tough crust.

Place cling wrap on the counter. Separate dough into 2. Place half of the dough on the cling wrap. Use the cling wrap to press into a disc shape. Then cover. Repeat with the rest of the dough. Chill in the fridge overnight. I prefer making this dough a day before making the pies.

Place pie dough on the counter 20-30 minutes before rolling out so it softens. Roll dough on a lightly floured surface until about ⅛- ¼ inch thick. Use a large heart cookie cutter or biscuit cutter to cut out shapes.

Place each pie shape on a cookie sheet with parchment paper. For each pie dough half, you can re-roll once to get more hearts. Don't roll more than that or it will get too tough.

Place the cookie sheets with the pie shapes into fridge for 20 minutes. Preheat oven to 400°F
Strawberry Filling
Halfway into the dough chilling in the fridge, dice the strawberries into small pieces. Combine with the sugar, cornstarch, and vanilla. Let sit for 5 minutes

Use 1 tablespoon and scoop strawberries into the middle of the pie shapes. Place another pie heart on top of the strawberries and use a fork to seal the edges. If shapes are circles. Fold the circle in half and then pinch the edges with a fork.

Mix an egg and water together for the egg wash. Brush it on top of the pies. Sprinkle both white sugar and coarse sugar on top of the pies.

Bake for 16-20 minutes until the pies are a light golden brown. Let them sit on the cookie sheet for 10 minutes before transferring to a cooling rack. Allow to cool completely before icing.
Pink Icing
Sift the powdered sugar. Then, combine with vanilla and milk. Whisk until a smooth glaze forms. It should be a pourable consistency without being too runny. If too thick, add a tiny bit of milk. If too thin, add a small amount of powdered sugar.

Pink icing is optional. To get a soft pink look, separate the icing into 2 bowls. Place a small drop of pink icing into one bowl. Mix until all pink. Add the rest of the icing to get a softer pink color.

Use a spoon to spread on top of the pies. Top with sprinkles.
Notes
Pie Dough
If you add too much water to the pie dough, add an extra tablespoon of flour. If it is too wet, then you will have to start over. There will be too large of a flour to butter ratio.
If you don't want to chill overnight, then you can leave in the fridge for at least 3 hours before rolling out.
Nutrition
Serving:
1
g
Calories:
384
kcal
Carbohydrates:
54
g
Protein:
5
g
Fat:
23
g
Saturated Fat:
15
g
Trans Fat:
1
g
Cholesterol:
61
mg
Sodium:
151
mg
Potassium:
57
mg
Fiber:
1
g
Sugar:
5
g
Vitamin A:
712
IU
Calcium:
16
mg
Iron:
2
mg