Whipped Chocolate Ganache- fluffy chocolate ganache full of rich chocolate flavor. Perfect to decorate cupcakes.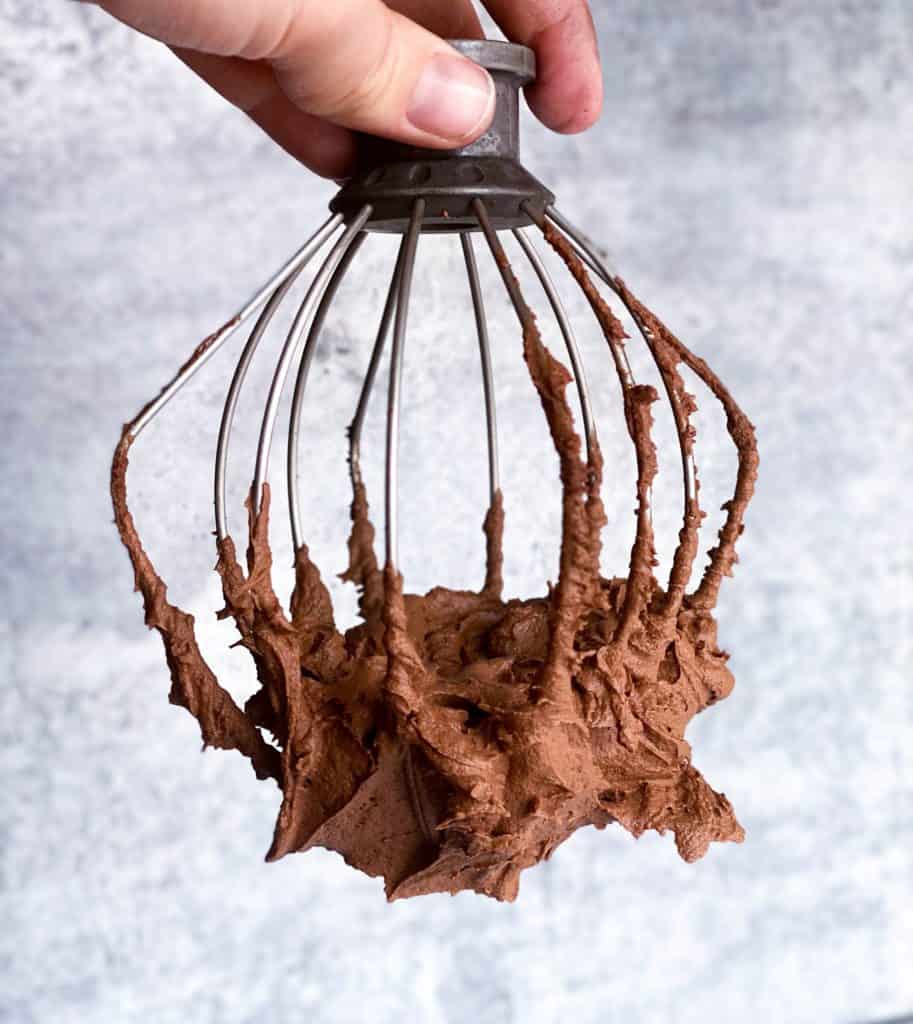 This whipped chocolate ganache is so much better than any old chocolate buttercream. It is super fluffy and has a very deep chocolate flavor. There isn't any sugar or butter to weigh down the chocolate flavor, so it's basically pure chocolate. If you are looking for a good chocolate frosting recipe this is it!
Wait. Whipped Chocolate Ganche Is Only 2 Ingredients?
YES! Just 2 ingredients. How crazy is that. All it needs is chocolate chips and heavy cream. You will need a stand mixer or hand mixer to whip it up, but it is so easy to make! Even easier to make than chocolate buttercream. Plus, it tastes better.
How To Make Whipped Chocolate Ganache
The first step is to weigh out your chocolate chips. Kirkland chocolate chips from Costco are my personal preference. (Not an ad. I just like Costco). I buy my chocolate chips in bulk, so I have to weigh my chocolate chips out to get 12oz.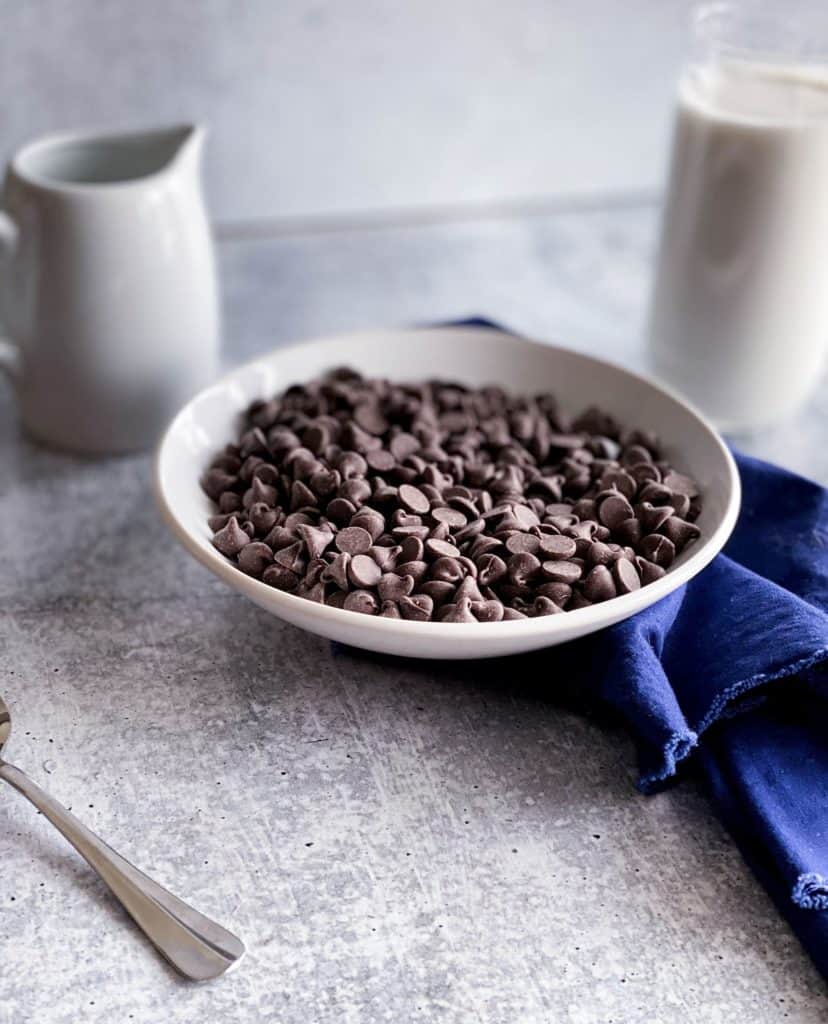 Next, heat up the heavy cream in a saucepan. The trick here is to not over heat the cream. It should never boil, but it should be hot and steaming. After the cream is hot, immediately it pour into the bowl of chocolate chips. Then, let it sit for 1 minute and 30 seconds. I know it sounds so specific. Trust me though, this time is perfect.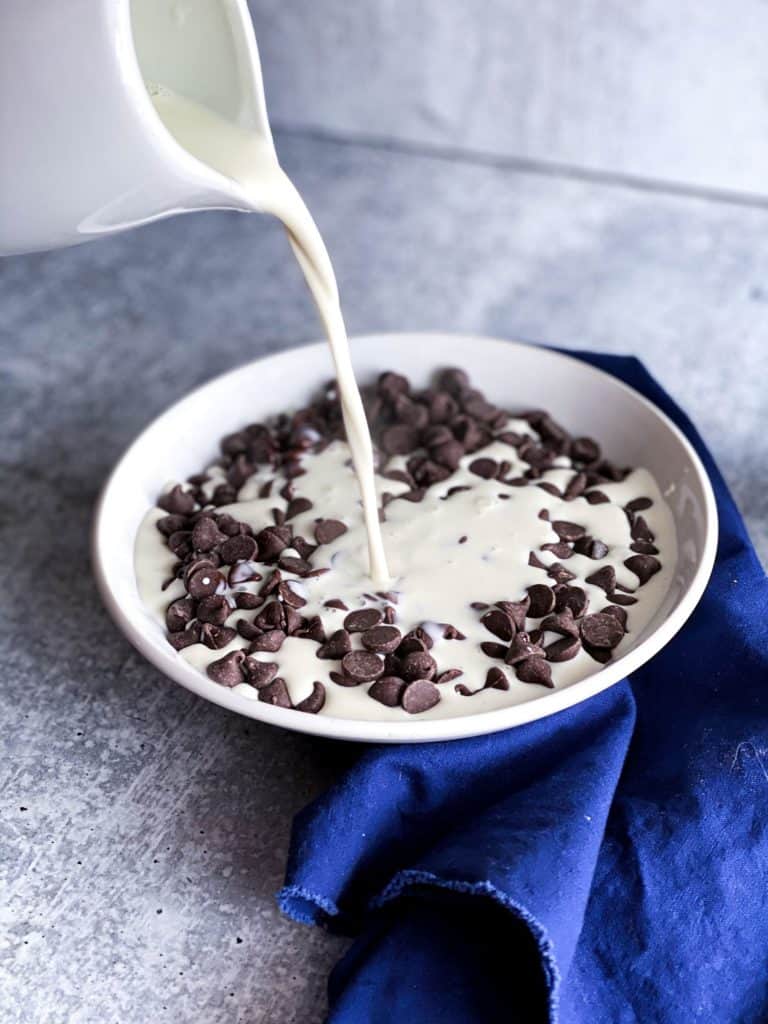 The goal is to let the hot cream sit on the chocolate chips so it starts to melt the chocolate. After the time is up start to stir the chocolate and cream together. It will look funny at first ( slightly curdled), but its fine. Just keep on stirring. It will become glossy and smooth.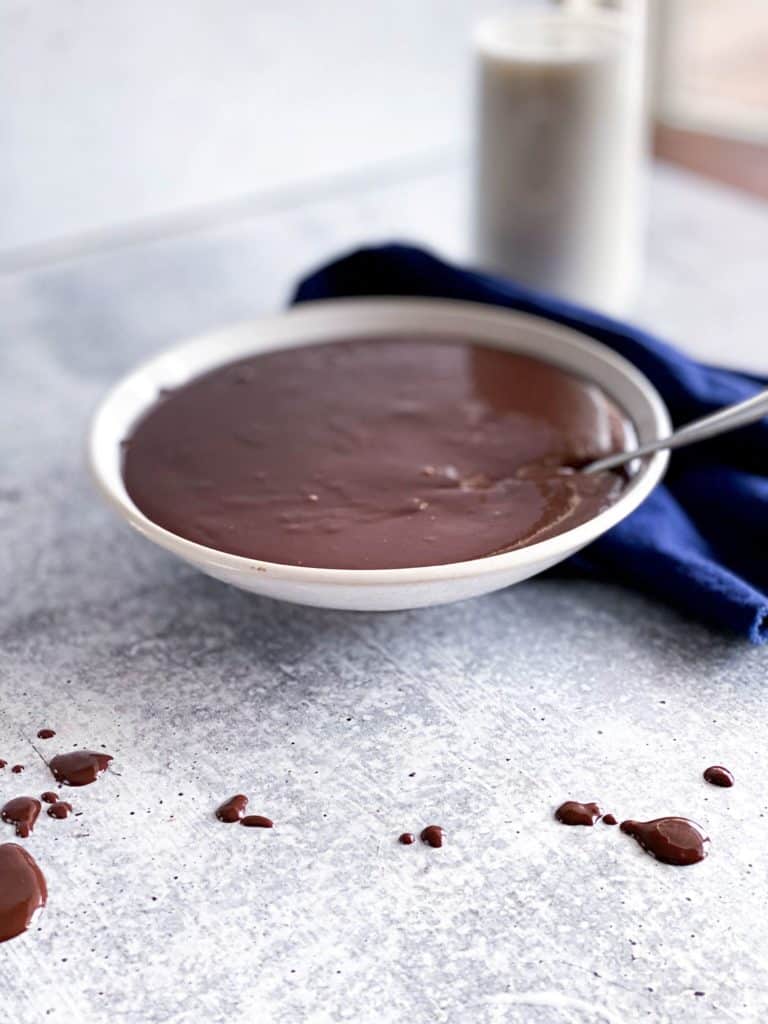 After you have it all glossy and smooth, you have to set the ganache. The best way to do it is chill it in the fridge for 30 minutes. Every 10 minutes, whisk it up for a second. We want it to remain glossy while chilling. After 30 minutes, it should be thick. Thick enough to scoop with a spoon like ice cream. If it still isn't thick enough, pop it back in the fridge for another 10 minutes.
How To Turn It Into A Frosting
Using a stand or hand mixer with a whisk attachment, whip it on medium-high for 3-4 minutes. It will become a lot lighter in color. The color will deepen again as it sits. The whipped chocolate ganache will also have a very fluffy texture.
I used this whipped chocolate ganache to pipe beautiful rosettes on cupcakes. They look gorgeous. Check out this Double Chocolate Cupcake post to see how it turned out.
How Do You Store The Ganache?
If you aren't using it right away, place it in the fridge until you are ready to use it. Since it is made with heavy cream it should be refrigerated. This also goes for after you use it to decorate your cake or cupcakes.
When you are ready to use it, let it sit on the counter for 1 hour and 30 minutes so it gets to room temperature. If it is really cold it won't be able to be piped.
Next, place it back in your mixer and re-whip it for 2-3 minutes. It should get back to being fluffy and light in color.
Other Recipes To Try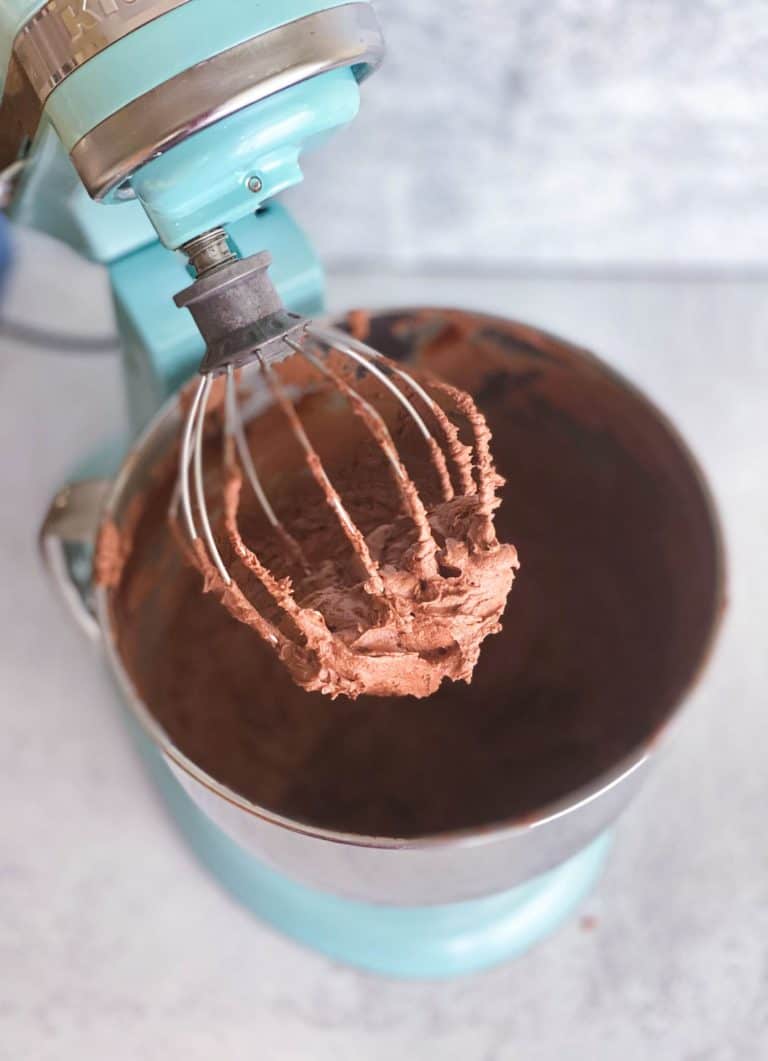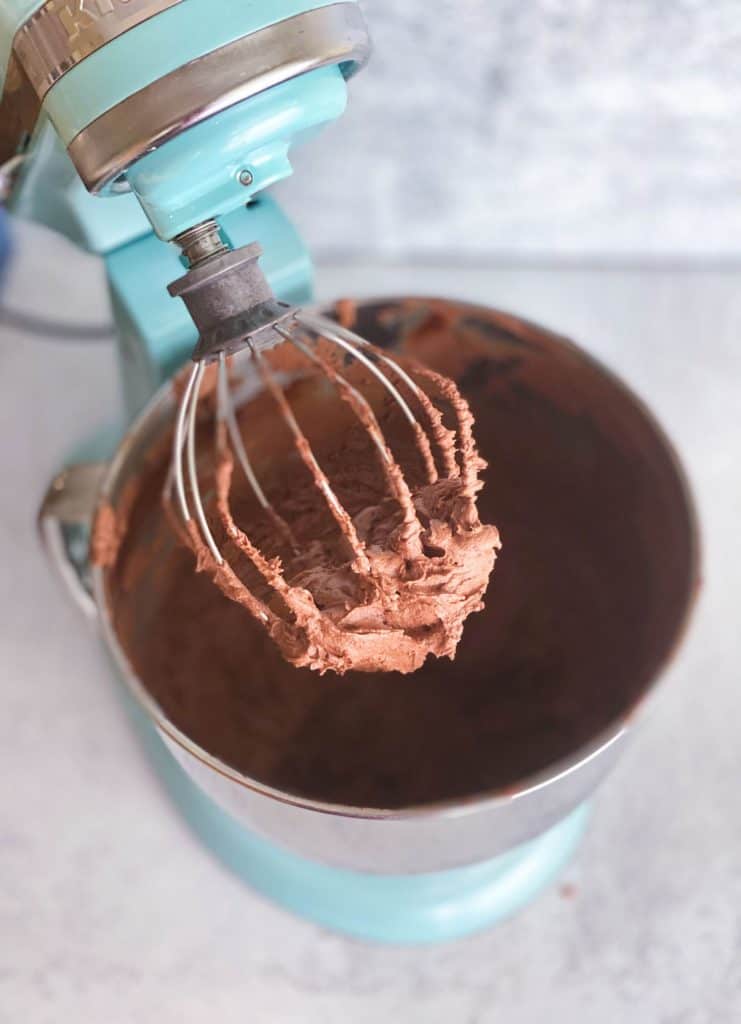 I hope you get to try out this whipped chocolate ganache. It is so delcious and will really up your chocolate cupcakes. If you could leave a review below or tag me on Instagram @stephaniesweettreats. Happy Baking!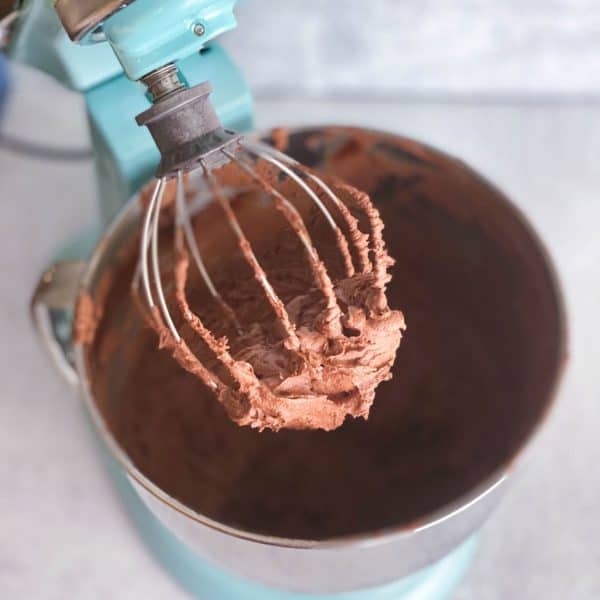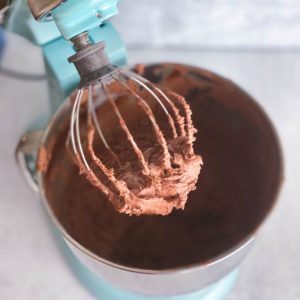 Whipped Chocolate Ganache
Super rich chocolate frosting. Perfect for chocolate cupcakes or cake.
Ingredients
1

cup

Heavy Cream

12

oz

Chocolate Chips
Instructions
In a medium bowl, weigh out chocolate chips and set aside. In a saucepan, heat up heavy cream. It should be just starting to steam, but not yet boiling. Don't over heat. Pour heavy cream over chocolate chips and let sit for 1 minute and 30 seconds.

Stir chocolate and cream together. Keep stirring until chocolate is glossy and smooth. Place chocolate in the fridge to chill and set. Let the chocolate chill for 30 minutes. Every 10 minutes take bowl out and whisk. This helps the chocolate to be smooth.

Once chocolate is set, it should be thick but still smooth. Using a mixer and the whisk attachment, whisk on high for 3-4 minutes. The chocolate will become light in color. The chocolate should become thick (thick enough to pipe). As the chocolate sets the color will deepen.
Nutrition