This caramel apple spice cake is the perfect fall cake! It is a layered moist spice cake that is filled with apple pie filling and homemade salted caramel. This cake is slathered in salted caramel buttercream and topped with caramel apples. This cake has everything you could need!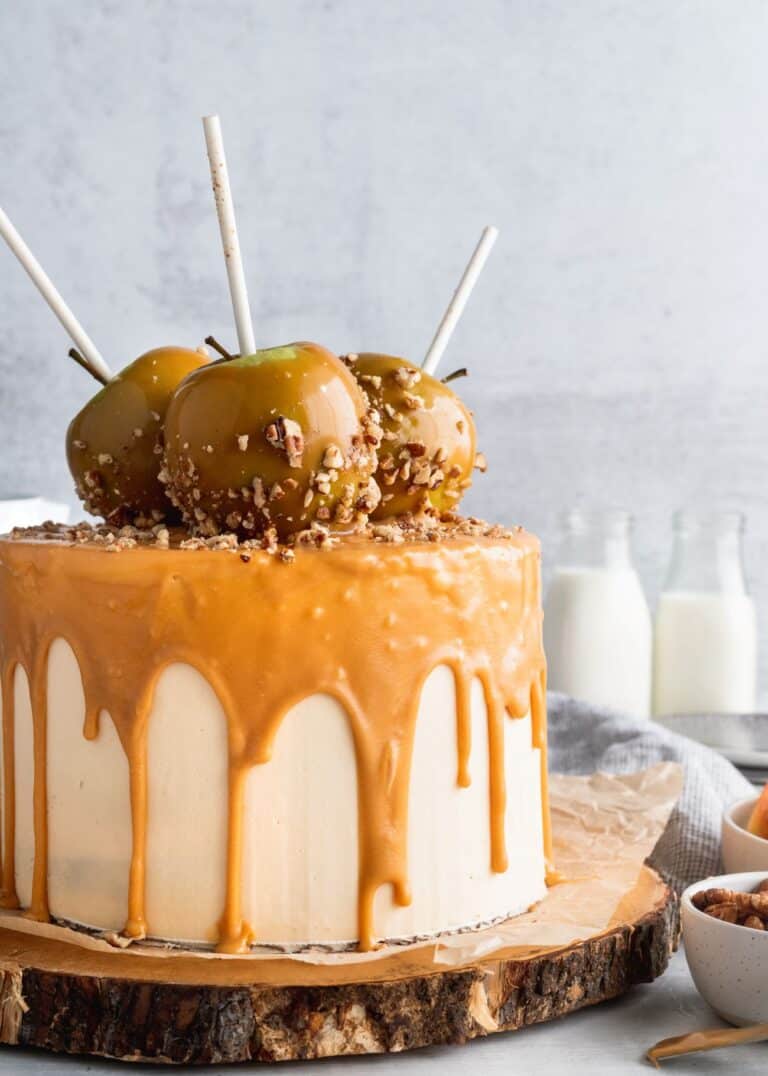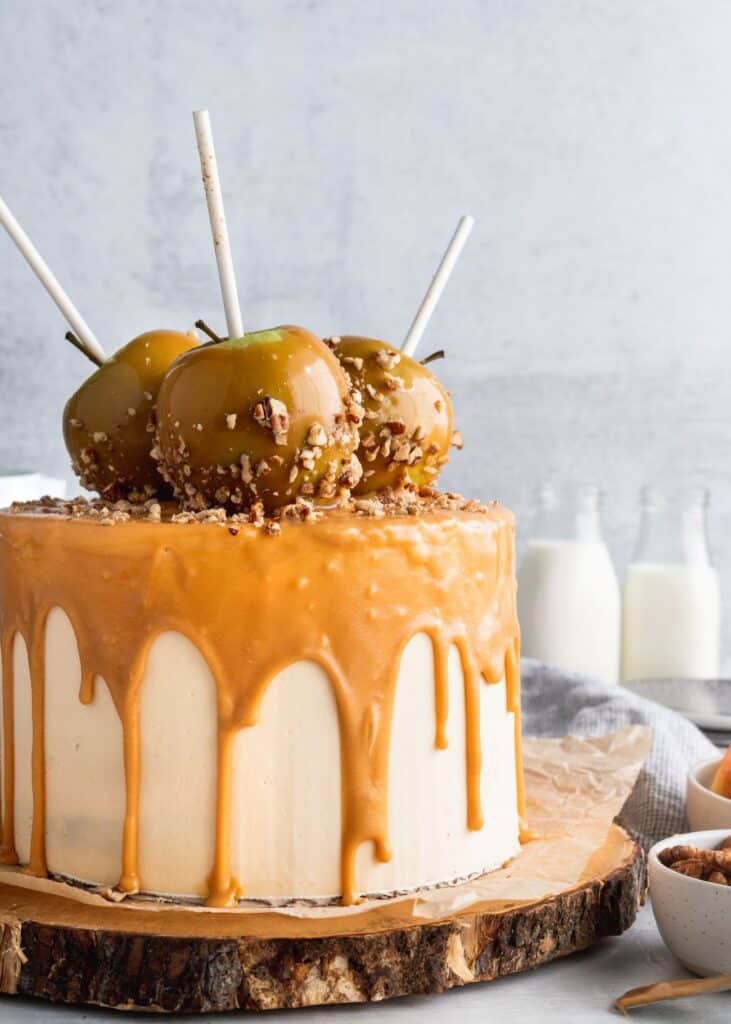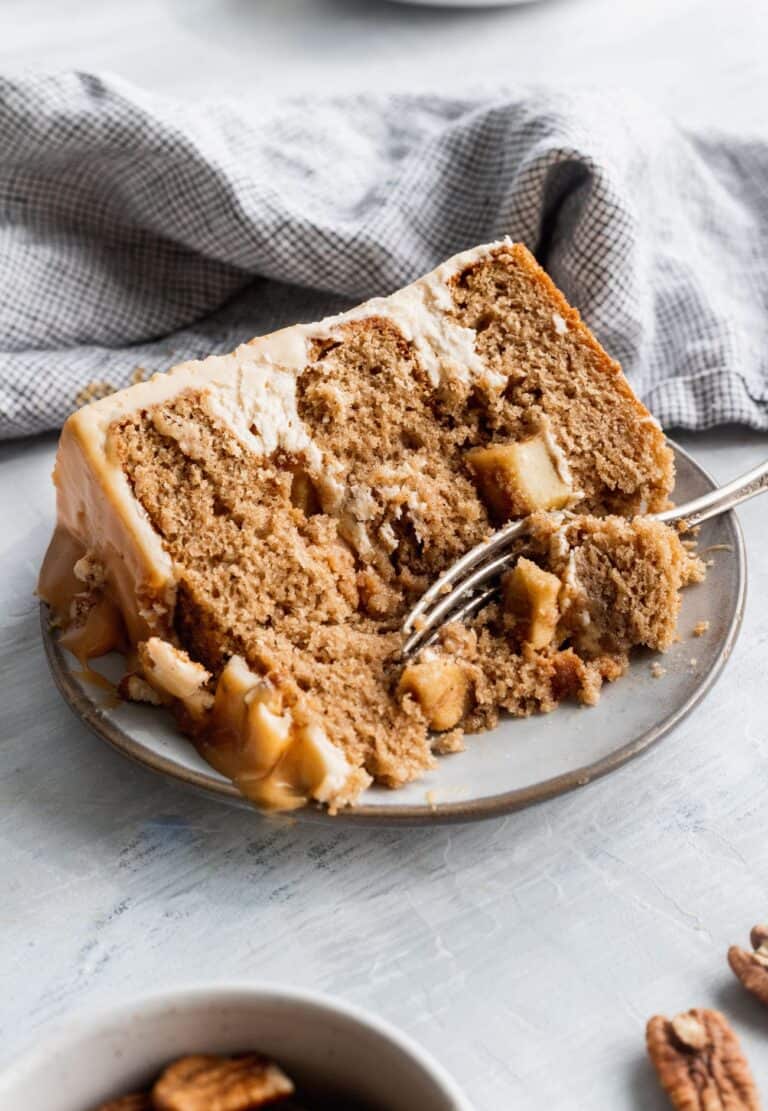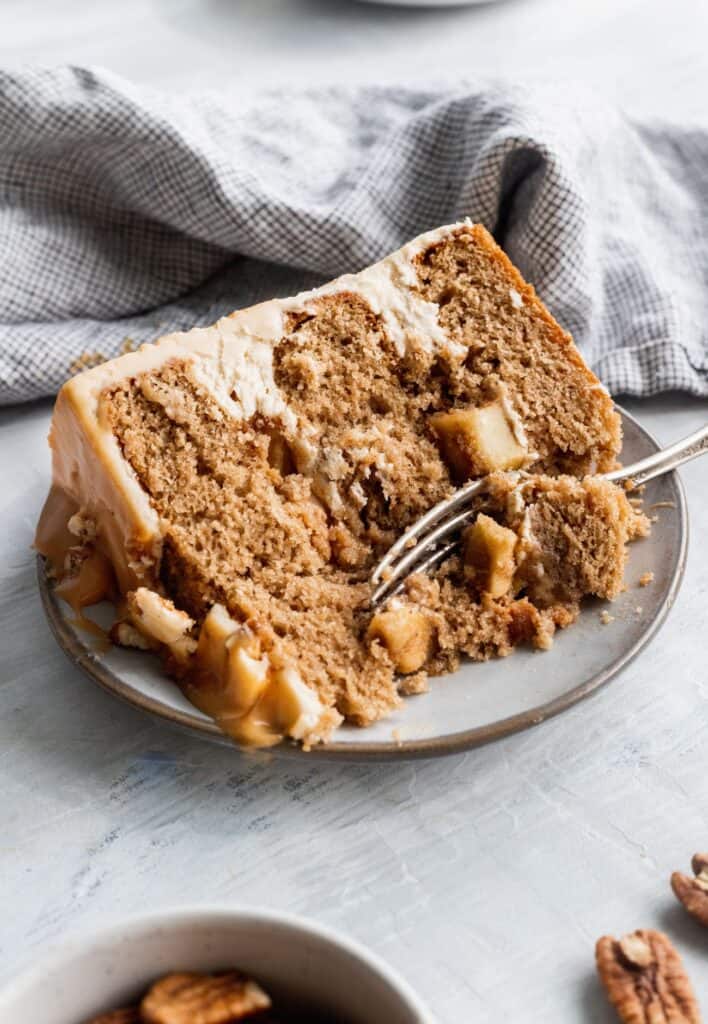 What Makes This Spice Cake So Good?
This spice cake is the best I have ever had and it is HOMEMADE! This spice cake so good because is it is FULL of spices.
This cake has cinnamon, ginger, pumpkin pie spice, and nutmeg. All of the spices that could be in a cake, are in this cake! This cake is not lacking in flavor that is for sure.
This layered cake is super moist because it has oil, melted butter, and buttermilk. The combination of oil and melted butter makes this cake crazy moist. The buttermilk is full of fat which helps break down the gluten in the flour. The result a very moist spice cake!
I actually used this spice cake in spice sheet cake with pumpkin frosting. The cake was so good, I had to use it for this layered cake!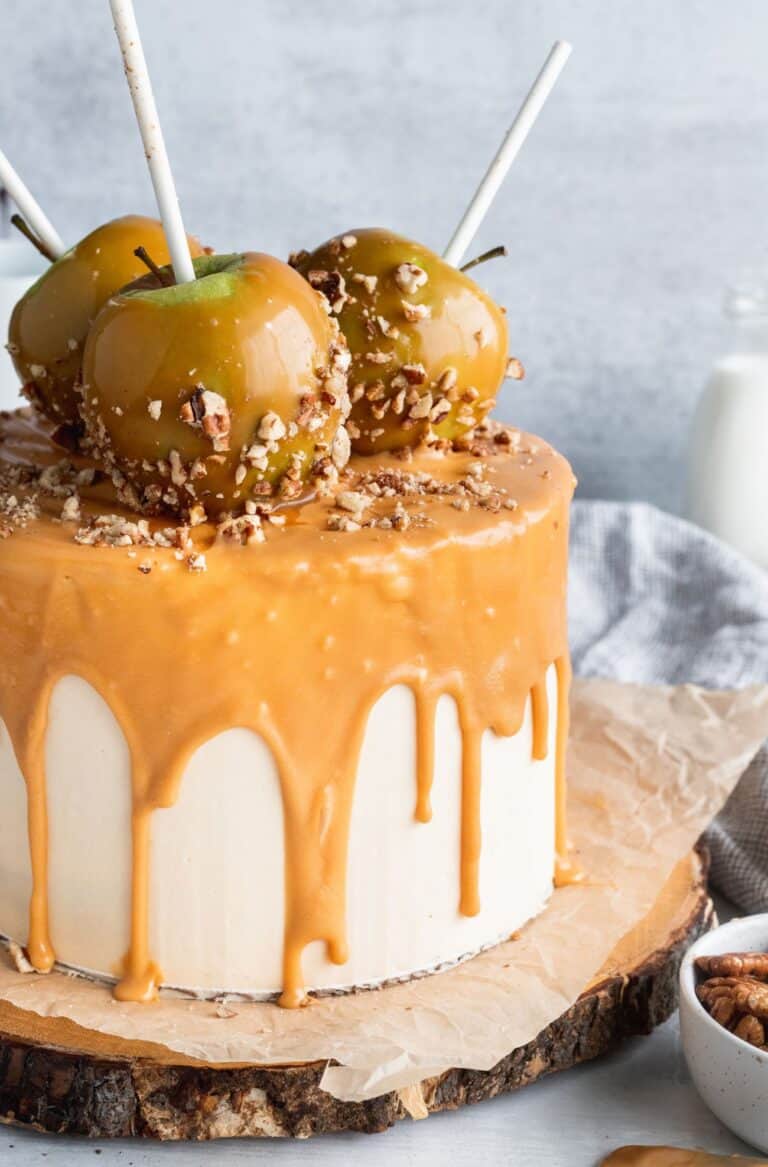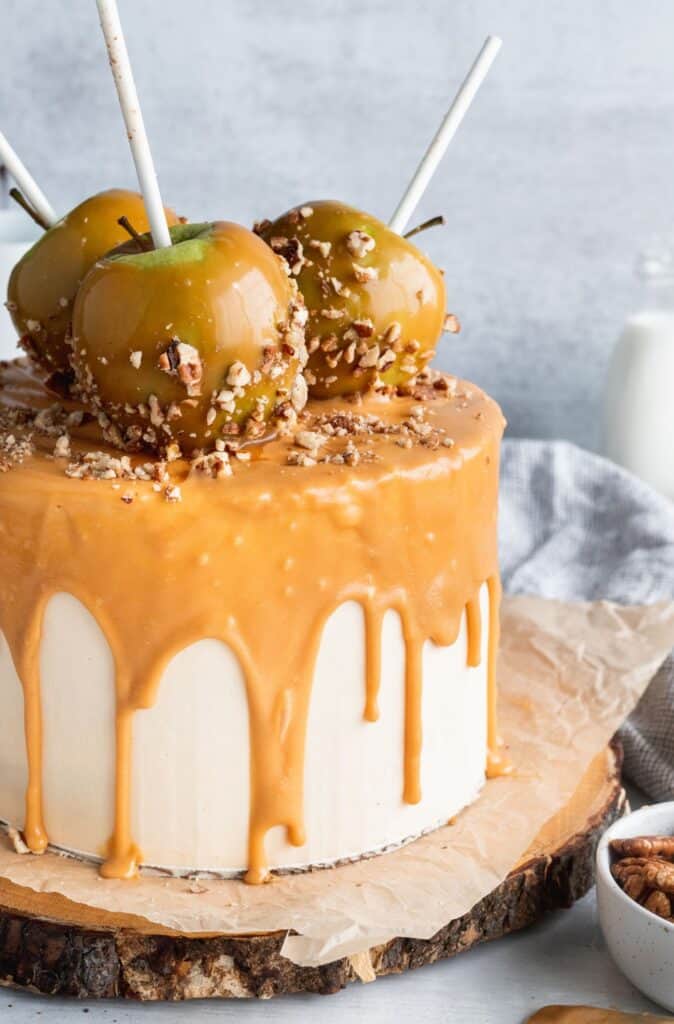 Tips To Make The Spice Cake
To make this spice cake, just follow these tips!
Room temperature buttermilk and eggs- Pull both of these out 2 hours before baking. Room temperature ingredients give a cake a much better rise!
Dry ingredients- Sift together all of the dry ingredients together. Then, you will add the wet ingredients together slowly
Eggs one at time- After the oil and butter are added, add the eggs one at time. Going slowly will make sure it all gets combined. The batter will be very thick at this point.
Buttermilk- Combine the buttermilk and vanilla together before adding it into the batter. This is when the cake batter will thin and look like regular cake batter consistency.
Buttermilk substitute- You can substitute 3/4 cup regular cow milk with 3/4 TBSP of lemon juice. Let it sit for 10 minutes before using.
Scrape the bowl- Once the buttermilk is added, make sure to scrape the bow and mix again.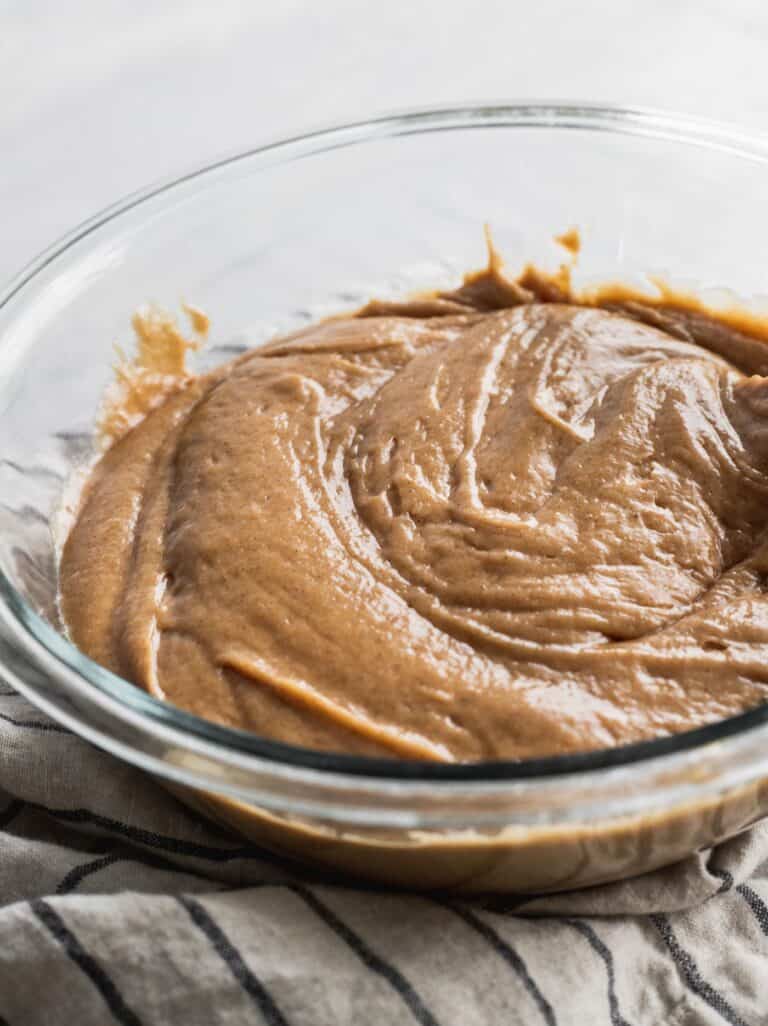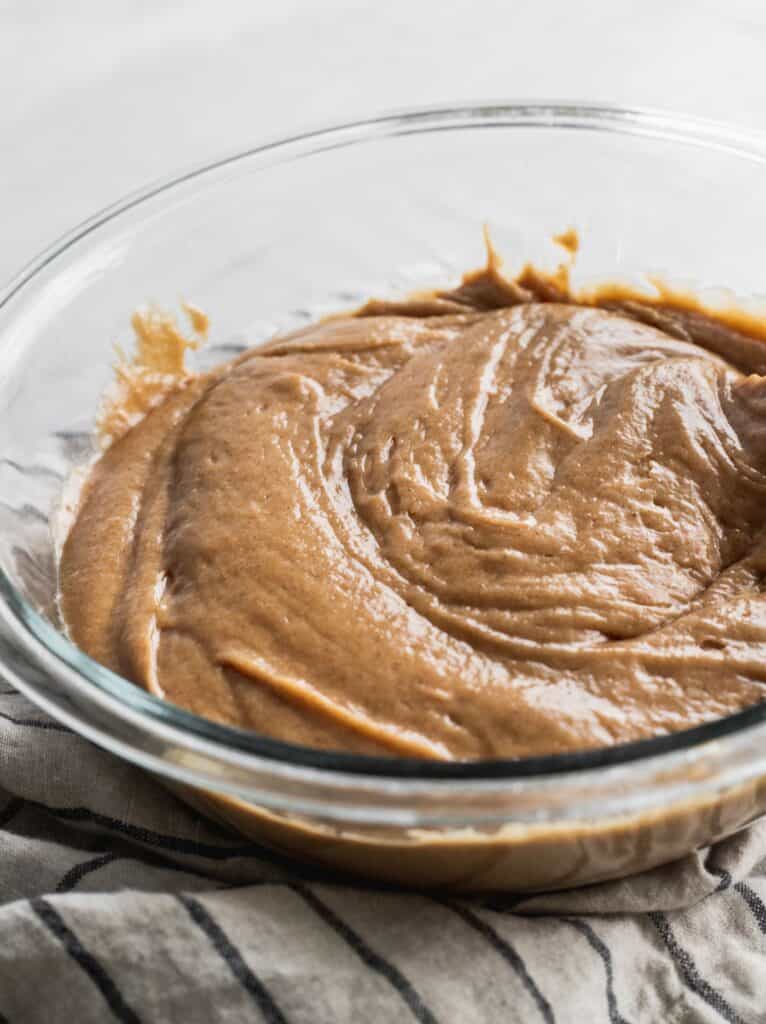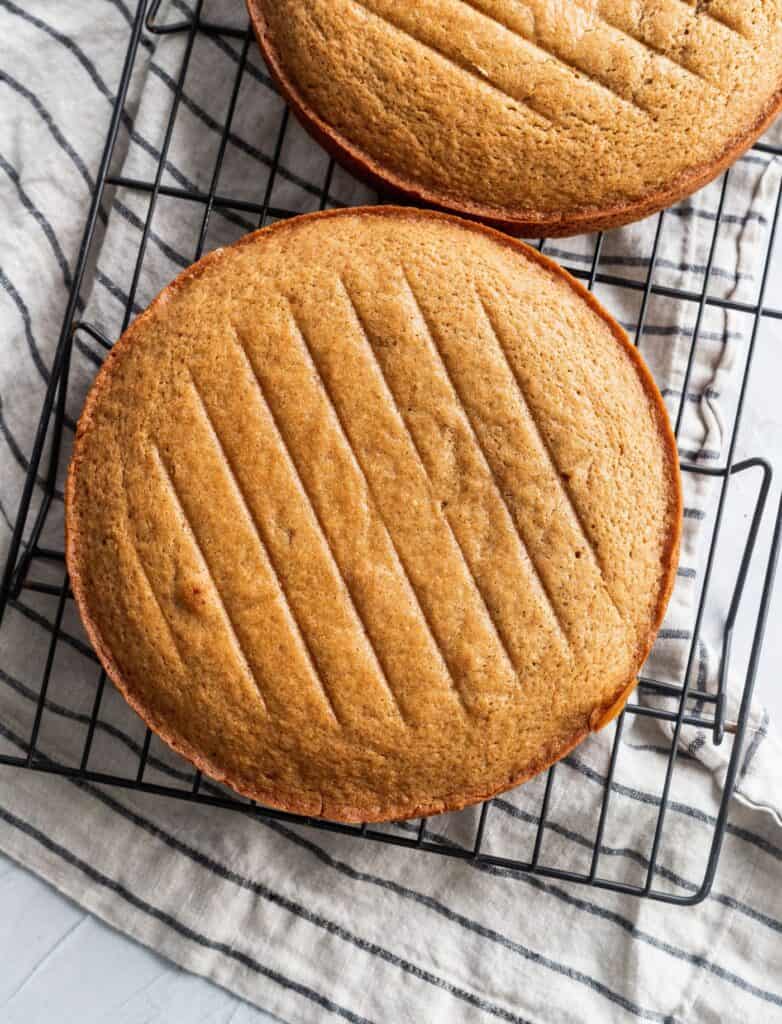 Sizes Of Cake
This recipe calls for a 3 layer 8 inch cake. This is my favorite size. You can make a 4 layer 6 inch cake as well.
If you are looking for a smaller cake, you can make a 2 layer 8 inch cake. Then, you can use the rest of the batter to make cupcakes.
Apple Pie Filling
The salted caramel for this recipe is my base caramel that I use for everything. I have a detailed tips on the caramel apple cheesecake bars and salted caramel cinnamon cupcakes.
To make this apple pie filling, you will first need to start with the large granny smith apples. Make sure these apples are peeled and the cubed.
Then, toss the apples in brown sugar, cinnamon, and salt.
Now the apples need to be cooked in browned butter. First, the butter will bubble up. Next, it will foam up before the milk deposits will start to separate. Once that happens, the butter will start to brown. Now, it is time to add in the apples!
Let the apples cook for 5 minutes. They shouldn't be super soft. Let them cool completely before using them in the cake.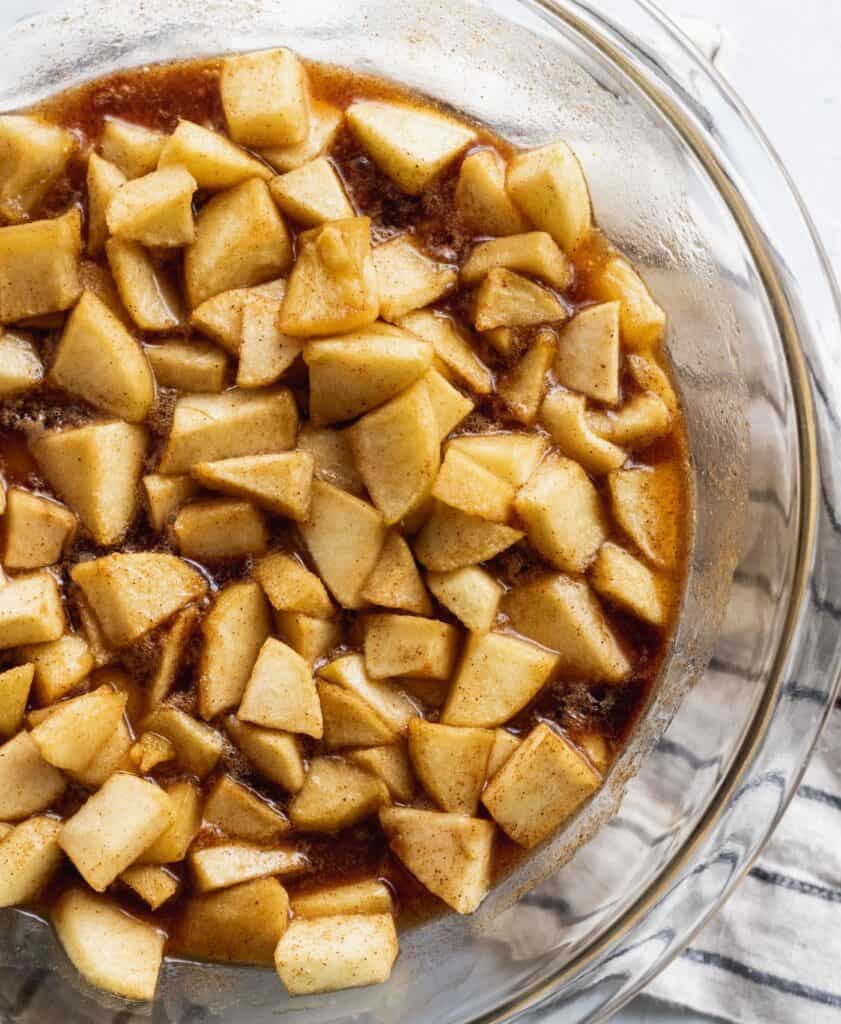 The Silkiest and Creamiest Salted Caramel Buttercream
This buttercream is the silkiest buttercream! It only needs 3 ingredients!
Unsalted butter
Powdered sugar
Salted caramel
What makes this caramel buttercream so silky is the 1/2 cup of caramel! It has a slight salted caramel flavor and it pairs well with this cake.
This frosting gets beaten for a total of 5 minutes. This makes the frosting light and fluffy. Once you try this frosting, you won't go back to heavy frostings!
Assembling The Cake
To assemble this cake just follow these steps.
Place the first and second layer bottom side down. The last layer is going to be bottom side up. Having the last layer be bottom side up gives the top the flattest surface.
Pipe a layer of buttercream around the edges of the cake. This acts as a barrier for the filling. So, no apples can escape!
Frost a very light layer of frosting on the cake. This will help hold the apples in place.
Fill the cake with apples. Make sure to strain the apples because you don't want the juices to soak the cake.
Drizzle with caramel. It can be a lot of caramel or a little. That is up to you!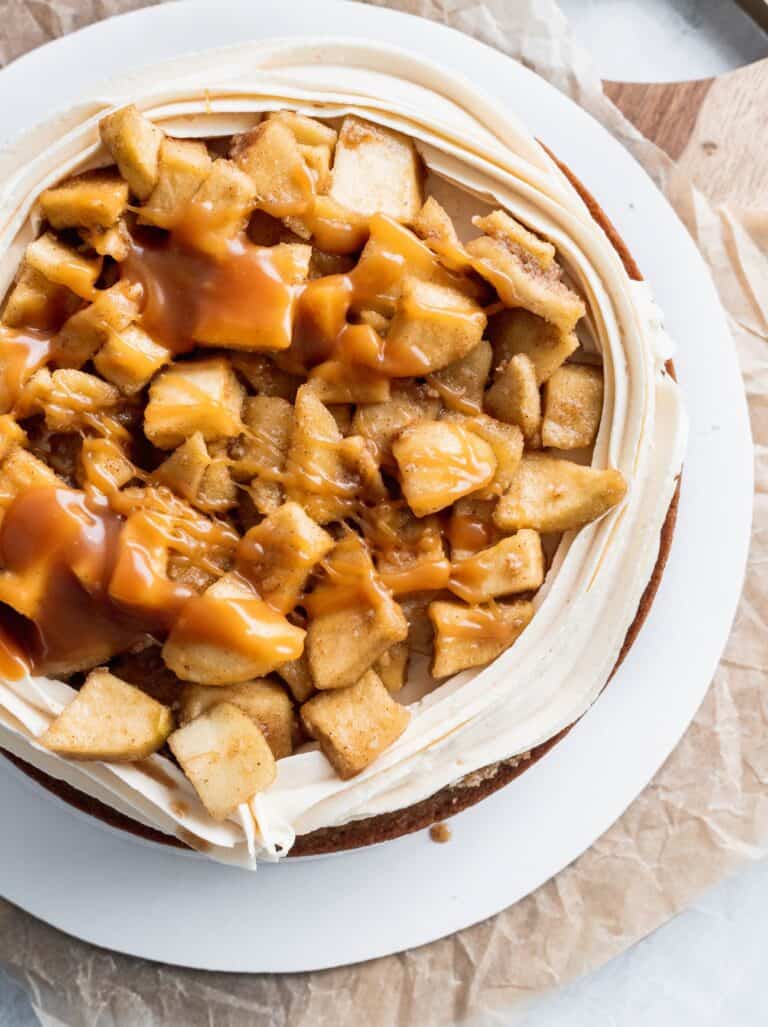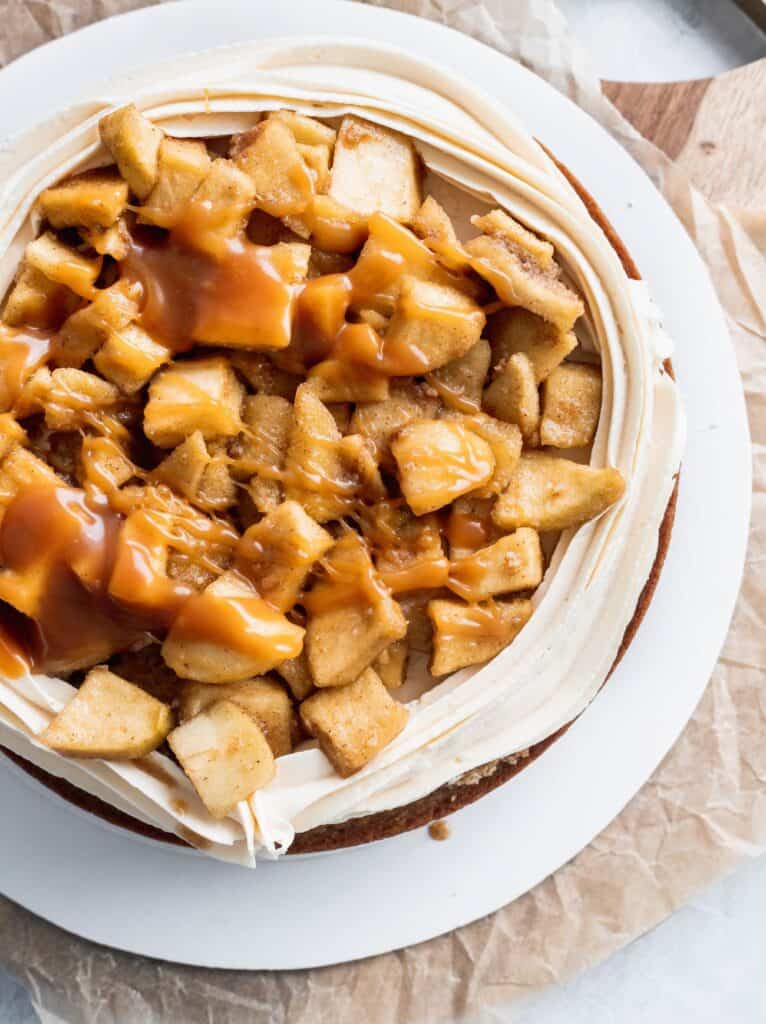 Once the cake is assembled. It is time to frost! First, do a light layer of frosting for the crumb coat. Then, freeze the cake for 15 minutes. This lets the frosting set and no pesky crumbs get into the final frosting.
Once it is ready, frost the entire cake. I prefer to freeze the cake for 10 minutes before applying the drip because I like a firm surface.
Tips For Getting The Perfect Drip
I have tried making a caramel drip by using the homemade salted caramel as it is and putting powdered sugar into the drip. Powdered sugar drip won hands down.
Using the regular caramel will cause the caramel to just drip every where down the cake. You will end with caramel pool at the bottom of the cake, just like I did.
I decided to make it thicker by adding an 1/8 cup of sifted powdered sugar to it. Make sure you whisk it well!
This thickens up the caramel and the caramel will drip slowly down the cake.
Pour the caramel on top of the cake and use an offset icing spatula to slowly push the caramel off the edges of your cake.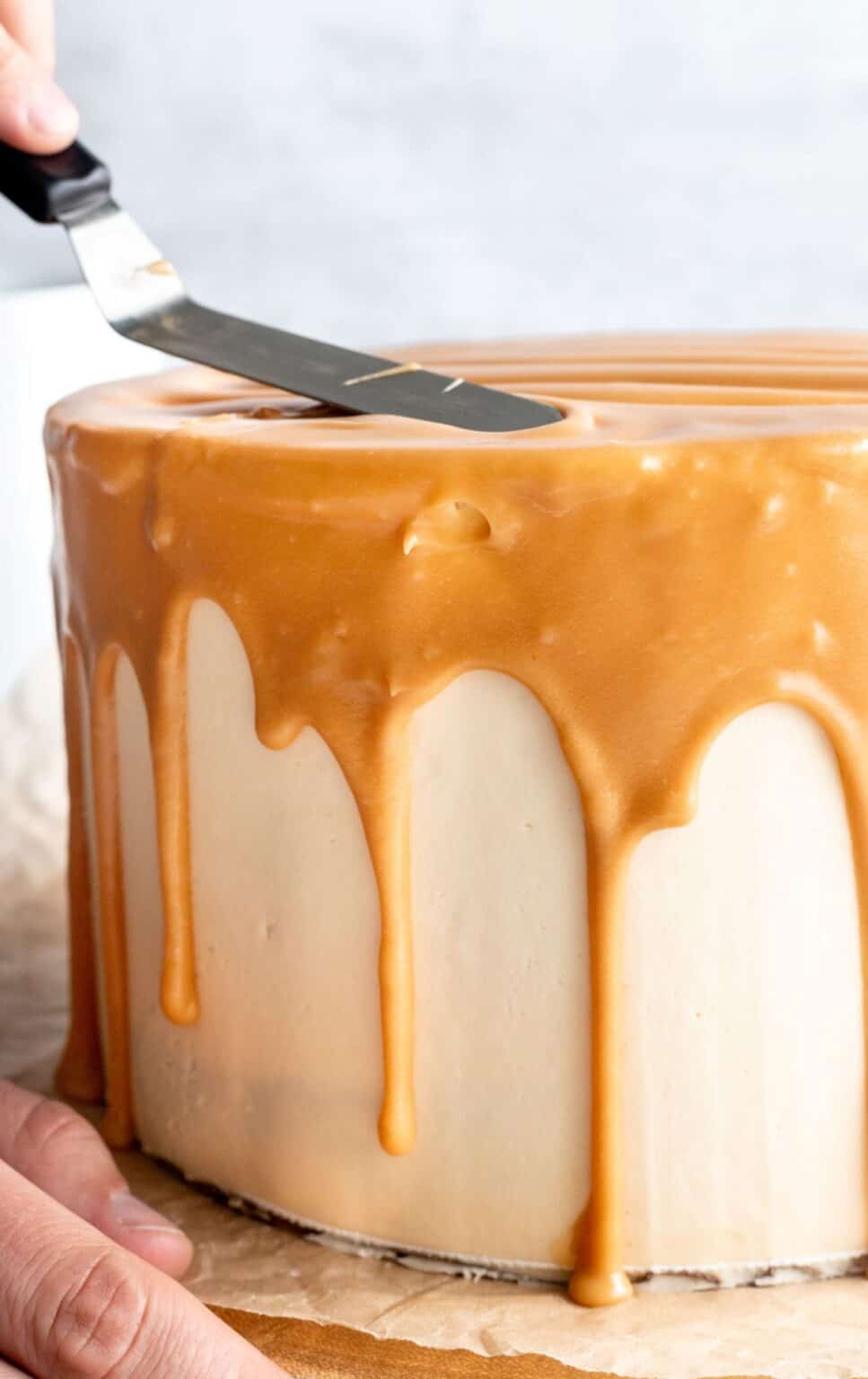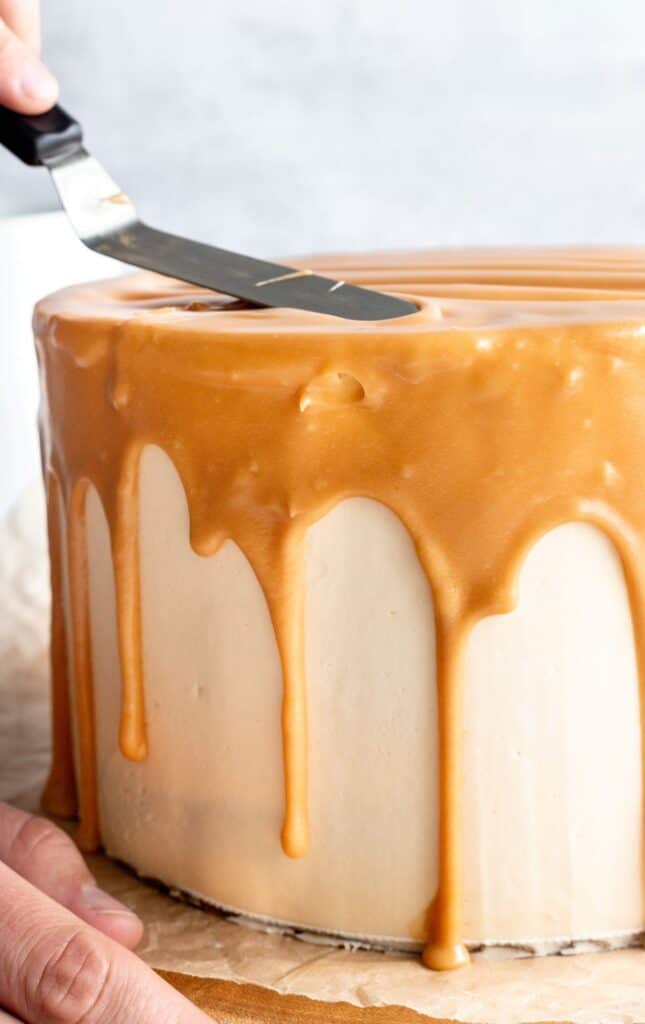 Using Caramel Apples As Decoration
The caramel apples make this cake go from boring to a show stopper. I like to dip the small apples into the caramel before I whisk in the powdered sugar.
Then, sprinkle on some chopped pecans and throw it all in the freezer for 10 minutes.
The caramel will run off the apples a bit, but the cold will help keep it from all running off. Once I was ready to put on the apples, sprinkle a few more pecans and top them on the cake.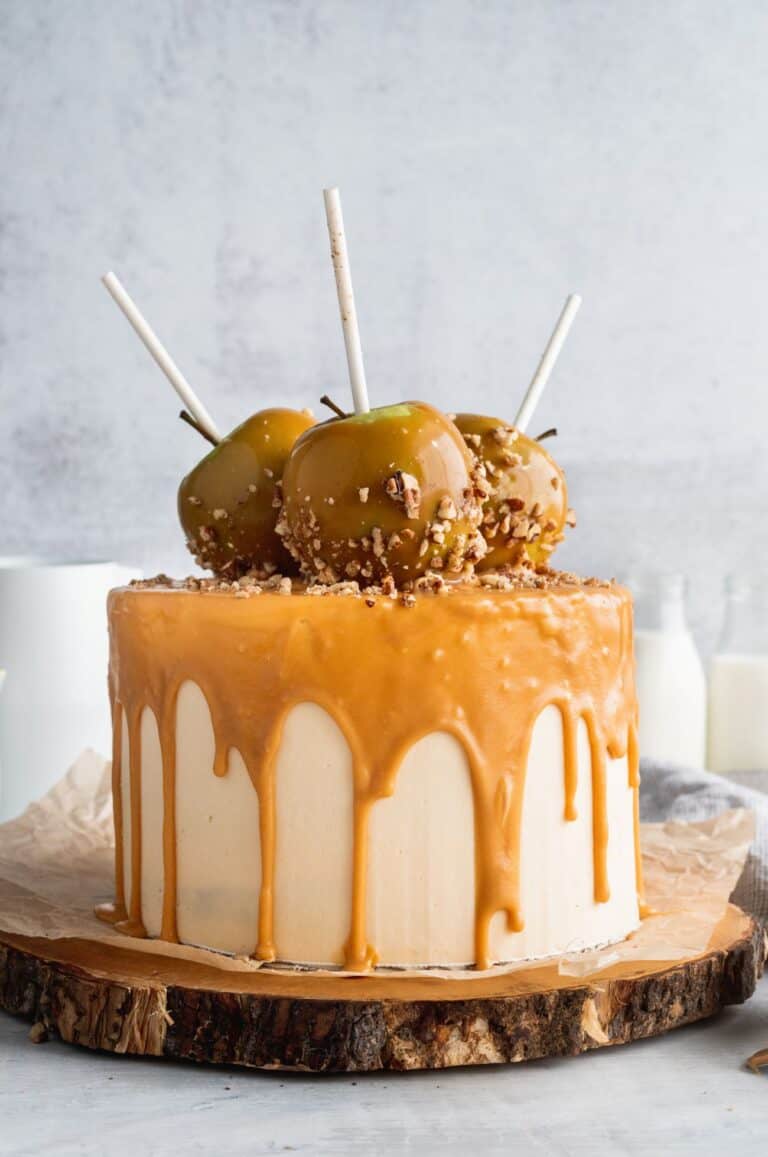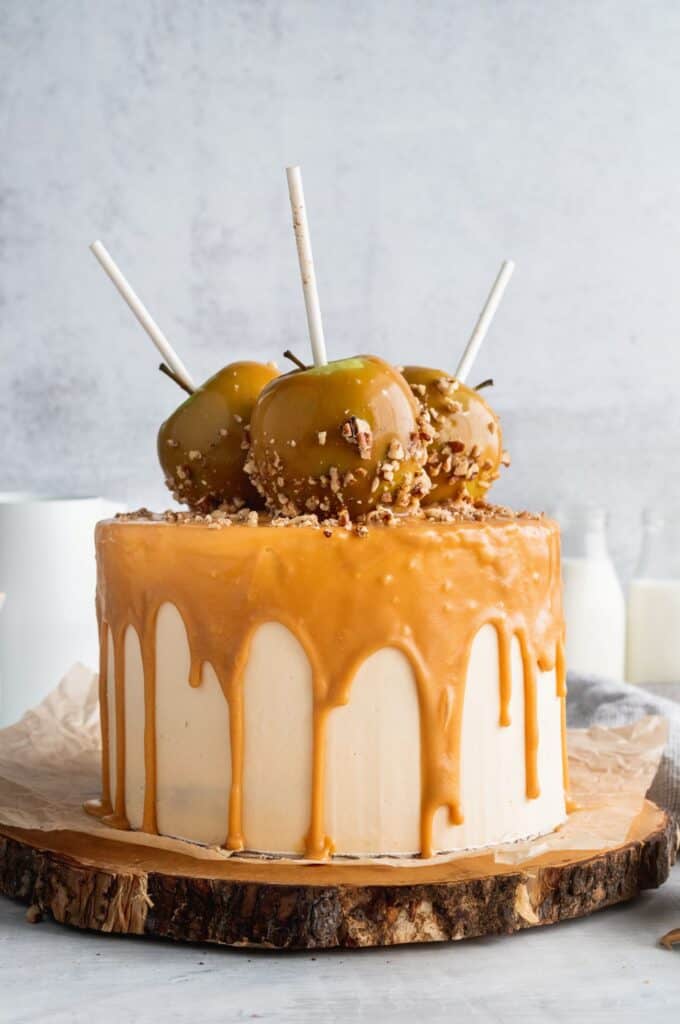 How To Store Caramel Apple Spice Cake
To store this cake, store it in the fridge in a cake carrier. It will last up to 5 days in the fridge.
You can also cut the cake into slices and store in an air tight container.
Can This Cake Be Frozen
Yes! This can cake be frozen. Cut the cake into individual slices and wrap it tightly in cling wrap. Then, store it in an air tight container or wrap it in foil. It will last up to 30 days in the freezer.
To thaw, pull the cake from the freezer and put it on the counter for 1 hour.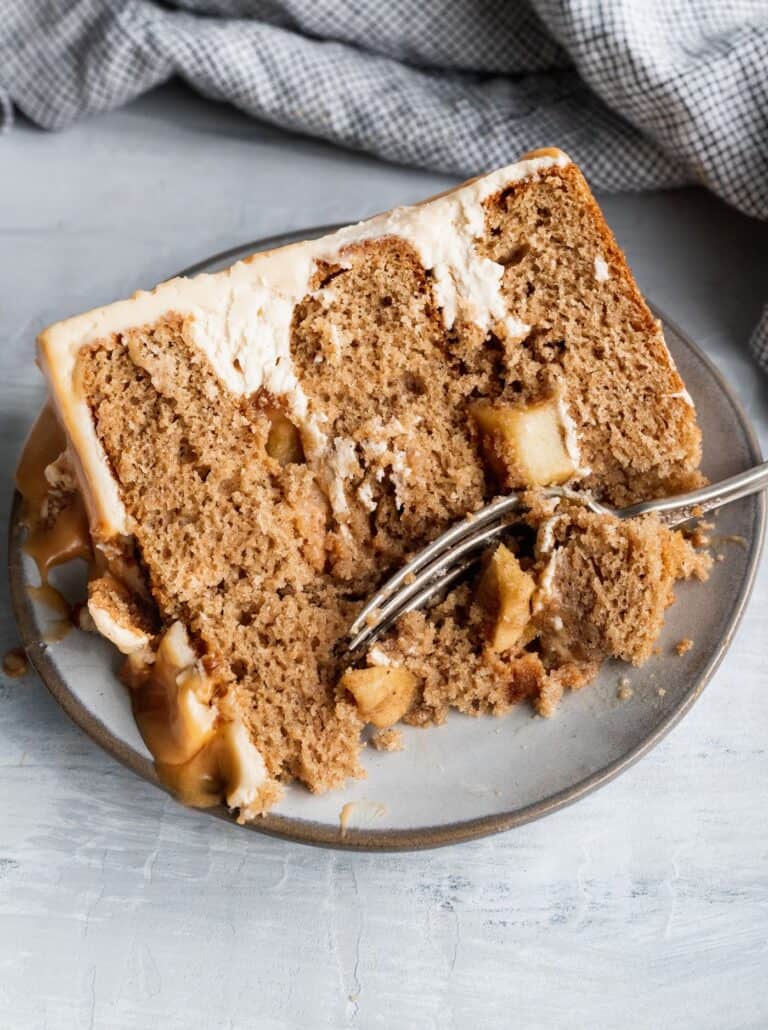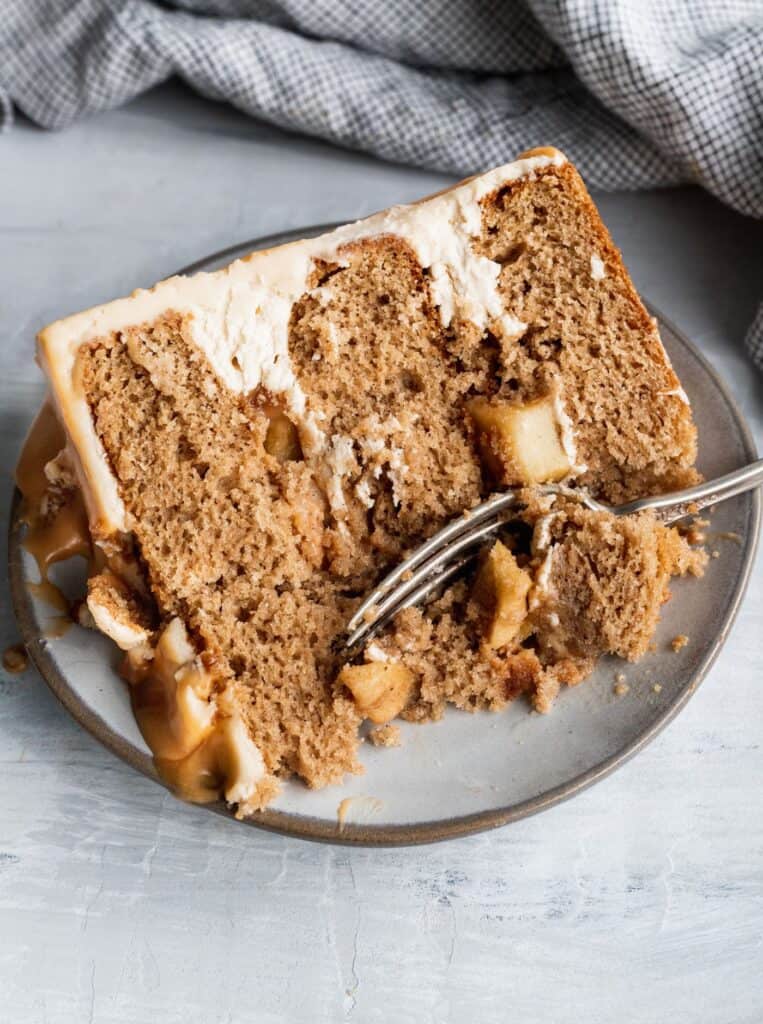 Other Cake Recipes To Try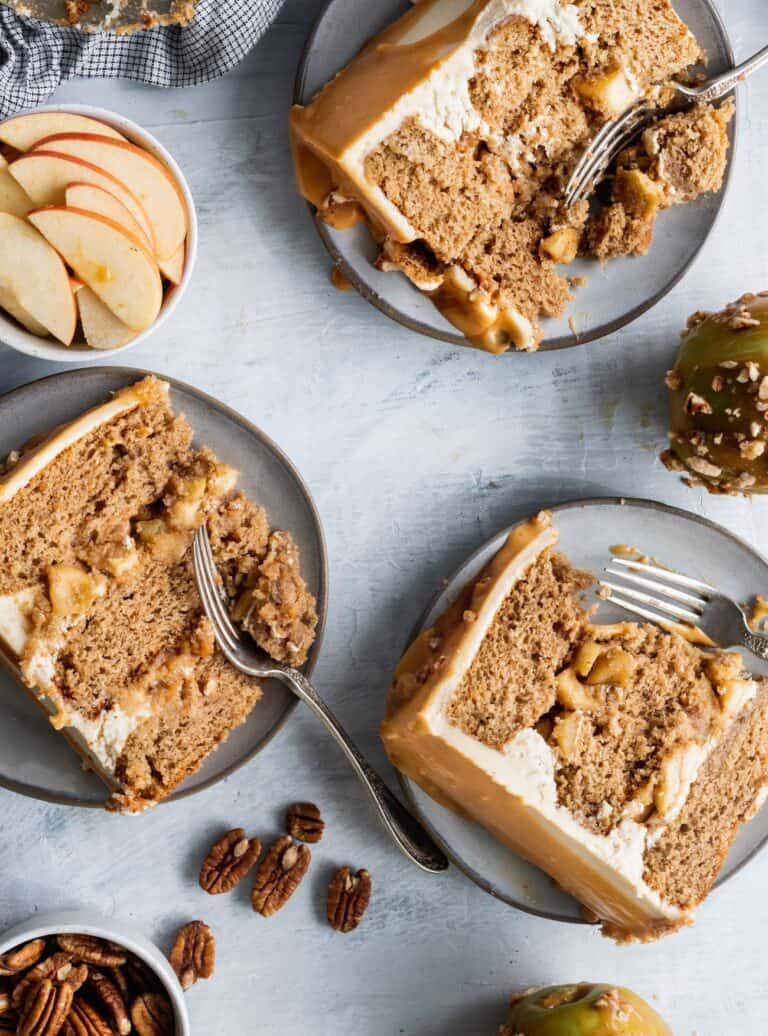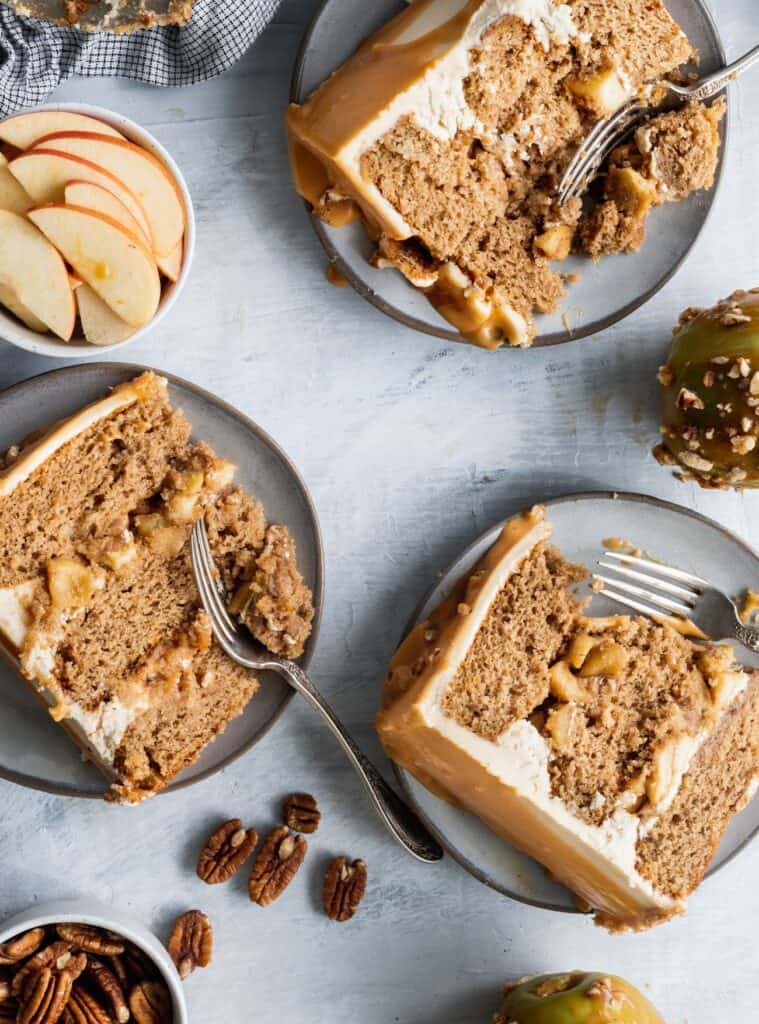 Make sure to tag me on Instagram @stephaniesweettreats and leave me a review below if you made this cake. I hope you loved it! To get more ideas follow me on Pinterest.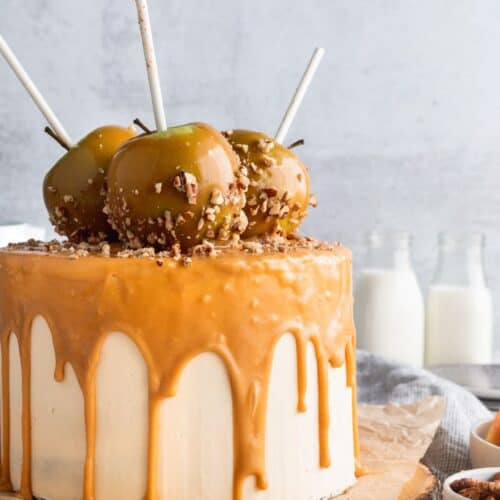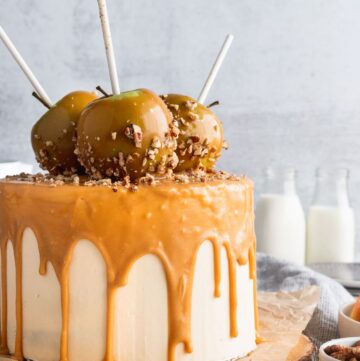 Caramel Apple Spice Cake
This caramel apple spice cake is a 3 layered moist spice cake. It is filled with apple pie filling and caramel. It is topped with caramel buttercream, caramel drip, and caramel apples with pecans.
Ingredients
Spice Cake
3 3/4

cups

All-purpose flour

1 1/2

tsp

Baking soda

1

tsp

Baking powder

1

tsp

Salt

3

tsp

Ground cinnamon

1 1/2

tsp

Ground ginger

1 1/2

tsp

Pumpkin pie spice

1/2

tsp

Ground nutmeg

1 1/2

cups

Brown sugar

packed light or dark

1/2

cup

White granulated sugar

1

cup

Oil

canola or vegetable

1/2

cup

Unsalted butter

melted

4

Large eggs

room temperature

1

TBSP

Pure vanilla extract

3/4

cup

Buttermilk

room temperature
Salted Caramel
2

cups

White granulated sugar

10

TBSP

Unsalted butter

room temperature and cubed

1

cup

Heavy whipping cream

room temperature

2

tsp

Salt

1

tsp

Pure vanilla extract
Apple Pie Filling
6

Granny smith apples

large peeled and cut into cubes

5

TBSP

Unsalted butter

1 1/3

cup

Brown sugar

packed light or dark

3

tsp

Ground cinnamon

1/2

tsp

Salt
Salted Caramel Buttercream
2

cups

Unsalted butter

slightly cold

6

cups

Powdered sugar

sifted

1/2

cup

Salted caramel

3

Granny smith apples

lunchbox size

Chopped pecans

for decoration

1/8

cup

Powdered sugar

sifted for the caramel drip
Instructions
Spice Cake
Preheat oven to 350°F. Spray three 8 inch cake pans with baking non-stick spray. Line the bottom with 8 inch parchment circles. Spray the pan again.

Using a mixer, sift flour, baking soda, baking powder, salt, cinnamon, ginger, pumpkin pie spice, and nutmeg. Add in brown sugar and white sugar. Mix for 10 seconds. Add in oil and melted butter. Mix for 30 seconds until combined.

Add in eggs one at time. Mix on low until just combined. Scrape the bowl. Mix together vanilla and buttermilk. Add half of the buttermilk. Mix until combined. Scrape the bowl. Add the rest of the buttermilk and mix. Scrape the bowl and mix again for 10-20 seconds.

Pour the batter evenly, using a scale, between the three cake pans. Bake for 16-20 minutes. The cake is done baking when a toothpick inserted comes out clean

Let the cake sit in the cake pans for 10 minutes. Then, transfer the cakes to a cooling rack. Allow the cakes to cool completely. Wrap cakes in cling wrap and freeze cakes if making cake ahead of time.
Salted Caramel
Heat sugar in a medium sauce pan over medium heat. Heat until all sugar crystals are melted. Use a whisk to continuously mix, the sugar will clump up at first, but keep mixing.

Once sugar is completely melted, let it sit until it turns amber in color. This should take less than 30 seconds, so don't walk away from the stove. Remove from heat immediately.

Whisk in half of cubed butter until all melted. Then, add in the rest of the butter. It will bubble up a lot. Next, add in half of the heavy cream and whisk until mixed in. Add in the rest of the heavy cream and mix. Add in the vanilla and salt.

Pour caramel into a glass container, I use a glass measuring cup. Let the caramel cool completely before using. If not using right away, place cling wrap over the top, once it is cooled.
Apple Pie Filling
Wash, peel, and cut apple apple into thin slices. Then, cut it into cubes. Put in a large bowl and set aside. Mix in the brown sugar, cinnamon, and salt. Mix until apples are completely covered.

In a large skillet with high sides, over medium heat, brown the butter. Let the butter melt, then it will start to bubble. Next, it will start to be foamy. At this point keep stirring. Once the milk deposits separate, the butter will start to brown.

Once butter is browned, immediately throw in the apples. Fold the butter onto the apples. All of the apple should be wet from the butter. Let it cook on medium for 5 minutes. Take off heat and allow the apples to cool completely before using. Don't use hot apples in the cake.
Caramel Buttercream
Pull cakes out of the freezer and let sit for 1 hour before using.

Let butter sit at room temperature for 30 minutes. It should be cold to the touch but still be able to leave a finger indent in it. While the butter is sitting, sift the powdered sugar.

Using a mixer, beat the butter for 2 minutes on medium-high. The butter should be light and fluffy with no butter chunks. Slowly add in the sifted powdered sugar until all added. Scrape the bowl and mix for 20 seconds.

Add in the salted caramel. Turn mixer to high and allow to beat for 4 minutes. Scrape the bowl and beat again on high for 1 minute.

Allow buttercream to chill in the fridge for 15 minutes for the butter to solidify again. Next, take a wooden spoon to beat the air bubbles out of the buttercream. It should be silky smooth. While decorating, if you see more air bubbles, just beat again until it is smooth.
Assembly
Use a 10 inch cake board and an 8 inch cake board. Tape the 8 inch to the 10 inch. Place a small amount of frosting on the 8 inch board to act as the glue.

Place first layer bottom side down. Spread a small amount of frosting over the cake. Use a 1M Wilton tip and pipe a 2 layer border around the edge of the cake. This will keep the filling from spilling out. Pour about a cup of the apple pie filling on top. Make sure to strain the juices out. It should be packed with the filling. Drizzle caramel on top of the apples.

Place third layer bottom side up. Apply a thin layer of frosting to the cake. This will be the crumb coat layer. Freeze for 15 minutes. Frost the rest of the cake. Then, freeze for 10 minutes. At this point take off the 10 inch cake board.

Dip the apples in the caramel. Coat them in the chopped pecans *optional. Place in the freezer while you decorate. Pour 1/8 cup of the sifted powdered sugar into the caramel. Whisk until smooth.

Pour caramel over the top of the cake. Use an off-set icing spatula and gently push the caramel over the sides of the cake to create the drip look. Place the caramel apples on top of the cake and top with more chopped pecans. Keep cake in fridge until ready to serve.
Notes
Cake:
Flour- Make sure flour is spooned and leveled or use a scale. Compacted flour can dry out the cake.
High altitude baking- Add an extra 3 1/2 TBSP of flour
Eggs and buttermilk- Pull these out at least 2 hours before baking so they are room temperature.
Buttermilk substitute- Use 3/4 cup cow milk and 3/4 TBSP lemon juice and let it sit for 10 minutes before using.
Caramel:
Butter and heavy cream- These should be room temperature before using otherwise the caramel will seize up. 
Nutrition
Calories:
968
kcal
Carbohydrates:
156
g
Protein:
4
g
Fat:
60
g
Saturated Fat:
30
g
Cholesterol:
126
mg
Sodium:
693
mg
Potassium:
228
mg
Fiber:
4
g
Sugar:
80
g
Vitamin A:
1512
IU
Vitamin C:
5
mg
Calcium:
105
mg
Iron:
2
mg