This easy to make homemade salted caramel uses only 5 ingredients. It is a lot easier to make than it looks. It is perfect to use on top of desserts or on top of ice cream!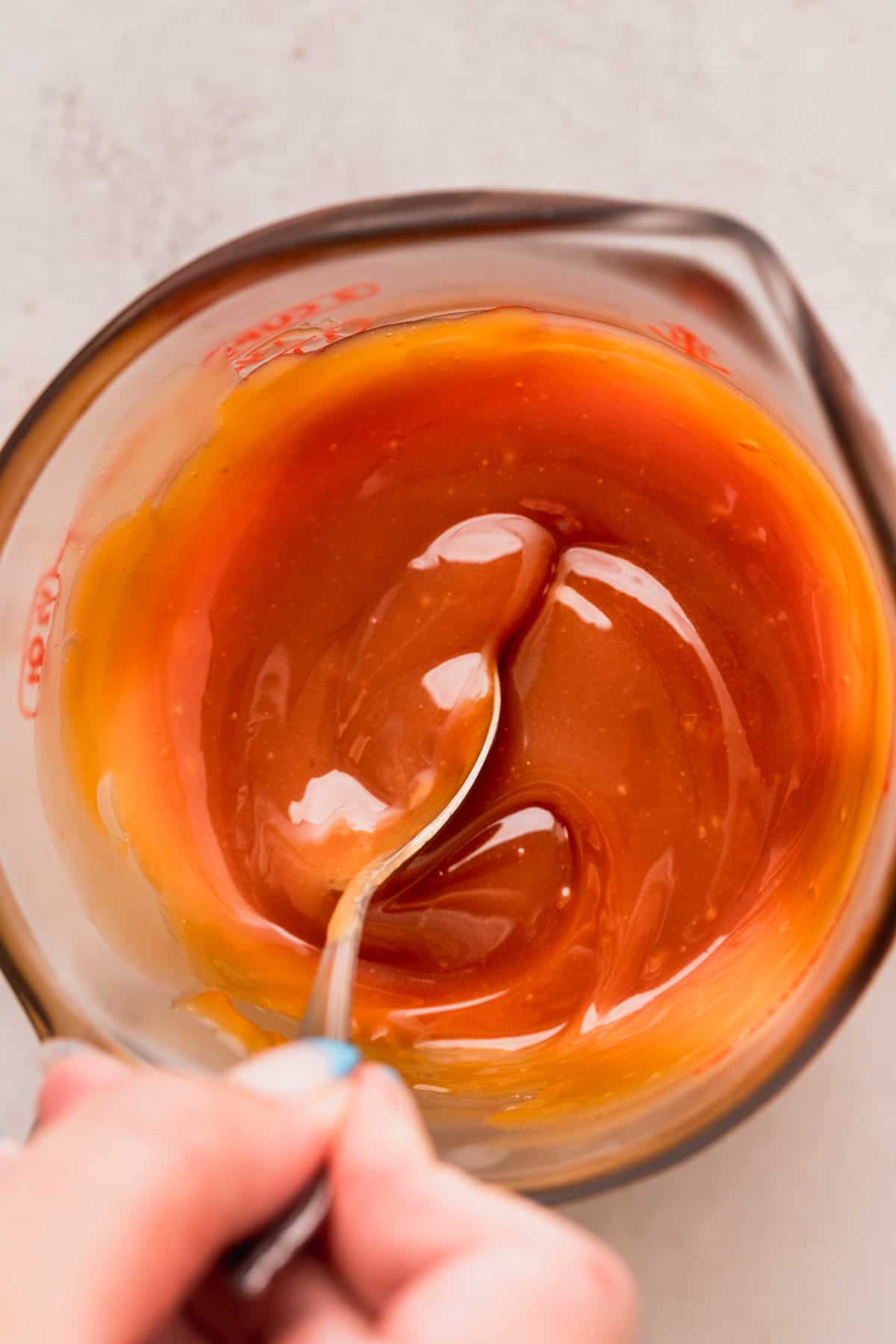 This fool proof salted caramel recipe is so good! I used to be intimated to make salted caramel. Until I actually made it, then I realized how easy it is to make!
There is nothing better than made from scratch caramel. You can use on top of vanilla ice cream, brownies, cupcakes, cake, or cookies!
It will be a warm and thin sauce at first, then as it cools, it will thicken.
For recipes that use salted caramel, try Salted Caramel Cinnamon Cupcakes, Caramel Cheesecake, and Caramel Apple Spice Cake.
Jump to:
Why This Recipe Works
5 ingredients- It needs very simple ingredients!
Easy to make- It can be made in 10-15 minutes.
The best salted caramel recipe- I use this caramel for everything!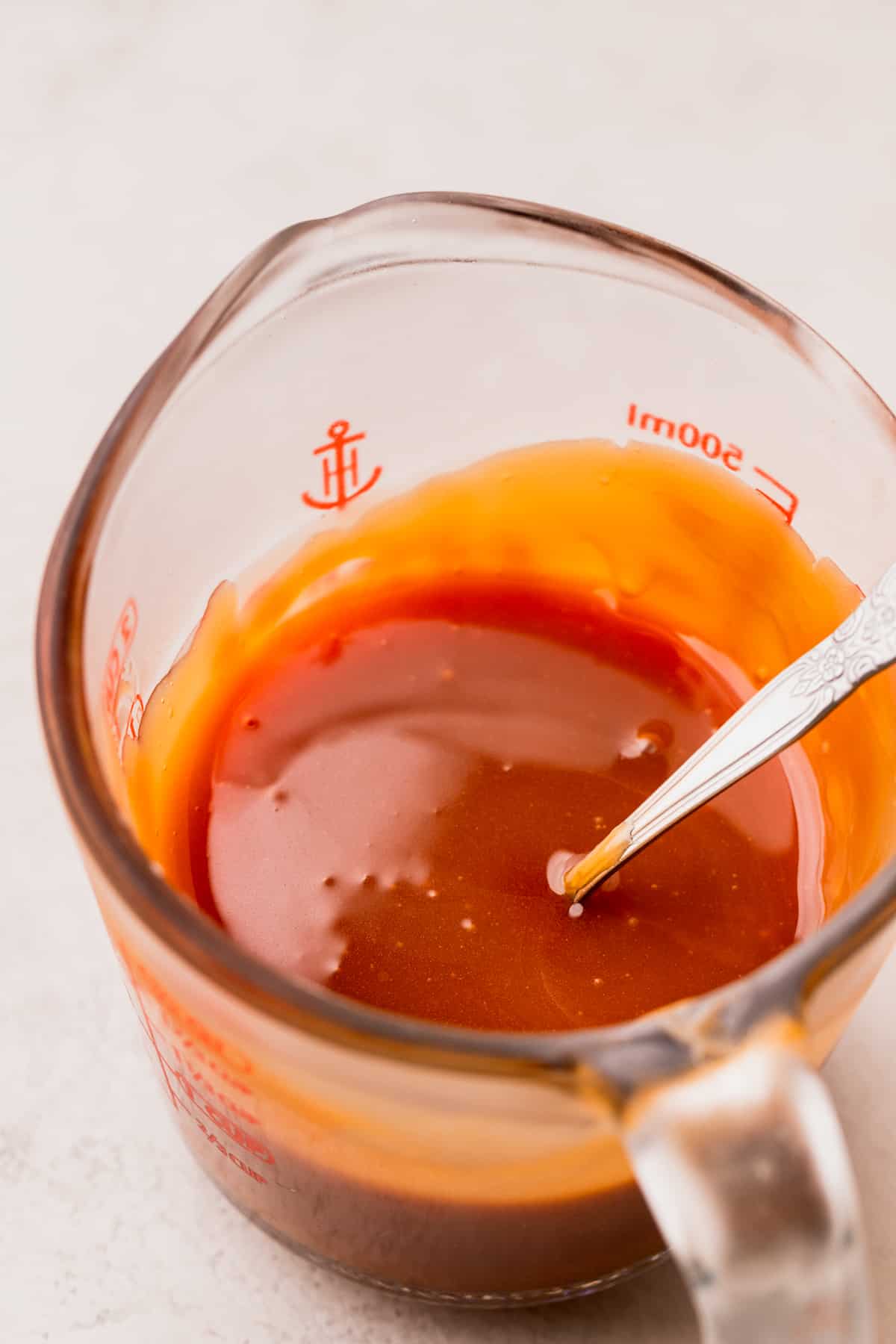 Ingredients Needed
Here are some notes on the ingredients. For a full list of ingredients, check out the recipe card below.
Sugar
Unsalted butter- It needs to be room temperature and cubed before using.
Heavy cream- It also needs to be room temperature.
Salt
Vanilla extract
Step By Step Instructions
Here is how to make this homemade caramel sauce. You will need a medium sauce pan, whisk, and a glass container.
STEP 1: Melt the sugar. First, pour in the white sugar and let it start to melt over medium heat. Don't touch it until it melts.
Then, use the whisk to stir the sugar. It will be clumpy. Keep stirring until all the sugar crystals melt. It will be smooth and very light orange.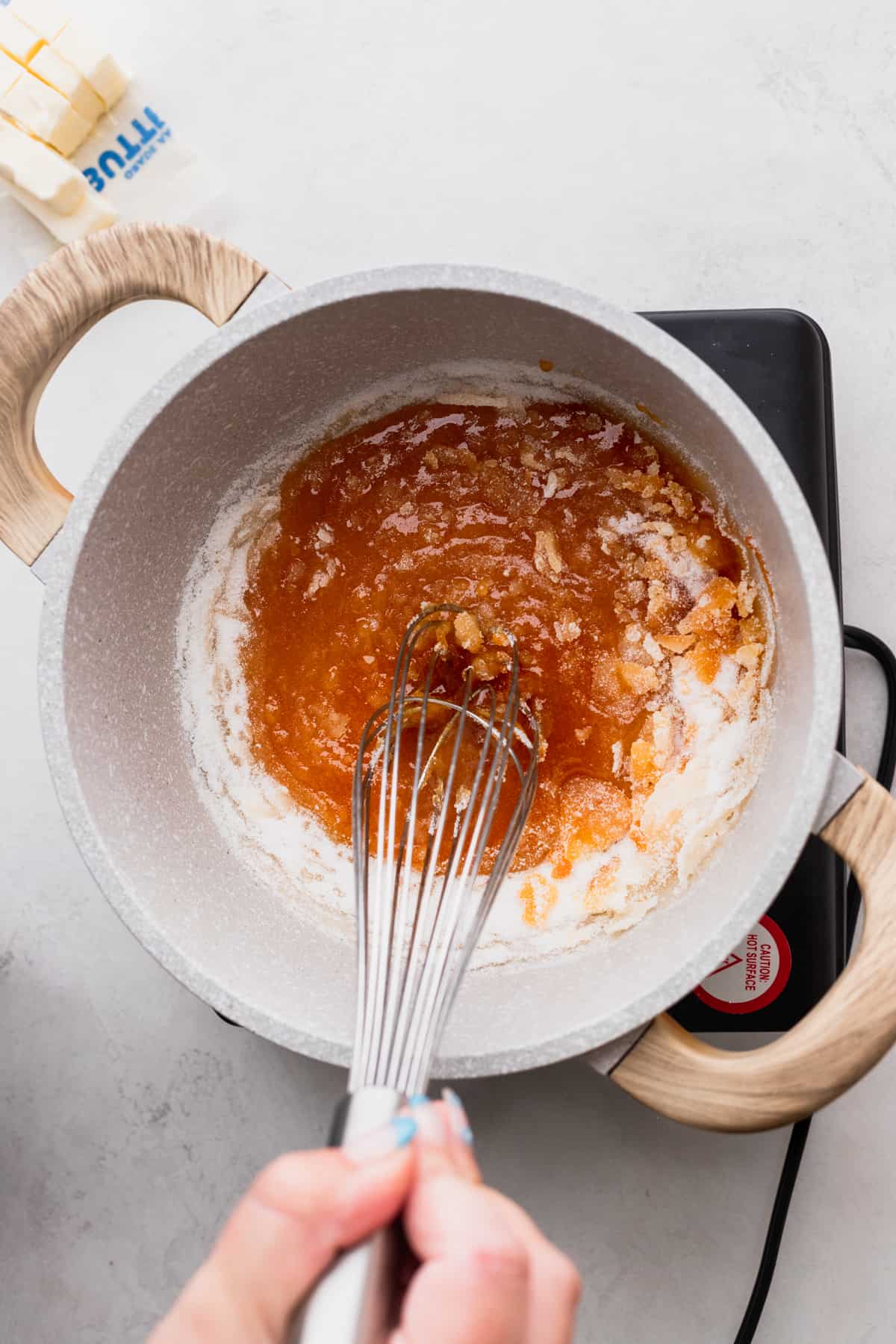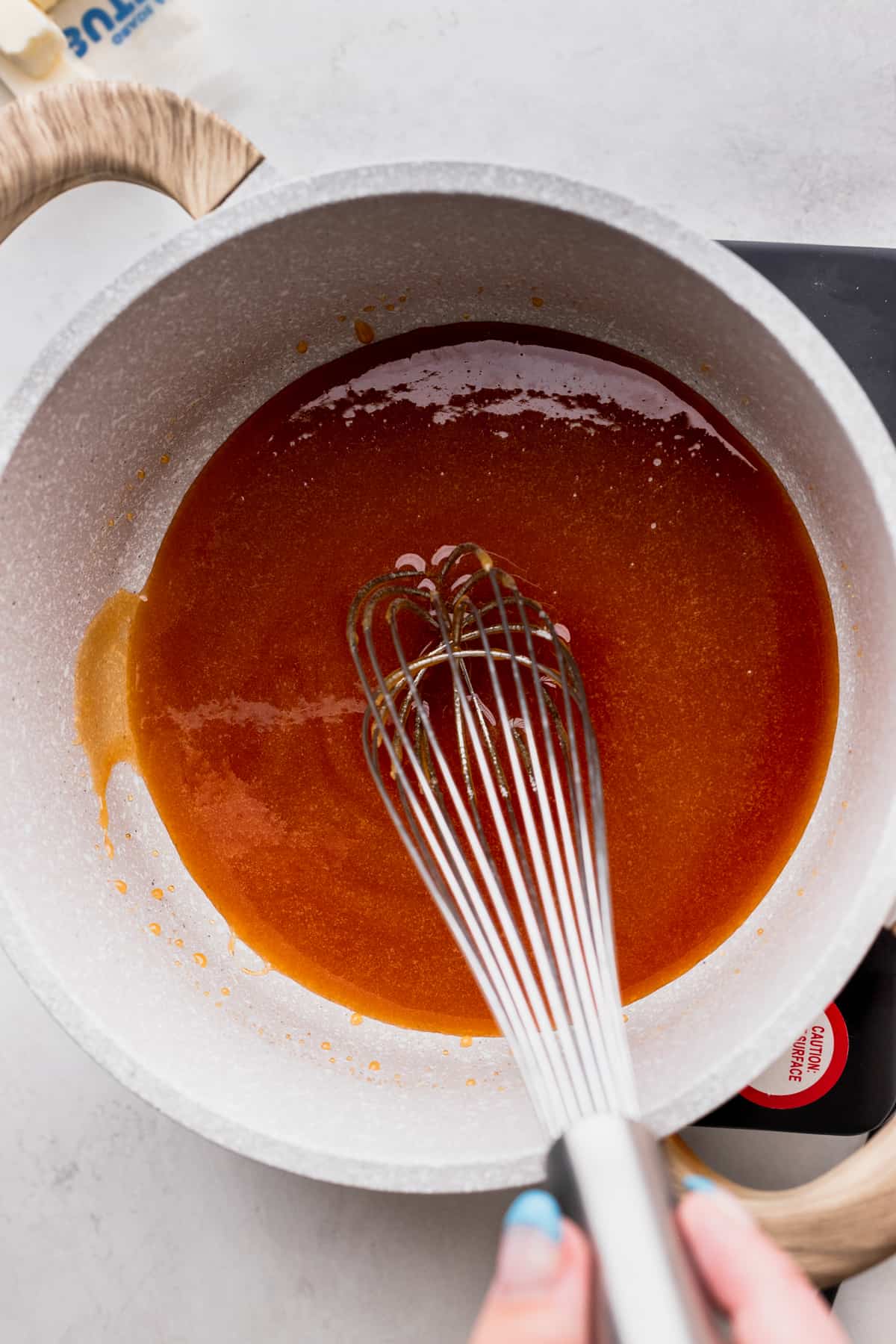 STEP 2: Cook the sugar. Let the sugar sit until it turns amber in color. Now, this process takes no time at all. It is really easy to burn the caramel at this stage. I let the caramel sit for 10-15 seconds. It turns amber quickly.
As soon as it turns amber, take it off the heat. Otherwise it will burn.
STEP 3: Add butter and cream. Both of these will be added in half batches. It also needs to be added very quickly, otherwise the sugar will seize up.
Start with the butter (make sure the butter is cubed) and half of it in. The caramel will bubble dramatically, but keep stirring until all melted. Then, add the rest of the butter.
Repeat this process with the heavy cream. It will also bubble a lot, but keep stirring!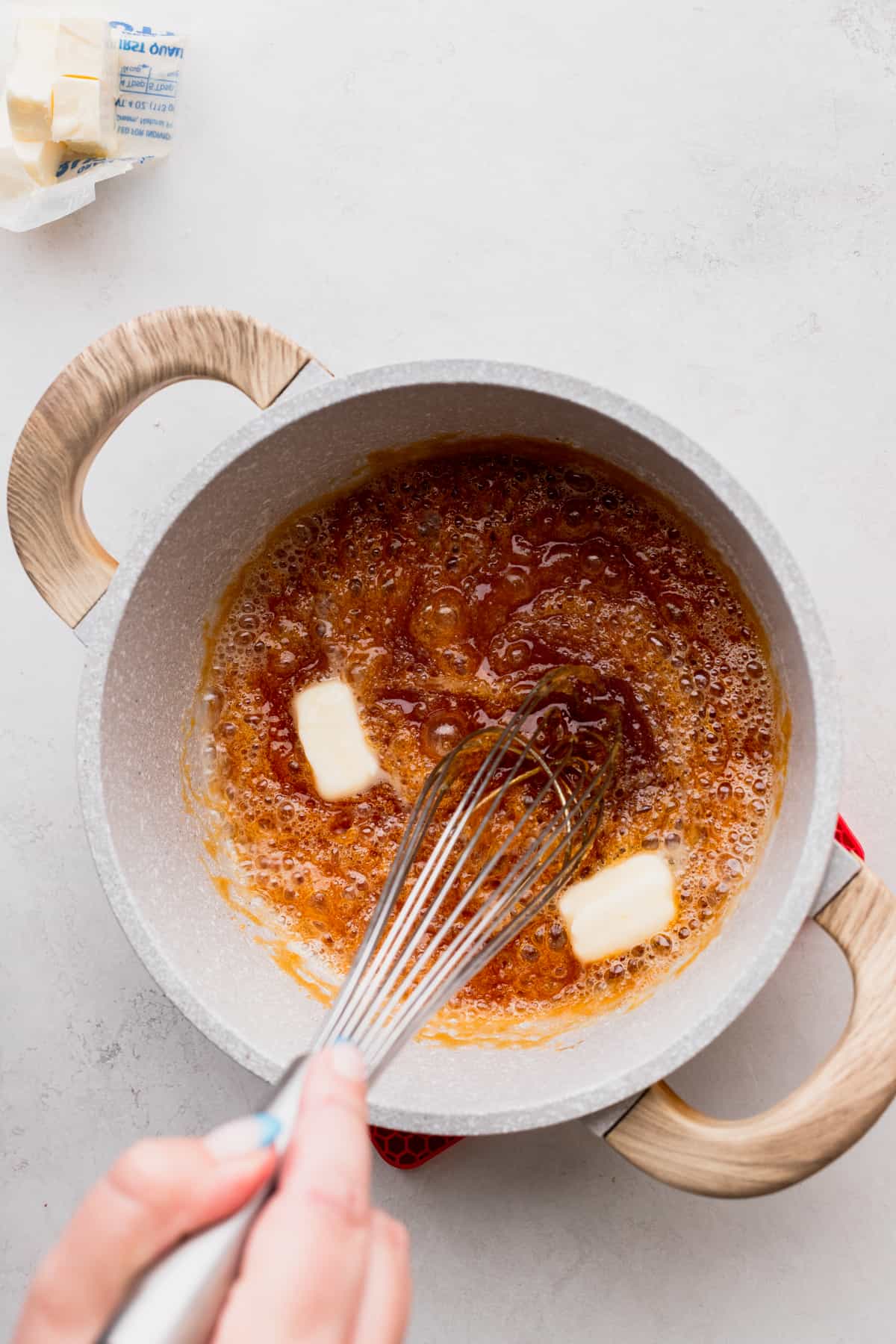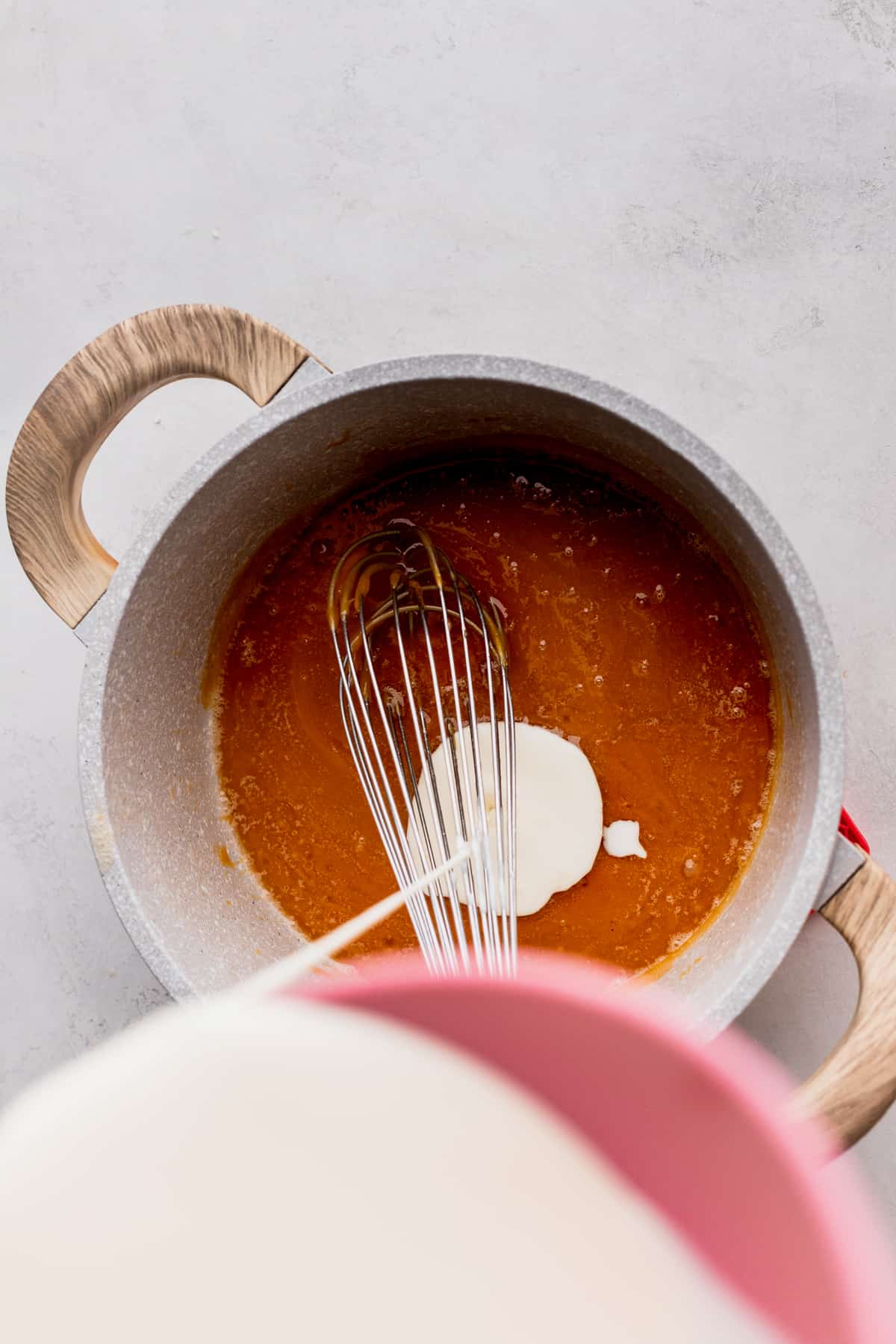 STEP 4: Add the salt and vanilla. Add both of these in at the end of making the caramel. Once it is added, more immediately into a glass jar.
Let it cool completely before using on any desserts.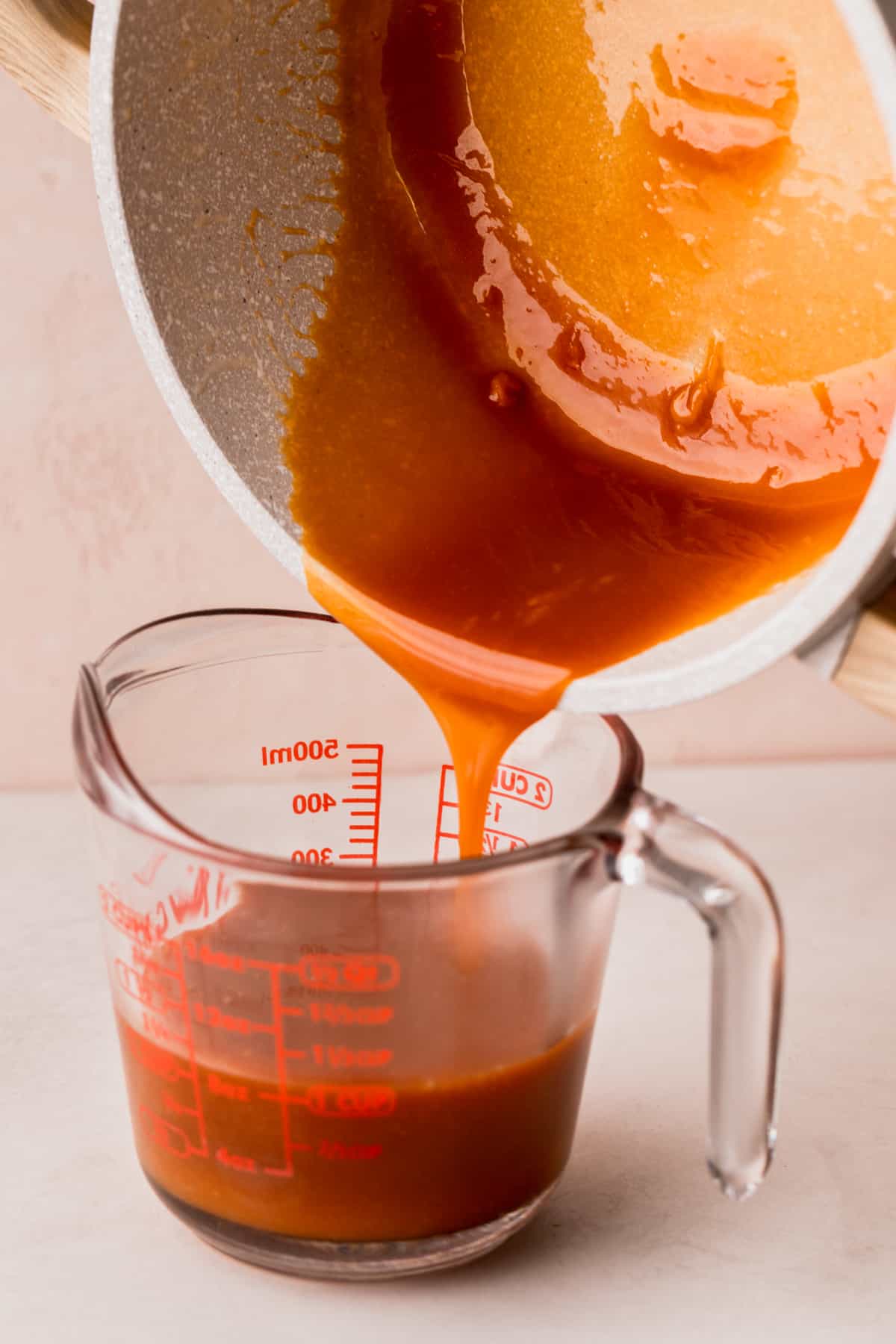 Expert Baking Tips
When I know I need a lot of caramel especially during fall baking season, I will make a double batch of caramel. It can last up two weeks in the fridge.
Cleaning the pan after making caramel is the hardest part! Use a ton of hot water and patience to clean the pan!
FAQ
My caramel seized up! What do I do?
Place caramel back on the burner and heat. Stir until the caramel loosens up. This has happened to me before, but this has helped!
How can I use cold caramel?
Place the caramel into the microwave and heat for 15 seconds and stir. It will quickly thin out. I also make sure the caramel is thin before using in desserts.
My caramel tastes burnt.
Unfortunately this is because you let the sugar sit too long on the heat. It is really easy to burn the caramel, especially the first time you make it.
My caramel is crystalized.
This is because you didn't let the sugar completely melt before adding the butter. Also if you add cold butter or heavy cream, it can also seize up the caramel.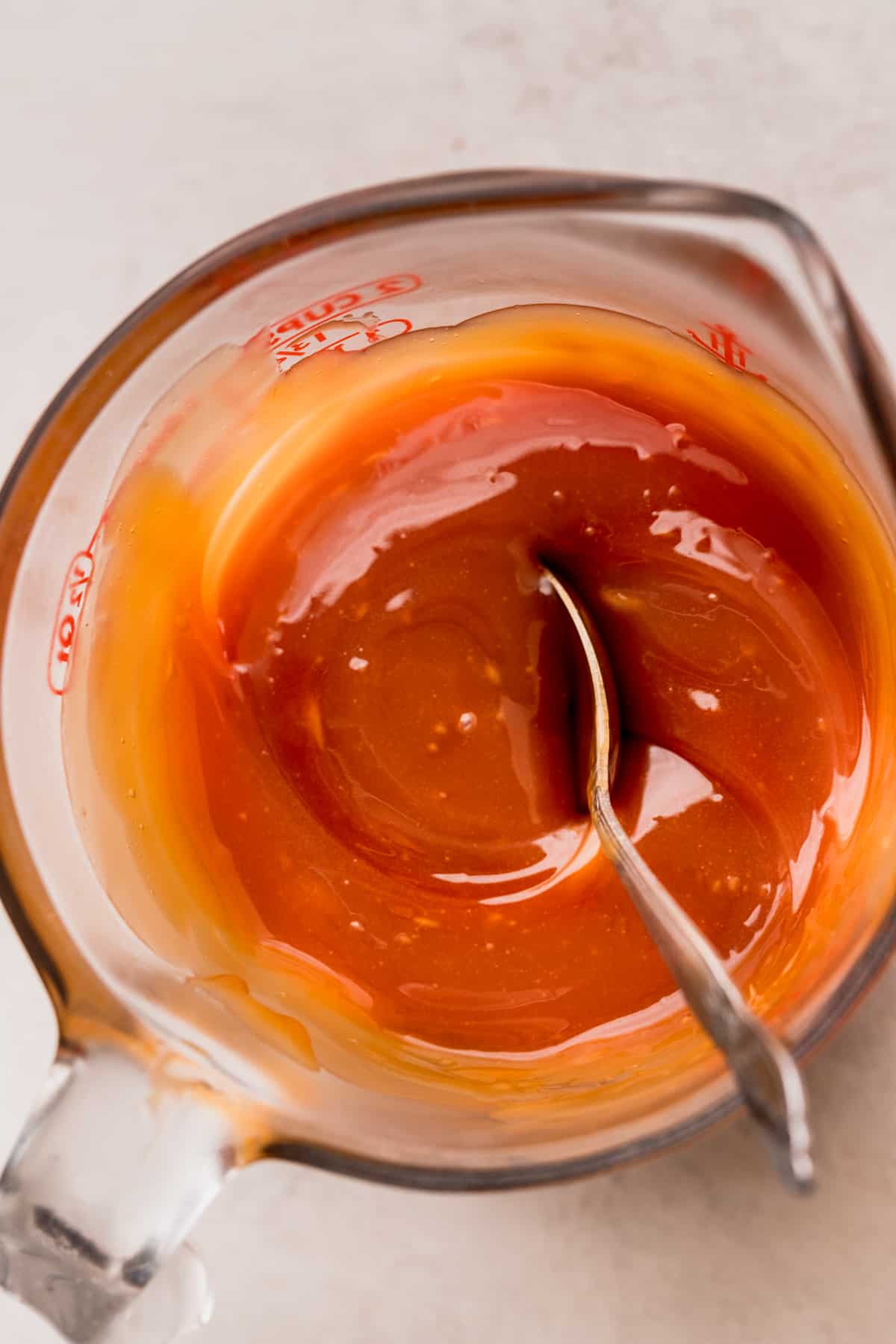 Storing and Freezing
Store the salted caramel in the fridge in an airtight container. Store up to 2 weeks in the fridge.
Freezing
You can freeze salted caramel. Store in an airtight container (once it is cooled completely) and freeze. It will last up to 3 months.
Place the caramel on the counter for a few hours to thaw.
Other Salted Caramel Recipes To Try
Make sure to leave a STAR REVIEW if you loved this recipe! Make sure to tag me on Instagram @stephaniesweettreats. To get more ideas follow me on Pinterest.
📖 Recipe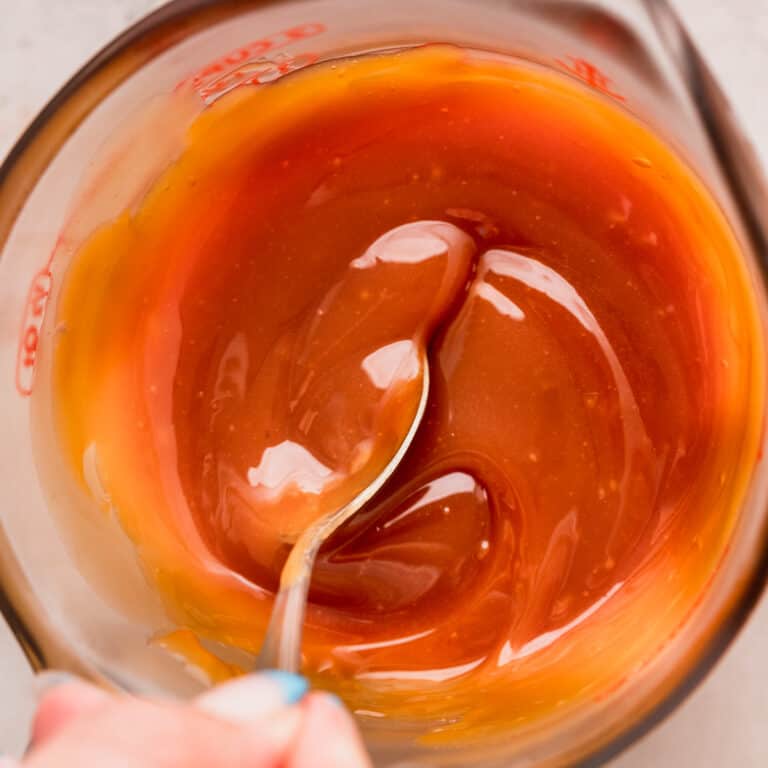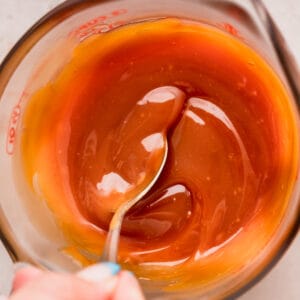 Homemade Salted Caramel
This recipe is how to make salted caramel easily! This recipe is super full of butter and cream.
Ingredients
1

cup

White granulated sugar

5

tablespoon

Unsalted butter

room temperature. Cubed.

½

cup

Heavy cream

room temperature

1

teaspoon

Salt

½

teaspoon

Pure vanilla extract
Instructions
In a medium saucepan, over medium heat, pour in the sugar. Let the sugar melt until you start to see it starting to melt. Then, whisk the sugar. Whisk continuously until all the sugar is melted. It will clump at first, but it will smooth out.

1 cup White granulated sugar

Let the melted sugar sit until it turns amber in color. This takes 10-15 seconds. Remove from the heat.

Pour in half of the cubed butter and whisk until melted, it will bubble a lot. Repeat with rest of the butter.

5 tablespoon Unsalted butter

Pour in half of the heavy cream and whisk until combined. Repeat with the rest of the heavy cream. Add the salt and vanilla and mix. Then, pour the hot caramel into a glass container. Let it cool completely before using.

½ cup Heavy cream,

1 teaspoon Salt,

½ teaspoon Pure vanilla extract
Nutrition
Calories:
140
kcal
Carbohydrates:
17
g
Protein:
0.3
g
Fat:
8
g
Saturated Fat:
5
g
Polyunsaturated Fat:
0.3
g
Monounsaturated Fat:
2
g
Trans Fat:
0.2
g
Cholesterol:
24
mg
Sodium:
197
mg
Potassium:
11
mg
Sugar:
17
g
Vitamin A:
292
IU
Vitamin C:
0.1
mg
Calcium:
8
mg
Iron:
0.02
mg