Easy Chocolate Chip Cookies- Moist and gooey chocolate chip cookies with a crispy edge.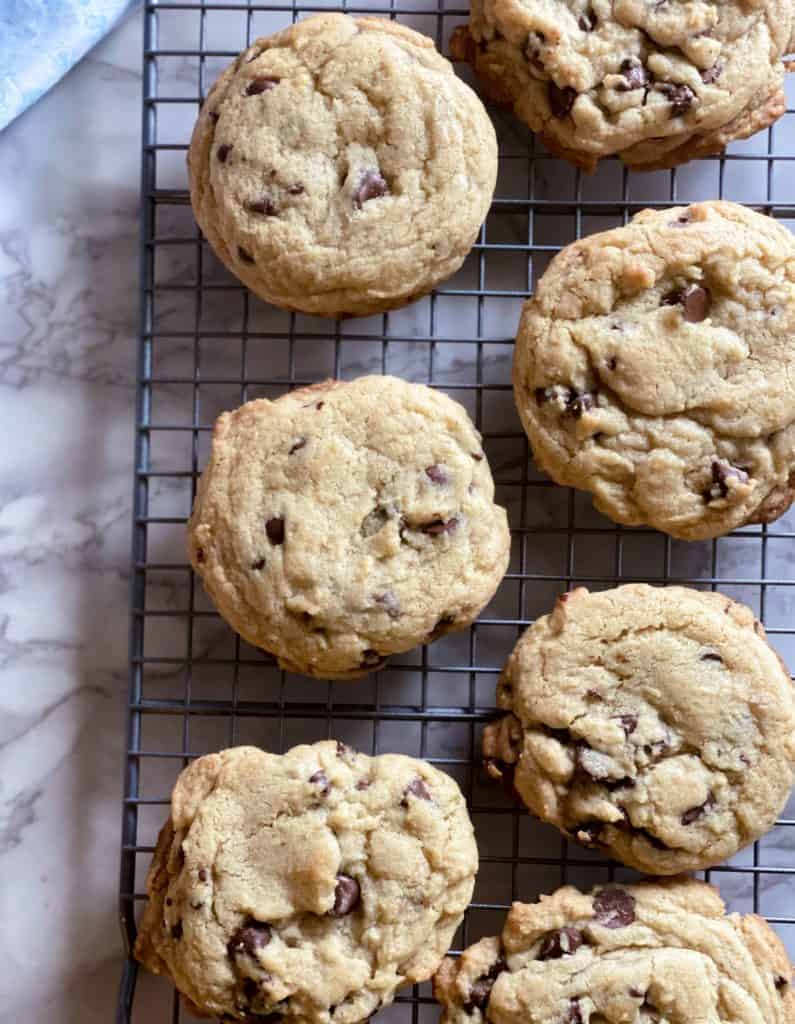 These chocolate chip cookies are so easy. There is extra chocolate, no fancy ingredients, and no fuss. These easy chocolate chip cookies are soft and gooey. They will impress your entire family with their bakery quality. You seriously need to try this recipe out right away!
This blog receives a commission for using Amazon products for the food recipes that I shared with you in my posts. Although I receive a commission for using and linking their products, they are extremely good for my food recipes and all my opinions and suggestions are unbiased.
Why Two Different Types of Chocolate Chips?
When you pull this cookie in half, I want there to be gooey chocolate that spills out. I'm not saying there is a crazy amount of chocolate in these cookies, but I wanted to make sure each bite had chocolate in it.
Regular semi-sweet chocolate chips are delicious, but since they are bigger, the chocolate will sometimes not be as evenly dispersed. To fix that, I added mini chocolate chips. Using both sized chocolate chips means more chocolate in your cookies. If you are anything like me, that is a GREAT thing.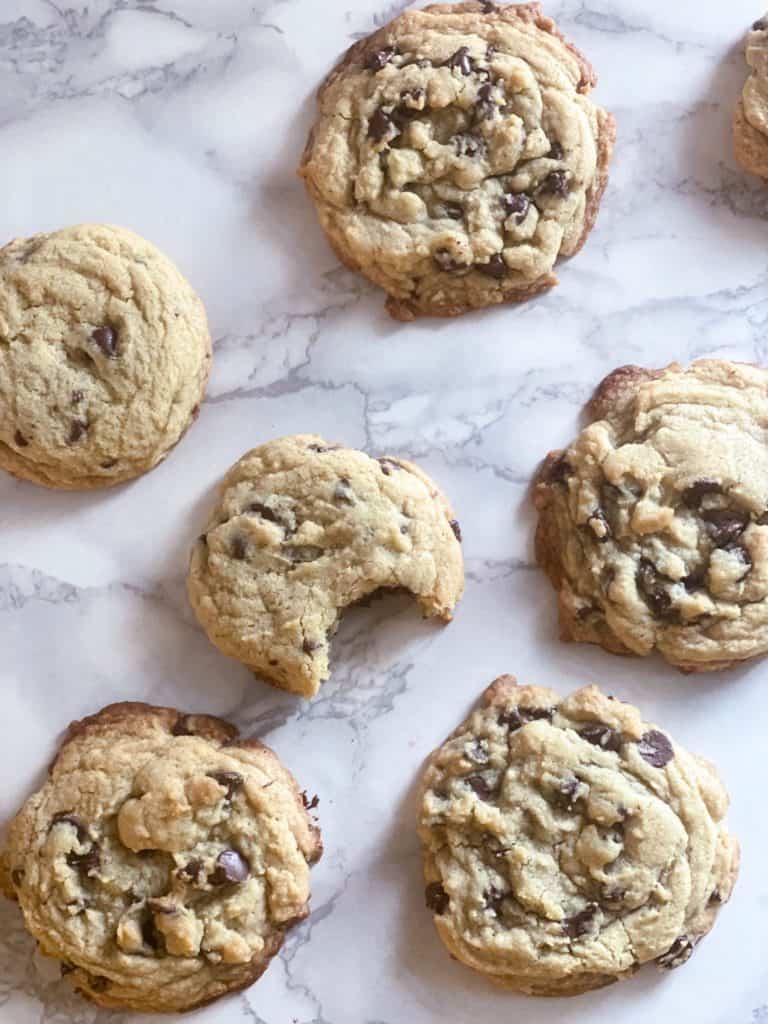 What Makes These Chocolate Chip Cookies SO Soft?
There are two things that make these cookies so soft; brown sugar and cornstarch. Brown sugar is what you normally find in a chocolate chip cookie recipe, but cornstarch is not as common. They both help get that crisp edge while keeping the cookie super soft in the middle
For the brown sugar, I added a whole cup of packed brown sugar. I happened to have light brown sugar, but if you had dark brown sugar that would make it even more soft. The molasses is the reason why adding brown sugar is such a good thing.
Molasses can make a cookie very soft. Think of a properly baked gingerbread cookie. They are supposed to be super soft in the middle. Adding more molasses ( from the brown sugar) to the cookie dough makes it super soft. If you did have dark brown sugar, there is more molasses so it would be even softer.
Cornstarch is an excellent addition to this recipe. Cornstarch is typically used in baking to create a tender texture either in cakes or cookie dough. Using just a little bit of cornstarch helps to break down the gluten in the flour. This all means it makes soft and gooey cookies and that is what we want!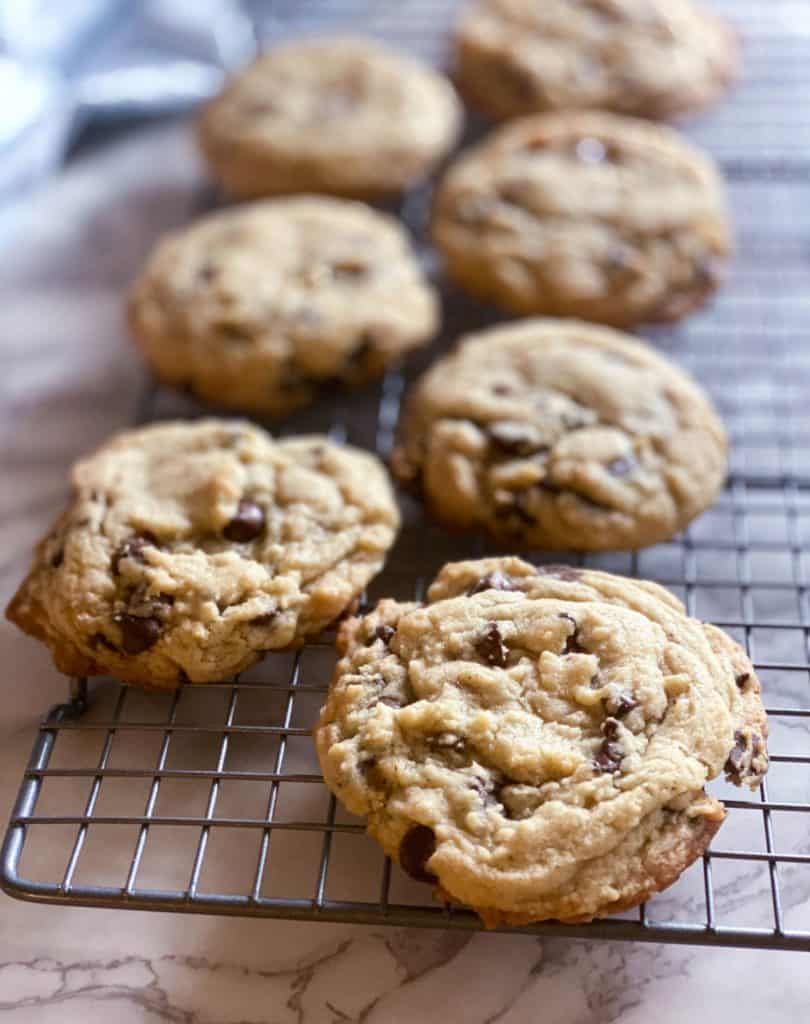 When Is The Best Time To Eat These Easy Chocolate Chip Cookies
My favorite time to eat these cookies is about 15 minutes out of the oven. Not too hot, but still warm enough to get melted chocolate on my fingers. However, we can't eat all 20 cookies right away! To reheat these cookies, warm them for 10-15 seconds in the microwave. To top it off you can serve it with a glass of milk. If it's good enough for Santa Claus, it is good enough for me!
Jump to Recipe
Why Chill This Easy Chocolate Chip Cookie Dough
Chilling this dough really helps keep the spread to a minimum. Don't you hate when you bake what you thought were perfect cookies, but you pull them out of the oven to see they spread out way too much and were flat and crispy? I know I do!
All this cookie dough needs is a quick chill in the fridge, about 30 minutes. 30 minutes is perfect. It isn't too much time waiting for delicious cookies and the dough becomes just set.
The reason for all of that is to chill all the butter in the dough. By chilling the butter it makes it less likely to spill out the sides of the cookie. Think of it like marinating chicken. You want all the yummy seasoning and moisture to set before grilling the chicken right? Same with cookie dough. Chilling is a must!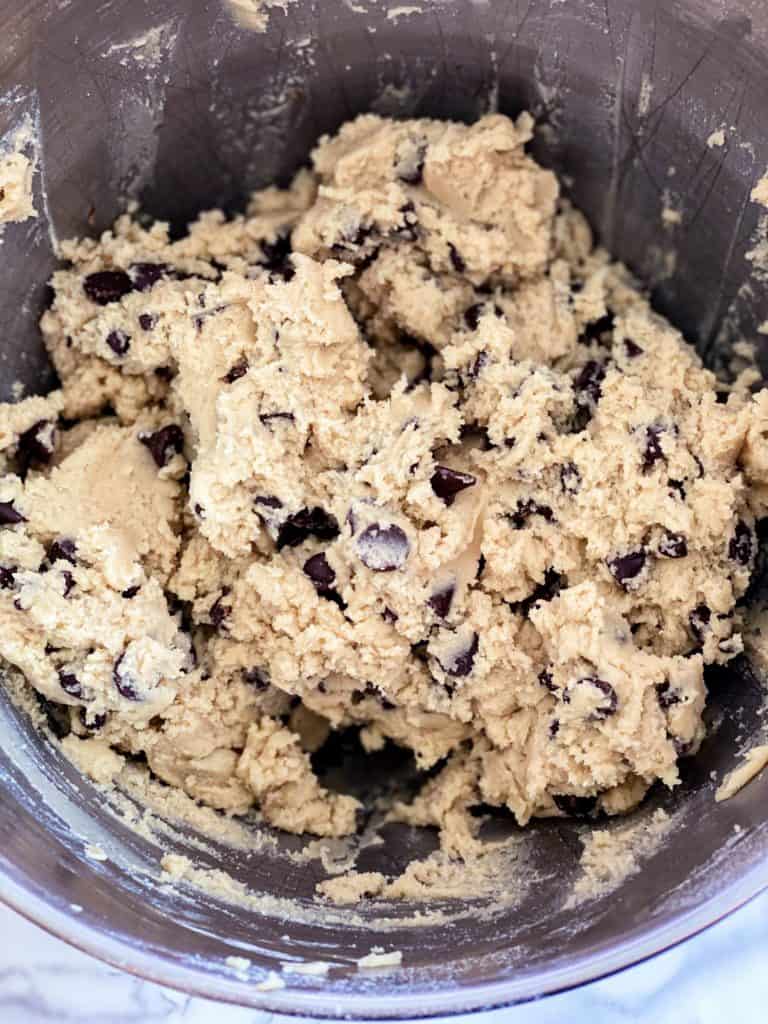 How To Make These Easy Chocolate Chip Cookies.
Start with sifting the dry ingredients together, the flour, baking soda, salt and corn starch, and then set aside. If you are looking for a great new sifter, I recommend this one. I use this one every single time I sift my dry ingredients. I love it.
In a mixing bowl, cream together the butter and both sugars. The butter-sugar mixture will become light in color and form a more paste-like texture. At this point, scrape down the sides of the bowl and add in the eggs one at a time. Next, add the vanilla.
Slowly add the dry ingredients into the wet ingredients. I do this by using a measuring cup and scooping some flour into the mixture. Once it becomes more incorporated (once I start seeing more dough than flour) I will add more flour until it is all mixed in.
The best part of the whole dough: the chocolate chips! Gently fold in both the regular and the mini chocolate chips. Cover the bowl and chill for 30 minutes
Time To Bake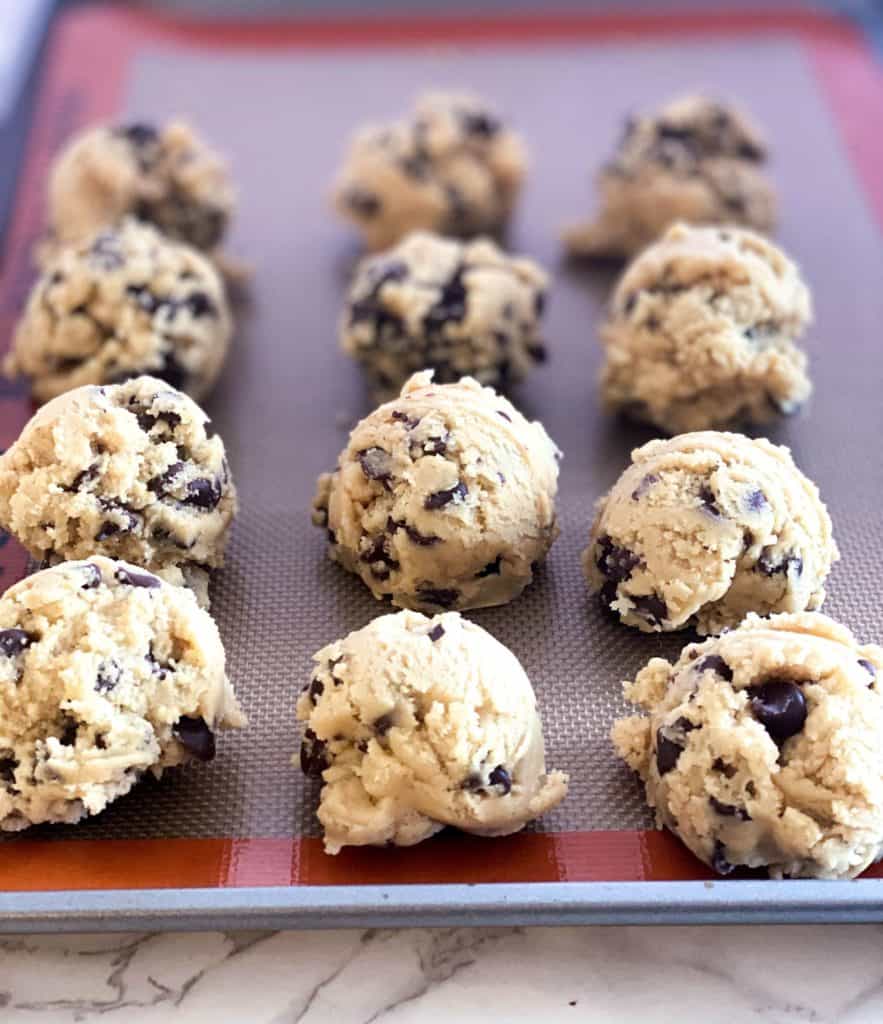 Preheat the oven to 350F. Get out 2 cookie sheets and line them with either parchment paper or silicone baking sheets. I recommend this one. This is the same one you see in the picture above. For big cookies, use an ice cream and scoop out 6 per baking sheet, it should make about 16 cookies. For smaller cookies, use a 1 inch cookie scoop and scoop out 12 per baking sheet, it should make about 3 dozen cookies.
Bake these cookies for 11-14 minutes, or until the edges of the cookie are golden brown. Let the cookies sit for 3 minutes on the cookie sheet once finished. This will allow the cookies to set and be much easier to move to the cooling rack!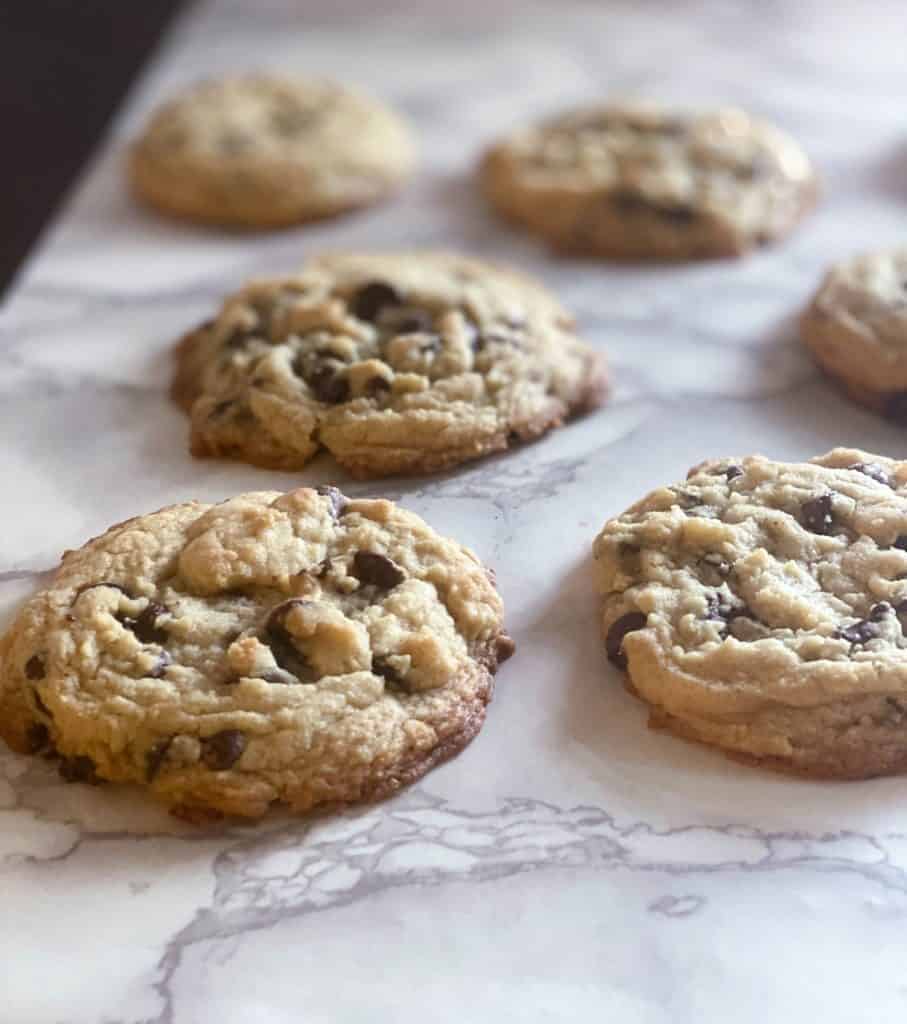 These cookies are so good, guys. I really hope you try them out and get to see for yourselves! If you do, either comment below or tag me on instagram @stephaniesweettreats so I can see how it turned out! Also, be sure to repin this to pinterest, just use any of my pictures on this post. Enjoy!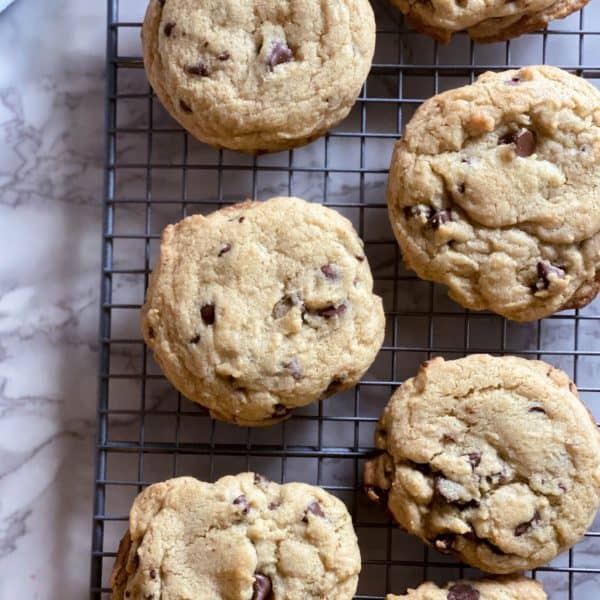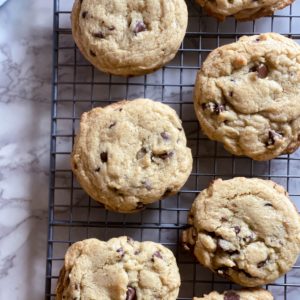 Easy Chocolate Chip Cookies
These soft chocolate chip cookies are very easy to bake. They are very soft with extra brown sugar and corn starch. These cookies are so super chocolaty with both regular and mini chocolate chips. This is the perfect chocolate chip cookie!
Ingredients
2 ½

cup

All-purpose flour

1

teaspoon

Baking soda

1

teaspoon

Salt

2

teaspoon

Cornstarch

1

cup

Butter

room temperature

1

cup

Packed light or brown sugar

½

cup

White sugar

2

Eggs

room temperature

1

teaspoon

Pure vanilla extract

1 ¾

cup

Semi-sweet chocolate chips

¼

cup

Mini chocolate chips
Instructions
Sift together flour, baking soda, salt, cornstarch in a medium sized bowl. Set aside.

Cream together butter and both sugars in a mixing bowl on medium. On low, add in eggs one at a time. Make sure the egg is mixed in well before adding the next. Stir in vanilla. Slowly add in dry ingredients until all combined. Fold in all chocolate chips.

Cover bowl and place in fridge for 30 minutes. After cooling preheat oven to 350F. Place parchment paper or silicone baking sheets on 2 large cookie sheets. Use an ice cream scoop to make large cookie scoops. Just place each scoop on the cookie sheet, don't mold the dough, 3 inches apart. Bake for 11-14 minutes. The cookies are done when the edges are golden brown. Let cookies sit for 3 minutes on the cookie sheet. Then, transfer to a cooling rack.
Nutrition