This tiramisu cheesecake is packed with espresso. It has an Oreo and ladyfinger crust filled with a brown sugar espresso cheesecake. On top are ladyfingers soaked in espresso and piped whipped cream cheese. This tastes like a non-alcoholic tiramisu in cheesecake form! If you love espresso, you will love this.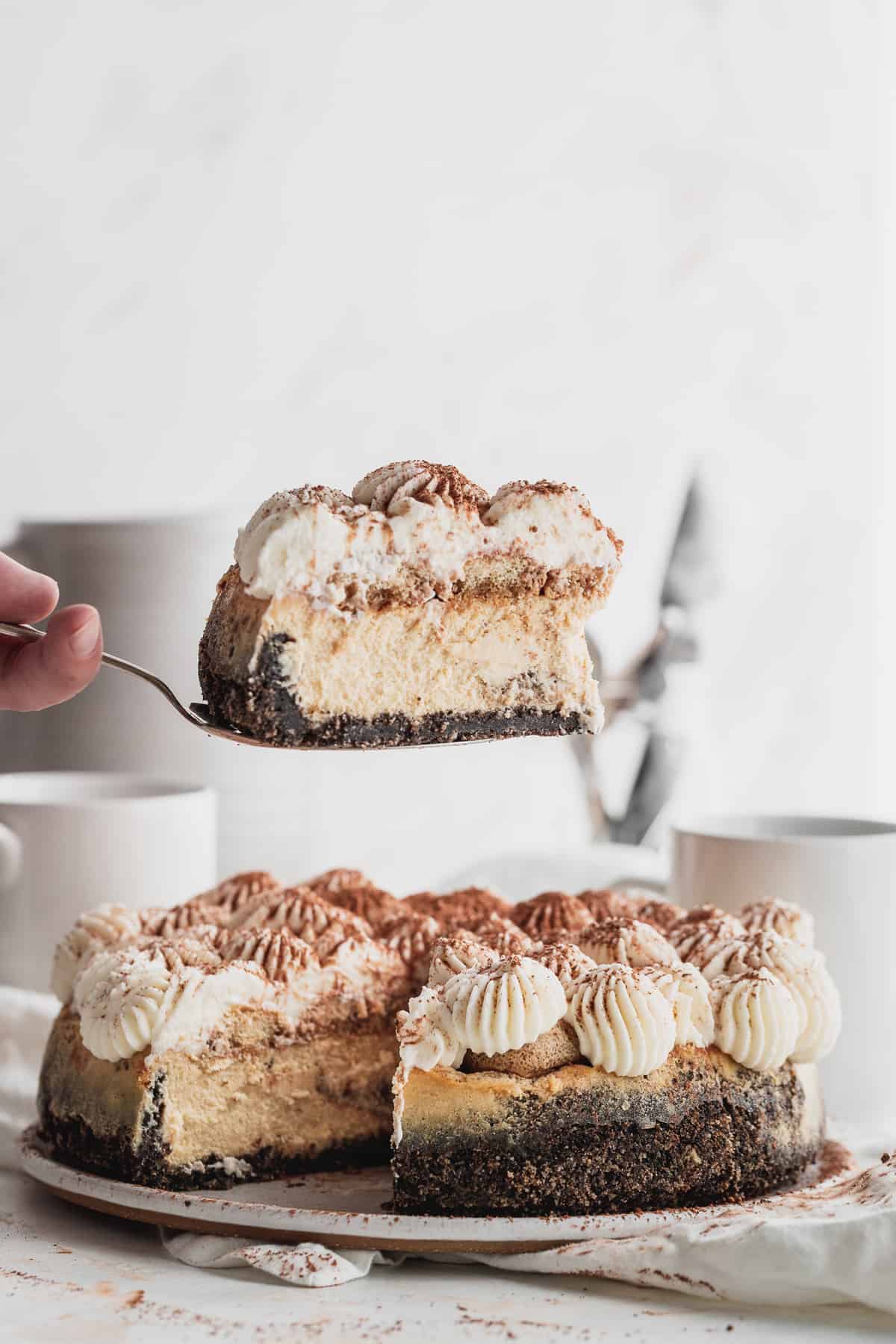 This tiramisu cheesecake is perfect if you love espresso! The cheesecake has a strong espresso flavor. The ladyfingers are soaked in espresso.
If you are looking more cheesecake recipes, try Ultimate Triple Chocolate Cheesecake, Cinnamon Roll Cheesecake, and No Bake Chocolate Cheesecake.
Why You Will Love This Tiramisu Cheesecake Recipe
Oreo and ladyfinger crust- The crust has both blended to get it the perfect chocolate crust.
Tiramisu dessert- This recipe is perfect if you love both tiramisu and cheesecake. It is best f both worlds!
Espresso creamy cheesecake- The cheesecake is baked with espresso. It still has a strong flavor even when baked!
Ladyfinger topping- On top of the baked cheesecake are ladyfingers soaked in espresso. Just like a tiramisu!
Whipped cream cheese- Tiramisu always has a whipped cream in it. So, this is topped with a whipped cream cheese that goes perfect with the cheesecake!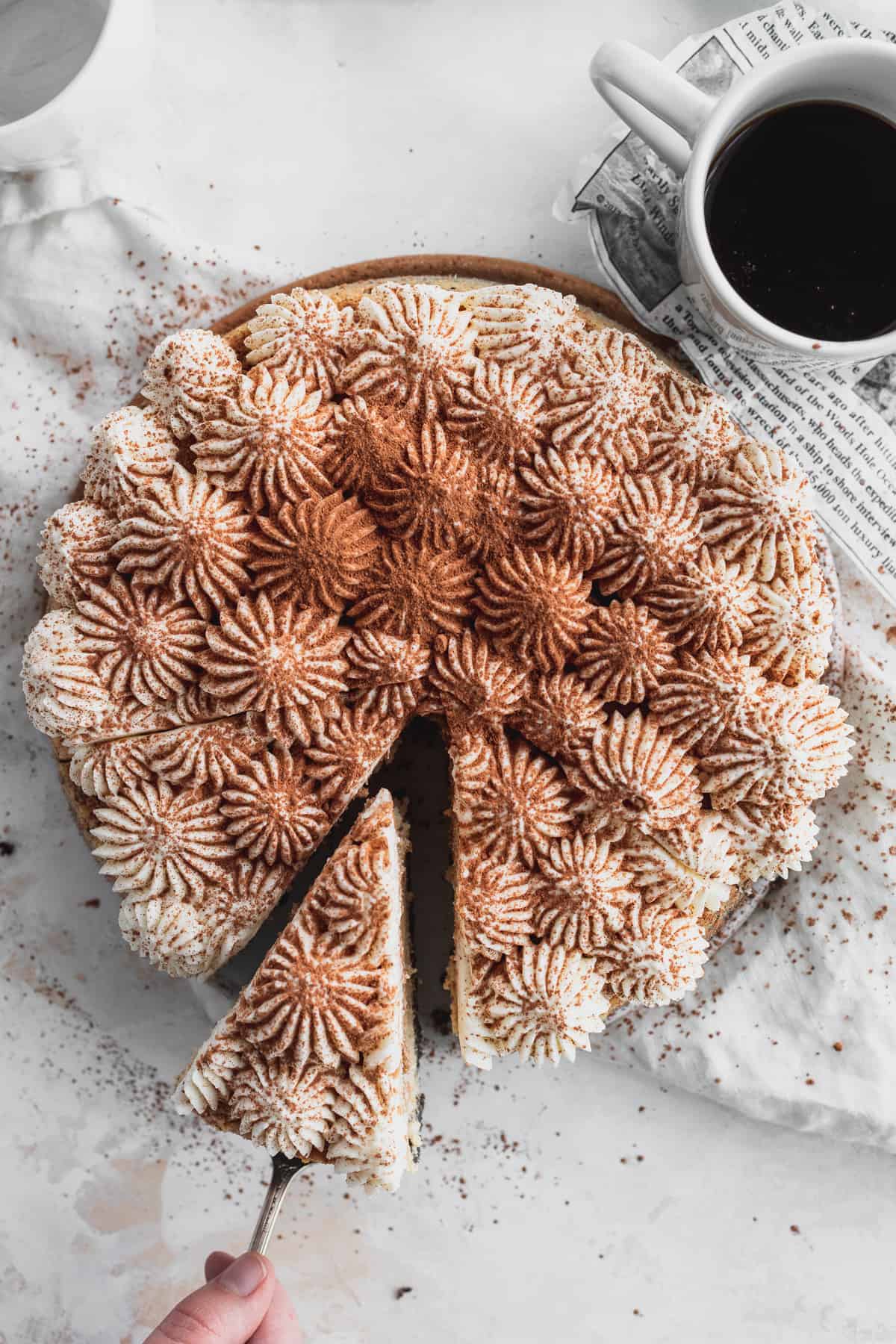 Ingredient Notes for Tiramisu Cheesecake
Dairy ingredients- Pull those out 2 hours before baking.
Oreos- Use regular Oreos and not double stuff. Double stuff Oreos will have too much moisture for the crust.
Ladyfingers- The ones I used, I got already made from the grocery store.
Cream cheese- Use full fat cream cheese.
Brown sugar- I used light brown sugar.
Sour cream- Use full fat sour cream. You can also use greek yogurt.
Espresso- Use a high quality espresso.
Ingredient Substitutions
Gluten free- I haven't tested this gluten free. Let me know if you do.
Step By Step Instructions
Here is how to make and bake this cheesecake.
STEP 1: Oreo and ladyfinger crust. Use a food processor to blend the Oreos and ladyfingers into fine crumbs. Then, add extra espresso powder and melted butter and mix in a medium bowl.
Next, bake the crust for 10 minutes. Baking the crust before adding the batter, prevents a soggy crust.
STEP 2: Beat cream cheese and brown sugar. Beat these on high until fluffy and soft.
This recipe is best made using a stand mixer. However, you can use a hand mixer.
STEP 3: Mix in the wet ingredients. Next, add in sour cream, vanilla extract, espresso, and heavy cream. Make sure to scrap the sides of the bowl with a rubber spatula.
STEP 4: Add in the eggs. Now, add the eggs in one a time on low speed. The goal is to mix as little air into the cheesecake batter as possible.
STEP 5: Bake the cheesecake. Bake the cheesecake for 65-75 minutes. Use a water bath. See below.
STEP 6: Chill. Chill the cheesecake overnight for best results. It needs at least 6 hours of chill time.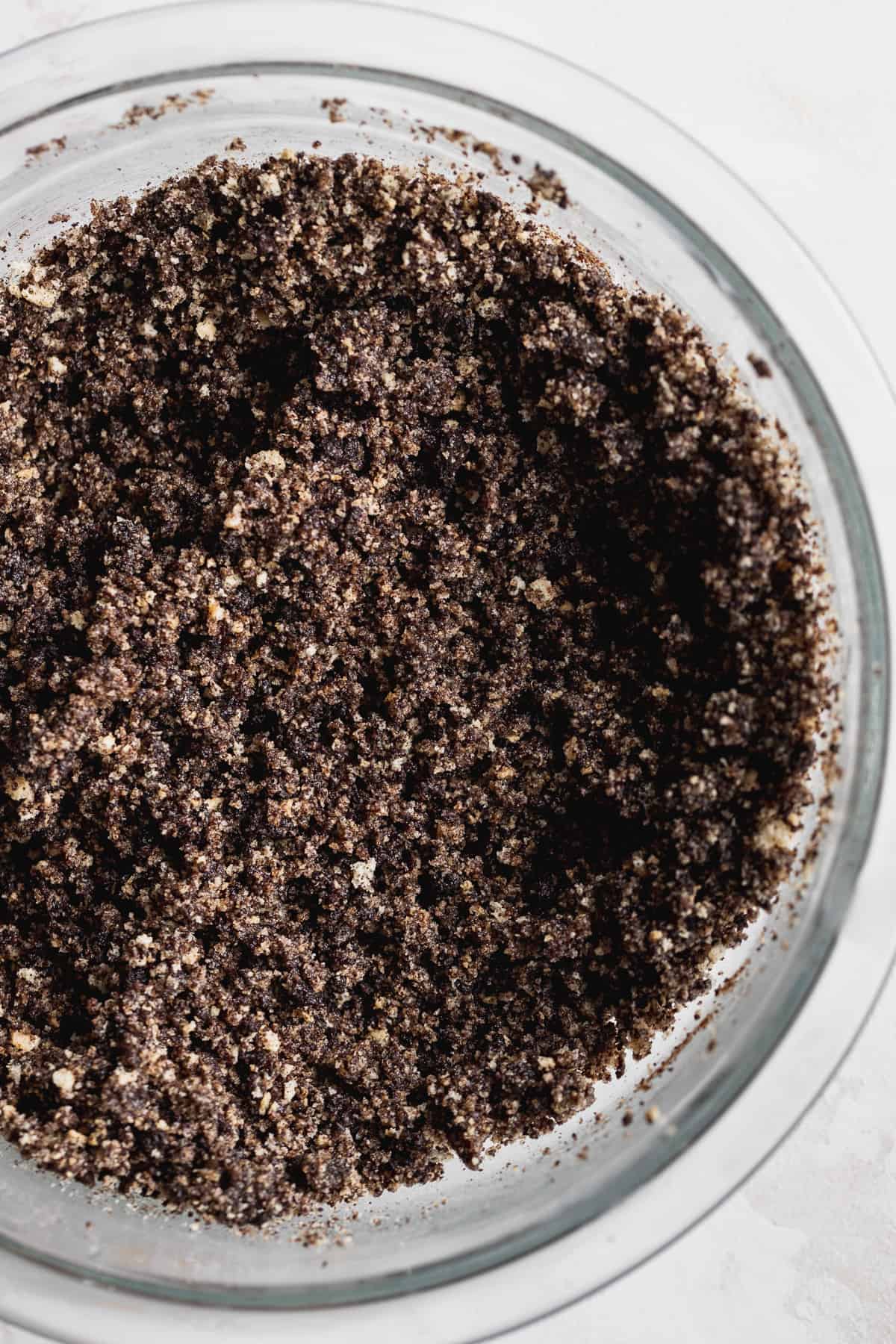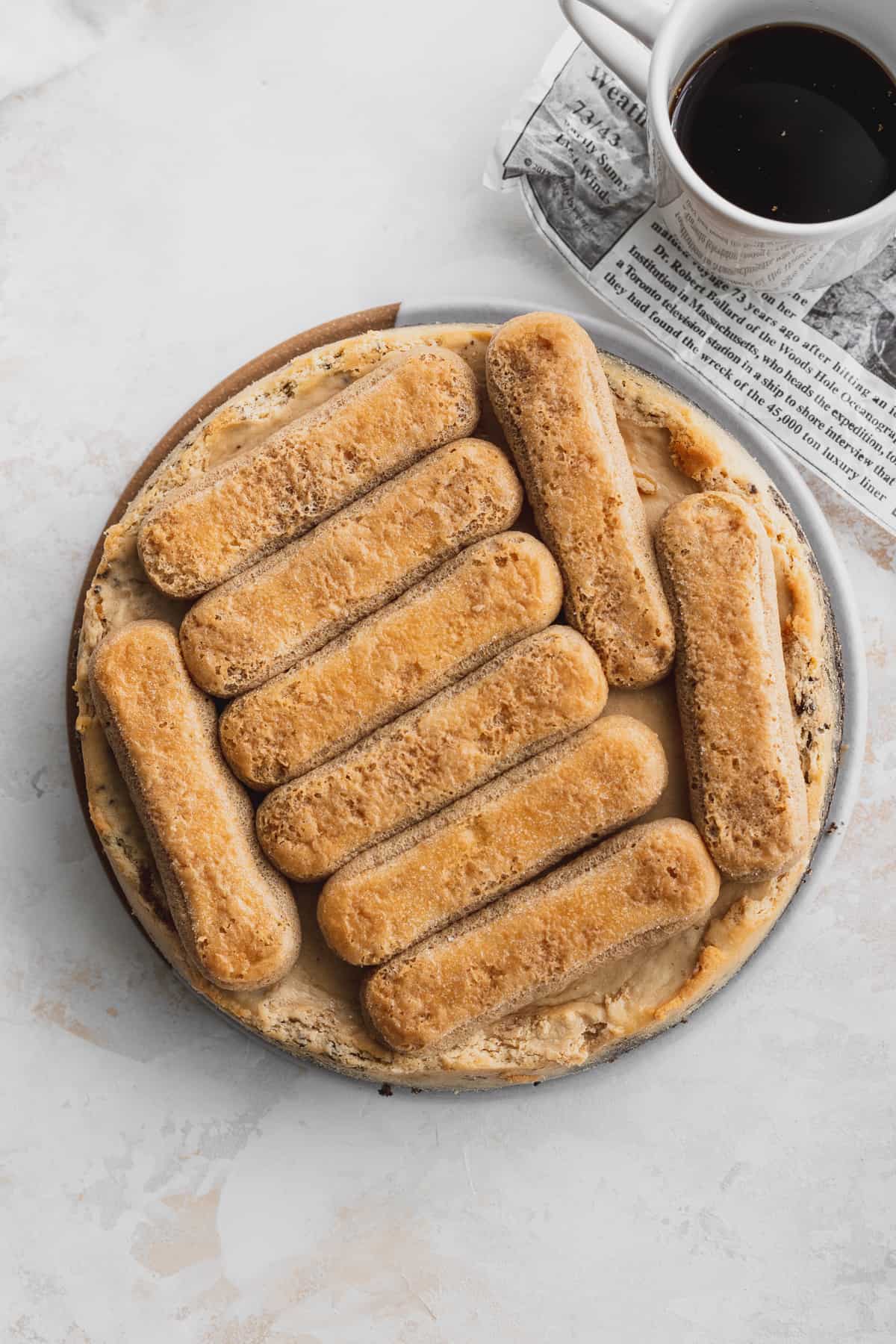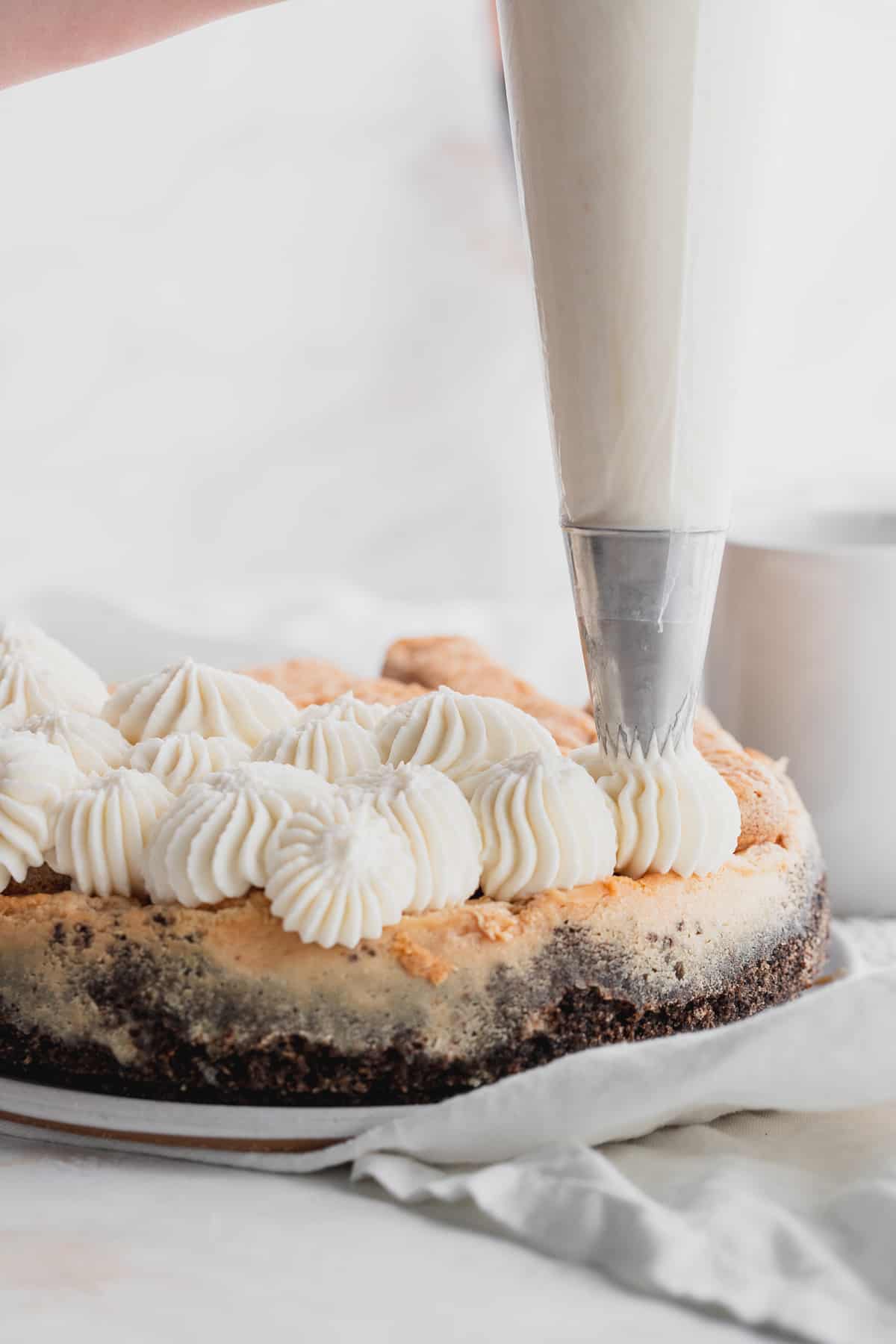 STEP 7: Ladyfingers. Next, lightly soak the ladyfingers in espresso in a large bowl and place on top of the cheesecake layer in a single layer. Make sure they aren't too soggy.
STEP 8: Whipped cream cheese. Mix the cream cheese, powdered sugar and vanilla. Beat the heavy whipping cream on high until stiff peaks form.
Fold the whipped cream into the cream cheese mixture. Be very gentle to not knock any air out.
STEP 9: Decorate the cheesecake. Pipe the whipped cream cheese on top of the ladyfingers. I used this tip. Top with a dusting of cocoa powder.
Expert Baking Tips
To prevent cracks in the cheesecake:
Beat the cream cheese and sugar on high. If there any lumps in the batter, it can cause cracks.
Add the eggs in on low. The goal is as little as air as possible here. This prevents air bubbles that can cause the cheesecake to rise and collapse rapidly while baking.
Use a water bath. See below. A water bath provides a moist environment for the cheesecake to bake. A dry cheesecake can cause cracks.
Don't over bake. There should be a slight jiggle in the middle and the edges will be set.
Let the cheesecake rest. Letting the cheesecake sit in the hot oven for 30 minutes to slowly cool will prevent cracks. Prop the oven door with the oven off. Then, let it cool completely on a wire rack.
Water Bath
I have 2 different water bath techniques for you. No matter which on you use, you need a large roasting pan and hot steaming water.
The first method is my favorite. Take the spring form pan and place a 10 inch cake pan in. The cake pan will protect the cheesecake from any water coming in. Place the cake pan inside the roasting pan. Pour hot water into the roasting pan about halfway up the cake pan.
Wrap the spring form pan with aluminum foil twice very tightly. It needs to be tight, to prevent water from coming in. Then, place spring form pan inside the roasting and fill halfway with hot water. I prefer the first method because sometimes water creeps inside the foil and it isn't air tight.
How To Easily Remove Cheesecake From Pan
First, spray the 9 inch springform pan with baking non-stick spray. Place a 9 inch parchment paper circle on the bottom of the pan. Then, spray the pan again with the baking spray.
After the cheesecake is done chilling, pop the ring off the cheesecake. Tilt the cheesecake on its side to take off the bottom part of the pan and remove the parchment circle. It should come right off.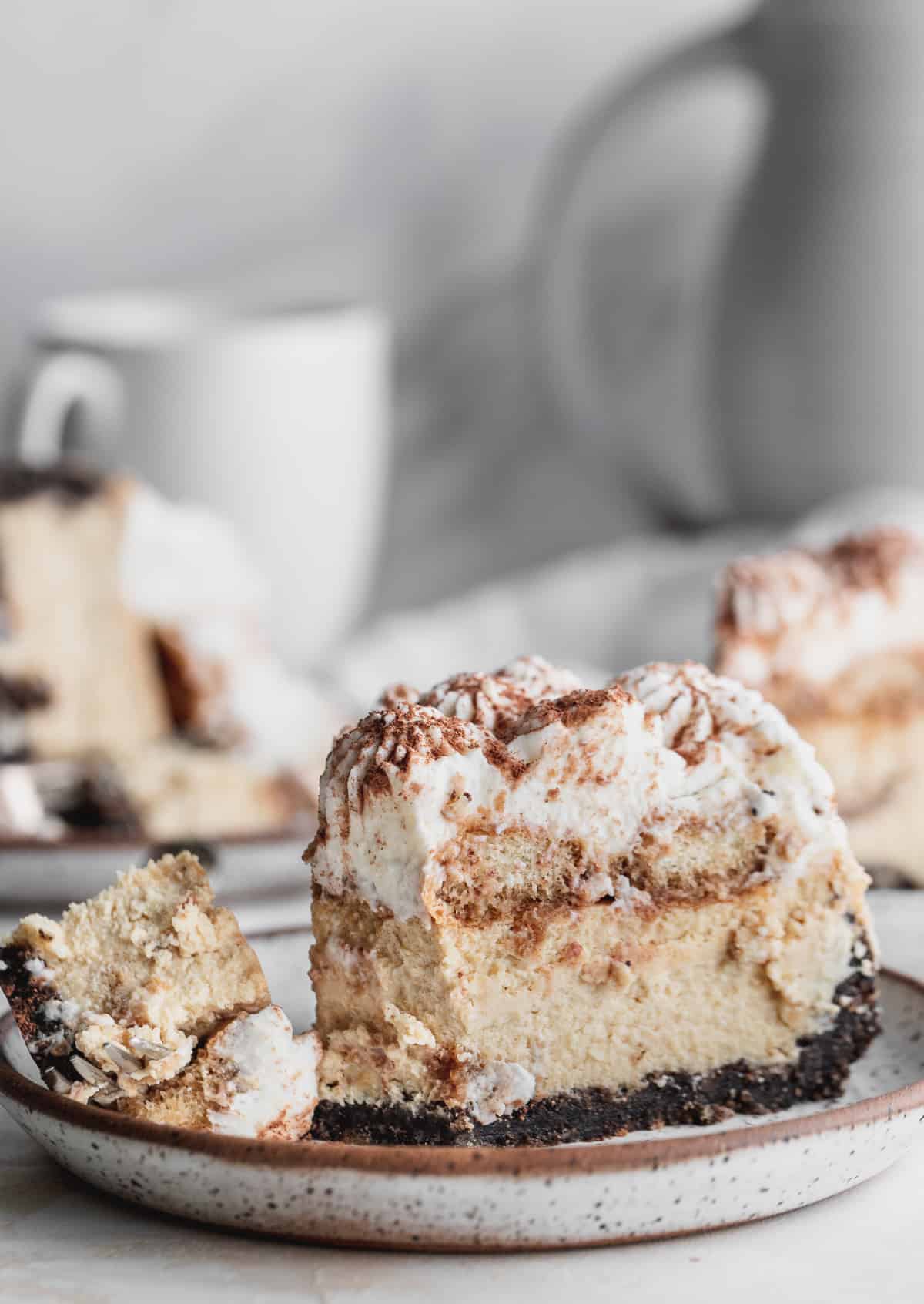 FAQ
Can this be made as a mini cheesecake?
Yes it can! Divide the recipe in a quarter. Bake in a muffin tin. It won't need a water bath.
Is tiramisu the same as coffee cake?
No it isn't. Coffee cake has coffee in it. Tiramisu is an Italian dessert that has ladyfingers, espresso, and cream.
Can kids eat Tiramisu?
Yes they can! There is no alcohol in this. There is a strong coffee flavor, but they can eat it!
Can I use instant espresso powder?
Yes you can!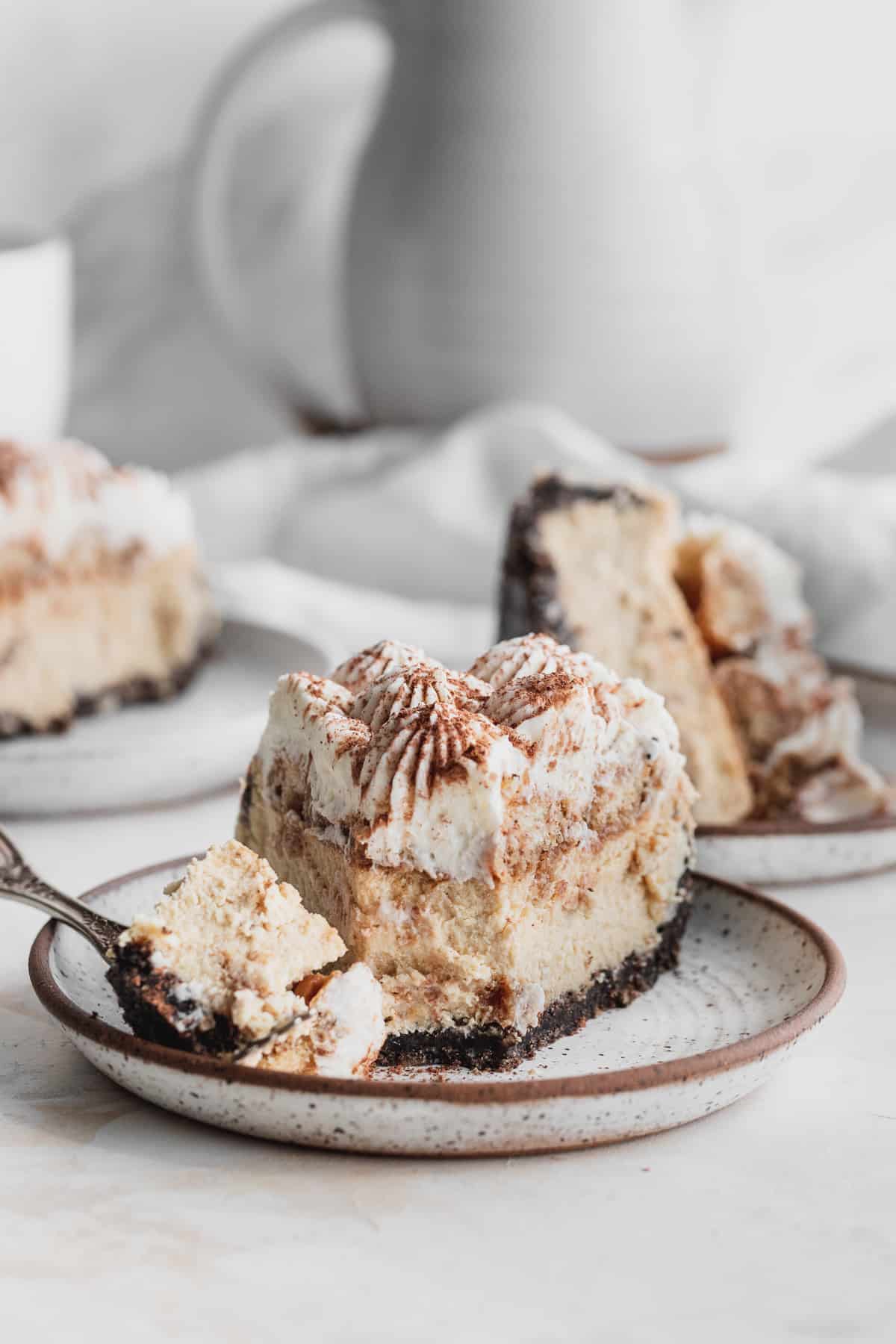 Recipe Variations
To save time, you can skip the ladyfinger topping.
You can also just do Oreo or just lady finger crust.
Special Tools
Storing and Freezing
Store this tiramisu cheesecake in the fridge in an airtight container. Store up to 5 days.
Freezing
The tiramisu cheesecake can be frozen before it is decorated. Wrap in cling wrap and freeze for 30 days.
To thaw, take the cheesecake and put it in the fridge. Let it thaw for 1-2 days.
You can also place on the counter at room temperature, let it thaw for 1-2 hours.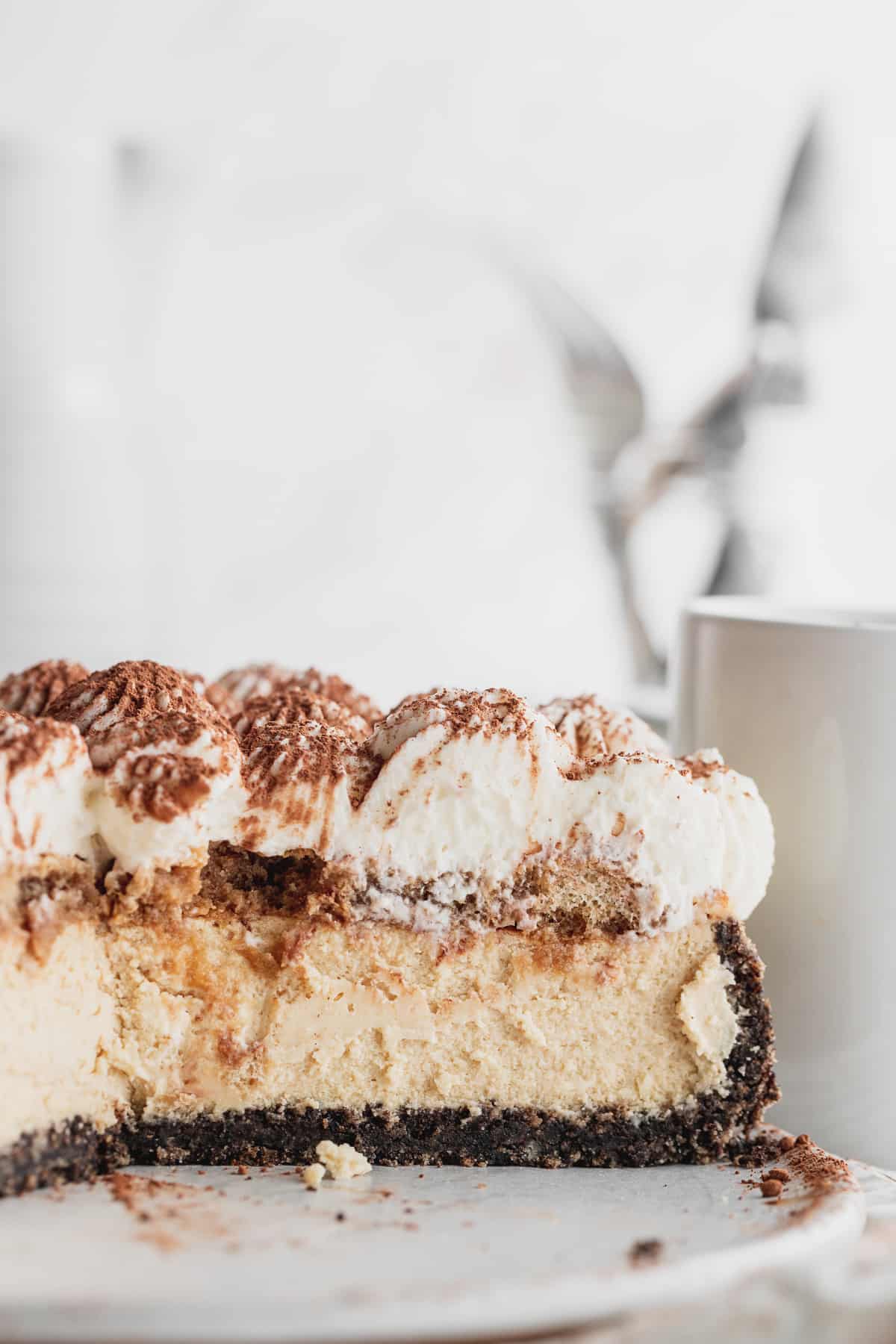 Other Cheesecake Recipes To Try
Try These Cheesecake Desserts
Make sure to leave me a star review below!
Make sure to tag me on Instagram @stephaniesweettreats. I hope you loved it! To get more ideas follow me on Pinterest.
📖 Recipe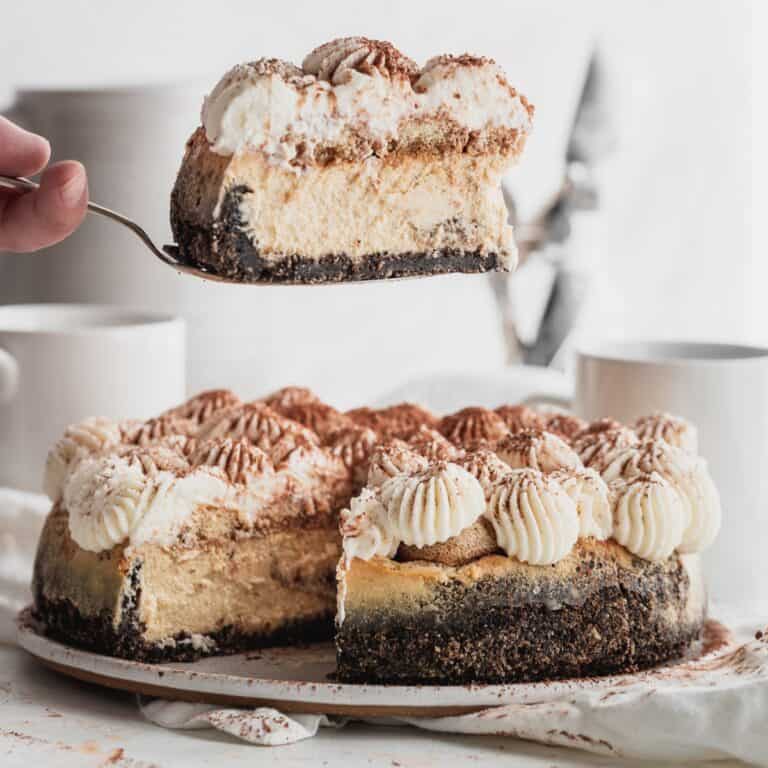 Tiramisu Cheesecake
This tiramisu cheesecake is for all the espresso lovers! It has an Oreo and ladyfinger crust with a creamy brown sugar espresso cheesecake. It is topped with espresso soaked ladyfingers and whipped cream cheese.
Ingredients
The Crust
14

Oreos

crushed into fine crumbs

12

Ladyfingers

crushed into fine crumbs

1

teaspoon

Espresso powder

½

cup

Unsalted butter

melted
Espresso Cheesecake
32

oz

Cream cheese

room temperature

1

cup

Brown sugar

packed light or dark

2

teaspoon

Pure vanilla extract

½

cup

Sour cream

room temperature

⅓

cup

Prepared Espresso

room temperature

⅛

cup

Heavy cream

room temperature

4

Large eggs

room temperature
Whipped Cream Cheese
1

cup

Prepared espresso

9

Ladyfingers

8

oz

Cream cheese

room temperature

1 ½

cups

Powdered sugar

sifted

1

teaspoon

Pure vanilla extract

1

cup

Heavy cream

cold

¼

cup

Cocoa powder

for dusting
Instructions
The Crust
Crush Oreos and lady fingers in a food processor until fine crumbs. In a small bowl, combine Oreo crumbs, lady finger crumbs, espresso powder, and melted butter.

14 Oreos,

12 Ladyfingers,

1 teaspoon Espresso powder,

½ cup Unsalted butter

Preheat oven to 325F. Spray a 9 inch spring form with non-stick spray. Place a 9 inch parchment circle on the bottom and spray again. Place crumbs in the bottom and up half the sides of the pan using your hands. Then, use a ¼ cup measuring cup to compact the crust.

Bake crust for 10 minutes.
Espresso Cheesecake
Once crust starts cooling, start cheesecake mixture. Using a mixer, beat cream cheese for 1 minute until light and fluffy. Beat in the brown sugar for another 1 minute. Scrape the bowl.

32 oz Cream cheese,

1 cup Brown sugar

Mix in vanilla, heavy cream, sour cream, and espresso. Scrape the bowl. Mix in eggs one at a time on low.

2 teaspoon Pure vanilla extract,

½ cup Sour cream,

⅓ cup Prepared Espresso,

⅛ cup Heavy cream,

4 Large eggs

Pour cheesecake batter into pan. Prepare a water bath.

Water Bath Options:

1. Place springform pan in a 10 inch cake pan. Place cake pan in a roasting pan. Fill the roasting pan up half way up the cake pan with hot steaming water.

2. Wrap springform pan in foil tightly twice. Place pan in the roasting pan. Fill half way up with hot steaming water.

Bake cheesecake for 65-75 minutes. The cheesecake is done baking when the edges are set and the middle has a slight jiggle. If it is too jiggly, then bake for another 5 minutes and check again.

Turn off the oven, crack open the door and let the cheesecake slowly cool for 30 minutes. Take cheesecake out of the oven and place on a wire rack. Let it cool completely before covering and chilling in the fridge for 6 hours over night.
Whipped Cream Cheese
Using a mixer with a paddle attachment, beat cream cheese for 1 minute until light and fluffy. Scrape the bowl. Add in vanilla and sifted powdered sugar. Mix on low until combined, turn to high and mix until smooth.

8 oz Cream cheese,

1 ½ cups Powdered sugar,

1 teaspoon Pure vanilla extract

Place metal bowl and whisk attachment in the freezer for 10 minutes. Then, pour heavy cream in the cold bowl and beat on high until stiff peaks form. Pour whipped cream into the cream cheese mixture. Use a rubber spatula to fold in the whipped cream. Fold gently until cream cheese is mixed in.

Take the spring form pan and take the parchment paper off the crust. Soak the ladyfingers in espresso and place on top of the cheesecake. Pipe whipped cream cheese on top of the ladyfingers. Use a mesh strainer to drizzle cocoa powder on top. Keep cheesecake in the fridge until serving.

1 cup Prepared espresso,

9 Ladyfingers,

¼ cup Cocoa powder
Nutrition
Calories:
599
kcal
Carbohydrates:
52
g
Protein:
8
g
Fat:
47
g
Saturated Fat:
27
g
Trans Fat:
1
g
Cholesterol:
173
mg
Sodium:
359
mg
Potassium:
232
mg
Fiber:
1
g
Sugar:
23
g
Vitamin A:
1715
IU
Vitamin C:
1
mg
Calcium:
128
mg
Iron:
2
mg