Are you team pancakes or waffles? I love both, but especially a good Belgian waffle! These fluffy banana bread waffles are the ultimate Sunday brunch waffle. They combine a fluffy waffle with flavors of a banana bread. No waffle is complete without chocolate chips. These waffles are simply LOADED with flavor.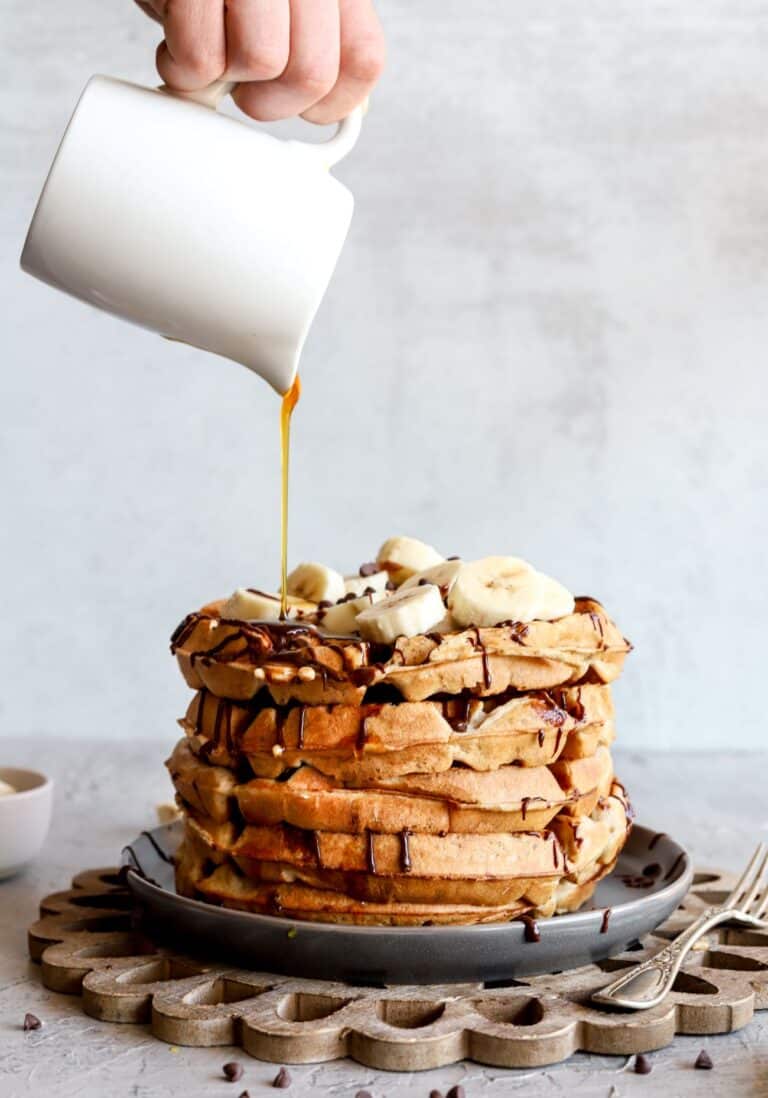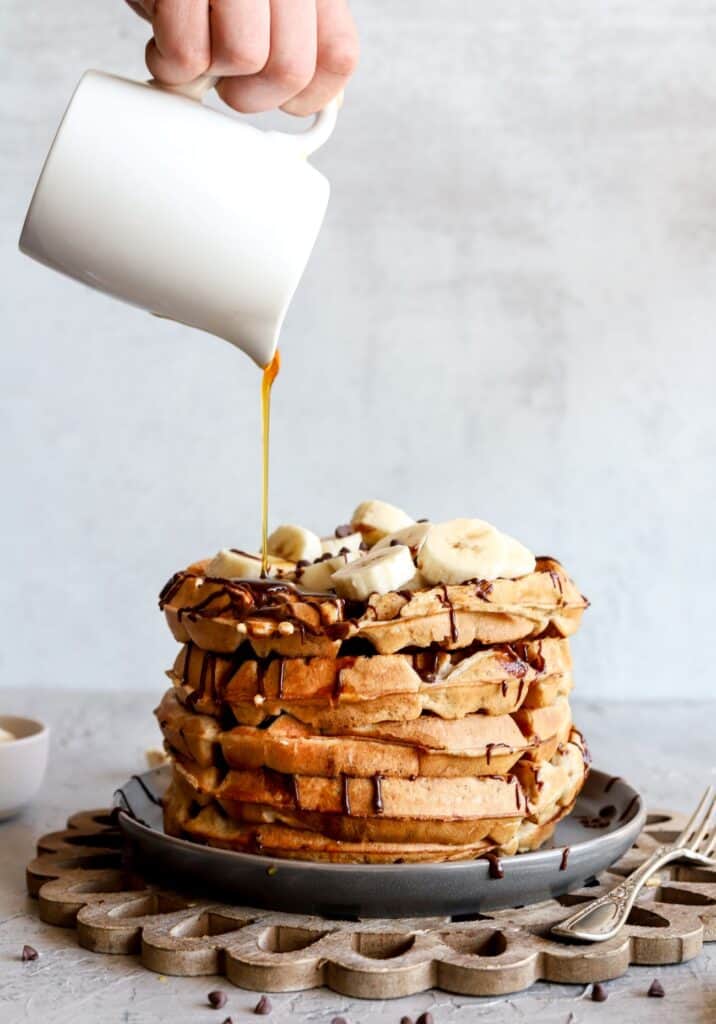 The Ultimate Fluffy Banana Bread Waffles
These fluffy banana bread waffles are perfect when you have extra ripe bananas lying around. If you are like me, I always have ripe bananas! I just need new ideas to use up the ripe bananas instead of making a simple banana bread.
These Belgian waffles taste just like banana bread. It uses bananas, cinnamon, and chocolate chips. All key ingredients in banana bread! So you know it tastes good!
What makes these waffles stand out is the whipped egg whites folded into the batter. That is why they are SO fluffy! These waffles are a breakfast game changer!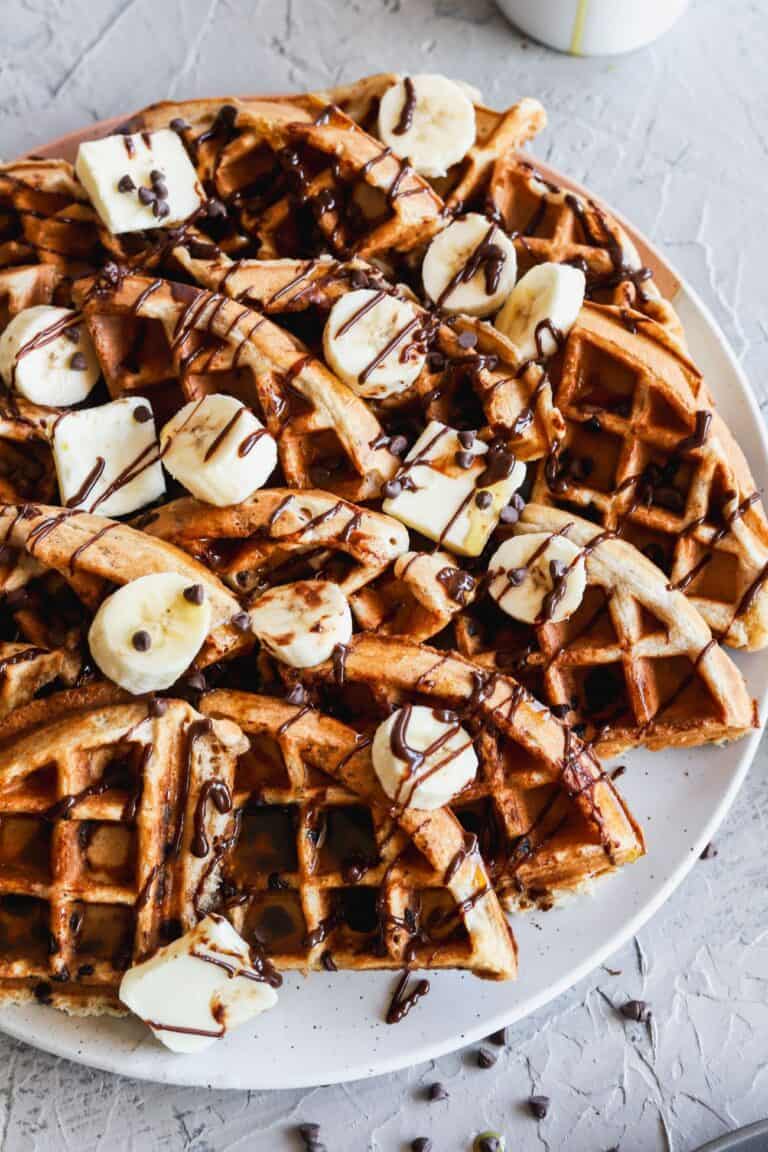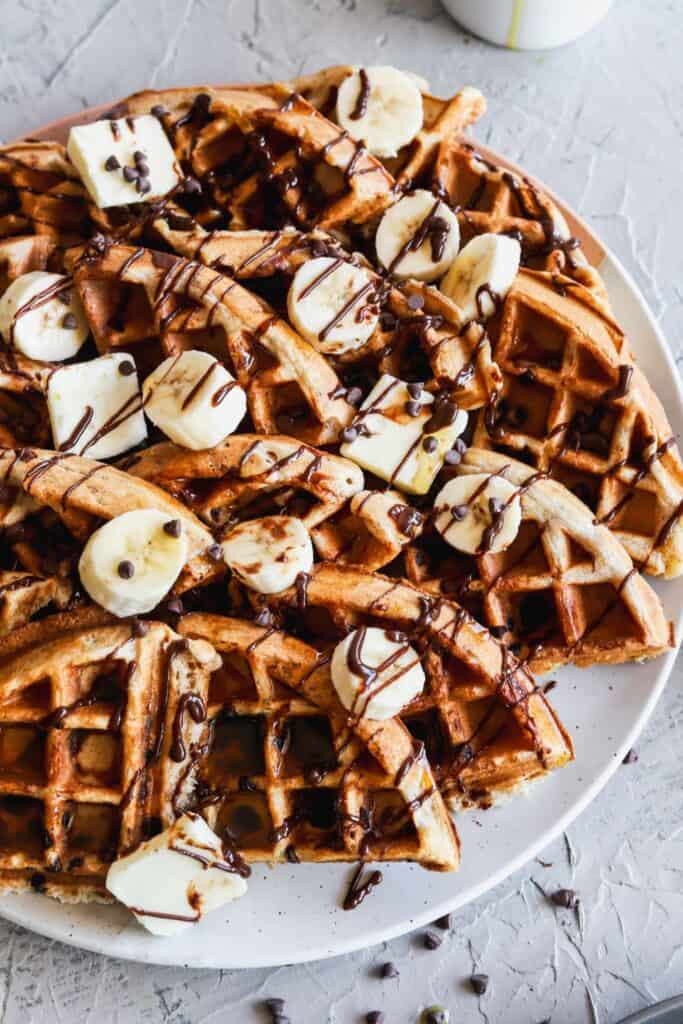 Using The Best Waffle Maker
You can't make a waffle without a waffle maker right? The waffle maker you use, does make a big difference. You need an actual Belgian waffle maker.
I tried it both with that exact waffle maker, and with a Mickey Mouse waffle maker. The Mickey one was fun, but it ended up being as flat as a pancake. It makes a huge difference!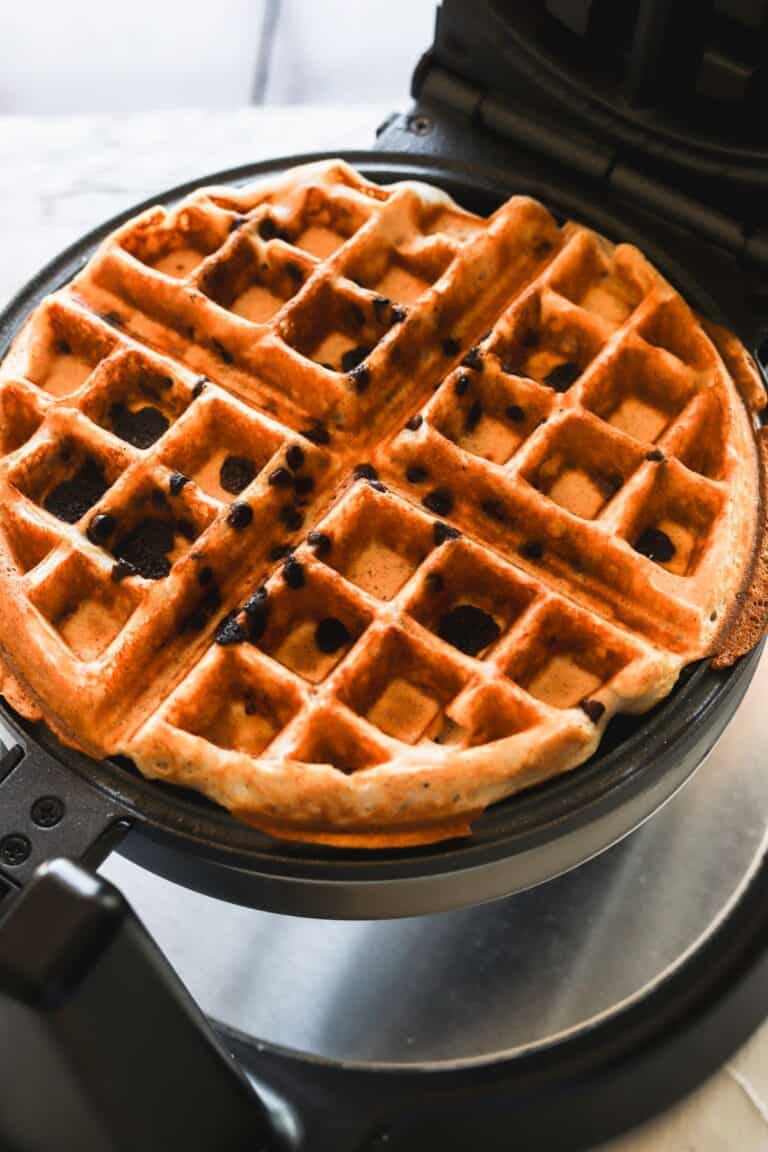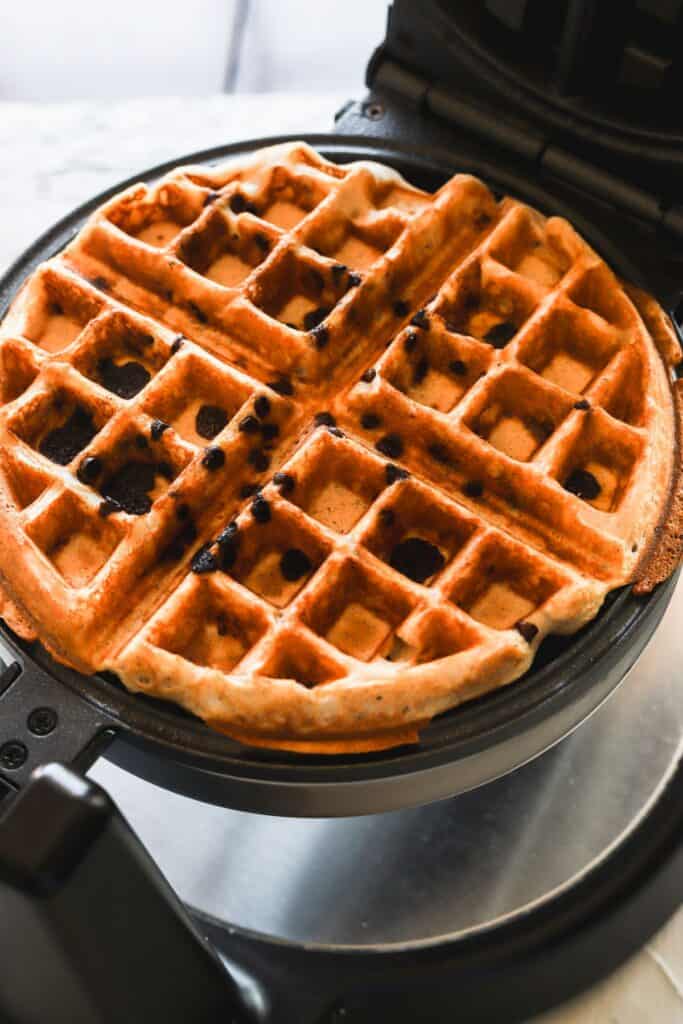 How To Keep Waffles From Sticking
A waffle that gets stuck to the waffle maker is the worst! To combat this, spray the waffle maker with non-stick spray. A bit of spray works wonders!
How To Make Waffle Batter
First, make sure that the waffle maker is preheated. A hot waffle maker helps to make a crisp waffle!
Next, sift together all of the dry ingredients. It may seem like a lot of cornstarch, but it is essential to create a fluffy waffle. Make sure to create a well at the bottom of the dry ingredients.
Then, combine all of the wet ingredients together. Mash up the bananas, make sure they are brown and spotty. I like to use a potato masher to mash them up. Next, add the buttermilk, milk, oil, and vanilla.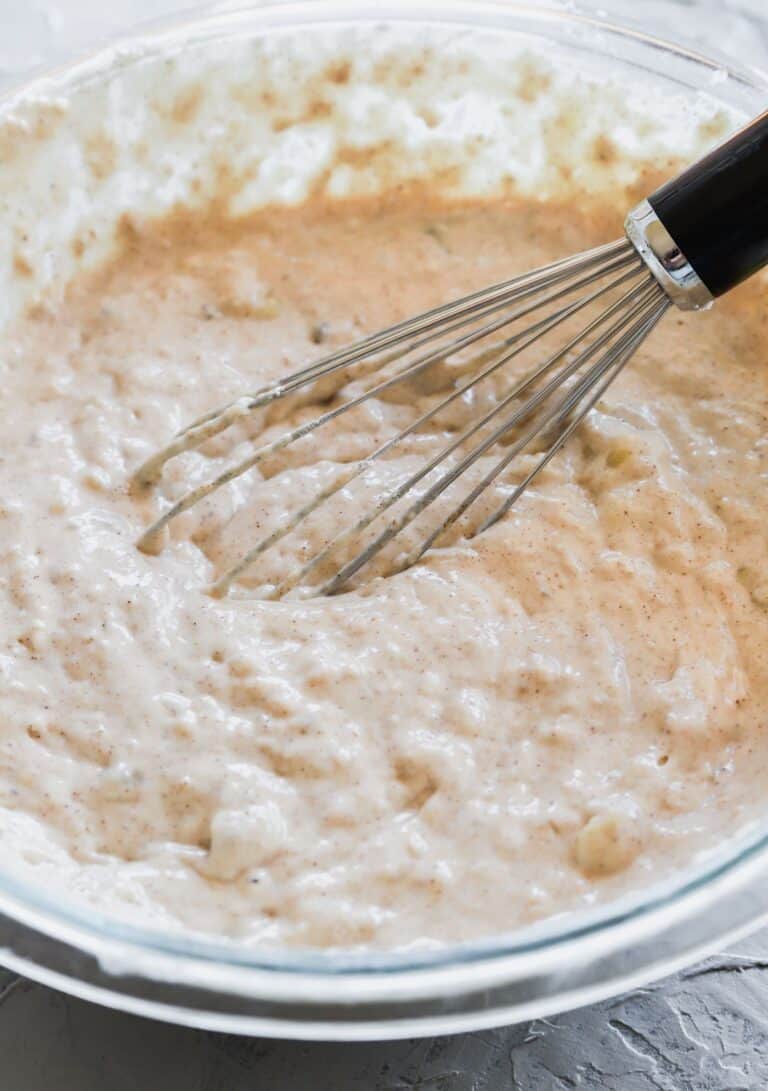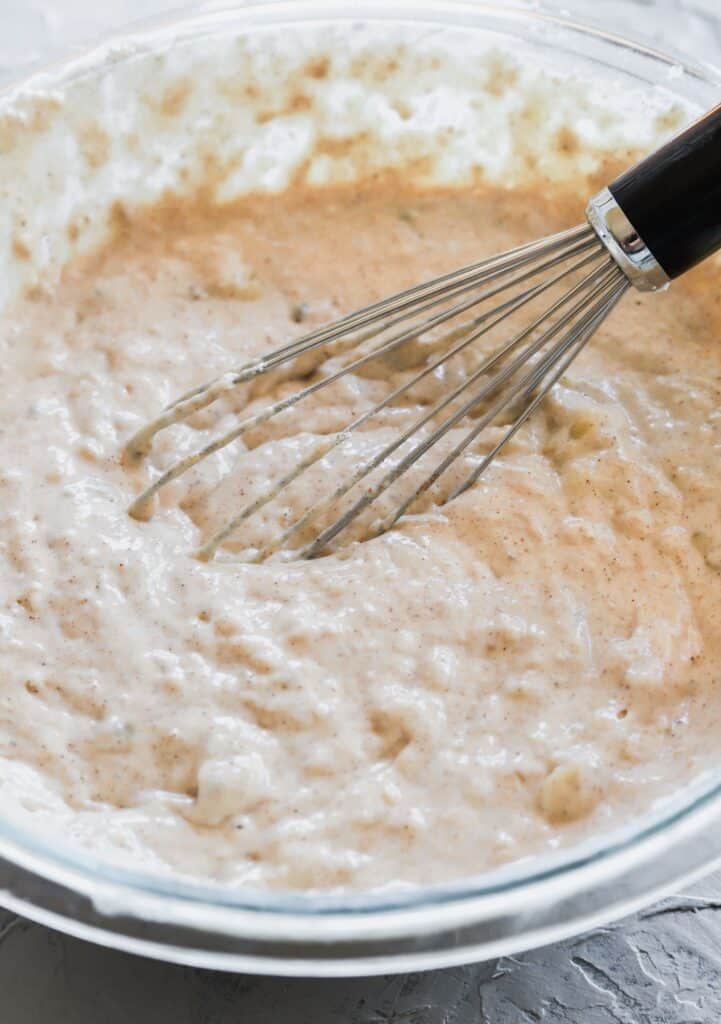 Now, make sure to separate the eggs. This is what makes the waffles so fluffy. It is also makes the waffle taste like waffle and not a pancake. Keep the egg white in a separate bowl, and add the yolks to the wet ingredients. Give it a big stir with a whisk.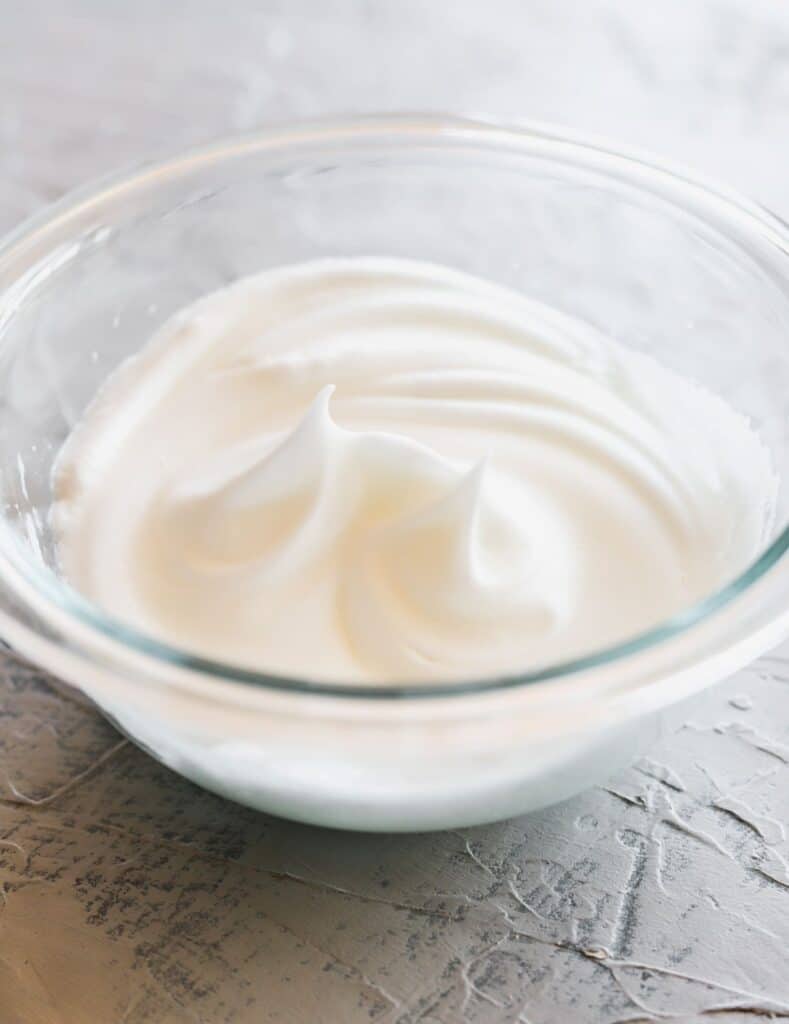 Pour the wet ingredients into the dry. The well in the dry ingredients makes it easier to mix everything together. The batter will be lumpy with the bananas. Don't over mix it!
Next, use a hand mixer and whip up the egg whites. Once soft peaks form, add in the sugar very slowly. Then, whip it up again until stiff peaks form. The ultimate way to test if it is ready, tilt the bowl upside down. If it stays then it is ready!
Then, fold the egg whites into the batter. The texture will change into a fluffy banana bread waffle consistency!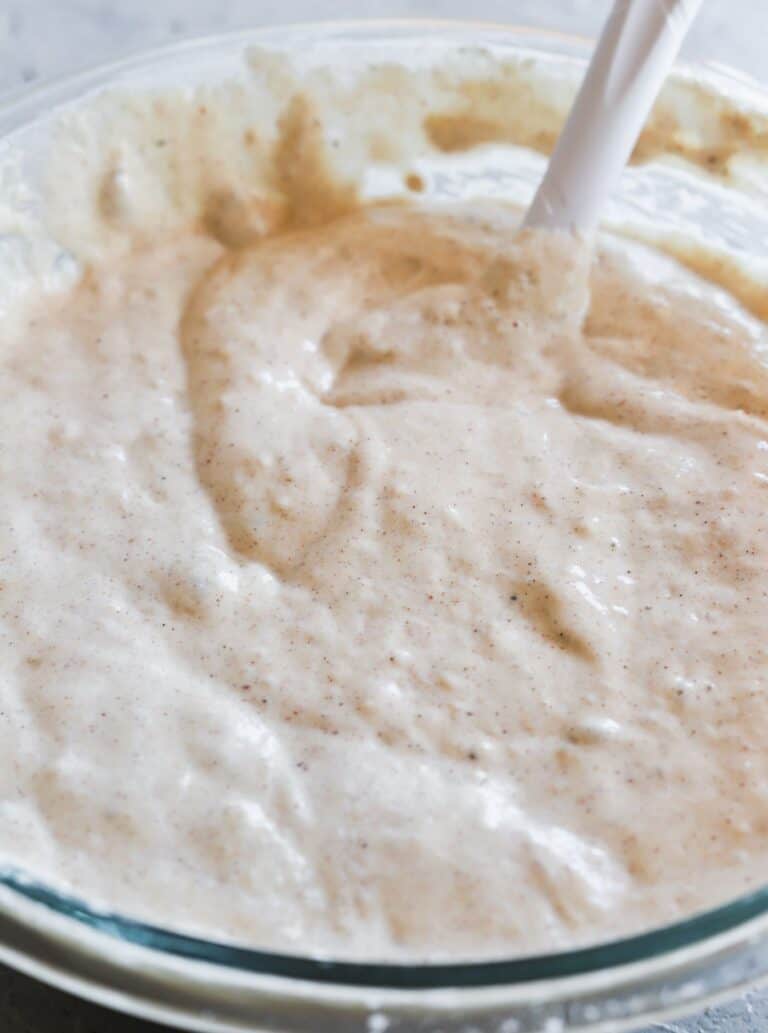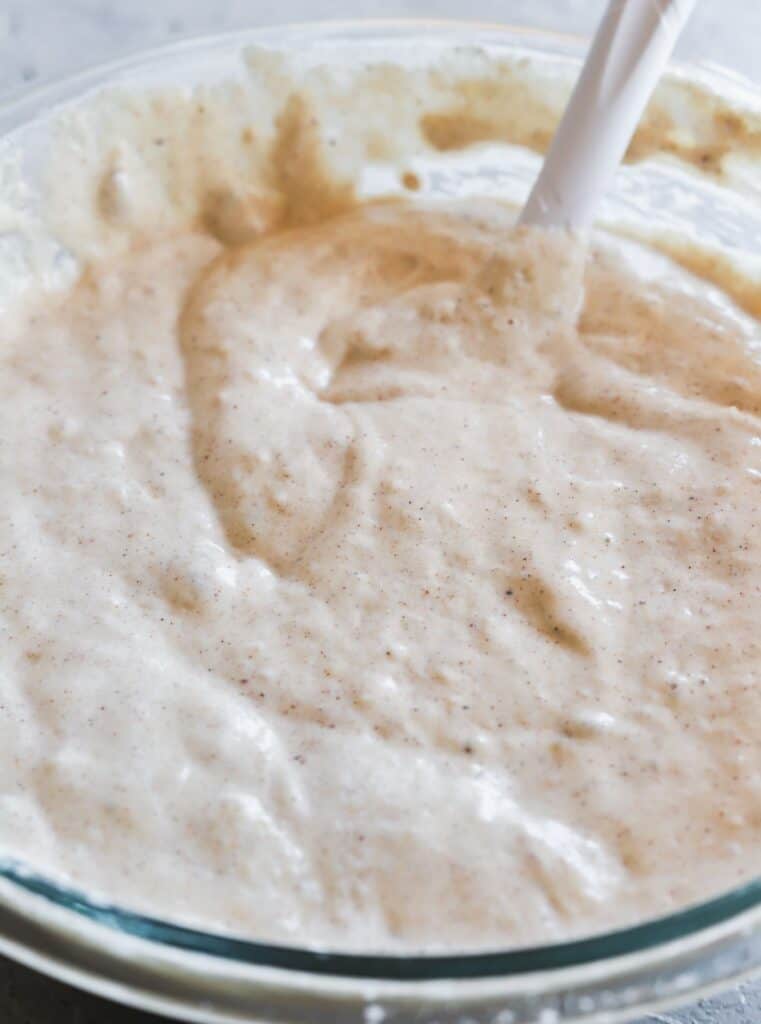 Keeping The Fluffy Banana Bread Waffles Crispy
You know when you make waffles, and as you are making more they become soggy and soft? That's not what we want!
To keep them hot and crisp, preheat the oven to 265F. Grab 2 cookie sheets and have them ready to place the waffles on as you cook them.
The trick here is to not stack the waffles on top of each other. The steam from a hot waffle will cause the other waffles to become soggy.
Place the waffles on the cookie sheet with no overlap. You should get 2-3 waffles per cookie sheet depending on the size of the pan.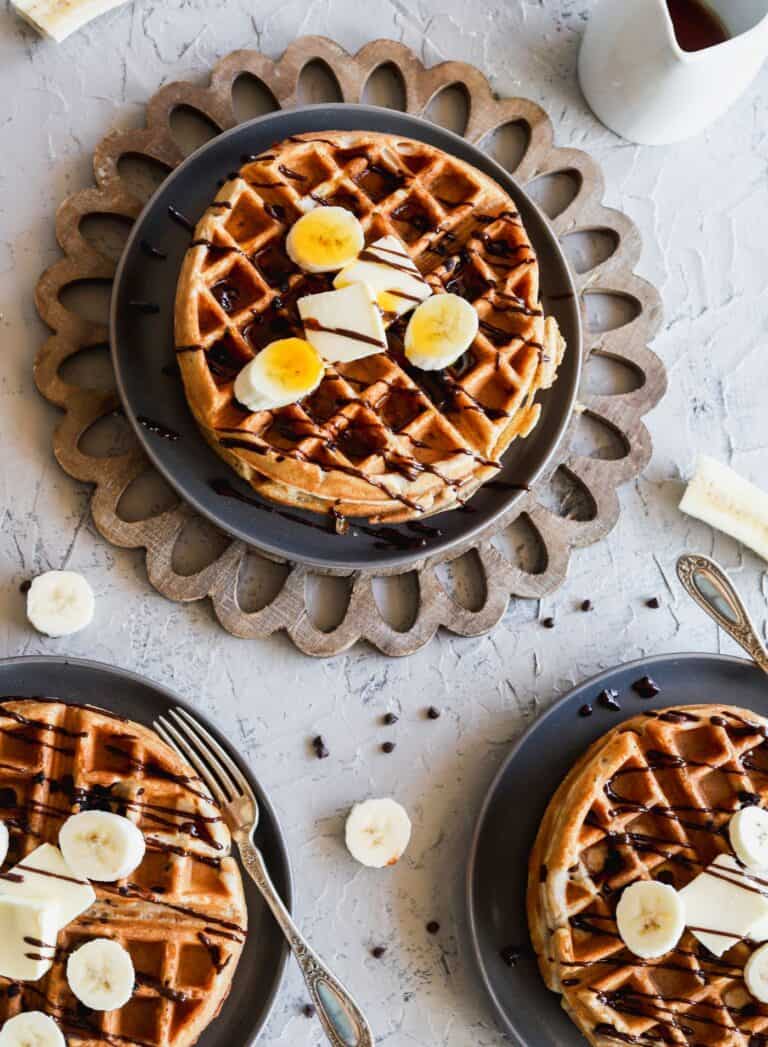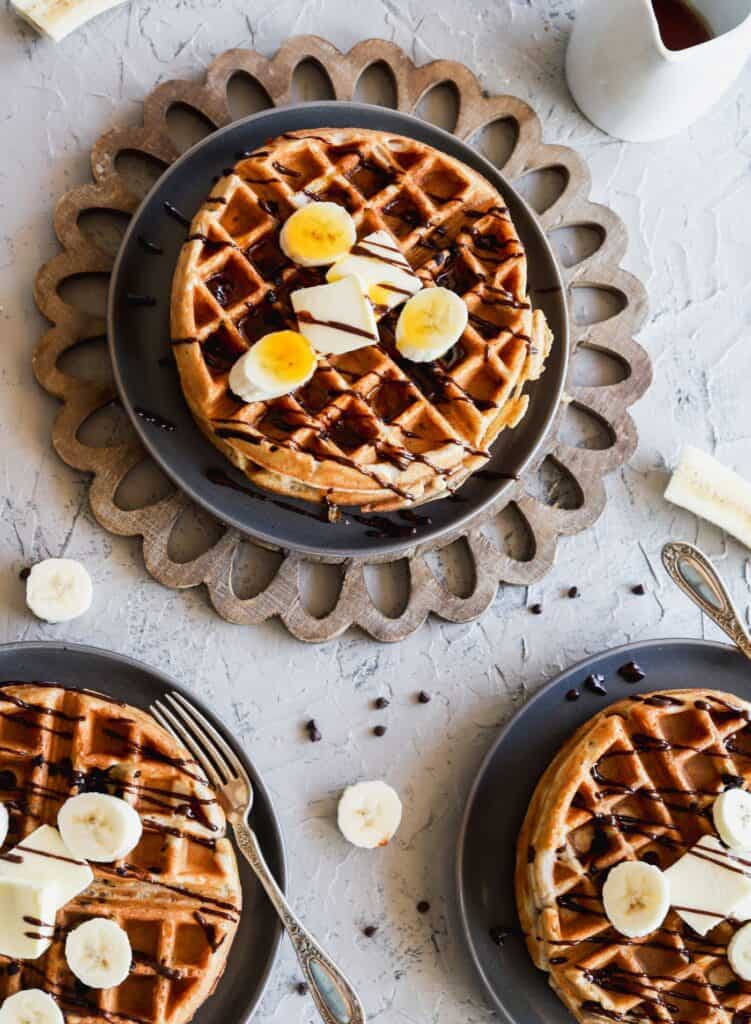 Tips On Browning Bananas Quickly
If you don't have brown bananas, there are few things you do to still enjoy these fluffy banana bread waffles.
Go to the store- Look in the banana section, there is usually a place with old ripe bananas you can buy for a discount. This is the easiest way!
Heat the Bananas- Place the bananas on a cookie sheet and bake at 300F for 20-30 minutes until the bananas are completely brown. Let them cool completely before mashing them up.
Place bananas in a brown paper bag overnight- This technique involves sealing the bananas in a brown paper bag overnight to quickly brown them. They release trapped gases that speed up the browning process. This takes 12-24 hours.
If you have frozen ripe bananas, you can use them! Let them get to room temperature before mashing them up.
Waffle Toppings
This is the best part! I love a good waffle bar, where I can load up my waffle with toppings. More toppings than waffle is just how to do it!
In these pictures, I topped the waffle with fresh banana slices, chocolate ganache, extra chocolate chips, butter, and syrup. You can't forget the butter and syrup! Those are a must!
Other toppings you can try:
Homemade whipped cream
Cinnamon sugar dusting
Salted caramel drizzle
Nutella spread
Walnuts for a little crunch
Peanut butter
Honestly you can add anything to these waffles and they would be amazing!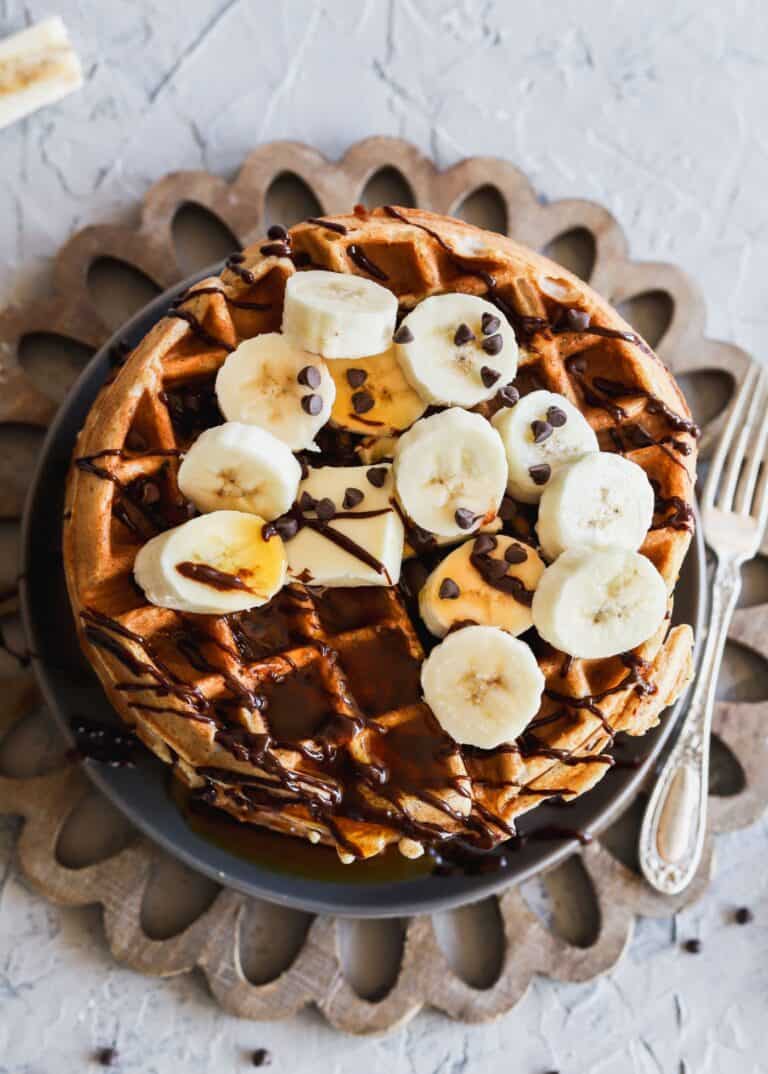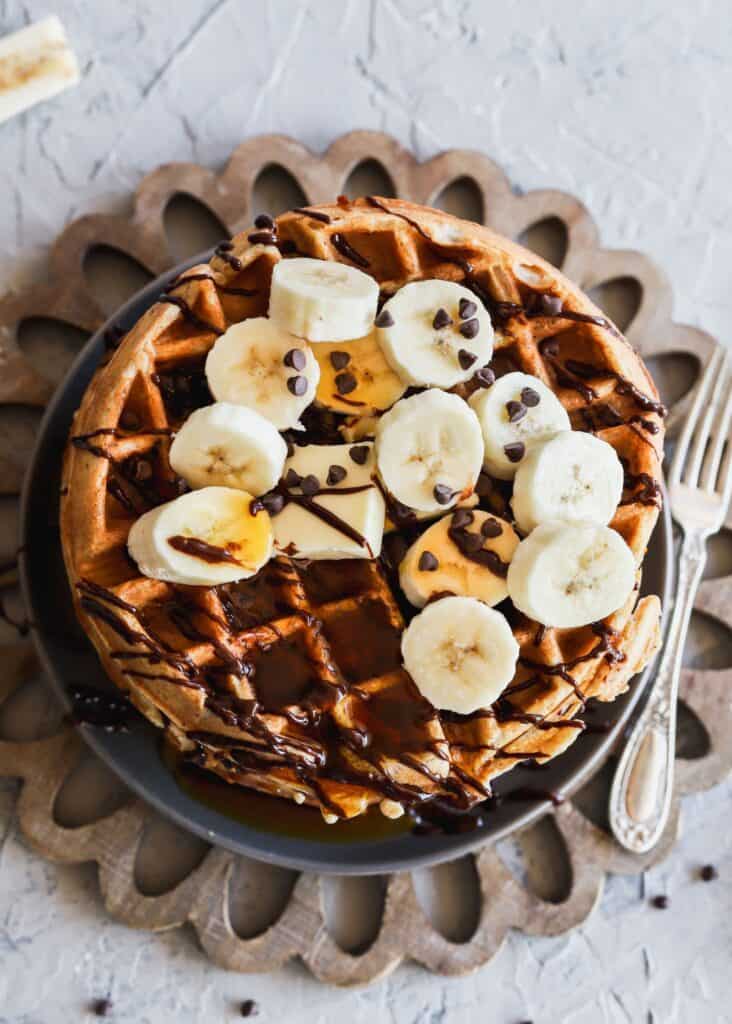 Storing The Fluffy Banana Bread Waffles
This recipe does make a lot of waffles, if you have any left over place them in an air tight container in the fridge.
When you are ready for the waffle, turn the waffle maker back on and heat it up in there. This will help get the crispy and fluffy texture back.
Can The Waffles Be Frozen?
You bet! Frozen waffles are so popular! Store them in an air tight container or even alumium foil. Then, keep it in the freezer for up to 30 days.
When you are ready to eat, let it come to room temperature for 30 minutes. Then, heat it up on the waffle maker.
Other Banana Recipes To Try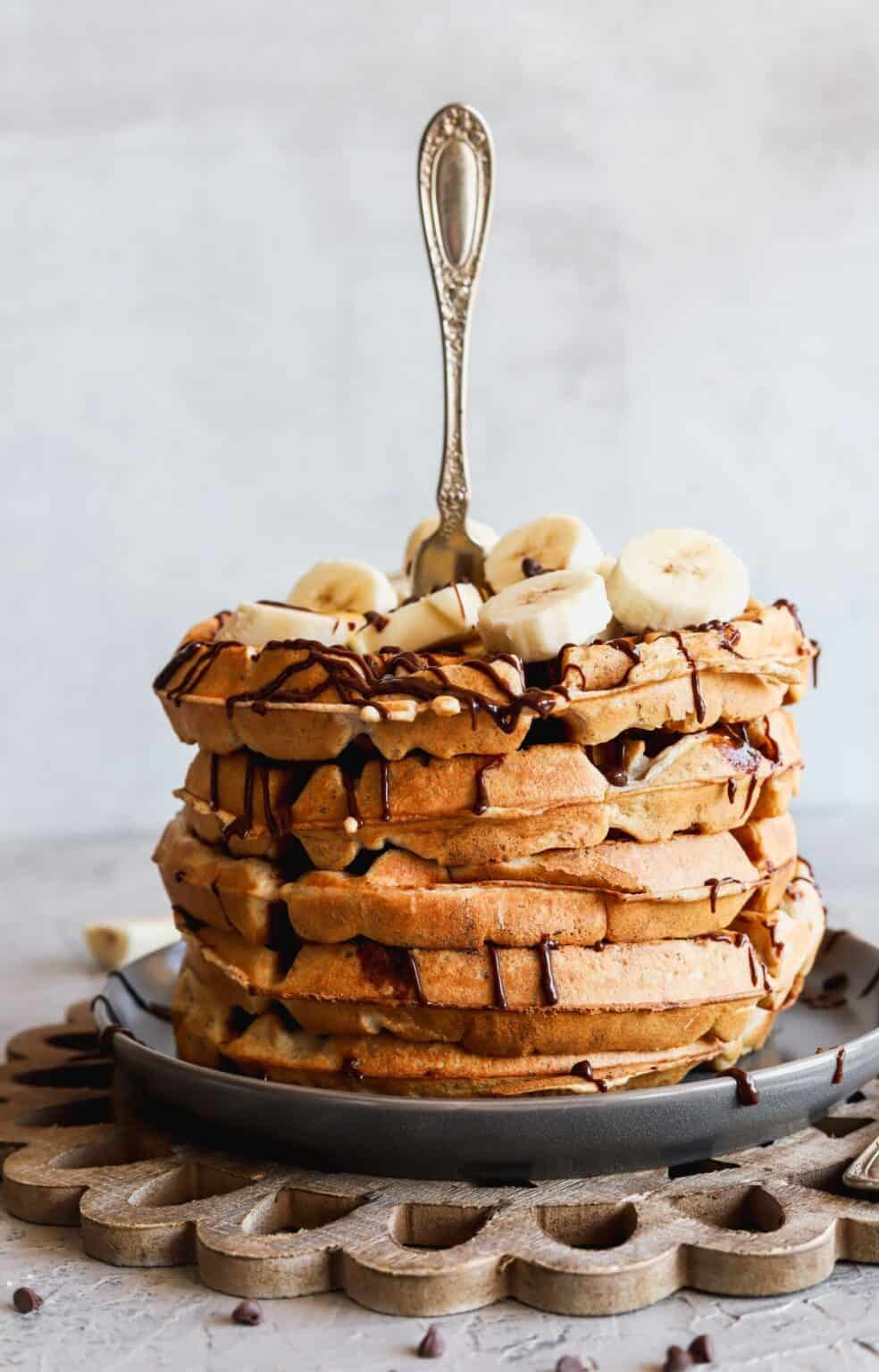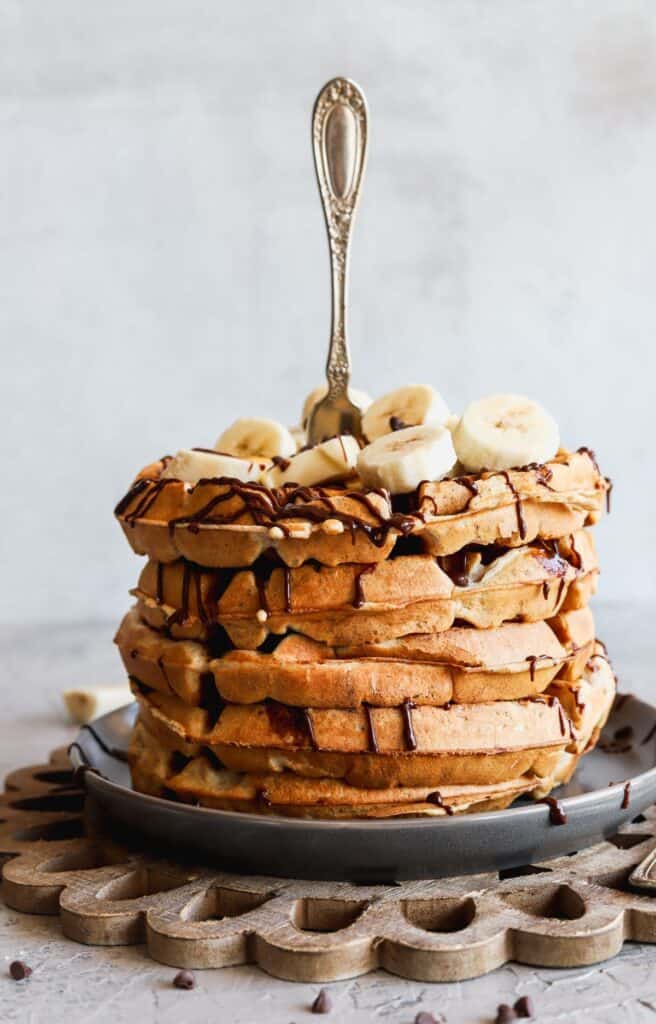 Make sure to tag me on Instagram @stephaniesweettreats and leave me a review below if you made these waffles. I hope you loved it! To get more ideas follow me on Pinterest.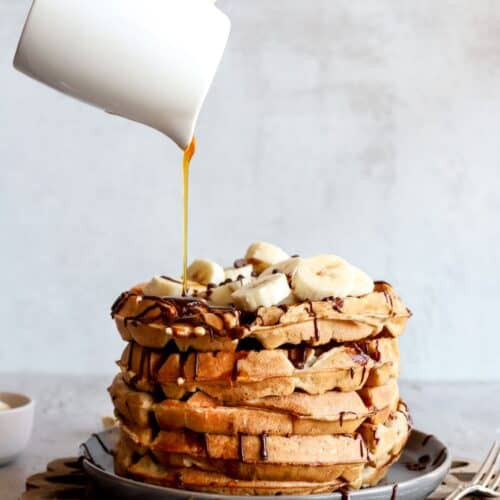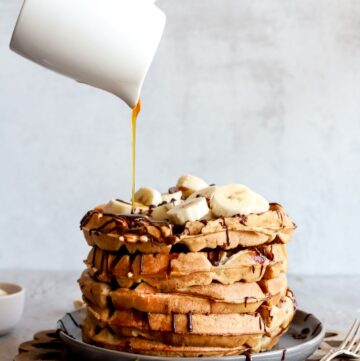 Fluffy Banana Bread Waffles
These fluffy banana bread waffles are made with ripe bananas and extra cinnamon. These Belgian waffles are extra fluffy because whipped egg whites are folded in. This is the perfect Sunday brunch waffle!
Ingredients
1 ¾

cups

All-purpose flour

½

cup

Cornstarch

1

teaspoon

Baking powder

½

teaspoon

Baking soda

½

teaspoon

Salt

2

teaspoon

Ground cinnamon

½

teaspoon

Ground nutmeg

2

Ripe bananas

1 ½

cup

Buttermilk

¼

cup

Milk

6

tablespoon

Oil

canola or vegetable

½

teaspoon

Pure vanilla extract

2

Large eggs

separated

3

tablespoon

White granulated sugar

Mini chocolate chips

For the waffles
Instructions
Preheat a Belgian waffle maker. Preheat the oven to 265°. Pull out 2 cookie sheets. This is to keep all the waffles crisp and warm.

In a medium mixing bowl, sift together the flour, cornstarch, baking powder, baking soda, salt, cinnamon, and nutmeg. Create a well in the dry ingredients. Set aside.

In a small bowl, mash the ripe bananas using a fork or potato masher. Once mashed, combine the bananas, buttermilk, milk, oil, and vanilla. Separate the eggs and place egg yolks in the wet ingredient bowl. Place the egg whites in a separate bowl.

Mix the egg yolks into the wet ingredients. Pour the wet ingredients into the dry ingredient bowl. Use a whisk and mix together. There should be lumps, don't over mix.

Use a hand mixer and beat the egg whites on high until soft peaks form. Add in the sugar 1 teaspoon at a time. Then, mix on high until stiff peaks form. Pour fluffy egg whites into the batter. Use a rubber spatula to gently fold it in.

Fill the waffle maker with the waffle batter. Sprinkle mini chocolate chips on top of the batter. Cook until golden brown and slightly crispy. Place the waffles in the oven on the cookie sheet to keep them warm. Don't stack the waffles, otherwise the steam will cause the waffles to be soggy. Serve warm with butter and syrup.
Notes
Flour- make sure flour is spooned and leveled. 
Nutrition
Calories:
242
kcal
Carbohydrates:
34
g
Protein:
4
g
Fat:
10
g
Saturated Fat:
2
g
Polyunsaturated Fat:
3
g
Monounsaturated Fat:
6
g
Trans Fat:
1
g
Cholesterol:
5
mg
Sodium:
255
mg
Potassium:
167
mg
Fiber:
1
g
Sugar:
9
g
Vitamin A:
86
IU
Vitamin C:
2
mg
Calcium:
81
mg
Iron:
1
mg