Peanut butter and chocolate cupcakes- Moist chocolate cupcakes with a peanut butter marshmallow filling, peanut butter buttercream, and a chocolate ganache drizzle.
This blog receives a commission for using Amazon products for the food recipes that I shared with you in my posts. Although I receive a commission for using and linking their products, they are extremely good for my food recipes and all my opinions and suggestions are unbiased.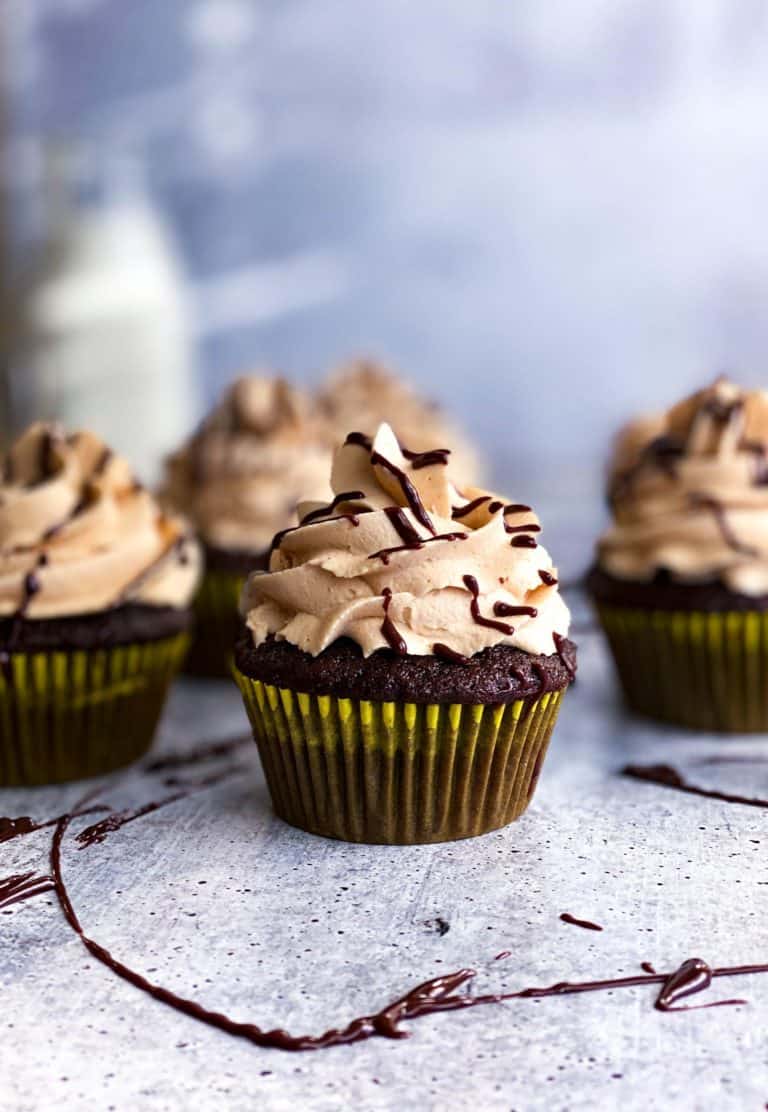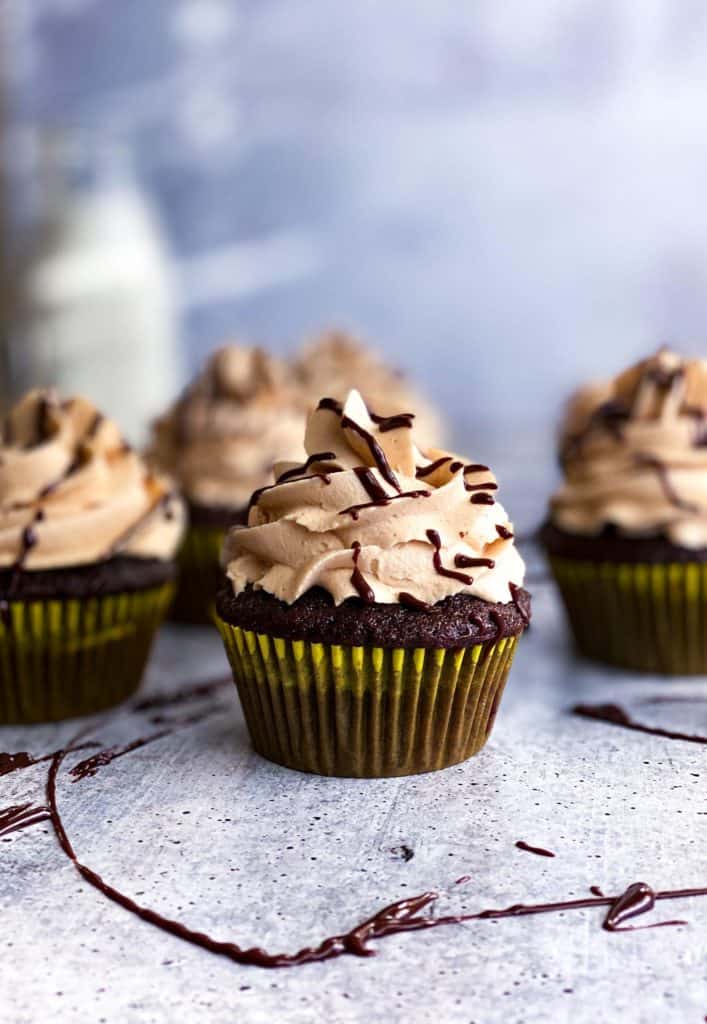 Calling all chocolate and peanut butter lovers! These peanut butter and chocolate cupcakes are for you. The chocolate cupcakes are super moist and fluffy and filled with a peanut butter marshmallow filling. Honestly, the filling is the best part of this whole cupcake. It is that good! The cupcake is topped with a creamy peanut butter buttercream and a chocolate drizzle.
What do I love most about this peanut butter and chocolate cupcake recipe? It is easy to make, full of rich flavor, and it looks so beautiful. Perfect for any party!
Easy Peanut Butter and Chocolate Cupcakes
Actually, making chocolate cupcakes is super easy. Making chocolate cupcakes from scratch used to intimidate me because it is so easy to get dry and bland cupcakes. However, with this recipe it is super easy and all the ingredients you probably have in your house!
Flour
Cocoa powder
Salt
Baking soda
Oil
White sugar
Eggs
Vanilla
Hot water
See? I bet you do have all these ingredients in your house. This can be made using a stand mixer or a hand mixer. It is seriously so easy!
I always start this recipe by sifting my dry ingredients. Next, I mix the sugar and oil together. Since you aren't creaming butter, the oil and sugar just need to be mixed until combined. After that I will add the vanilla.
For this chocolate cupcake recipe I chose to have a whole egg and an extra egg yolk. The extra egg yolk is really there to add another layer of moisture. It makes the cupcake soft and fluffy! After adding the eggs, I will slowly add in my dry ingredients and then add the hot water.
A great tip: Pour batter into a glass measuring cup because the batter will be very runny. Using the measuring cup it will be easier to control the batter as it is poured into the cupcake liners.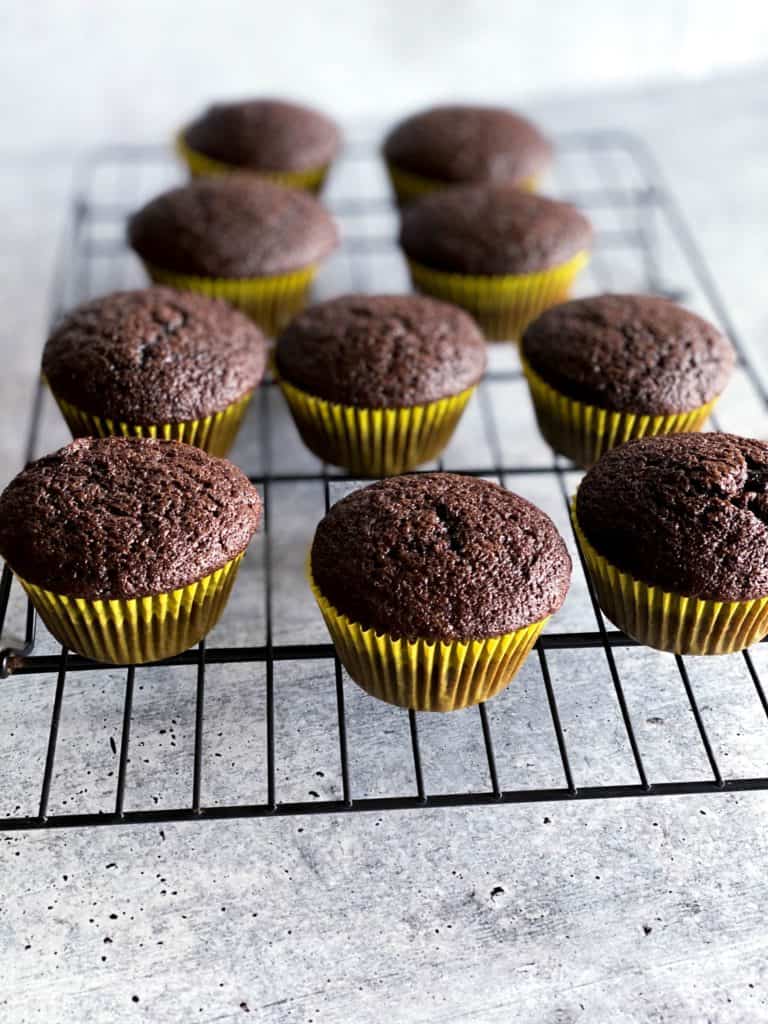 Why Use Steaming Hot Water?
Using hot water in chocolate cupcake recipes is a very common technique. Hot water helps to make the cocoa flavor bloom and intensify, to get a stronger chocolate flavor. It also helps to create steam in the cupcake which means a more moist cake.
Peanut Butter Marshmallow Filling
The best part of this whole recipe is this filling right here. Man, it is so delicious. It was hard not to lick the bowl!
Making the peanut butter marshmallow filling is very simple. Simply combine almost all ingredients together and then slowly add in the powdered sugar. It is crazy how something so easy could be oh so good.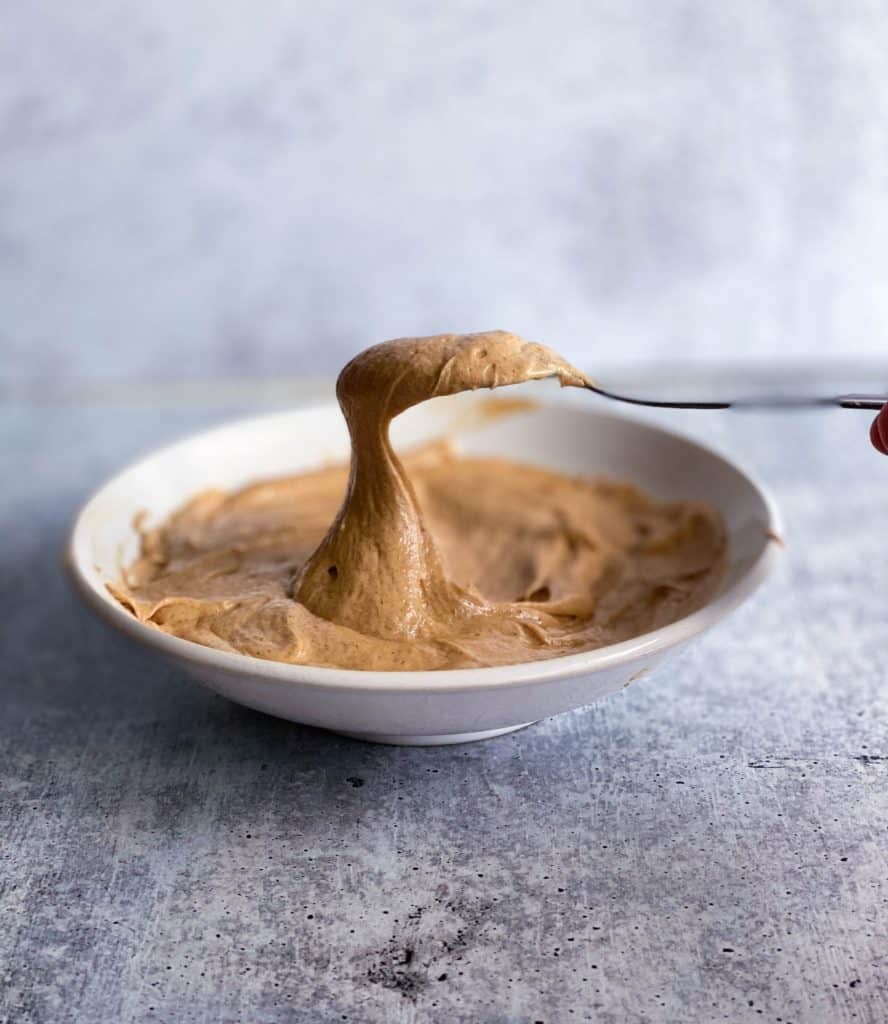 I decided to get this amazing cupcake corer to be able to smoothly cut holes into my cupcakes and save the tops so they are even. Just make sure the cupcake is chilled before you use it. Cold cake is a lot easier to manipulate.
Since the main part of the filling is peanut butter and marshmallow creme, make sure to chill the cupcakes after filling them. It will be far easier to cut into, or take a huge bite out of, and not have it fall apart.
How To Make Peanut Butter Buttercream
I am usually not a big fan of buttercream. It is always too sweet and I prefer my frostings with more substance and flavor. I have to tell you guys that this peanut butter buttercream doesn't even taste like buttercream! It tastes like creamy peanut butter mostly. The saltiness of the peanut butter mixed with the sweetness of the butter and powdered sugar make it so perfect!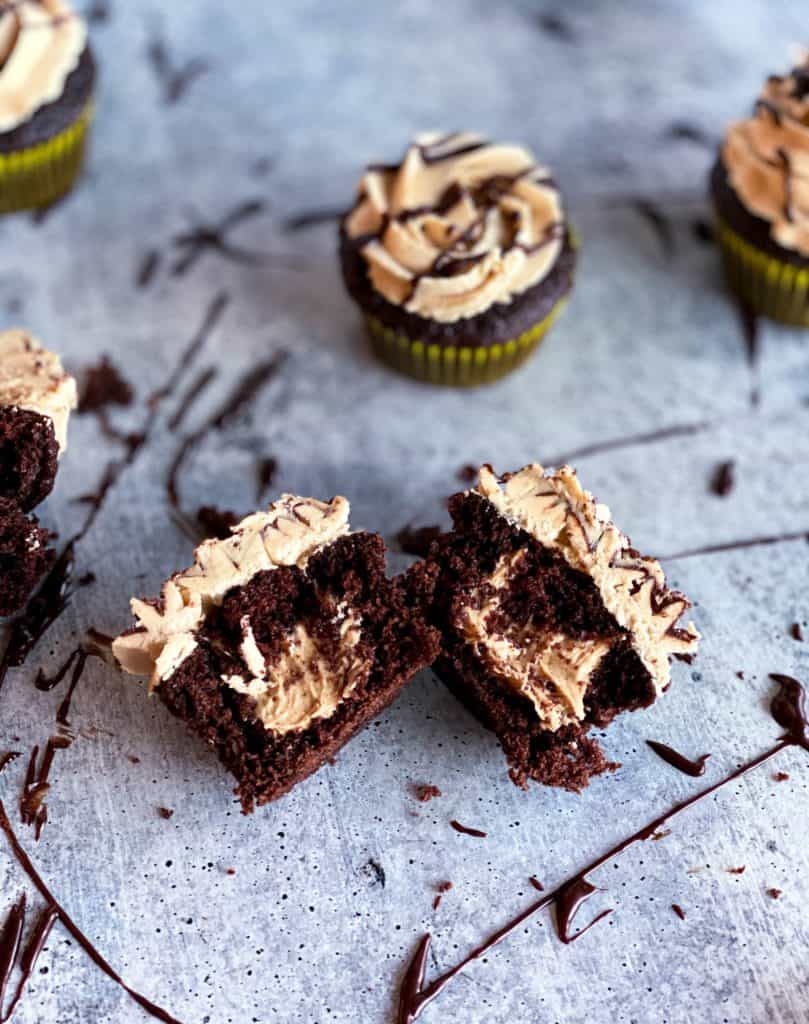 To make this buttercream, I make it more of a whipped buttercream style. I do use my mixer with a paddle attachment because I need some speed and strength to make a buttercream that is super smooth. Start with whipping the butter and peanut butter together. It should be super light and fluffy.
Next, add in the powdered sugar very slowly. I like to do it on low because it makes sure all the sugar is incorporated well and it makes less of a mess! Then, add in the vanilla and heavy cream. To make this the whipped buttercream, beat it on high for 4 minutes. I will set a timer and walk away and let it do its thing.
After it is all whipped up, I take a wooden spoon to beat out the air bubble to make this smooth buttercream.
Pro tip: the buttercream tastes even better when it gets chilled! Be sure to chill the buttercream only after piping it.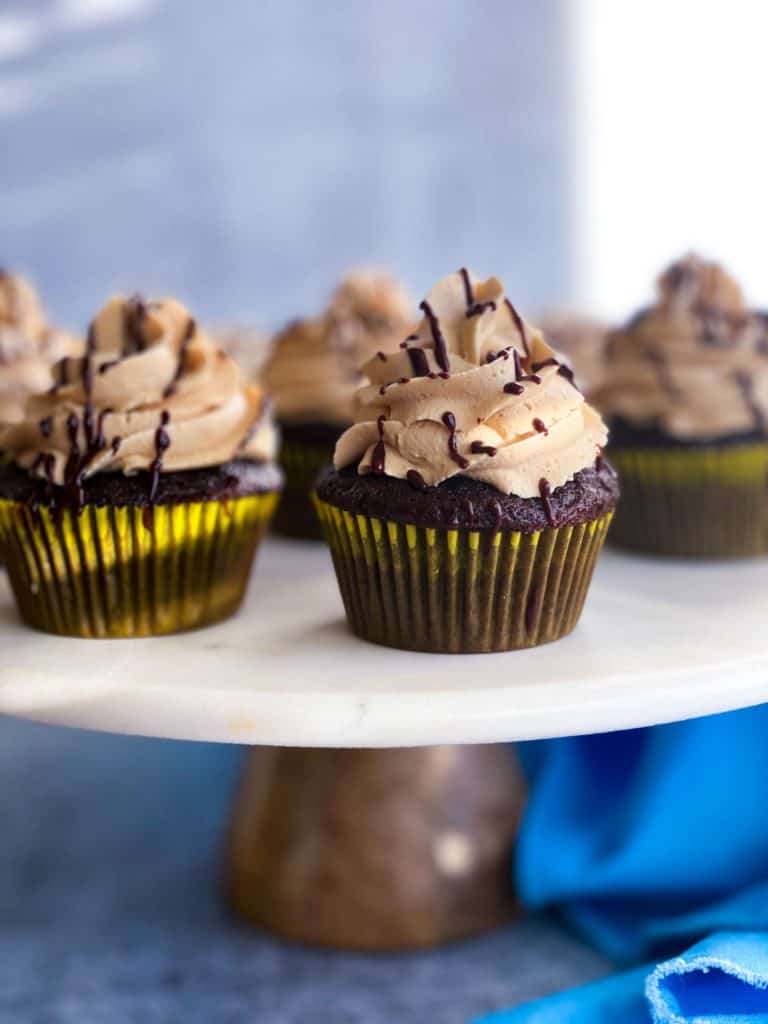 The Perfect Chocolate Ganache Drizzle
The tool I use to get a smooth drizzle is a mini squeeze bottle. It is perfect because I can easily control the ganache to get the cute drizzle you see on the cupcakes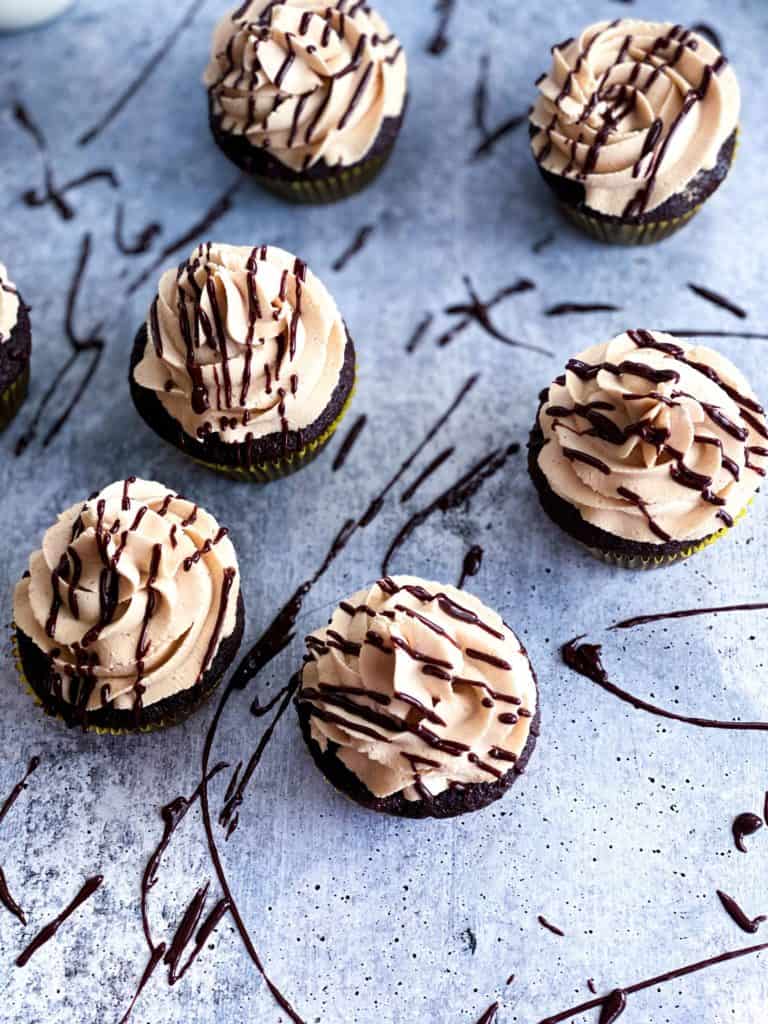 How Can I Store These Peanut Butter and Chocolate Cupcakes?
The Peanut butter and chocolate cupcakes are easily stored in Tupperware or a bakery box. Since there is heavy cream in the buttercream, make sure to keep cupcakes in the fridge until ready to serve.
Can I Freeze the Cupcakes?
Of course you can! You can freeze the cupcakes, just be sure they aren't filled or decorated yet. Wrap those cupcakes up tight before putting them in the freezer. To thaw, place in fridge for over 24 hours before decorating.
Other Recipes To Try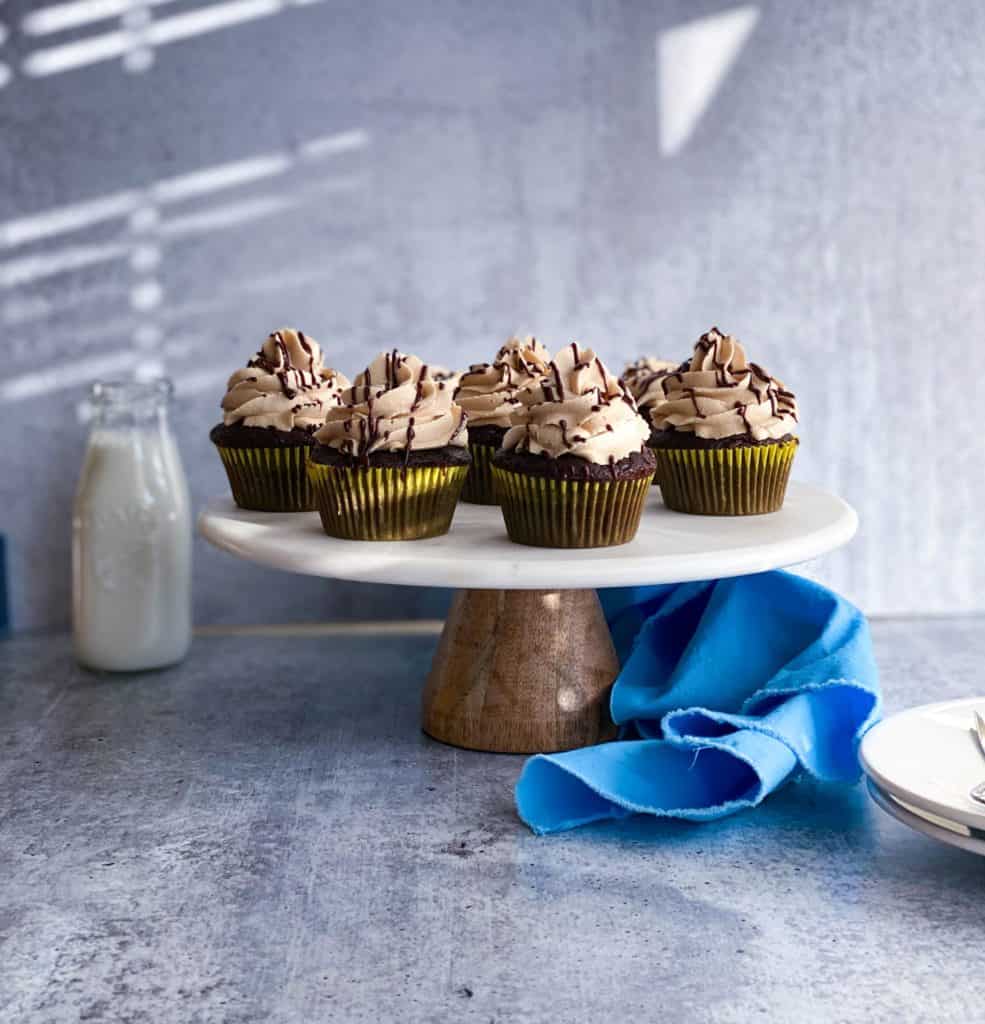 I hope you guys enjoy this recipe. Comment below with a review and tag me on Instagram @Stephaniesweettreats. Be sure to pin this to Pinterest and make sure to follow me!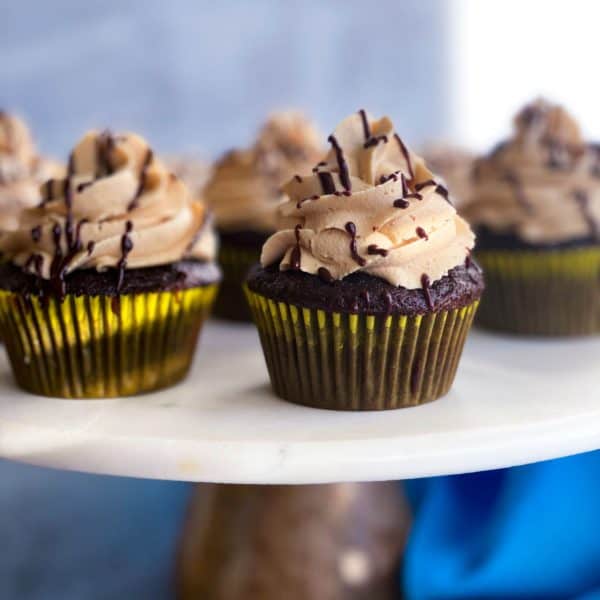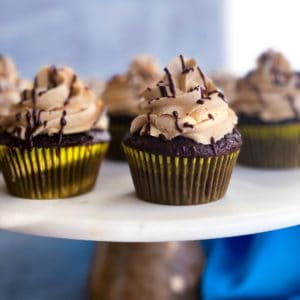 Peanut Butter and Chocolate Cupcakes
Fluffy chocolate cupcakes with a peanut butter marshmallow filling. Topped with a peanut butter buttercream with a drizzle of chocolate ganache on top.
Ingredients
Chocolate Cupcakes
1

cup

All-purpose flour

1/2

cup

Unsweetened cocoa powder

1/2

tsp

Baking soda

1/4

tsp

Salt

1/2

cup

Oil

canola or vegetable

1

cup

White granulated sugar

1

Egg

room temperature

1

Egg yolk

room temperature

1

tsp

Pure vanilla extract

3/4

cup

Steaming hot water
Peanut Butter Marshmallow Filling
3/4

cup

Peanut Butter

smooth

3/4

cup

Marshmallow creme

3

TBSP

Milk

3/4

tsp

Ground cinnamon

3

TBSP

Powdered Sugar
Peanut Butter Buttercream
3/4

cup

Unsalted butter

slightly cold

1/2

cup

Creamy peanut butter

2 1/2

tsp

Pure vanilla extract

1/8

cup

Heavy whipping cream

cold

2 1/2

cup

Sifted powdered sugar
Chocolate Ganache
1/4

cup

Heavy whipping cream

1/2

cup

Semi-sweet chocolate chips
Instructions
Chocolate Cupcakes
Preheat oven to 375F and line a 12 cup muffin pan with 11 liners

In a small bowl, sift together flour, cocoa powder, salt, and baking soda. Put aside.

Using a mixer, Combine oil and sugar. Add in eggs one at a time. Add in vanilla. Slowly add in dry ingredients. Heat up hot water on stove until starting to steam but not yet boiling. Slowly add in hot water. Batter will be very runny.

Place some of the batter in a glass measuring cup to easily pour into liners. Fill each cup 2/3 full. Bake for 13-16 minutes. The cupcakes are finished when a toothpick inserted comes out clean. Let sit in muffin pan for 10 minutes, then transfer to cooling rack
Peanut Butter Marshmallow Filling
In a medium bowl, combine peanut butter, marshmallow creme, milk, and cinnamon. Once fully combined, slowly add in powdered sugar.

Cut a hole in the cupcakes and save the tops. Place 1/2 TBSP of peanut butter marshmallow filling in each hole. Place the top back on. Place in fridge while making the buttercream.
Peanut Butter Buttercream.
Sift the powdered sugar and set aside.

Using a mixer with a paddle attachement, beat the butter (let cold butter sit on counter for 30 minutes first before beating) and the peanut butter on medium high for 1 minute and 30 seconds. It should be light and fluffy. On low, slowly add in the powdered sugar until combined. Add in vanilla and heavy cream and beat on high for 4 minutes. Scrape down the sides and beat for 1 more minute. Take off mixer and beat with a wooden spoon to get rid of air bubbles.

Pipe buttercream on cupcakes and chill while making chocolate ganache.
Chocolate Ganache
Heat heavy cream in a saucepan until it starts to steam. Pour over chocolate chips in a bowl and let sit for 1 minute and 30 seconds. Stir until smooth and glossy.

Drizzle over piped cupcakes.
Nutrition