Turtle cheesecake- graham cracker and pecan crust, mini chocolate chips and fresh pecan caramel on the bottom, brown sugar cheesecake. Topped with fresh caramel, chocolate ganache drizzle and chopped pecans.
This blog receives a commission for using Amazon products for the food recipes that I shared with you in my posts. Although I receive a commission for using and linking their products, they are extremely good for my food recipes and all my opinions and suggestions are unbiased.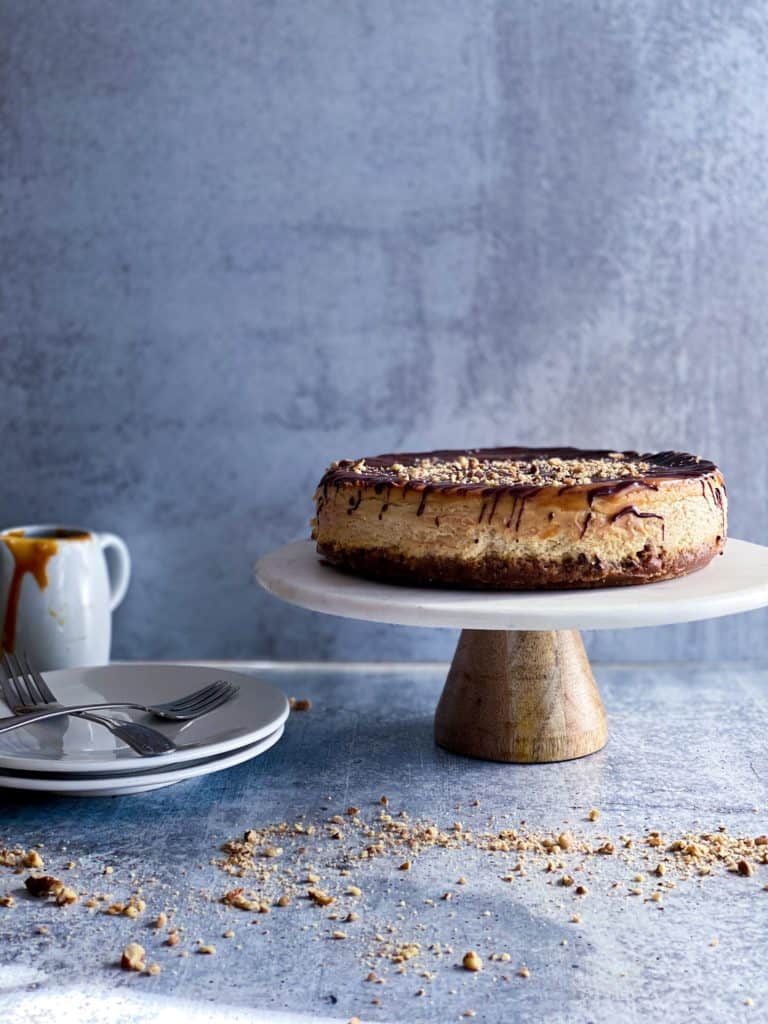 For this turtle cheesecake, I made a crust that has 3 layers. The bottom layer is a graham cracker and pecan crust, a small layer of mini chocolate chips, and fresh pecan caramel. The brown sugar cheesecake is super light and moist. It is topped with fresh caramel, chocolate ganache, and pecans. With this recipe you get turtle flavors both on top and bottom! It is pure heaven.
Seriously though, this turtle cheesecake is just so good! I tried many different turtle cheesecakes, but this cheesecake blows my mind. My main goal for this cheesecake is to have a rich cheesecake, but to make sure it is light and fluffy. The key is to have that perfect balance and I will show you how to do it.
Fresh Caramel For Turtle Cheesecake
Making caramel is actually a lot easier than I ever thought it would be! I am going to be honest with all of you. I burned caramel the first time I made it! It can go from not quite done to burnt really quick, so I will talk you through how to make it!
Start with melting white sugar in a sauce pan. It will first start to get really big clumps of sugar, but the key is to continuously whisk the sugar. The whole process should take about 10 minutes. The sugar will next start to really melt down.
Once all sugar crystals are melted, just let the caramel sit. Now this is important! This is where you can easily burn it. Every time I have made this it takes maybe 30 seconds to caramelize. The caramel will be more an amber color and have a slight nutty smell to it.
Next, add the butter. The caramel will react to the butter and get very bubbly, but keep stirring until the butter is fully melted. After that, add the heavy cream very slowly. Putting it in all at once could cause a curdling reaction. So, add it slowly and whisk it in.
Pour 1 cup of the caramel for the decoration. I kept mine in a glass measuring cup. Add in the flour and chopped pecans to the rest of the caramel. The flour is to help give the caramel more structure for when you pour it into the crust.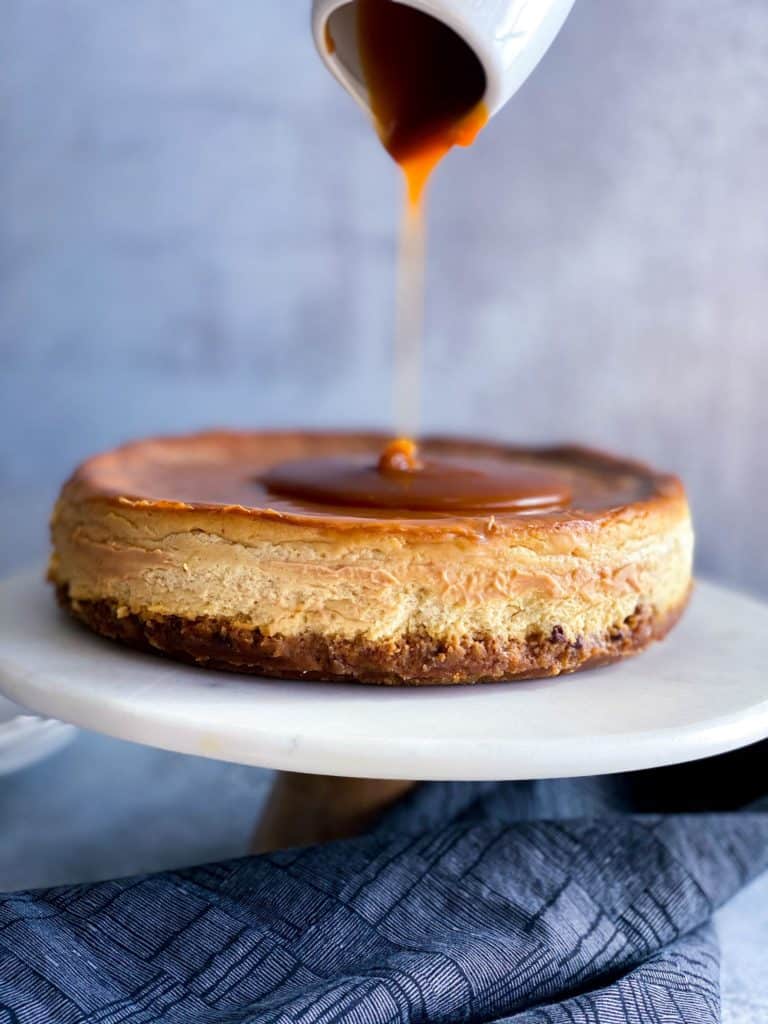 How To Make The Perfect Brown Sugar Cheesecake
Previous turtle cheesecakes that I have had were very dense and my dream cheesecake is always light and fluffy. This recipe is my own recipe to make a great and fluffy cheesecake. I have done a ton of recipe testing and this is perfect.
First, start with having all dairy ingredients at room temperature. I will put all of those ingredients, cream cheese, eggs, heavy cream, and sour cream, on the counter in the early morning. Since there is a lot of cream cheese, I will let it sit to get room temperature for at least 4 hours.
Once all ingredients are room temperature, start by beating the cream cheese for 2 minutes until fluffy. Then, add in the brown sugar. The key to getting to getting this cheesecake to be so fluffy is all of the eggs, sour cream and heavy cream. Add in vanilla, sour cream and heavy cream until smooth.
Next, add in eggs one at a time. Don't over mix the eggs because it could cause your cheesecake to crack when baking.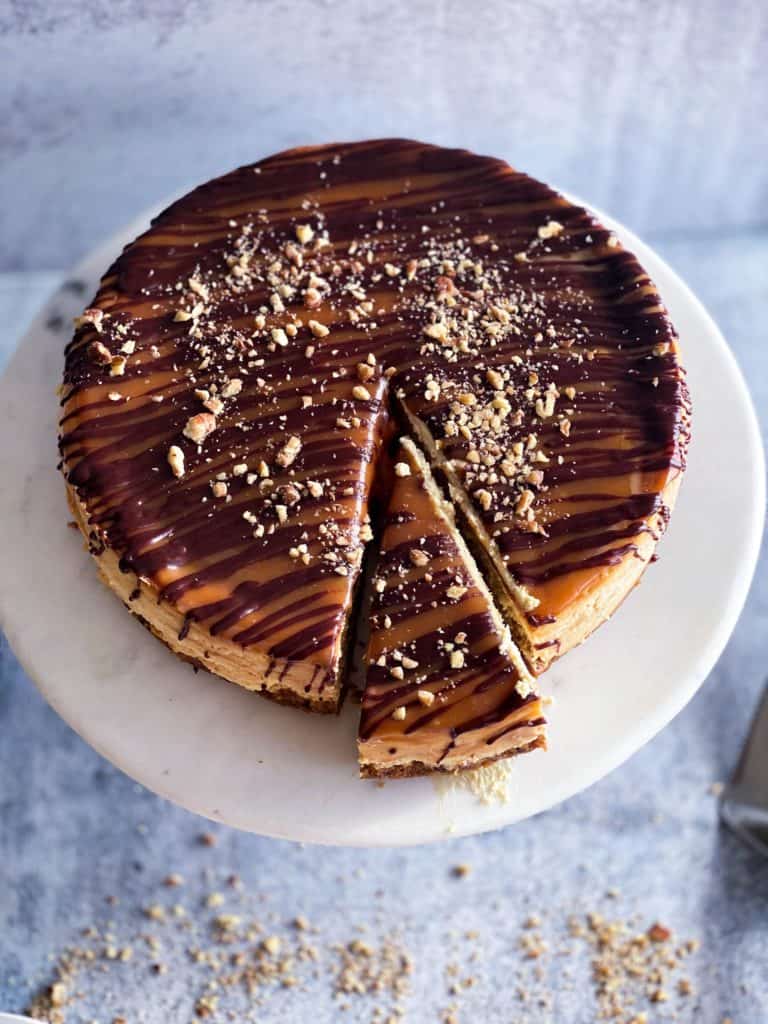 How To Do A Water Bath For Turtle Cheesecake
I have tried to wrap my spring form pan in aluminum foil and place it in water. I always got water in my pan and got a soggy crust. However, if you try my way, you won't get water in your spring form pan at all.
The top 2 things I use are this all-purpose pan and a 10 inch cake pan. Place the spring form pan in the cake pan and put both of those in the larger pan. Your cheesecake will still be soaking up that moisture, but no soggy crust here!
Also, be sure to boil hot water. There should be enough water to fill up halfway on the 10 inch cake pan. I have tried using both hot water from the tap and actually boiling the water, boiling the water is just so much better. I don't get any cracks because it is already starting the cheesecake off with a lot of steam.
How To Decorate Cheesecake
Well, you could decorate however you want. However, if you do want the gorgeous look of this cheesecake, it is super easy to do. Pour the rest of the caramel on top on the cheesecake. Reminder: half of the caramel will already be on the cheesecake while it is chilling. Take an offset icing spatula to smooth out the caramel.
Next, make the chocolate ganache and drizzle over the cheesecake. I put the chocolate ganache in a piping bag, to have more control over the flow. I cut the tiniest tip off the piping bag, so only a very small amount of chocolate will come out.
The trick here is the hold the piping bag farther away from the cheesecake and apply little pressure. The small amount of pressure causes the chocolate to flow out effortlessly and make a more beautiful design. Then top with the chopped pecans.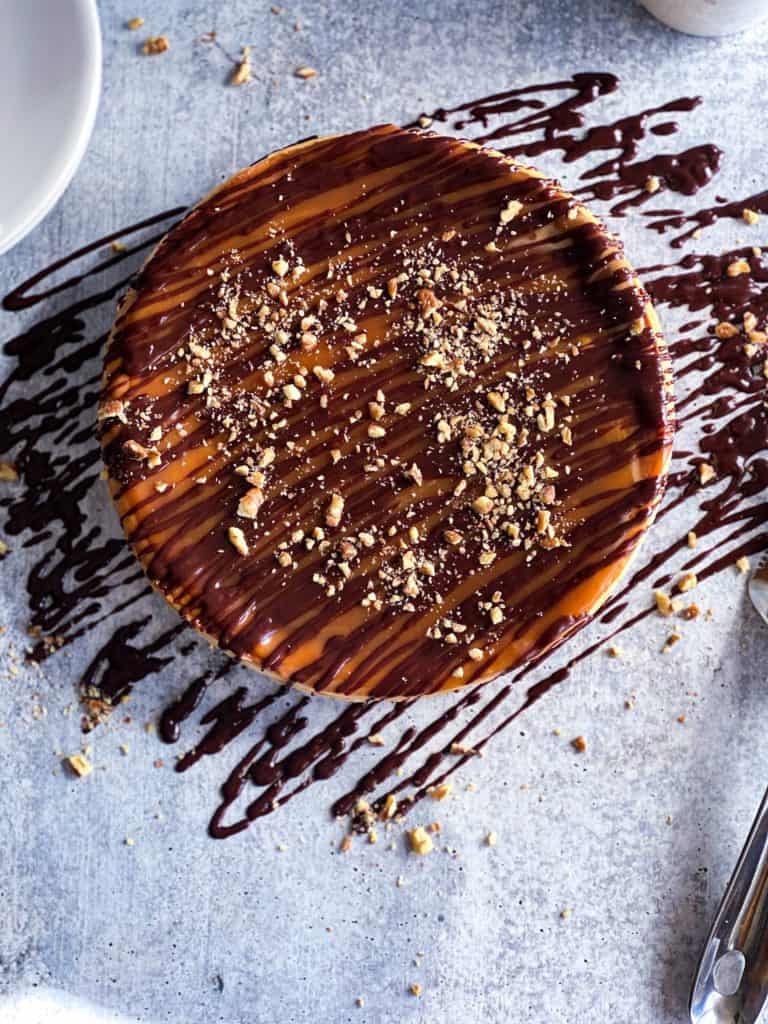 How To Store Cheesecake
I will put this cheesecake in a cake carrier. This carrier is the perfect size and it will keep your cheesecake moist. It is also super convenient for transport. I bake so much, my husband is constantly bring treats to his work and this carrier keeps it safe!
How To Cut Into This Turtle Cheesecake
The best way to cut into this cake is to take an actual knife, like a butcher's knife, and run it under hot water. This will to slice through all the caramel and the thick crust on the bottom. There have been times when I have used a butter knife and cheesecake bits get everywhere and the slice looks like a mess. This cheesecake is too perfect to ruin it when you cut into it!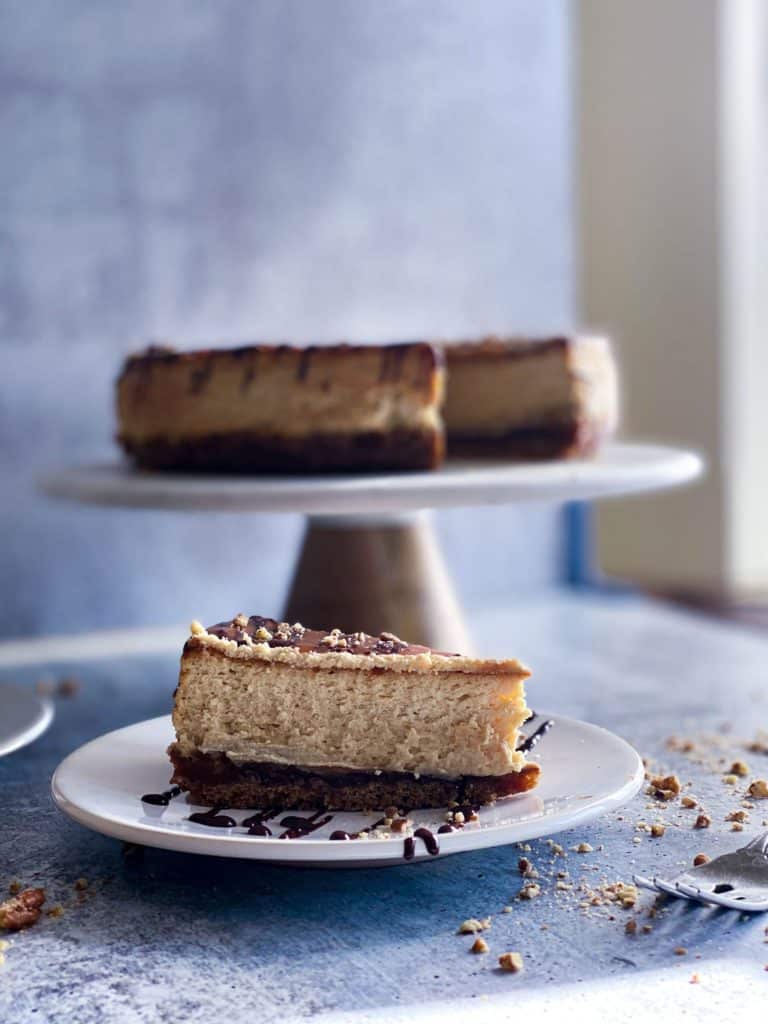 Other Recipes To Try
I hope you guys enjoy this recipe and get a chance to try it out! It is too good! Leave me a review below or tag me on Instagram @Stephaniesweettreats. Please feel free to pin this on pinterest and follow me!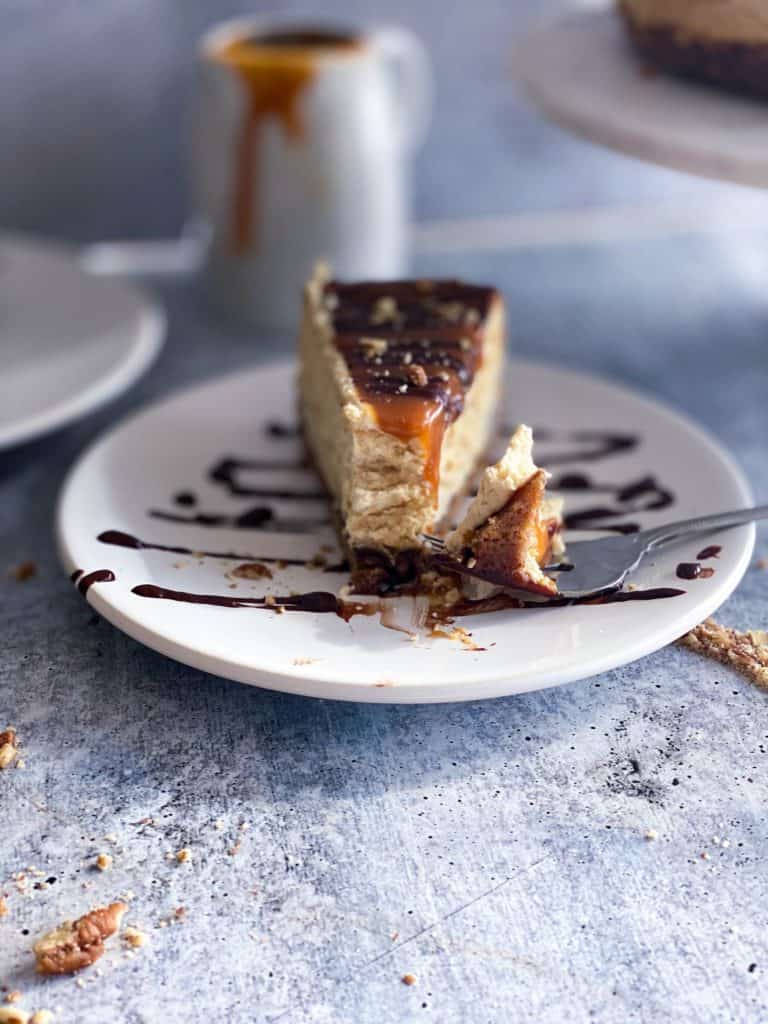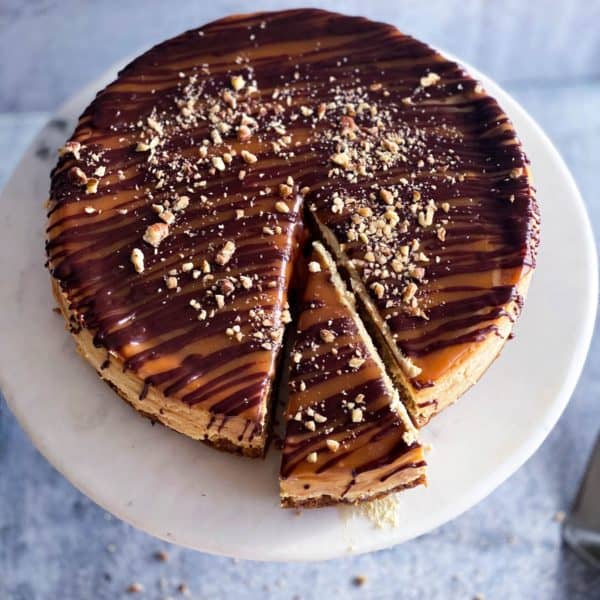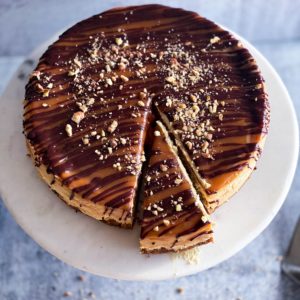 Turtle Cheesecake
Turtle Cheesecake that is dressed to impress. It has a graham cracker pecan crust, mini chocolate chips, fresh pecan caramel on the bottom, and brown sugar cheesecake. Topped with fresh caramel, chocolate ganache and pecans.
Ingredients
Caramel
2

cups

White granulated sugar

½

cup

Unsalted Butter

1

cup

Heavy cream

5

tablespoon

Sifted all-purpose flour

¼

cup

Chopped pecans
Graham Cracker and Pecan Crust
2

cups

Crushed graham crackers

5

tablespoon

Melted butter

¼

cup

Chopped pecans

3

tablespoon

Packed dark brown sugar

1

cup

Mini chocolate chips
Brown Sugar Cheesecake
24

oz

Cream cheese

room temperature

1

cup

Packed dark brown sugar

¾

cup

Sour cream

room temperature

¾

cup

Heavy cream

room temperature

4

eggs

room temperature

2

teaspoon

Pure vanilla extract
Chocolate Ganache
¼

cup

Heavy cream

½

cup

Semi-sweet chocolate chips

¼

cup

Chopped pecans
Instructions
Caramel
In a large saucepan on medium heat, place sugar in pan. Heat sugar until all sugar is melted, whisking continuously. Sugar will at first have huge clumps, but will melt down. Once all sugar is melted stop whisking and let sit until it becomes a more amber color and has a slight nutty smell. This goes super fast so watch carefully and remove from heat immediately.

Place butter in pan and whisk until butter is melted and combined. Very slowly stir the heavy cream into caramel. Save 1 cup of caramel for the decoration and set aside. With the rest of caramel stir in flour and pecans.
Graham Cracker and Pecan Crust
Preheat oven to 325F. Spray a 9-inch spring form pan with a flour non stick spray. Place a 9-inch parchment circle on the bottom and spray again.

Crush graham crackers in a food processor. In a small bowl combine graham cracker crumbs, brown sugar, melted butter, and pecans. Pour into spring form pan. Using your fingers, spread crust evenly and compact it down. Be sure to not make it go up the sides. Bake crust for 10 minutes

Spread mini chocolate chips around the bottom. Pour the pecan caramel over the top of the mini chocolate chips. Set aside while making the cheesecake.
Brown Sugar Cheesecake
Using a mixer on medium speed, beat cream cheese until light and fluffy. Add in brown sugar and beat again. Scrape sides of the bowl. Add in vanilla, sour cream, and heavy cream. Mix until smooth. Add in eggs one at a time. Scrape the sides half way through adding the eggs.

Pour cheesecake batter on top of pecan caramel. In a large saucepan, heat up water until boiling. Should be enough water for water bath. Using an all-purpose pan, create the water bath. Place 10 inch cake pan in the all purpose pan. Place the spring form pan in the cake pan. Once the water is boiling pour into all purpose pan. The water should come up half way up the cake pan. Bake 95-110 minutes. Cheesecake is ready when edges are set but the middle has a slight jiggle. If it has a stronger jiggle it needs to bake more.

When cheesecake is ready, turn off oven and crack the oven door. Let sit in oven for 30 minutes while it slowly cools. After, immediately place spring form on a cooling rack. Pour half of caramel (½ cup) over the top of the cheesecake. Once cheesecake has cooled, cover and refrigerate for 6 hours or overnight.

Once cheesecake is completely cooled, take off spring form pan and the parchment paper on the bottom. Pour the rest of the caramel over the top. Heat up for 10 seconds in the microwave if it firmed up too much.
Chocolate Ganache
In a small bowl pour in chocolate chips and set aside. Heat heavy cream in a sauce pan until it starts to steam, but not yet boiling. Pour over chocolate chips and let sit for 1 minute and 30 seconds. Stir thoroughly until glossy and smooth.

Drizzle chocolate ganache over the top of the cheesecake. Spread chopped pecans over the top of the cheesecake. Let chill in the fridge for 30 minutes before serving so the chocolate ganache can set.
Nutrition