Toffee chocolate chip cookies- Heath toffee bits and semi- sweet chocolate chips in large, soft, and gooey cookies.
This blog receives a commission for using Amazon products for the food recipes that I shared with you in my posts. Although I receive a commission for using and linking their products, they are extremely good for my food recipes and all my opinions and suggestions are unbiased.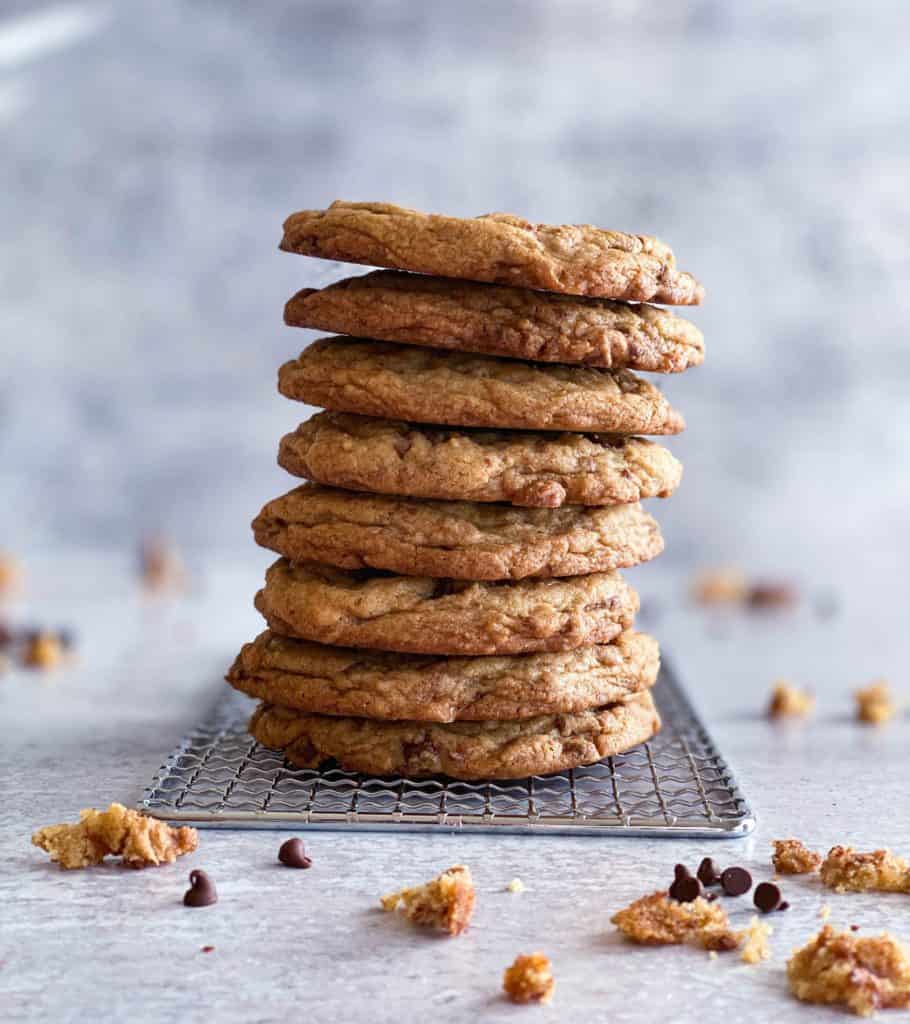 These toffee chocolate chip cookies are so delicious and they are the perfect balance of a gooey center and crisp edges. These cookies taste amazing with the heath toffee pieces and the chocolate chips. They are basically a fancy version of chocolate chip cookies. They are also SUPER easy to make!
What Makes These Toffee Chocolate Cookies Have A Gooey Center
There are actually 2 things that make this cookie so gooey in the middle. The first one is corn starch and the second is extra brown sugar.
Adding the cornstarch to the batter helps to soften the harsh proteins in gluten in the flour. Cornstarch is also great for cakes to make a more tender crumb. For these cookies, however, they make them super soft in the middle.
For this recipe I used dark brown sugar and made sure there was more brown sugar than white. Brown sugar has molasses in it, which helps to make these cookies super soft. Dark brown sugar has more molasses so it is an even softer.
Using more brown sugar than white means there is more moisture and it is also slightly acidic. The molasses will allow the cookie dough to firm up faster and create a chewier cookie. No cakey cookie here!
High Altitude Baking
I live in Colorado, so high altitude baking is always something I fight with. When I was first recipe testing, the cookies spread out awkwardly way more than I wanted them too.
The best way to fix flat cookies is to add an extra 2 tablespoon of sifted flour. Adding the extra flour gives it more gluten and will help firm up the butter in the dough. The cookies will be a lot fluffier.
Something else that really helps to fix this flat cookie problem is chilling the dough before baking it. A short 30 minutes is perfect. The cold helps to firm up the butter which mean less spread. Don't skip this step!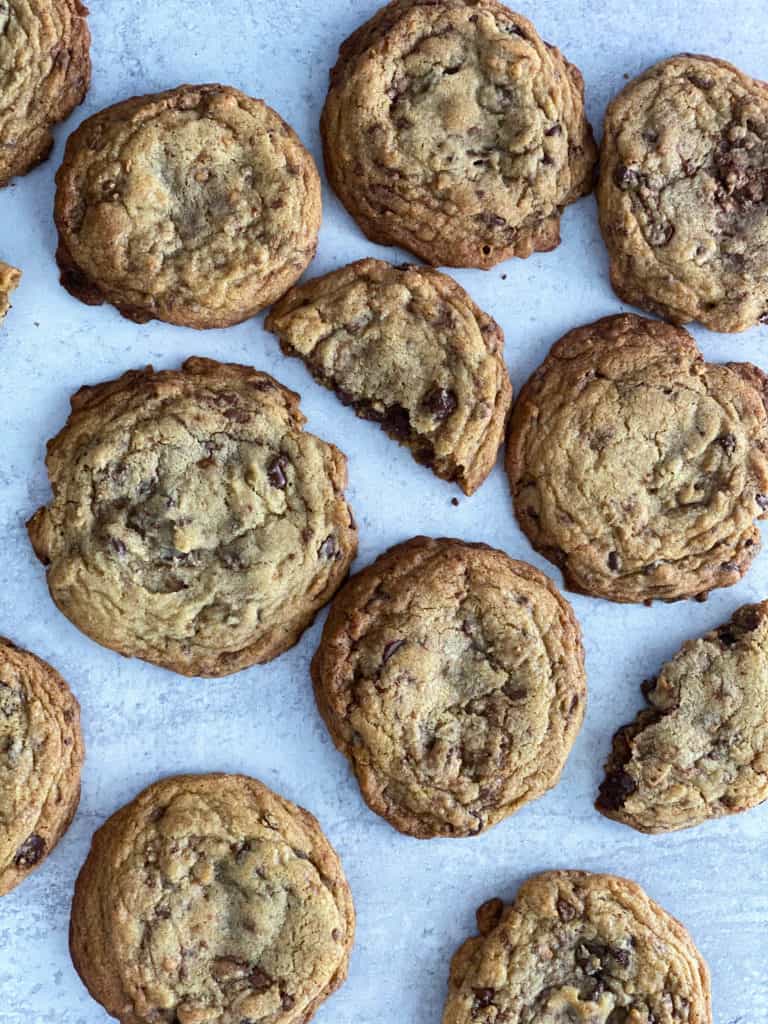 Baking Toffee Chocolate Chip Cookies
Start these cookies off by sifting the flour, baking soda, and salt together. Sifting it together helps to break up all flour clumps. I use this sifter. I seriously use this sifter so much. It is fantastic and can do 3 cups of flour at one time. Since I bake so much, this sifter gets lots of love!
This recipe should use a stand or hand mixer; especially since we are creaming the butter and both sugars together. Cream the butter and both brown and white sugar for 2 minutes on medium high. Creaming the butter not only makes it light and fluffy, but it also aerates the butter to help with the rise.
Add in the vanilla, and then the eggs one at a time. Slowly add in the dry ingredients. Next, add in the best part! The toffee and chocolate chips. Make sure to mix on low, so the toffee and chocolate don't break into small pieces.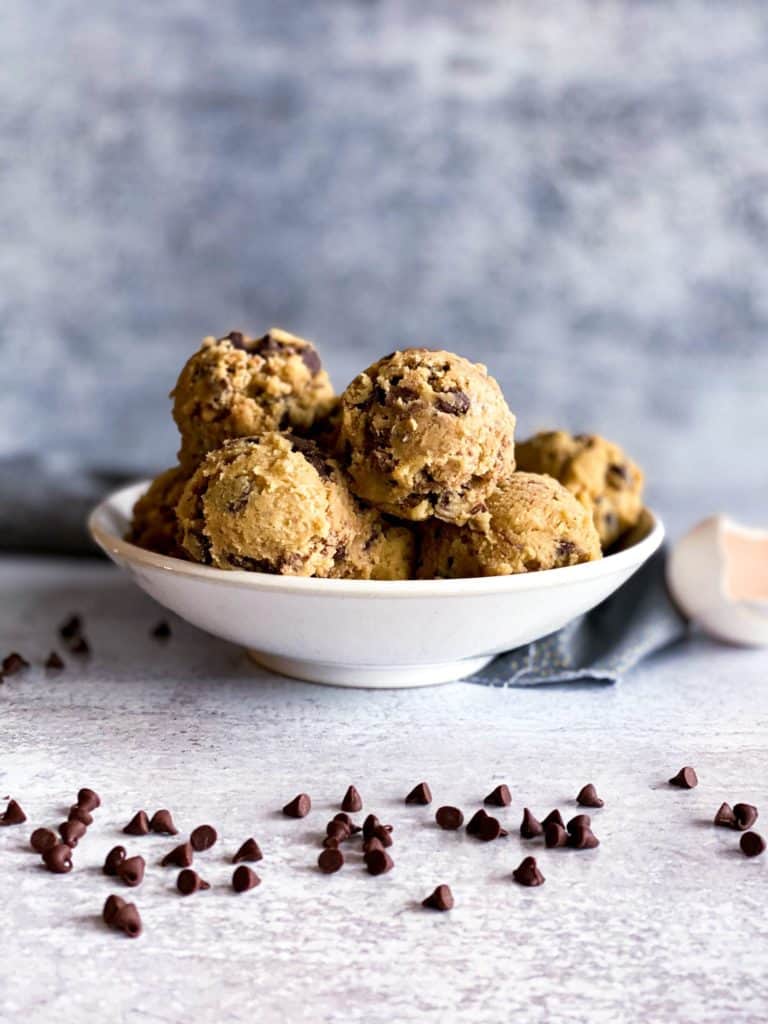 Baking The Toffee Chocolate Chip Cookies
Now, before you start to bake these cookies, pop the dough in the fridge for 30 minutes. While the dough is chilling, preheat the oven to 350F. Letting it preheat and sit at the temperature for a little bit helps to get a more even heat in the oven.
I like to use a large cookie scoop to get a large and pretty cookie. I use this one. Don't pack down the dough in the scoop or try to form it into a nicer ball. Just let it be naturally scooped. Trust me it will spread out evenly.
Bake these on parchment or silicone mat on a cookie sheet. Since they are larger cookies, bake them for 13-15 minutes. With my oven the perfect time was 14 minutes. Since every oven is different, make sure to double check the cookies as they get closer in time.
These cookies will be golden brown with a gooey center and crisp edges. Let the cookies sit on the cookie sheet for 4 minutes. They will continue to cook and will settle and be easy to move to the cooling rack.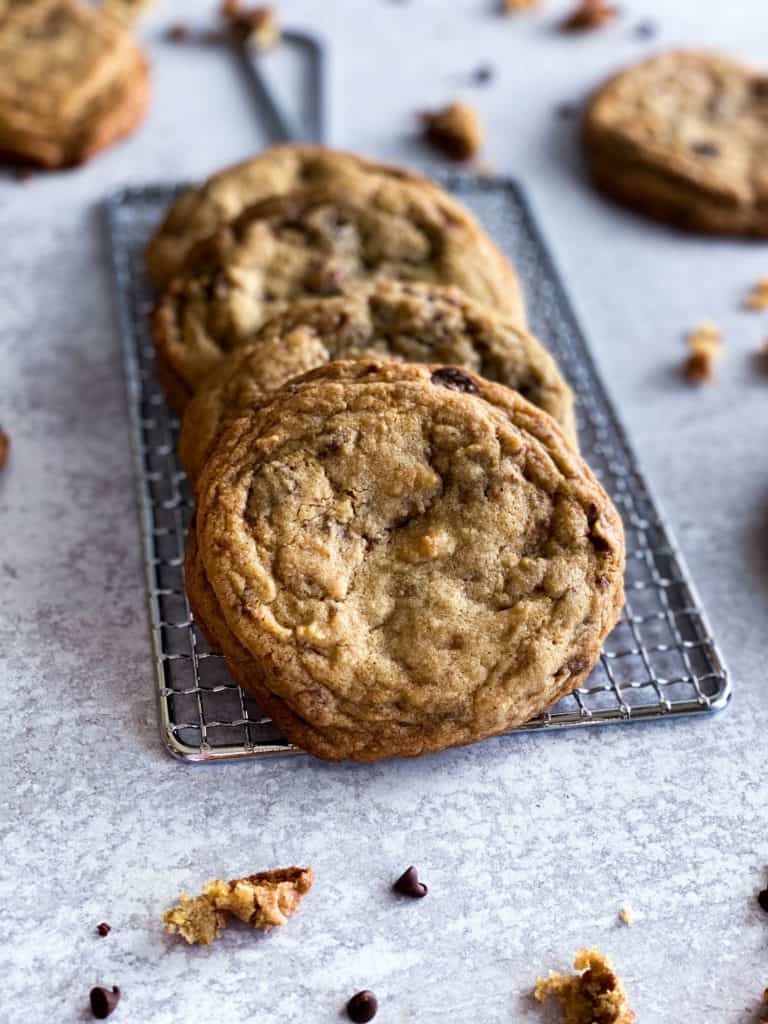 How Long Do These Cookies Last
If these cookies aren't eaten right away, let's be honest they are that good, then store them in a zip lock baggie. They will last about 3-4 days in the bag. A cool trick is place a slice of bread in the bag to make the cookies moist again. The cookies will absorb all the moisture from the bread and will become soft again!
Other Recipes To Try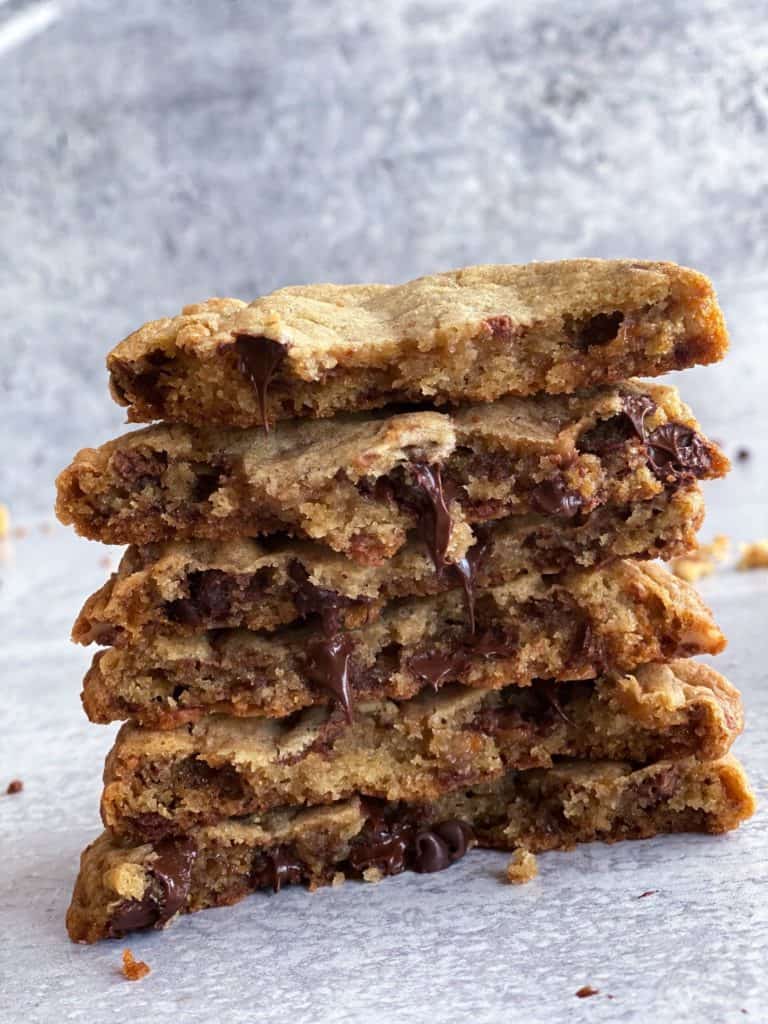 I hope you guys love this recipe! If you could leave me a review and comment below that would be great. Be sure to tag me on Instagram @stephaniesweettreats. Follow me on Pinterest to see more great recipes.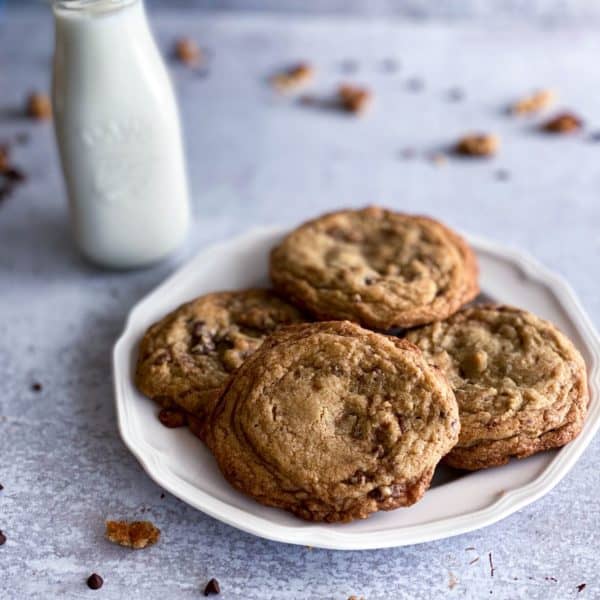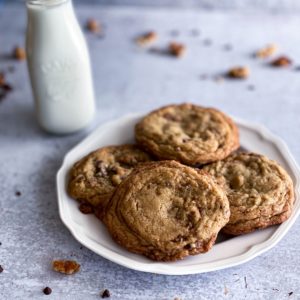 Toffee Chocolate Chip Cookies
Heath toffee and chocolate chip cookies that are very moist and gooey in the center and have crisp edges. The perfect easy chewy cookie.
Ingredients
2 ½

cup

All-purpose flour

1

teaspoon

Baking soda

1

teaspoon

Salt

1

tablespoon

Cornstarch

1

cup

Unsalted butter

room temperature

1

cup

Packed dark brown sugar

½

cup

White granulated sugar

2

Large eggs

room temperature

1

teaspoon

Pure vanilla extract

¾

cup

Semi-sweet chocolate chips

8

oz

Toffee bits
Instructions
Sift together flour, baking soda, and salt in a medium bowl. Set aside.

Cream together butter and both sugars for 2 minutes on medium high. The butter will be light and fluffy. Add in vanilla.

Add eggs one at a time on low. Don't over beat. Slowly add in dry ingredients. Add in toffee bits and chocolate chips.

Cover and place in fridge for 30 minutes

Preheat oven to 350F. Line 2 cookie sheets with parchment paper or silicone mats. Scoop cookie dough using a large cookie scoop. 6 dough balls per cookie sheet.

Bake for 13-15 minutes. Cookies are done when they are golden brown. Let sit for 4 minutes on cookie sheet before transferring to cooling rack.
Notes
High altitude baking- add 2 tablespoon of flour
Nutrition