Chewy monster cookies- soft cookies with quick oats, mini chocolate chips, mini m&ms. and peanut butter. Topped with extra mini m&ms.
This blog receives a commission for using Amazon products for the food recipes that I shared with you in my posts. Although I receive a commission for using and linking their products, they are extremely good for my food recipes and all my opinions and suggestions are unbiased.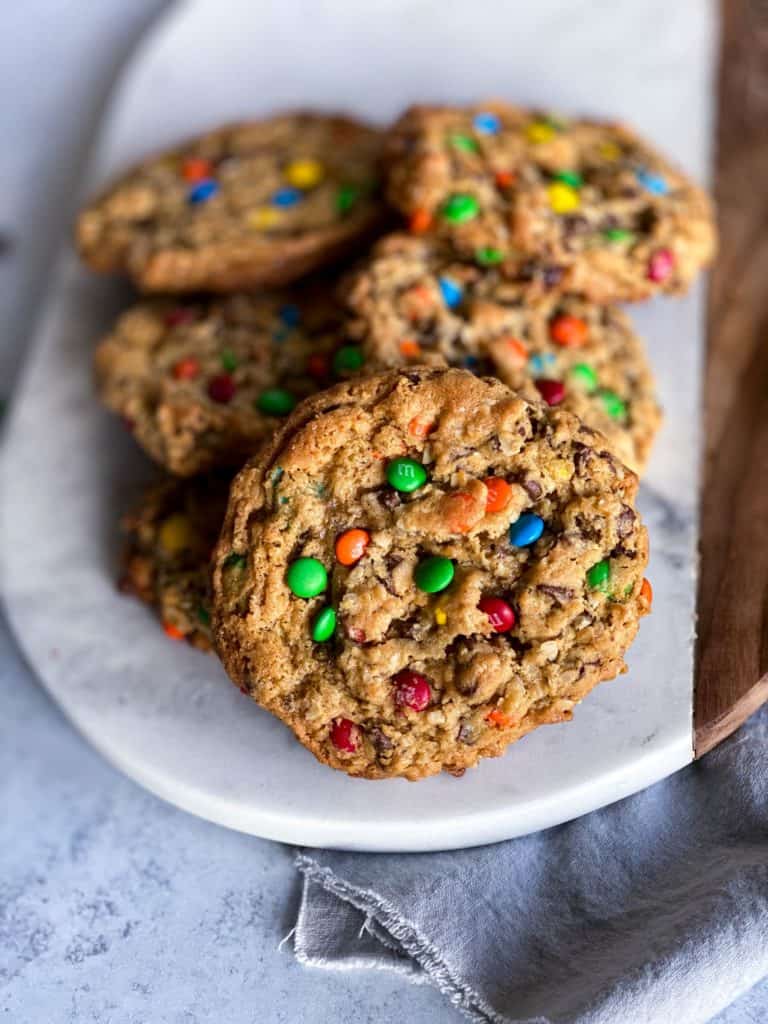 These chewy monster cookies are probably one of my favorites. It has everything you could need in a cookie. Need a cookie with oats, peanut butter, chocolate chips, or m&ms? These chewy monster cookies have it all! Not only are they soft and gooey in the middle, but they have the perfect crisp edge. This is the perfect cookie recipe.
Ingredients Needed For Chewy Monster Cookies
All-purpose flour
Cornstarch
Baking soda
Baking powder
Salt
Unsalted butter
Brown sugar
Creamy peanut butter
Pure vanilla extract
Eggs
Quick Oats
Mini chocolate chips
Mini M&Ms
See? I told you these cookies have everything good in them! They are very easy to make too. It a win-win.
Start by sifting all of the dry ingredients together. Sifting flour, baking soda, baking powder, salt, and cornstarch gets rid of any flour lumps. I use this sifter almost every day.
In a separate bowl, use a stand or hand mixer to cream together the butter and brown sugar. The goal is to get super light and fluffy butter. The key here is to have room temperature butter. Room temperature butter can be easily whipped to get the fluffy texture. When the butter is cold, it can't aerate properly. Make sure to let your butter get to room temperature.
Next, add in the peanut butter, vanilla, and eggs one at a time. Then, mix in the dry ingredients. Once it is fully combined, fold in the oats, mini chocolate chips, and mini M&Ms. Once the dough is ready, chill in the fridge for 30 minutes before baking.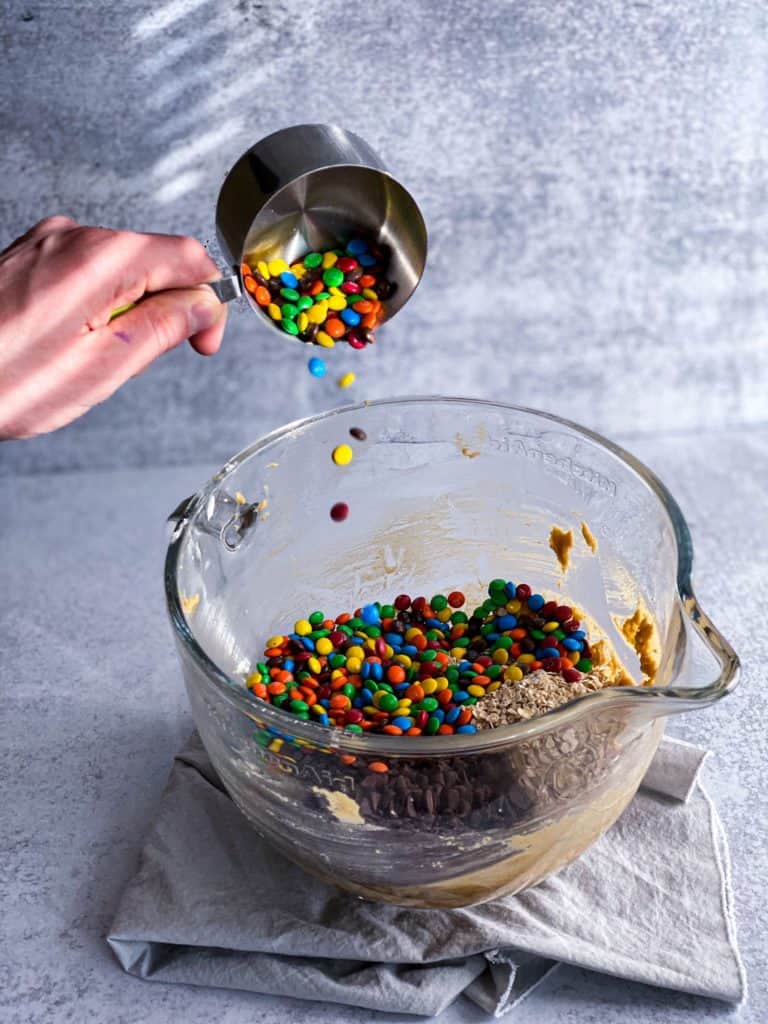 How To Get Chewy Cookies
I did multiple things here to get these cookies super chewy. I actually have them 4 days after baking and they are still soft! What makes these monster cookies chewy is the brown sugar, cornstarch, and an extra yolk.
As you can see in the recipe, there is no white sugar whatsoever. All of the sugar comes from the brown sugar. When you only use brown sugar, the acidic in molasses softens the gluten strands and makes a softer cookie.
Cornstarch is one of my favorite ingredients for cookies. I only eat cookies that are very chewy and cornstarch is the perfect way to get that. Cornstarch also softens the gluten and makes a more tender cookie. It is what helps to get gooey soft center.
Since these cookies are made with quick oats, I thought it needed an extra layer of moisture. Adding an extra egg yolk adds extra richness and the fat in the yolk makes a softer cookie. I tried making the cookie with just the one egg and it wasn't as soft as I wanted it to be. Adding the extra yolk, however, really changed the moisture and made the cookie super gooey, especially fresh out of the oven.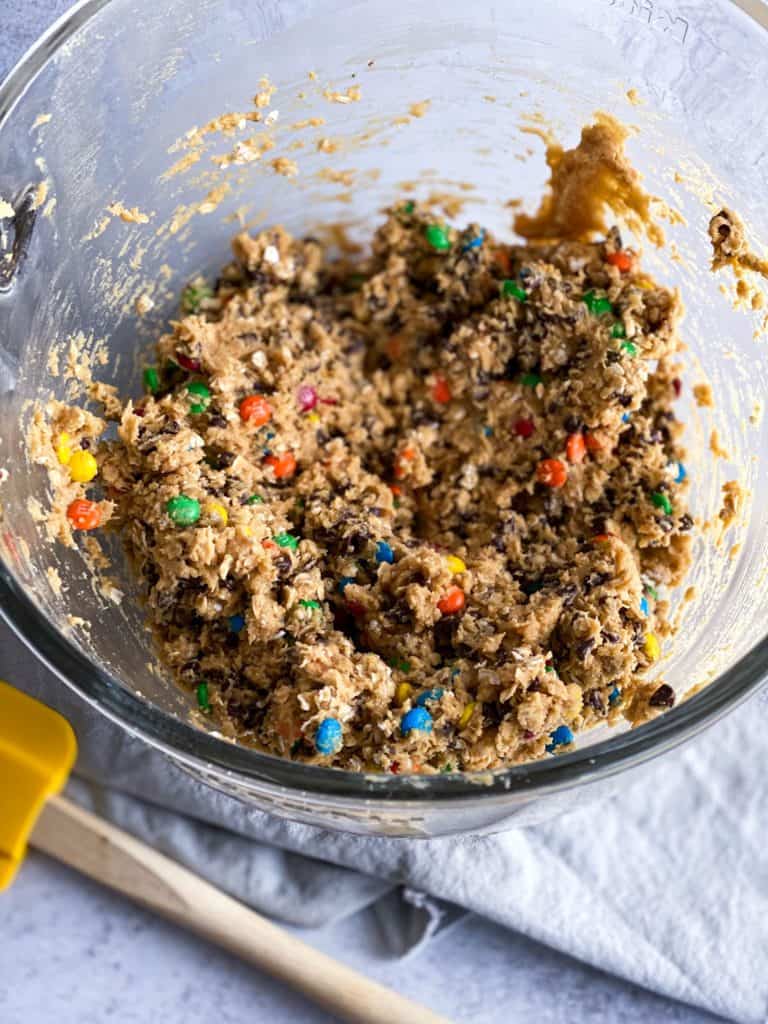 Fresh Out Of The Oven
After the dough has chilled for 30 minutes, take an ice cream scoop and scoop out large cookie dough balls. I use this ice cream scoop. My favorite way, (and the easiest) is to plop the cookie dough scoops right on the cookie sheet. You don't need to mold the dough or fix it. Just leave it as it is to get the round shape.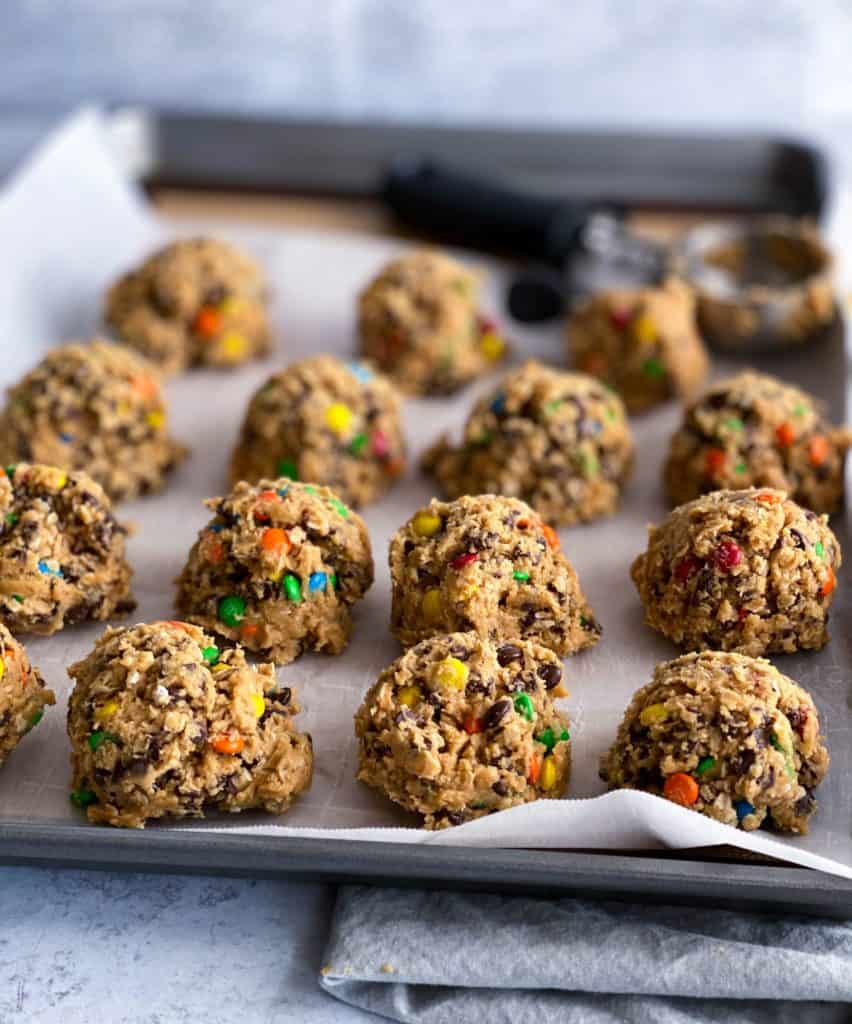 Bake the cookies for 12-14 minutes. For my oven it was done at 12 minutes and 30 seconds. They are done when the edges are golden brown. When they come out of the oven, they will be pretty puffed up. To fix that, press mini M&Ms into the top while it is still warm. Pressing the candies down will flatten the cookie, plus it makes them look prettier.
Next, let the cookies sit on the cookie sheet for 4 minutes before transferring to the cooling rack. Allowing them to sit on the cookie sheets makes them set and easier to move. I hate nothing more than cookies falling apart when trying to move them!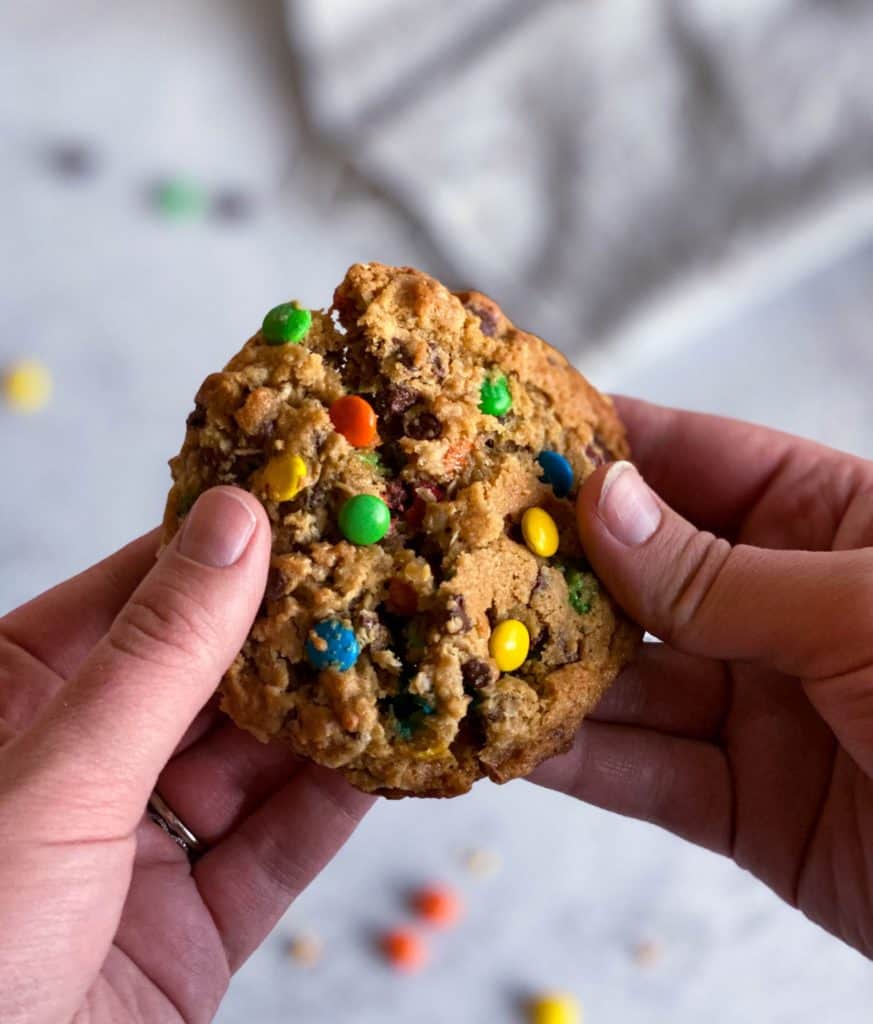 How Long Do These Last
I made these cookies 4 days ago and they are still crazy soft. I keep these chewy monster cookies in a ziplock bag. While they are still soft after 4 days, it is best to not keep them past 7 days. After a week they will start to dry out and not be as good.
When I am going to eat another cookie after it has been stored, I like to heat it back up to be warm and gooey. The lazy way is to simply heat it up in the microwave for 5-10 seconds. It is more likey to fall apart this way.
If I want kick it up a notch, I bake it in the oven for 5 minutes at 300. They get more crisp than in the microwave and are perfect with a scoop of ice cream.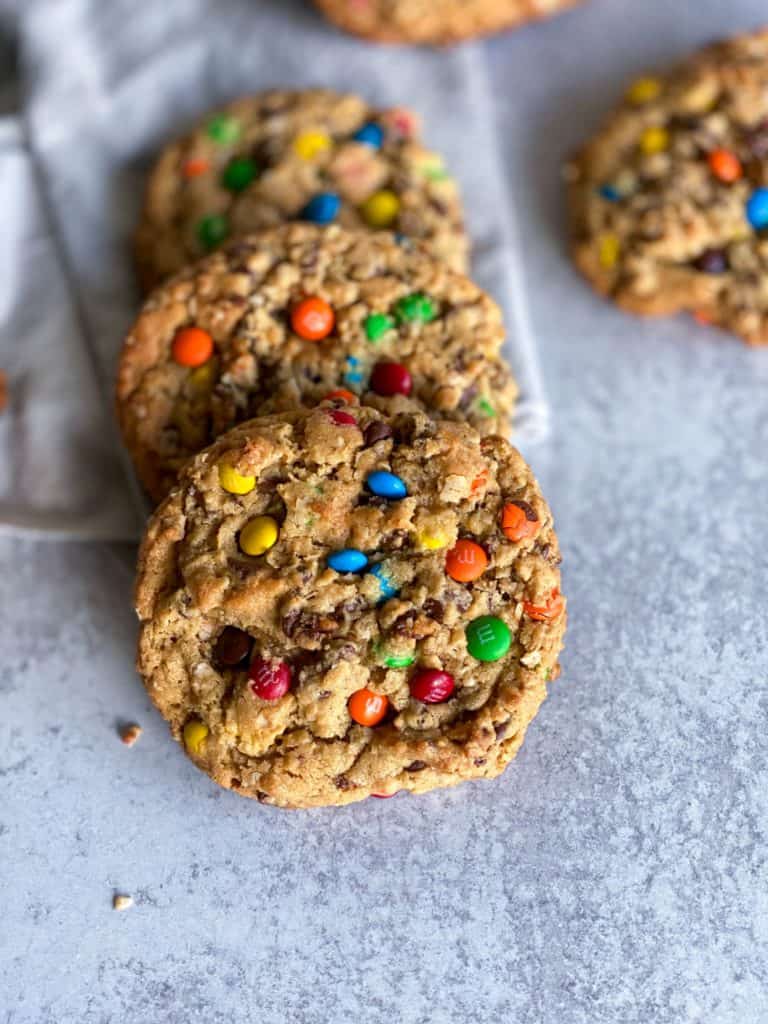 Other Recipes To Try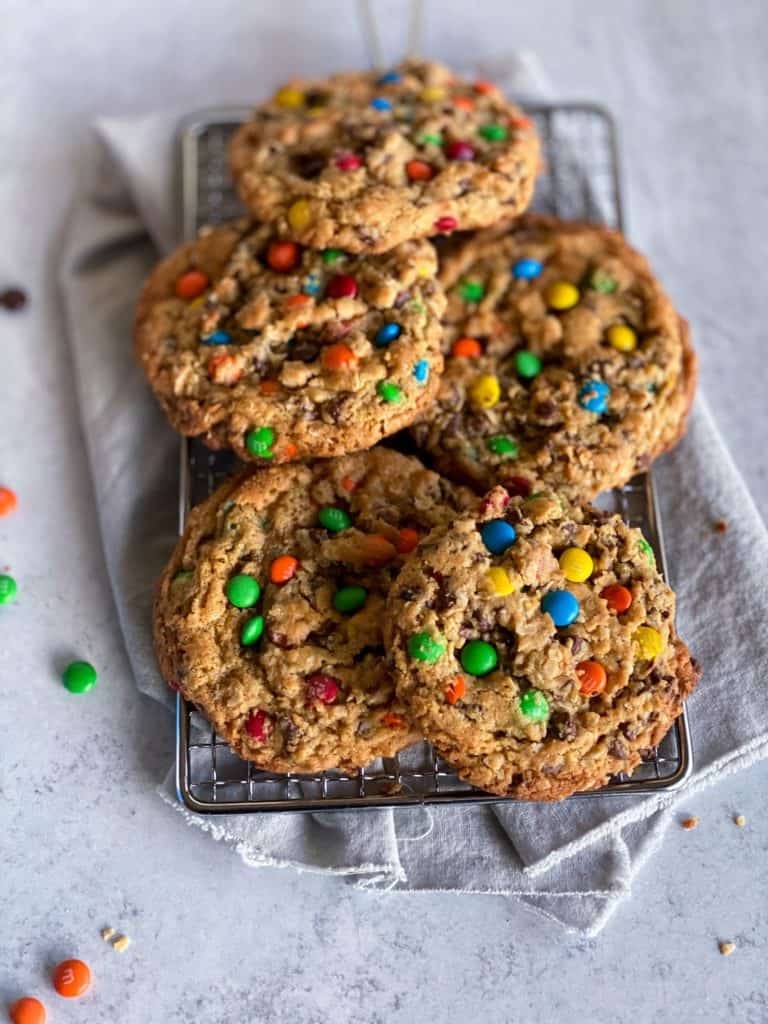 Make sure to tag me on Instagram @stephaniesweettreats and leave me review below if you made this cookies. I hope you loved it! To get more ideas follow me on Pinterest.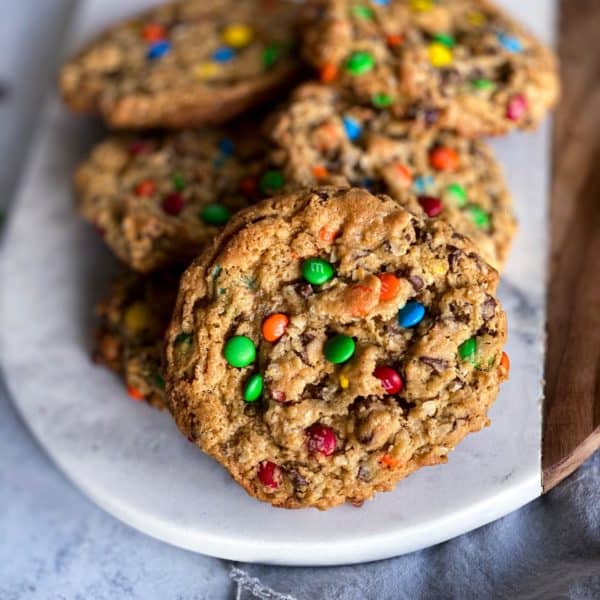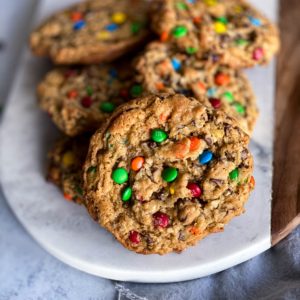 Monster Cookies
Chewy monster cookies filled with peanut butter, quick oats, mini chocolate chips, and mini m&m's. These cookies are so soft in the middle with crisp edges
Ingredients
¾

cup

All-purpose flour

2

teaspoon

Cornstarch

1

teaspoon

Baking soda

¼

teaspoon

Baking powder

¼

teaspoon

Salt

½

cup

Unsalted butter

room temperature

1

cup

Packed brown sugar

light or dark

½

cup

Peanut butter

creamy

1

teaspoon

Pure vanilla extract

1

Large egg plus 1 egg yolk

room temperature

1

cup

Quick oats

1

cup

Mini chocolate chips

1

cup

Mini m&m candies
Instructions
Sift together the flour, cornstarch, baking powder, baking soda, and salt in a medium bowl and set aside.

Using a stand mixer or hand mixer, cream together softened butter and brown sugar for 1 minute until light and fluffy. Add in peanut butter and mix for another minute. Add in vanilla. Next, add in egg and egg yolk one at a time.

Slowly add in dry ingredients and mix until combined. Add in oats, mini chocolate chips, and mini m&ms. Cover bowl and chill in fridge for 30 minutes.

Preheat oven to 350F, line 2 cookie sheets with parchment paper or silicone baking mats. Use an ice cream scoop and scoop 6 cookie balls per cookie sheet. Bake one cookie sheet at a time for 12-14 minutes. Cookies are done when they are lightly golden brown on the edges. Right when the cookies come out of the oven, place extra mini m&ms on top of cookies to flatten them down. Let cookies sit on cookie sheet for 4 minutes before transferring to cookie rack.
Nutrition