It's Valentine's season! That means all the chocolate and all the strawberries. There is nothing more romantic than having chocolate covered strawberries on Valentine's Day. After reading this post you can make your sweetie strawberries too!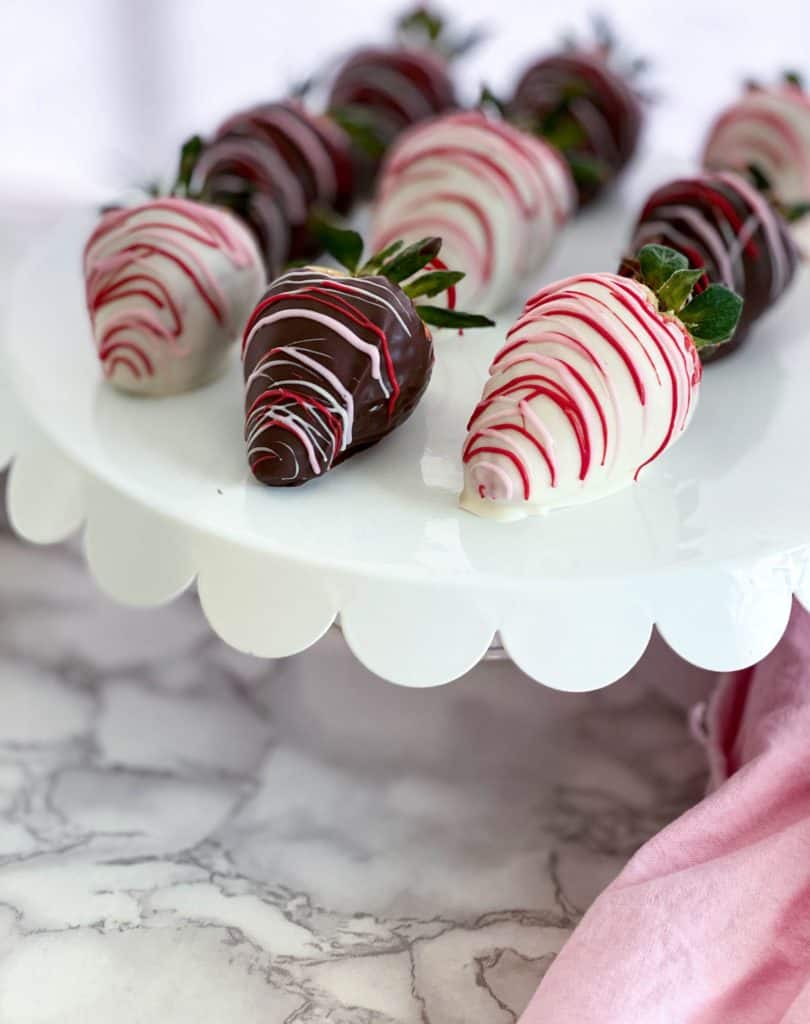 Now, doing chocolate covered strawberries is super simple. The hardest parts are tempering the chocolate correctly, and of course decorating! When I was first starting out on this baking adventure, presentation was always the hardest part. I am going to share with you all tips and tricks to get beautiful strawberries.
How to Prep Chocolate Covered Strawberries
Have you ever bought grocery store chocolate covered strawberries and they look absolutely terrible? The chocolate is wet and melting or looks mushy. Awful, right? Well, to do it right, first you need to start with the strawberries.
The strawberries need to be washed and dried very thoroughly. The reason why the chocolate will melt off is because chocolate can't stick to water. So, I will wash them and place on a dish towel. Then, I will use a dry dish towel and go through each strawberry and dry every inch.
How to Melt the Chocolate
For the chocolate, I like to use Ghirardelli. It is a high quality chocolate: it melts a lot better and tastes fantastic. I will use the chocolate melts that come in the little disks because they are a lot easier to melt.
To heat them up, I will first put them in a microwave safe bowl and defrost them for 30 seconds. The chocolate disks usually keep their size until you start stirring them. After every heating session, I will thoroughly stir. After the initial heating, I will heat for 15 second intervals.
When the chocolate is almost melted, I will stir it together until it melts. It is important for the tempering process that the last bit is melted by the surrounding chocolate instead of the microwave.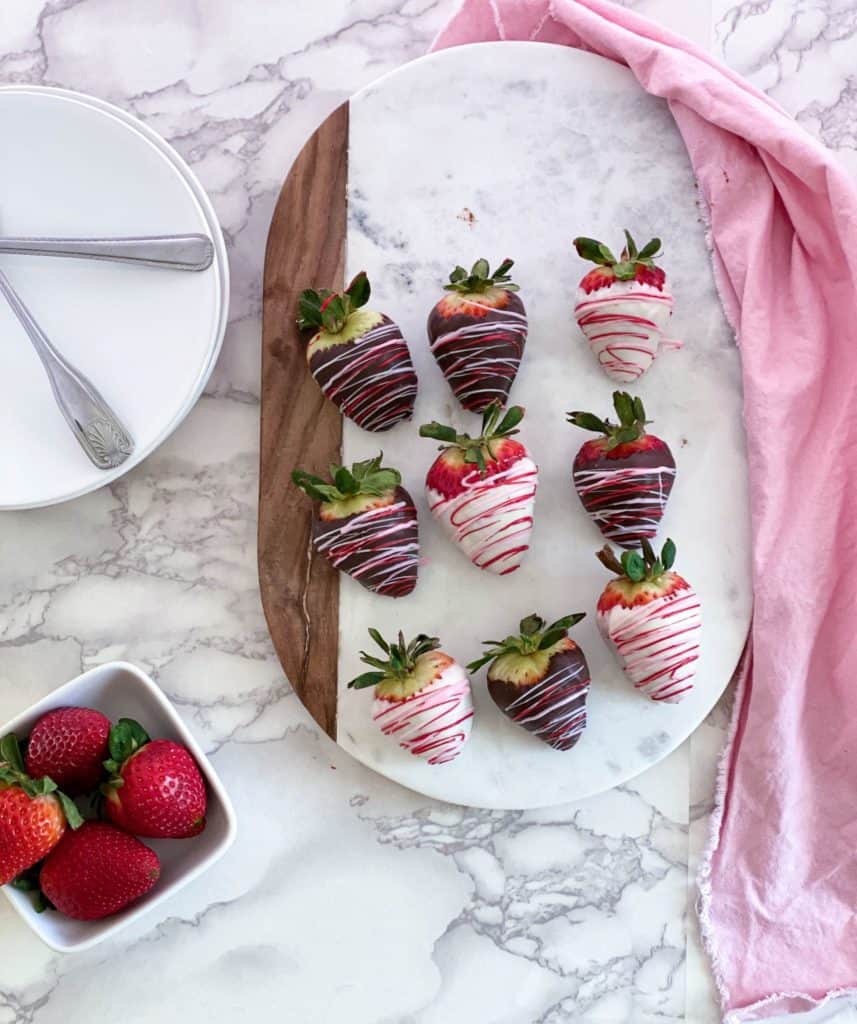 When I do a big batch of chocolate covered strawberries, I will heat up multiple chocolates (dark, milk, and white chocolate) and have it all ready for dipping. I won't heat the chocolate or candy melts for the drizzle until after the main chocolate is set on the strawberry.
Jump to Recipe
Where Should I Put the Chocolate Covered Strawberries So They Don't Stick?
Wax paper will be your friend here. The wax paper allows for the strawberries to not adhere to the paper, making it an easy storing surface while the chocolate dries. I will usually get a cookie sheet (or a few if making big batches) and spray with a non stick cooking spray. Then, I place the wax paper over the top.
How Do I Get a Fun Drizzle on the Chocolate Covered Strawberries?
Typically, I will use any of the leftover melted chocolate for the basic drizzle. For the fun colors, I use candy melts. It tastes like vanilla and the color is so vibrant and a lot easier than coloring white chocolate.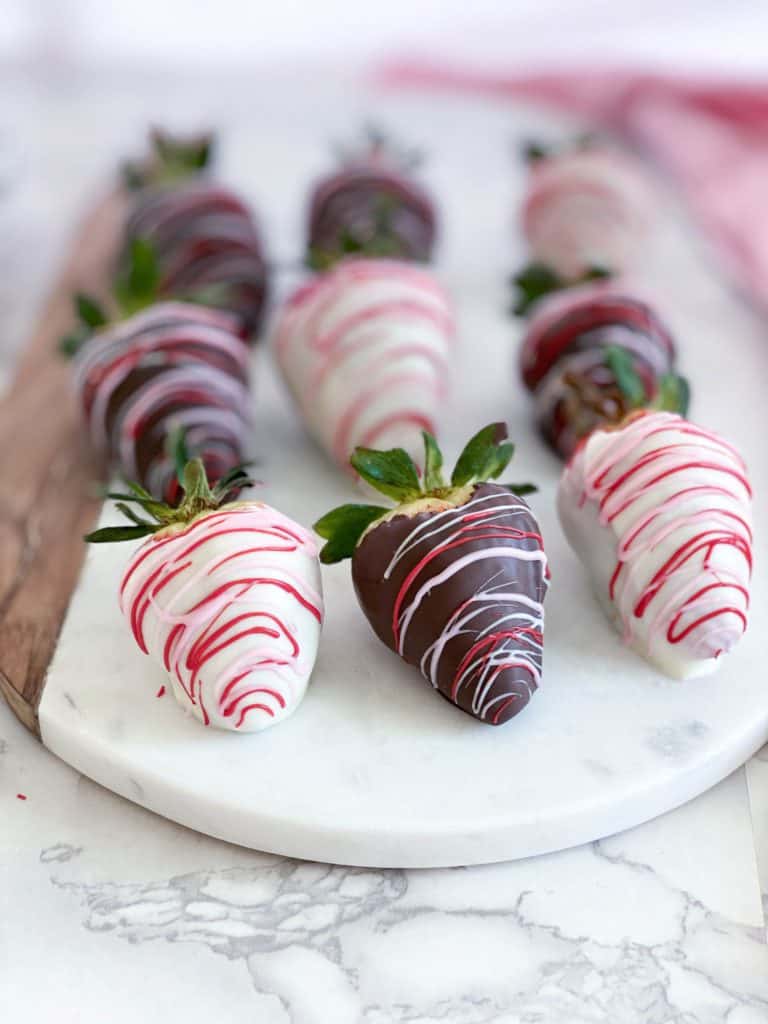 Next, put the melted chocolate in a piping bag and cut off the tip. The goal is to barely have a hole in the piping bag so the chocolate comes out slow and smooth to get nicer lines. Then, I just go over each strawberry with each color. The trick here is to go quickly because the drizzle looks more smooth. When you try to control it too much, it looks too forced.
How Long Do These Strawberries Last?
Since they are indeed strawberries, they really only last for a few days, about 4-5 days at the maximum. I will try not to make them too far in advance, so that the strawberries are still fresh.
I will store them in a bakery box usually, but regular Tupperware would do fine as well.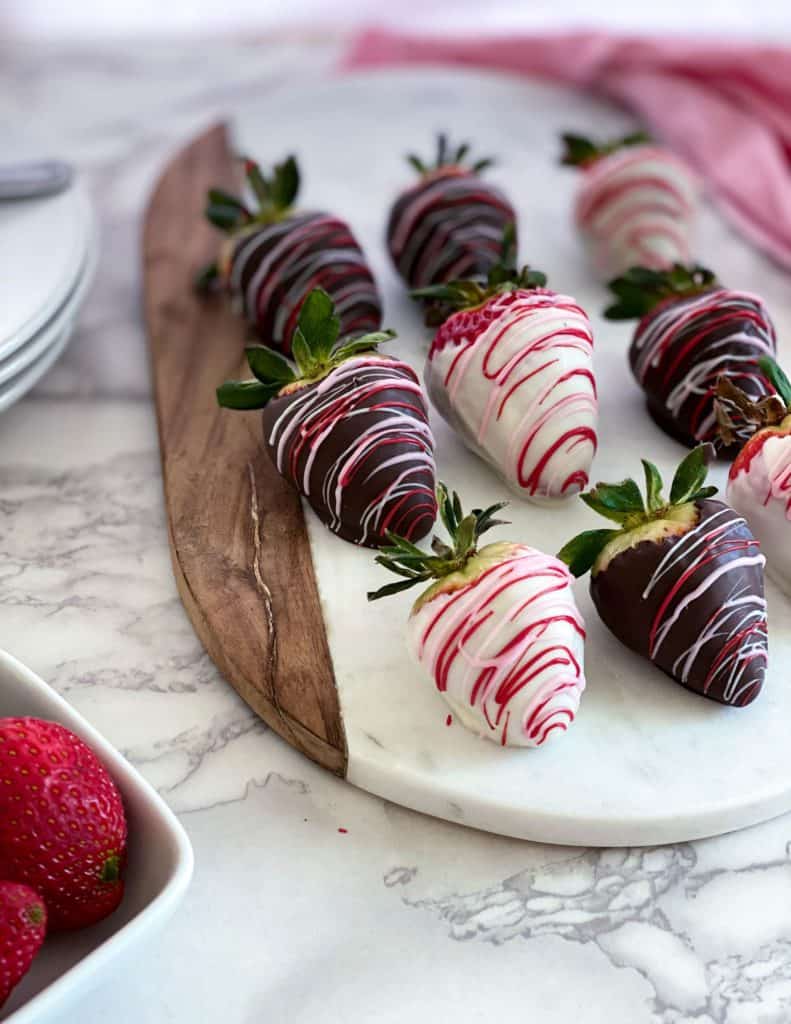 There you have it! Beautiful strawberries for your special someone. I know my husband loves chocolate covered strawberries and enjoyed every bite. If you make this recipe, I would love to hear from you! Tag me on instagram @stephaniesweettreats. It would make me so happy to see how you created your perfect strawberry.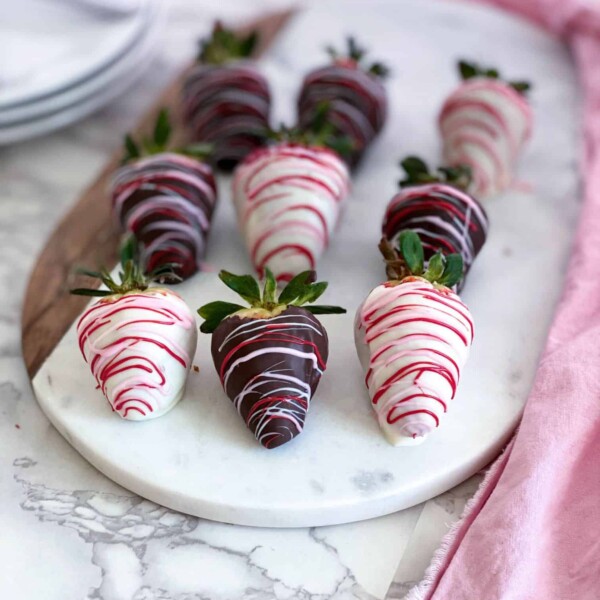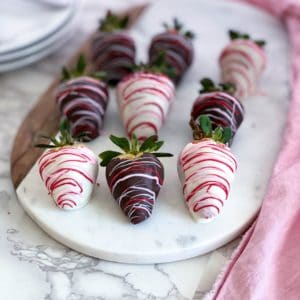 Chocolate Covered Strawberries
Chocolate Covered Strawberries with the perfect amount of chocolate. Perfect for a date.
Ingredients
12

Strawberries

¾

cup

Chocolate Melts

High quality like gharadelli
Instructions
Spray a cookie sheet with non stick spray. Place wax paper on top of cookie sheet.

Wash and dry the strawberries. They should be very dry before using. Chocolate won't stick if the strawberries are wet.

Heat the chocolate: First defrost chocolate in microwave safe bowl for 30 seconds. Then stir. Heat up chocolate for 15 second intervals. Make sure to stir very thoroughly in between heating. The last remaining chocolate should be heated by stirring the chocolate, not by heating in the microwave.

Dip strawberry in the chocolate. Shake the strawberry a little so excess chocolate gets dripped off. Place on wax paper. Chill for 10-15 minutes until the chocolate hardens. If desired, drizzle white chocolate over the strawberry.
Notes
You can add extra candy melts or white chocolate to get the fun drizzle look.
Nutrition