Blueberry swirled cheesecake- fresh blueberry sauce swirled into a creamy original cheesecake with a graham cracker crust. Topped with a blueberry topping and whipped cream cheese rosettes.
This blog receives a commission for using Amazon products for the food recipes that I shared with you in my posts. Although I receive a commission for using and linking their products, they are extremely good for my food recipes and all my opinions and suggestions are unbiased.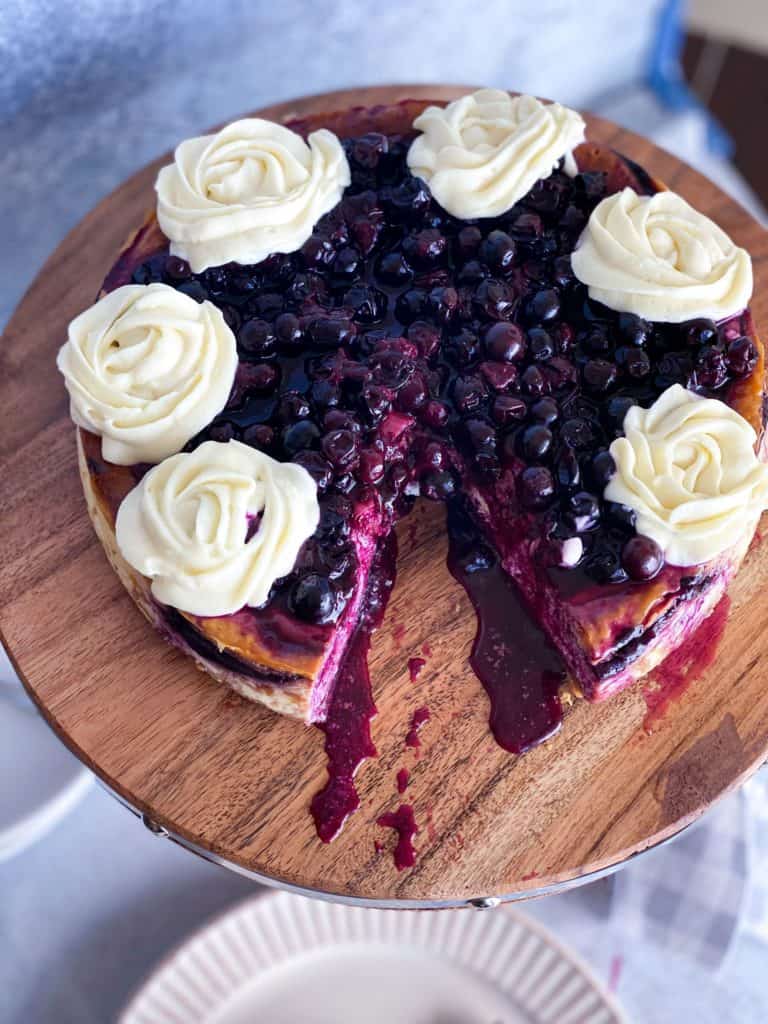 This ultra blueberry swirled cheesecake is too good! It is a rich dessert that is also light and fluffy. On the bottom is a graham cracker crust with extra brown sugar holding a super creamy original cheesecake with blueberry sauce swirled in. If that wasn't enough, there is a light blueberry topping. Sounds amazing right? In this post I'm going to share all the tips and tricks to make this.
How To Get The Perfect Texture In The Blueberry Swirled Cheesecake
I have done a lot of trial and error in cheesecake, until I came up with this amazing recipe that can impress every time. My regular recipe for cheesecake won't work for this one, though. There is too much added moisture with the blueberry sauce.
Normally I add ¼ cup of both sour cream and heavy cream per 8oz of cream cheese to make a super creamy cheesecake. Adding ⅔ cups of blueberry sauce however, makes it too moist. There was too much liquid in the cheesecake and it ended up being a soggy mess.
After some recipe testing, I discovered that simply lowering my heavy cream can make the cheesecake still just as creamy. It was a simple act of balancing ingredients.
This texture is beautifully creamy with the tart sweetness of both blueberry sauce and topping. It is a seriously perfect spring dessert.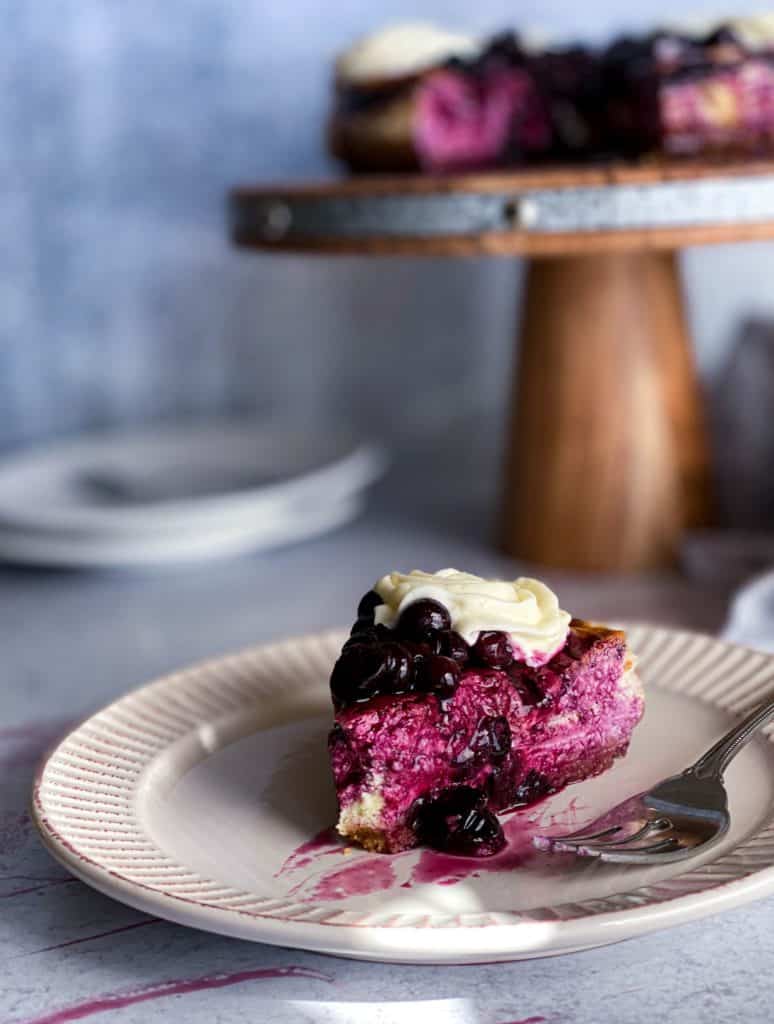 How To Make A Perfect Graham Cracker Crust
Making crust for cheesecake is very simple and tastes way better than any store bought crust. Once you try your first crust, you can never go back!
Start by preheating the oven to 325F and spraying a 9 inch spring form pan with a baking non-stick spray. I recommend a baking non-stick spray because it is made with flour inside which helps the dessert to come out of the pan. I also put a 9 inch parchment circle down and spray again.
Next, use a food processor to pulse graham cracker into a fine crumb. Combine graham cracker crumbs, melted butter and brown sugar in a small bowl.
Pour the crumbs into the spring form pan. The best way to compact the crust down is to simply use your hands. I have tried using a glass cup or a spice jar, but nothing works better than using your hands.
Bake the crust for 10 minutes. Baking the crust before adding cheesecake batter helps to prevent a soggy crust.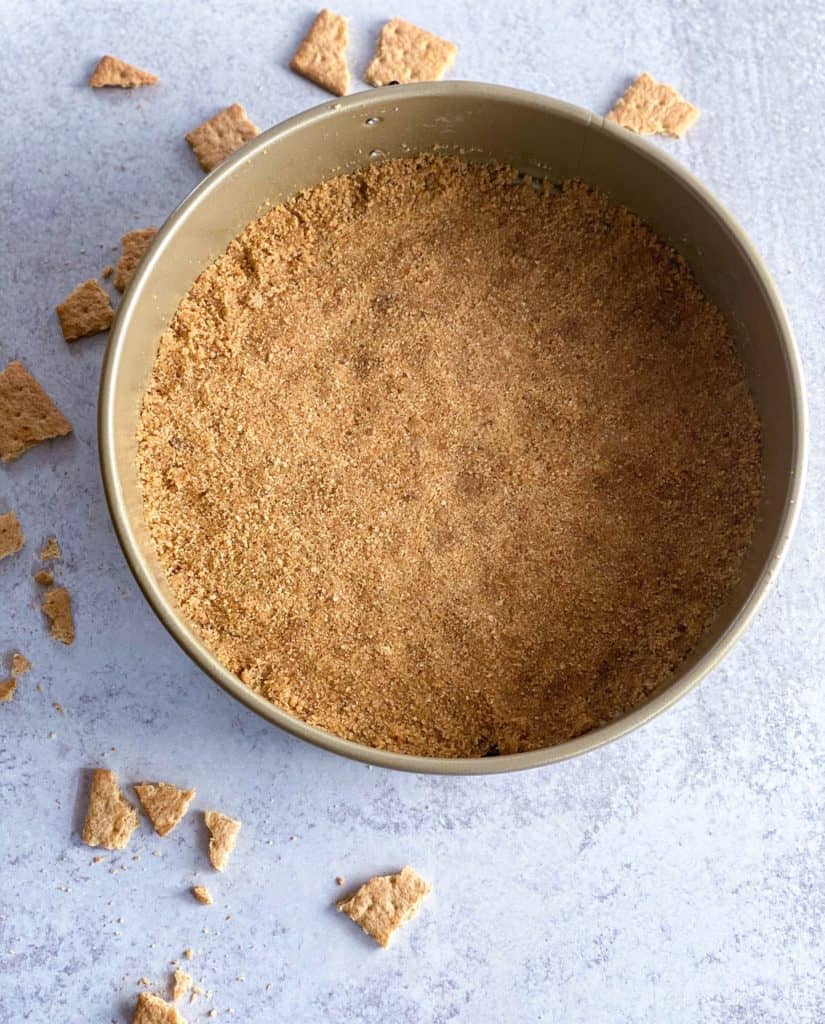 How To Make Blueberry Sauce
I used to be so intimidated making any sort of fruit sauce. Trust me though, it is crazy easy to make. This blueberry sauce is almost exactly like my strawberry sauce recipe. If you want to see pictures on how to make it.
First, add all of the ingredients (frozen blueberries, sugar, water, and cornstarch) in a saucepan on low. Heat just until the blueberries thaw out. Once the blueberry are squishy, blend the mixture in a food processor until pureed.
Pour the rest of the pureed blueberries back into the saucepan and heat until the sauce thickens slightly. The blueberry sauce is going to turn into a gorgeous purple color. When it does, take off the heat.
Pour the blueberry sauce through a mesh strainer to get the sauce to have a silky smooth texture. I normally will just toss the thick sauce left in the strainer. You can make this sauce ahead of time or while the crust is baking. If making the sauce ahead of time, put it in the fridge until you ready to use it.
The Best Original Cheesecake
The most important part to get a silky smooth cheesecake is to make sure all of your dairy ingredients are room temperature. When it is cold the ingredients can't blend as well and you will get pockets of cream cheese. Yuck!
You simply get your ingredients out 3-4 hours before baking. You set out the cream cheese, eggs, sour cream and heavy cream so they can get to room temperature.
I have only used a stand mixer to make my cheesecakes because it has enough power to beat the cream cheese to have the right consistency. I usually will beat the cream cheese for about 1 minute before adding the sugar.
When the cream cheese is room temperature, it will be able to get very light and fluffy. After it starts to get fluffy I will add the sugar and beat again.
I have tried adding the sour cream and heavy cream both before and after adding the eggs. When you add the eggs, you want to add as little air as possible.
The sour cream and heavy cream, when you first add it, will be chunky and will need to be mixed for at least a minute to get it smooth. So, I always add it before I add the eggs.
After adding the eggs, stop mixing immediately. Having too much air can cause cracks in a cheesecake. When rising, it will rise too much, then sink fast, and then crack. Basically the worst thing a cheesecake can do. Once the cheesecake batter is finished it is time to swirl the cheesecake.
Beautiful Swirled Cheesecake
Start by pouring half of the cheesecake batter on top of the graham cracker crust. Scoop out ⅓ cup of the blueberry sauce and drop it on the batter by using a teaspoon. It will form little pools of blueberry on the batter.
Pour the remaining cheesecake batter over the top of the cheesecake. Don't swirl it just yet!
Repeat the blueberry sauce by using ⅓ cup and dropping it on the batter by using a teaspoon. Drop it evenly around the batter to get a more even swirl.
Use a butter knife and drag it across the blueberry sauce and cheesecake batter. I will usually do this a couple of times to get my desired swirl look.
Next, create a water bath for the cheesecake. Use either aluminum foil or place in a 10 inch cake pan and place that in a large pan of boiling water. In my triple chocolate cheesecake post, I go into more detail on how to do a water bath.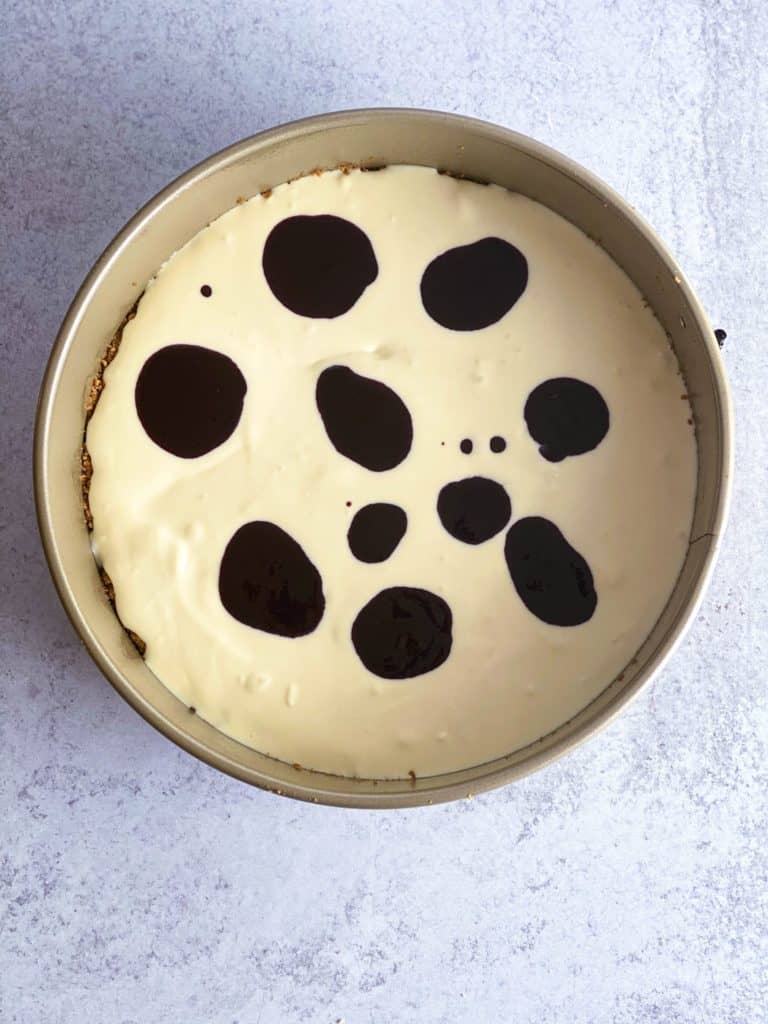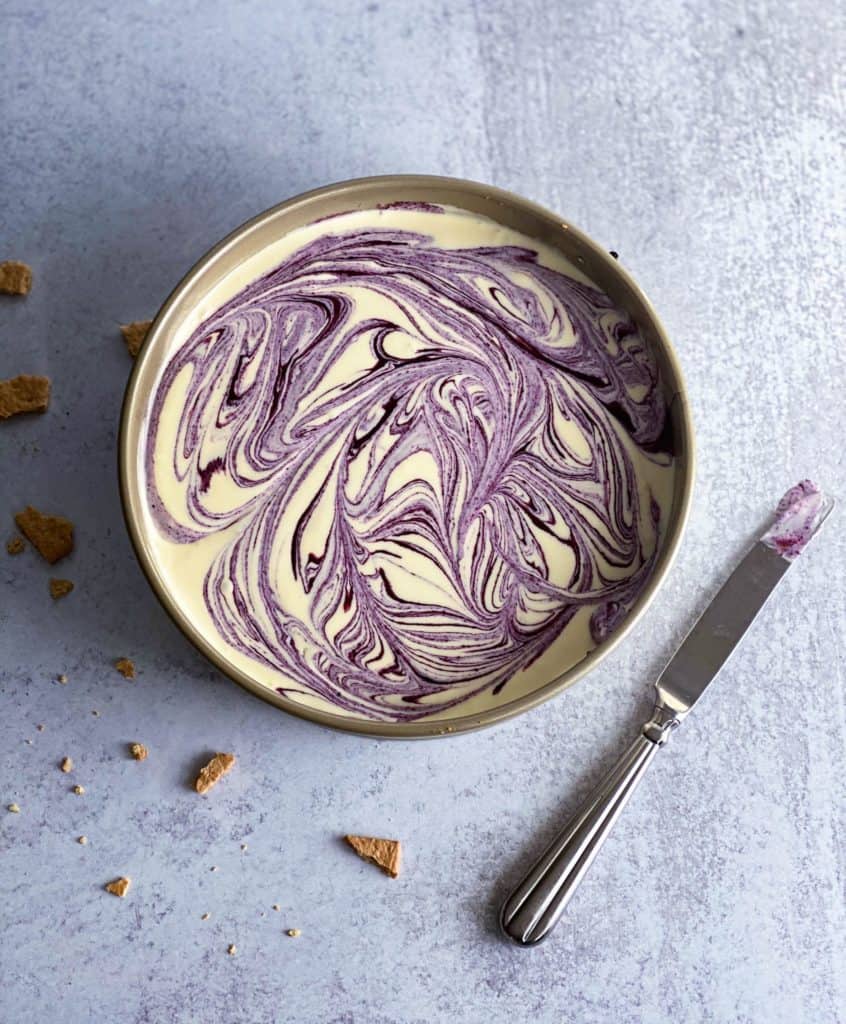 Baking The Blueberry Cheescake
Bake the cheesecake for 95-110 minutes. It really depends on your oven temperature, so when the time gets close, check on it. The cheesecake is done when the edges are set and the middle has a slight jiggle.
Since there is a lot of liquid in this batter, it might need a longer time in the oven. I had to bake the cheesecake closer to 110 minutes because my oven takes a longer time.
Once the cheesecake is done baking, turn off the oven and crack open the oven door for 30 minutes. This lets your cheesecake to continue to cook and cool down slowly at the same time. When cheesecake cools down too fast, it could crack.
Make sure to let the cheesecake cool completely before letting it chill in the fridge. If you put in the fridge while still warm it could crack or the condensation could make it wet.
The cheesecake has to cool in the fridge for a minimum of 6 hours, but I prefer to cool overnight. It will chill while still in the spring form pan. The chilling process allows it to set, if you take off the pan too early then it could fall apart.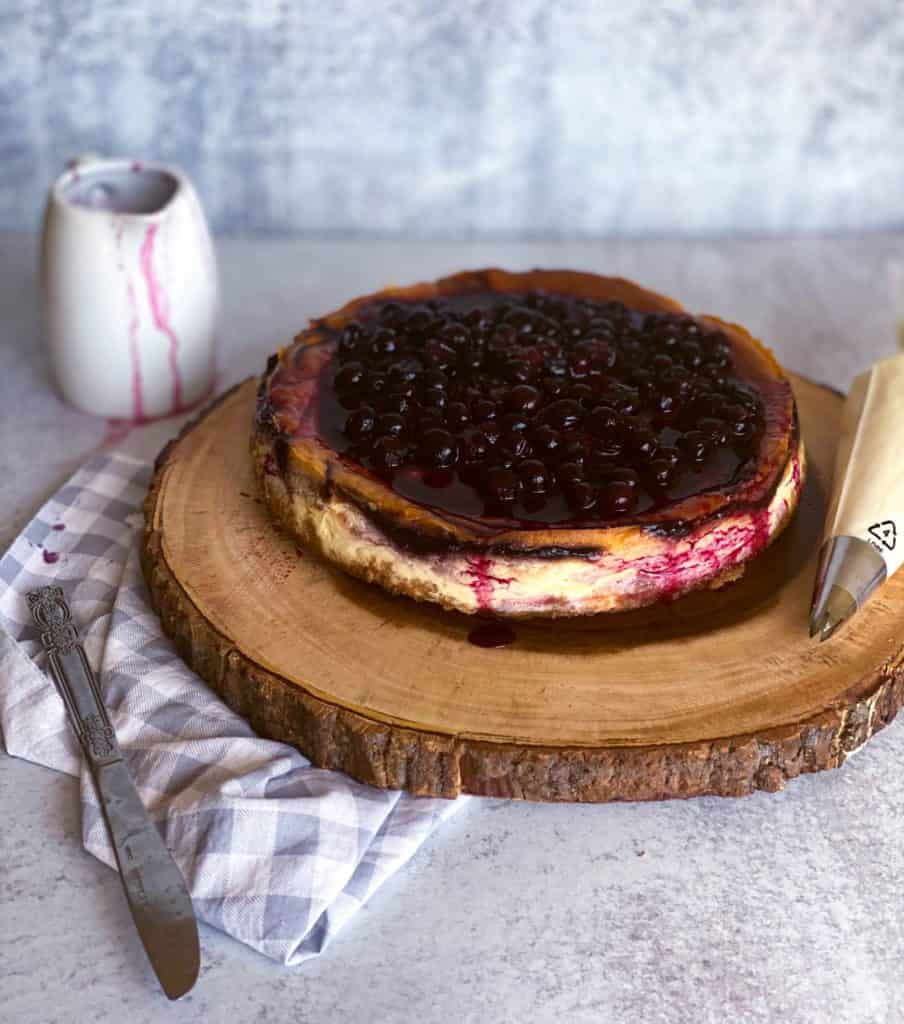 Blueberry Topping
I was debating if I wanted to add this blueberry topping or not. I am so glad I did! The topping pulls the blueberry tartness flavor all together. It is so worth the extra time to make this!
It is actually very simple to make. In a saucepan heat up all ingredients (fresh blueberries, water, sugar, and lemon juice) for 5 minutes on medium low. The topping will thicken slightly and be great for pouring on top of the cheesecake
The difference between the blueberry sauce and the topping is the sauce is very silk and smooth. The blueberry topping has whole chunks of blueberries.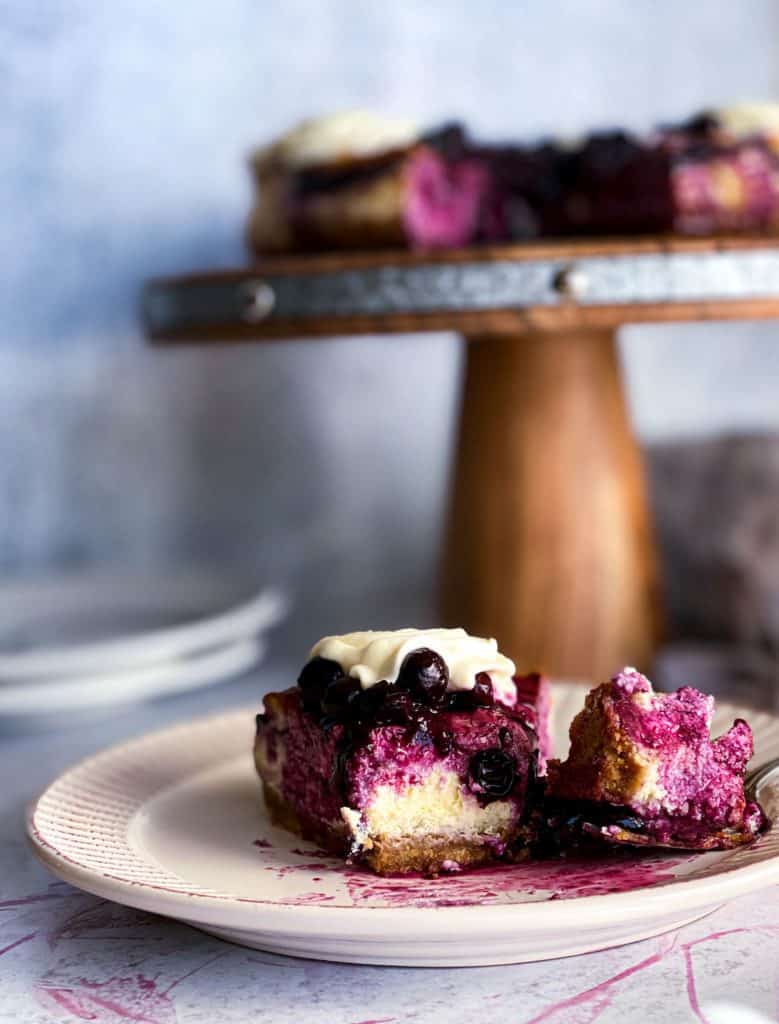 How Long Does This Cheesecake Last?
The cheesecake can last up to 5 days in the fridge before adding the topping. After adding the topping, there is a good amount of liquid so it will only last up to 3 days. This cheesecake is one you need to eat quickly!
Can I Freeze This Cheesecake?
Yes! Absolutely. Wrap the cheesecake in saran wrap very tightly before adding the topping, then place it in the freezer.
To thaw cheesecake, place in the fridge to slowly thaw for 24 hours before decorating and serving.
Other Recipes To Try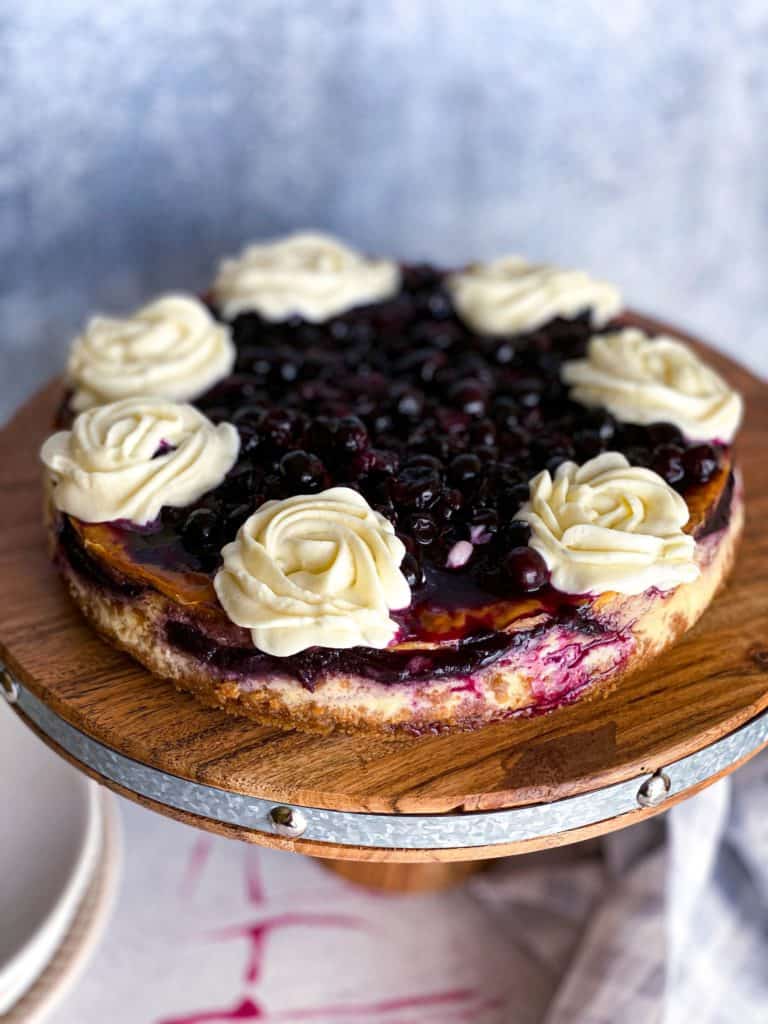 Make sure to tag me on Instagram @stephaniesweettreats and leave me review below if you made this cheesecake. I hope you loved it! To get more ideas follow me on Pinterest.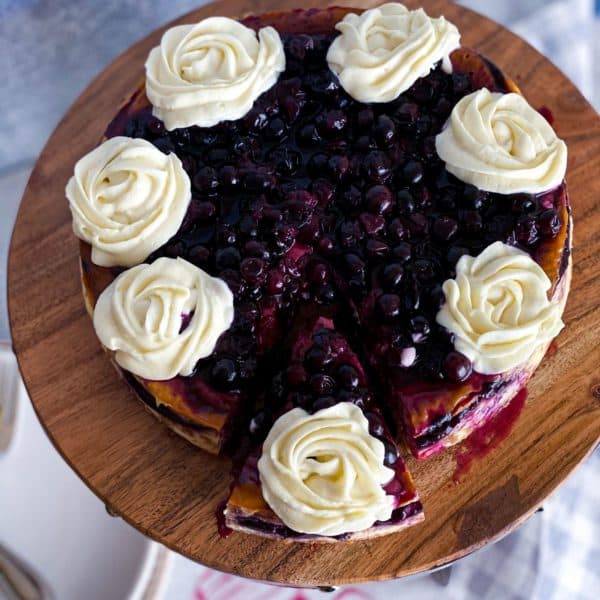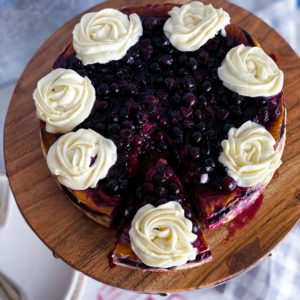 Blueberry Swirled Cheesecake
Moist original cheesecake with a graham cracker crust with a blueberry sauce swirled into cheesecake. Topped with a whipped cream cheese and a blueberry topping.
Ingredients
The Graham Cracker Crust
2

cups

Graham cracker crumbs

4

tablespoon

Packed brown sugar

light or dark

5

tablespoon

Melted unsalted butter
Blueberry Sauce
10

oz

Frozen blueberries

⅛

cup

White granulated sugar

½

tablespoon

Water

½

tablespoon

Cornstarch
Original Cheesecake
24

oz

Cream cheese

room temperature

¾

cup

White granulated sugar

2

teaspoon

Pure vanilla extract

¾

cup

Sour cream

room temperature

¼

cup

Heavy cream

room temperature

3

Large eggs

room temperature
Blueberry Topping
1 ½

cups

Fresh blueberries

½

cup

Water

2

tablespoon

White granulated sugar

1

tablespoon

Lemon juice

Whipped cream cheese or regular whipped cream
Instructions
The Graham Cracker Crust
Preheat oven to 325F and spray a 9 inch spring form pan with baking non-stick spray. Place a 9 inch parchment circle on the bottom and spray again. Use a food processor and pulse crumbs until they are fine. In a small bowl, combine graham cracker crumbs, brown sugar, and melted butter.

Pour crust into spring form pan. Using your fingers, compact crust down. Bake crust for 10 minutes.
Blueberry Sauce
While crust is cooking, start making the blueberry sauce. In a saucepan on low, heat the frozen blueberries, sugar, water, and cornstarch until blueberries thaw. Once thawed, blend in a food processor until pureed. Place back in saucepan and cook until slightly thickened and turns darker in color. Pour sauce over a mesh strainer to strain out all the bumps. Whats left should be ⅔rd cup of smooth blueberry sauce. Set aside.
Original Cheesecake
Once crust is cooling, start the cheesecake batter using a mixer. Preheat oven to 315F. On medium, beat the cream cheese until light and fluffy for about 2 minutes. Add in sugar and beat for another minute. Scrape bowl. Add in vanilla, sour cream, and heavy cream and beat for another minute. Beat until most clumps are gone. Scrape bowl and beat for another 20-30 seconds. On low, add in eggs one at a time. Stop mixing as soon as last egg is combined. Scrape bowl and mix for 10 seconds.
Assembly
Pour half of cheesecake batter into spring form pan. Scoop ⅓ cup of blueberry sauce and pour, by teaspoon, small scoops around cheesecake batter. Pour the rest of the cheesecake on top. Scoop another ⅓ cup of blueberry sauce and pour, by teaspoon, small scoops evenly on top. Take a knife and swirl the blueberry sauce and cheesecake together. Prepare a water bath with aluminum foil or place inside a 10 inch cake pan. Place either of those inside a large pan and fill with boiling water about half way up spring form pan.

Bake for 95-120 minutes depending on your oven. Cheesecake is done when edges are set and there is a small jiggle in the middle. When finished baking, turn off oven and crack oven door and let cool slowly for 30 minutes. Then, remove cheesecake from water bath and cool on a cooling rack. Let cool completely before chilling in fridge for 6 hours to overnight.
Blueberry Topping
In a saucepan on medium, cook the blueberries, water, lemon juice, and sugar for 5 minutes. The sauce should thicken slightly. Allow it to cool completely before spreading on top of cheesecake.

Remove parchment circle from cheesecake, pour blueberry topping on top of cheesecake. Using whipped cream cheese or plain whipped cream, pipe rosettes on top of the sauce. Chill in the fridge for over an hour before serving.
Nutrition