These Nutella swirl rolls are a more layered version of cinnamon rolls. There is melted Nutella and chopped hazelnut in the filling. The dough is folded into thirds before rolling it into a cinnamon roll. The result is many layers of Nutella! If you love Nutella, you will love these!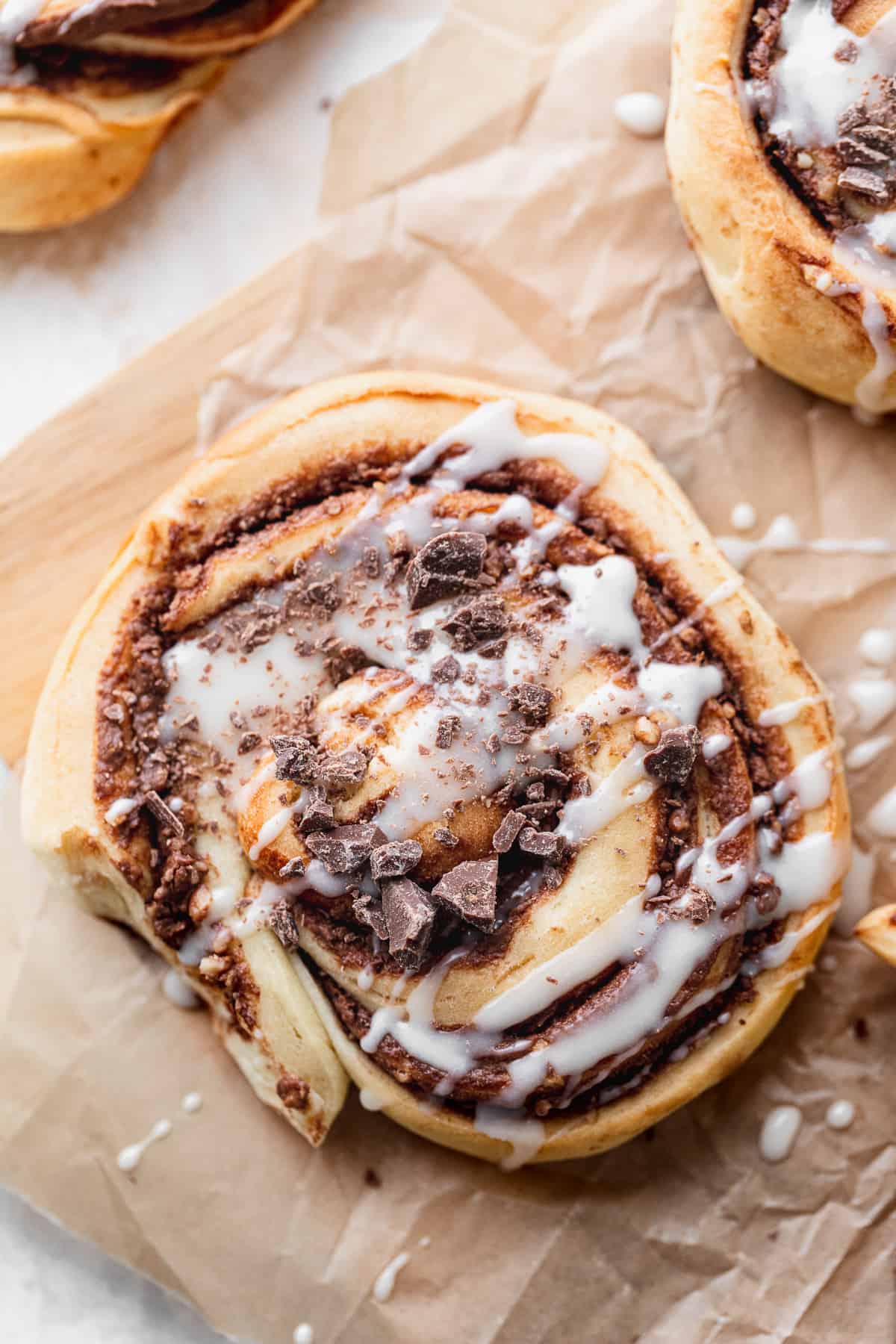 These rolls may seem complicated to make, but they only have one extra step more than cinnamon rolls; like these blueberry cinnamon rolls. The extra step is folding the dough into thirds before you roll them.
They are seriously so easy to make! I included a video of how I rolled them for easy viewing down below. They would make the perfect Sunday morning breakfast!
Jump to:
Why You Will Love This
Layers and Layers of Nutella- Since this is folded in thirds before rolling, there are a lot more layers!
Chopped Hazelnuts- These give the rolls a lot of texture.
Vanilla Icing- The icing adds an extra layer of sweetness. The rolls aren't the same without it!
Fluffy dough- This dough makes a very fluffy texture!
Ingredients
Milk and butter- both of these need to be warmed to the right temperature before adding them into the yeast. Too warm milk and butter can kill the yeast. If it is too cold, it will dramatically slow the yeast.
Yeast- Use the fast or active rise yeast in the packet. Use the whole packet.
All-purpose flour- You need all-purpose and not bread for this recipe.
Nutella- I used classic Nutella. I haven't tried various chocolate hazelnut brands.
Hazelnuts- You can also use any nuts you have in the house. They just need to be chopped small.
Chopped chocolate- You can also top with chocolate chips.
Dough Step By Step Instructions
Here is how to make the dough for Nutella swirl rolls. I used a stand mixer. There are instructions on how to make it by hand below.
STEP 1: First, mix the wet ingredients. Mix the warmed milk, butter, yeast, sugar, salt, and eggs. Use a whisk to mix it together.
STEP 2: Next, add in the flour. Add all of the flour at once. Mix on low until a dough forms. Then, knead for 5 minutes on medium. The dough should be tacky, but not stick to your fingers. If it is too sticky, add ⅛ cup of flour at a time until it is no longer sticky.
STEP 3: Then, let the dough rise. The dough needs to rise for 1 hour until doubled in size.
STEP 4: Roll the dough into a rectangle. It should be ¼ inch thick. Cut the edges, so there are straight sides.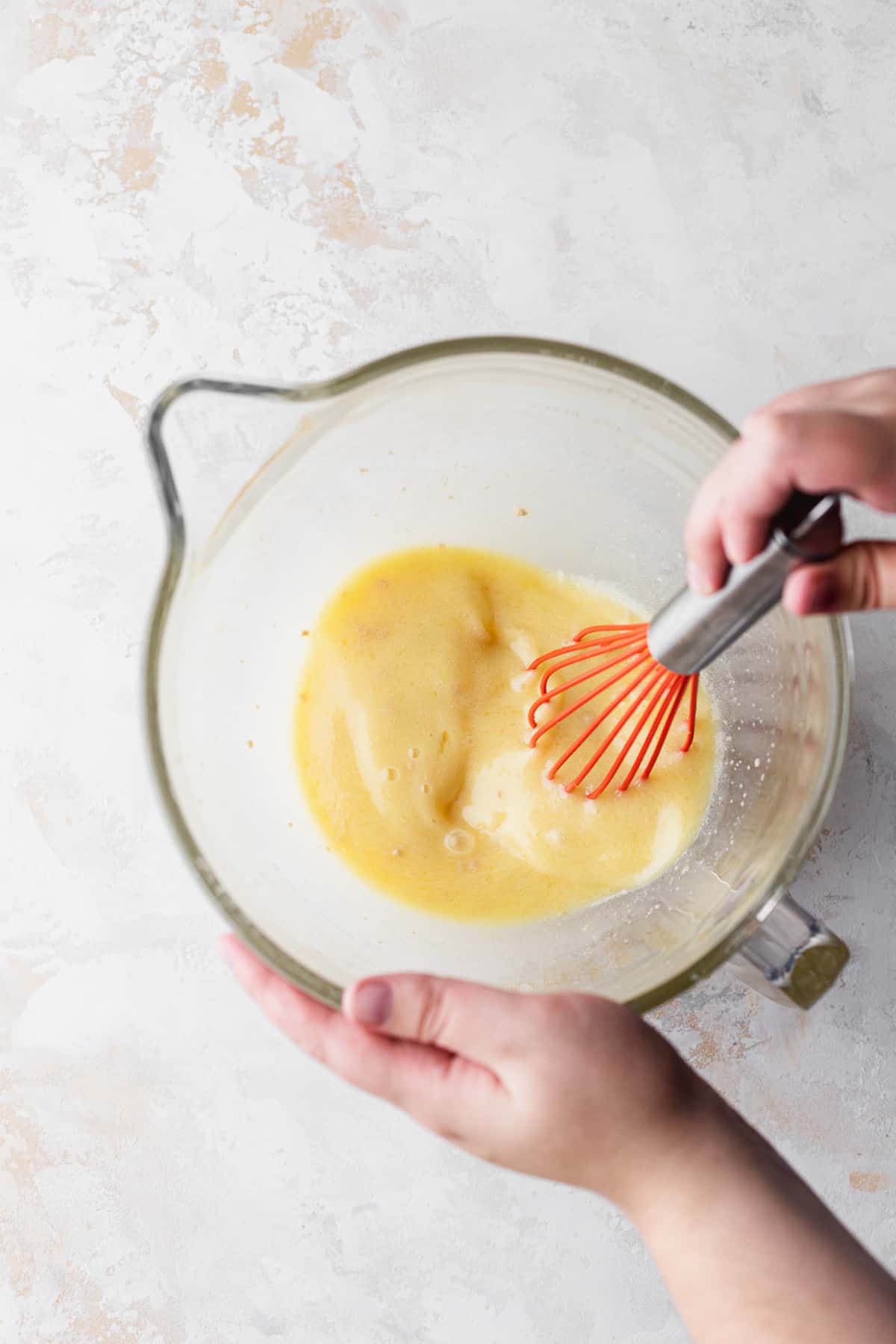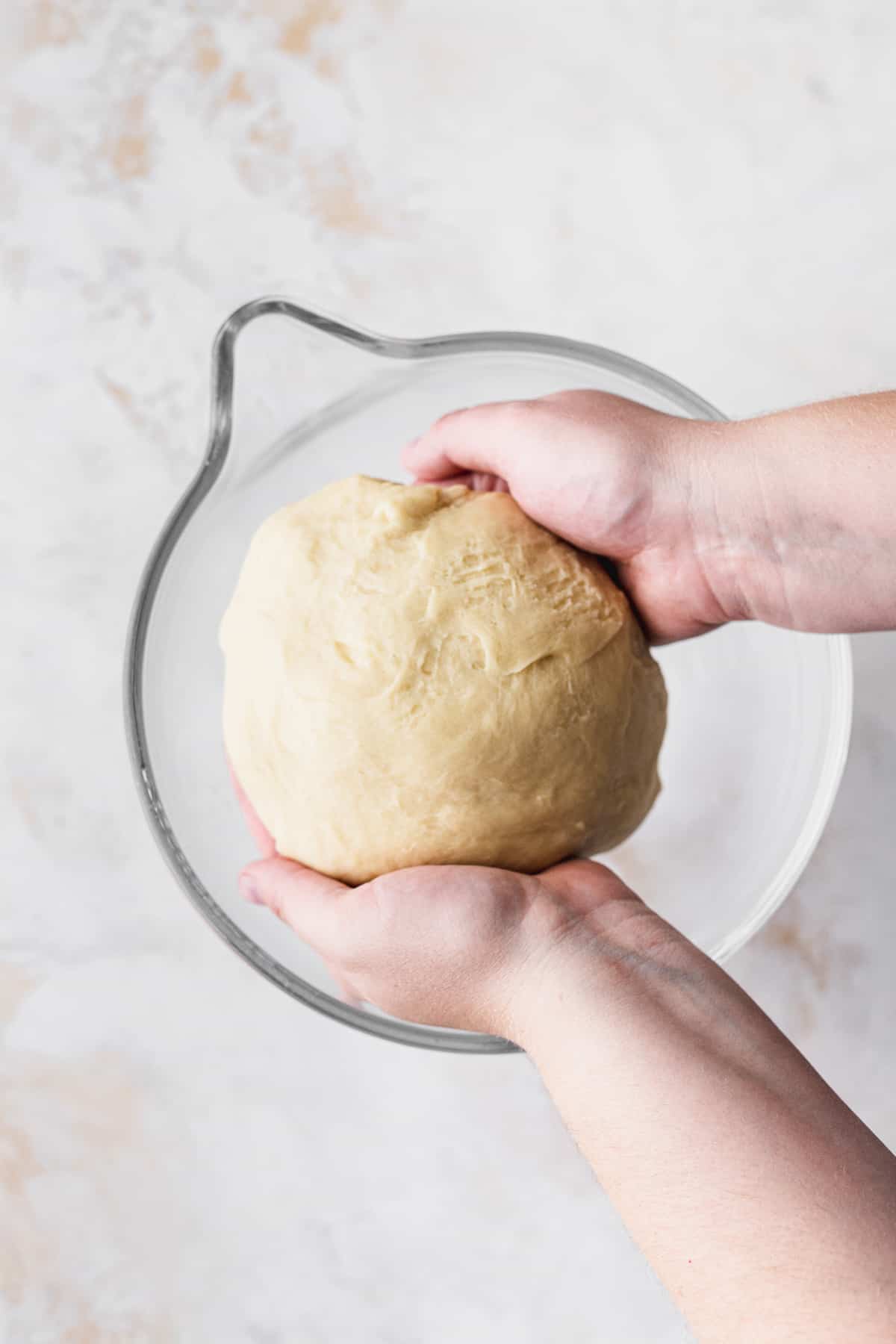 Making the Dough By Hand
First, mix the wet ingredients in the mixing bowl. Add the flour and use a rubber spatula to fold in the flour. (Or use your hands.) Once a dough starts to form, place the dough on a lightly floured surface.
Next, knead by hand for 10 minutes. The dough is done when it can be stretched thin and you can see light through the dough. This is called the window pane test. It is a test to see if the gluten has developed enough.
Video Of Rolling The Dough
First, spread the Nutella over ⅔rds of the dough. Then, top with chopped hazelnuts over the Nutella.
Fold the dough into thirds. This creates layers of Nutella and dough. Use your rolling pin to roll the dough. Next, roll the dough tightly into a log. (Like a cinnamon roll). Once it is rolled tightly, cut it into small rolls. They will be thin, but large.
Here is the video on how to do that!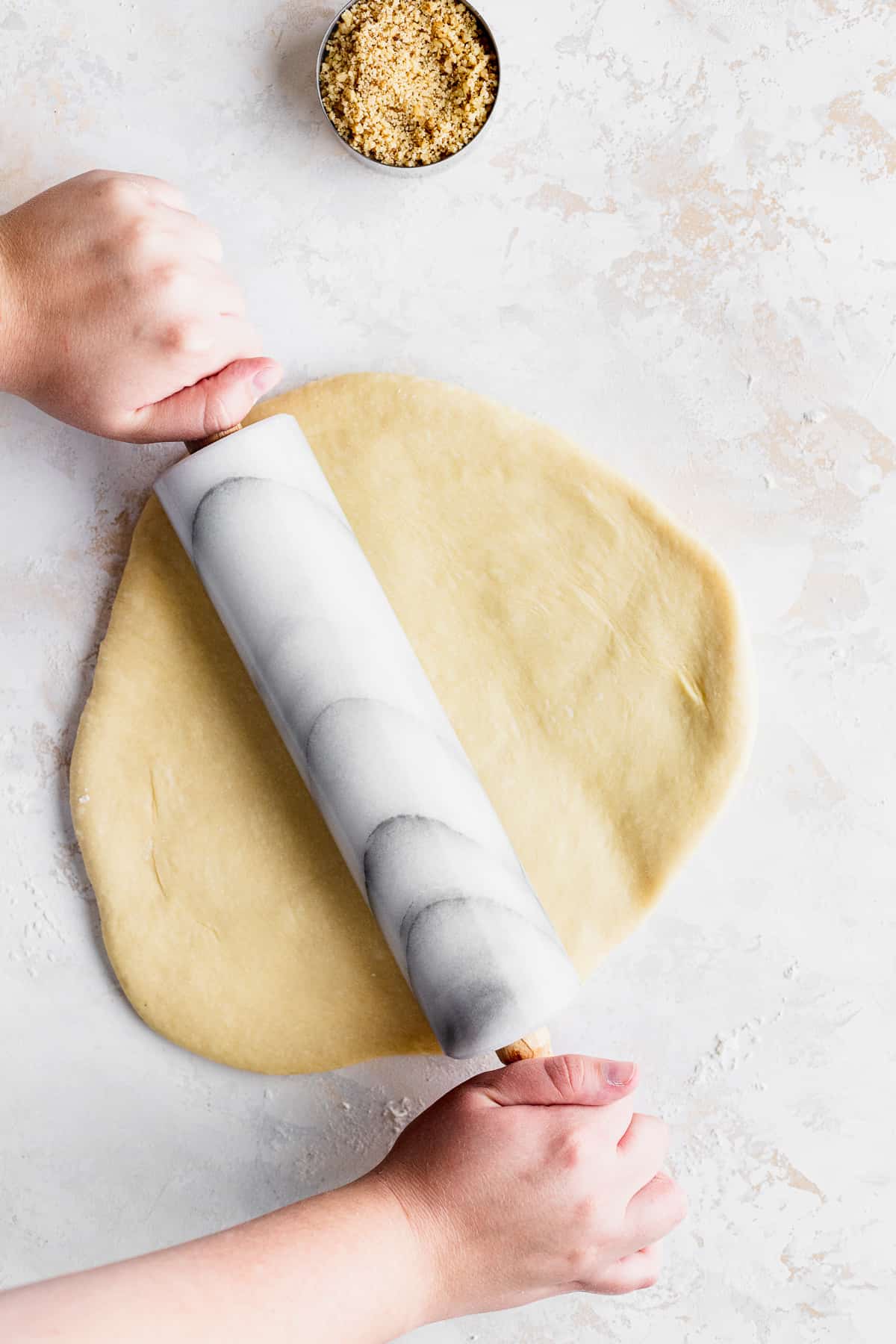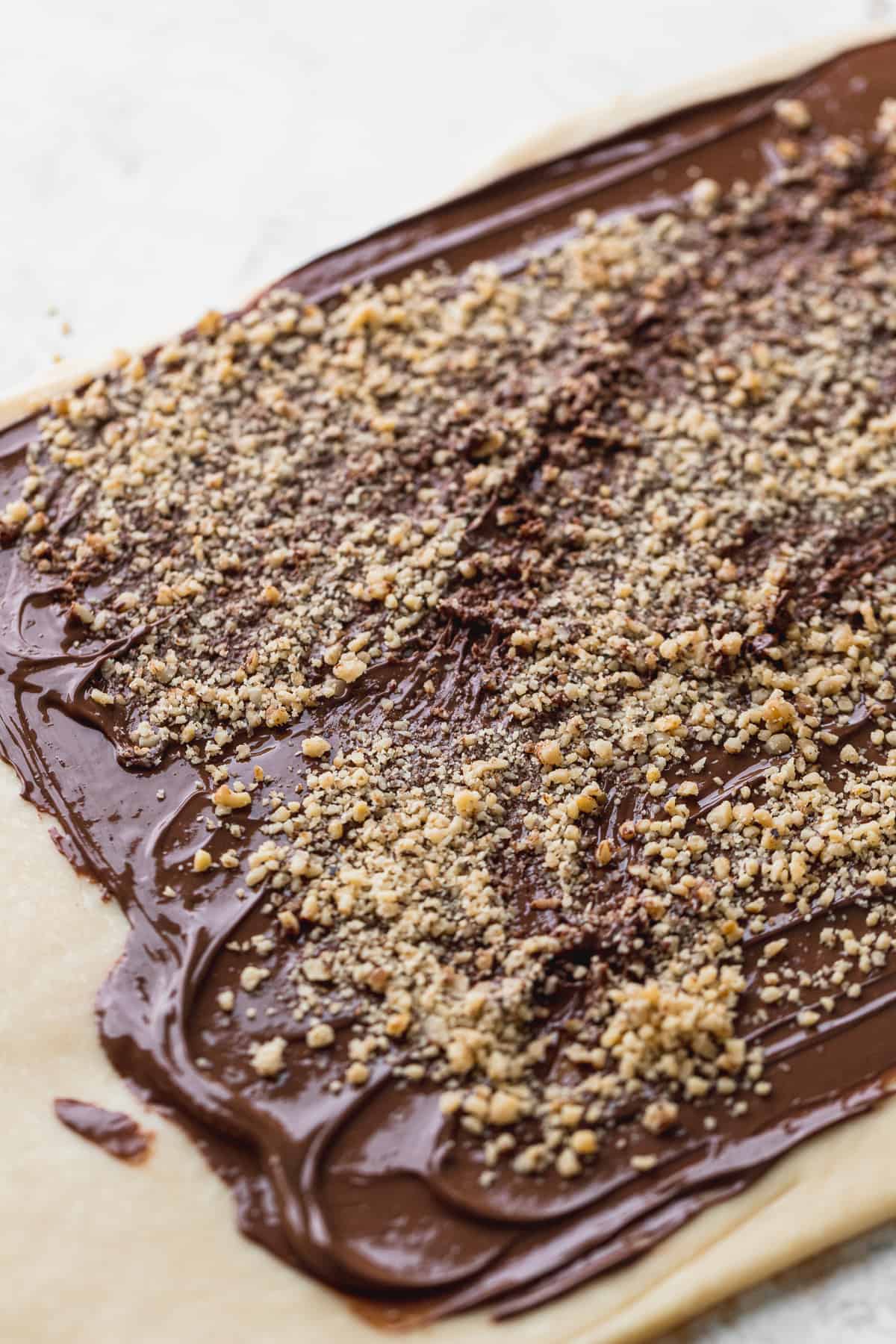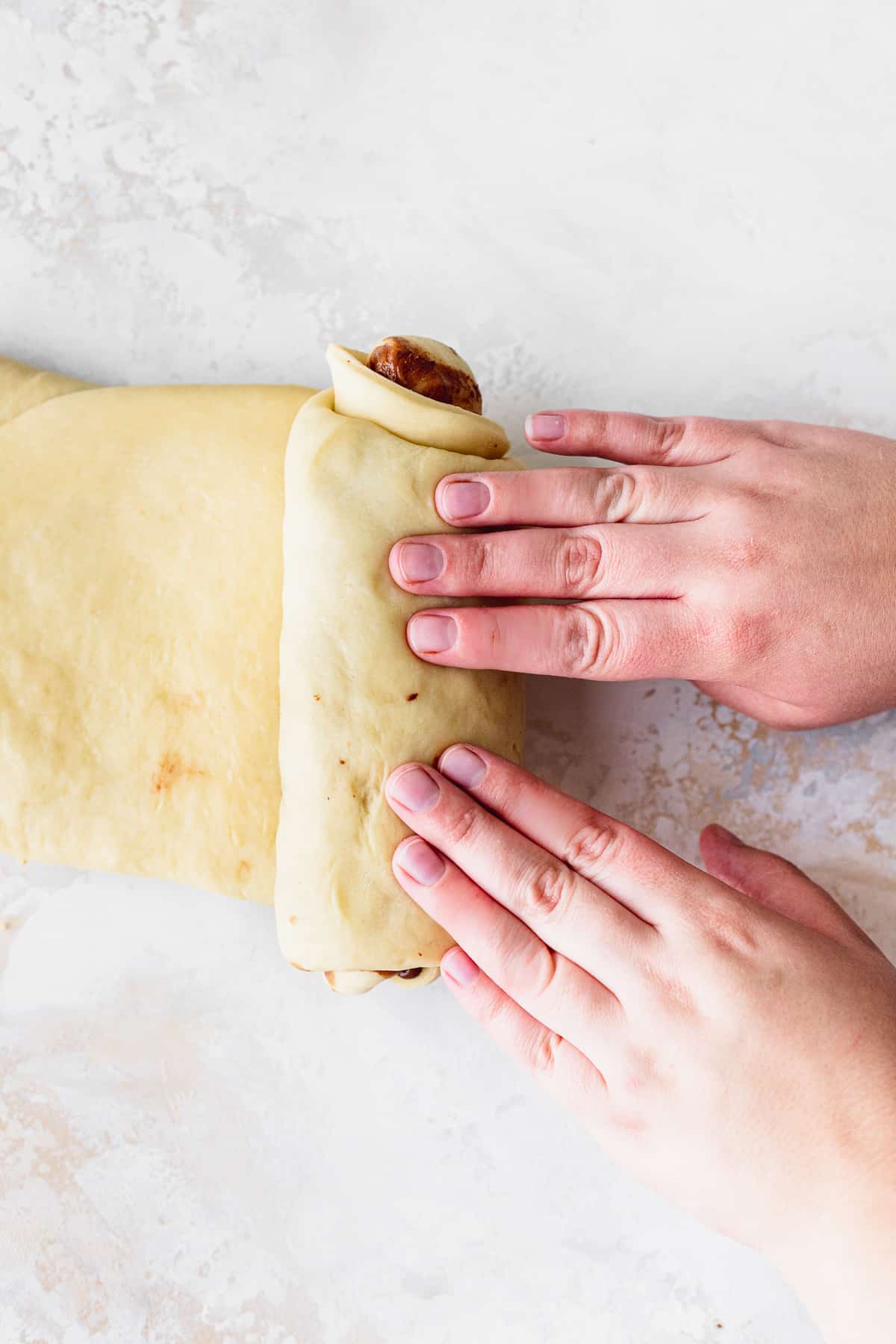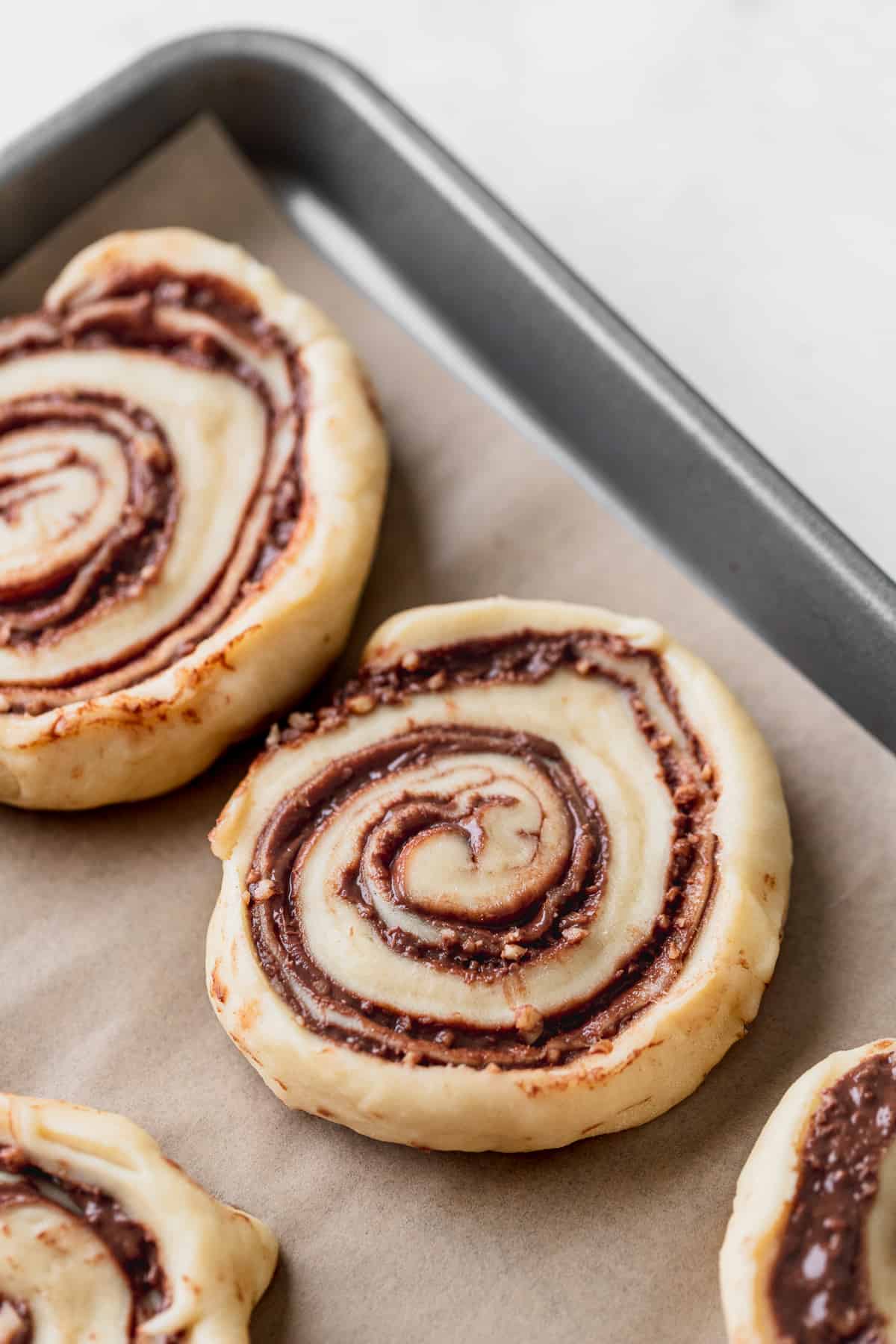 Baking Tips
These rolls need to be baked on parchment paper on a cookie sheet. Before they are baked they need to rise for 35 minutes. After handling the dough, the yeast needs to rest before it goes in the oven.
These rolls are thin but have a large diameter. Which means they can over bake easily. Keep a close eye on these while they bake.
They are done baking when they are lightly golden brown on top. Or, sun kissed is how I describe them. They can dry out if they are overbaked.
Top these rolls with a vanilla icing, they need the extra sweetness the icing provides.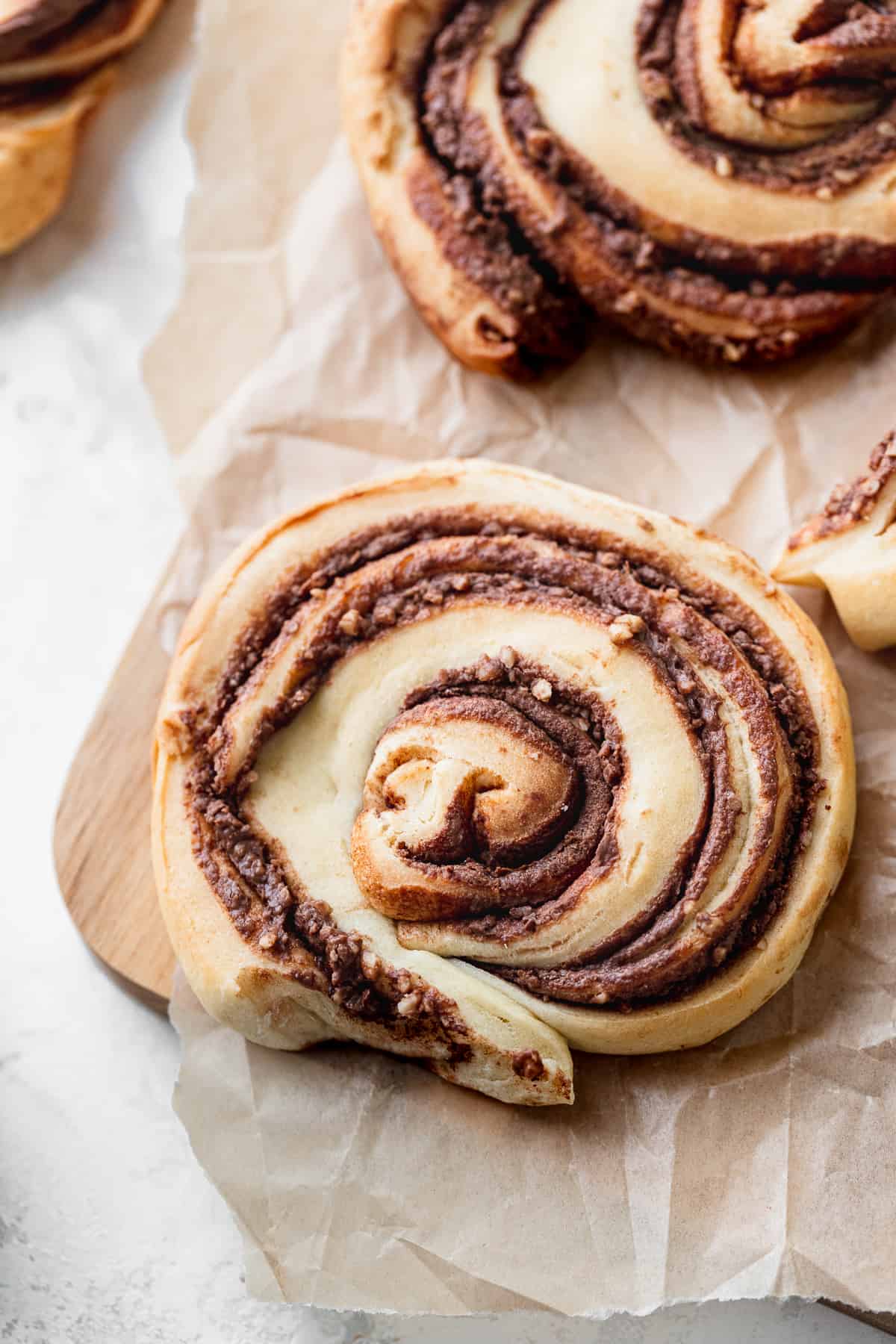 FAQ
Can I make the dough overnight?
Yes! You can. Let the dough rise for 10 minutes at room temperature. Then, cover tightly and let it rise overnight. Before rolling out the dough, let it sit on the counter for 30 minutes to warm. For the second rise, let it rise until they are completely room temperature.
Can I use a cream cheese icing?
Yes! Check out this cinnamon roll recipe for an amazing cream cheese icing.
Do I have to use nuts?
No, you can opt to not to have nuts. What would be amazing in this instead is mini chocolate chips if you aren't a nuts fan.
My dough didn't rise
That is because the yeast got killed or slowed dramatically. This has to do with the temperature of the milk and butter. Use a kitchen thermometer to make sure the milk is at the right temperature (110F). Also, if you don't knead the dough enough, it won't activate the gluten, which will cause it to not rise as much.
Can I use peanut butter?
Yes! You can substitute the Nutella for peanut butter.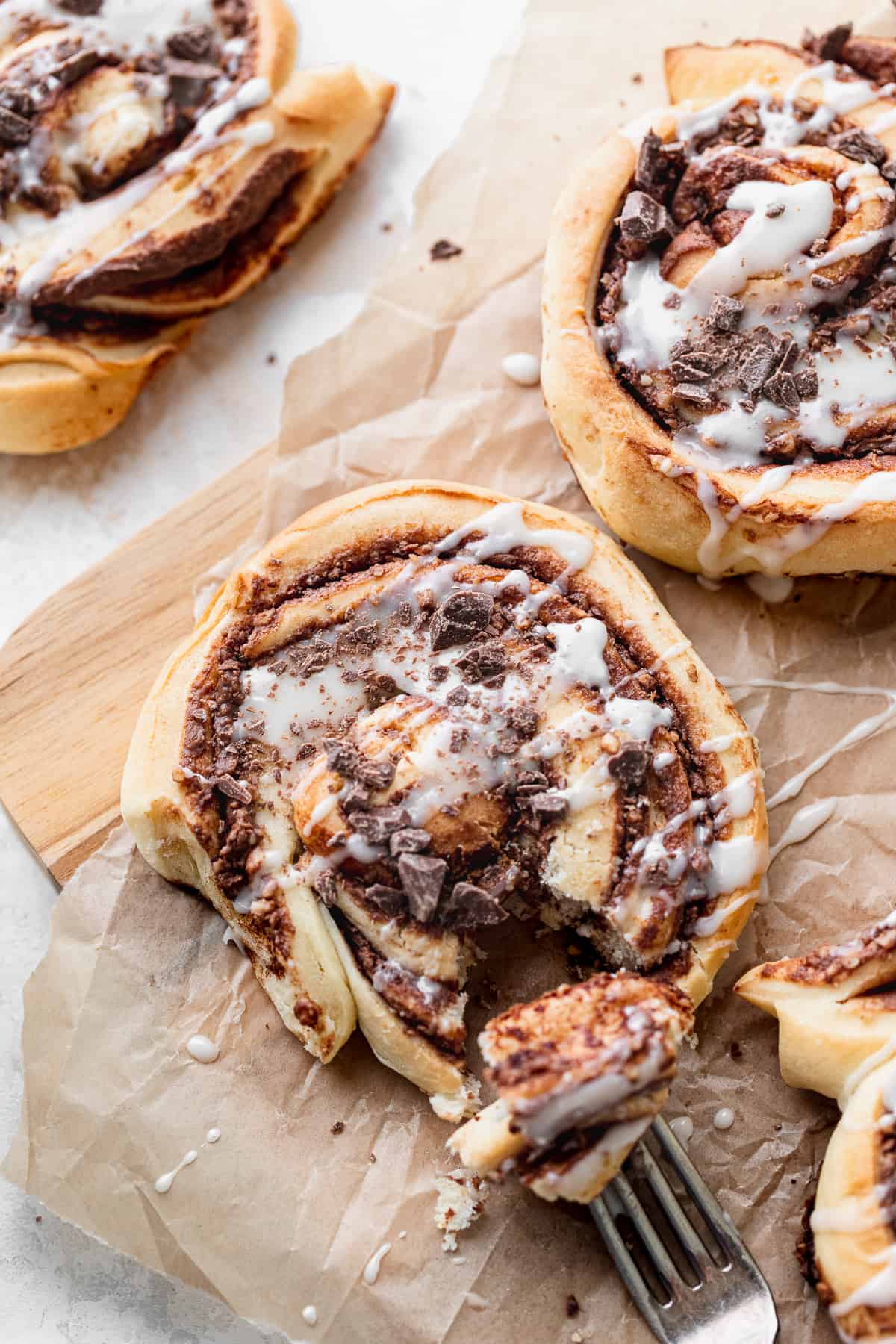 Storing
Store these Nutella swirl rolls at room temperature in an airtight container. They will last up to 3 days. Heat the rolls in the microwave before eating.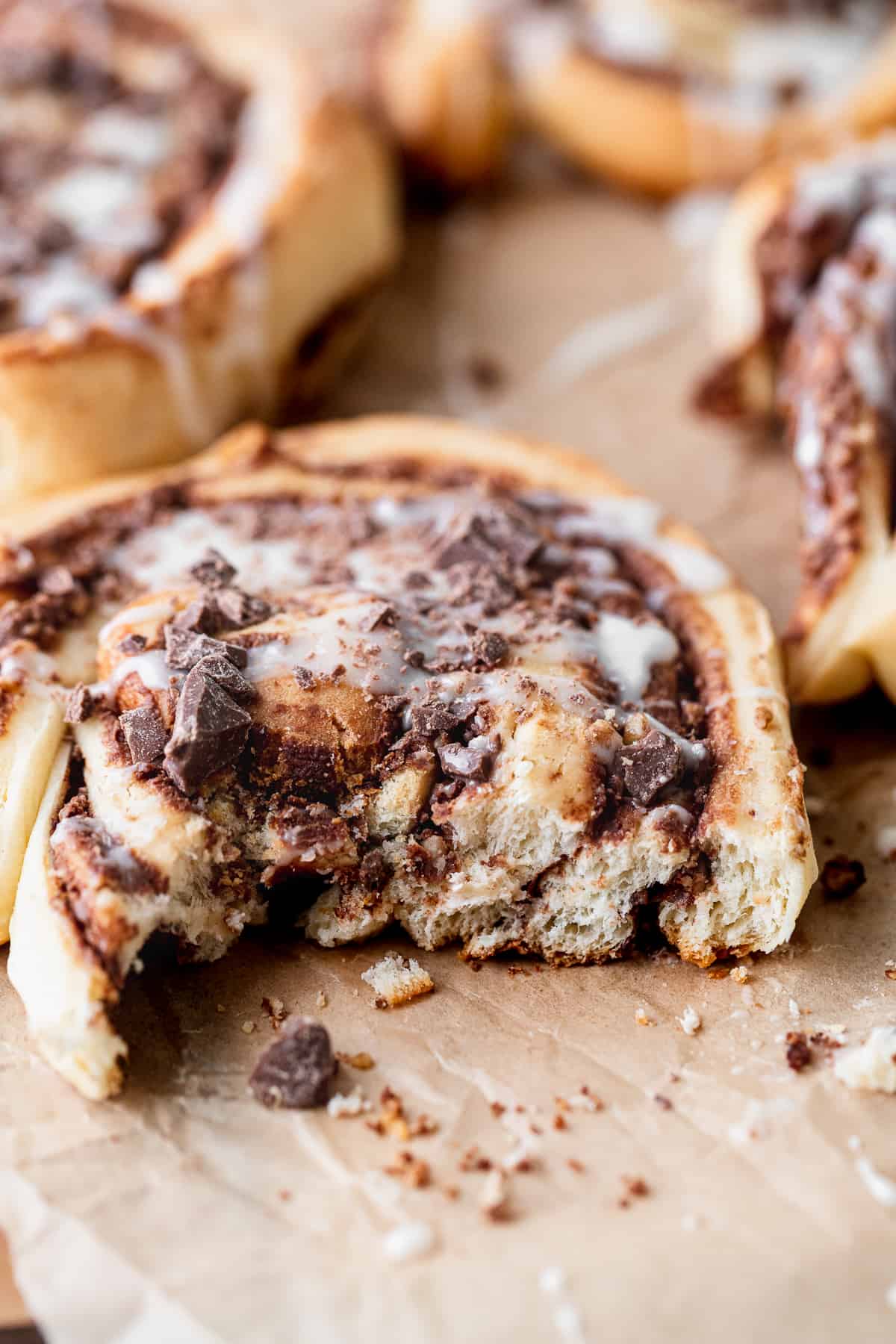 Other Breakfast Recipes To Try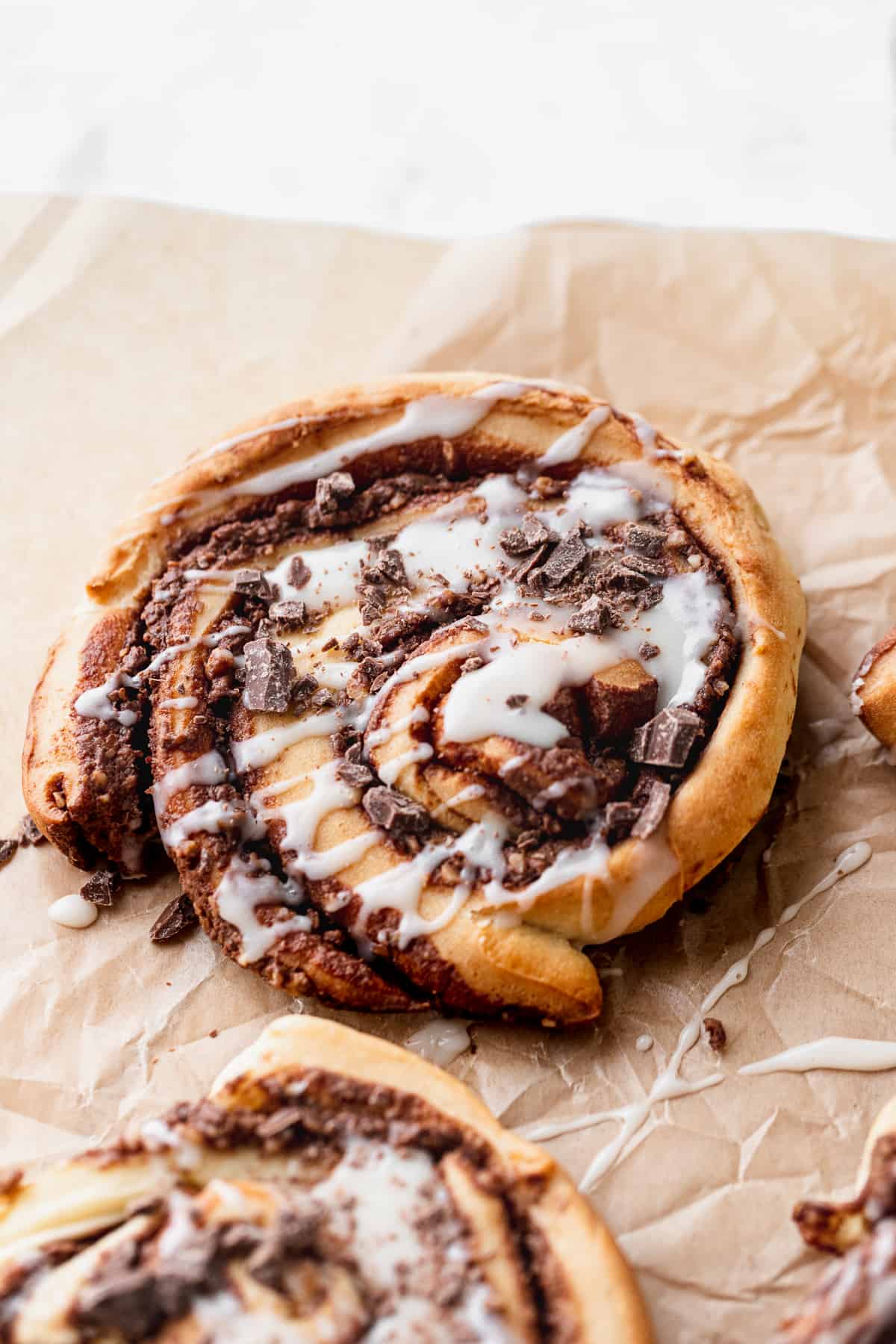 Make sure to leave me a star review below!
Make sure to tag me on Instagram @stephaniesweettreats. I hope you loved it! To get more ideas follow me on Pinterest.
📖 Recipe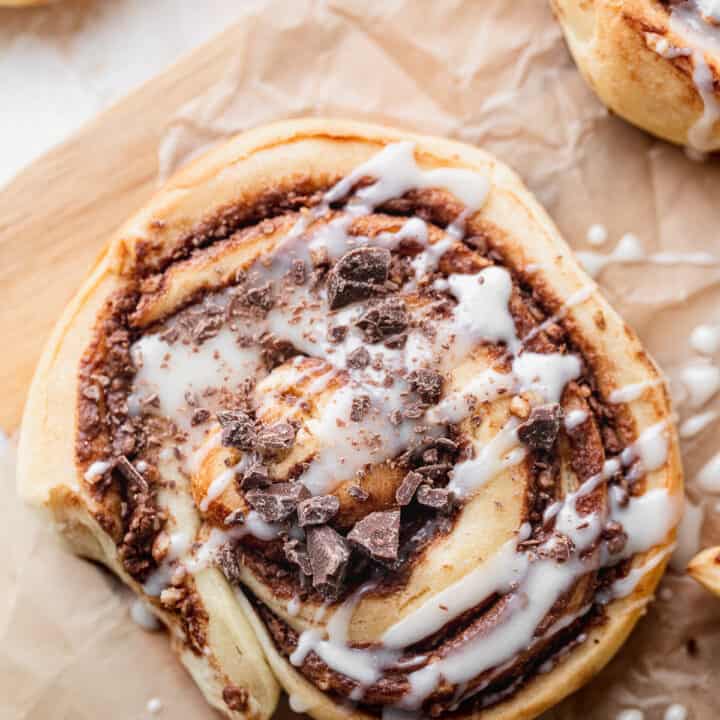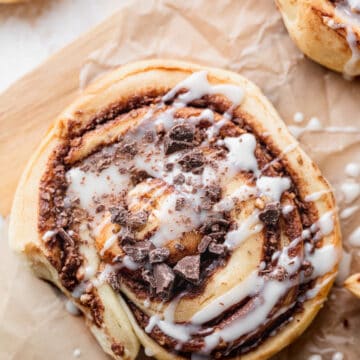 Nutella Swirl Rolls
These Nutella swirl rolls are swirled rolls with Nutella and chopped hazelnuts. They have so many layers. They are topped with a vanilla icing and chopped chocolate.
Ingredients
Dough
1

cup

Milk

warmed to 110°F

½

cup

Unsalted butter

melted and slightly cooled

2

Large eggs

room temperature

2 ¼

teaspoon

Fast rise yeast

whole packet

1 ½

teaspoon

Salt

⅓

cup

White granulated sugar

4 ¼

cups

All-purpose flour
Filling
½

cup

Nutella

warmed

½

cup

Hazelnuts

chopped
Vanilla Icing
¾

cup

Powdered sugar

sifted

4

teaspoon

Milk

1

teaspoon

Pure vanilla extract

Chopped chocolate

for topping
Instructions
Dough
Melt the butter in the microwave and let sit for a few minutes to slightly cool. Warm the milk in the microwave for 1 minute and let cool to 110F. The milk should be warm.

In a mixing bowl, whisk by hand the milk, butter, eggs, yeast, salt, and sugar. Place on stand mixer with dough hook attachment. Add in all of the flour and mix on low until a dough forms.

Mix on medium for 5 minutes for the dough to knead. Preheat the oven to 200F. Spray a large mixing bowl with non-stick spray. Place dough ball in the bowl and cover with kitchen towel. Place bowl in the oven. Turn off the oven and crack open the door. Let the dough rise for 1 hour until double in size.

Roll out the dough to 14 X 12 inch rectangle it should be ¼ inch thick. Cut the edges of the rectangle to have straight sides.
Filling
Warm the Nutella in the microwave for 30 seconds. Spread the Nutella over ⅔rds of the dough. Sprinkle the chopped hazelnuts over the top. Fold the dough into thirds. It should be long and skinny. Roll it out to flatten it.

Roll the dough up like a cinnamon roll. Roll tightly. Cut the uneven edges off. Use an unscented dental floss or a pastry cutter to cut the dough into thin rolls. If they get squished, form it back into a circle.

Place rolls on a cookie sheet with parchment paper. Place a kitchen towel over the rolls and let rise for 35 minutes.

Preheat oven to 350°F. Bake for 16-20 minutes. Let cool slightly before applying icing.
Vanilla Icing
Mix the powdered sugar, milk and vanilla. Use a spoon to drizzle it on top of the rolls. Top with chopped chocolate. Serve warm.
Nutrition
Calories:
485
kcal
Carbohydrates:
76
g
Protein:
9
g
Fat:
21
g
Saturated Fat:
12
g
Polyunsaturated Fat:
1
g
Monounsaturated Fat:
6
g
Trans Fat:
1
g
Cholesterol:
30
mg
Sodium:
410
mg
Potassium:
219
mg
Fiber:
3
g
Sugar:
18
g
Vitamin A:
365
IU
Vitamin C:
1
mg
Calcium:
71
mg
Iron:
4
mg