This is the BEST Oreo Cheesecake. It has Oreos from top to bottom. It has an Oreo crust, and a creamy cheesecake that is filled with Oreo crumbs. To really kick things up a notch, it has an Oreo whipped cream. I also have a bunch of cheesecake baking tips for you!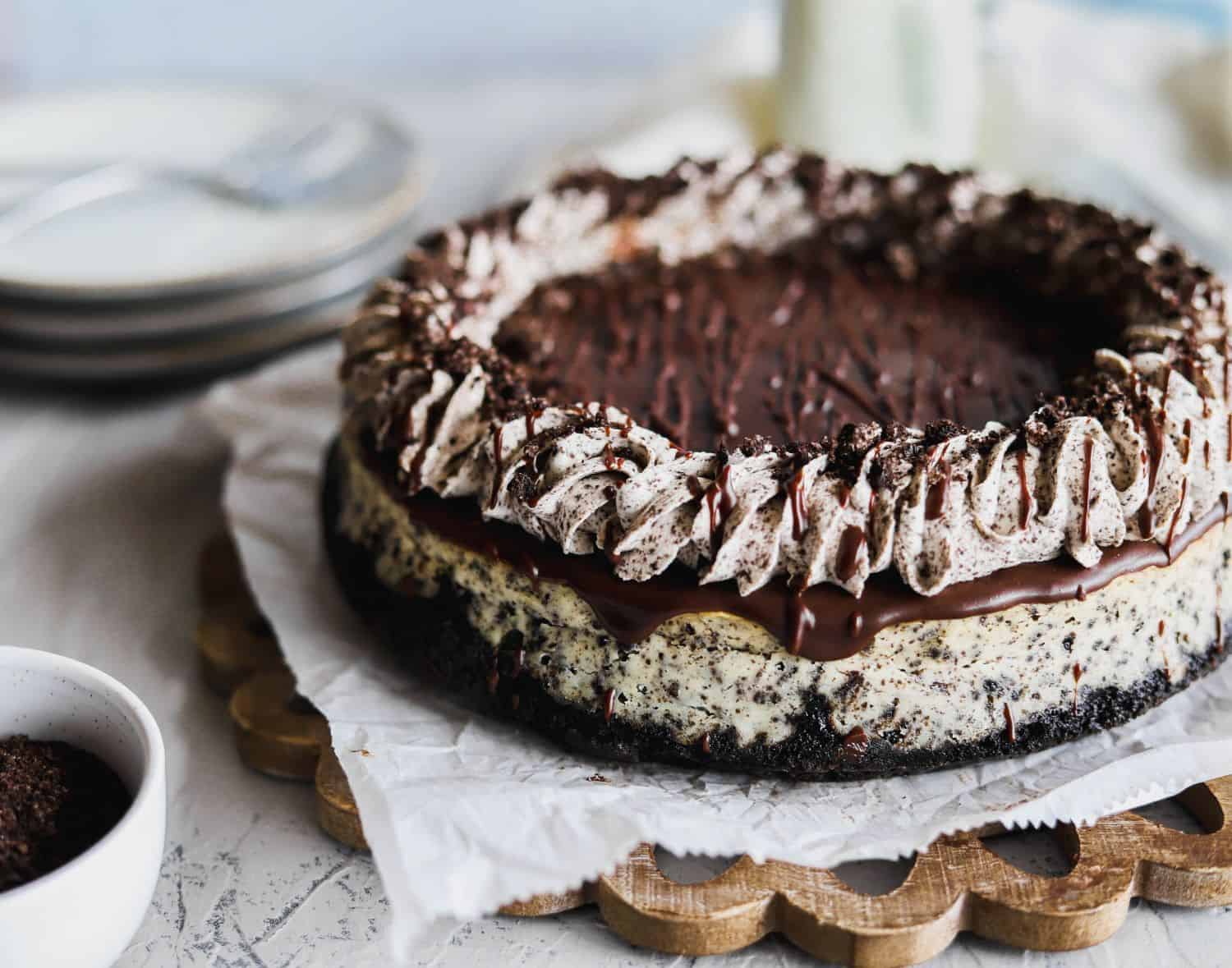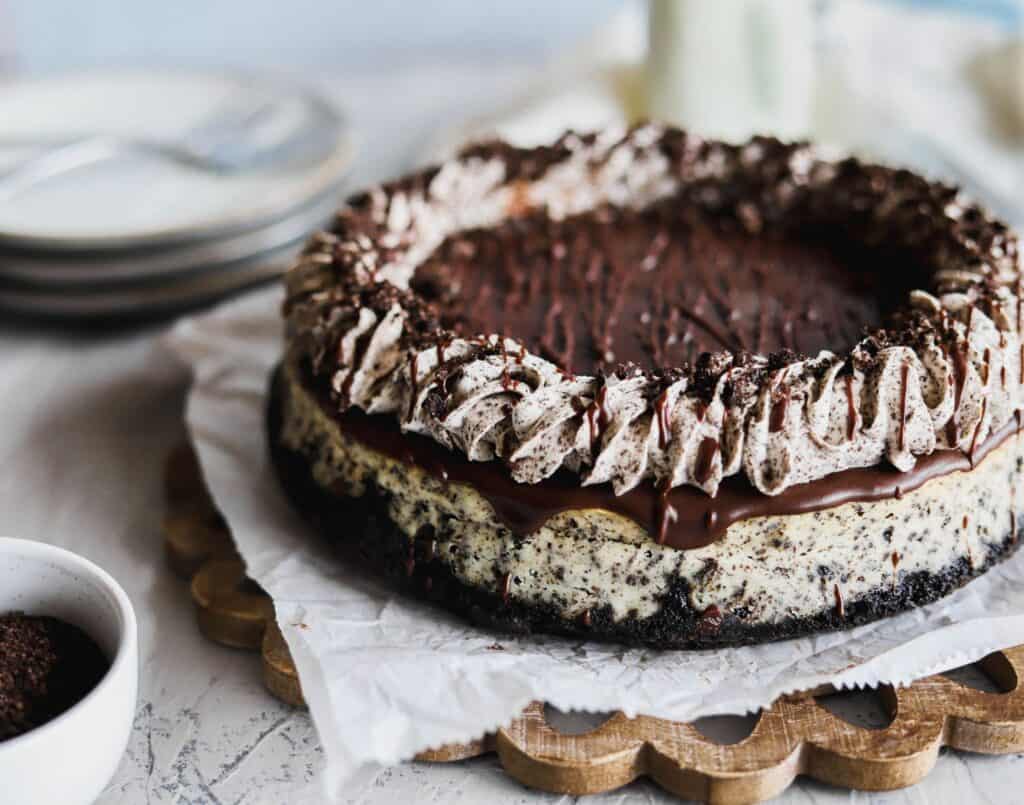 Why Is This The Best Oreo Cheesecake?
Besides the fact that this cheesecake is filled with Oreos from top to bottom, I have included a lot of details on how to make this cheesecake perfectly.
Cheesecakes can be very overwhelming to bake. There are the chances of cracking, over mixing, over baking, under baking. I know there is a lot. When I first started baking I was overwhelmed!
However, I've got your back and I have all the tips and tricks on baking the perfect cheesecake.
The finished product has a buttery Oreo crust filled with creamy and soft cheesecake that is filled with Oreos. It is topped with a chocolate ganache and an Oreo whipped cream. Also, there is more chocolate drizzle and Oreo pieces on top.
Follow my advice, and you can make this cheesecake with so much confidence.
This blog receives a commission for using Amazon products for the food recipes that I shared with you in my posts. Although I receive a commission for using and linking their products, they are extremely good for my food recipes and all my opinions and suggestions are unbiased.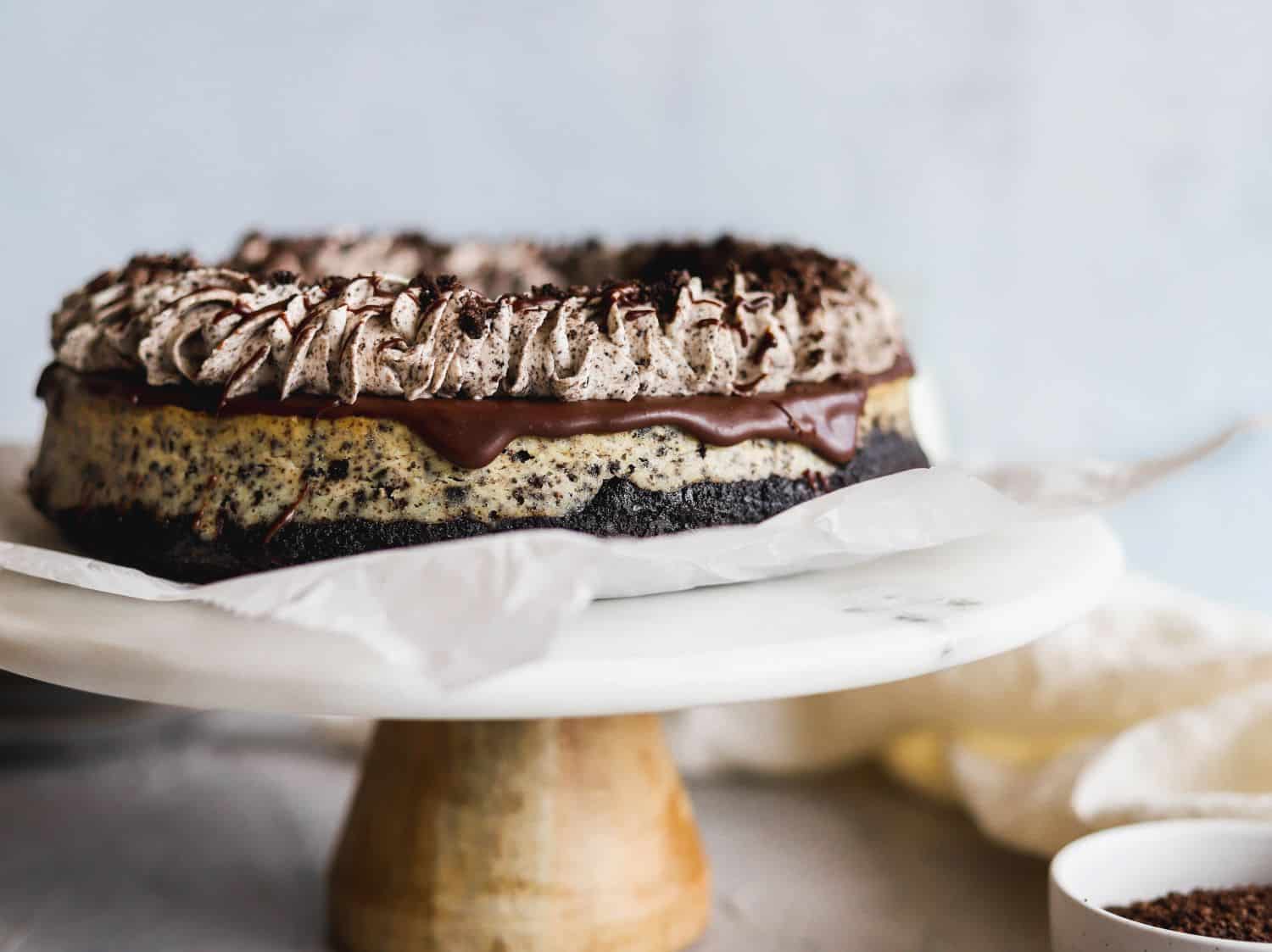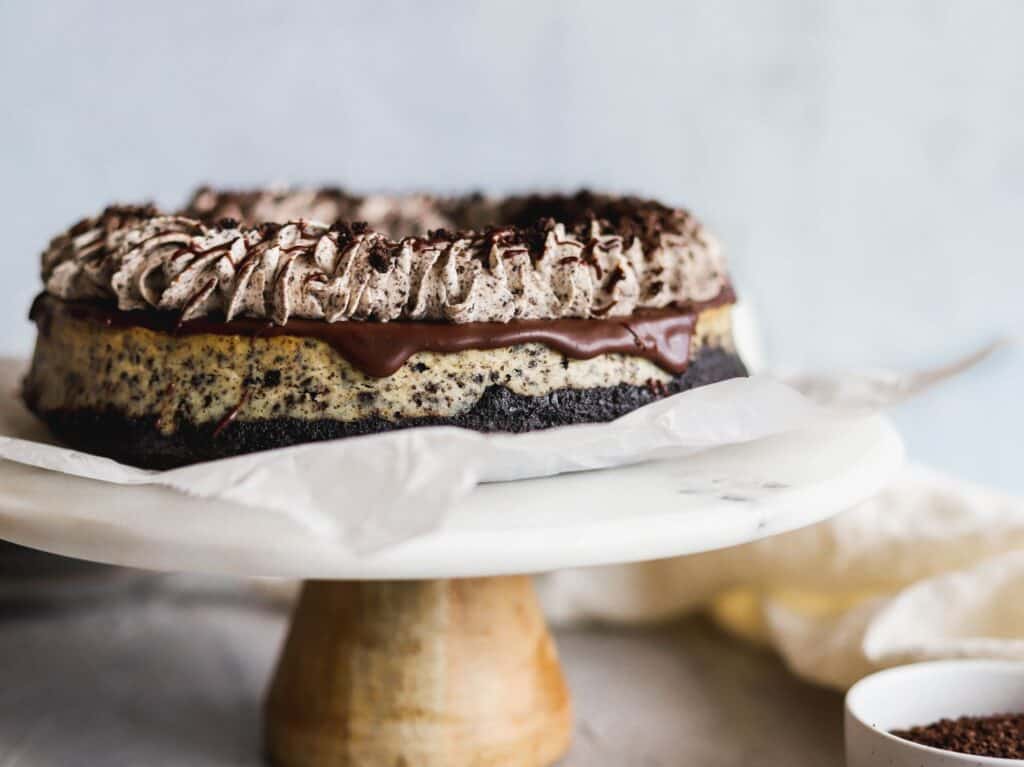 Tips On Baking The Perfect Oreo Cheesecake
Pull out all refrigerated dairy ingredients, and bring them to room temperature before baking. Pull out the ingredients about 2 hours before using. (Cream cheese, eggs, sour cream, heavy cream) Cold ingredients cause the cream cheese to curdle. When it is room temperature, you get a silky smooth batter
Use Phildelphia brand cream cheese. Don't use the off brand cream cheese. I actually buy cream cheese in bulk from a warehouse type store. Also buy the bricks, not the tub cream cheese. It is a different texture.
Use a stand mixer. You can technically use a hand mixer, but you need a lot of power and strength to beat the cheesecake batter. You will quickly wear out a hand mixer motor trying to make a cheesecake.
Beat the cream cheese and sugar together for at least 2 minutes straight. Set a timer and walk away. It should beat to get rid of all lumps of cream cheese.
Once you add the eggs, beat on low. Add the eggs one at a time, and mix on low just until combined. Between egg additions, make sure you scrape the bowl. Once eggs are combined, we want as little air as possible or it may crack.
Water bath is key here. I will go in more detail later, but a water bath is super important. Placing boiling water in a pan on the bottom rack of the oven, won't cut it. Boil the water, then place in a large 12X16 pan. Then, place the spring form pan inside a 10 inch cake pan. Then, place it in the large pan. This method works, and there won't be cracks.
Let the cheesecake cool slowly. When the cheesecake is done baking, turn off the oven and crack the door. Then let it sit for 30 minutes in the oven. This will allow the cheesecake to very slowly cool. When a cheesecake cools too fast there is a high likelihood it will crack.
These are the main important tips on baking any cheesecake. Follow these and you will have a beautiful cheesecake. Don't skip any of these tips, otherwise your cheesecake could crack.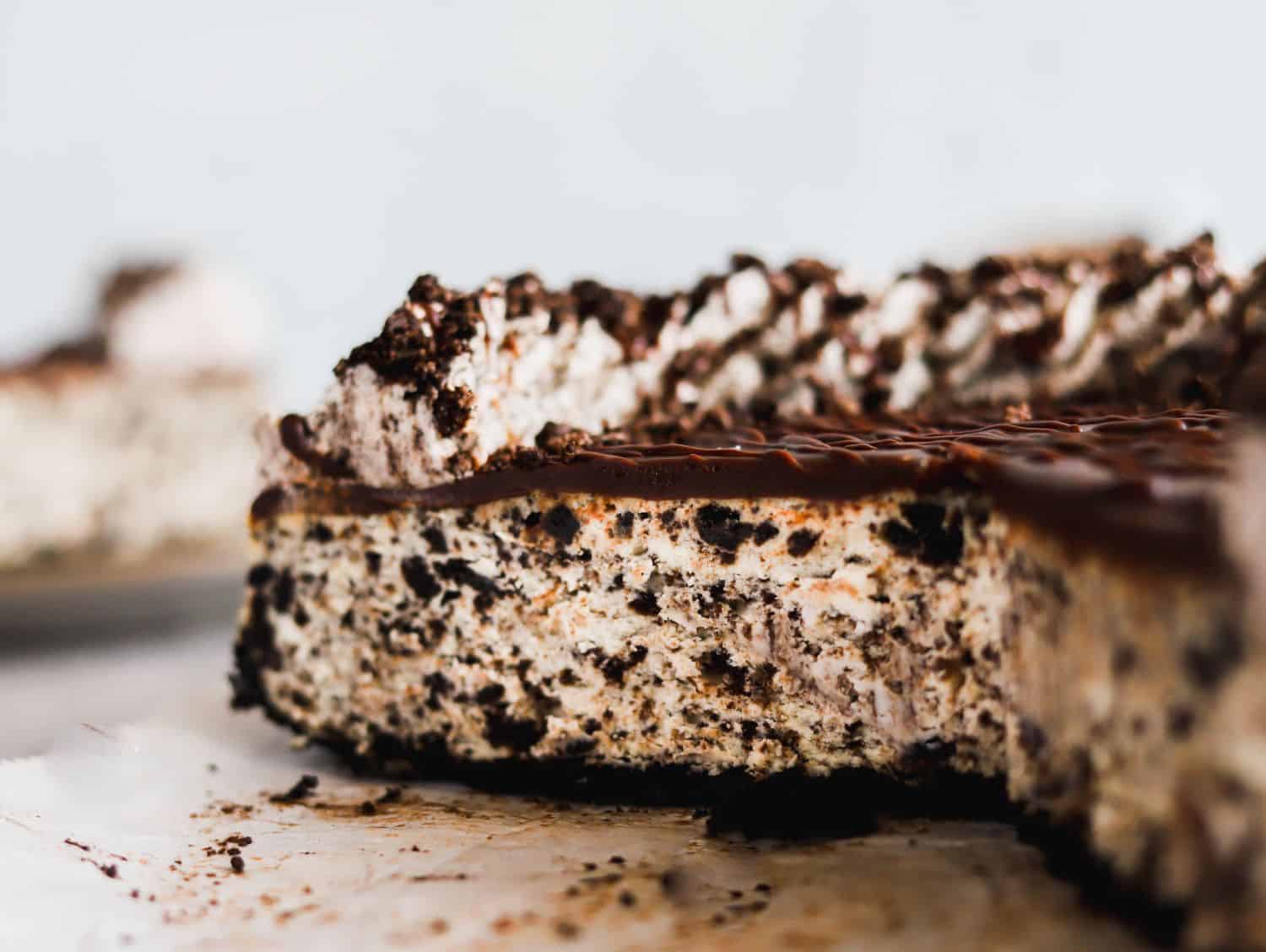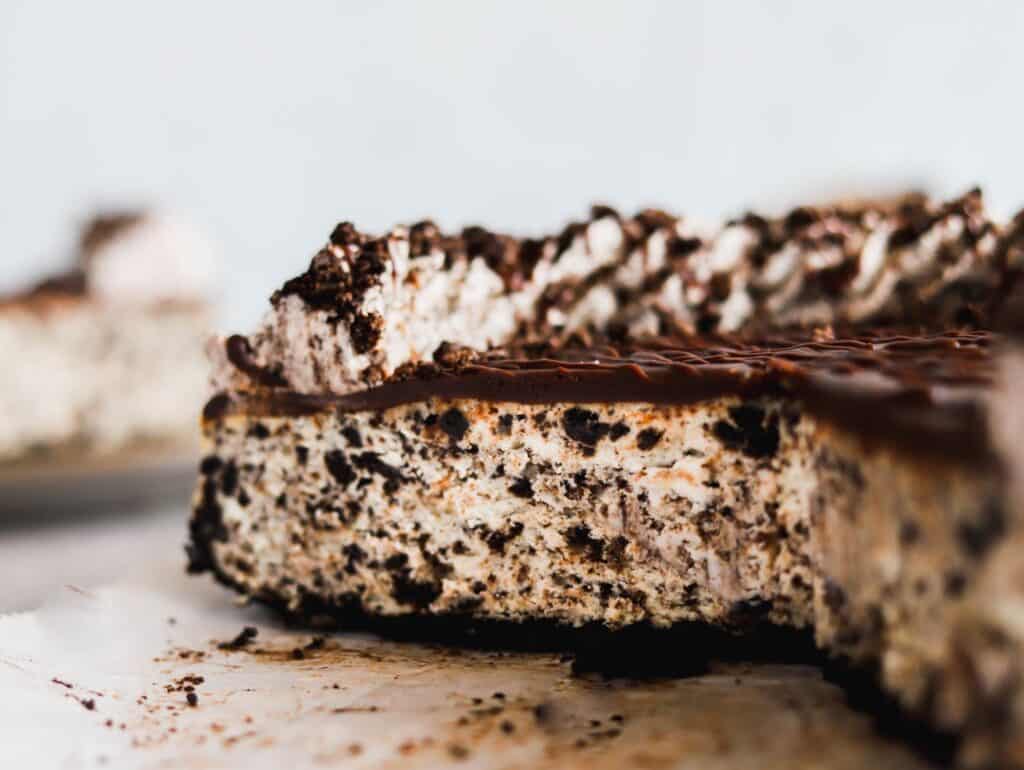 How To Make An Oreo Crust
Oreo Crust is an essential component for this Oreo cheesecake. You have to have a homemade Oreo Crust!
To make it, start by crushing up Oreo cookies and mixing it with melted butter. When you mix it, it should resemble wet sand. (Except it tastes WAY better).
Pour the Oreo crumbs in the 9 inch spring form pan. It will be enough to cover the bottom and half way up the sides of the pan. Use the back of a measuring cup to compact the crust.
Make sure you bake it for 10 minutes. Pre-baking the crust, helps to prevent a soggy crust. It is a very important step!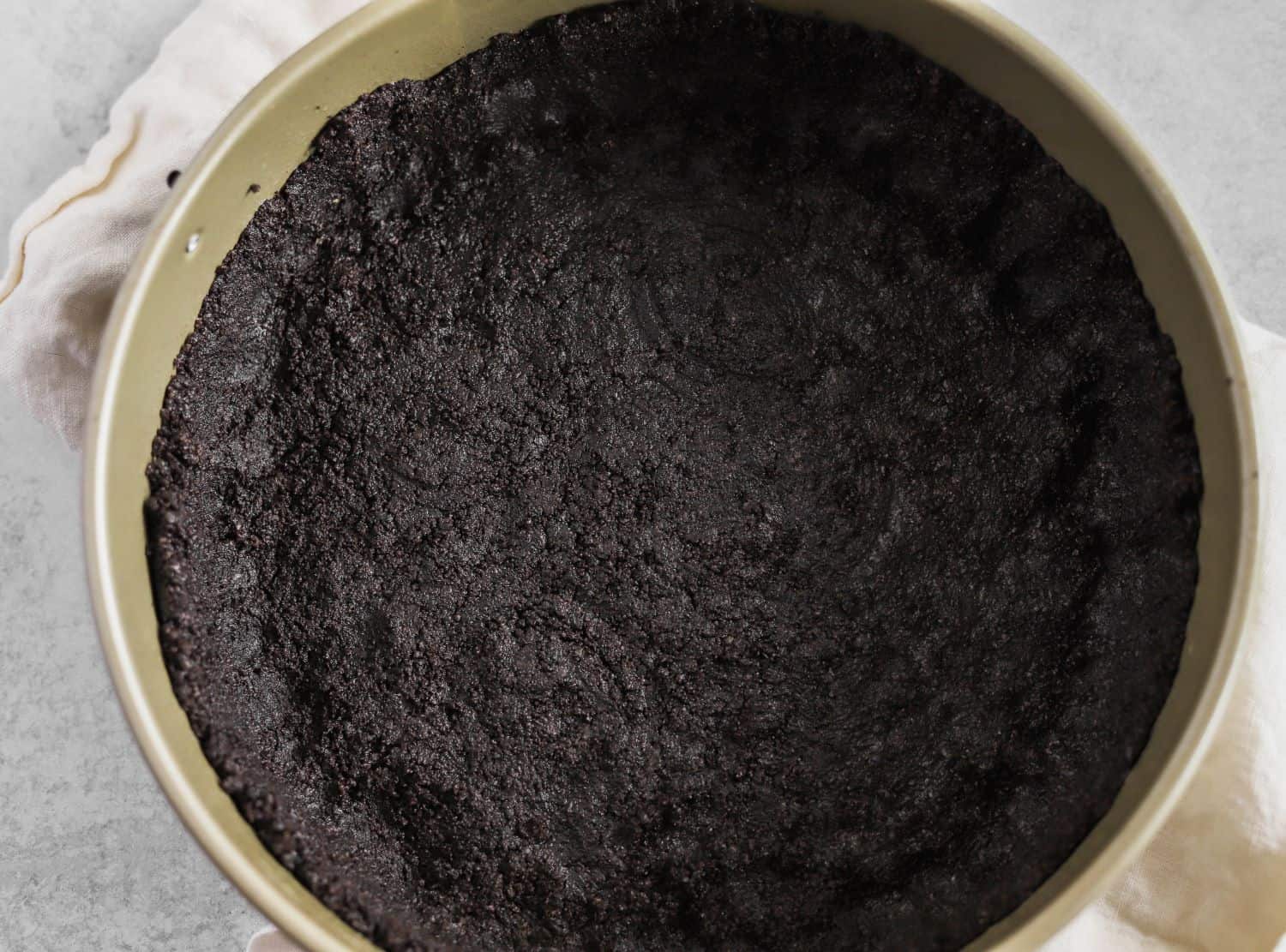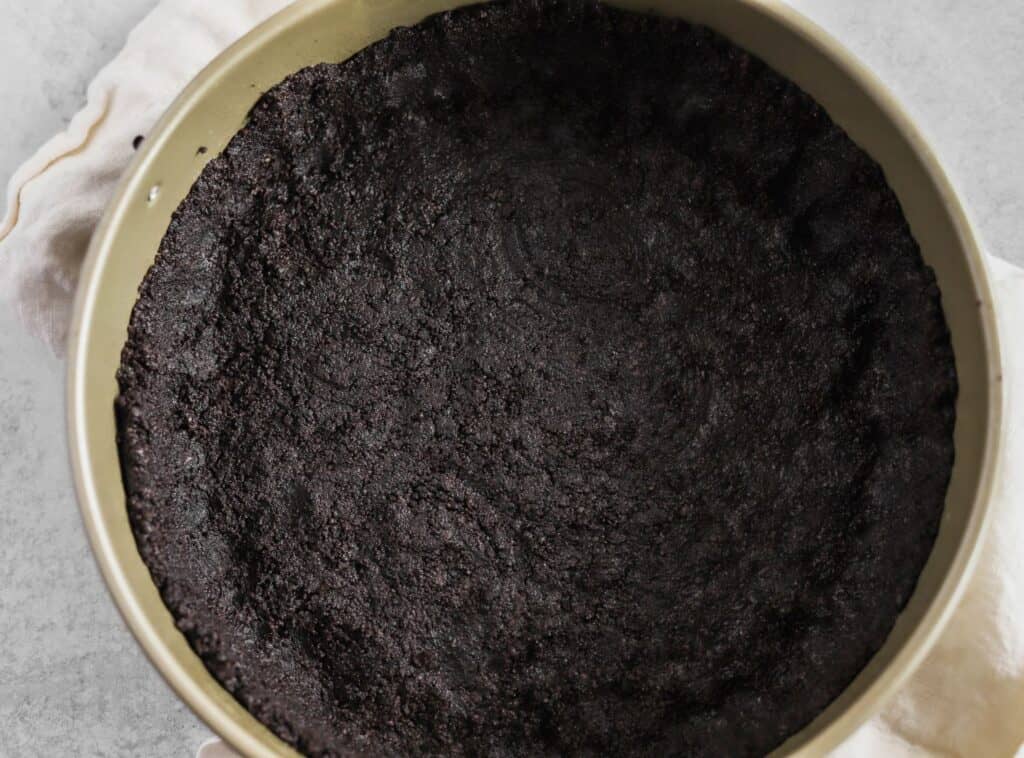 What Type Of Oreos To Use
It doesn't matter if you get a regular pack or a family sized pack, (although you will use a lot!) all that matters is that you use regular Oreos. Don't use double stuff because there will be too much moisture from creme.
If you like a certain flavor of Oreos you want to try, you can. However it will probably dramatically change the flavor. So, I recommend the regular Oreos.
The Importance Of A Water Bath
A water bath is SUPER important. If you want a cheesecake that doesn't crack then, you have to do a water bath.
A water bath is letting your cheesecake sit in hot boiling water. The steam is what will keep your cheesecake moist. When it is too dry, that is when the cheesecake will crack.
There are 2 methods you can use:
I mentioned this earlier, but place boiling water in a large 12X16 pan. Then place your spring form pan in a 10 inch cake pan. Place both of those in the large pan and bake. The boiling water should come up half way up the cake pan. This method is my favorite. The cake pan protects the cheesecake from getting any water in it. It also keeps the steam very close to the cheesecake at the same time.
You can wrap the spring form pan twice in aluminum foil. This is the traditional way to do a water bath. Then, place the spring form pan in the large 12X16 pan with boiling water. The only problem is that water can very easily get inside the foil and you can get a soggy crust.
I have also tried letting the pan of hot water be on the bottom rack in the oven with the cheesecake on the top rack. The steam doesn't fully fill up the oven, and the cheesecake is likely to dry out and crack. When I tried that method, my cheesecake had cracks all over.
To make sure your cheesecake is crack free, try out one of those water bath methods. You won't be disappointed.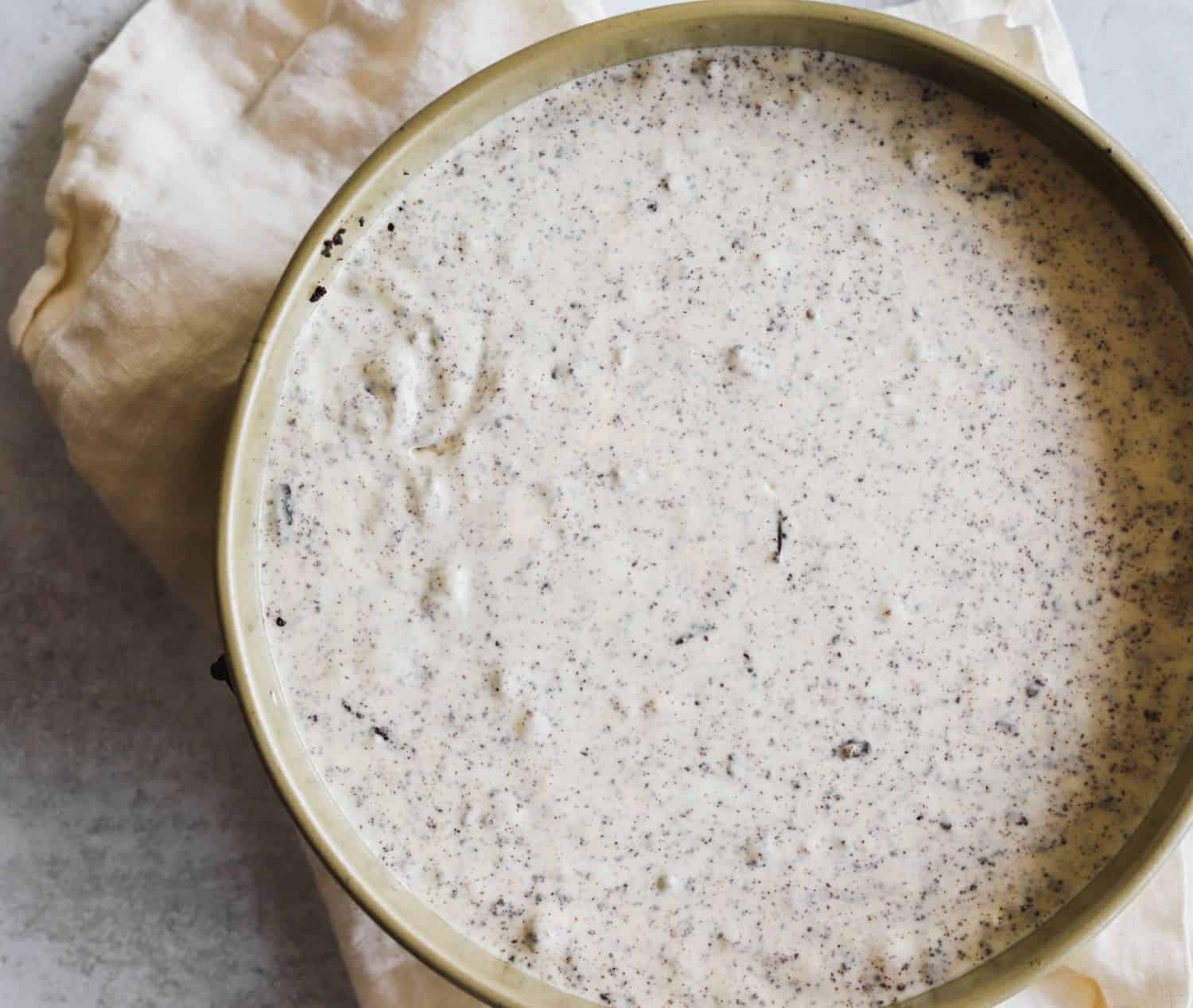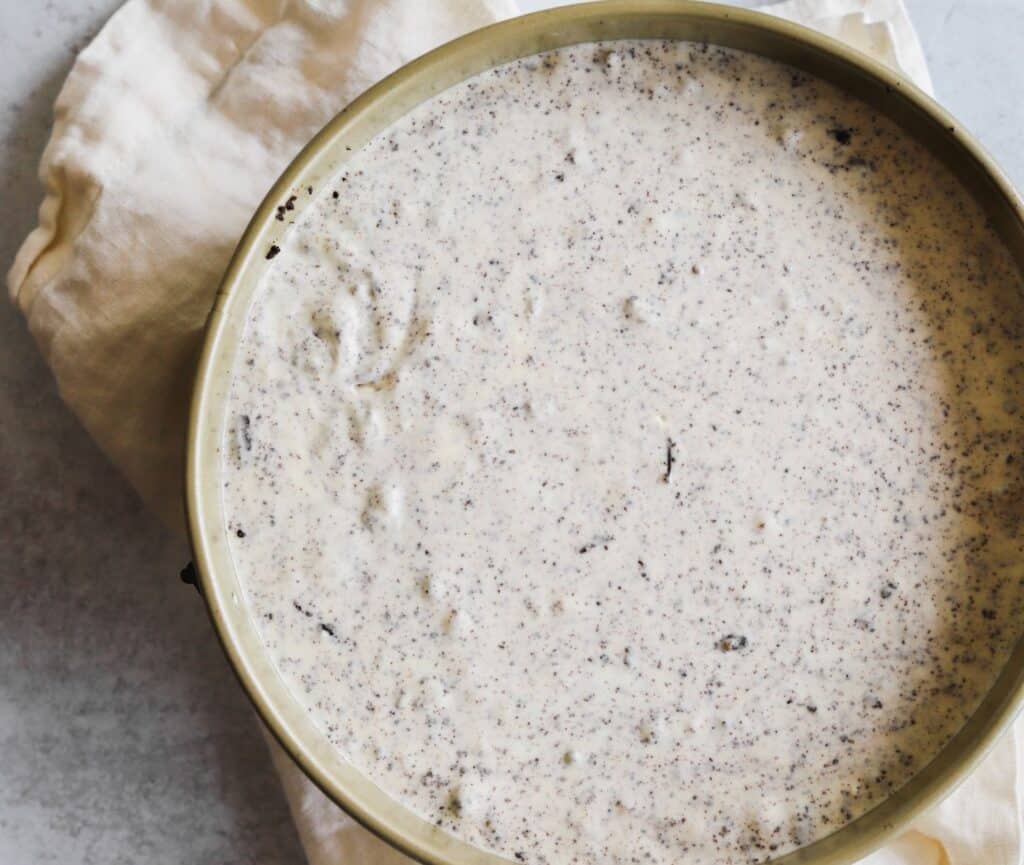 How To Tell When The Oreo Cheesecake Is Done Baking
To make sure your cheesecake is neither under baked or over baked, you will want to do a jiggle test around 65 minutes of baking.
Jiggle the cheesecake, if there is a slight jiggle and the edges are set, then it is done baking! The cheesecake should jiggle like jello.
However, if your cheesecake jiggles a lot, then bake for another 5-10 minutes. It shouldn't take longer than 75 minutes to bake. If it gets too brown on top, then that means it is over baked. A little golden brown is okay.
How Long Do You Chill The Oreo Cheesecake
This step is crucial guys! Any cheesecake should chill for at least 6 hours to overnight.
If you try to eat the cheesecake before the 6 hours, it will be like soup. The cheesecake will be way too soft and will spill all over the plate.
Letting the cheesecake cool for at least 6 hours will let the cream cheese set and firm up. It will become dense, creamy and fluffy. Which is the perfect cheesecake texture.
Cover the cheesecake with cling wrap or aluminum foil and place it in the fridge. Then, once it's cool, remove the spring form pan and the parchment circle.
How To Make Oreo Whipped Cream
The Oreo whipped cream is actually regular whipped cream with Oreo crumbs folded in. It is delcious.
Start by placing the metal bowl and whisk attachment from the mixer into the freezer. A cold bowl will make it so much easier for the heavy cream to whip up.
Place the heavy cream, powdered sugar, and vanilla in the cold bowl and beat on high for several minutes until stiff peaks from.
Stiff peaks mean when you lift the whisk attachment from the cream, the peak will be stiff and straight. If the peak of cream flops over you need to beat for a few more minutes.
Then, fold in the Oreo crumbs. Use a rubber spatula and be very gentle so you don't knock any air out of the whipped cream.
Decorating This Cookies N Cream Cheesecake
First, pour the prepared chocolate ganache on top of the cheesecake. Be sure to save ¼ of it for the drizzle. Use an offset spatula to smooth the ganache to the edges of the cheesecake.
Then, place the cheesecake in the fridge for 10 minutes for the ganache to start to become firm. Next, take the Oreo whipped cream the decorate the cheesecake. You can do a rope border like i did, or little stars, circles, or rosettes.
Then, take the leftover chocolate ganache and place it in a squeeze bottle, piping bag, or simply use a spoon to drizzle the chocolate over the whipped cream and middle of the cheesecake.
Next, take large Oreo chunks and sprinkle it on top of the cheesecake.
How To Cut A Perfect Slice Of Cheesecake
This tip is actually super easy, it is just a little tedious.
If you want a slice that is clean every time, simply clean your sharp knife between each slice. Yes that is it. A knife covered in cheesecake will get on the next slice, resulting in a messy slice of cheesecake.
Simply clean your sharp knife each time you cut!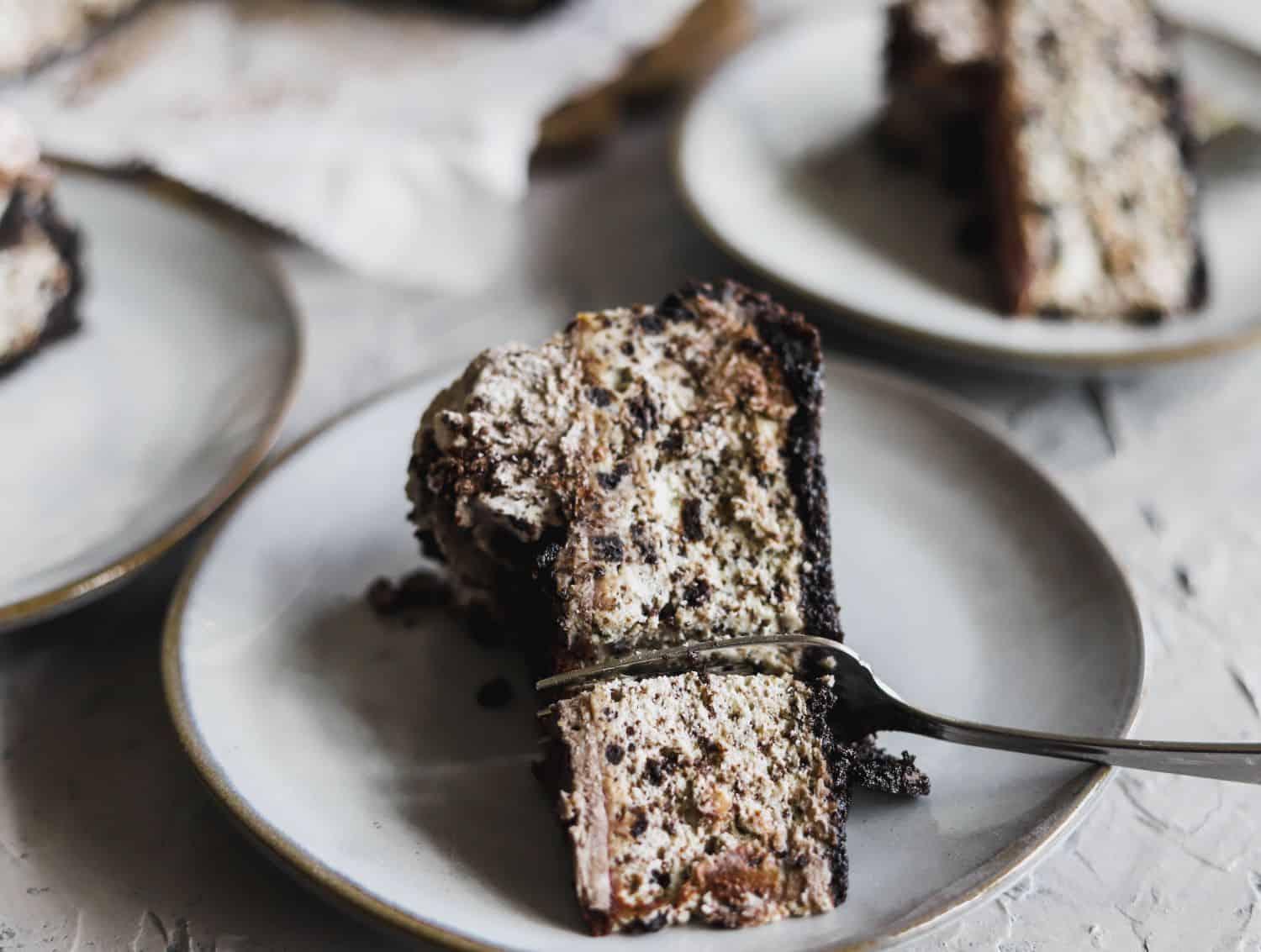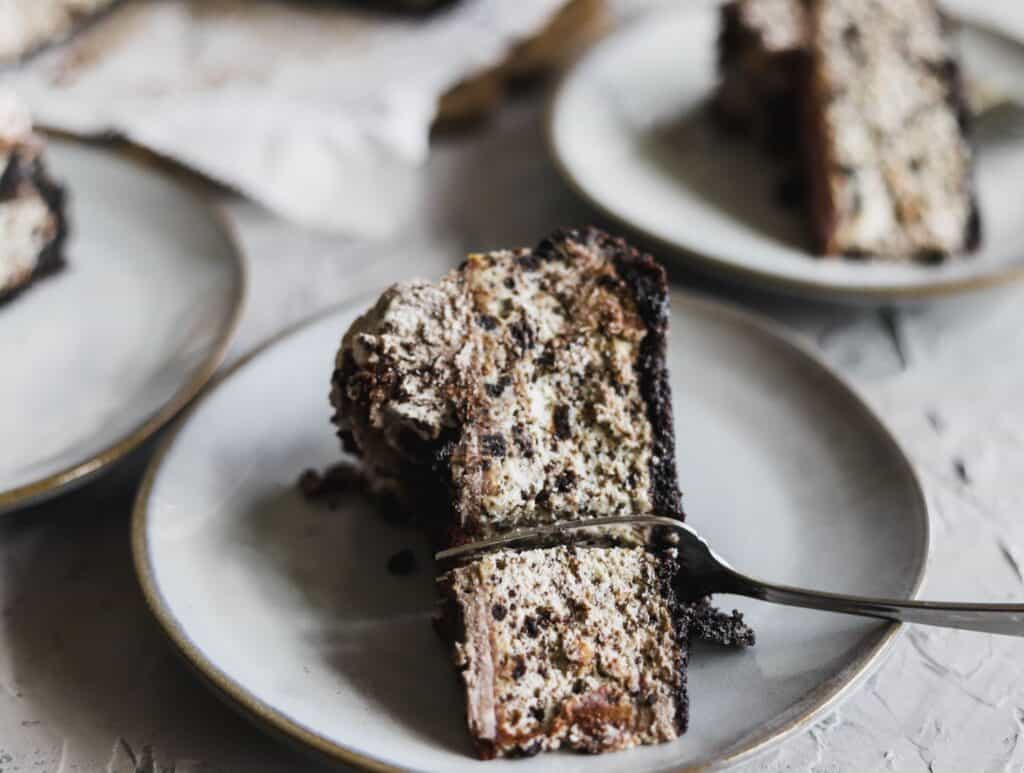 How To Store The Cheesecake
Keep the cheesecake in the fridge in a cake carrier. It will last up to 5 days in the fridge.
Can This Cheesecake Be Frozen
Yes this cheesecake can be frozen. When it is done chilling for 6 hours, wrap it in cling wrap and place it in the freezer for 30 days. Then, let it thaw in the fridge before you finish decorating it.
Other Cheesecake Recipes To Try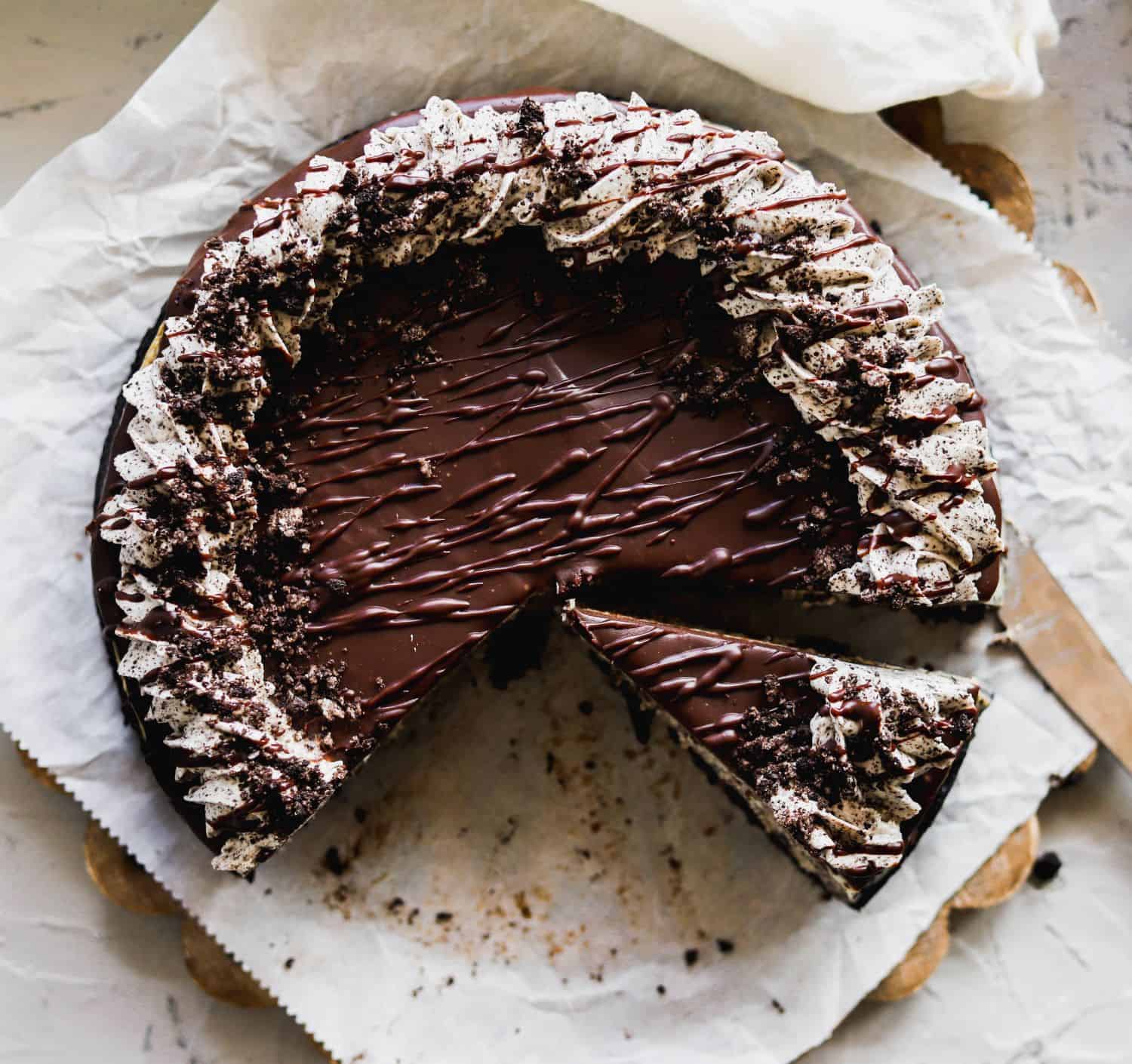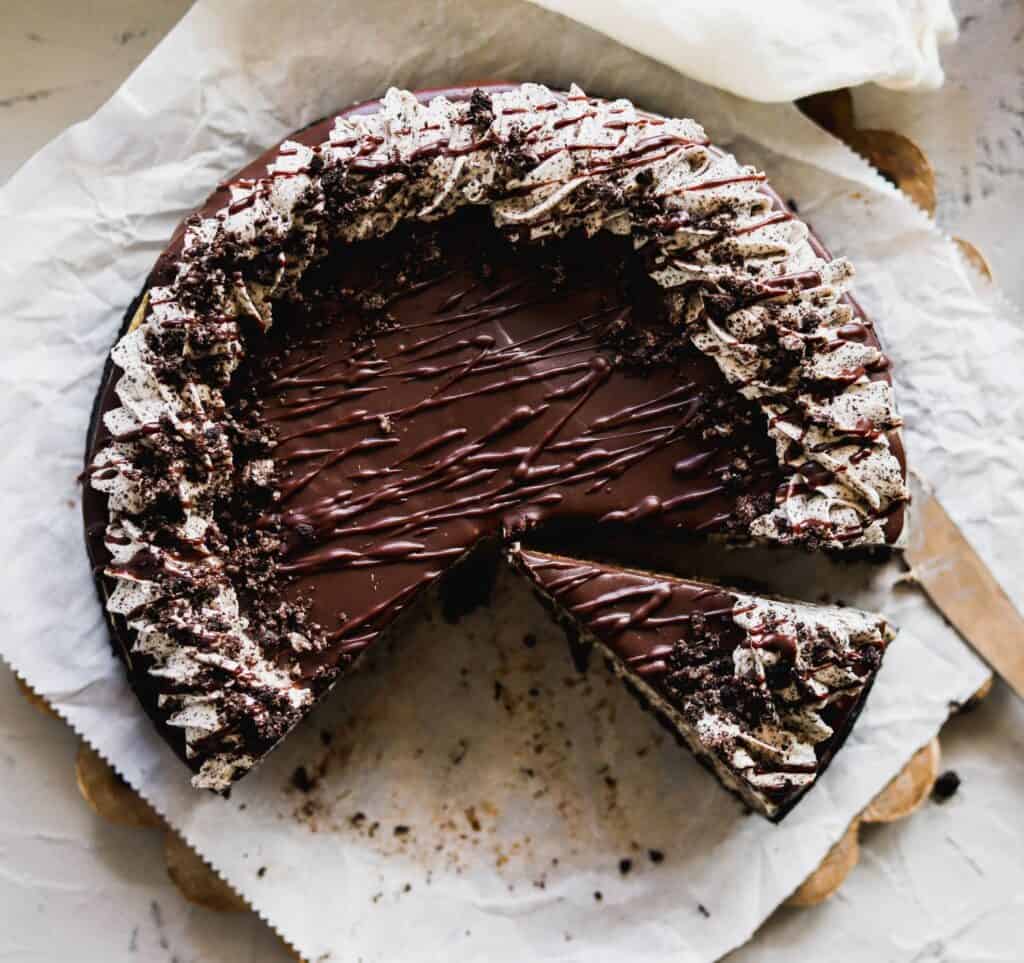 Make sure to tag me on Instagram @stephaniesweettreats and leave me a review below if you made this cheesecake. I hope you loved it! To get more ideas follow me on Pinterest.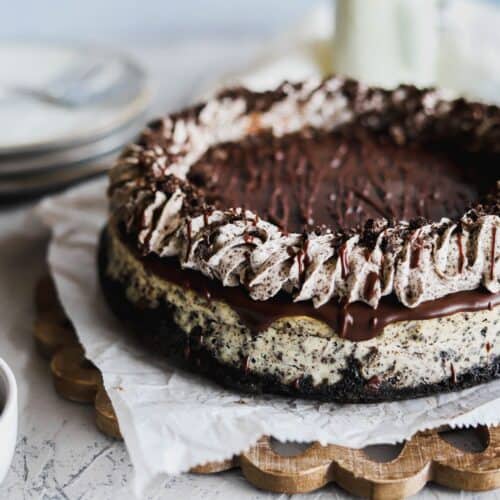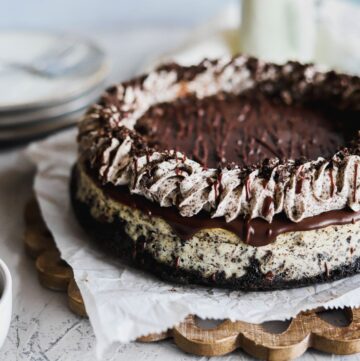 Oreo Cheesecake
This Oreo cheesecake ( or cookies n cream cheesecake) is easy to make and is baked on an Oreo crust. The cheesecake is creamy and filled with Oreos. It is covered in chocolate ganache and Oreo whipped cream. This is the best recipe for any event.
Ingredients
Oreo Crust
3

cups

Oreo crumbs

2 rows of cookies in a regular Oreo pack.

5

TBSP

Unsalted butter

melted
Oreo Cheesecake
24

oz

Cream cheese

room temperature

¾

cup

White granulated sugar

½

cup

Sour cream

room temperature

¼

cup

Heavy cream

room temperature

1

tsp

Pure vanilla extract

3

Large eggs

room temperature

½

cup

Oreo crumbs

1

cup

Large Oreo chunks
Chocolate Ganache
1

cup

Semi-sweet chocolate chips

½

cup

Heavy cream
Oreo Whipped Cream
1

cup

Heavy whipping cream

cold

¼

cup

Powdered sugar

½

tsp

Pure vanilla extract

½

cup

Oreo crumbs

super fine crumbs

¼

cup

Large Oreo crumbs

for decorating
Instructions
Oreo Crust
Preheat oven to 325F. Spray a 9 inch spring form pan with non stick baking spray. Place a 9 inch parchment circle on the bottom of the pan and spray again. Set aside.

Use a food processor or blender and crush up Oreos into super fine crumbs. It will take about 2 rows of Oreo cookies if using a regular pack. If you crush up more than 3 cups, save the crumbs for later.

In a small bowl, stir the melted butter and Oreo crumbs together until all wet and combined.

Pour the crumbs into the spring form pan. Use your fingers to press the crust evenly across the bottom and halfway up the sides of the pan. Use the back of a measuring cup to compact the crust down.
Oreo Cheesecake
Once crust is done baking, start on the cheesecake batter. Use a mixer on medium and beat the cream cheese for 1 minute. Add the sugar, and beat for 1 minute. The cream cheese should be light and fluffy. Scrape the bowl

Add sour cream, heavy cream, and vanilla to the batter and mix on medium for 1 minute. There should be no more chunks left. Scrape the bowl and beat again for 30 seconds.

Add the eggs one at a time on low. Scrape the bowl between each egg addition. Take off the mixer and fold in the Oreo crumbs and chunks gently.

Pour batter on top of Oreo crust. Use a spatula to spread it smooth and even.

Prepare water bath, you can do either of these options. Both use boiling water. 1. Place spring form pan inside a 10 inch cake pan. Place both of those pans inside a 12x16 pan and pour boiling water inside 12x16 pan about halfway up. 2. Wrap spring form pan twice tightly with aluminum foil. Place it inside a 12X16 pan and pour boiling water half way up the spring form pan.

Place entire water bath in oven and bake for 60-75 minutes. It is done baking when the edges are set, and the middle has a slight jiggle. Turn off the oven and crack the door open, and let it sit for 30 minutes.

Transfer to a cooling rack and let it cool completely. Cover in foil and place in fridge to cool for at least 6 hours or overnight.
Chocolate Ganache
Pour chocolate chip in a small bowl and set aside.

Heat heavy cream using a sauce pan over medium-low heat. Heat until hot and steaming. Pour it over the chocolate chips. Let it sit for 1 minute and 30 seconds.

Use a rubber spatula and stir consistently until smooth and glossy. Take ¼ of the chocolate ganache and put it to the side ( this is for the extra drizzle). Pour the rest of the ganache on top of cheesecake. Use a spatula to smooth it to the edges.

Cool for at least 10 minutes.
Oreo Whipped Cream
Place metal bowl and whisk attachment in the freezer to chill for 10 minutes before making whipped cream.

Combine heavy cream, vanilla, and powdered sugar in the cold metal bowl. Use a mixer to beat whipped cream on high until stiff peaks form. It should be thick enough to pipe with.

Take off the mixer. Gently fold in the Oreo crumbs ( make sure they are super fine) until combined.

Pipe the Oreo whipped cream on top of the cake. I did a rope border using a 1M tip.

Use a spoon, squeeze bottle, or piping bag to drizzle chocolate ganache. Heat for about 10 seconds, then drizzle on top of cheesecake and whipped cream. Top with extra Oreo crumbs. Keep in the fridge until ready to serve.
Notes
Oreos- You will need an entire family sized Oreo pack or 2 regular size Oreo packs.
Cheesecake- Make sure all dairy ingredients for cheesecake are room temperature before starting. It should take at least 2 hours for cream cheese to get to room temperature.
Nutrition