These small batch brownies are easy to make brownies. These brownies are baked in a loaf pan to create 8 thick and fudgy brownies.
These brownies are perfect if you only want a couple of fudgy brownies and not a whole tray. The brownies are filled with cocoa powder and two types of chocolate chips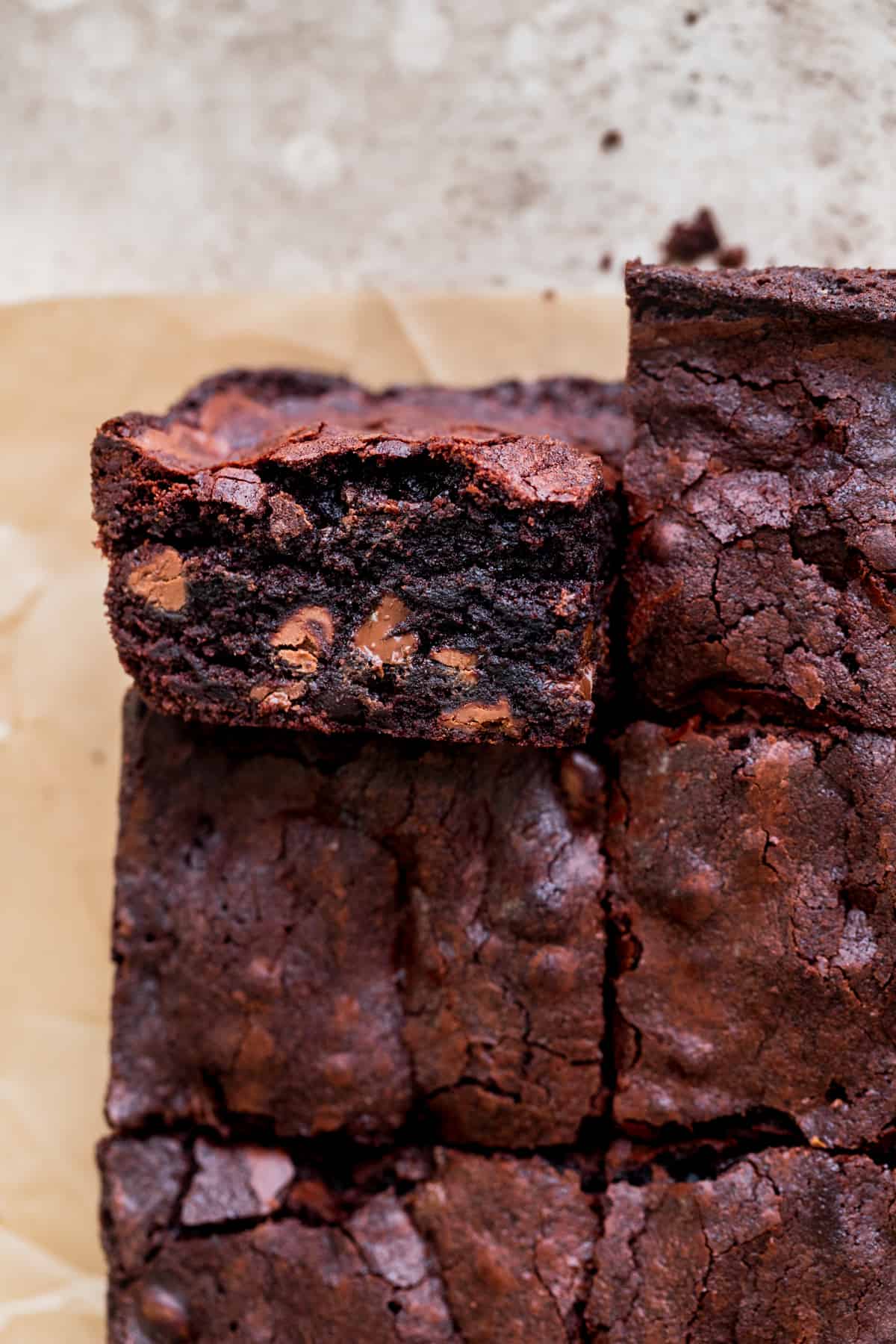 I wanted to create a small batch brownies recipe that is made in a loaf pan. These brownies are perfect for that! They make thick and chewy brownies!
The best part about these brownies are the chocolate chips. There are two type of chocolate chips which makes them extra rich!
These brownies are perfect to make on the weekend as a great baking activity and if you have a chocolate craving.
If you are looking for more small recipes, try Small Batch Chocolate Chip Cookies, Mini Oreo Cheesecakes, and Mini Layered Cake.
Jump to:
Why This Recipe Works
Loaf pan- This recipe is made using a loaf pan! Which makes them small batch since they are made in a smaller pan.
Fudgy texture- These brownies have a very fudgy texture. They are baked with an extra egg and a low amount of dry ingredients to get this texture.
Rich chocolate- These brownies are extra rich and decadent. They have both cocoa powder and two type of chocolate chips. You can't go wrong with brownies!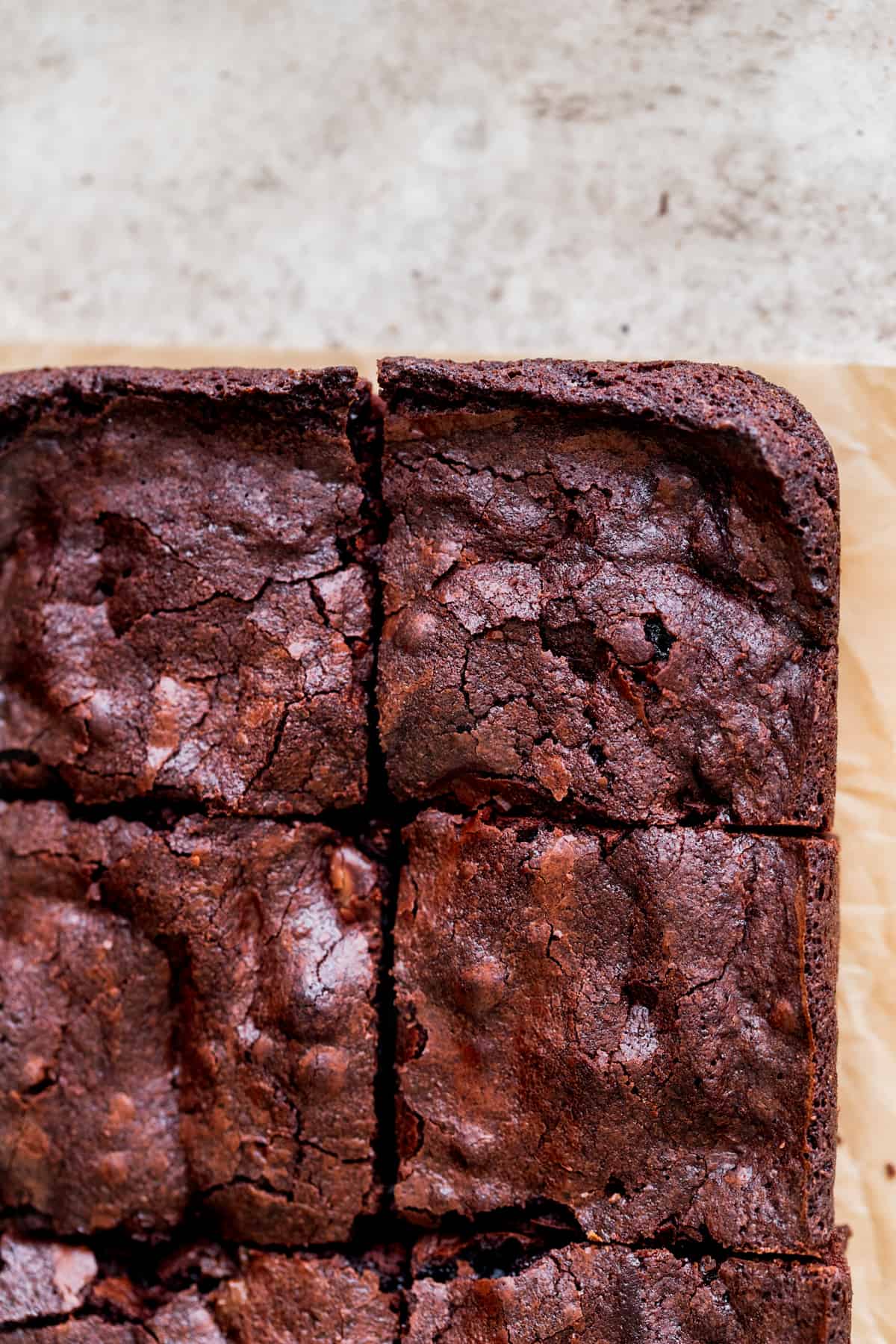 Ingredient Notes
Sugar- This uses a whole cup of sugar which helps to give them a crackle top.
Large Egg- You can use cold eggs for this recipe. It will help with the fudginess.
Unsalted butter- The butter needs to be melted and slightly cooled before using.
Oil- You can use canola oil or vegetable oil.
Dutch process cocoa powder- This is the one I used. Dutch process will give you a richer result. Natural cocoa powder is fine to use.
Cornstarch- The cornstarch will help give a more fudgy brownie by helping to break down the gluten strands.
Chocolate chips- For best results, use a good quality semisweet chocolate chips and milk chocolate chips. In a pinch you can use just semisweet chocolate chips or dark chocolate chips.
Step By Step Instructions
Here is how to make and bake these small batch of brownies.
STEP 1: Beat the sugar and eggs. In a large bowl, beat the white sugar and eggs on high speed for 5 minutes. This process helps to give the brownies the crackle top.
You can use a stand mixer or an electric mixer (hand mixer). The sugar will be bright white.
STEP 2: Add in wet ingredients. Next, add in the melted butter, oil, and vanilla extract. Mix on low speed to not lose any air from the eggs.
STEP 3: Mix in dry ingredients. Then, add in the all-purpose flour, dutch cocoa powder, cornstarch, and salt. Mix this also on low until just combined.
Now, pull the bowl off the mixer and use a rubber spatula to fold the batter.
STEP 4: Add the chocolate chips. Fold the chocolate chips in very gently. Be gentle with the batter so you don't knock out any air.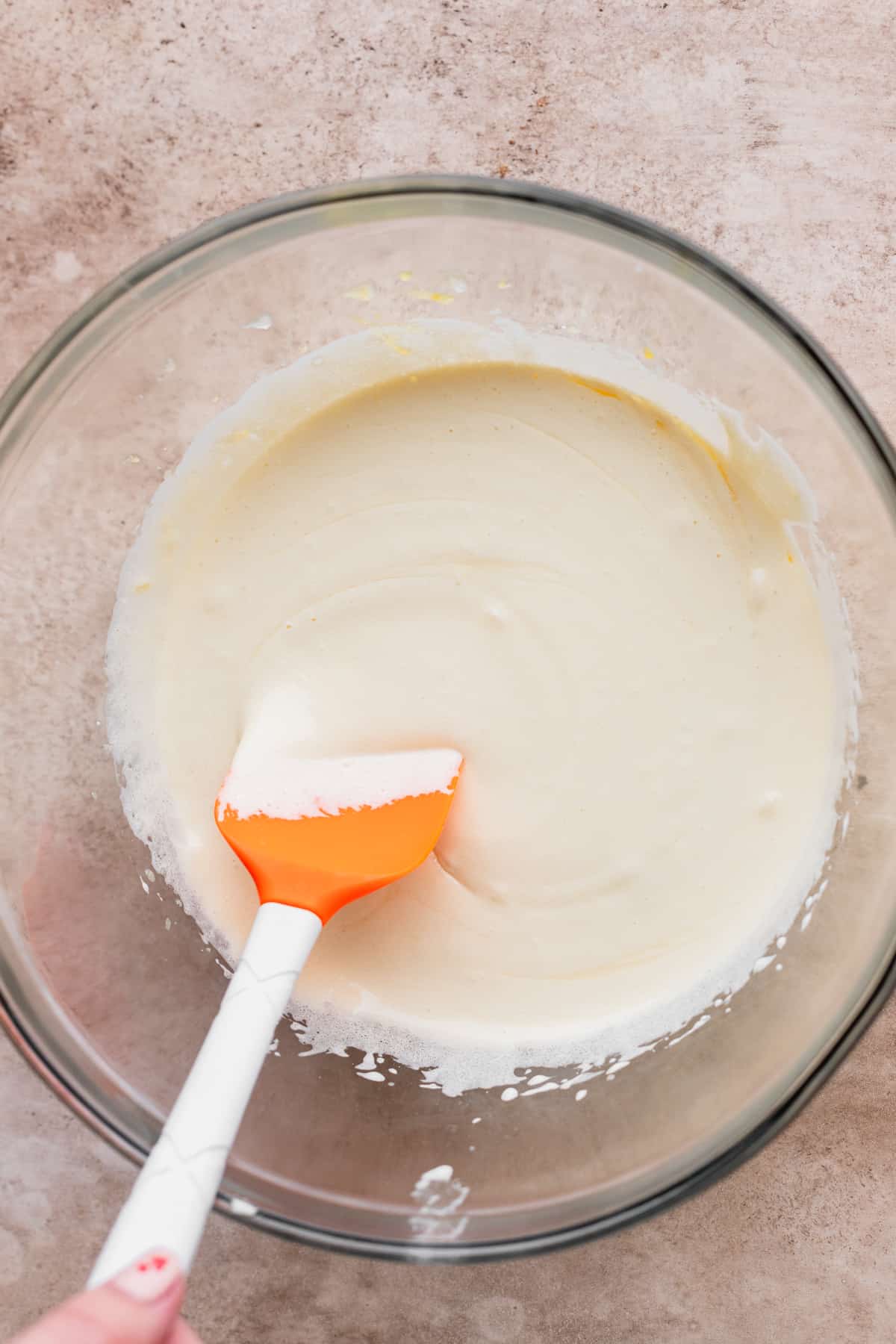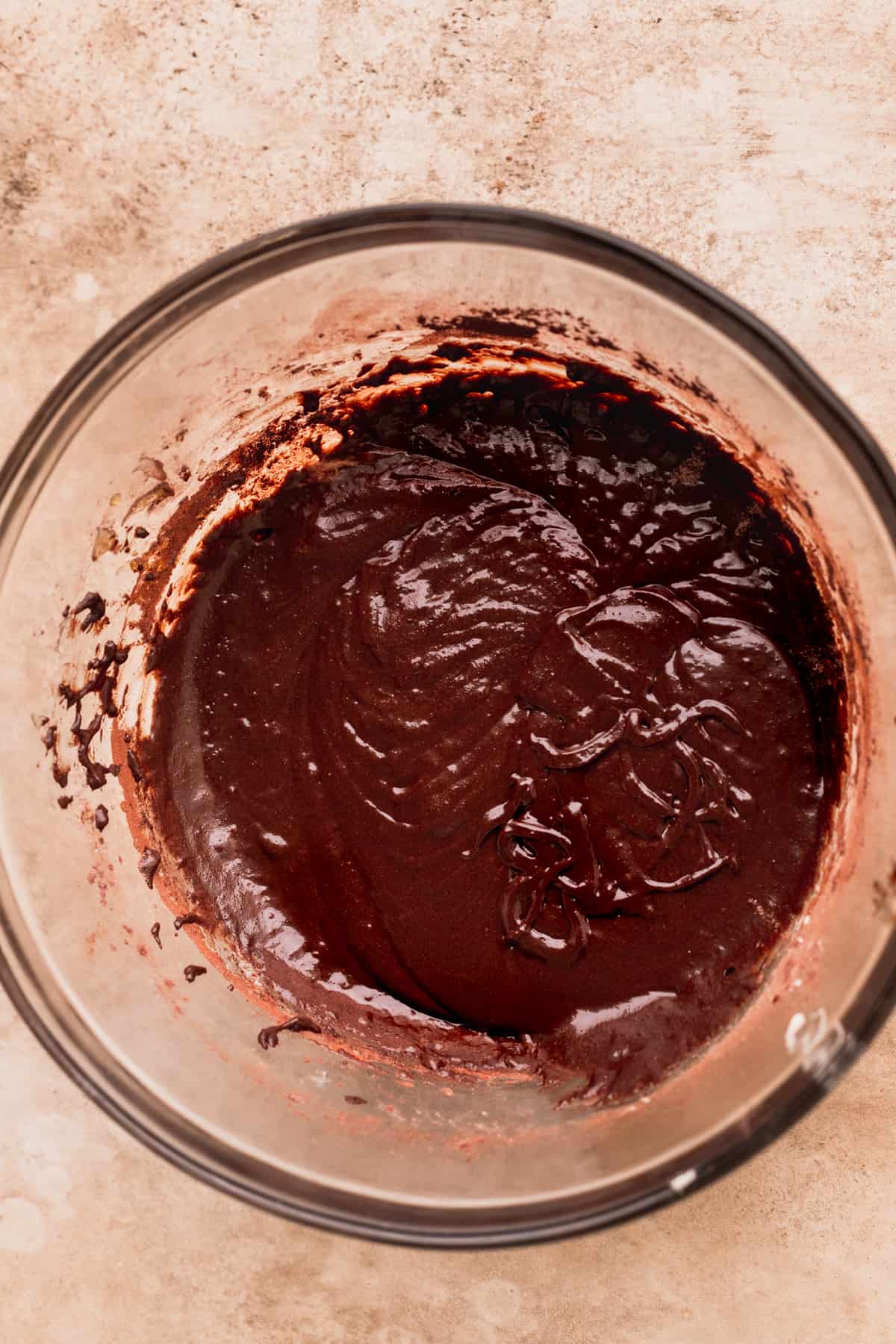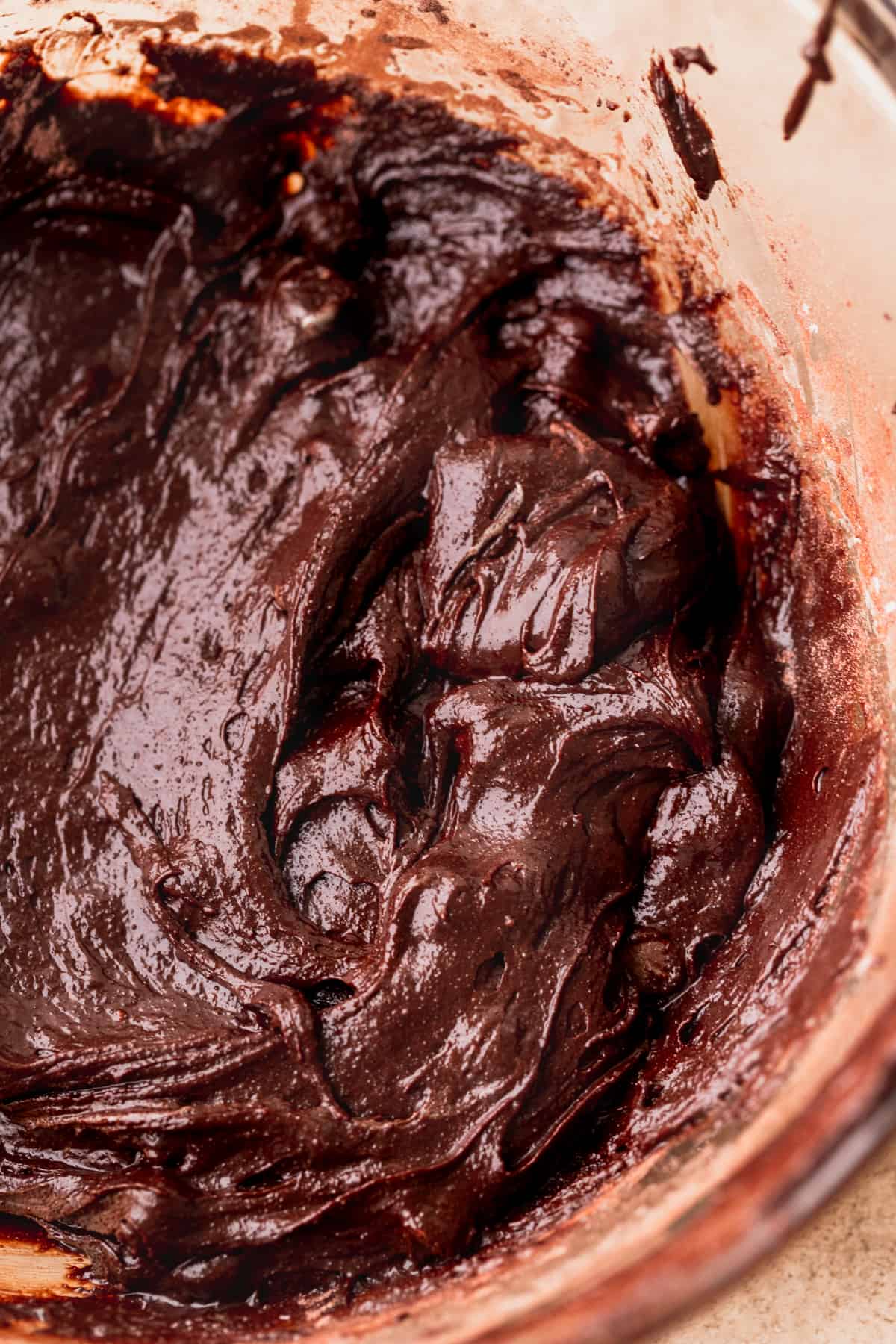 STEP 5: Pour the batter. Pour batter into a 9X5-inch loaf pan.
STEP 6: Bake the brownies. Bake the brownies for about 45 minutes. To test them, stick a toothpick in the middle, there should be a little bit of fudge on the toothpick.
If there is too much raw batter, bake for another 5 minutes.
STEP 7: Cool. Let the chocolatey brownies cool on a wire rack before taking them out and slicing into 8 squares. It will make the perfect size!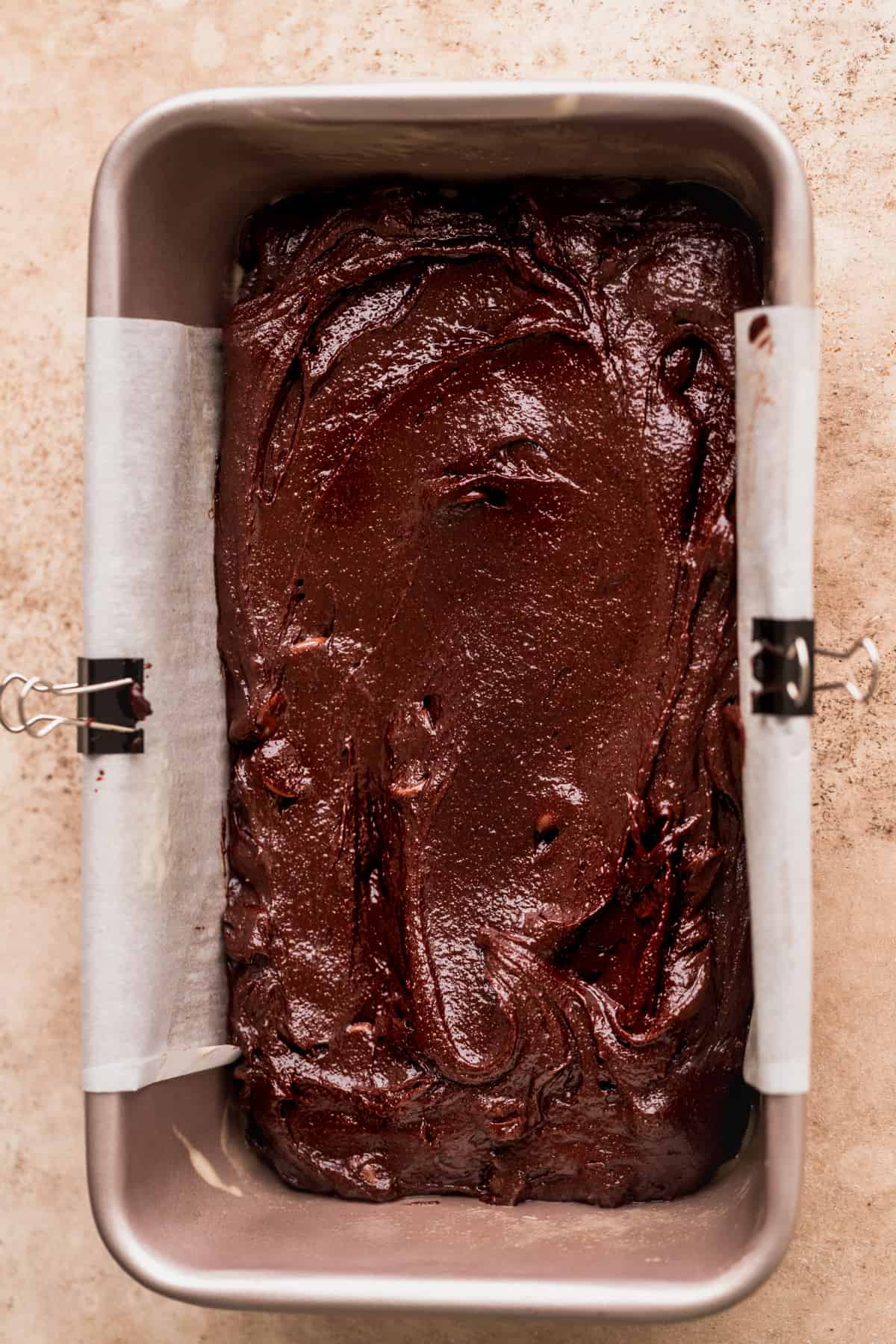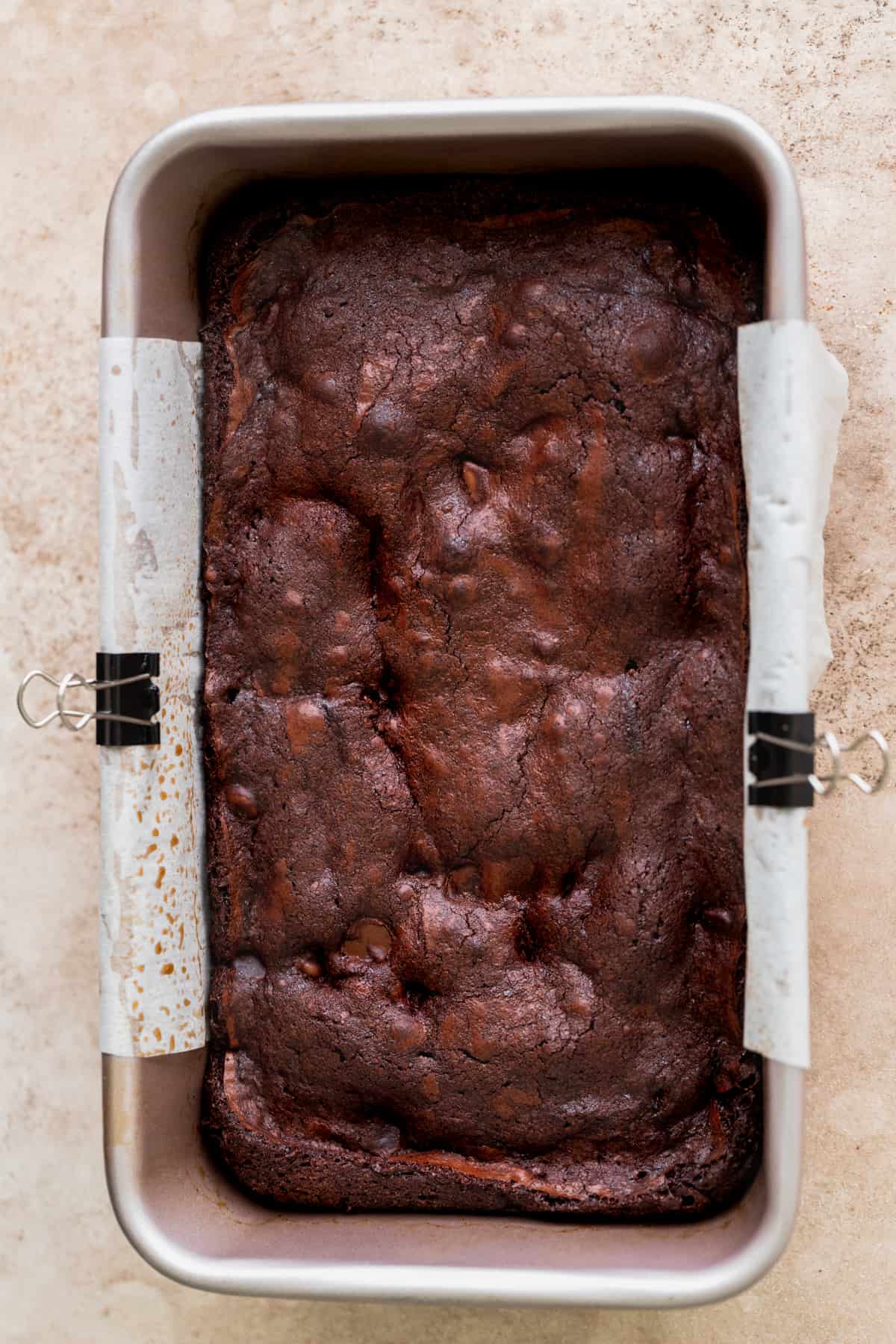 Expert Baking Tips
Flour- The flour needs to be spooned and leveled. If you dunk the measuring cup straight into the flour, it will be too compacted. This results in more cakey brownies.
For best results the flour and cocoa powder should be sifted. This prevents any flour lumps getting into the batter.
This recipe needs to be baked with a mixer. The mixer gives it enough powder to whip the sugar and eggs together.
To easily remove the gooey brownies from the pan, make sure to spray with a baking nonstick spray. Then, place parchment paper on the bottom and up the 2 sides. This will let you pull them out of the pan with ease.
FAQ
Can I make these using a different pan?
Yes you can. You can also use a 9X5, 8X4, or a 1 lb loaf pan. If you want a large set of brownies, use this Better Than Boxed Brownies recipe.
What makes the brownies fudgy?
These brownies have a higher fat to dry ingredient ratio. The fat comes from the eggs, melted butter, and oil. Also, the cornstarch also helps with the fudginess.
Why are my brownies cakey or dry?
This is because you overbaked them or you over measured the flour. The brownies need to be slightly under baked when you pull them out. They continue to bake as they cool.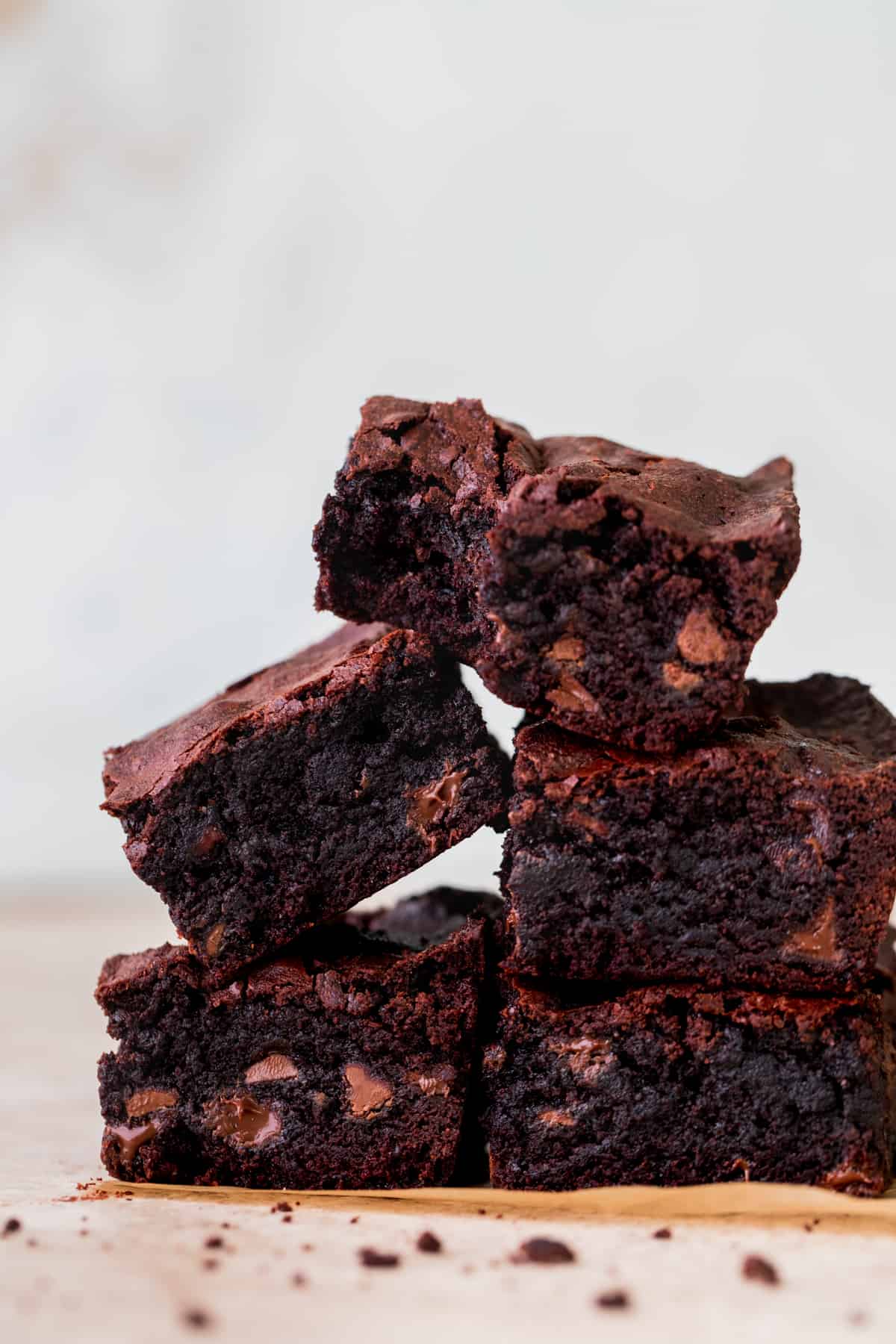 Storing and Freezing
Store these small batch brownies in an airtight container at room temperature. Store up to 5 days.
I love heating the brownies up slightly in the microwave and serving with a large scoop of vanilla ice cream!
Freezing
The small batch brownie squares can be frozen. Wrap them in plastic wrap and freeze up to 30 days. Thaw for 1-2 hours.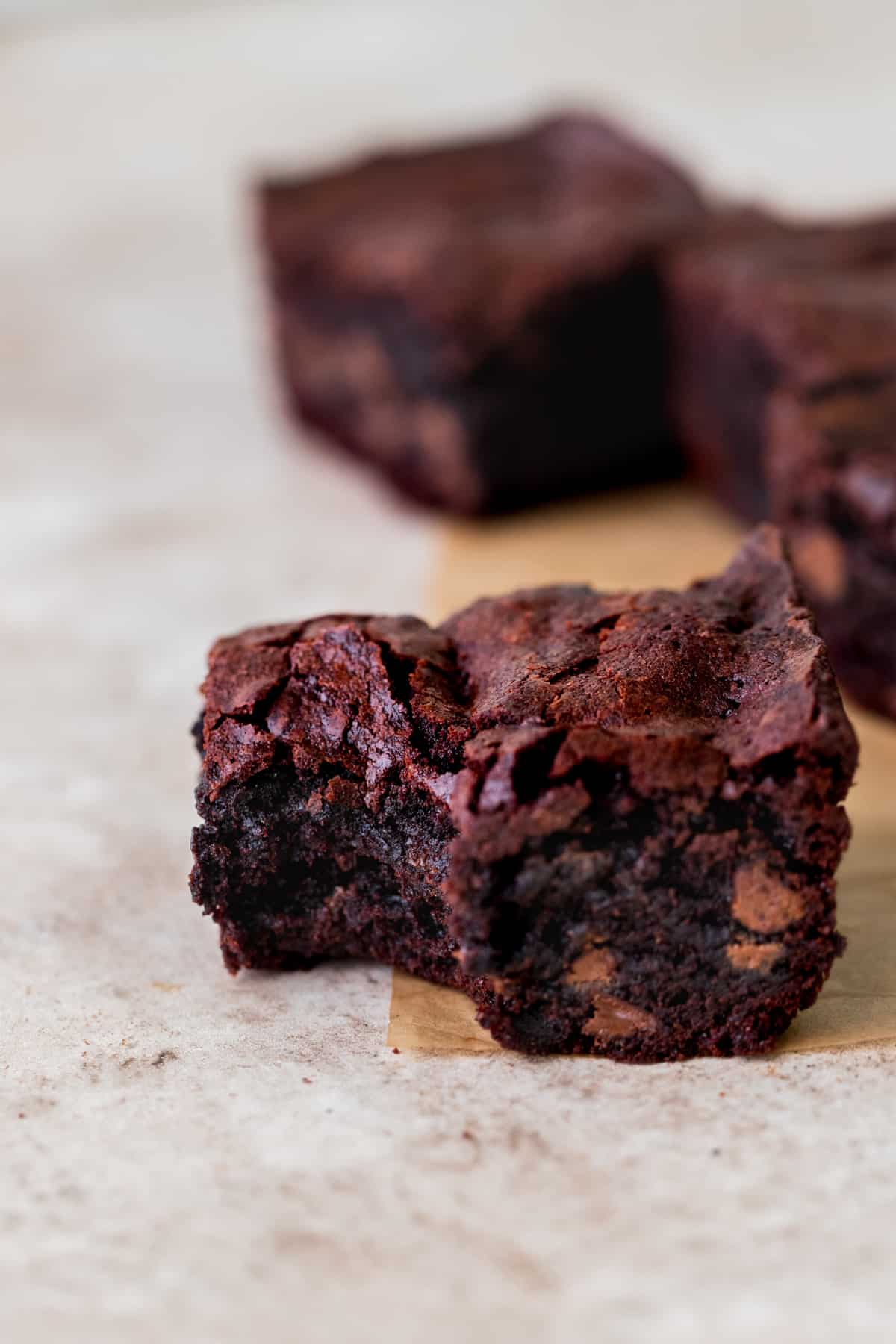 Other Brownie Recipes To Try
Make sure to leave me a star review below!
Make sure to tag me on Instagram @stephaniesweettreats. I hope you loved it! To get more ideas follow me on Pinterest.
📖 Recipe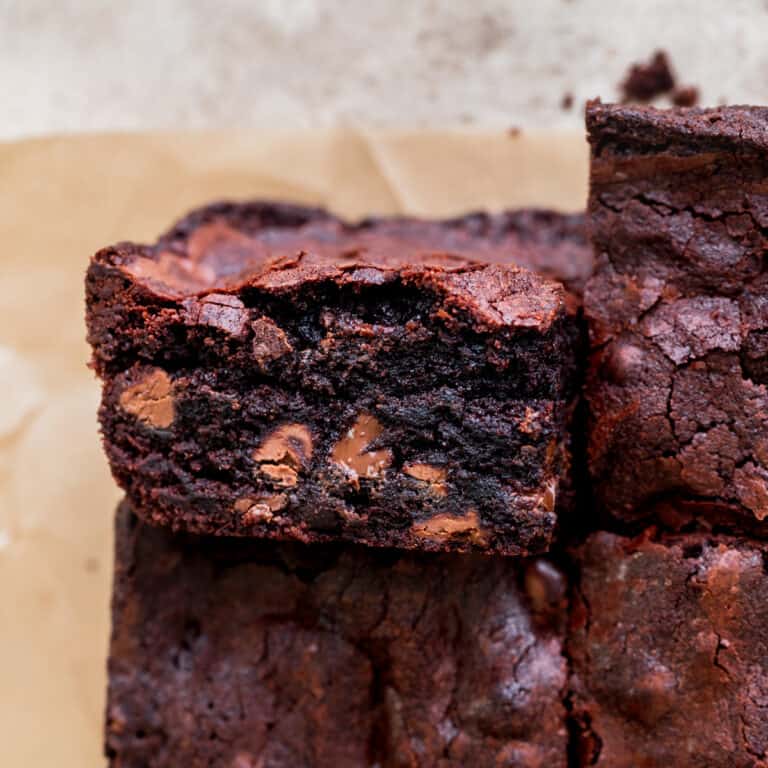 Small Batch Brownies
This small batch recipe makes 8 very fudgy brownies. These brownies are baked in a loaf pan.
Ingredients
1

cup

White granulated sugar

2

Large eggs

¼

cup

Unsalted butter

melted

¼

cup

Oil

canola or vegetable oil

1

teaspoon

Pure vanilla extract

½

cup

All-purpose flour

½

cup

Dutch process cocoa powder

½

tablespoon

Cornstarch

¼

teaspoon

Salt

¼

cup

Semi-sweet chocolate chips

¼

cup

Milk chocolate chips
Instructions
Preheat the oven to 325°F. Spray a 9X4 loaf pan with baking nonstick spray. Line the bottom and 2 sides of the pan with parchment paper. Spray again.

Using a mixer and a large bowl, add the sugar and eggs. Beat on high speed for 5 minutes. Melt the butter while it beats. Let it cool.

1 cup White granulated sugar,

2 Large eggs,

¼ cup Unsalted butter

Add in the melted butter, oil, and vanilla to batter. Mix in on low speed. Sift the flour and cocoa powder and add to the bowl. Add in the cornstarch and salt. Mix on low.

¼ cup Oil,

1 teaspoon Pure vanilla extract,

½ cup All-purpose flour,

½ cup Dutch process cocoa powder,

½ tablespoon Cornstarch,

¼ teaspoon Salt

Add in the chocolate chips. Take off the mixer and use a rubber spatula to fold the chips in.

¼ cup Semi-sweet chocolate chips,

¼ cup Milk chocolate chips

Pour the batter into the loaf pan. Spread until smooth.

Bake for 45-50 minutes. Bake until slightly underbaked in the middle. It will continue to bake as it cools.

Cool the brownies in the pan on a wire rack until completely cool. Take the brownies out of the pan and cut into 8.
Notes
Flour- Make sure flour is spooned and leveled or use a kitchen scale. Compacted flour can dry out the brownies and make them more cakey.
High altitude baking- Add an extra ½ tablespoon of flour.
Nutrition
Calories:
304
kcal
Carbohydrates:
40
g
Protein:
2
g
Fat:
17
g
Saturated Fat:
6
g
Polyunsaturated Fat:
2
g
Monounsaturated Fat:
7
g
Trans Fat:
1
g
Cholesterol:
17
mg
Sodium:
77
mg
Potassium:
125
mg
Fiber:
2
g
Sugar:
29
g
Vitamin A:
180
IU
Calcium:
14
mg
Iron:
1
mg