These better than boxed brownies are dark chocolate fudgy brownies loaded with three types of chocolate chips. They have the perfect crinkle brownie top and are super easy to make. While boxed brownies are SO good, these are even better! They remind me of the Ghirardelli triple chocolate brownie mix, but these brownies are way fudgier.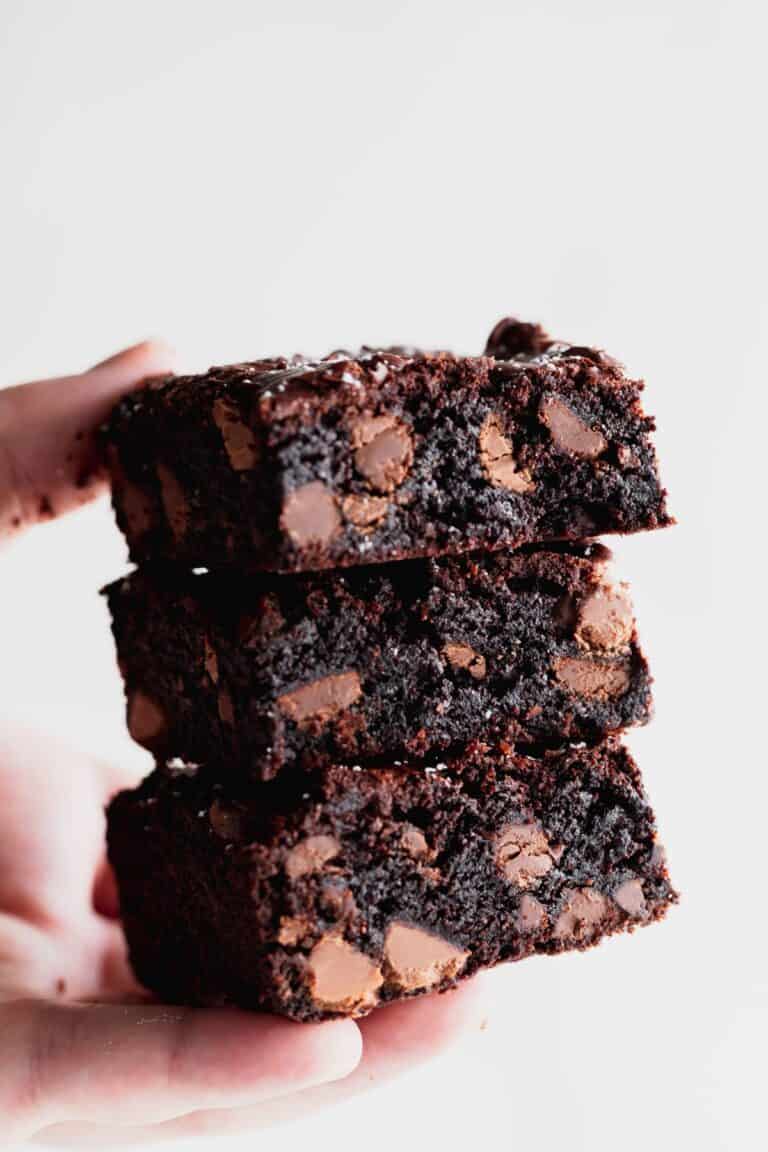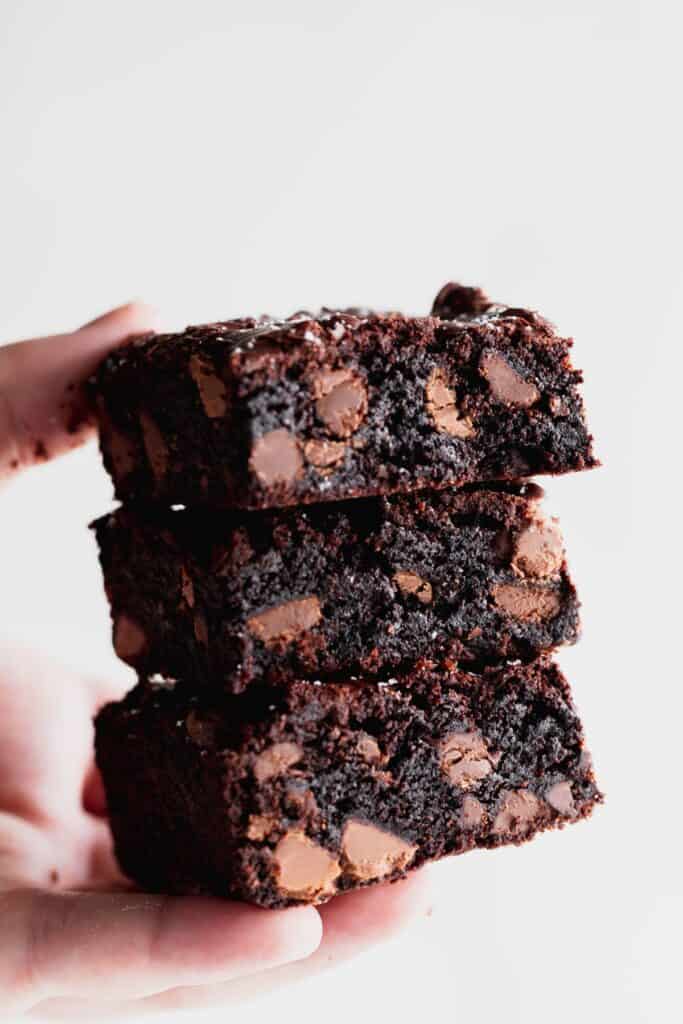 The Magic Of Boxed Brownies
We can all agree that boxed brownies are AMAZING. All you have to add is water, oil, and eggs and the result is fudgy chocolate brownies. When I set off to make these brownies, I thought, "What makes them so good?"
Boxed brownies are in between cakey and fudgy brownies and they have the shiny crackle top. So I set off to do the same! My favorite brownie mix is Ghirardelli triple chocolate brownies. Not only does it have the attributes above, but it also is loaded with chocolate chips. Chocolate chips in brownies are so necessary in my opinion.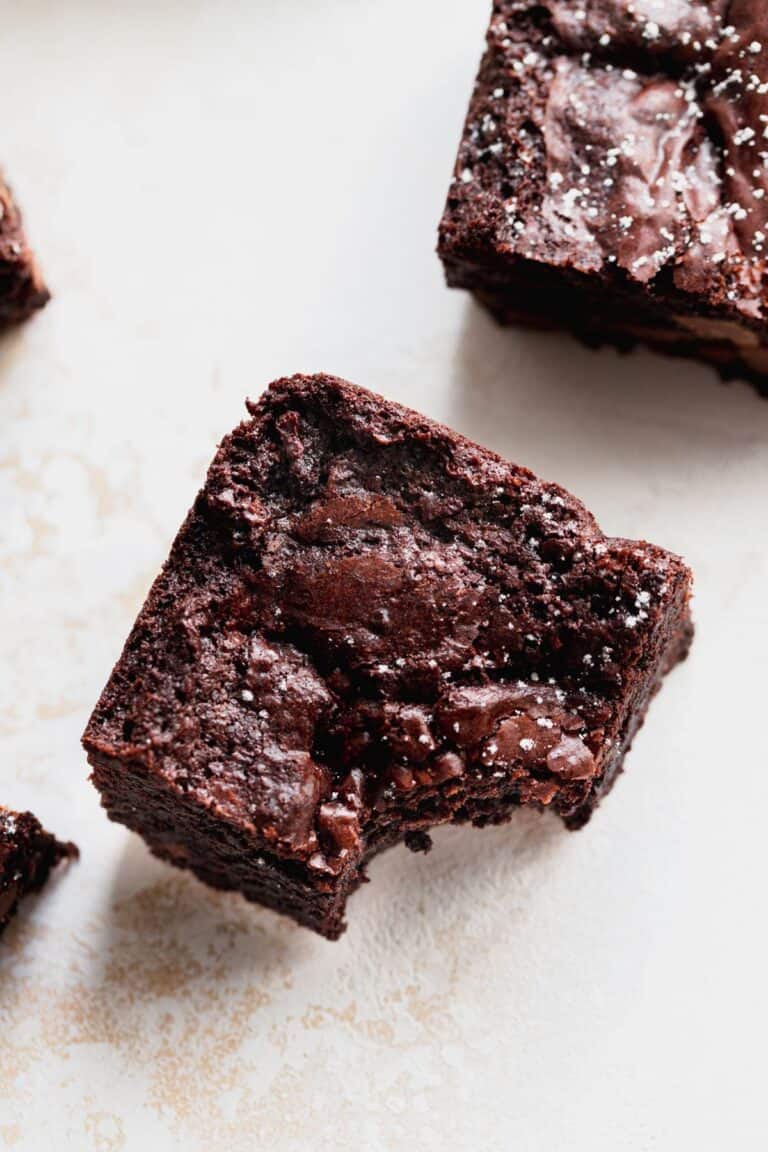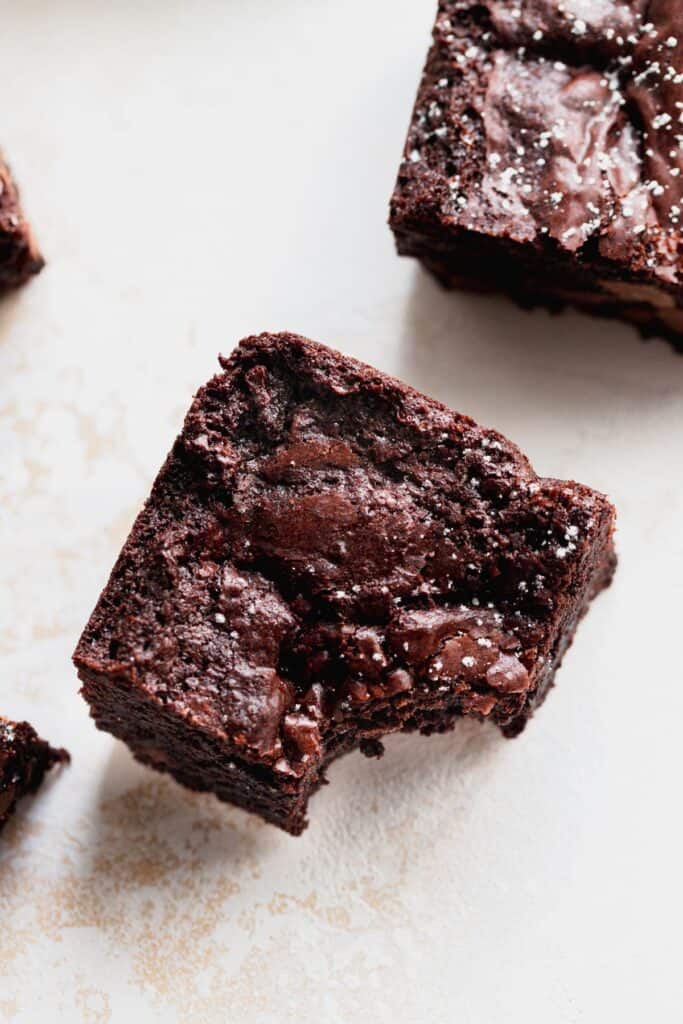 How To Make Brownie Batter
Whip eggs and sugar- This part is how you get the shiny crinkle tops. Whipping the eggs and sugar on high for 5 minutes whips up a ton of air into the batter. If you skipped this step, the brownies would be more dense and matte looking on top.
Add in oil and melted butter- I tried adding just the oil to these brownies, but I felt the flavor was lacking. Adding both butter and oil makes the brownies fudgy while giving them a great taste.
Fold in dry ingredients- Take the bowl off the mixer and use a rubber spatula to fold in dry ingredients. Be very gentle to not knock out the air.
Add in chocolate chips- You need all of those chocolate chips! The semi-sweet chocolate chips and mini chocolate chips make sure each bite has chocolate chips. Then, the milk chocolate chips help to balance the dark chocolate from the brownies.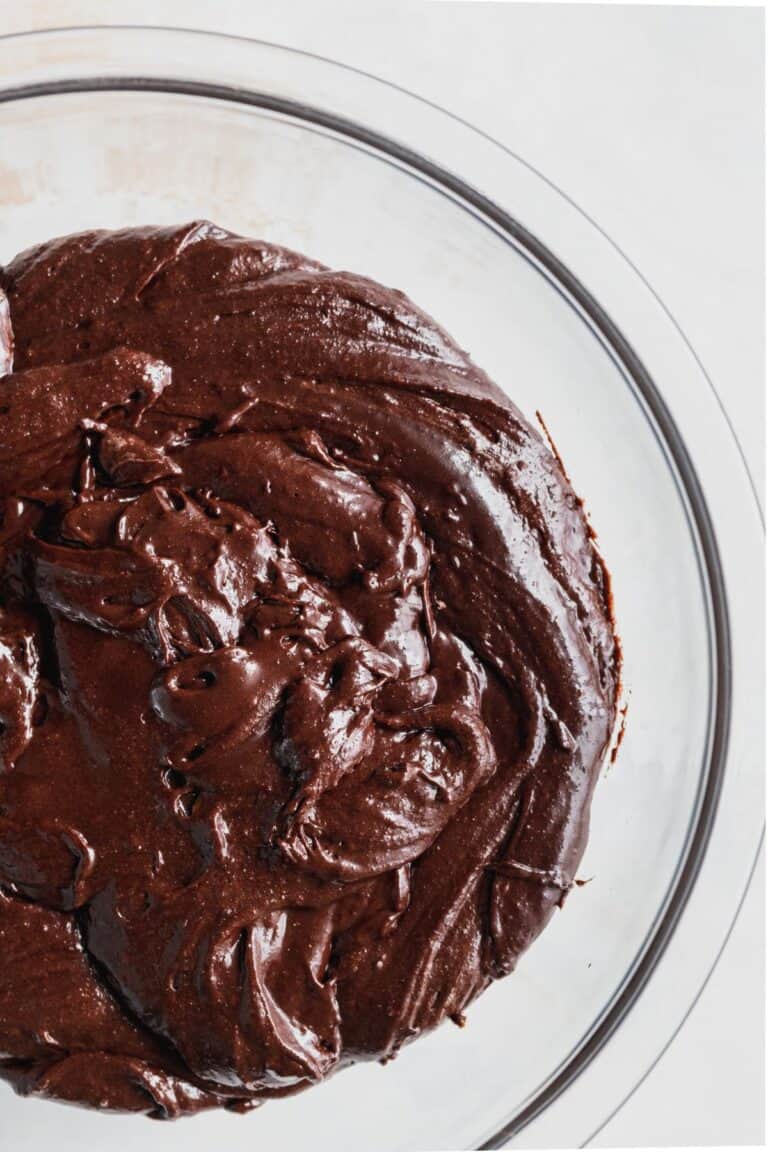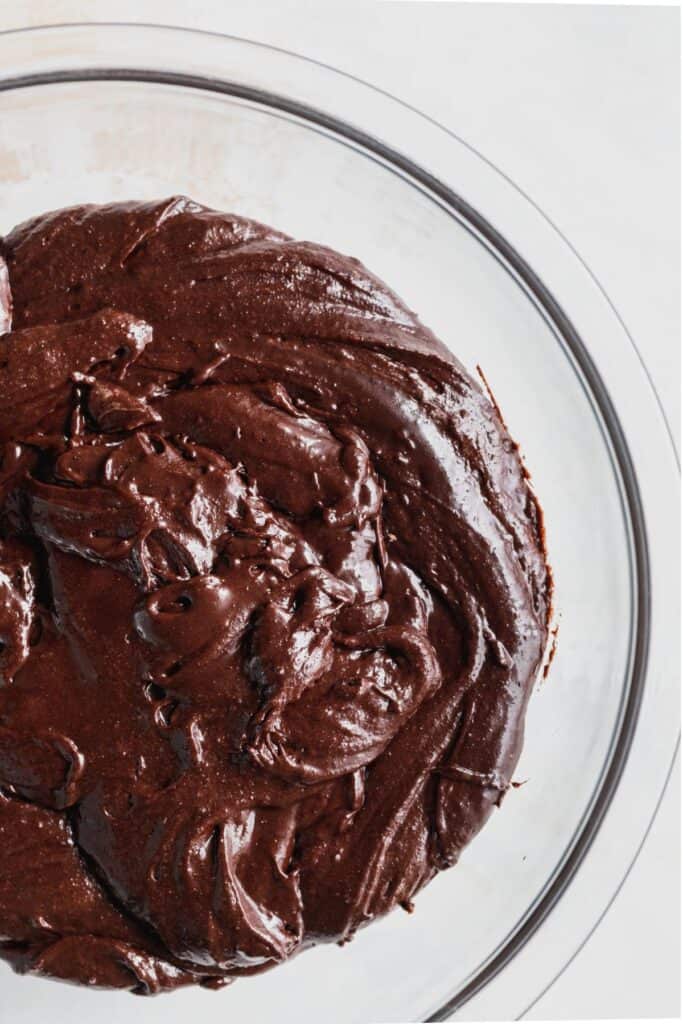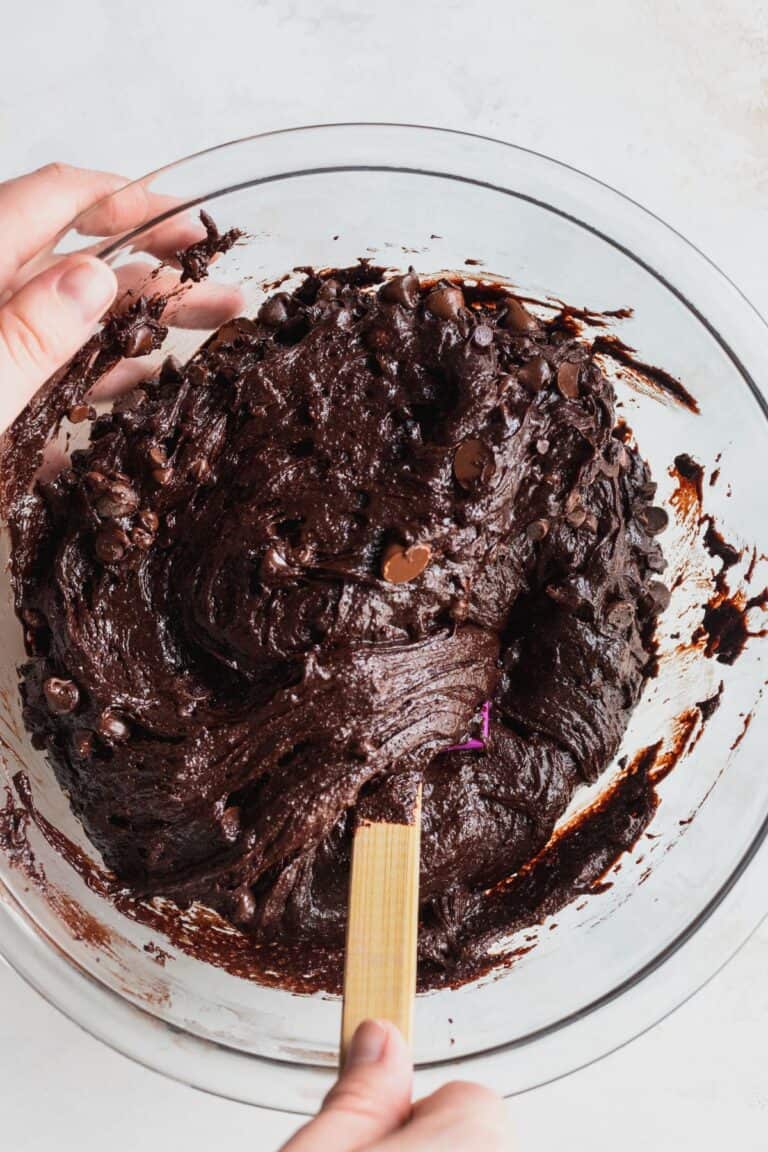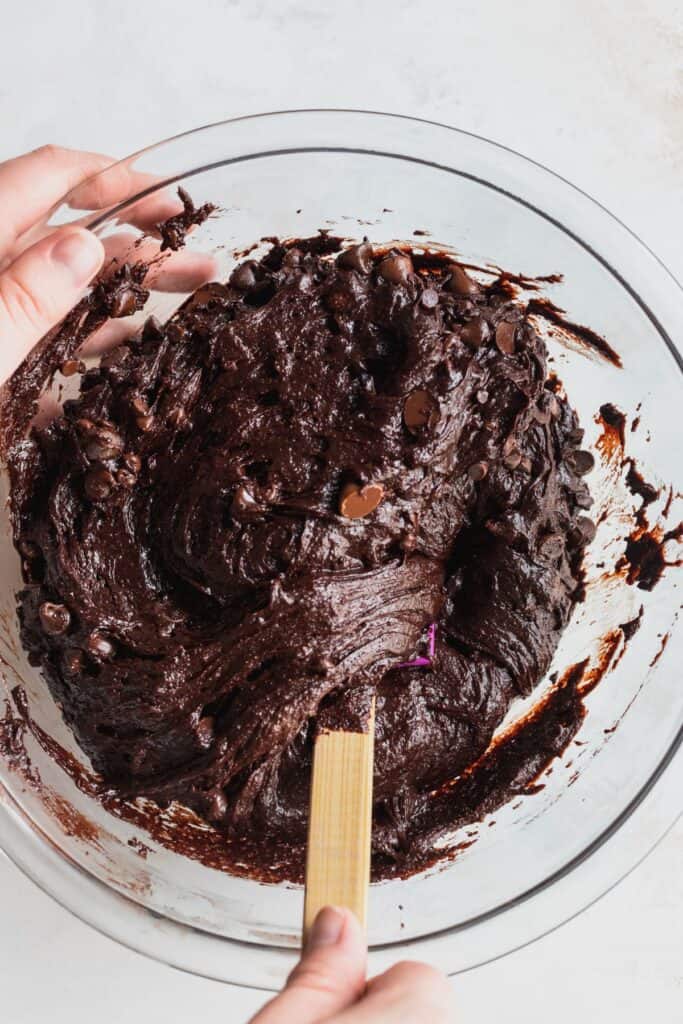 What Type Of Cocoa Powder To Use
This part is very important! There is a big difference between cocoa powder and dutch process cocoa powder.
Dutch process cocoa powder is cocoa beans that has been washed in alkaline solution of potassium carbonate. This gets rid of the acid. This also makes the cocoa powder much darker in color. That is what I used for these brownies. If you want a darker chocolate brownie, you need to use dutch process.
I use this one. Guittard has a higher fat content in their cocoa powders which also gives it a richer taste.
Baking The Brownies
Spread the brownie batter in a 9X9 inch pan. To avoid over cooking the edges, use a light colored pan. Dark colored pans cook the edges faster.
To easily remove the brownies, spray the pan with a baking non-stick spray. Then, line the bottom and 2 sides of the pan with parchment paper and spray again. The parchment paper should be sticking up the edges of the pan, so it is easy to remove.
Bake the brownies for 45-50 minutes. The middle should be slightly underdone to get the fudgy texture. When the brownies are done baking, they will continue to cook. Cooking the brownies until they are perfect means they will be over baked by the time they are cool.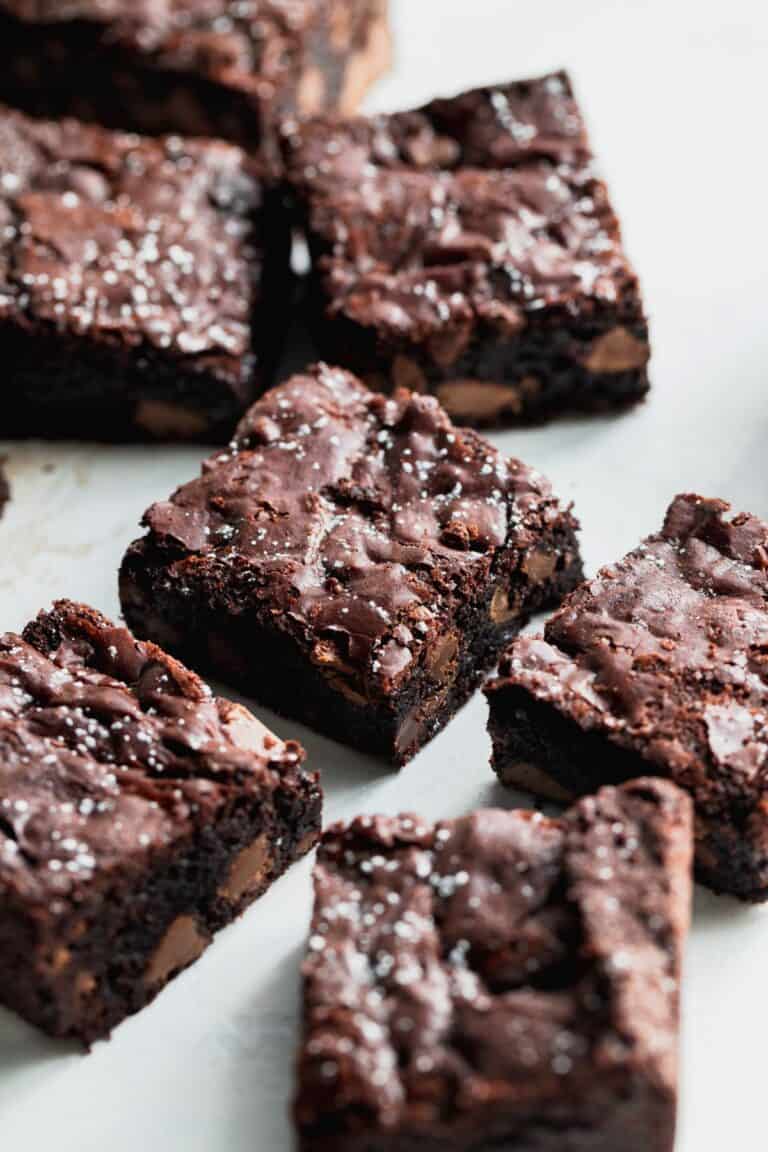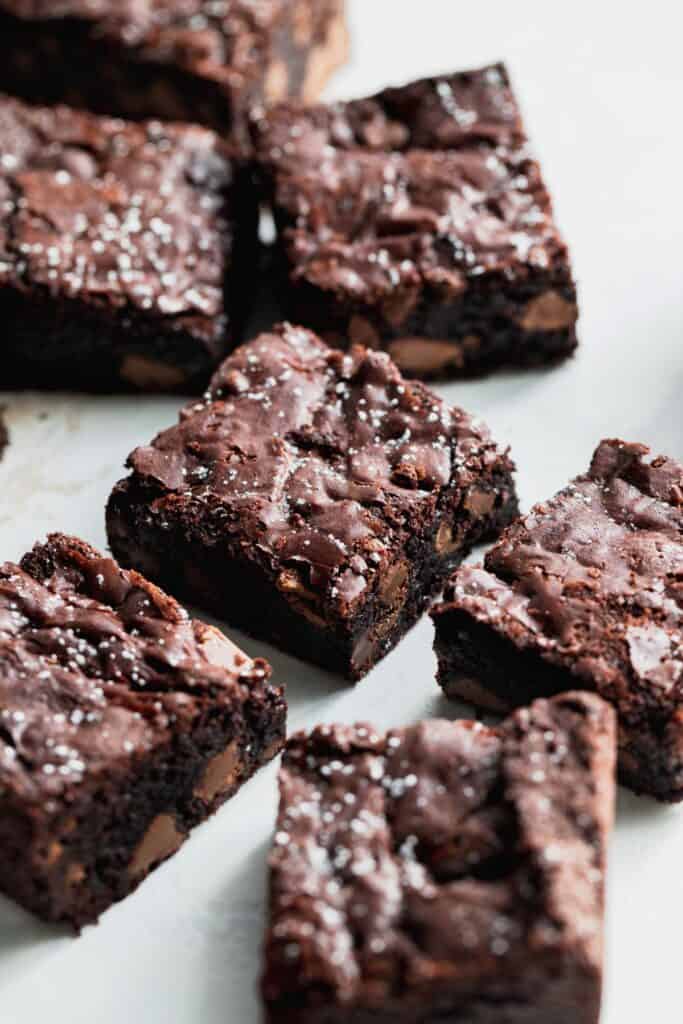 Cutting The Brownies
I know it is hard to wait, but you have to wait until brownies have completely cooled. The chocolate flavor really blooms once they cooled down. Trust me, it is worth the wait. Besides, when they are warm, the brownies are still cooking like I mentioned above.
Once completely cooled, pull the brownies out of the pan and place on cutting board. Then, cut into 16 squares.
To get perfect squares, wipe your sharp knife with a paper towel between each cut.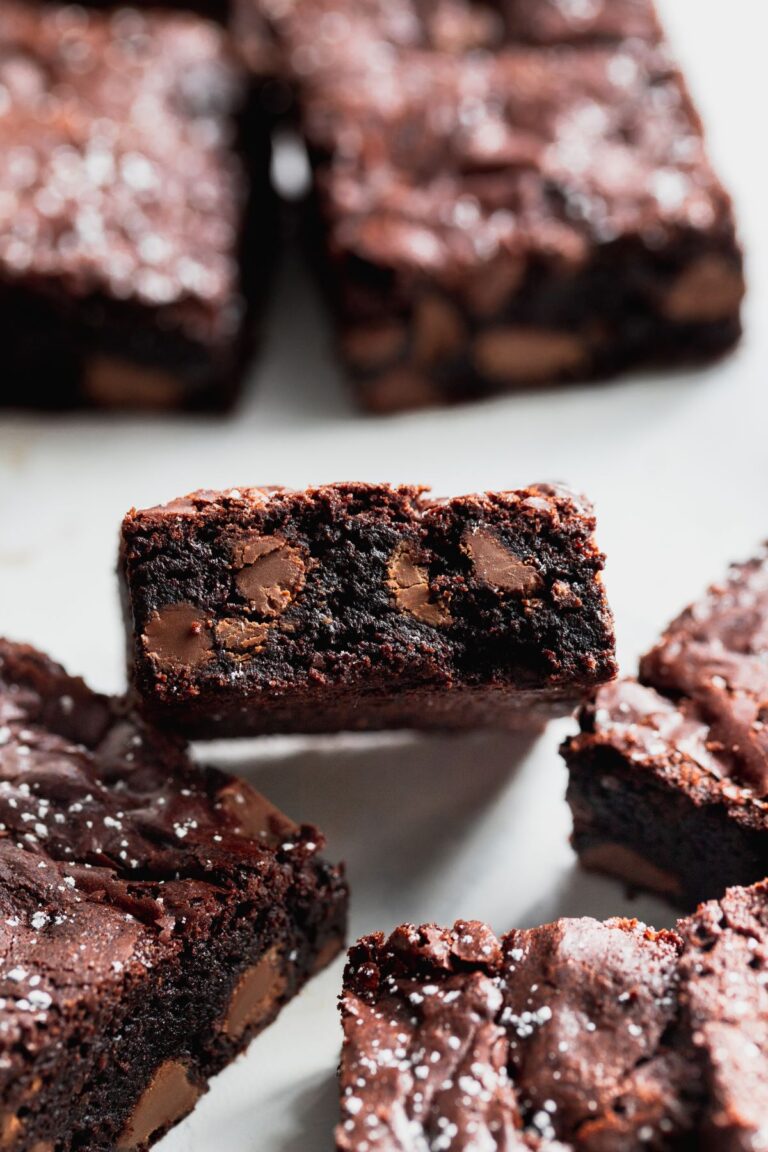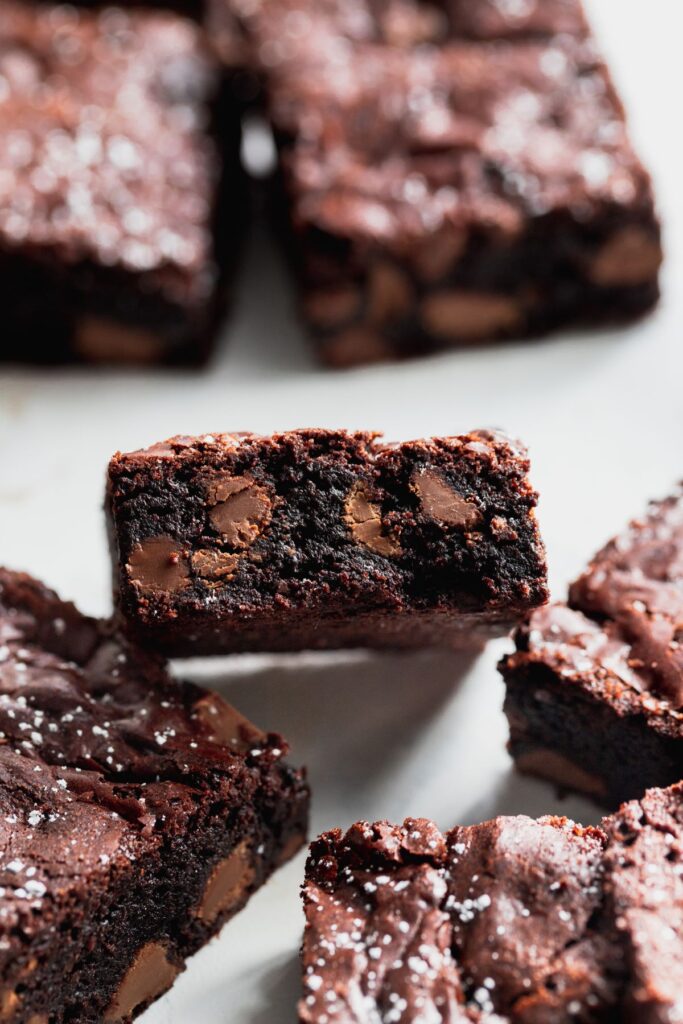 Storing The Brownies
These better than boxed brownies need to be stored at room temperature in an air tight container. They will last 3-4 days. Brownies fudginess doesn't last long, so make sure to eat them up sooner rather than later.
Tip for keeping them fudgy for longer, place a piece of bread on top of the brownies in the airtight container. The brownies will absorb the moisture from the bread and stay soft. I got this tip from my mom!
Other Brownies Recipes To Try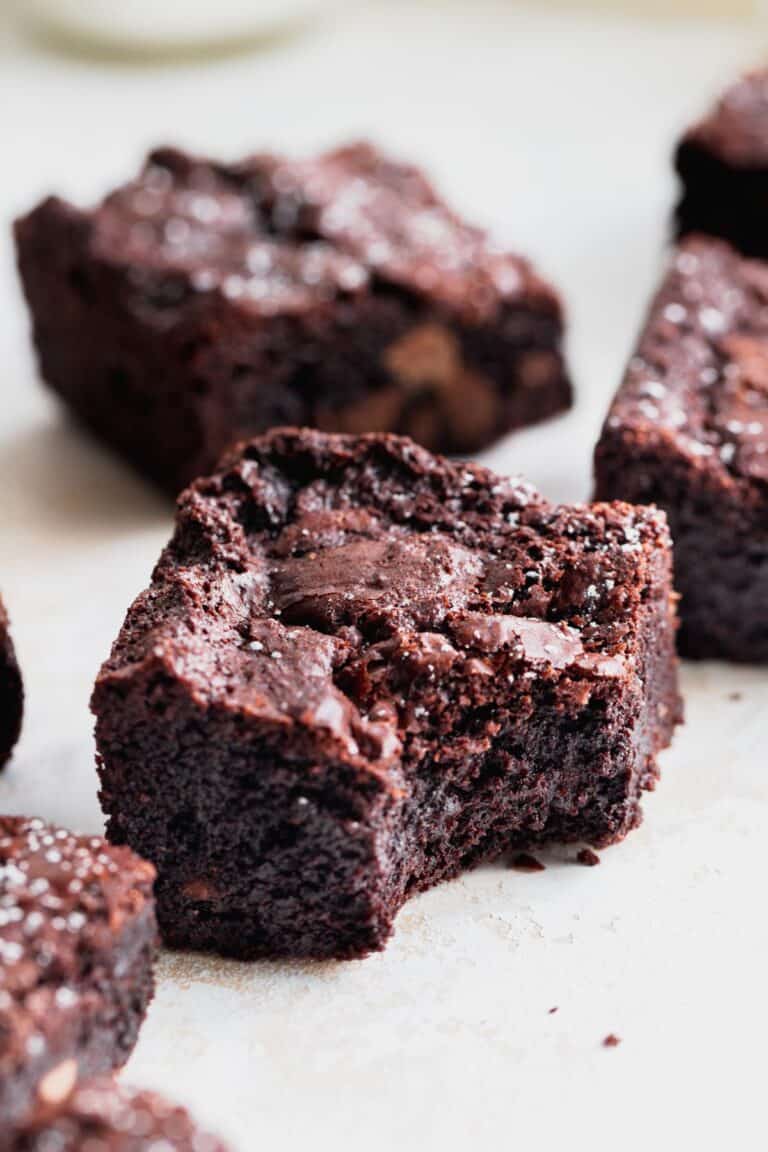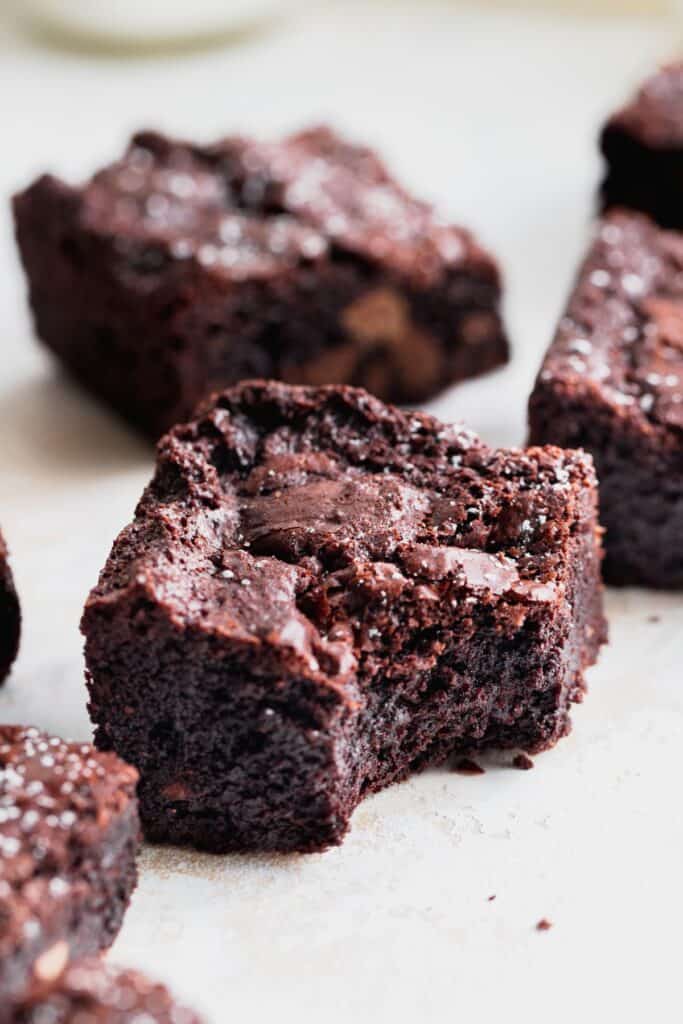 Make sure to tag me on Instagram @stephaniesweettreats and leave me a review below if you made these brownies. I hope you loved it! To get more ideas follow me on Pinterest.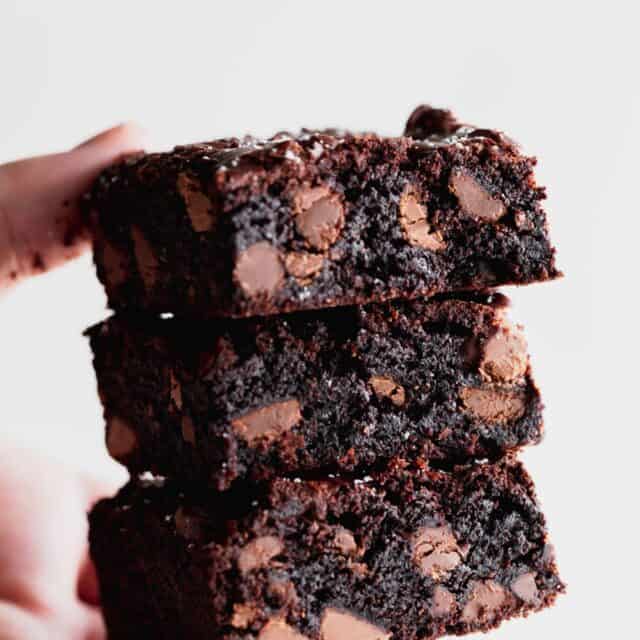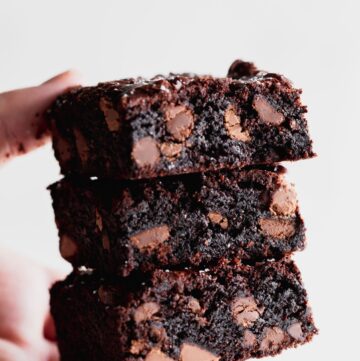 Better Than Boxed Fudge Brownies
These better than boxed brownies are super fudgy and full of chocolate chips. They taste just like the Triple chocolate Ghirardelli brownie mix.
Ingredients
2

cups

White granulated sugar

3

Large eggs

1

Large egg yolk

½

cup

Unsalted butter

melted

2

tsp

Pure vanilla extract

½

cup

Oil

canola or vegetable

¾

cup

All-purpose flour

1

cup

Unsweetened cocoa powder

dutch process

1 ½

TBSP

Cornstarch

½

tsp

Salt

½

cup

Semi-sweet chocolate chips

½

cup

Milk Chocolate

⅓

cup

Mini Chocolate chips

Powdered sugar for dusting
Instructions
Preheat oven to 325F. Spray a 9X9 pan with a non-stick spray.

In a small bowl, sift together flour, cocoa powder, salt, and cornstarch. Set aside

Using a mixer, combine sugar, eggs, and egg yolk. Turn the mixer to high and beat for 5 minutes. It will become light and fluffy. While mixing, melt butter in the microwave and let it sit for a few minutes to cool down slightly.

Add in butter, oil, and vanilla. Mix on low until combined. Take bowl off mixer. Add in the dry ingredients. Use a rubber spatula to very slowly fold in the dry ingredients. Pour in semi-sweet, milk, and mini chocolate chips and fold in.

Pour batter into pan. Using a rubber spatula, make sure it is even through out pan. Bake for 45-50 minutes. The brownies are done when edges are done but the middle isn't set yet. Brownies should appear underdone. They cook more when sitting out. Let sit on counter until top is room temperature.

Right before serving, cut brownies into 16 squares. Sprinkle powdered sugar on top.
Notes
Flour- Make sure flour is spooned and leveled or use a kitchen scale. Compacted flour can make the brownies cakey.
High altitude baking- Add an extra TBSP of flour.
Nutrition
Calories:
326
kcal
Carbohydrates:
42
g
Protein:
2
g
Fat:
18
g
Saturated Fat:
7
g
Trans Fat:
1
g
Cholesterol:
16
mg
Sodium:
79
mg
Potassium:
139
mg
Fiber:
3
g
Sugar:
32
g
Vitamin A:
188
IU
Vitamin C:
1
mg
Calcium:
19
mg
Iron:
2
mg