Better than boxed fudge brownies- Triple chocolate fudge brownies are rich, chewy, and moist brownies.
This blog receives a commission for using Amazon products for the food recipes that I shared with you in my posts. Although I receive a commission for using and linking their products, they are extremely good for my food recipes and all my opinions and suggestions are unbiased.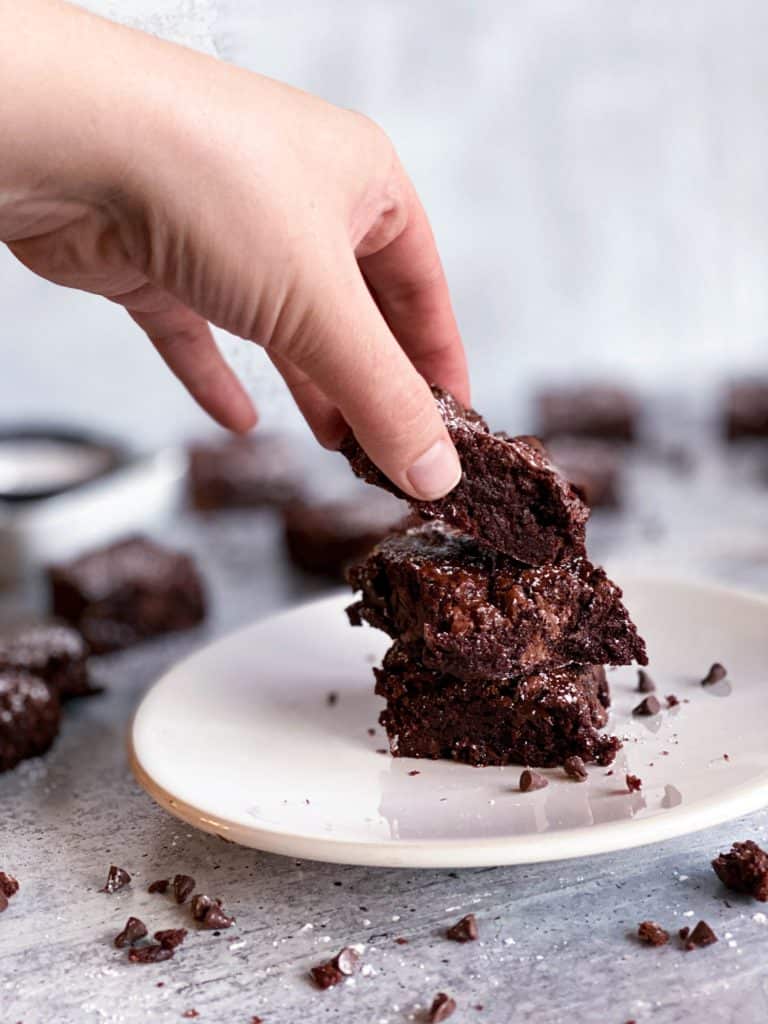 These fudge brownies are the best I have ever had. They are super chewy, incredibly soft throughout, and have the stereotypical flaky thin top. They are made with cocoa powder, semi-sweet chocolate chips, milk chocolate chips and mini chocolate chips. Basically all the chocolate you could need in fudge brownies.
These fudge brownies are not cakey at all because there is a secret ingredient that helps make them similar to box brownies. More on that later. You are going to need to try out this recipe ASAP!
Do I Have To Melt The Butter?
Absolutely. Melting the butter with the sugar will make a more chewy texture.
When you cream solid butter and sugar together it helps to add more structure and acts more as a leavening agent because of all the air produced in the creaming method. Melted butter affects the texture. You still get all the flavor of butter, but since it is so soft it helps to get more of a chewy texture. Perfect for these amazing fudge brownies.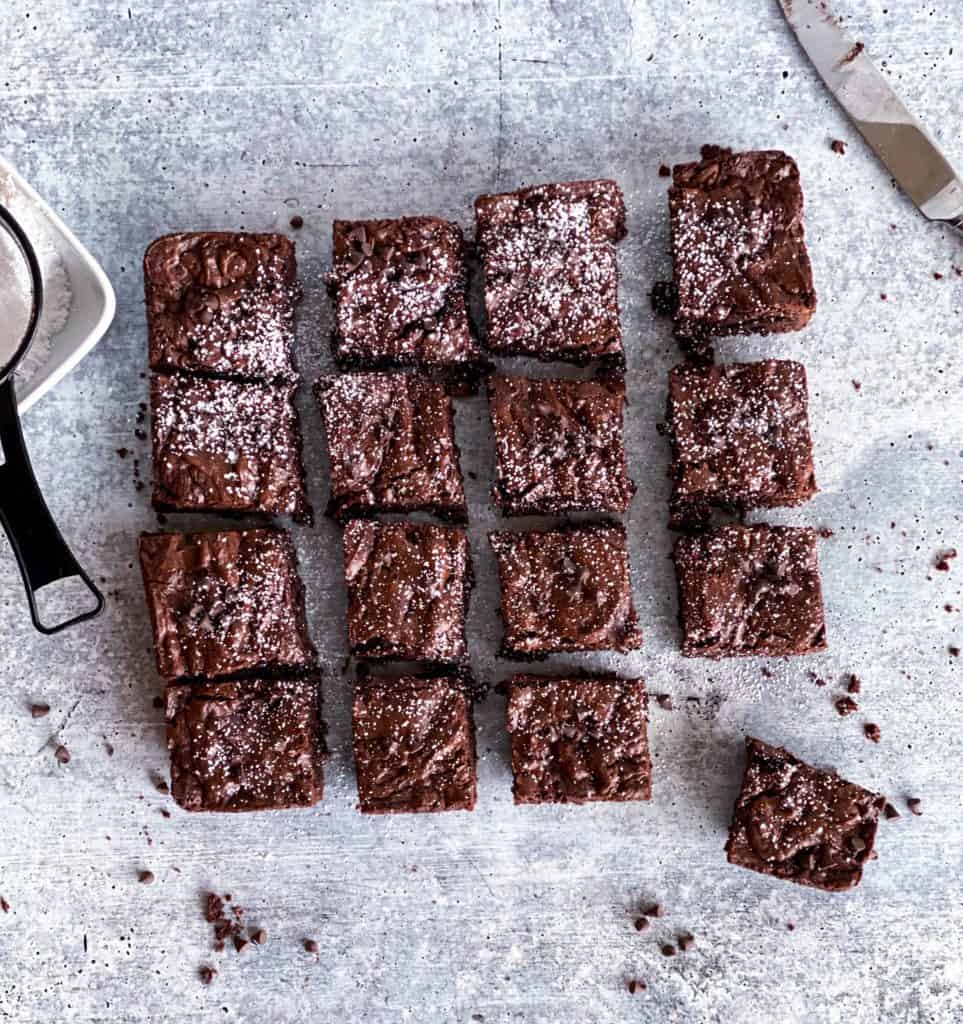 The Secret Ingredient To Get These Fudge Brownies Better Than Boxed?
Okay. Here is the secret. Cornstarch. Yes cornstarch! Cornstarch's main purpose when baking cakes or cookies is to help soften it up. Cornstarch helps to soften the gluten in flour in order to have a nice and tender crumb.
The great thing about cornstarch is it doesn't make your bake fall apart either. A super moist brownie with a strong structure? That is the goal here with these fudge brownies.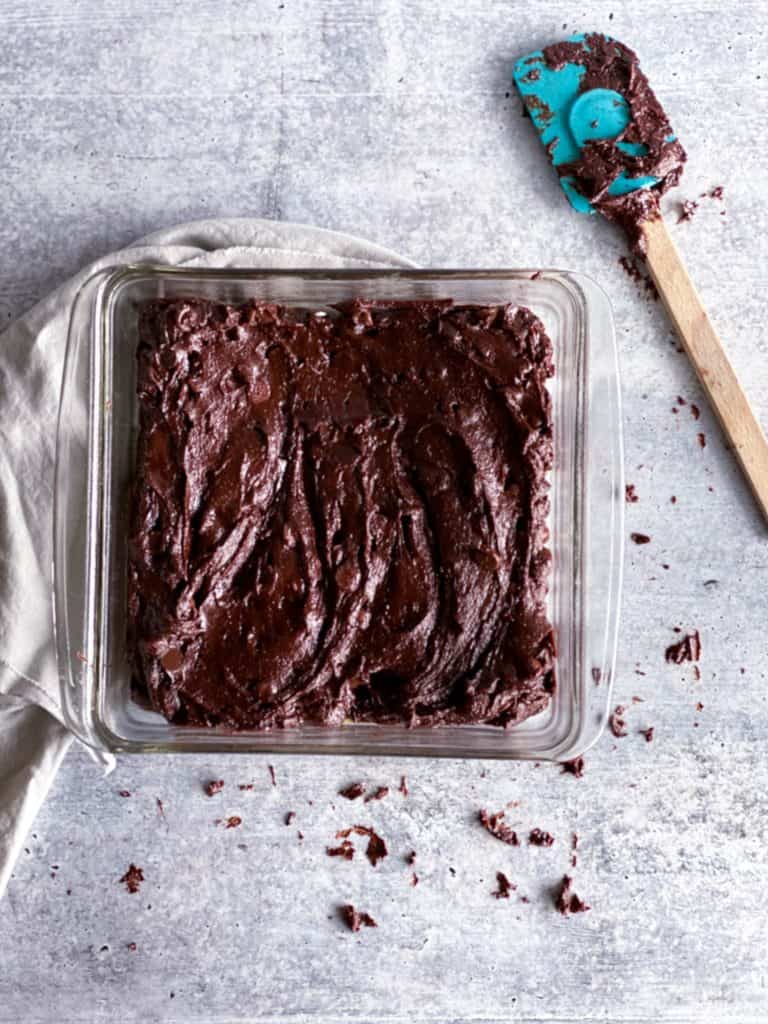 Jump to Recipe
How Can I Tell When The Fudge Brownies Are Done Baking?
Overbaked brownies are the worst. They dry out so fast and get hard very quickly. The best way to prevent this is to check on your brownies before the timer is up.
You should pull out the brownies when the edges are set, but the middle looks underdone. The brownies should not be fully 100% cooked when you pull it out of the oven. They will still continue to cook in the hot pan when it starts to cool.
Another important part of cooking the brownies right is having the right pan. This recipe calls for an 8X8 pan. I like to use a glass pan because I believe it gives a more even bake. This is the pan I use.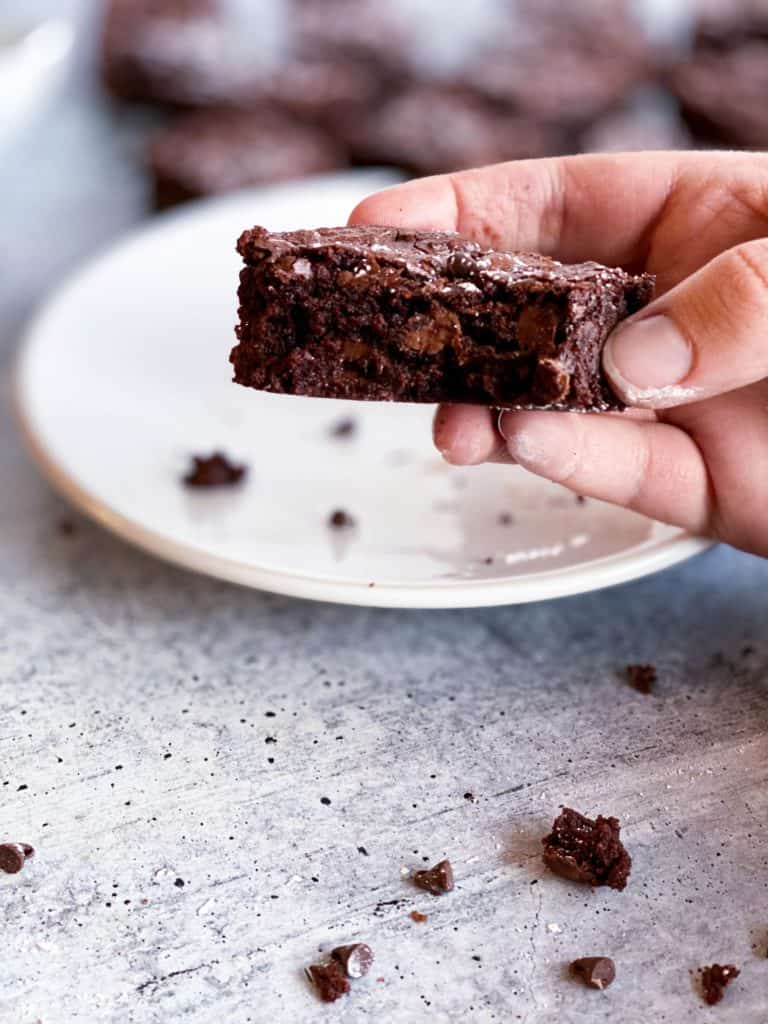 Cooling Brownies Before You Eat Them
Yes. Please cool these brownies before you eat them. I know. I know. It is going to be so hard to wait when all that chocolate goodness is just sitting there. It will be so worth the wait. Trust me.
When brownies get a chance to chill first, they not only are easier to cut into, but the chocolate flavor intensifies. It will still be just as soft, but when the chocolate flavor can soak into the brownies it makes for a more intense chocolate richness. I have tried the brownies right after cooking and then after they chilled and they taste even better when chilled.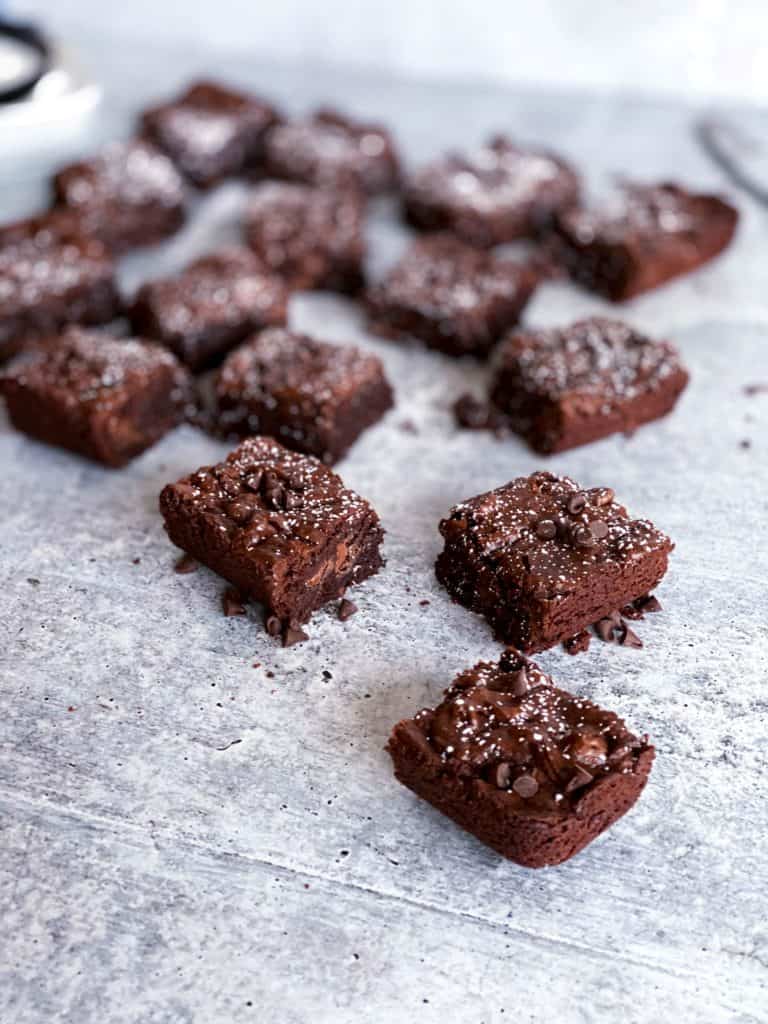 How To Store Fudge Brownies
I will keep the brownies in the same glass pan, cover them in foil, and let them sit on the counter. You don't have to keep them in the fridge after the initial chill. They usually keep for about 3 days afterwards. Any longer and then they start to dry out. This is all if they don't immediately get eaten! It is hard to have just one!
Other Recipes To Try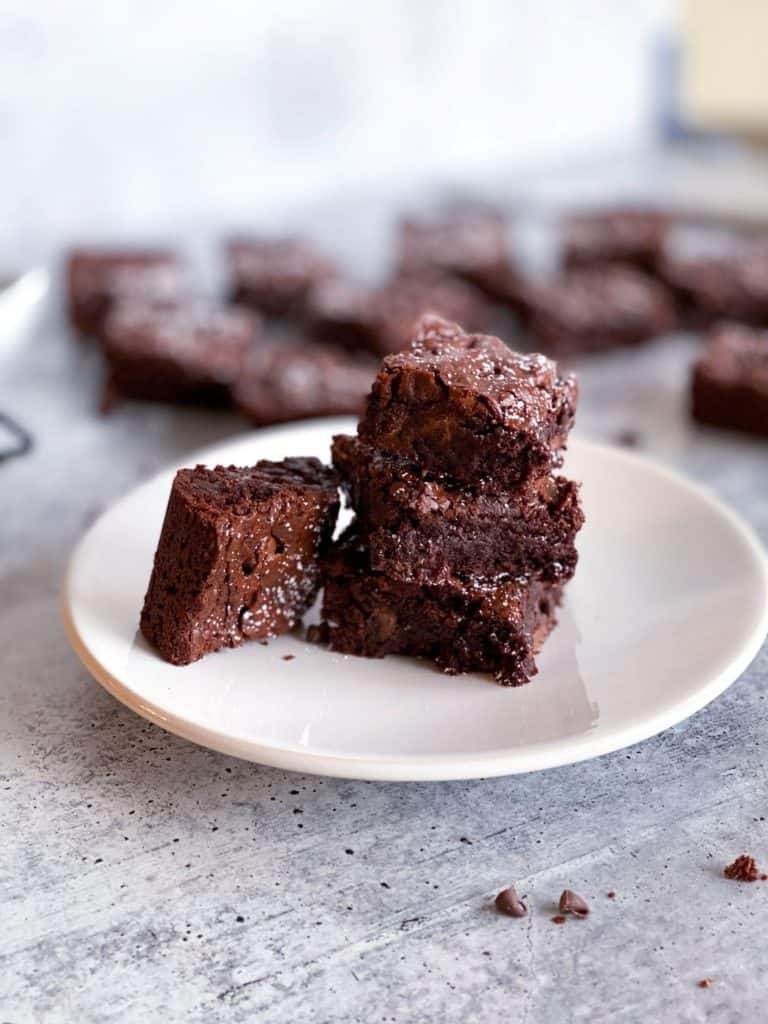 I hope you guys get a chance to try out this recipe. It is going change your brownie game. You will want to never make boxed brownies again. Leave a review below or tag me on Instagram @stephaniesweettreats. Or please follow me on Pinterest.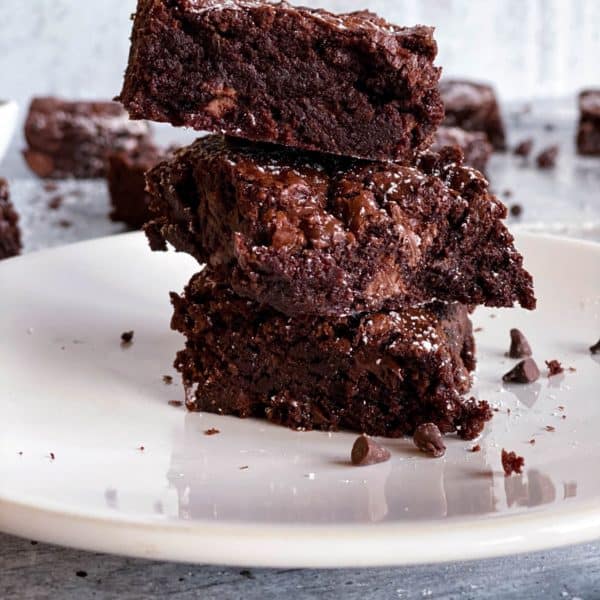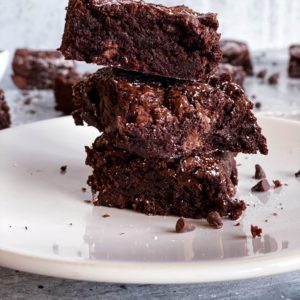 Better Than Boxed Fudge Brownies
These brownies are super soft and fudgy brownies. Loaded with 3 types of chocolate, they are super rich and better than boxed brownies
Ingredients
1 1/3

cup

White granulated sugar

5

TBSP

Butter

2

Eggs

cold

1

Egg yolk

cold

1

tsp

Pure vanilla extract

1/3

cup

Oil

canola or vegetable

1/2

cup

All-purpose flour

3/4

cup

Unsweetened cocoa powder

1/8

tsp

Baking soda

1

TBSP

Cornstarch

1/4

tsp

Salt

1/2

cup

Semi-sweet chocolate chips

1/2

cup

Milk Chocolate

1/8

cup

Mini Chocolate chips

Powdered sugar for dusting
Instructions
Preheat oven to 325F. Spray a 8X8 pan with a non stick spray.

In a small bowl, sift together flour, cocoa powder, baking soda, salt, and cornstarch. Set aside

In a microwave safe bowl, combine butter and sugar. Microwave for 1 minute or until butter is melted. Pour into a medium bowl. Add in eggs one at a time. Add vanilla and oil. Slowly whisk in dry ingredients. Fold in semi sweet and milk chocolate chips. (Mixer optional)

Pour batter into pan. Using a rubber spatula, make sure it is even through out pan. Bake for 30-33 minutes. The brownies are done when edges are done but the middle isn't set yet. Brownies should appear underdone. They cook more when sitting out. Let sit on counter until top is room temperature. Place in fridge to chill for an hour before serving.

Right before serving, cut brownies into 16 squares. Sprinkle mini chocolate chips over all squares and dust with powdered sugar.
Notes
High Altitude Baking- add an extra 1 1/2 TBSP of sifted all-purpose flour.
Nutrition