Strawberry cheesecake bars- delicious graham cracker crust, original cheesecake with strawberry sauce swirled in.
This blog receives a commission for using Amazon products for the food recipes that I shared with you in my posts. Although I receive a commission for using and linking their products, they are extremely good for my food recipes and all my opinions and suggestions are unbiased.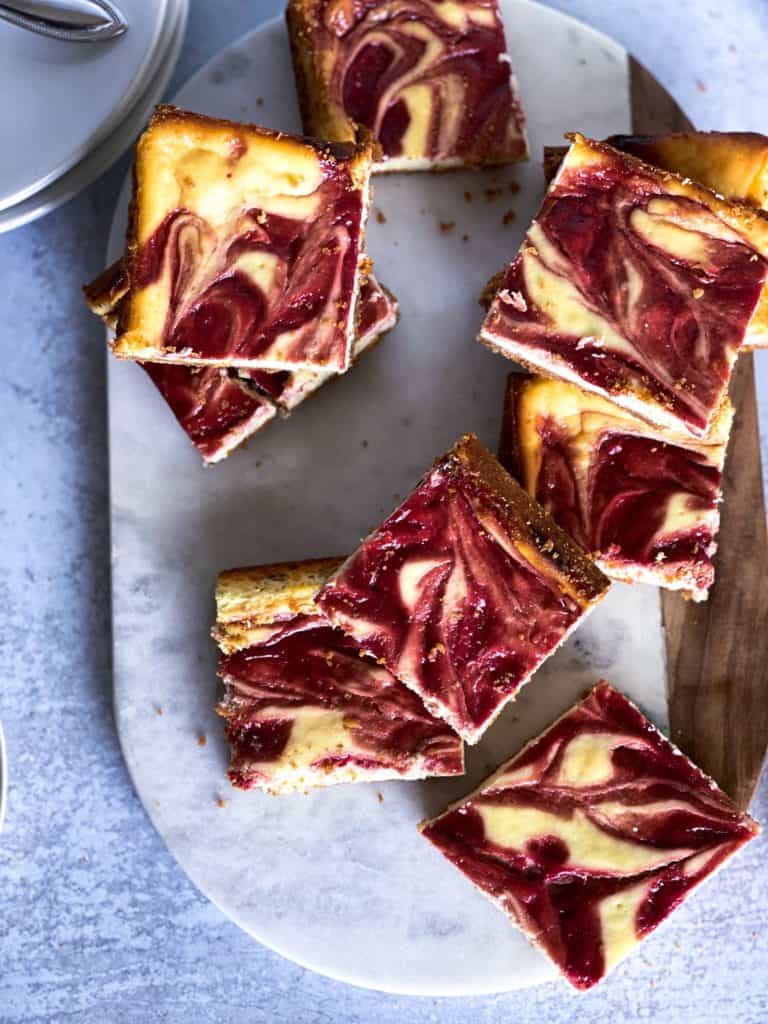 These strawberry cheesecake bars are SUPER easy to make! They are easier to bake than any of my mini cheesecake recipes, and certainly easier than a whole cheesecake.
These cheesecake bars are made with a delicious and buttery graham cracker crust. The cheesecake is a creamy and moist original cheesecake that is quick to make. On top is a strawberry sauce swirled to create the dramatic and bright lines.
My BEST Tips for Strawberry Cheesecake Bars
The reason why these strawberry cheesecake bars are easy to make is: it bakes for only 30 minutes and you only need to cut out bars when it is done chilling.
The cheesecake bars only need 30 minutes to bake because it is shallower than a regular cheesecake. It is baked in an 8X8 pan and only has 16oz of cream cheese. Most cheesecakes are 24-36oz of cream cheese. Less cheesecake batter means less time in the oven.
Also, GREAT NEWS. No water bath. YES. I am a huge fan of water baths. It keeps a full cheesecake from cracking. Since there is less cheesecake batter, that means it won't need a water bath.
Another important tip is to make sure to bake the cheesecake bars at 325F. The lower heat helps to prevent cracking.
Also, when the cheesecake is done baking, leave it in the oven with the door cracked and the oven off for 30 minutes. This allows it to both slowly cook and slowly cool down at the same time. It also prevents cracking.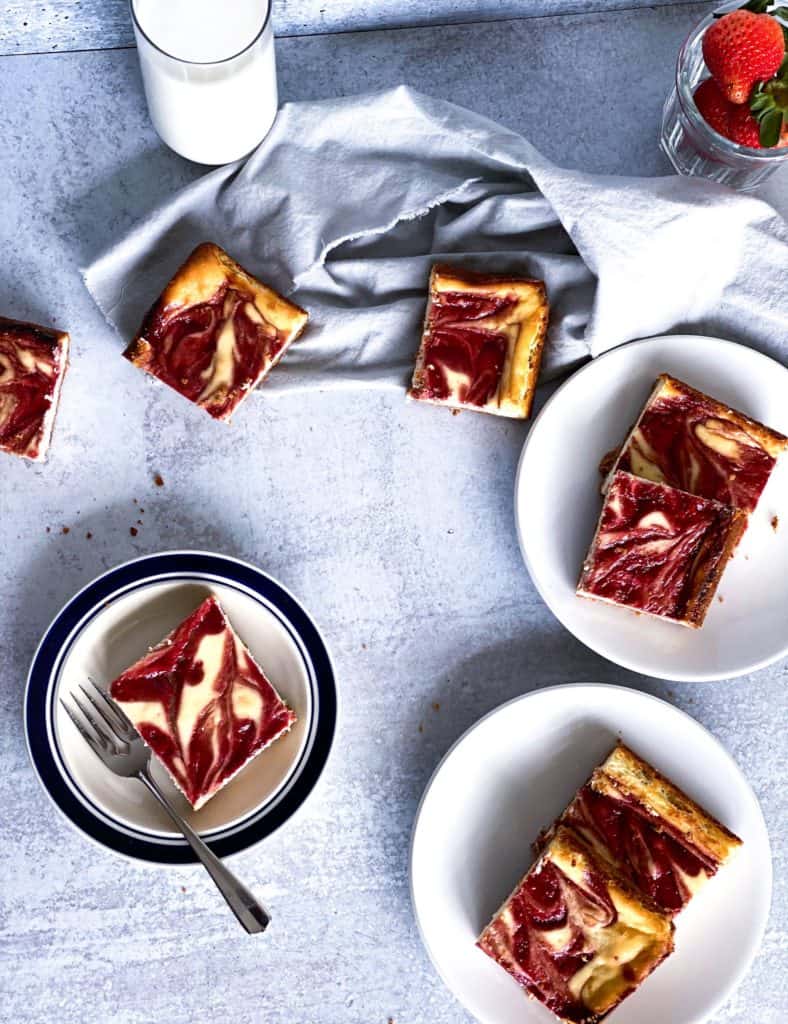 How To Make The Graham Cracker Crust
After spraying your 8X8 pan with non stick spray, line your pan with parchment paper. I like to use this glass pan. This will make it easy to pull the whole cheesecake out of the pan flawlessly.
Next, use a food processor and crumble graham crackers into a fine crumb. If you buy your graham crackers at the store, it takes 1 1/2 packets of graham crackers to get the 2 1/2 cups of crumbs.
Combine the graham cracker crumbs, brown sugar, and melted butter and then pour into the pan. I like to use my hands to get the crust to be perfectly compacted. It is the easiest way. Be sure though, to get the crust evenly into all of the corners of the pan.
Bake the crust for 10 minutes. Baking the crust before hand makes sure there is no soggy crust! Soggy crust is the worst.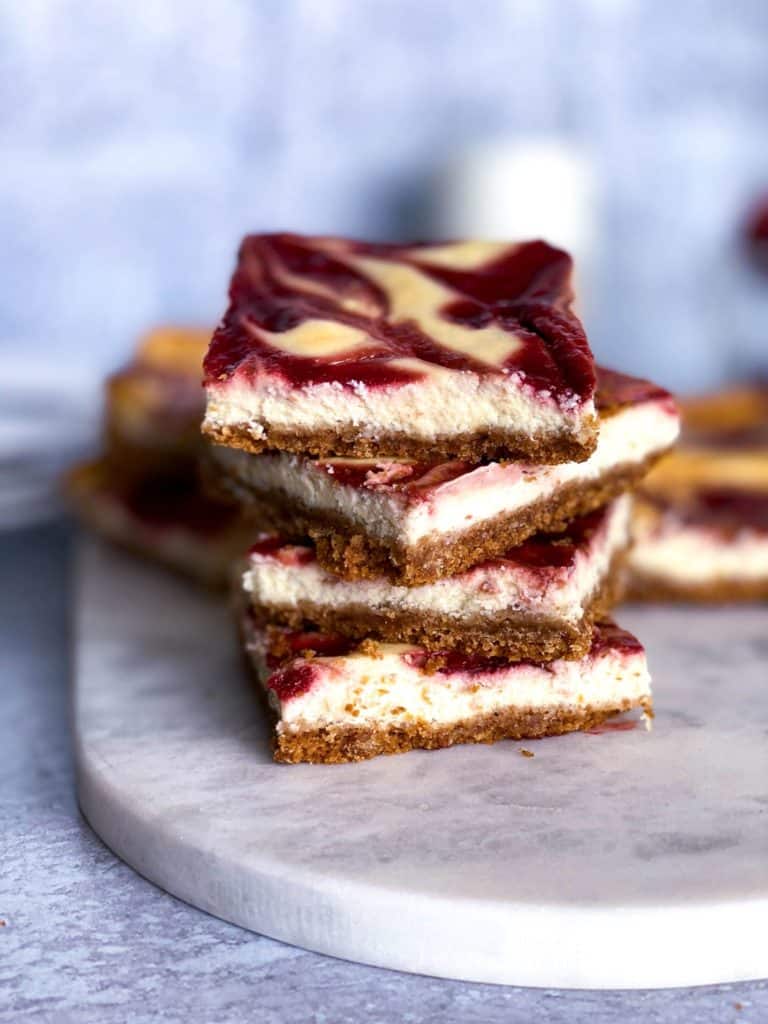 Baking Original Cheesecake
To make this cheesecake creamy, but well balanced with all the strawberry sauce going into it, there is a little bit less liquid in it.
The key to making a silky cheesecake batter is to have all dairy ingredients to be room temperature. The cream cheese, eggs, and sour cream should all be room temperature because it will be able to blend better.
Now you can beat the cream cheese and sugar. Don't be afraid to really beat it to get it fluffy and light. Next, add in vanilla and sour cream. Make sure to beat that together well, because we don't want any clumps!
Next add in eggs one at a time. Now we don't want to beat in any air with the eggs, Any air at this stage could cause the cheesecake to crack. So, mix on low and stop as soon as the eggs are mixed in.
Pour the cheesecake batter on top of the graham cracker crust and prepare the strawberry sauce.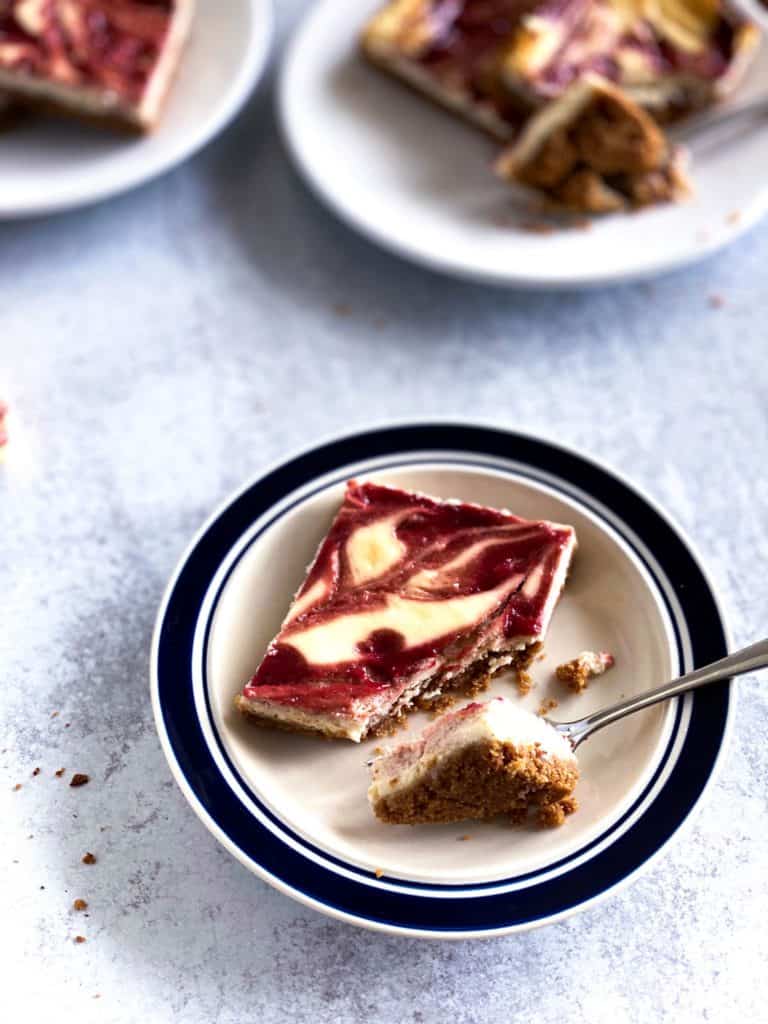 Swirling In The Strawberry Sauce
The strawberry sauce that I used for this cheesecake is super easy to make. Use this recipe for strawberry sauce. After making this sauce, place the sauce in dollops on the cheesecake batter.
I will use a teaspoon and drop dollops along the whole area, including the corners. You will only need 1/3 cup of the strawberry sauce.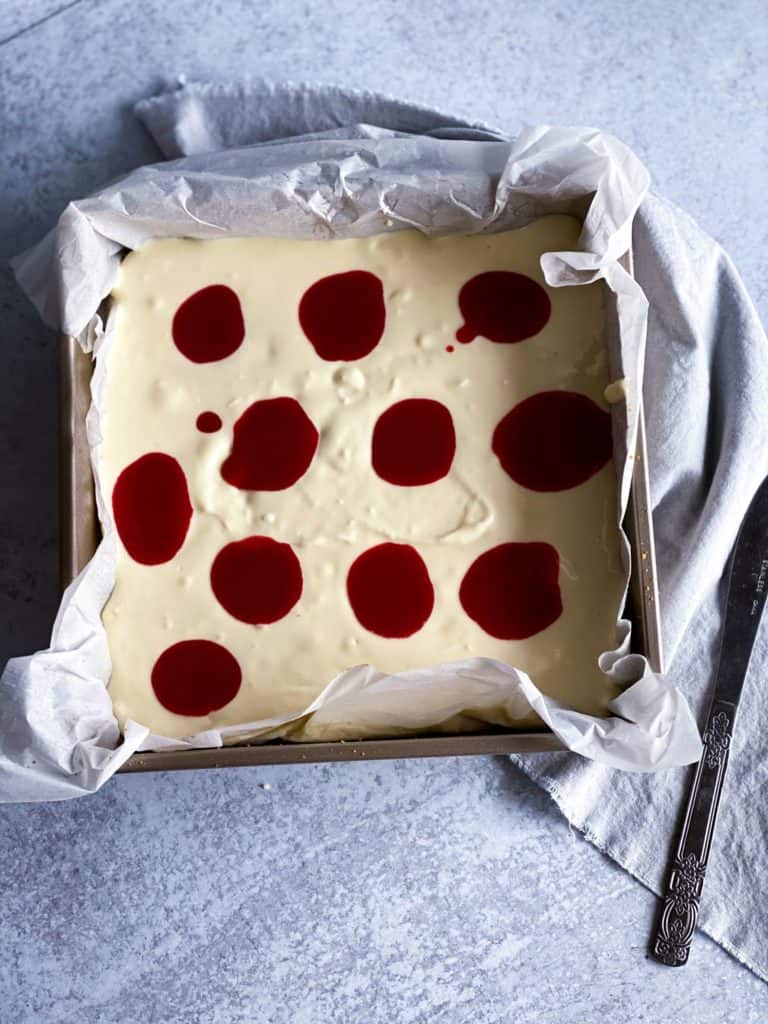 After adding the sauce, take a knife and drag it across the strawberry sauce. Create gorgeous patterns in the cheesecake batter by dragging it back and forth.
Bake in the oven for 30-40 minutes. The strawberry cheesecake bars are finished when the edges are set and the middle has a slight jiggle.
After it has cooled completely, chill in the fridge for at least 6 hours. Luckily you wont need to decorate these bars. They will be perfect as they are!
How To Store The Cheesecake Bars
I will usually take out the bars using the parchment paper, then cut them up on a cutting board. After, I will place the bars back in the pan and put some foil over the top. Easy Peasy!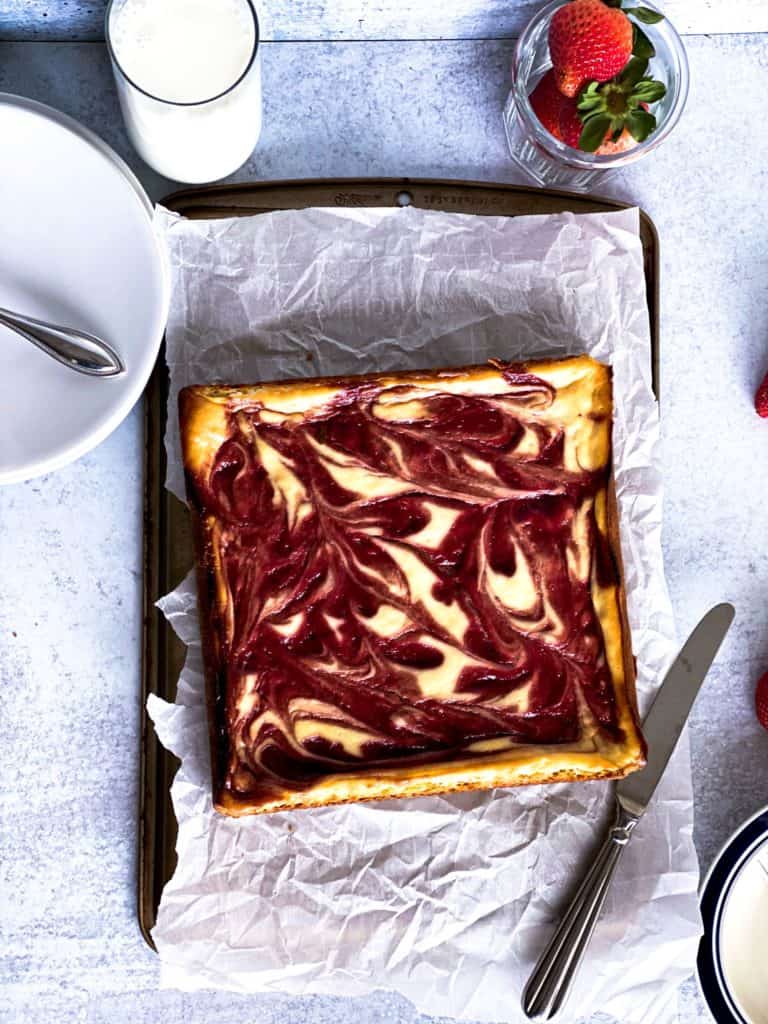 Can I Freeze Them?
Yes you can. After chilling them in the fridge, take them out and cut them into the bar shapes. Then, wrap them tightly with saran wrap and place them in the freezer.
To thaw, place the cheesecake bars in the fridge for 24 hours before serving.
Other Cheesecake Recipes To Try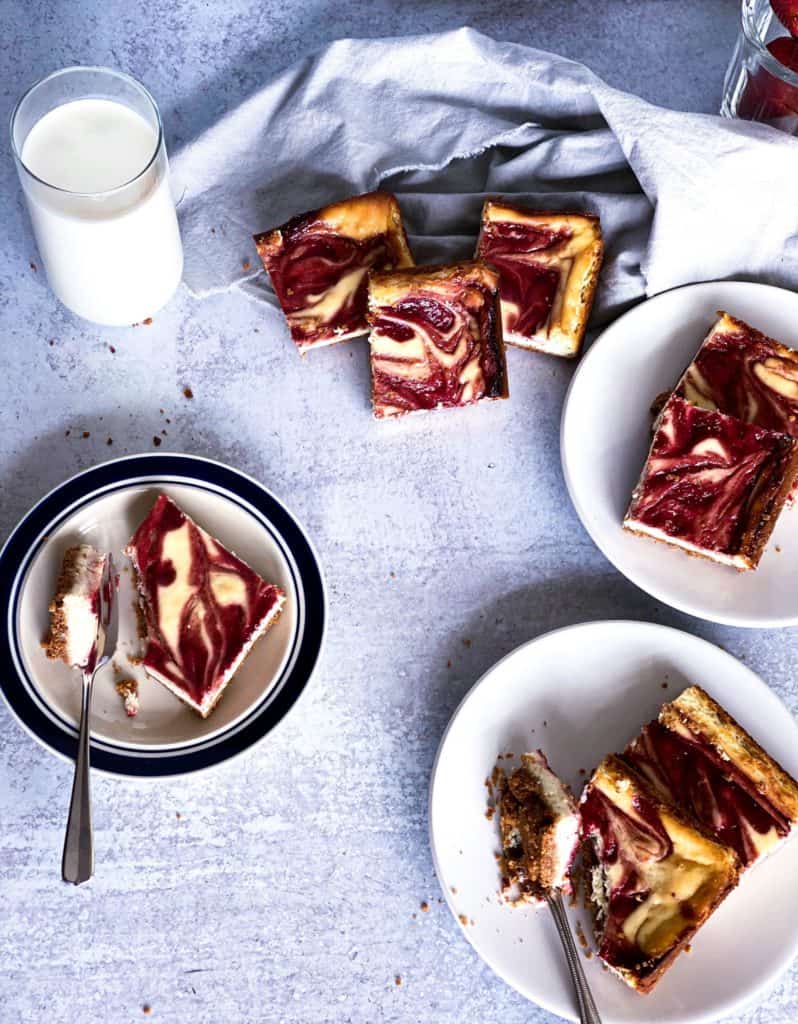 Make sure to tag me on Instagram @stephaniesweettreats and leave me review below if you made these mini cheesecakes. I hope you loved it! To get more ideas follow me on Pinterest.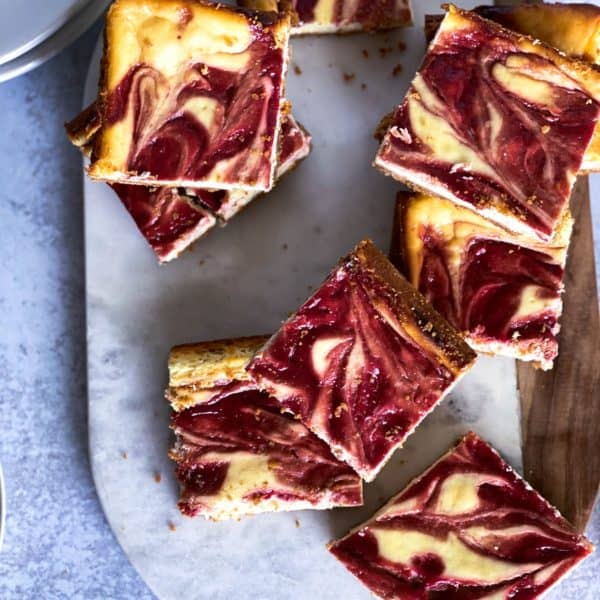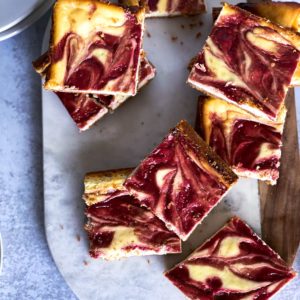 Strawberry Cheesecake Bars
Graham cracker crust, and original cheesecake makes these strawberry cheesecake bars delightful. It also has a fresh strawberry sauce swirled into the batter. These cheesecake bars are easy and creamy.
Ingredients
Graham Cracker Crust
2 1/2

cups

Graham cracker crumbs

1/4

cup

Packed brown sugar

light or dark

6

TBSP

Melted unsalted butter
Cheesecake
16

oz

Cream cheese

room temperature

3/4

cup

White granulated sugar

1/2

cup

Sour cream

room temperature

1

tsp

Pure vanilla extract

2

Large eggs

room temperature

1/3

cup

Strawberry sauce
Instructions
Preheat oven at 325F. Spray an 8×8 pan with a non stick spray. Line it with parchment paper.

Using a food processor, crumble up graham crackers until they are a fine crumb. Combine graham cracker crumbs, brown sugar, and melted butter in a small bowl. Pour into pan and use fingers to compact the crust. Make sure to get the corners of the pan. The crust should be only be on the bottom of the pan.

After crust is done baking, start making the cheesecake batter. Using a mixer, start by beating the cream cheese for 1 minute on medium-high. Add the white sugar and beat again for another 1 minute on medium-high.

Add in vanilla and sour cream and beat on medium for 1-2 minutes. Make sure it gets very blended and all lumps are gone. Add in eggs one at a time on low. Don't over mix.

Pour cheesecake batter on top of crust. Take 1/3 of strawberry sauce and use a teaspoon to drop it in dollops around the whole pan. Use a knife to swirl around the strawberry sauce.

Bake in oven for 60-70 minutes. The cheesecake bars should be set around the edges and have a slight jiggle. Turn off oven and let sit in the oven with the door cracked for 30 mins. Then, let cool completely before placing in the fridge to chill for 6 hours before serving.
Nutrition