These chocolate chip cinnamon rolls are soft, gooey, and the BEST cinnamon rolls. They are filled with mini chocolate chips and topped with a chocolate cream cheese icing. These homemade cinnamon rolls will be perfect for brunch!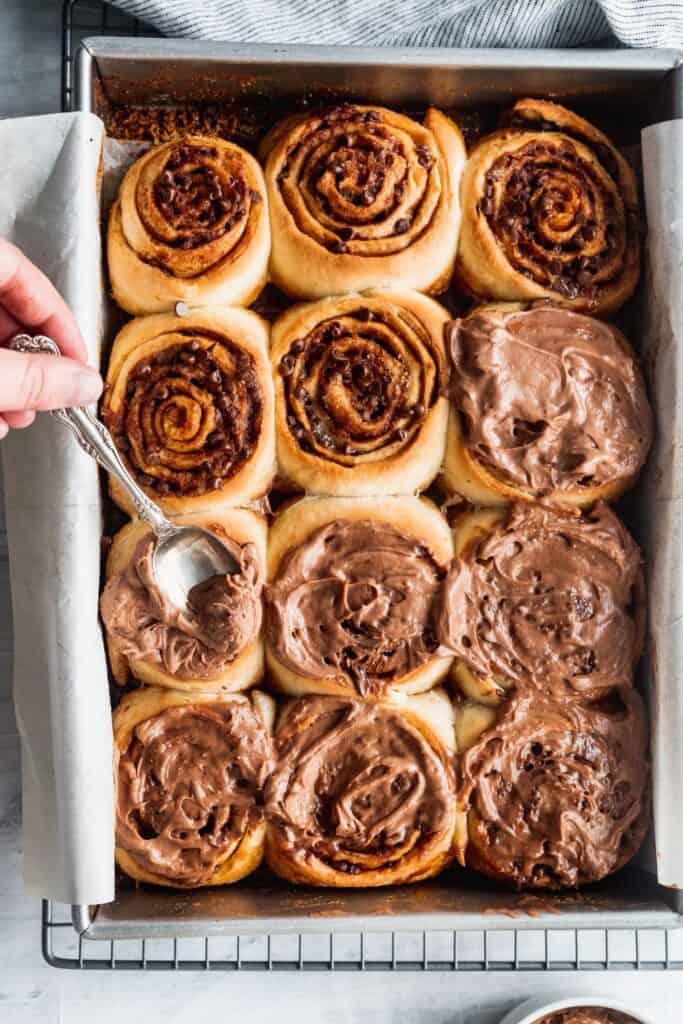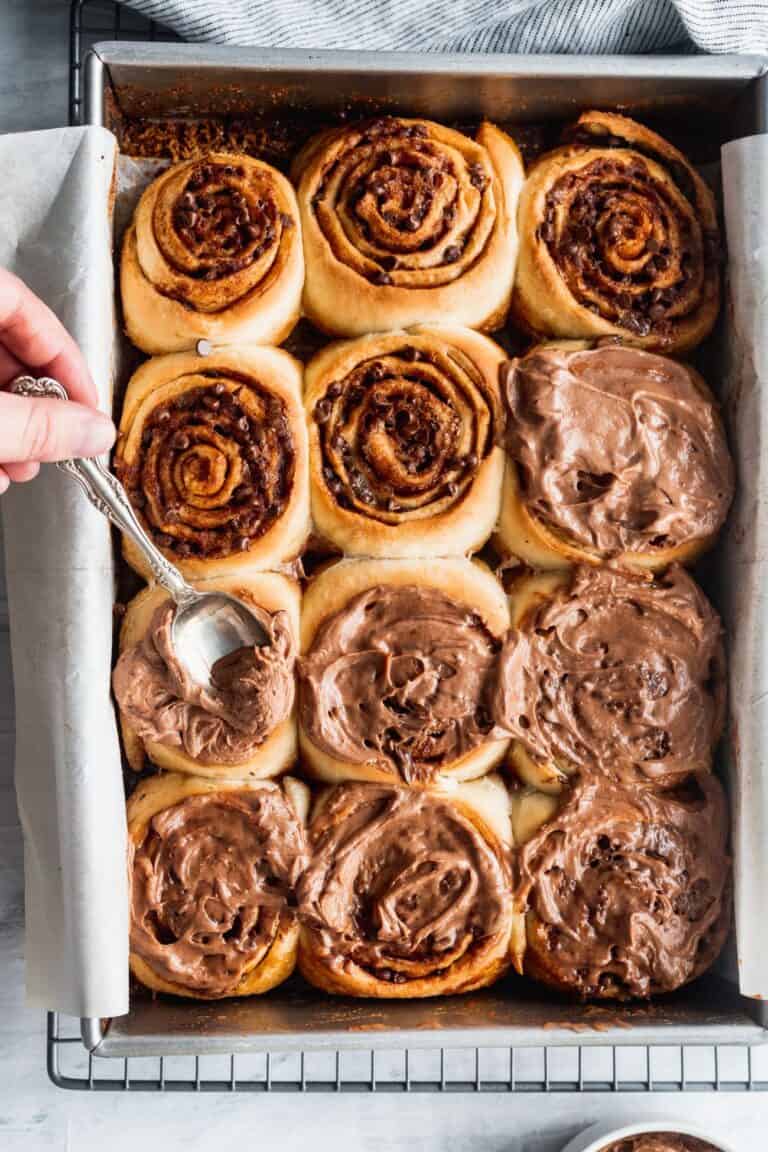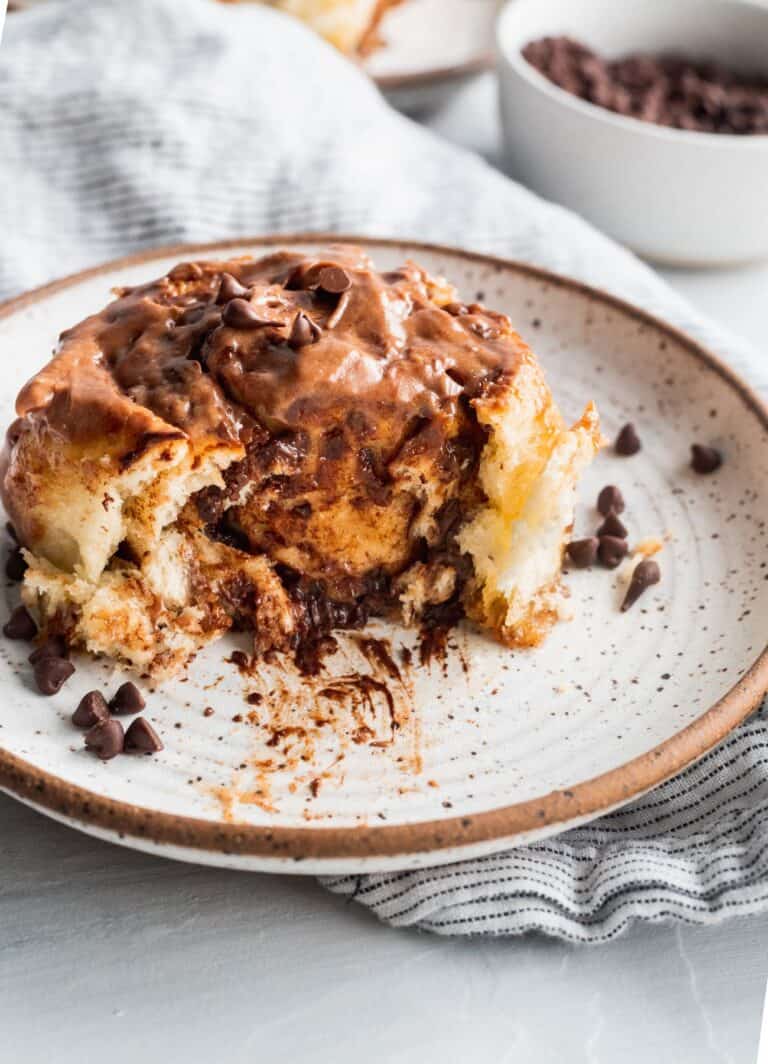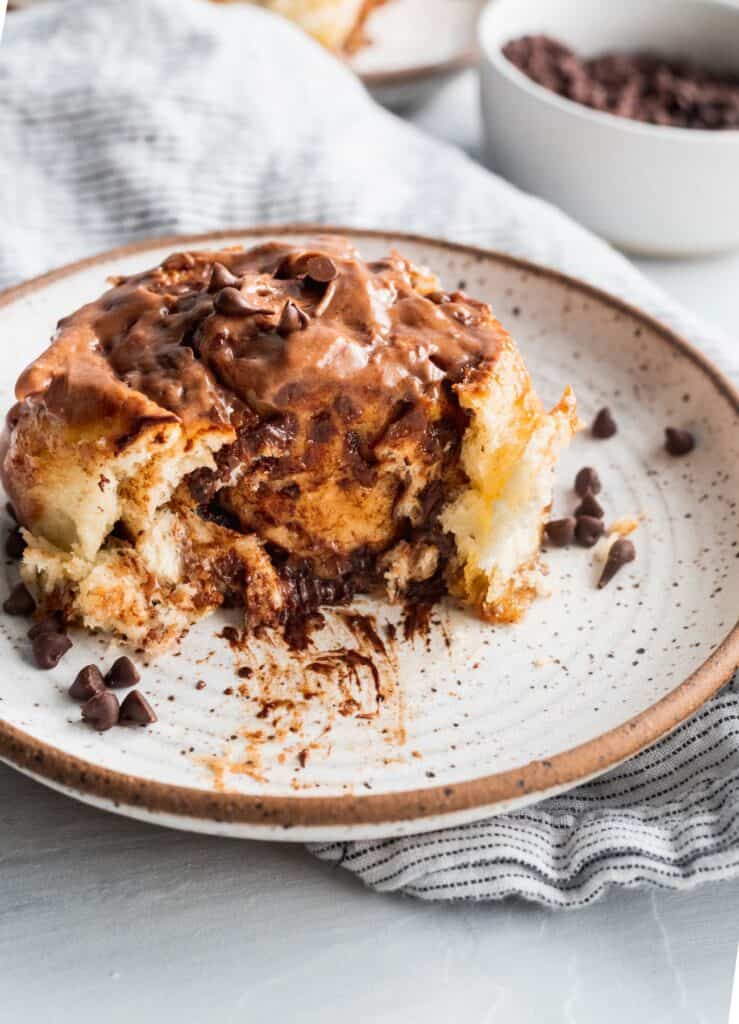 What Makes These Homemade Chocolate Cinnamon Rolls SO Good?
This recipe is perfect for weekend brunch! These cinnamon rolls are baked in heavy cream, so every bite is gooey and soft like a pillow. Plus, they are covered in chocolate. Any brunch is better with chocolate.
The dough itself has extra butter, so it is a very soft dough. It is rolled up with brown sugar, lots of cinnamon, and mini chocolate chips. Every single bite will have chocolate chips.
To top this recipe off, it has chocolate cream cheese frosting. Regular cream cheese frosting wasn't enough. It needed more chocolate.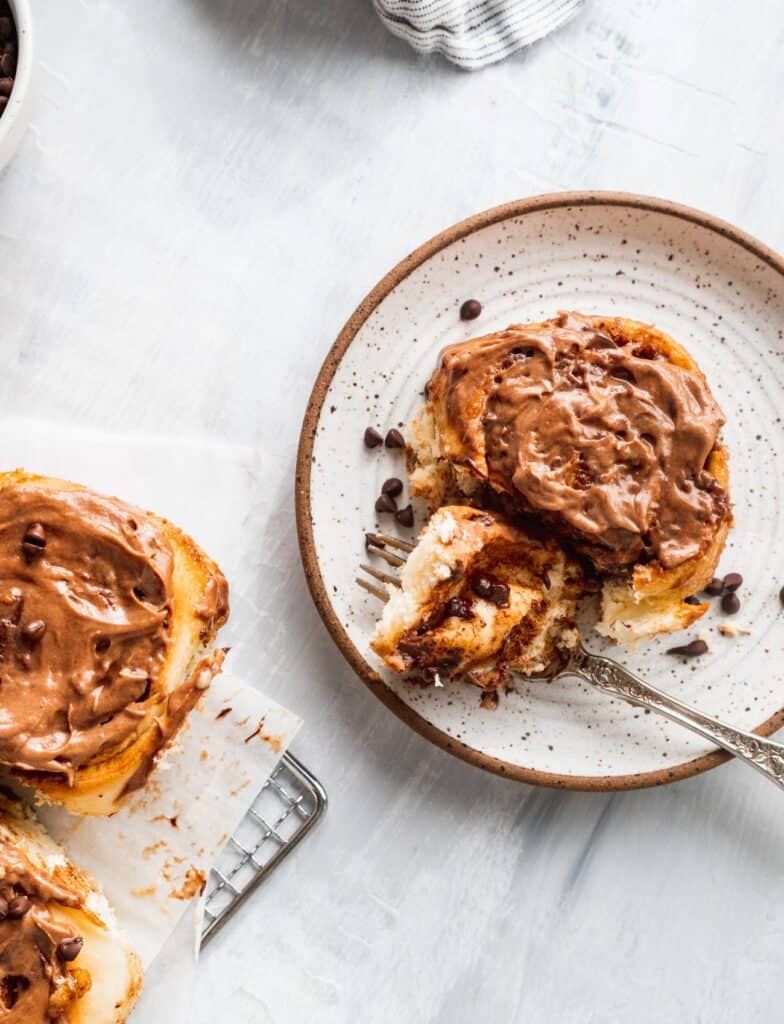 Tips To Make The Dough
This soft dough is made with warm milk and melted butter. Here are the best tips to make this dough with a mixer.
Warm the milk- The milk has to be around 110F. Grab a thermometer and make sure it is at the right temperature. If it is too hot, let it cool down before mixing with the yeast. If the milk is too hot, it will over cook the yeast and the dough won't rise.
Let the melted butter sit- After you melt the butter, let it sit on the counter for a few minutes. This will let it cool down before adding it in. Too hot butter can also affect the yeast.
Mix all wet ingredients together first- Pour everything but the flour into the mixing bowl. It can be mixed with the dough hook.
Add in all of the flour at once- Usually I like to add flour in slowly while I bake, but for making dough pour it all in. Then, let it mix on low until a dough forms.
Let it knead the dough for 5 minutes- Turn the mixer on medium and let it run.
Check it halfway through- Halfway through check to see if the dough is too sticky or wet. The dough should be slightly tacky. If it is too sticky add in ⅛ cup of flour at a time. Let it mix in, then reassess if it needs more flour.
Let it rise for 1 hour- Place the dough in a large mixing bowl that has been lightly sprayed with non-stick spray.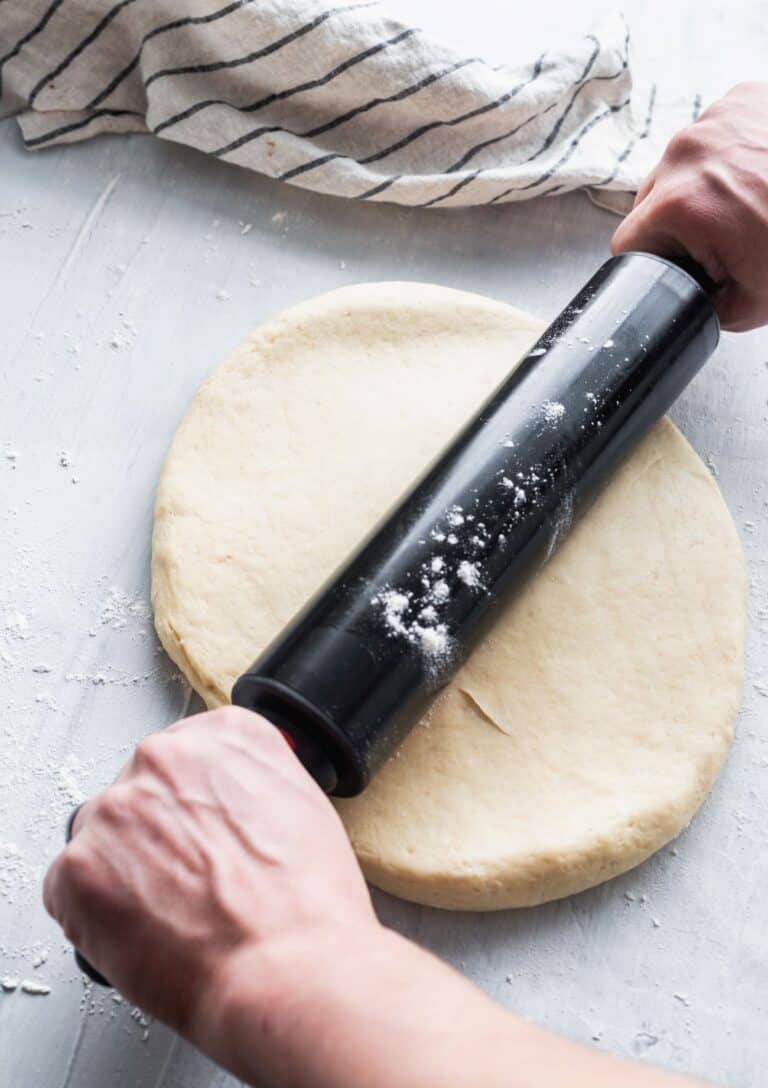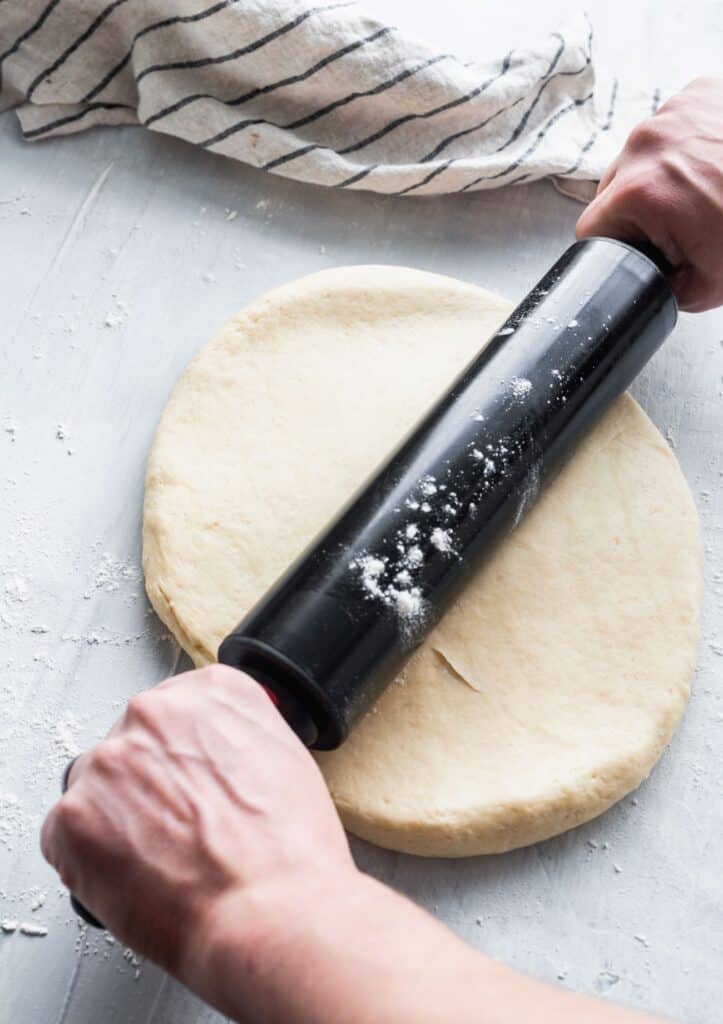 Mixing The Dough By Hand
If you don't have a stand mixer, that is okay! You can definitely make these chocolate chip cinnamon rolls by hand.
First, mix the milk, butter, yeast, sugar, salt, and eggs together with a whisk. Once mixed, add in all of the flour. Switch to a rubber spatula and fold the flour in until a dough starts to form.
Next, transfer the dough to a lightly floured surface and knead by hand. Knead for 10 minutes. If halfway through mixing it is too wet then add a little bit of flour at a time.
Once the dough is kneaded, follow the rest of the instructions.
Rolling Out The Dough
Once the dough is done rising, use a rolling pin to roll the dough into a 15X24 inch rectangle. It should be thin and large.
To easily roll it out, make sure it is on a floured surface.
Mini Chocolate Chip Filling
Once the dough is all rolled out, spread the butter on the dough. It will seem like a lot of butter, but a lot of butter is a good thing! It will soak into the dough as it bakes, so you are left with a buttery cinnamon roll.
Next, sprinkle the brown sugar/cinnamon mixture over the dough. Once you have sprinkled it, use your hands to rub it around evenly. Then, sprinkle the mini chocolate chips on the dough.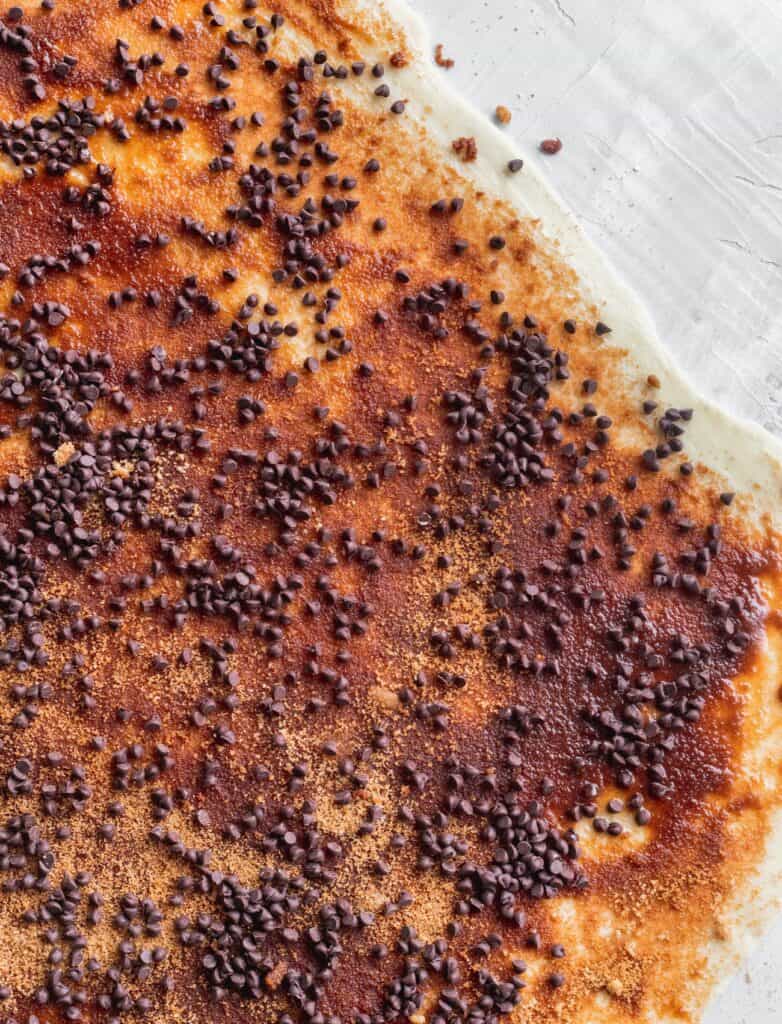 Rolling The Dough Into Swirls
Start at the bottom of the rectangle (we are rolling it from the short side so you get more swirls). Make sure to roll them tightly so there aren't any gaps.
Once rolled, use a pastry scraper to cut the dough. To get even sized rolls, make sure to use a ruler. The pastry cutter will flatten the roll slightly, so take your hand and reshape the dough.
Place the chocolate chip cinnamon rolls in a 9X13 pan spray with baking non-stick spray. Let them rise again.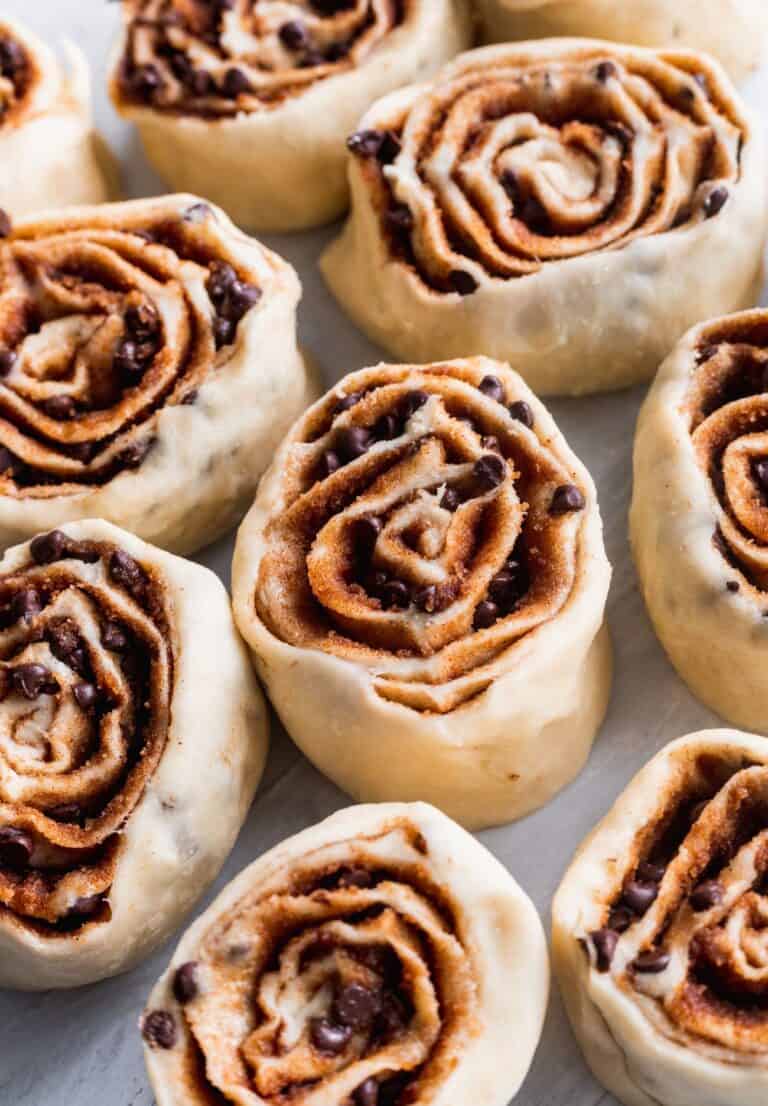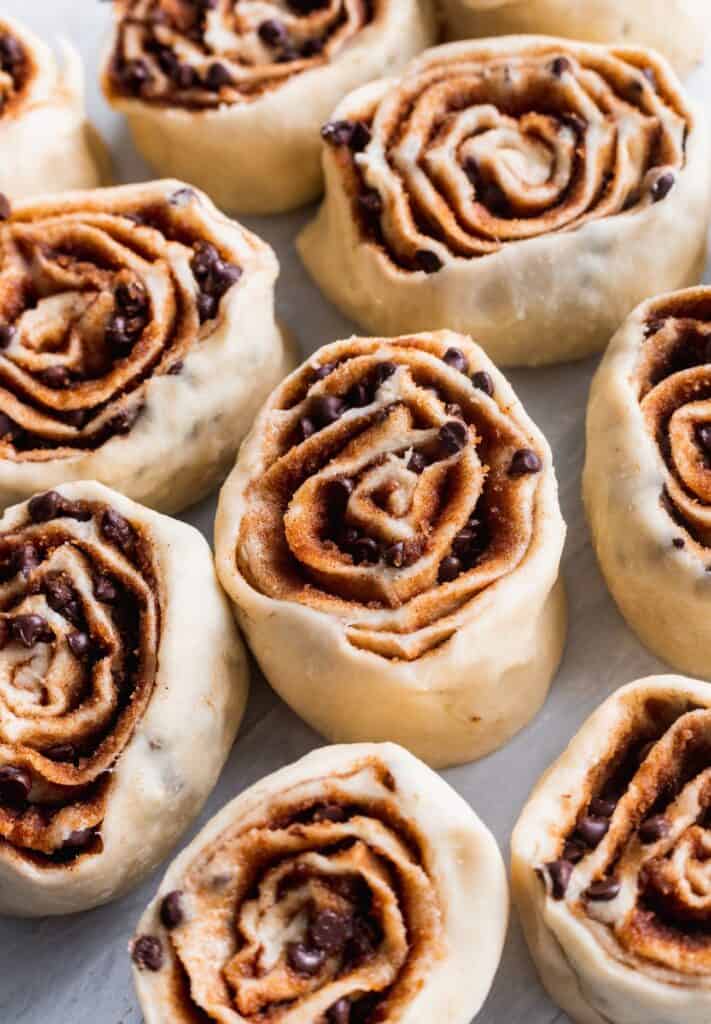 Baking The Cinnamon Rolls In Heavy Cream
Heavy cream is my cinnamon roll secret ingredient! I can't make cinnamon rolls without it.
The heavy cream will soak into the bottom of the rolls, which will create a soft and gooey cinnamon roll. So, not only just the middle is gooey, the whole roll is!
Pour the heavy cream right before baking.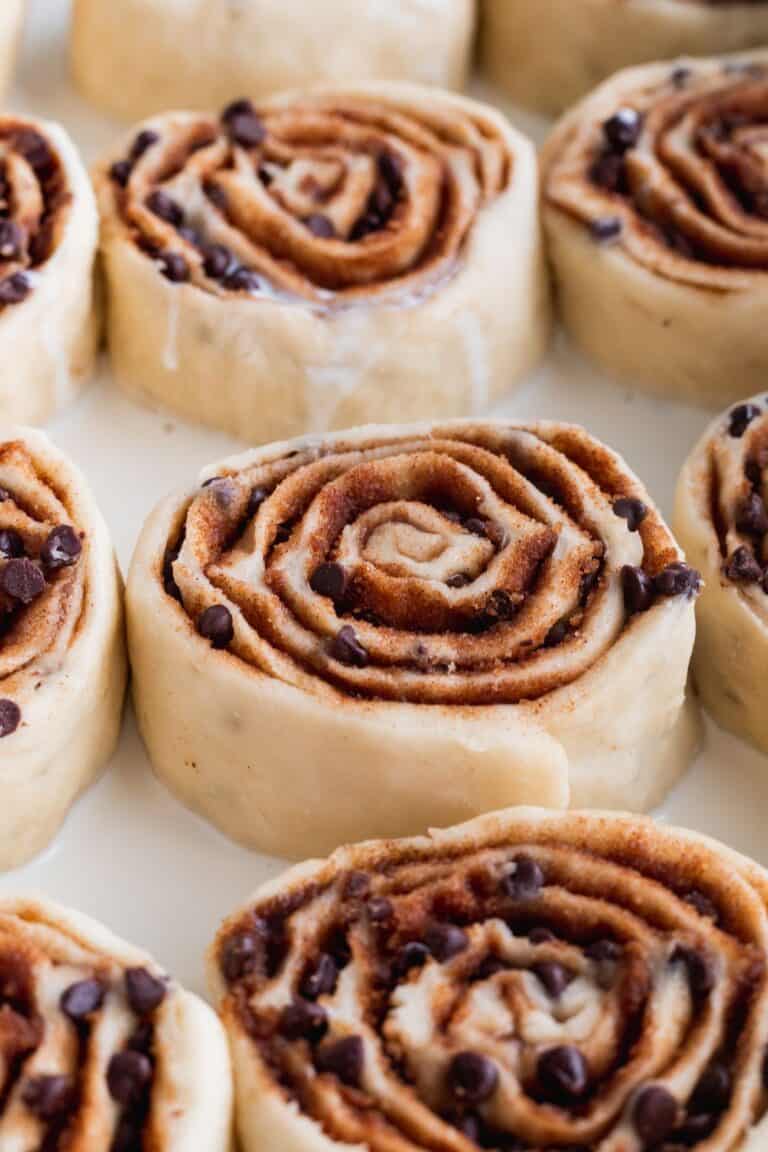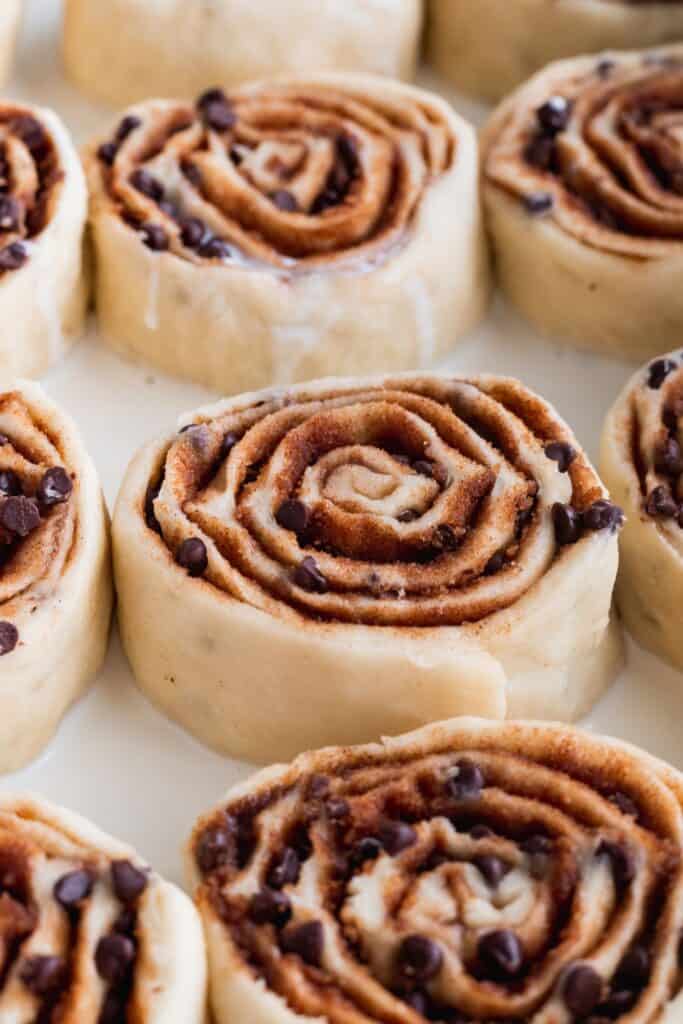 Chocolate Cream Cheese Icing
When recipe testing, I tried these with regular cream cheese icing and chocolate cream cheese icing. The extra chocolate made these cinnamon rolls even more fun!
Don't start making the icing until after the cinnamon rolls are done baking. They need to cool slightly before icing.
There are 2 keys to make this icing:
Room temperature ingredients- Pull the cream cheese and butter out 2 hours before baking. It will be a lot easier to blend the cream cheese until smooth.
Sift the powdered sugar and cocoa powder- To prevent a grainy icing, make sure those are sifted!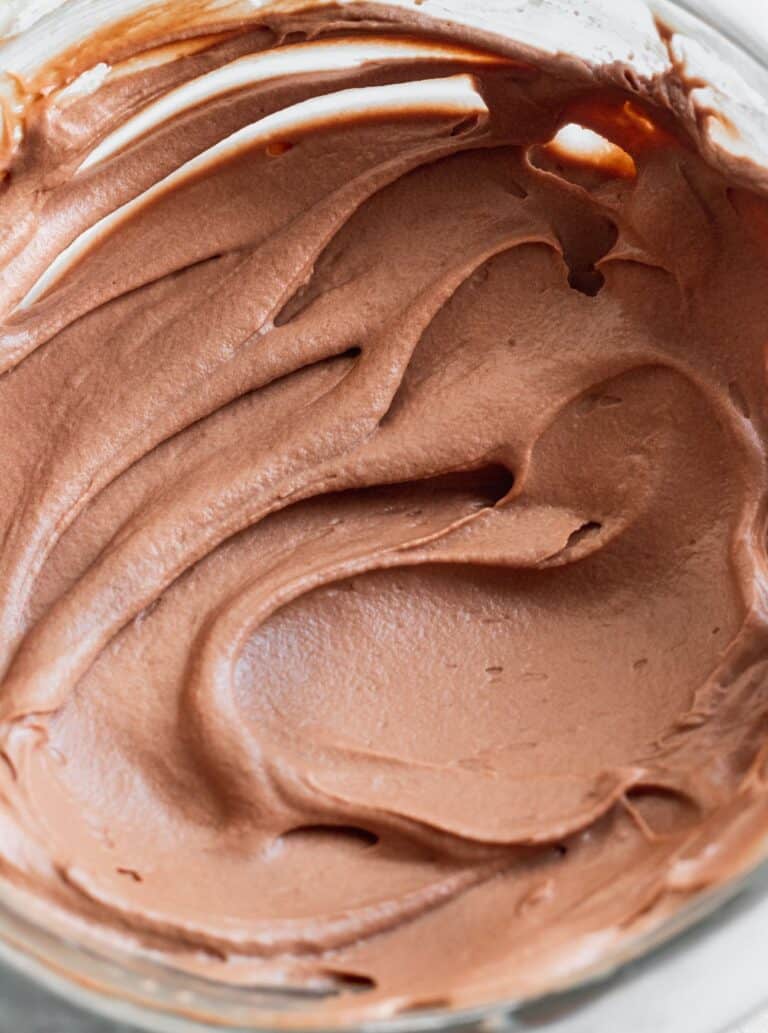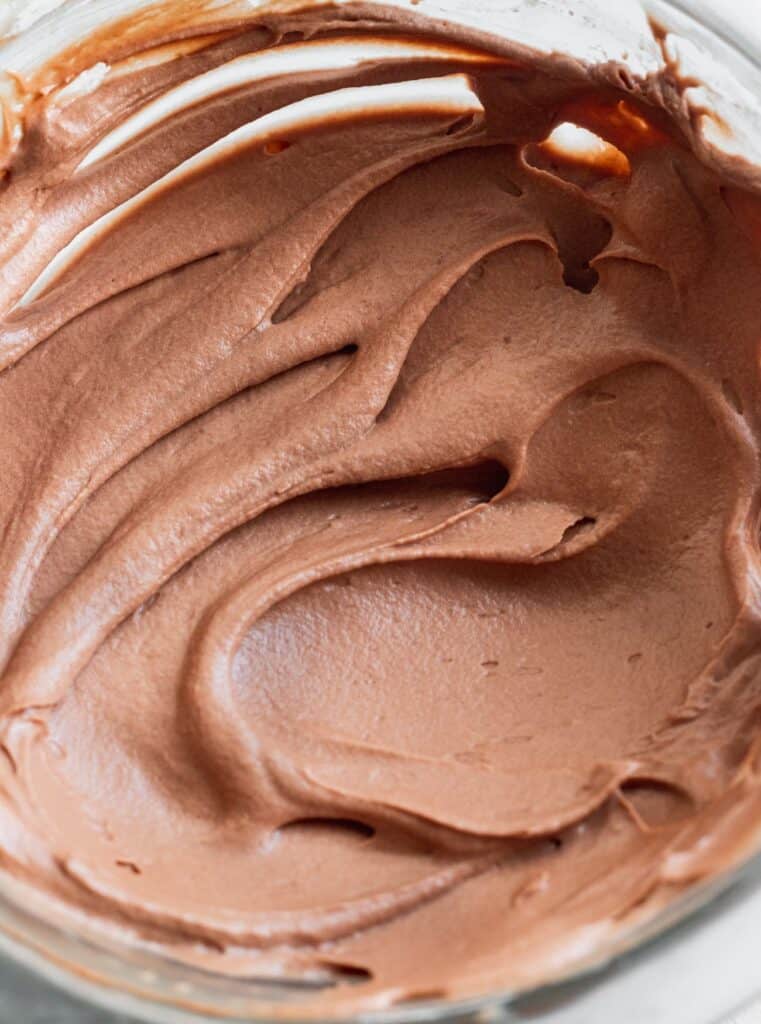 Storing The Cinnamon Rolls
The cinnamon rolls are best served warm right after you iced them. If you have extras, wrap the pan in foil or store the rolls in an air tight container and store in the fridge.
The best way to heat the rolls is to microwave them for 15-30 seconds. They will last up to a week in the fridge.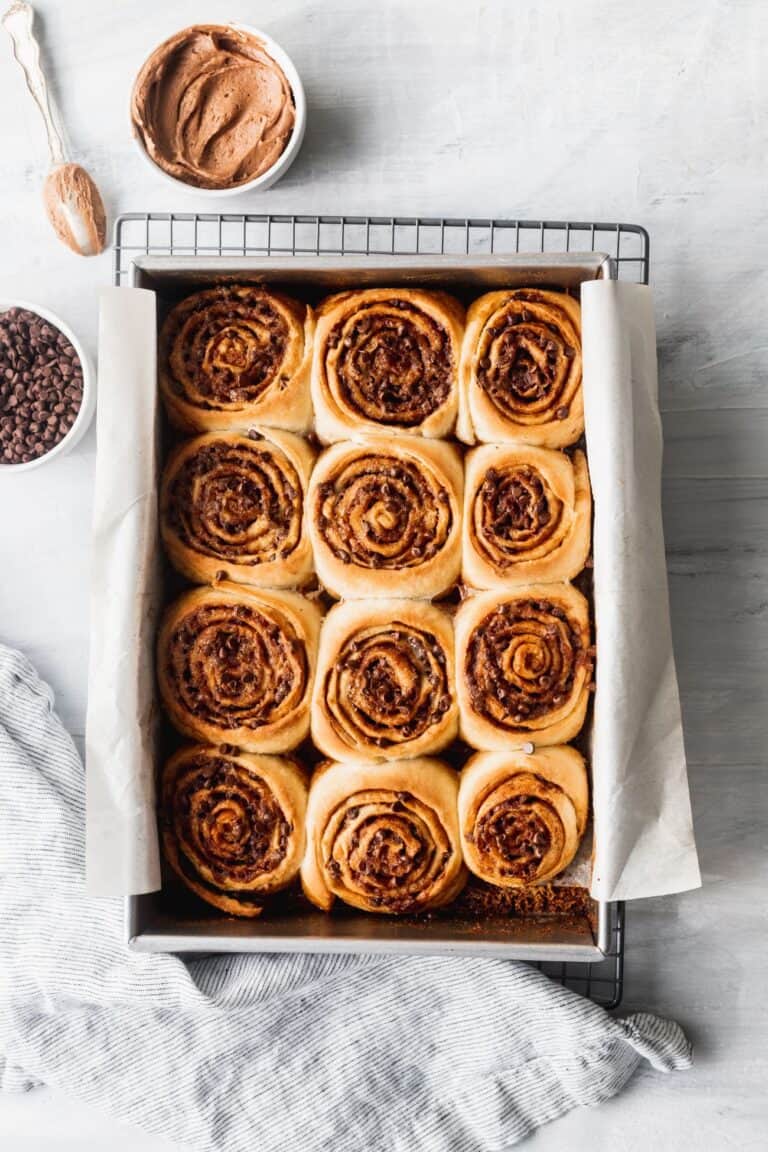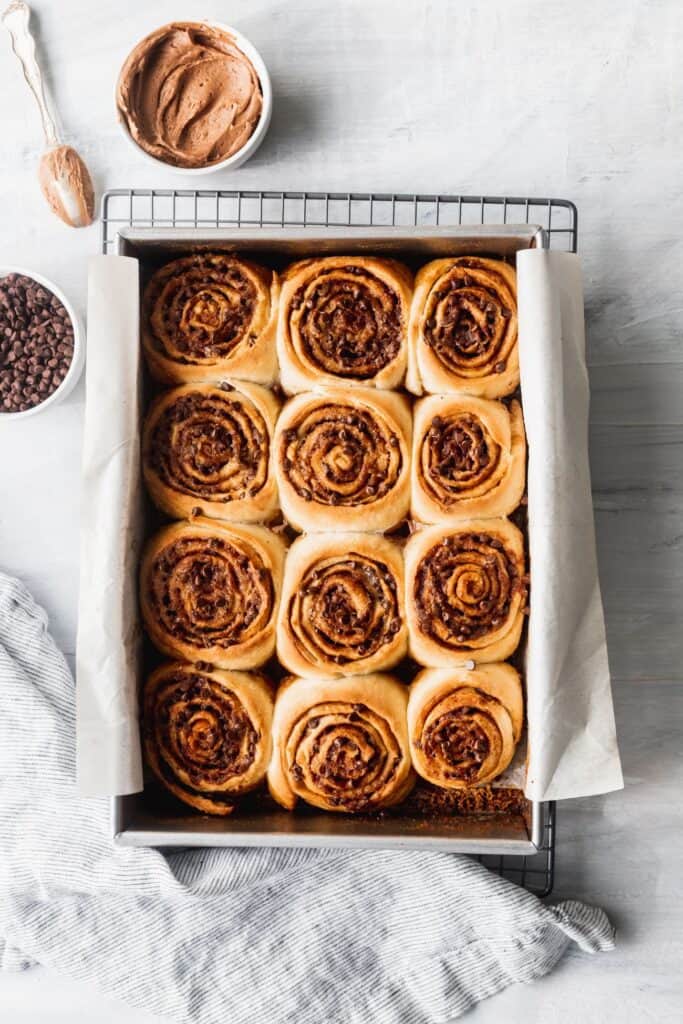 Other Recipes To Try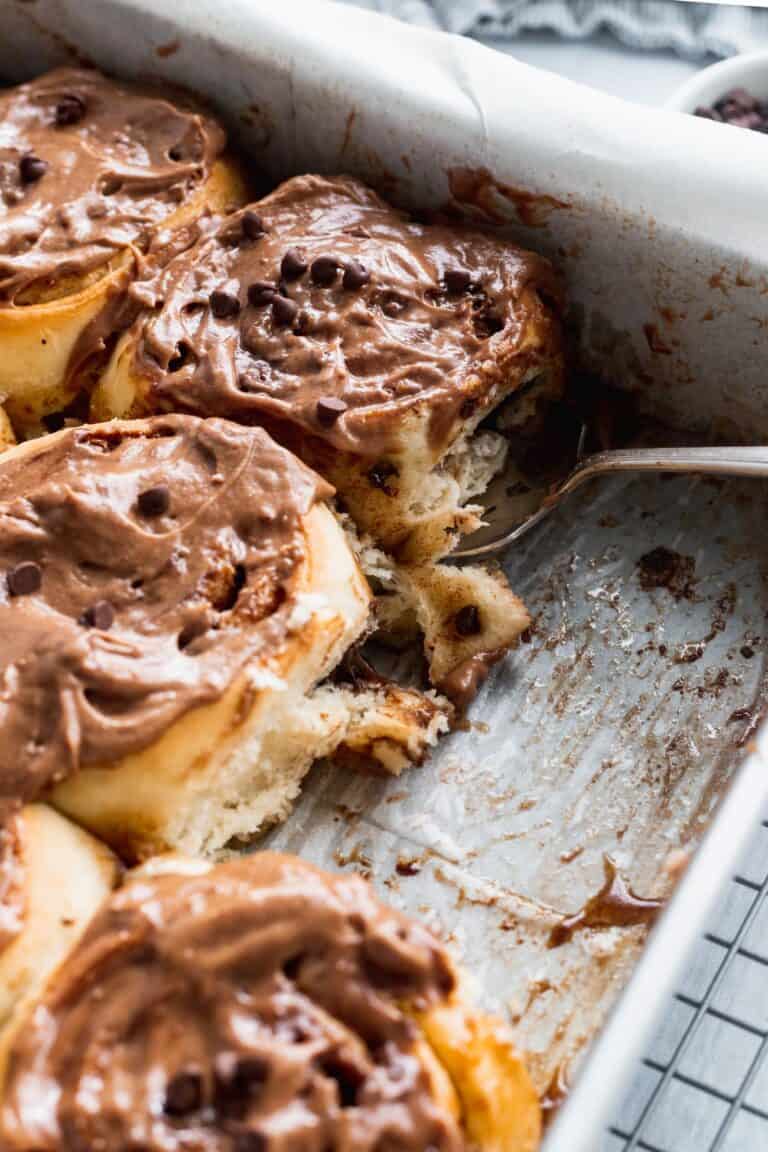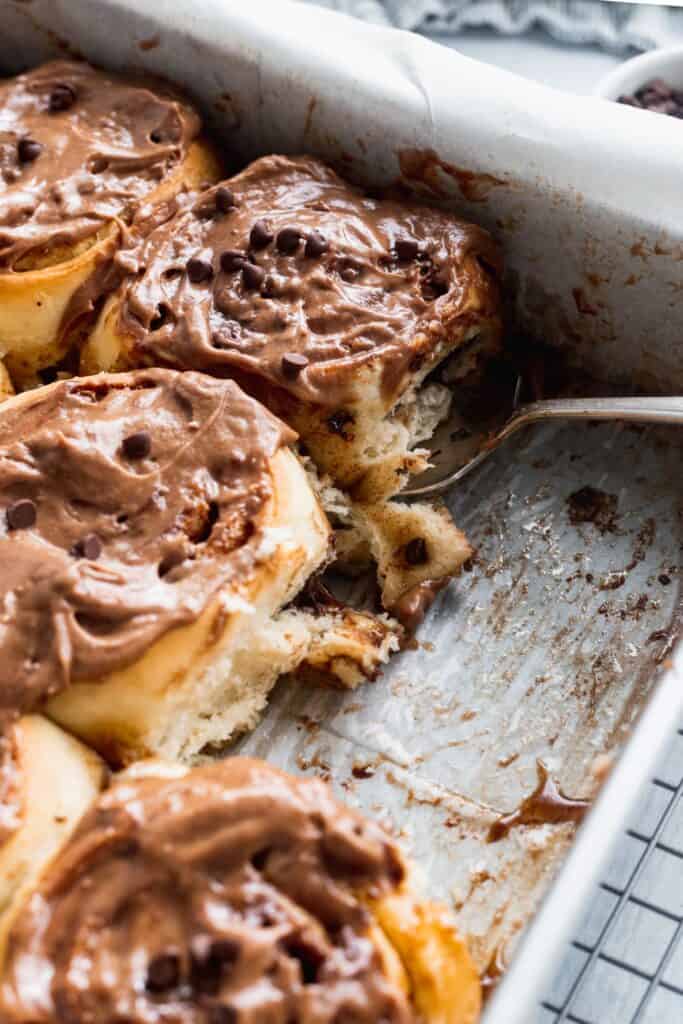 Make sure to tag me on Instagram @stephaniesweettreats and leave me a review below if you made these cinnamon rolls. I hope you loved it! To get more ideas follow me on Pinterest.
📖 Recipe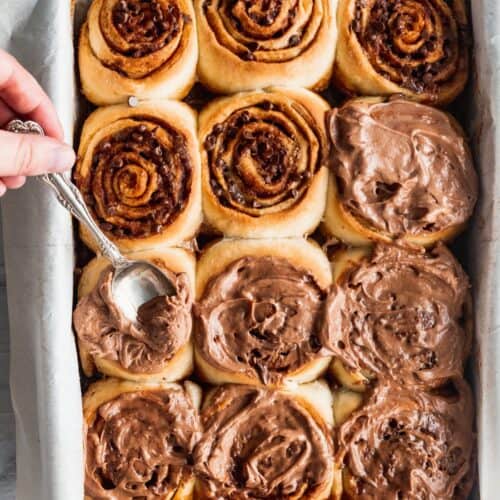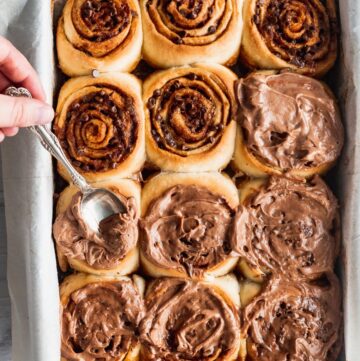 Chocolate Chip Cinnamon Rolls.
Gooey homemade chocolate chip cinnamon rolls have a soft dough. They are filled with cinnamon and mini chocolate chips and topped with chocolate cream cheese icing.
Ingredients
Dough
¼

cup

White granulated sugar

2 ¼

teaspoon

Fast rise yeast

1 packet

1 ½

teaspoon

Salt

½

cup

Unsalted butter

melted

2

Large eggs

room temperature and slightly beaten.

1

cup

Warm milk

warmed to 110°F

4 ½

cups

All-purpose flour
Filling
½

cup

Unsalted butter

melted

1

cup

Packed light brown sugar

2

tablespoon

Ground cinnamon

1

cup

Mini chocolate chips

½

cup

Heavy cream

room temperature
Chocolate Cream Cheese Icing
4

oz

Cream cheese

room temperature

4

tablespoon

Butter

room temperature

1 ½

tablespoon

Unsweetened cocoa powder

1

cup

Powdered sugar

sifted

½

teaspoon

Pure vanilla extract

1

tablespoon

Milk
Instructions
The Dough
This is for a stand mixer with a dough hook. Instructions for hand mixing will be in notes. In a large bowl, sift the flour. Set aside. In the mixing bowl, mix the yeast, sugar, slightly beaten eggs, salt, warm milk, and melted butter.

Add in all of the flour. Mix on low until a dough starts to form. Then, turn to medium and mix for 5 minutes. Halfway through, if the dough is too sticky, add an extra ⅛ cup of flour. Mix until the dough is combined. Add the extra flour just until dough is slightly tacky. This all depends on altitude and other factors.

In a medium bowl, spray lightly with non-stick spray. Place dough in bowl and cover with a dish towel. Let sit for 1 hour until the dough is double in size.
The Filling
In a small bowl, combine brown sugar and cinnamon. Set aside. Either using a pastry mat or a clean counter top, spread out a light layer of flour. Spread flour over rolling pin and roll dough out to a 15"X24" rectangle.

Melt butter in a small bowl in the microwave for about a minute. Using a pastry brush spread butter all over the dough. Make sure to use all of the butter. Sprinkle the brown sugar mixture evenly over the butter. Then, use your hands to rub it in. Sprinkle mini chocolate chips evenly over the brown sugar.

From the bottom, roll dough semi tightly to create many layers. Cut off the uneven ends. Using a pastry cutter, pizza cutter, or unflavored floss cut dough into 12 equal parts. Spray a 9"X13" pan with non-stick baking spray. Place cinnamon rolls in pan and cover with a dishtowel and let rise 35 minutes until doubled in size.

Preheat oven to 375F. Pour the heavy cream in the bottom of the pan. Bake for 20-25 minutes. The rolls should be kissed lightly golden brown on top. While cinnamon rolls are cooling, start the icing.
Chocolate Cream Cheese Icing
In a bowl, sift the powdered sugar and cocoa powder. Beat cream cheese and butter together in a separate bowl on medium for 2 minutes. It should be light and fluffy. Add in the powdered sugar/ cocoa powder. Make sure to scrape the bowl. Once fully combined, add in milk and vanilla. It should be a spreadable consistency. Then spread on cinnamon rolls.
Notes
Flour- Make sure flour is spooned and level or use a kitchen scale. Compacted flour can dry out the rolls.
Milk- Milk should be around 110F. Too hot or too cold milk and slow the yeast.
Melted butter for dough- Make sure the melted butter cools a few minutes before adding to the dough.
Making the dough by hands.
Use a whisk to mix the slightly beaten eggs, yeast, sugar, salt, warm milk, and melted butter. Add in the flour. Use a rubber spatula to form the dough together. Then place dough on a lightly floured surface. Knead by hand for 10 minutes. Then follow the rest of the instructions.
Nutrition
Calories:
504
kcal
Carbohydrates:
63
g
Protein:
7
g
Fat:
30
g
Saturated Fat:
19
g
Cholesterol:
77
mg
Sodium:
372
mg
Potassium:
87
mg
Fiber:
3
g
Sugar:
14
g
Vitamin A:
896
IU
Vitamin C:
1
mg
Calcium:
61
mg
Iron:
3
mg