These mini blueberry pies are small pies you can hold in your hand! They have flaky pie crust with lattice work on top. In the middle is a blueberry pie filling with a little bit of cinnamon. If you are looking for an easier version of blueberry pie, these are for you!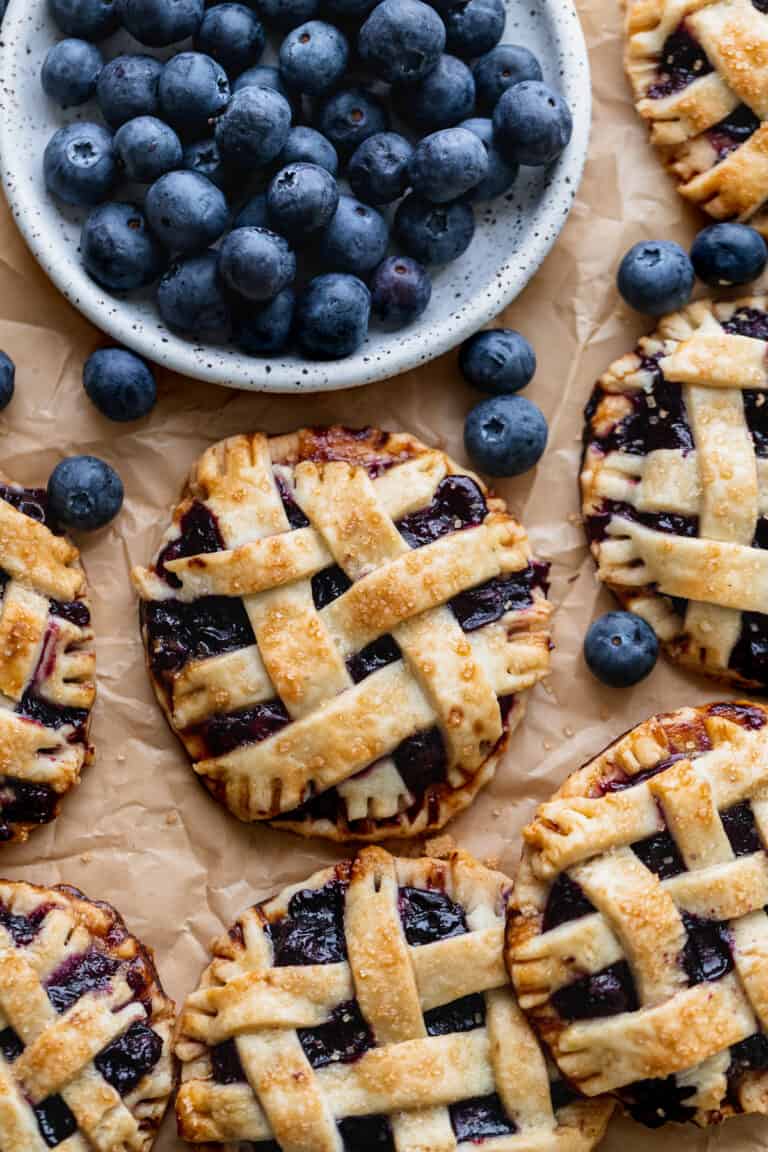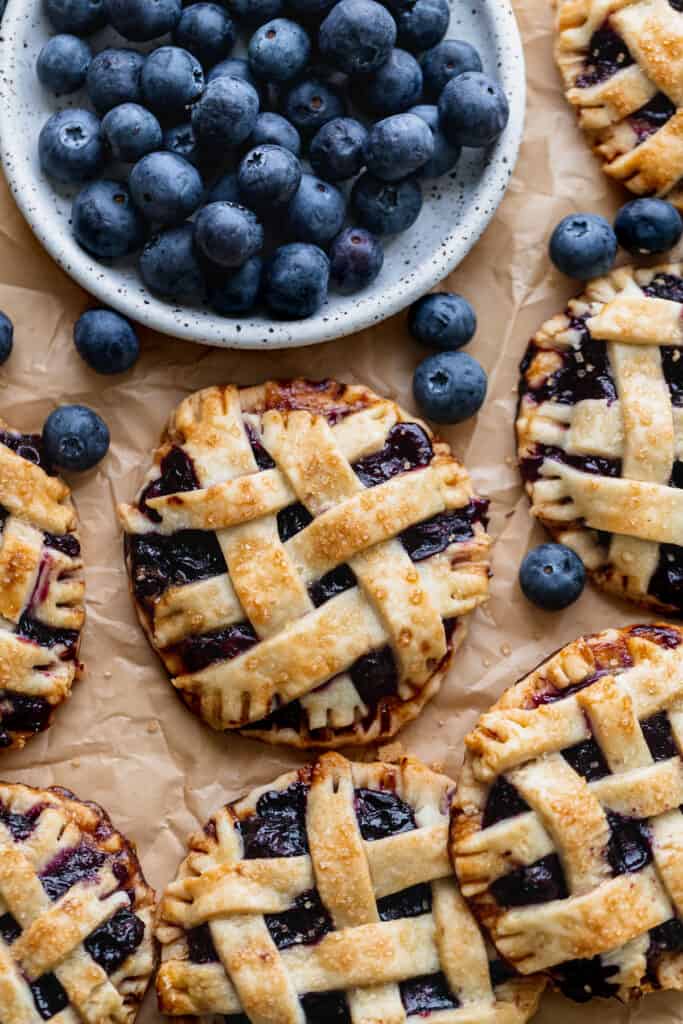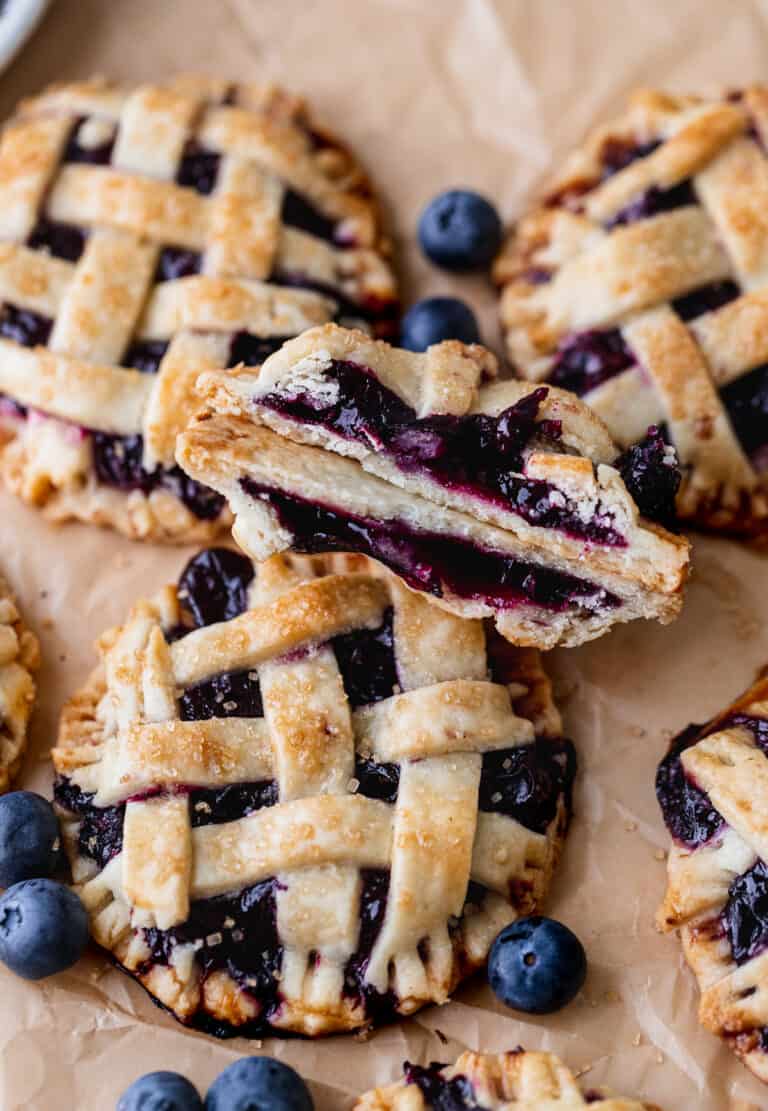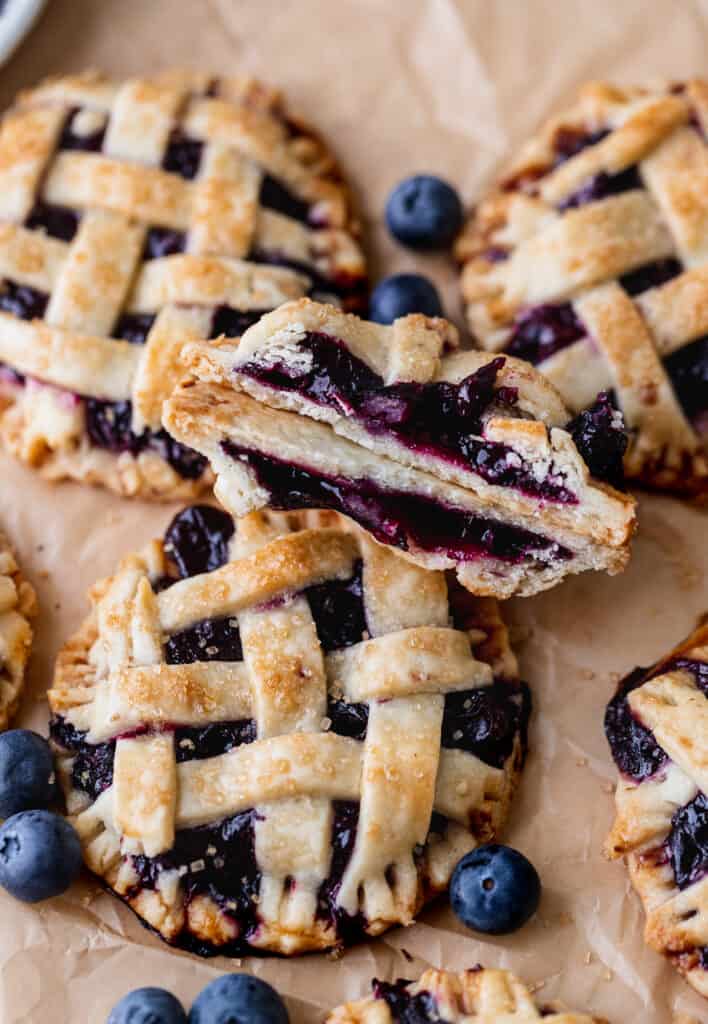 These little mini pies are a lot easier to make then they seem. I wanted a pie you could hold in your hand, but it still looks impressive.
I have two other hand pie recipes that are just as good! Check out strawberry hand pies or butterscotch pear hand pies and Chocolate Cookie Dough Pop Tarts.
I also found, even if your lattice work is really messy before you bake it, it will bake up beautifully! The first time I recipe tested these, they didn't look good. However when they baked, they still looked pretty good.
I have so many step by step instructions and tips so you can make these too!
Jump to:
Why These Pies Work
These mini pies work for so many different reasons!
You can hold these in your hand. There is something so special about mini versions of desserts.
The flaky pie crust is very easy to make. You just need a food processor/blender. Every time I use this pie crust recipe, it is super flaky.
You can make these with frozen or fresh blueberries! So, you can make this no matter the season.
The blueberry filling is made with lemon juice and cinnamon. It is loaded with flavor!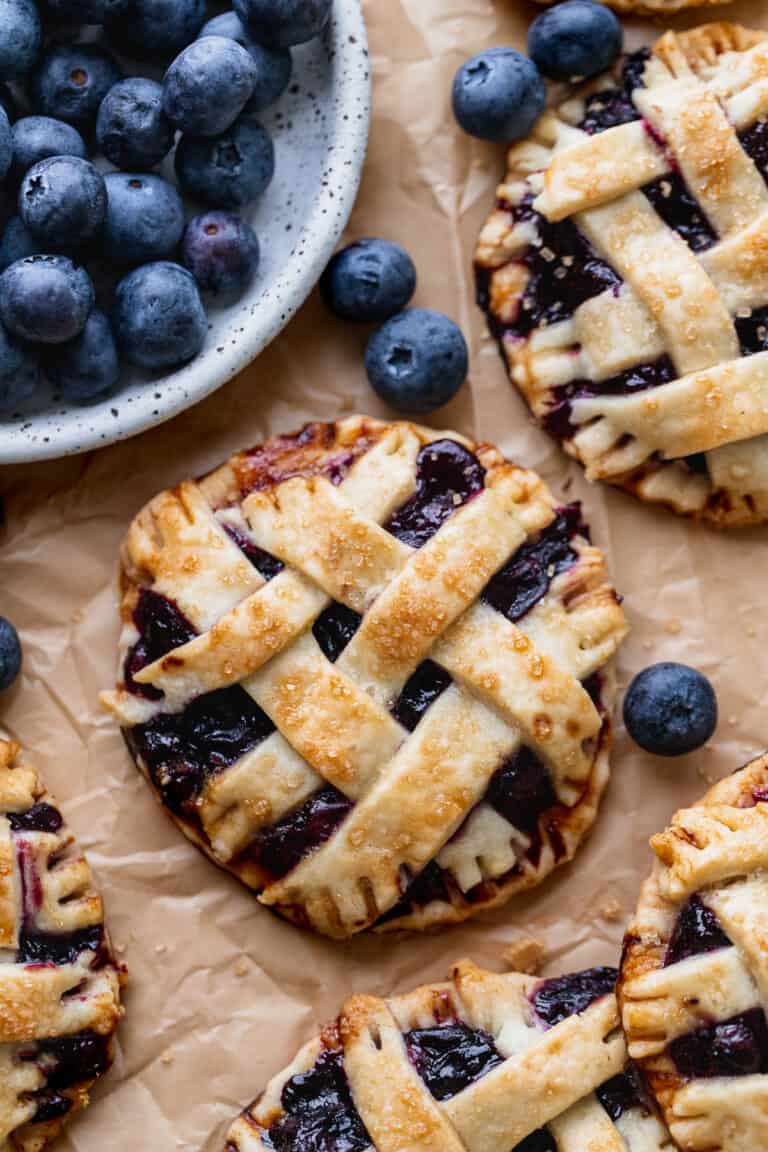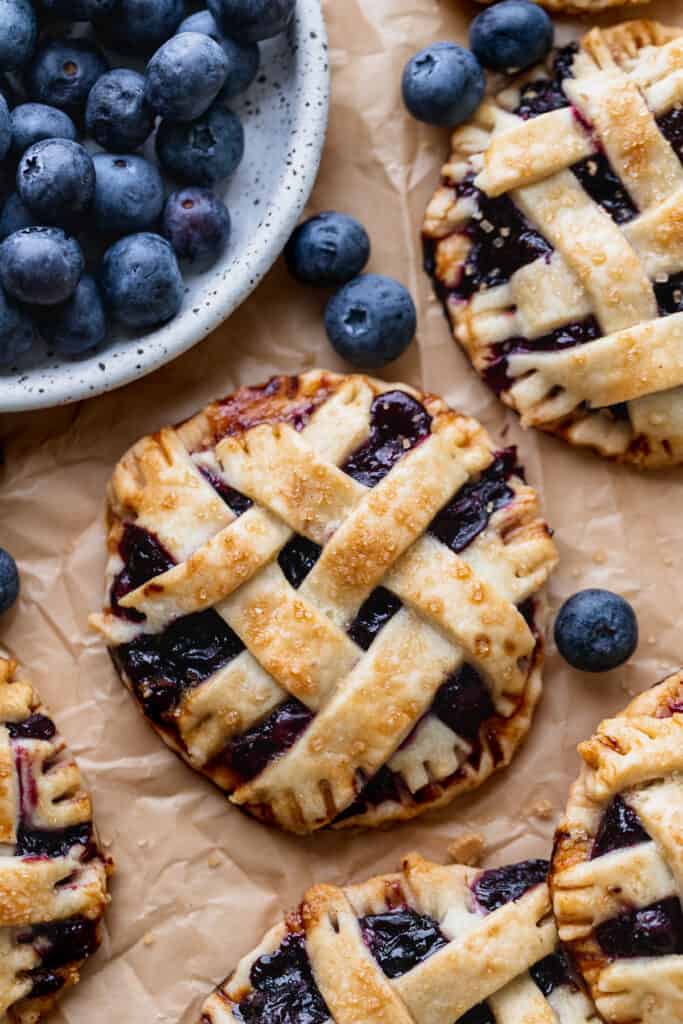 Ingredients
Here are some notes about the ingredients.
All-purpose flour- Use all-purpose and not bread flour for this recipe. The bread flour has too much gluten.
Butter- For the pie dough, it needs to be very cold butter for it to work. Cut the butter into cubes, and then chill again. Cutting the butter will warm it too much.
Egg wash- The egg and water is for the egg wash. This gives the pies the shiny tops.
Coarse sugar- I like to use Sugar in the Raw. (not an ad) I just like the texture this provides.
Blueberries- You can use fresh or frozen. If frozen, it will need to be cooked until the berries thaw.
Lemon juice- Freshly squeezed is best, but you can use the lemon juice concentrate from the bottle.
Pie Dough Step By Step Instructions
Before this year, I was the worst at making pie dough. Until I realized, that I was doing it wrong!
I would stop blending the butter and dry ingredients together after 10 seconds because I thought the butter was pea sized. In fact, you need to take it farther than that. It needs to blend until it clumps together. I made sure to take pictures, so you can see what yours is supposed to look like.
STEP 1: Cut the butter into cubes and then chill it. While it chills, sift the flour. Then, add the flour and the rest of the dry ingredients into a food processor or blender. Blend until it is mixed together.
STEP 2: Next, add in the cold cubed butter. Pulse a few times. First, it will look dry and the butter will appear small. Keep pulsing until the butter and flour clump together. See picture below.
STEP 3: Add ice water. I add the little bits of water at a time. Pulse until a dough starts to form. If it is too crumbly, add a small splash more of ice water. It is done when it stays in a dough when you hold it in your hand.
STEP 4: Then, divide the dough into 2 and wrap in cling wrap. Flatten the dough. I find it works best when the dough is rectangle shaped. Chill for 30 minutes.
STEP 5: Now, roll out the dough until it is very thin. A thin crust is our goal here. Use biscuit cutters to cut out the circles. I used 3.5 and 4 inch biscuit cutters.
Blueberry Filling
This blueberry filling needs to be made ahead of time. It needs to be completely cooled before you use it in the dough. A hot filling could melt the butter in the pie crust.
Cook the filling in a saucepan until the berries start to soften and the purple juice escapes. Then, mash some of the berries. Next, cook until the filling thickens slightly.
Since there is cornstarch, it will continue to thicken as it cools.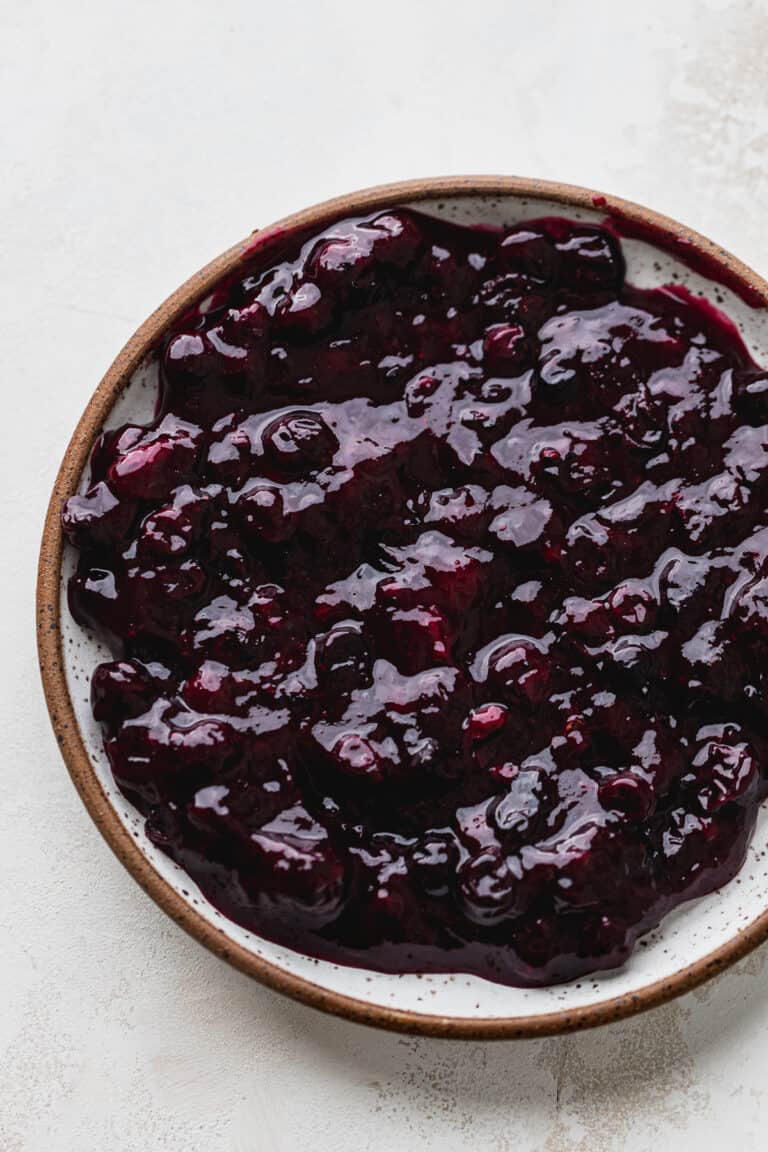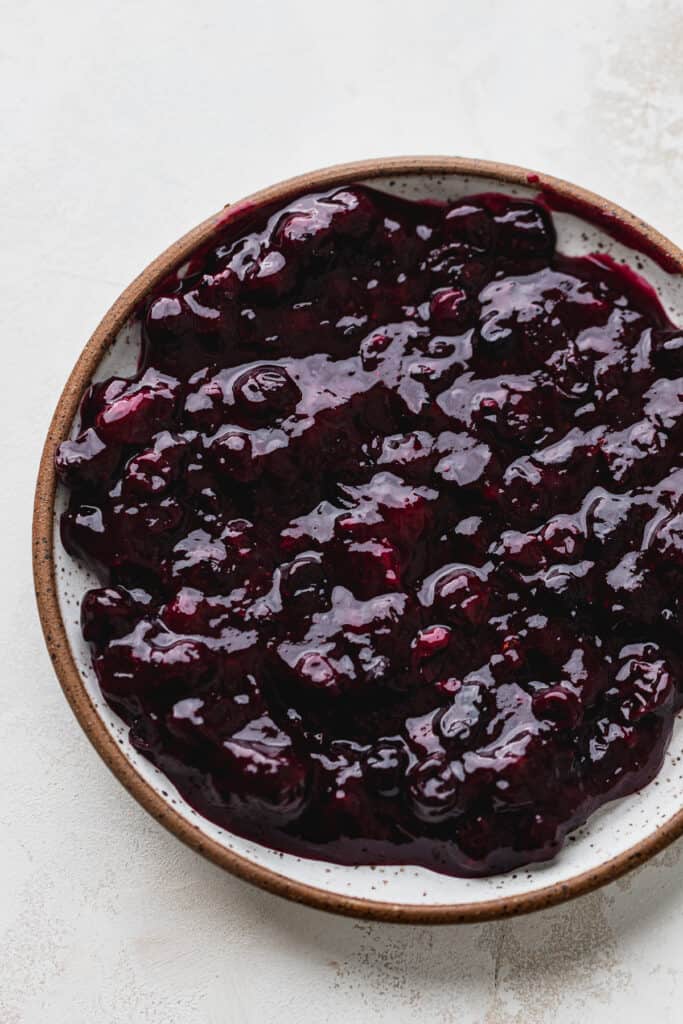 Video Step By Step Instructions
Below, here is a video of how to assemble and decorate these mini blueberry pies.
After you have the circles cut out, fill the smaller circles with blueberry filling. Then, use the back of the spoon to spread it out to the edges of the crust.
Next, take the bigger circles and cut out strips. I used a pizza cutter. Throw away the small curved edges. We only want the straight lines.
Top the pies with the strips of dough. Weave them between each other. Next, crimp the edges with a fork. Use the pizza cutter to trim away any dough over hang.
Next, let the pies chill for 30 minutes for the butter to get cold again.
Topping The Pies
Top the pies with an egg wash. Brush a medium layer on with a pastry brush.
Next, top with a coarse sugar. This will give the pie some sweetness and texture.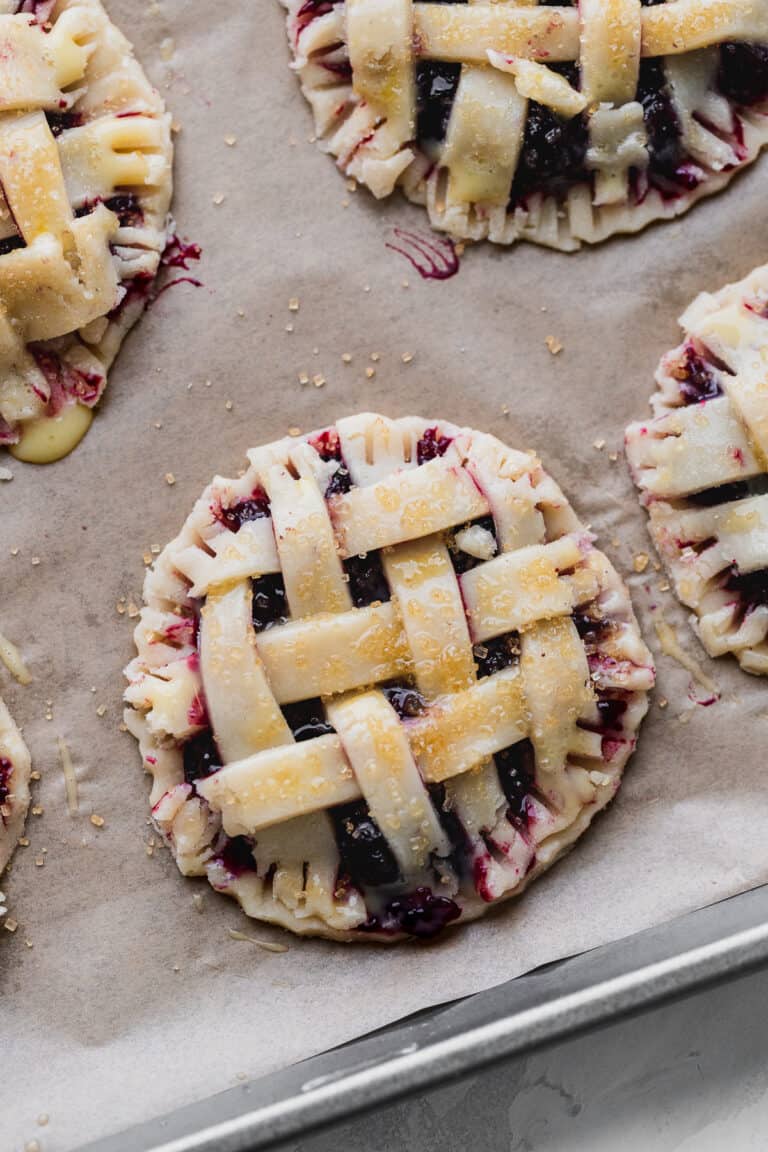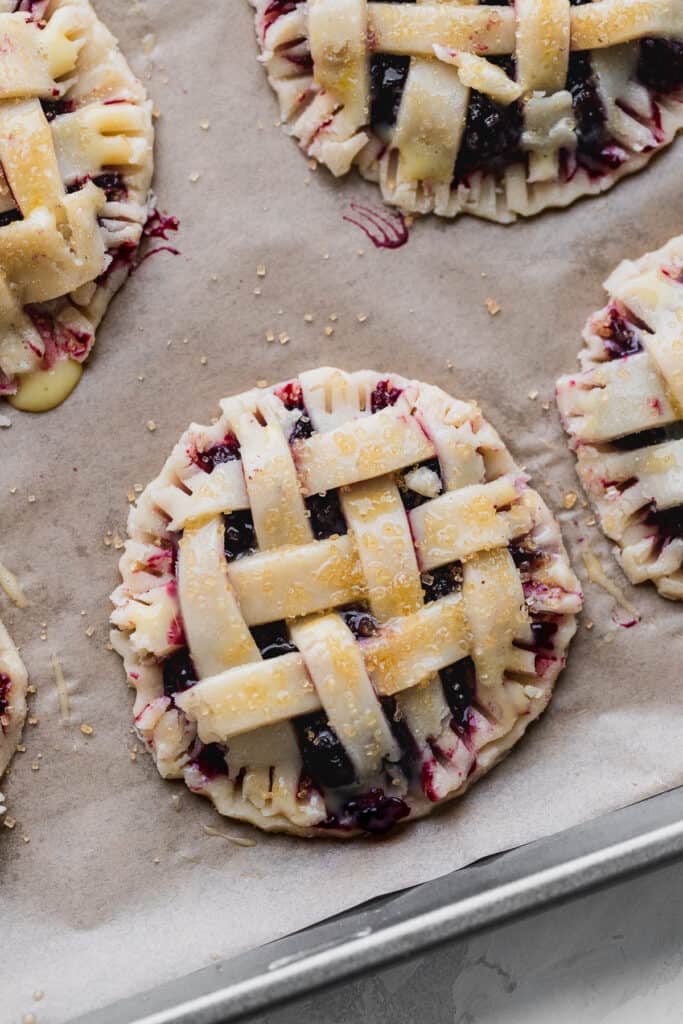 FAQ
Can I make these ahead of time?
Yes! You can make these ahead of time. I suggest making these one day ahead. Although fresh is always best!
Help! I have raw dough after it baked.
If you have raw dough, that makes then dough wasn't rolled thin enough. Thicker pastry takes longer to bake. Make sure to roll it very thin!
Can I use a different berry?
Yes! You can use any berries you would like. Triple berries or strawberries would be great in this!
Do I need an egg wash?
If you choose not to have the egg wash, it will just become dull in color. They look best with the egg wash.
Can I add an icing?
Yes! You can. Check out my strawberry danish for a lemon icing that would go great with these.
Baking Tips
The goal for the pie crust, is to keep it very cold. A warm pie crust can cause the butter to melt out while it bakes. If it melts, then it will cause the rest of the pastry to melt.
So, the chilling after you assemble the pies is crucial.
Another important note, you want the pie dough to be semi cold when you decorate the tops. If it is too warm, it will break as you try to weave the pieces together.
When I first made this pie crust, I made it too thick. That resulted in raw dough once it baked. Make this dough as thin as you can!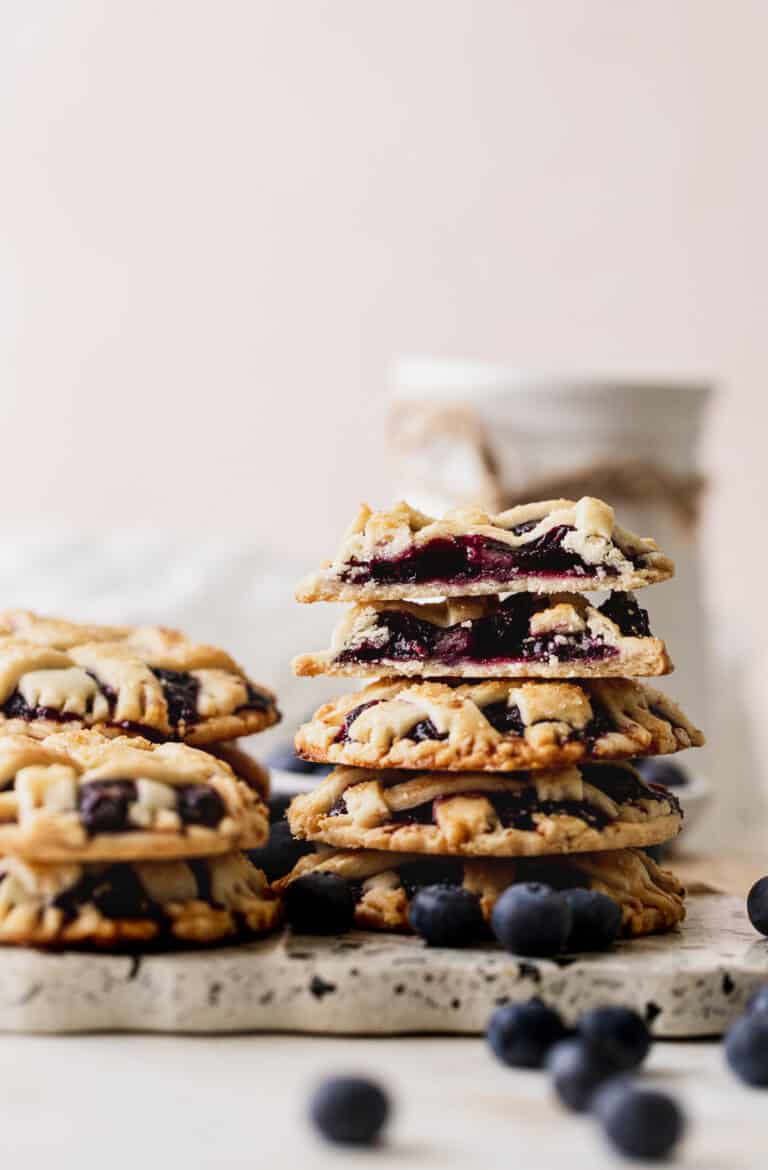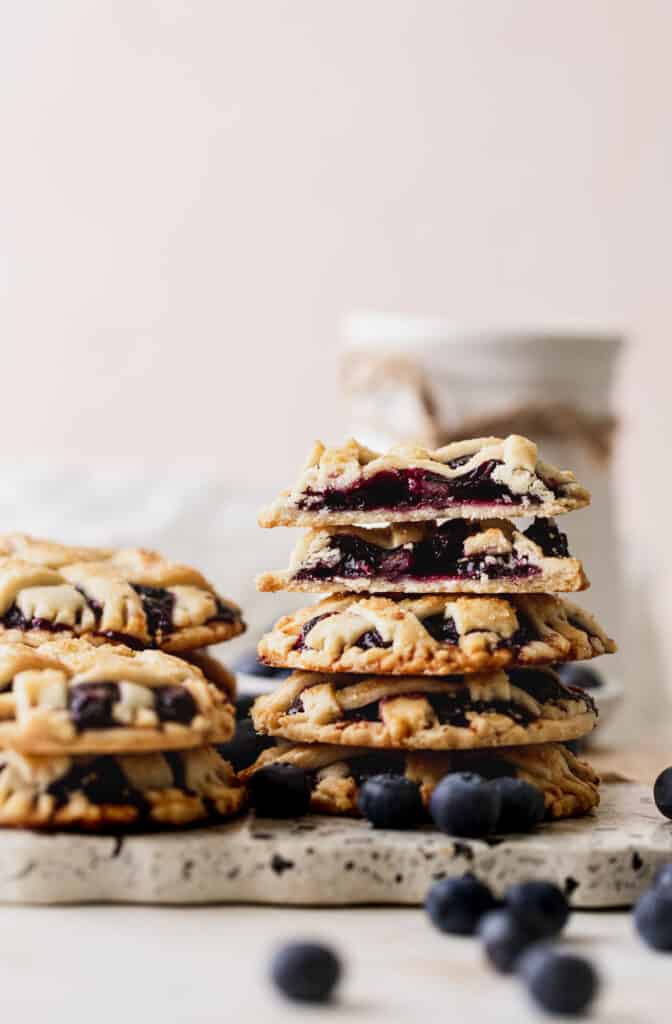 Storing and Freezing
Store these mini blueberry pies at room temperature in an air tight container. They will last up to 4 days.
Freezing
You can freeze these mini blueberry pies by wrapping tight in cling wrap and storing in an air tight container. Freeze up to 30 days.
Thaw the pies on the counter for 2 hours before enjoying. For best results, warm in the microwave for 10 seconds.
Other Fruit Recipes To Try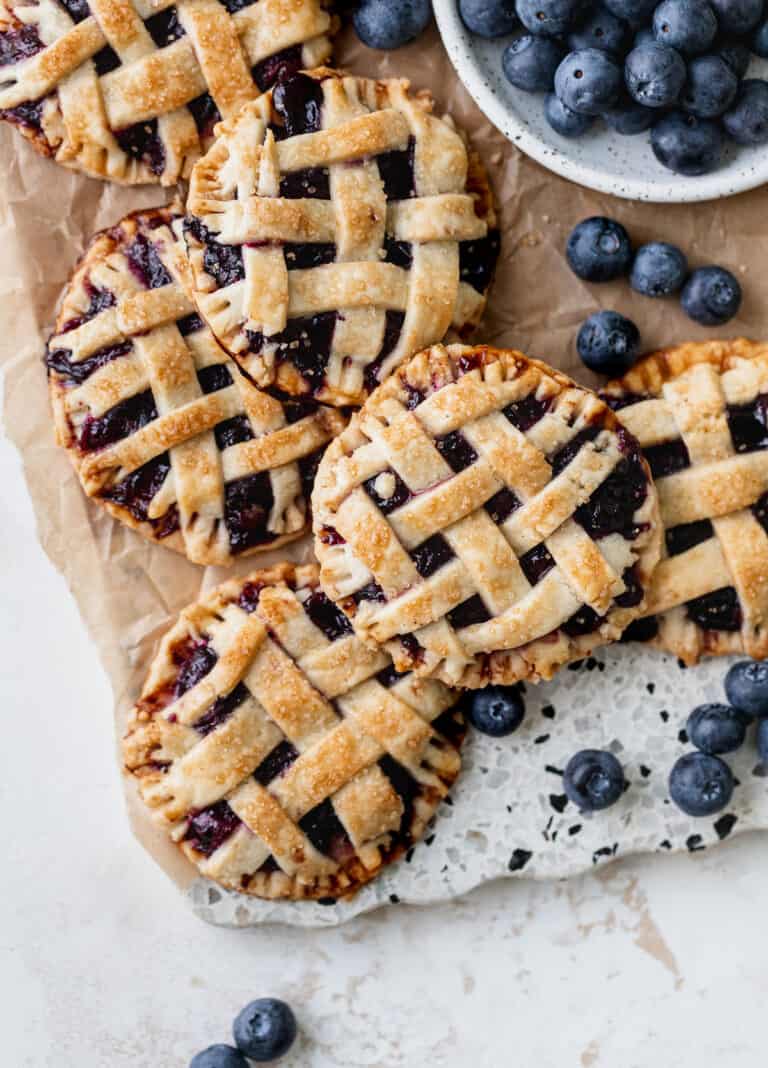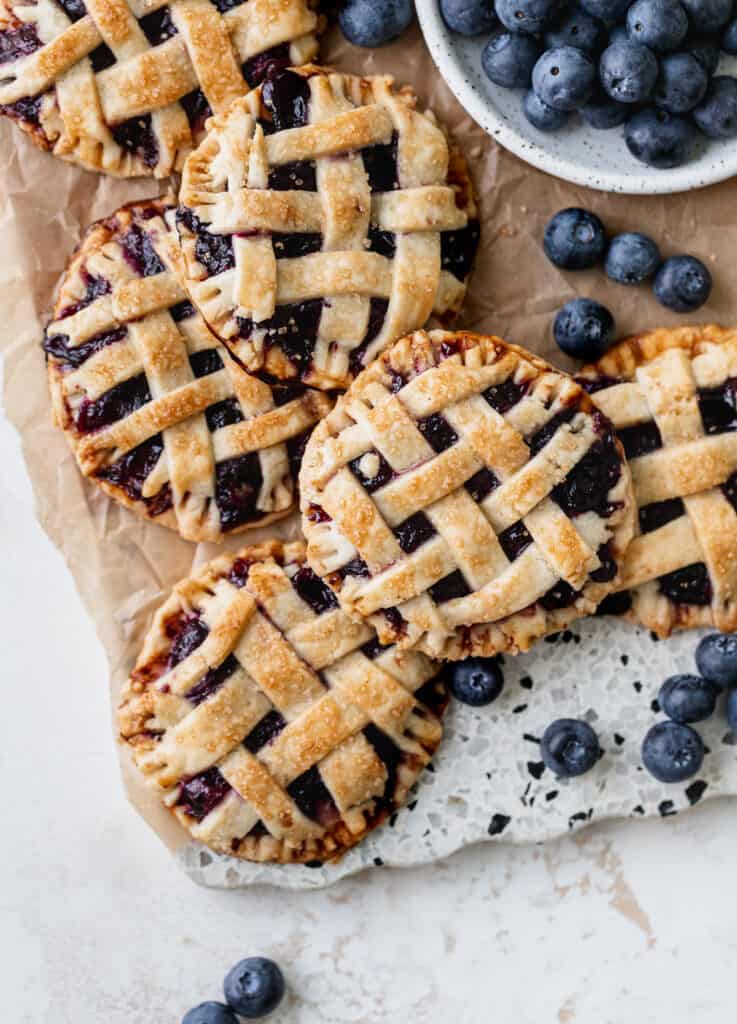 Make sure to leave me a star review below!
Make sure to tag me on Instagram @stephaniesweettreats. I hope you loved it! To get more ideas follow me on Pinterest.
📖 Recipe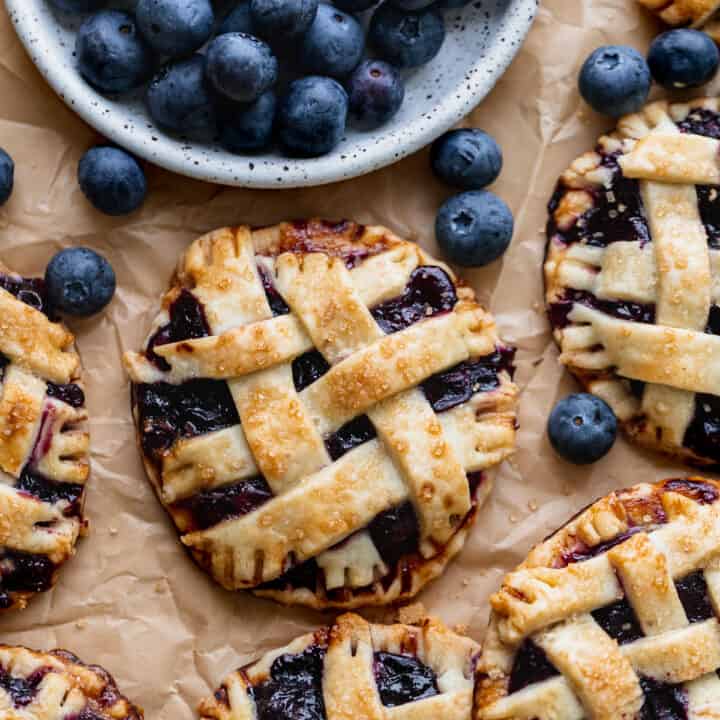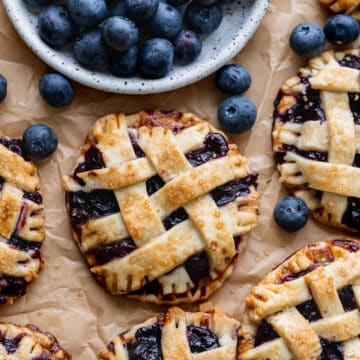 Mini Blueberry Pies
These mini blueberry pies are small handheld pies. They have a flaky crust filled with blueberry pie filling.
Ingredients
Pie Dough
2 ¾

cups

All-purpose flour

3

teaspoon

White granulated sugar

½

teaspoon

Salt

1

cup

Unsalted butter

cold

¼

cup

Ice water

1

Large egg

1

tablespoon

Water

Coarse sugar

for topping
Blueberry Filling
1

cup

Fresh blueberries

washed and dried

1

tablespoon

Cornstarch

3

tablespoon

White granulated sugar

2

tablespoon

Lemon juice

¼

teaspoon

Ground cinnamon

Pinch of salt
Instructions
Pie Dough
Cut the butter into cubes. Place back in the fridge to get cold. In a food processor, blend flour, sugar, and salt. Add in the cubed butter and pulse. Pulse until butter is mixed in and pea shaped. First the butter will look small and dry in the flour, keep pulsing. See pictures above.

Add in a little bit of the ice water at a time. I start with a tablespoon at a time. Pulse until combined. There is enough water when a dough forms when you press the dough together. It if it crumbles, add a splash more water.

Place pie dough on to cling wrap. Use the cling wrap to form the dough into a ball. The goal is to handle the dough as little as possible. Split the dough in half. Wrap each dough in cling wrap. Flatten into a disc.
Blueberry Filling
In a saucepan over medium heat, stir the blueberries, cornstarch, sugar, lemon juice, cinnamon, and salt. Cook until the blueberries soften and the purple blueberry juice starts to leak out.

Crush some of the blueberries with a back of a wooden spoon. Cook until it thickens slightly. Take off heat and transfer to a bowl. It will thicken as it cools. Allow it to cool completely.
Assembly
Roll one of the dough balls on a floured surface. Roll very thin until ⅛ inch thick. Use a 3.5 inch biscuit cutter. Cut as many circles as you can. I got 10. Save the dough scraps. Place circles on a cookie sheet with parchment paper. Chill in the fridge.

Roll the other dough ball out on a floured surface. Roll ⅛ inch thick. Use a 4 inch biscuit cutter. Cut as many circles as you can. Take both dough scraps and form into a ball and roll it out again. Cut more circles until you get 10. The slightly bigger biscuit cutter is for the lattice on top of the pies. Place on separate cookie sheet with parchment paper. Chill.

Scoop ½ tablespoon of filling on the bottom circles. Use the back of the spoon to spread it to the edges. Use a pizza cutter to cut strips into the bigger circles. Discard the rounded edge strips.

Place three strips over the pie. Take the other three strips and weave into the other strips. See above video. It will create a lattice design. Chill for 20 minutes.

Preheat oven to 400°F. Mix the egg and water in small bowl. Use a pastry brush to brush the egg wash over the pies. Top with coarse sugar. Bake for 20-24 minutes. Bake until the tops are golden brown. Let cool before eating.
Notes
Flour- Make sure flour is spooned and leveled or use kitchen scale. Compacted flour can dry out the pies.
Blueberry filling can be made ahead. Store in an airtight container in the fridge.
Nutrition
Calories:
310
kcal
Carbohydrates:
32
g
Protein:
4
g
Fat:
19
g
Saturated Fat:
12
g
Polyunsaturated Fat:
1
g
Monounsaturated Fat:
5
g
Trans Fat:
1
g
Cholesterol:
49
mg
Sodium:
120
mg
Potassium:
46
mg
Fiber:
1
g
Sugar:
5
g
Vitamin A:
568
IU
Vitamin C:
1
mg
Calcium:
12
mg
Iron:
2
mg