Cinnamon chocolate chip banana bread- moist cinnamon banana bread with mini chocolate chips. It is coated with cinnamon sugar with extra chocolate chips on top.
This blog receives a commission for using Amazon products for the food recipes that I shared with you in my posts. Although I receive a commission for using and linking their products, they are extremely good for my food recipes and all my opinions and suggestions are unbiased.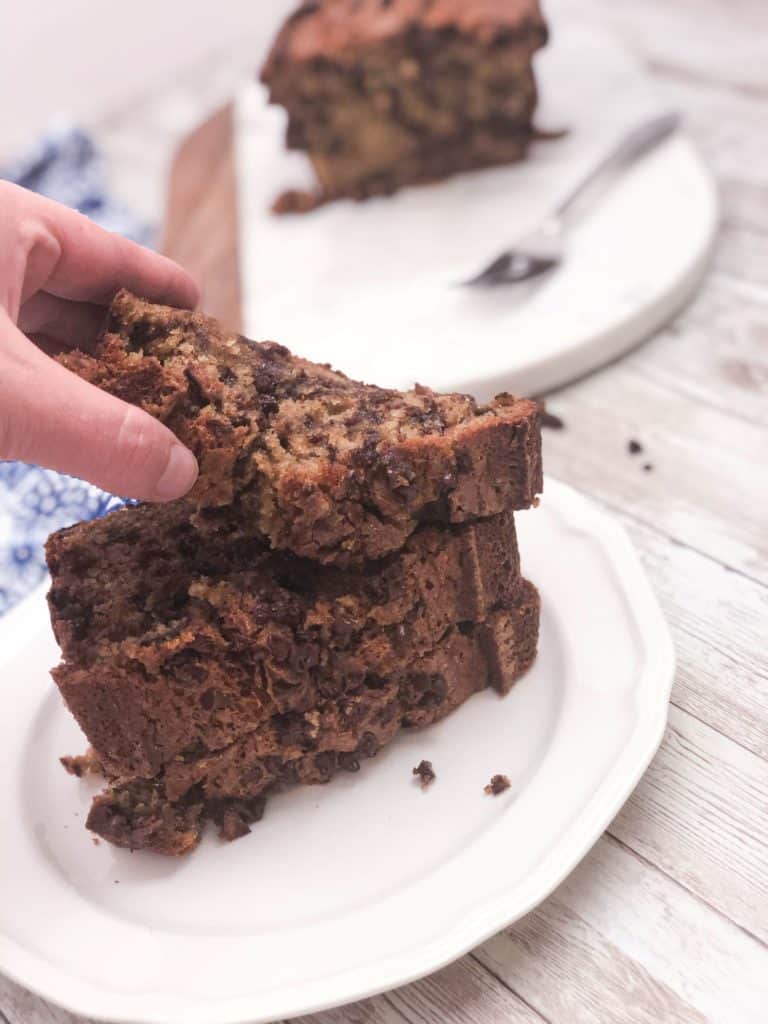 I started making this chocolate chip banana bread back when I didn't really know what baking was. I started by using a basic recipe, but over time I found that my banana bread had to up its game. So, this recipe was born.
This cinnamon chocolate chip banana bread is very moist. It not only has cinnamon in the batter, but the pan is coated in cinnamon sugar so that even the crust has an amazing flavor. Then, with those mini chocolate chips, it's melt in your mouth good.
While banana bread is relatively easy to make, there is still a lot that can be improved upon to make it impress your friends.
Important Ingredients For Chocolate Chip Banana Bread
Sour Cream- Sour cream takes a dry banana bread and makes it very moist. It also helps keep it moist on day 3 or 4. If it is still around by then!
Cinnamon- I coat the loaf pan in cinnamon sugar. I add cinnamon to the batter and I sprinkle more cinnamon sugar on top before I bake. It is loaded with flavor and it really takes banana bread to the next level.
Nuts- While there are no nuts in this recipe, you can add nuts if you desire. I recommend either walnuts or pecans. For this recipe I would scale the chocolate chips down a ¼ cup and add ¼-1/2 of chopped nuts, depending on your preference.
Chocolate chips- It is so important that it is mini chocolate chips. I wouldn't add regular chocolate chips, because then it would be too much chocolate per bite. The minis are perfect.
How Do I Store The Banana Bread
I store it in two different ways. You can wrap the whole loaf in aluminum foil. Also, you can cut it into slices and store in Tupperware. When I made it this time, I stored it in Tupperware because then it was ready to go. It also sealed in all the extra moisture as well.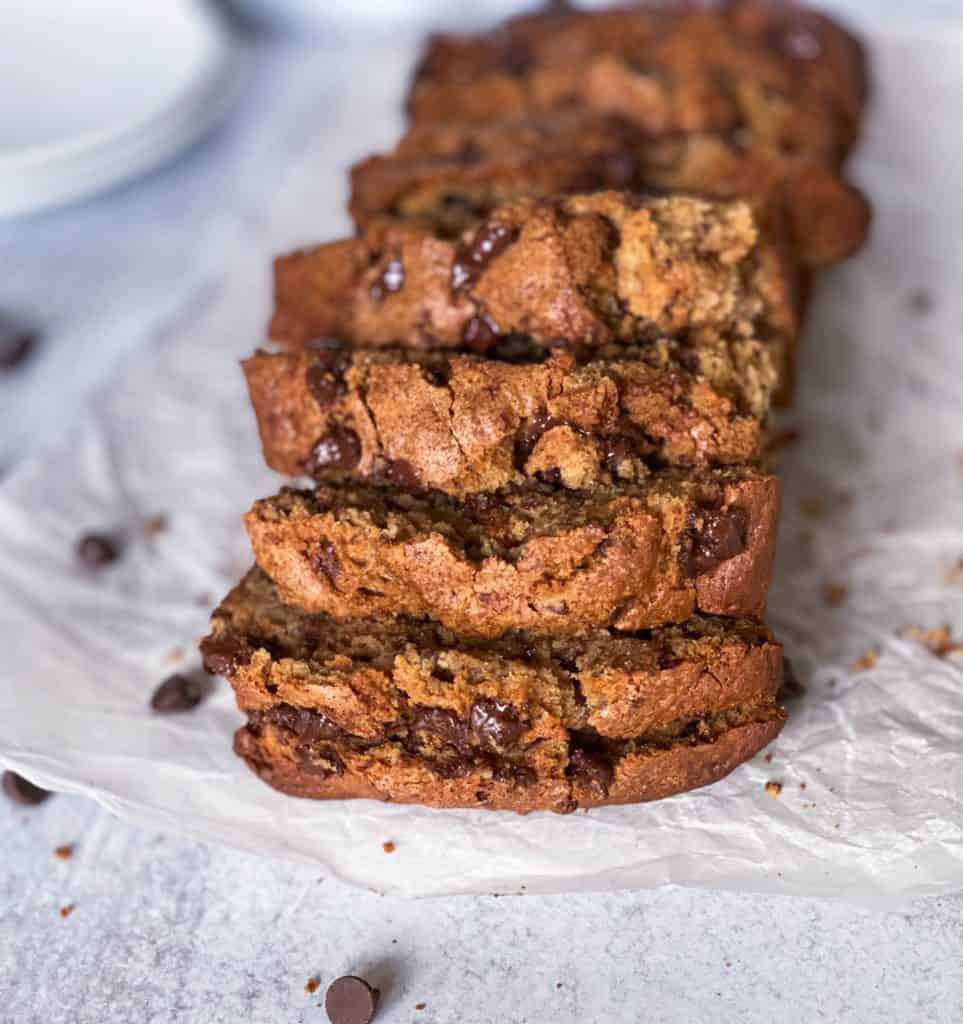 Let's Get This Cinnamon Chocolate Chip Banana Bread Going!
So, the very first thing I do is coat the pan in cinnamon sugar. The pan I use is this one.
I always have a shaker of cinnamon sugar on hand, but I included in the recipe how to make it (super easy!) and you can sprinkle it on by hand if you don't have a shaker. I am super generous when I coat the pan. After coating I just shake out the extra cinnamon sugar and then pan is all set!
I will probably say this a lot, but sift your dry ingredients! That is my next step after I get my pan all set. I always sift my dry ingredients because it gets rid of any flour clumps and makes for a much smoother batter!
This also includes the cinnamon. I wouldn't say you have to sift the cinnamon, but I always add it to the top of the flour and sift it all together.
Afterwards, it is time to cream your butter and brown sugar together. After beating them together, it is very important to scrape down the side of the bowl before adding the eggs. This will make sure everything gets mixed together. It won't be as fluffy as butter and white sugar, so that is why I always scrape the bowl.
After adding the eggs, I add the bananas and the sour cream (make sure the sour cream is room temperature) and then add the dry ingredients slowly.
Then, the best part: the mini chocolate chips.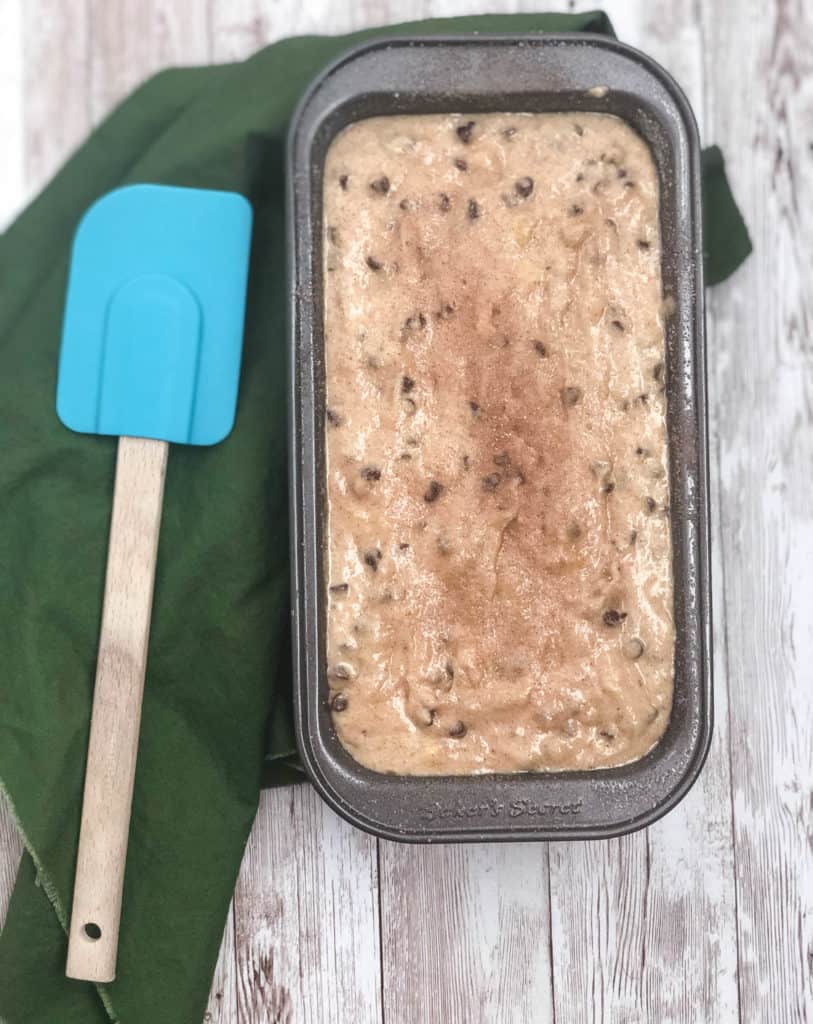 Once you add the batter to the loaf pan, sprinkle more cinnamon sugar on top. I also add a few extra chocolate chips. The top of the bread looks so good with the extra chocolate.
Other Recipes To Try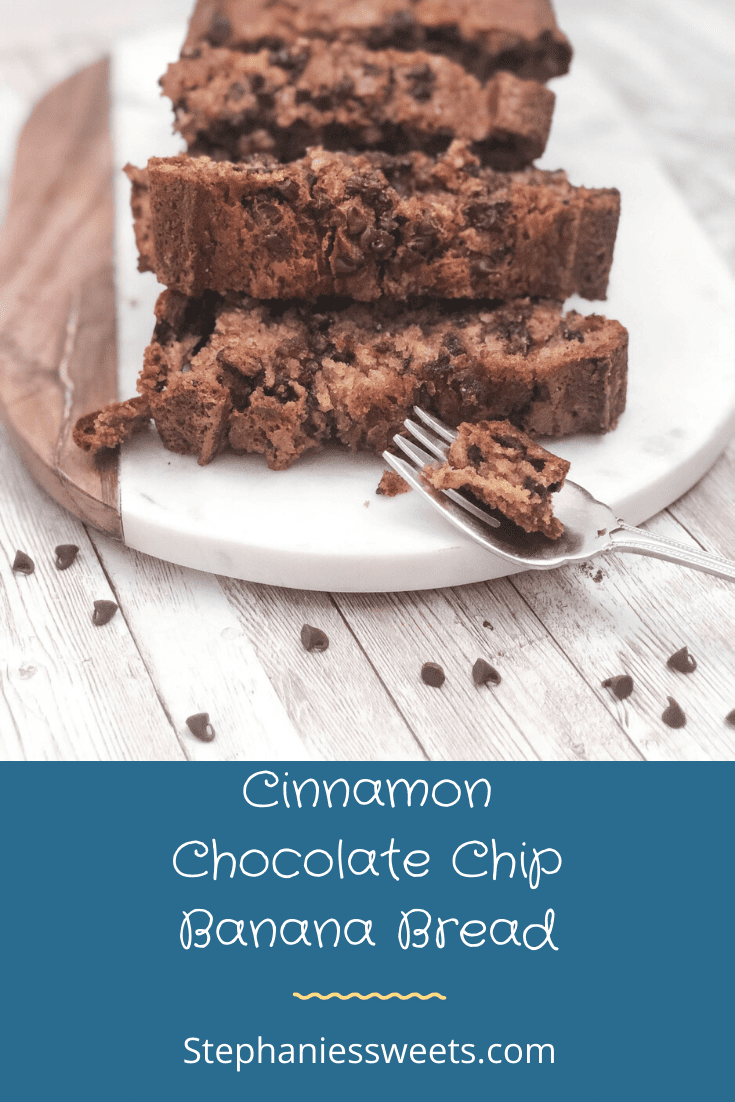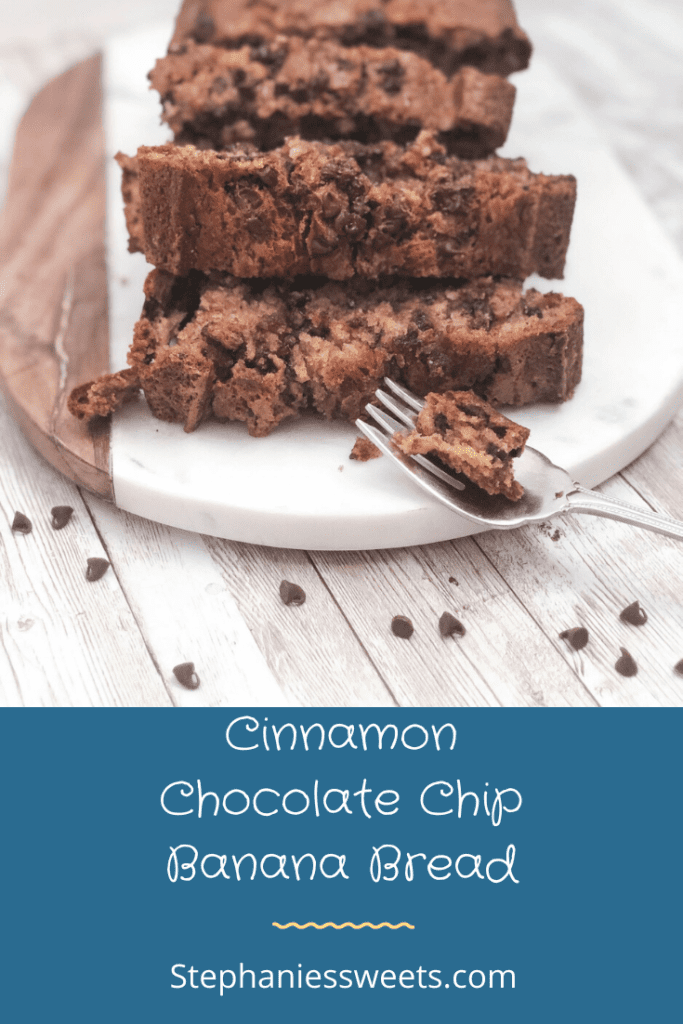 Make sure to tag me on Instagram @stephaniesweettreats and leave me review below if you made this chocolate chip banana bread. I hope you loved it! To get more ideas follow me on Pinterest.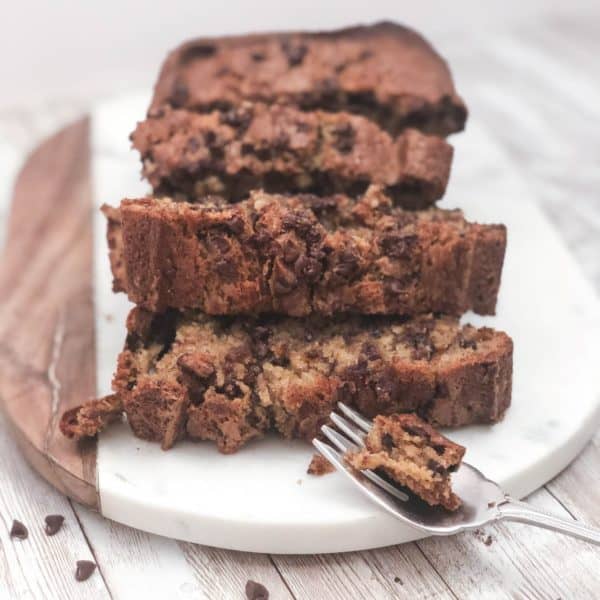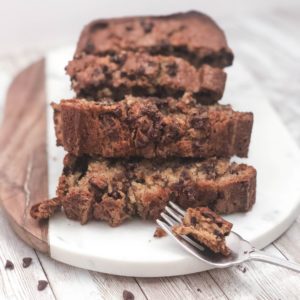 Cinnamon Chocolate Chip Banana Bread
This cinnamon banana bread is so moist with added mini chocolate chips
Ingredients
½

cup

White granulated sugar

½

teaspoon

Ground cinnamon

2

cups

All-purpose flour

1

teaspoon

Baking soda

¼

teaspoon

Salt

1 ½

teaspoon

Ground cinnamon

½

cup

Butter

room temperature

¾

cup

Packed light or dark brown sugar

2

Eggs room temperature

¼

cup

Sour Cream

3-4

Mashed overripe bananas

¾

cup

Mini chocolate chips
Instructions
Preheat oven to 350. Spray a bread loaf pan with non-stick. Combine sugar and ground sugar and then coat bread loaf pan in cinnamon sugar.

In a medium sized bowl, sift together the flour, baking soda, salt, and cinnamon and set aside.

Using a mixer or a hand mixer on medium, cream together the butter and brown sugar until light in color. On low, add in eggs one at a time. Then add sour cream and mashed bananas.

Slowly add in dry ingredients to wet until combined on low. Don't over mix. Add in mini chocolate chips

Pour mixture into pan. Add a few extra mini chocolate chips and sprinkle cinnamon sugar on top. Bake for 50-55 minutes. It is done when a toothpick inserted comes out clean. Let rest in the pan for 5 minutes and then put on a cooling rack.
Nutrition