These chocolate cookie cinnamon rolls are the fluffiest cinnamon rolls! They have a chocolate cinnamon filling. They are stuffed with chocolate chip cookies! Then, they have a chocolate glaze. These are the most perfect rolls!
This post is sponsored by Tate's Bake Shop and all thoughts and opinions are my own. Thank you for supporting the brands that make Stephanie's Sweet Treats possible!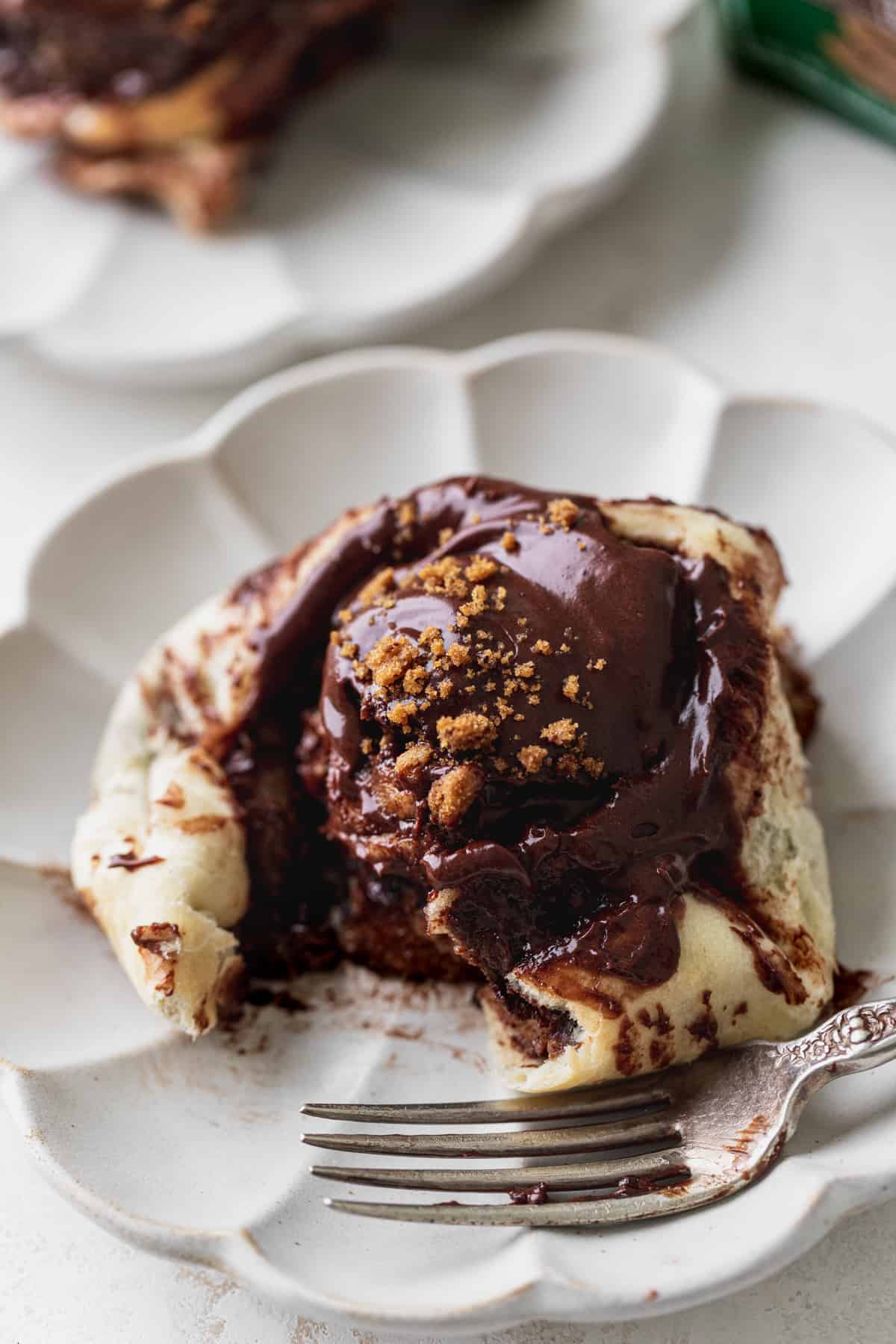 These chocolate cookie cinnamon rolls are best described as chocolate pillows. The dough itself is incredibly soft and they are loaded with chocolate!
The best part is it has Tate's Bake Shop Chocolate Chip Cookies crumbled in the filling! It gives these rolls a wonderful crunch.
If you are looking for more chocolate recipes, try chocolate cookie brownie cake, butterscotch chocolate chip cookies, and chocolate fudge cupcakes.
Jump to:
Why You Will Love This
Easy to make dough- This dough can be made with a mixer or by hand. It is super easy to make!
Chocolate filled cinnamon rolls- The filling is brown sugar, cinnamon, melted butter, and cocoa powder. The extra melted butter makes these rolls soft too!
Cookie stuffed- The middle is full of crumbled chocolate chip cookies.
Chocolate glaze- This glaze is a simple chocolate glaze and it goes perfectly with these rolls.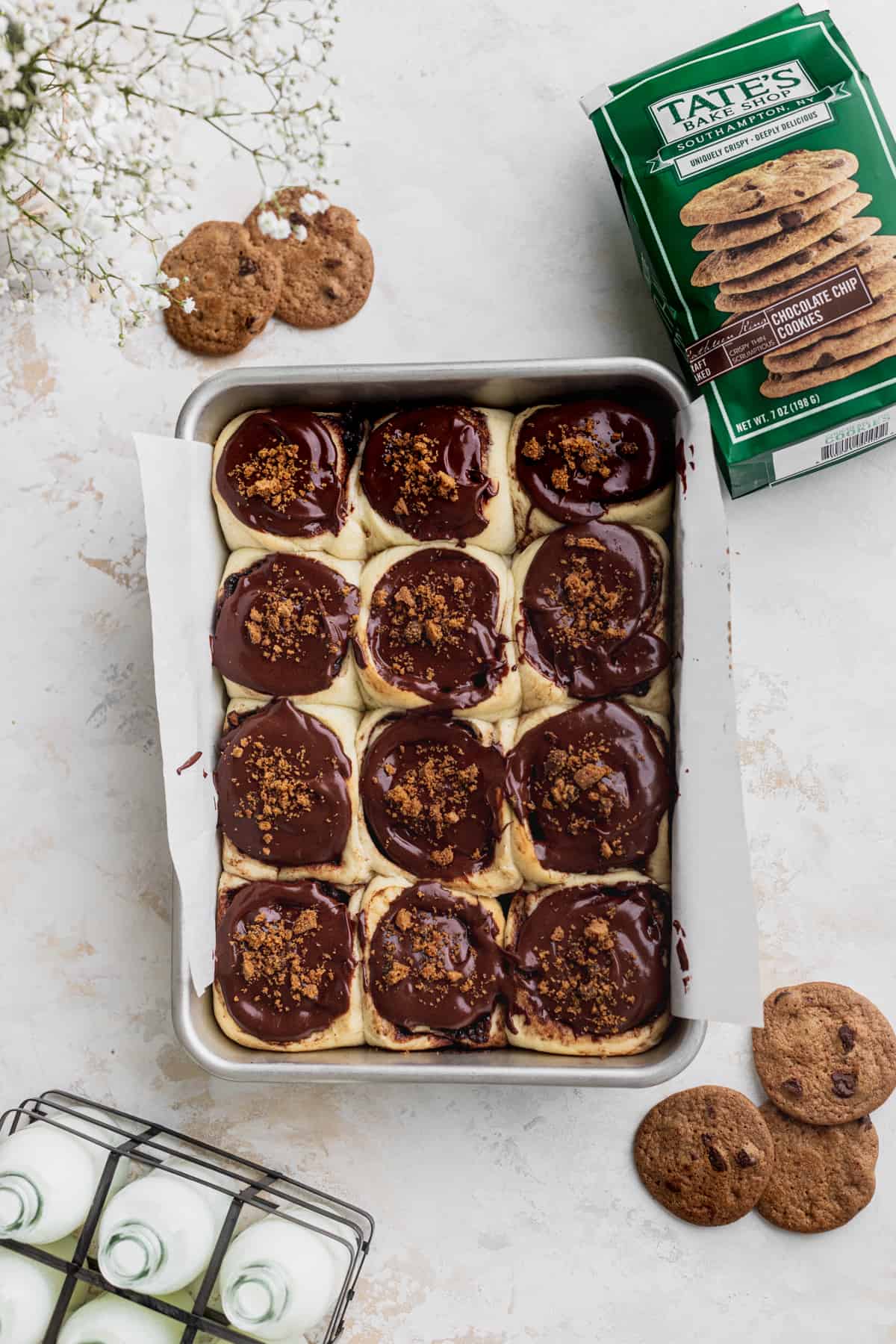 Ingredients
Here are some notes about the ingredients used.
Room temperature dairy ingredients- Pull these out 2 hours before baking.
Warm water- The water is warmed to 110F. If it is too cold or too hot, it will kill/slow down the yeast.
Yeast- Use fast rise yeast. Active dry yeast works too.
Cocoa powder- This is the one I used.
Tate's Bake Shop chocolate chip cookies- I love their chocolate chip cookies. They are thin and crispy. Which makes them perfect for the filling!
The Best Chocolate Chip Cookies
One of the benefits of using Tate's cookies is they are already made. This cuts down the time to make this recipe a lot since you don't need to bake an entire batch first. Also, they are high quality.
These cookies are thin, crispy, and super buttery. Since are they are thin, they make the perfect filling for these rolls.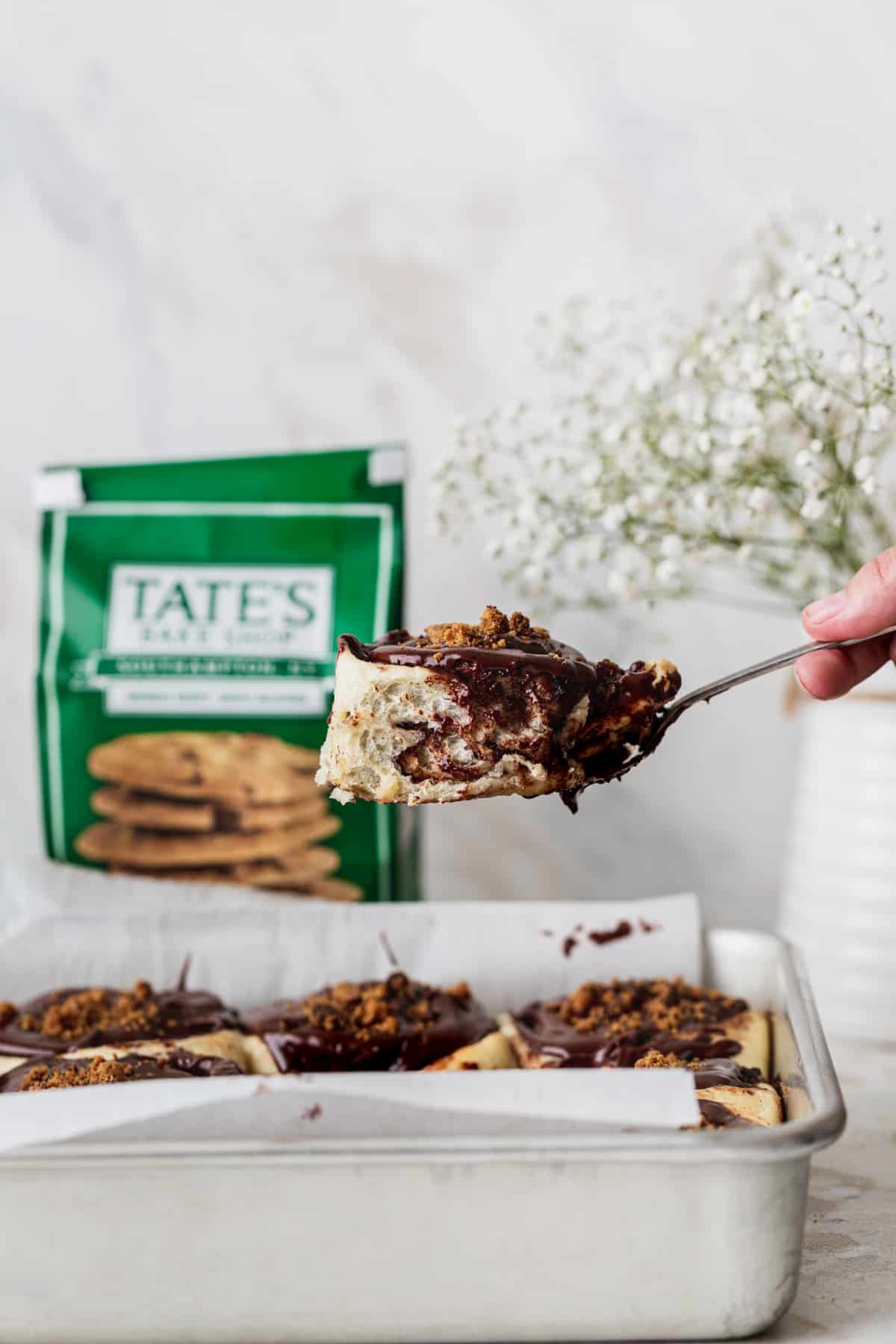 Step By Step Instructions
Here are the steps to make, fill, and bake these cinnamon rolls. For made by hand instructions, see the notes in the recipe.
STEP 1: First, mix the dry ingredients together. Next, mix the flour, sugar, and salt. Then, mix the warm water and yeast together. Let it sit for 10 minutes until foamy.
STEP 2: Cut in the butter. Then, use a pastry blender to cut the butter into the dry ingredients.
STEP 3: Add in the wet ingredients. Now, use a stand mixer with a dough hook to knead for 5 minutes.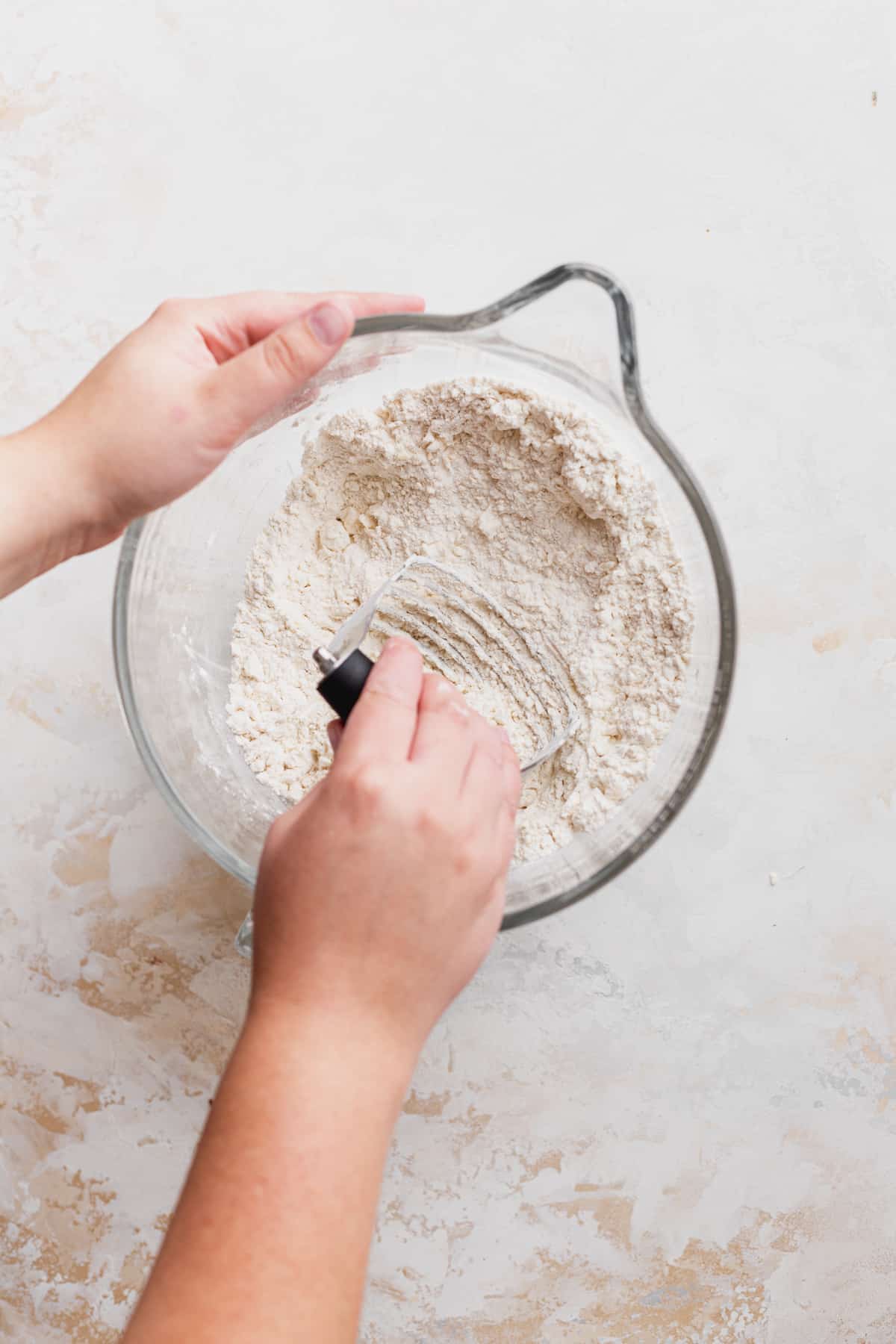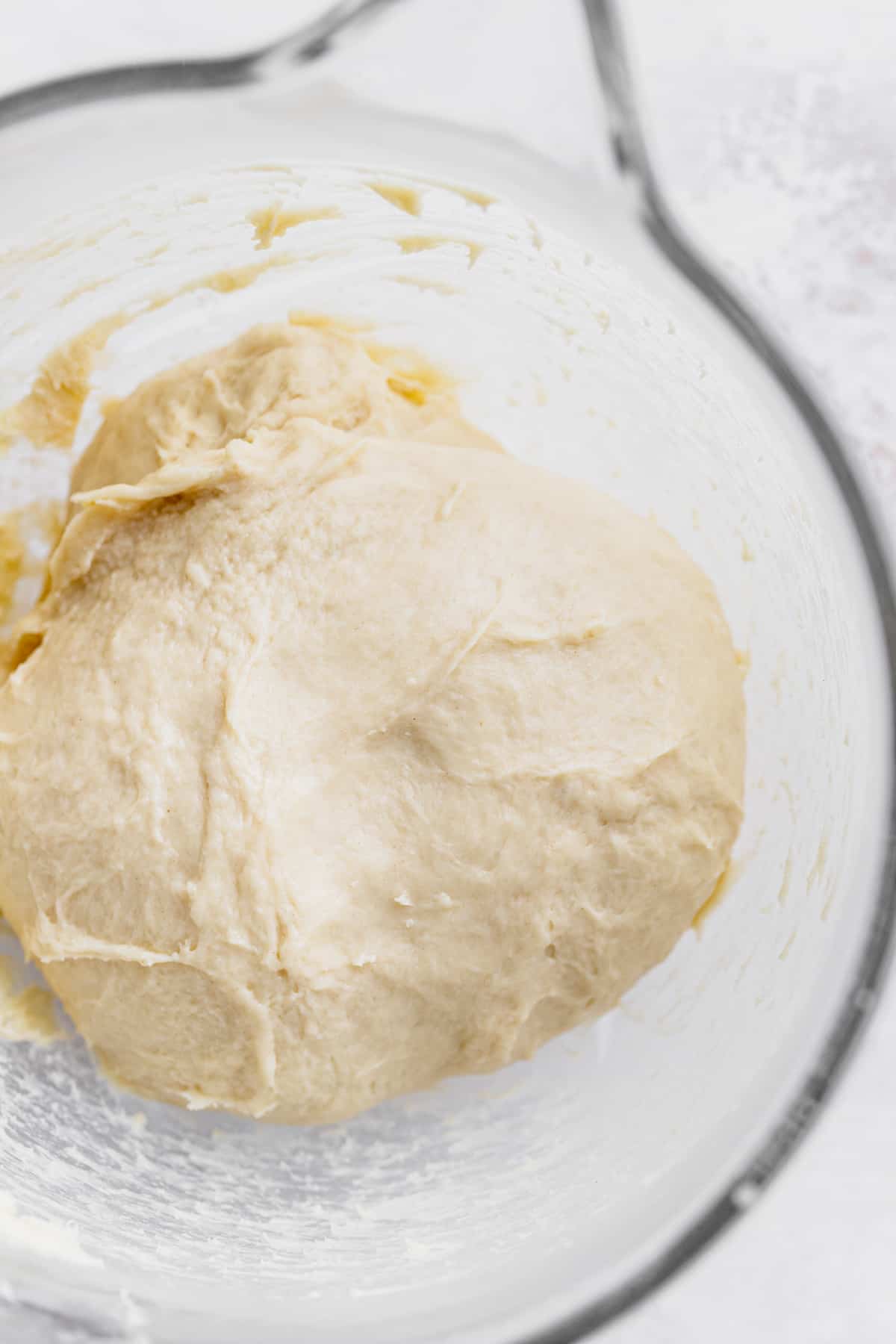 STEP 4: Let dough rise for 1 hour. Once it is doubled in size, roll the dough into a rectangle about ¼th inch thickness.
STEP 5: Mix the filling together. Then spread the chocolate filling over the dough. After that, top with the crumbled cookies.
STEP 6: Roll tightly into a log. Start with the short side and roll tightly. Then, cut off the ends and cut into 12 rolls.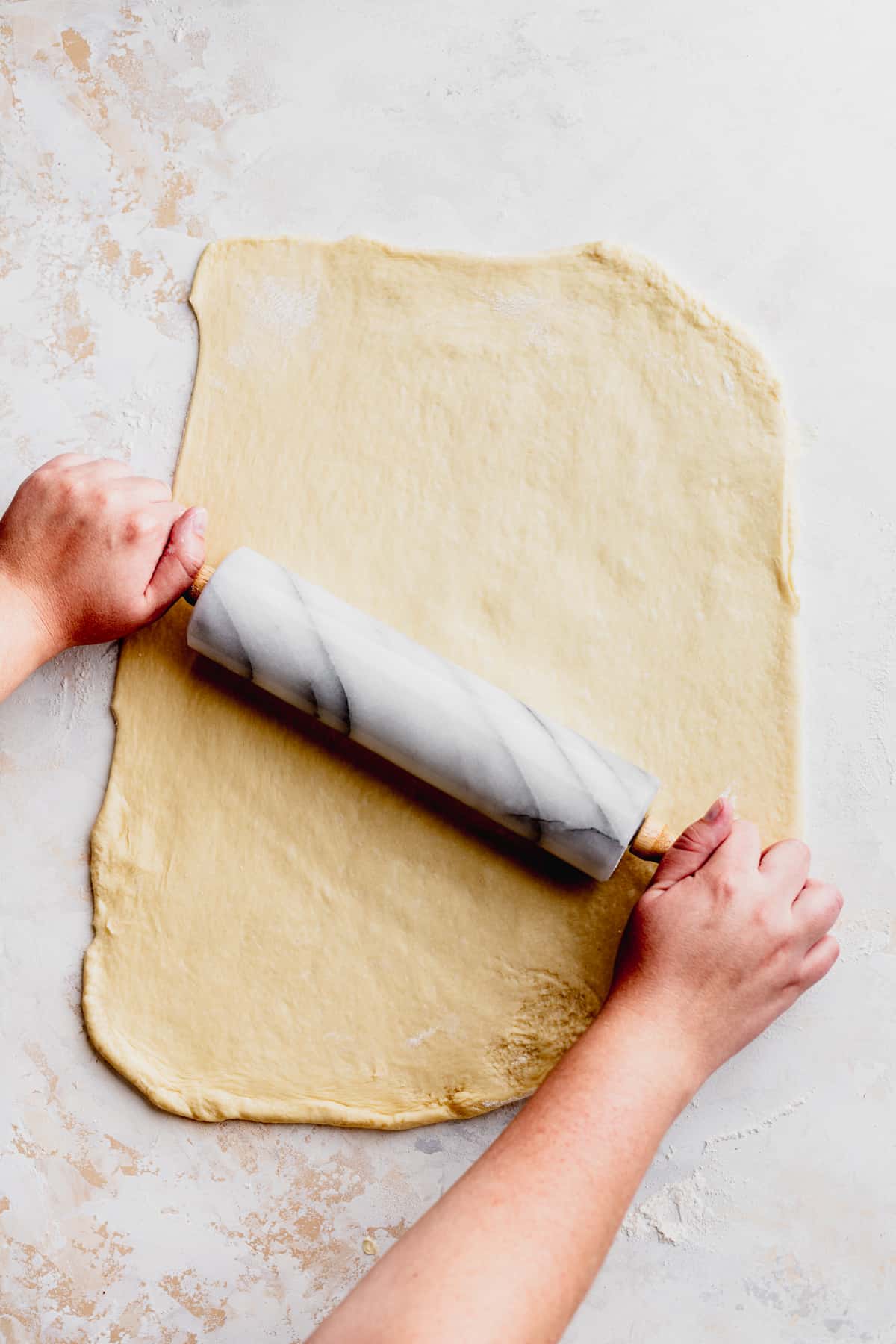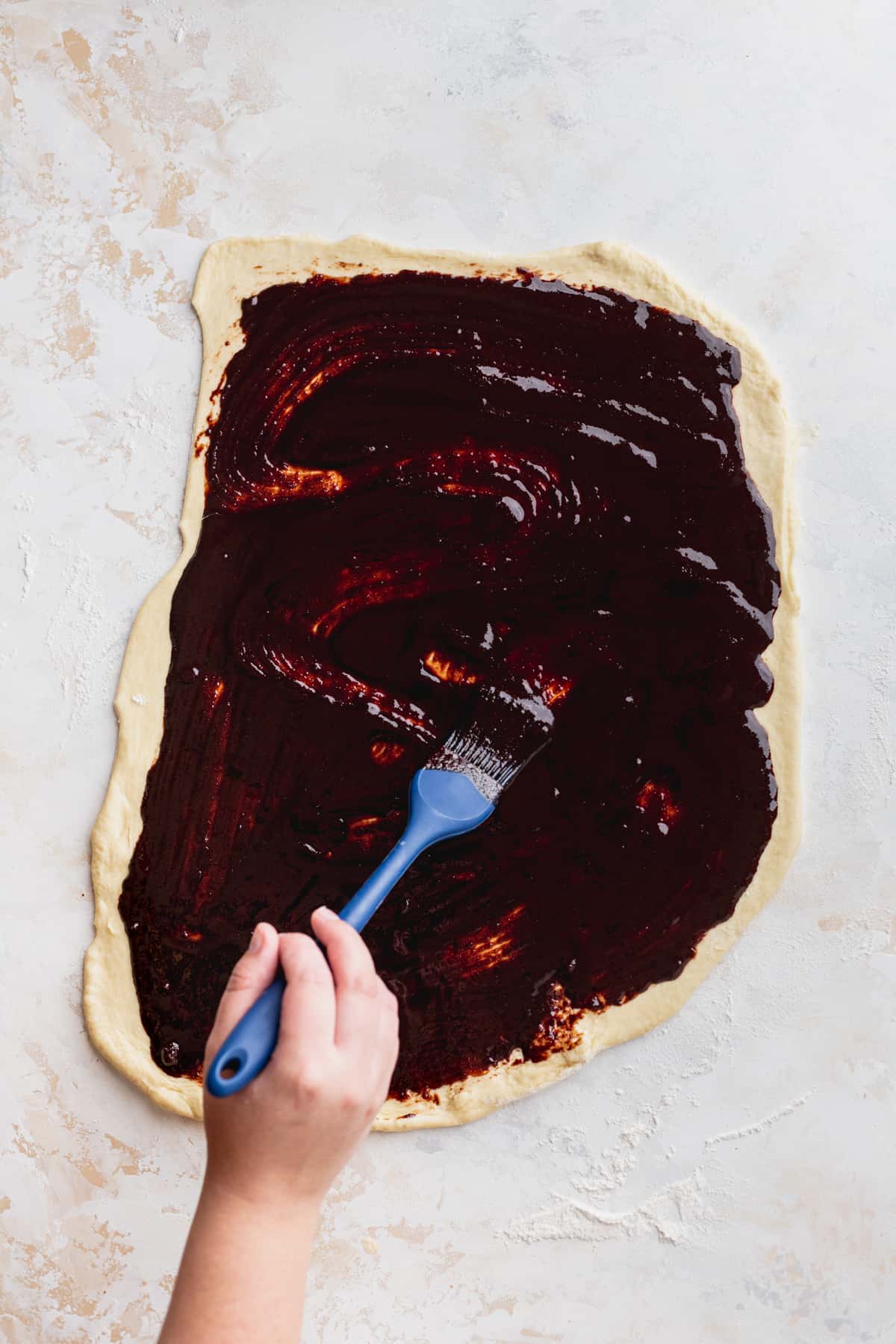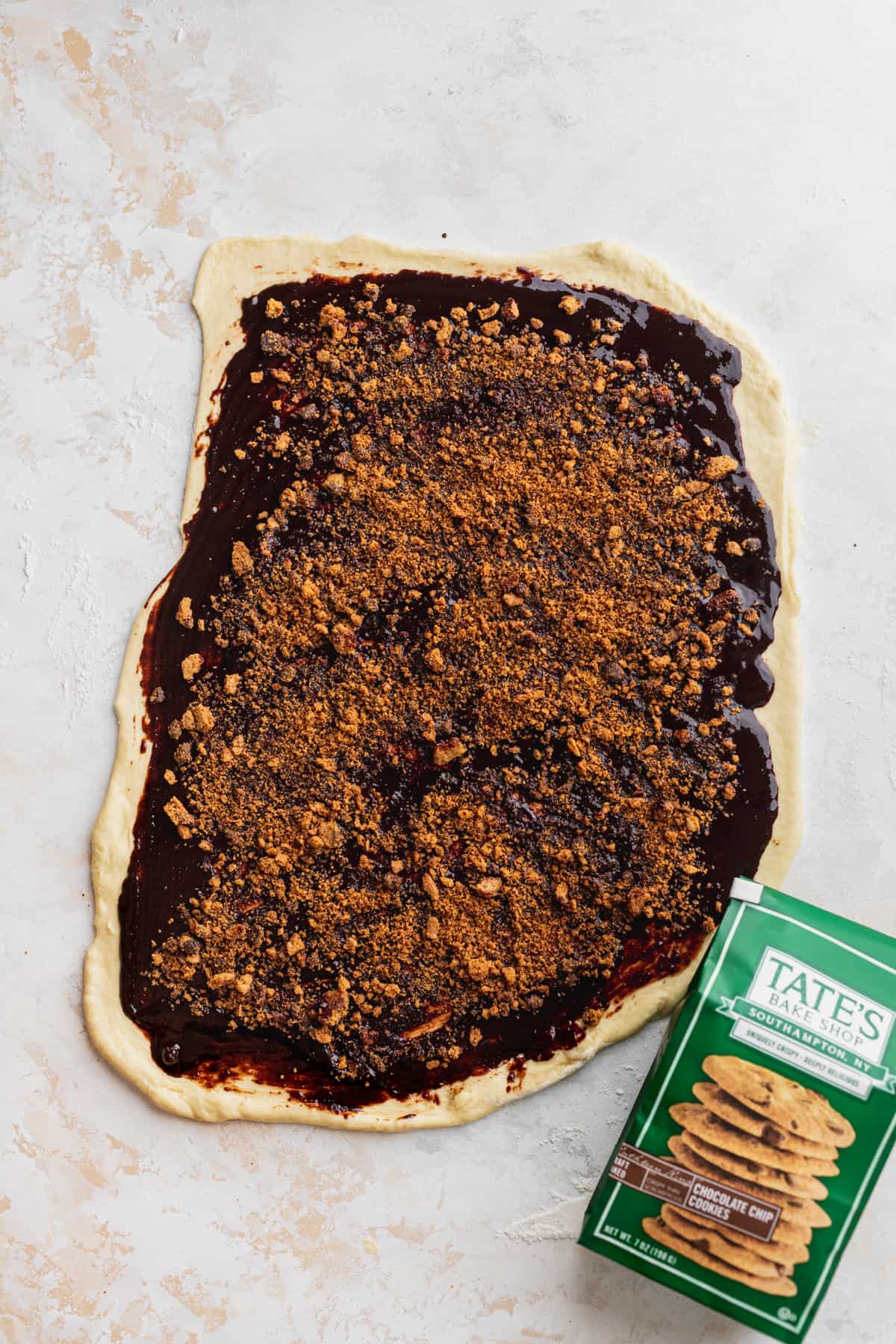 STEP 7: Place the rolls in a 9X13 pan. Now, let them rise for 35 minutes. Then, bake for 25-30 minutes.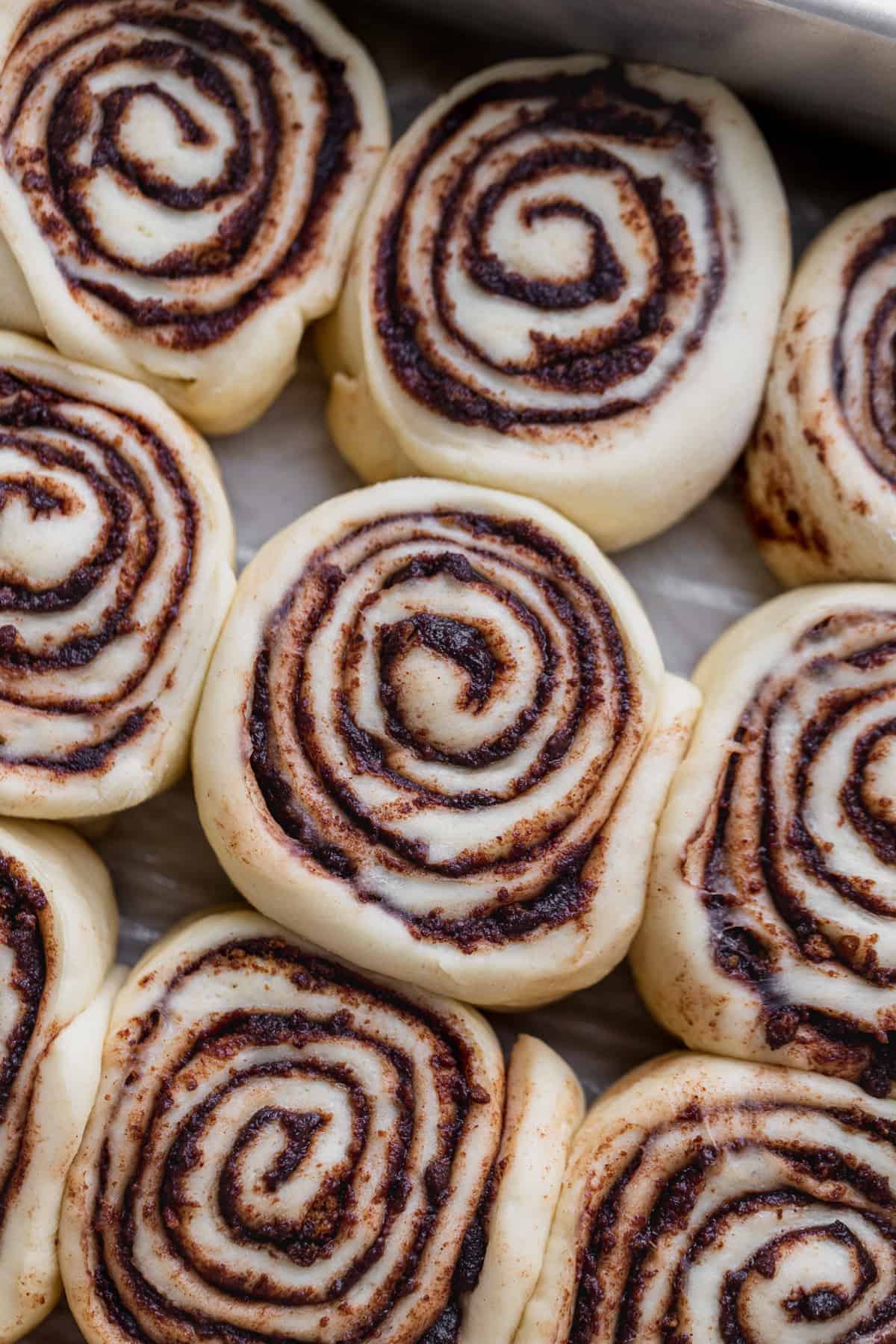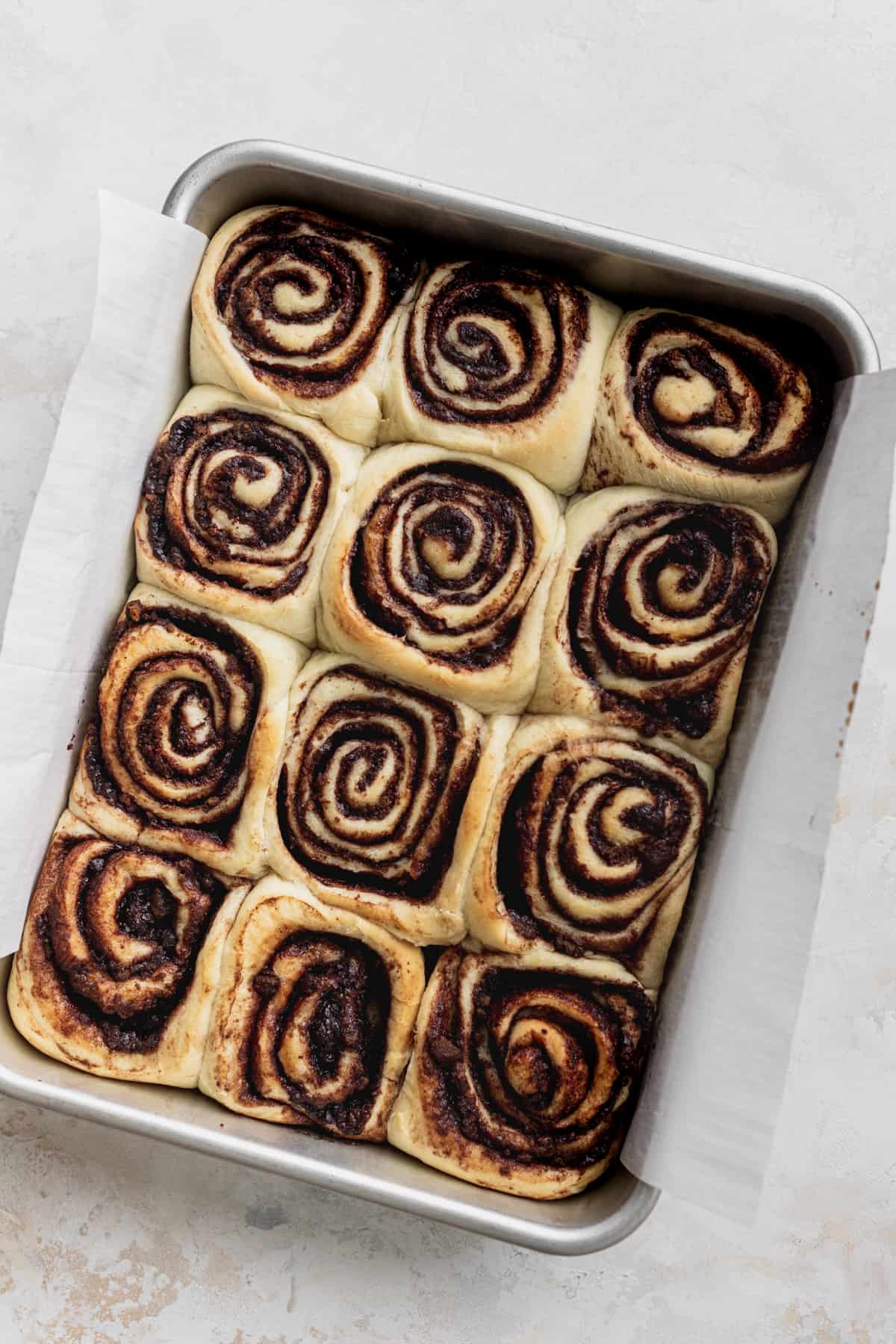 STEP 8: Make the glaze. It should be a thin pourable consistency. If it is too thick, add more heavy cream. Next, pour it over the rolls and top with crumbled cookies.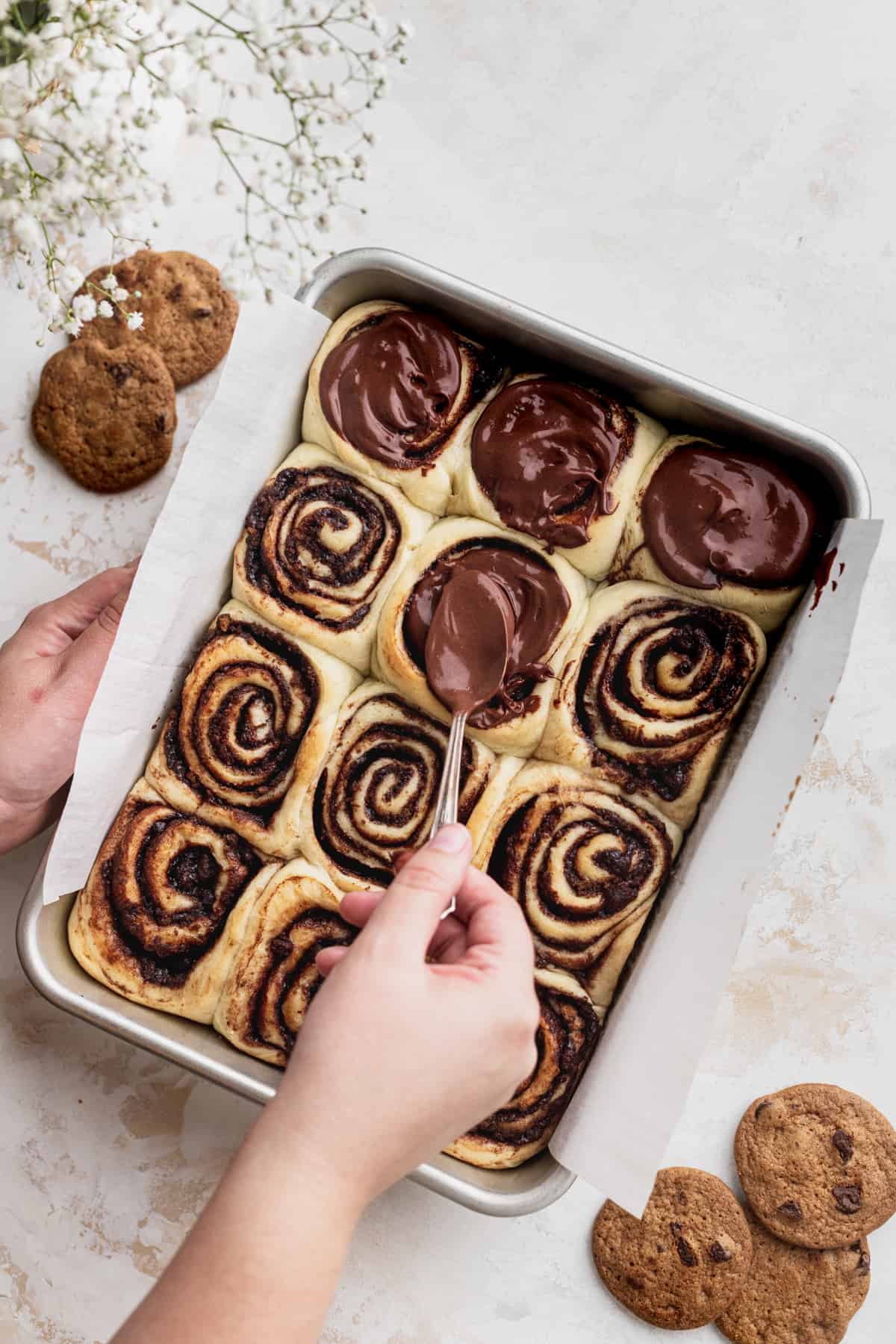 Baking Tips
When you are making the dough, it will be done kneading once it is super soft and slightly tacky. If it is too sticky, add 1-2 tablespoon more flour. It should be a little sticky.
You can let the dough rise in a slightly warm place, or in the oven.
When you are rolling your dough into a log, start by folding in the ends. Then, go slowly and roll very tightly. It needs to be tight swirls.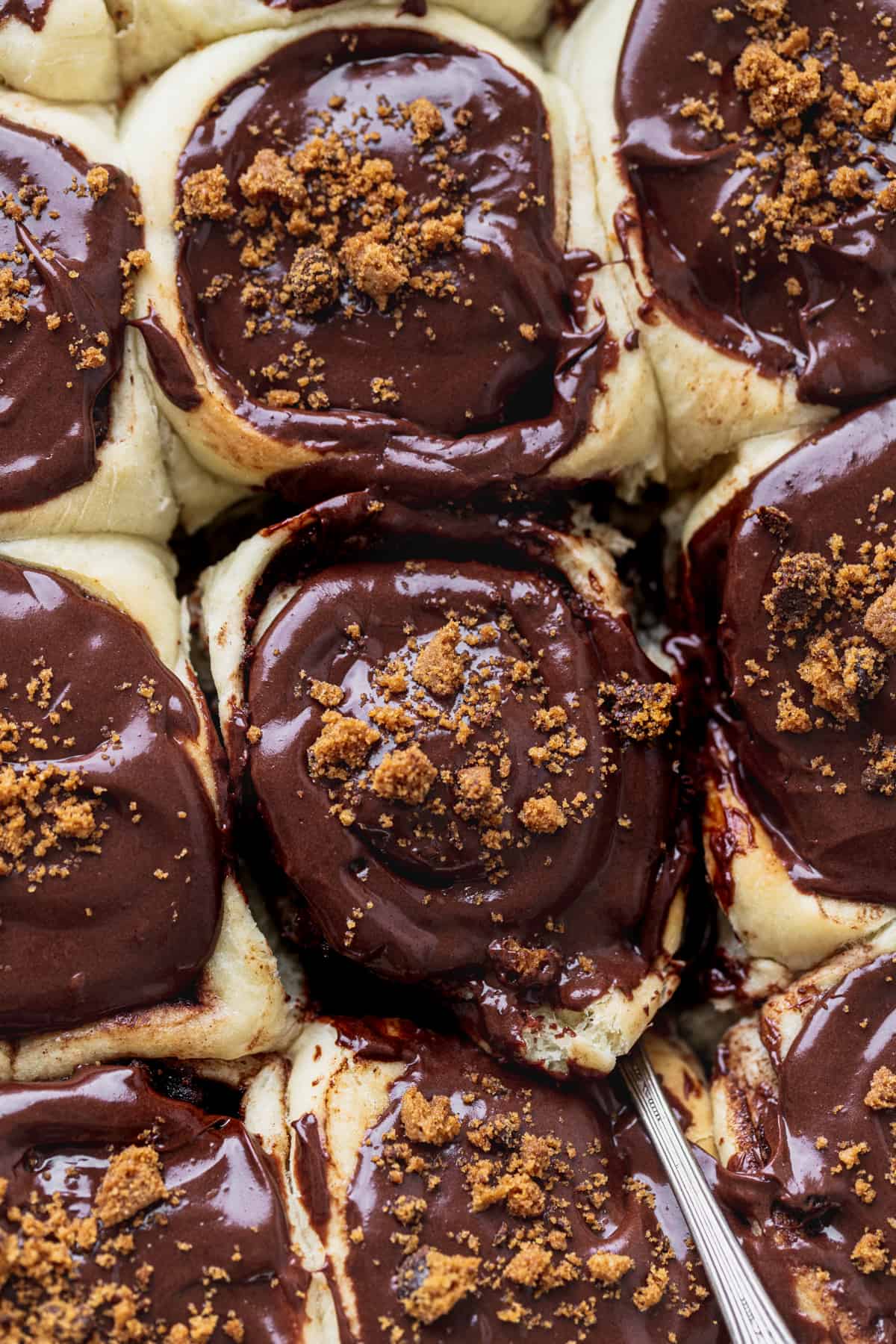 Substitutions
Organic cane sugar- You can use a less processed sugar for this recipe.
Gluten free cookies- Tate's Bake Shop has gluten free chocolate chip cookies!
Milk- You can use regular milk for the glaze, just use less.
FAQ
Can the dough be made overnight?
Yes it can. Place the dough for the 1st rise covered in the fridge. After that, let it thaw for 20 minutes before rolling and filling. Next, let it rise until completely room temperature.
Why are my cinnamon rolls not fluffy?
The main culprit is too much flour. The flour needs to be spooned and measured or weighed on a kitchen scale. Compacted flour can dry out this dough.
Does the filling have to have cocoa powder?
You can leave the cocoa powder out of the filling or glaze if you want.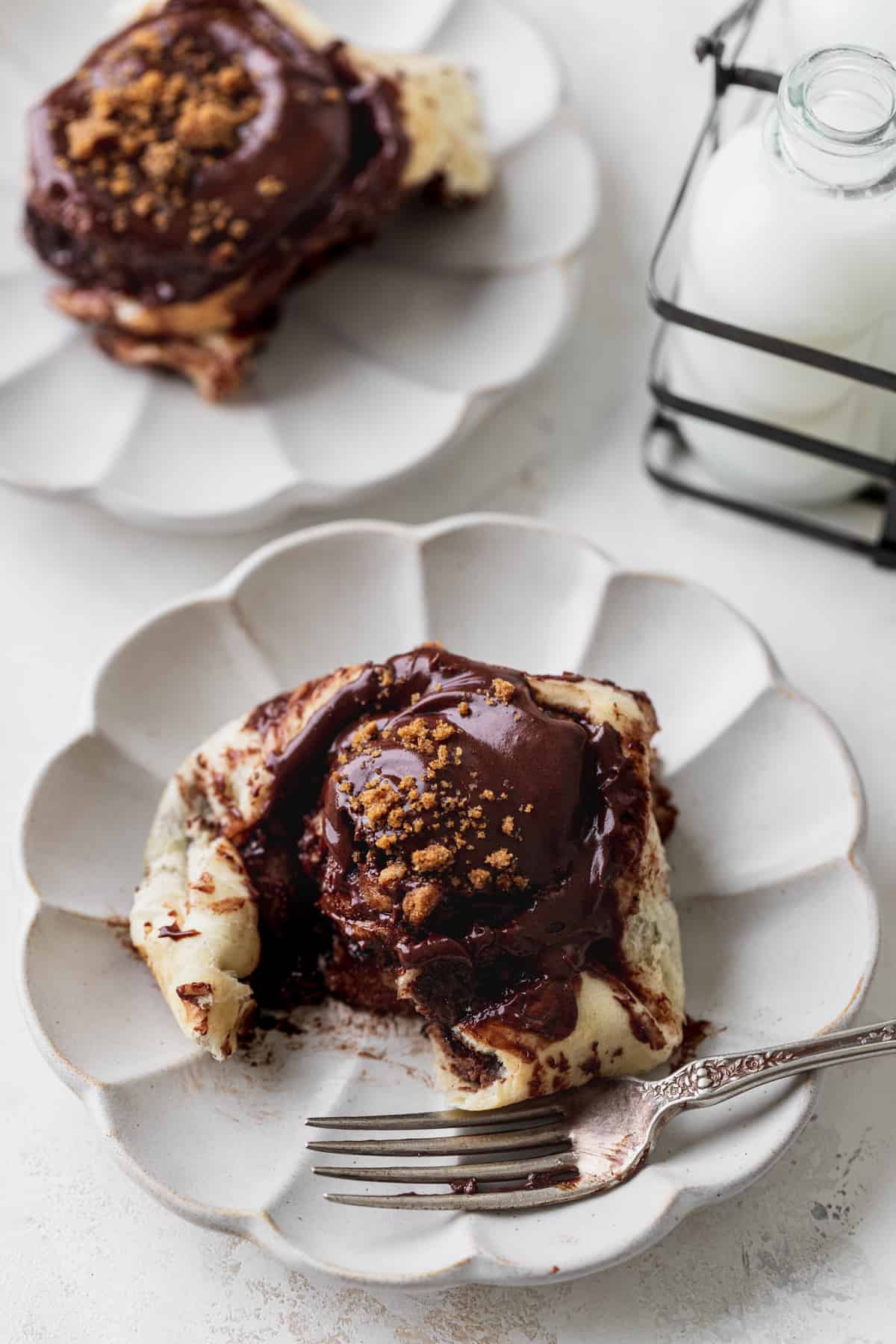 Storing
Store these rolls in an airtight container up to 5 days at room temperature. The chocolate cookie cinnamon rolls are best when warmed.
Other Cinnamon Roll Recipes To Try
Make sure to leave me a star review below!
Make sure to tag me on Instagram @stephaniesweettreats. I hope you loved it! To get more ideas follow me on Pinterest.
📖 Recipe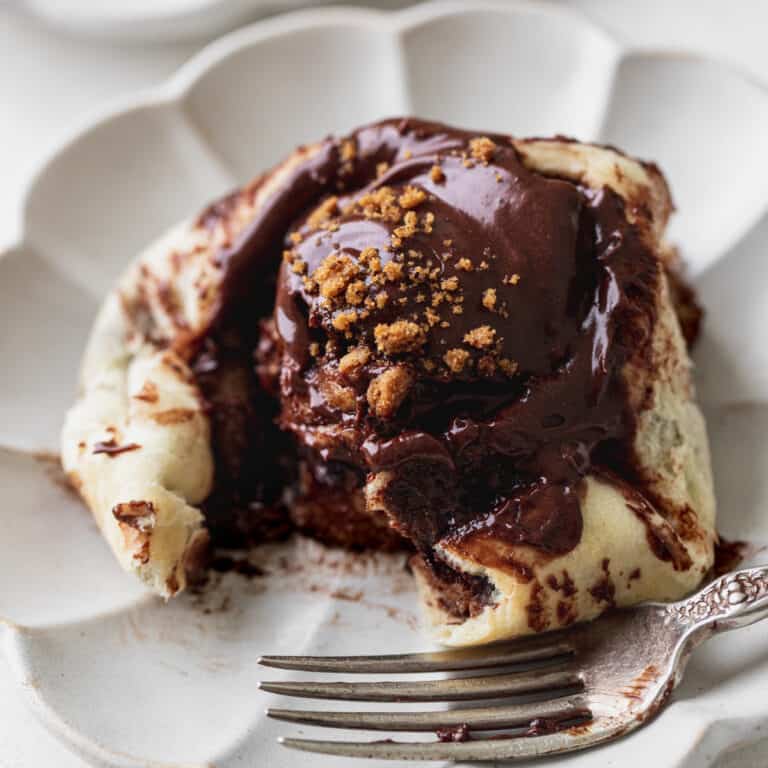 Chocolate Cookie Cinnamon Rolls
These chocolate cookie cinnamon rolls are a fluffy dough filled with a chocolate cinnamon mixture. They have Tate's Bake Shop chocolate chip cookies crumbled in the filling. They are topped with a chocolate glaze.
Ingredients
Dough
1

cup

Warm water

warmed to 100-110F

2 ¼

teaspoon

Fast rise yeast

whole packet

2

Large eggs

room temperature

4

cups

All-purpose flour

1

teaspoon

Salt

2 ½

tablespoon

White granulated sugar

10

tablespoon

Unsalted butter

room temperature
Instructions
Dough
Pour warm water into a bowl. Pour in the yeast. Let it sit for 10 minutes. In a small bowl, beat the eggs slightly. Set aside.

2 ¼ teaspoon Fast rise yeast,

2 Large eggs

In a large mixing bowl, mix the flour, sugar and salt. Next, cut the butter into chunks and add to the bowl. Then, use a pastry cutter or your hands to mix the butter into the flour. Mix until the butter is pea sized.

4 cups All-purpose flour,

1 teaspoon Salt,

2 ½ tablespoon White granulated sugar,

10 tablespoon Unsalted butter

Pour in the water/yeast and the eggs. Place on the stand mixer with a dough hook. Mix on low until a dough forms. Next, switch to medium and knead for 5 minutes. Instructions to knead by hand in the notes. The dough will be soft and slightly tacky.

Preheat the oven to 200°F. Spray a large mixing bowl with non-stick spray. Place dough ball into the bowl. Next, cover with a kitchen towel. Place in the oven. Turn off the oven and crack open the door. Let it rise for 1 hour.

Then, place dough on a lightly floured surface. Use your hands to press the dough into a rectangle. Use a rolling pin and roll the dough into ¼ inch thickness.
Filling
Mix melted butter, brown sugar, cocoa powder, and cinnamon. Spread paste over the dough. Next, top with crumbled chocolate chip cookies. Roll the dough tightly. Start with the short side.

½ cup Unsalted butter,

¾ cup Brown sugar,

2 tablespoon Unsweetened cocoa powder,

1 tablespoon Ground cinnamon,

1 cup Tate's Bake Shop chocolate chip cookies

Cut the uneven ends off. Then, cut the dough into 12 rolls. Use a measuring tape for equal rolls.

Spray a 9X13 baking pan with baking non-stick spray. Line the bottoms and 2 side of the pan with parchment paper. Spray again.

Next, form each roll into a circle. Place into the pan in rows of 3. Cover and let rise for 35 minutes.

Preheat oven to 350°F. Bake rolls for 25-28 minutes. The tops should be lightly golden brown. Next, let cool for 10 minutes before adding the glaze.
Chocolate Glaze
Mix the sifted powdered sugar and cocoa power. Add in the heavy cream. Mix until a pourable glaze forms. Spoon glaze over cinnamon rolls. Decorate with crumbled cookies.

1 cup Powdered sugar,

¼ cup Unsweetened cocoa powder,

¾ cup Heavy cream,

Tate's Bake Shop chocolate chip cookies
Notes
Knead by hand:
Follow the instructions until you add the wet ingredients into the dry. Use a rubber spatula to fold the dough until a shaggy dough forms.
Place dough on floured surface. Knead by hand for 10 minutes. Then, place the dough in a large mixing bowl sprayed with a non-stick spray. Rise for 1 hour. Next, follow instructions to roll and fill the dough.
Nutrition
Calories:
386
kcal
Carbohydrates:
60
g
Protein:
5
g
Fat:
19
g
Saturated Fat:
12
g
Polyunsaturated Fat:
1
g
Monounsaturated Fat:
5
g
Trans Fat:
1
g
Cholesterol:
51
mg
Sodium:
203
mg
Potassium:
114
mg
Fiber:
2
g
Sugar:
16
g
Vitamin A:
585
IU
Vitamin C:
1
mg
Calcium:
35
mg
Iron:
2
mg