These cinnamon sugar doughnuts are a homemade fried donut covered in melted butter and crunchy cinnamon sugar. These doughnuts are incredibly fluffy and are easily fried. If you want a high quality doughnut at home, you have to try these!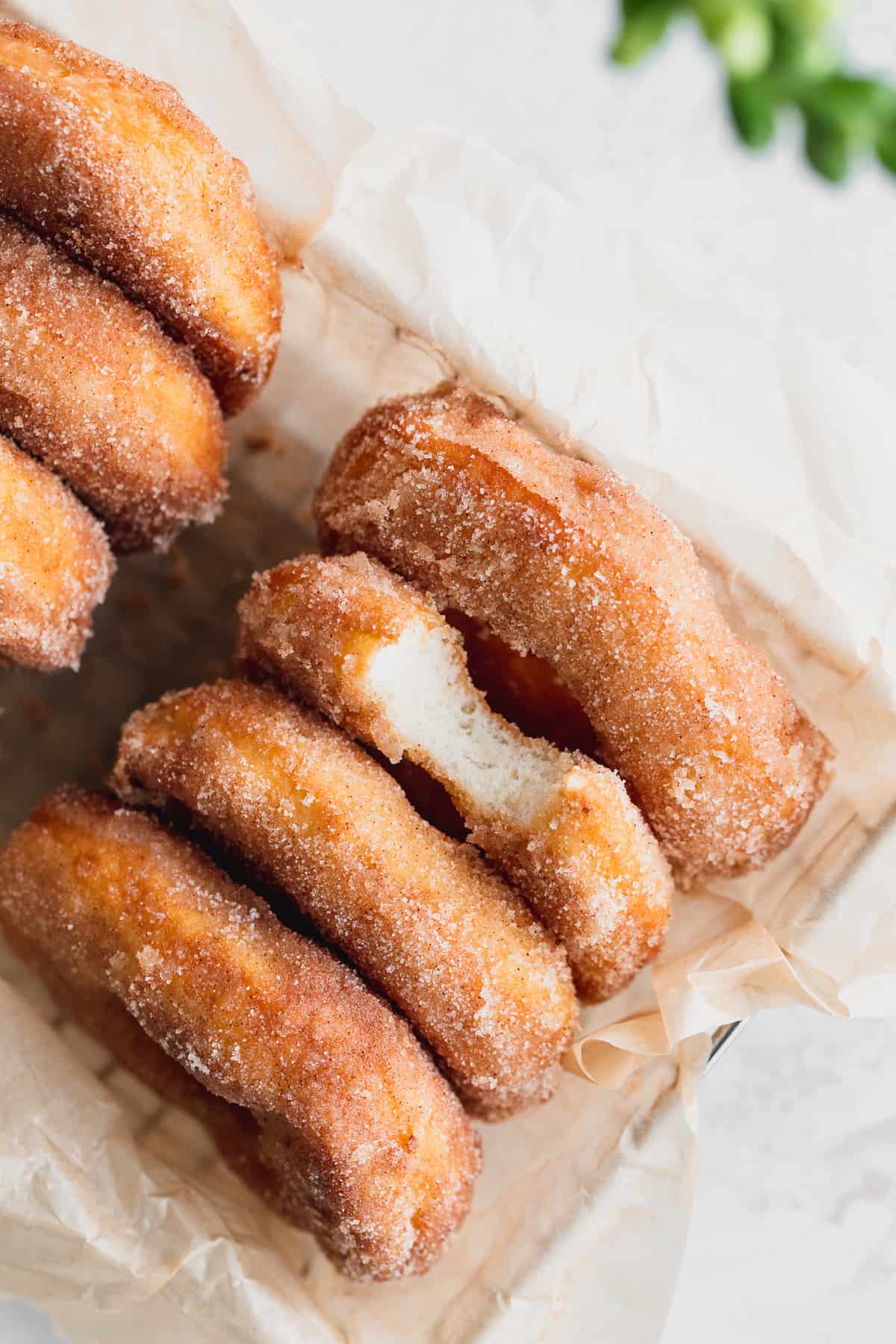 These cinnamon sugar donuts are a homemade fried donut. My favorite kind of donut is a fried donut from a donut shop. These taste just like that!
The best part is the inside is super fluffy dough and it is rolled in cinnamon sugar.
If you are looking for more donut recipes, try Apple Cider Donut Cake, Pumpkin Donuts with Maple Glaze, and Birthday Cake Donuts.
Jump to:
Why This Recipe Works
Fried doughnuts- These donuts are fried at home. All this require is a large pot and oil. It is a lot easier to do it that it seems!
Fluffy dough- The inside of these donuts are incredibly soft and fluffy. It melts in your mouth!
Cinnamon sugar- The outside of the donuts are rolled in melted butter and cinnamon sugar.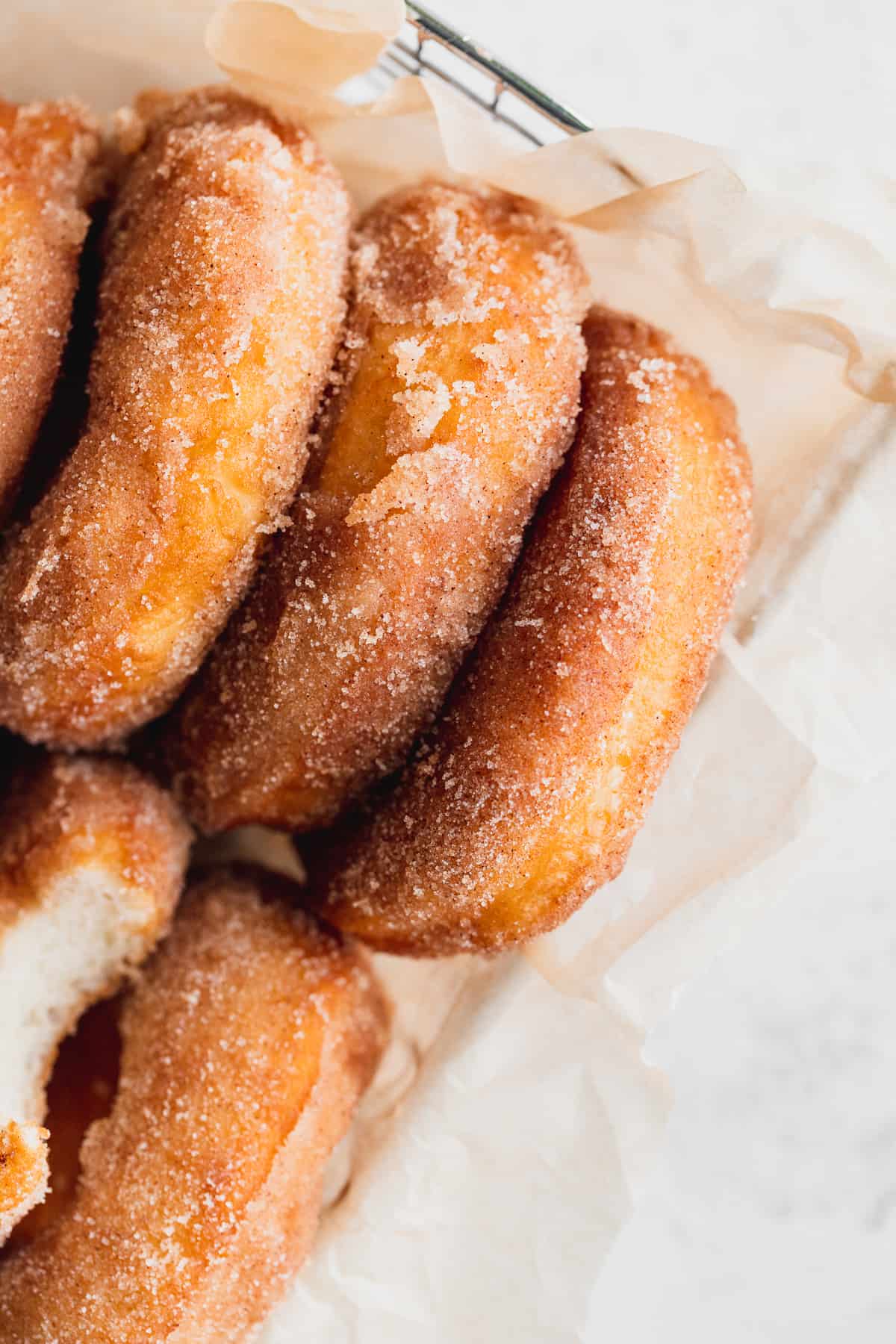 Ingredient Notes
Here are some notes on the ingredients. For a full list of ingredients, check out the recipe card below.
Yeast- You can use fast rise yeast or active dry yeast for this recipe.
Unsalted butter- The butter needs to be melted and cooled. If it is too hot it will slow or kill the yeast.
Milk- You can use any milk you choose. The milk needs to be warmed to 110F. It needs to be warmed when mixed with the yeast. Just like the butter, if it is too warm it can kill the yeast. If it is too cold, the yeast won't activate.
Large egg- The egg needs to be beaten before adding in. The egg also needs to be room temperature before using.
Oil- Use canola oil or vegetable oil to fry the doughnuts. Don't fry these in olive oil, coconut oil, or sunflower oil.
Step By Step Instructions- Dough
Here is how to make and fry the dough. These instructions are for a stand mixer with a dough hook. For making this by hand, see below.
STEP 1: Heat butter and milk. Before starting the dough, melt the butter first. This will allow it to cool down.
Then, heat the milk in the microwave until warmed to 110F
STEP 2: Mix yeast and milk. Pour the yeast into the milk and let it sit for 10 minutes. The yeast will bubble and foam. This will be your key to know when it is ready!
STEP 3: Mix ingredients. Add all of the dry ingredients: all-purpose flour, sugar, and salt. Then, pour the yeast mixture, melted butter, vanilla extract and egg.
STEP 4: Knead the dough. Mix the dough on low speed until a dough starts to form. Then, switch to medium speed and knead for 5 minutes.
STEP 5: Rise the dough. Next, let the dough rise for 1 hour in a warm place. It will grow until doubled in size. Spray a large mixing bowl with nonstick cooking spray.
STEP 6: Roll out the dough. Roll the dough out on a lightly floured surface and roll until ½ inch thick.
Use a doughnut cutter to cut the dough. Or a large and small circle biscuit cutter or cookie cutter. You can roll out the dough one extra time to cut out more doughnuts. Or you can save the scrape and roll to make doughnut holes.
Place the doughnuts on small squares of parchment paper. Each doughnut should get it's own parchment paper.
STEP 7: Rise again. Cover the doughnuts and let them rise for another 30 minutes. Heat the oil to 350F while you wait.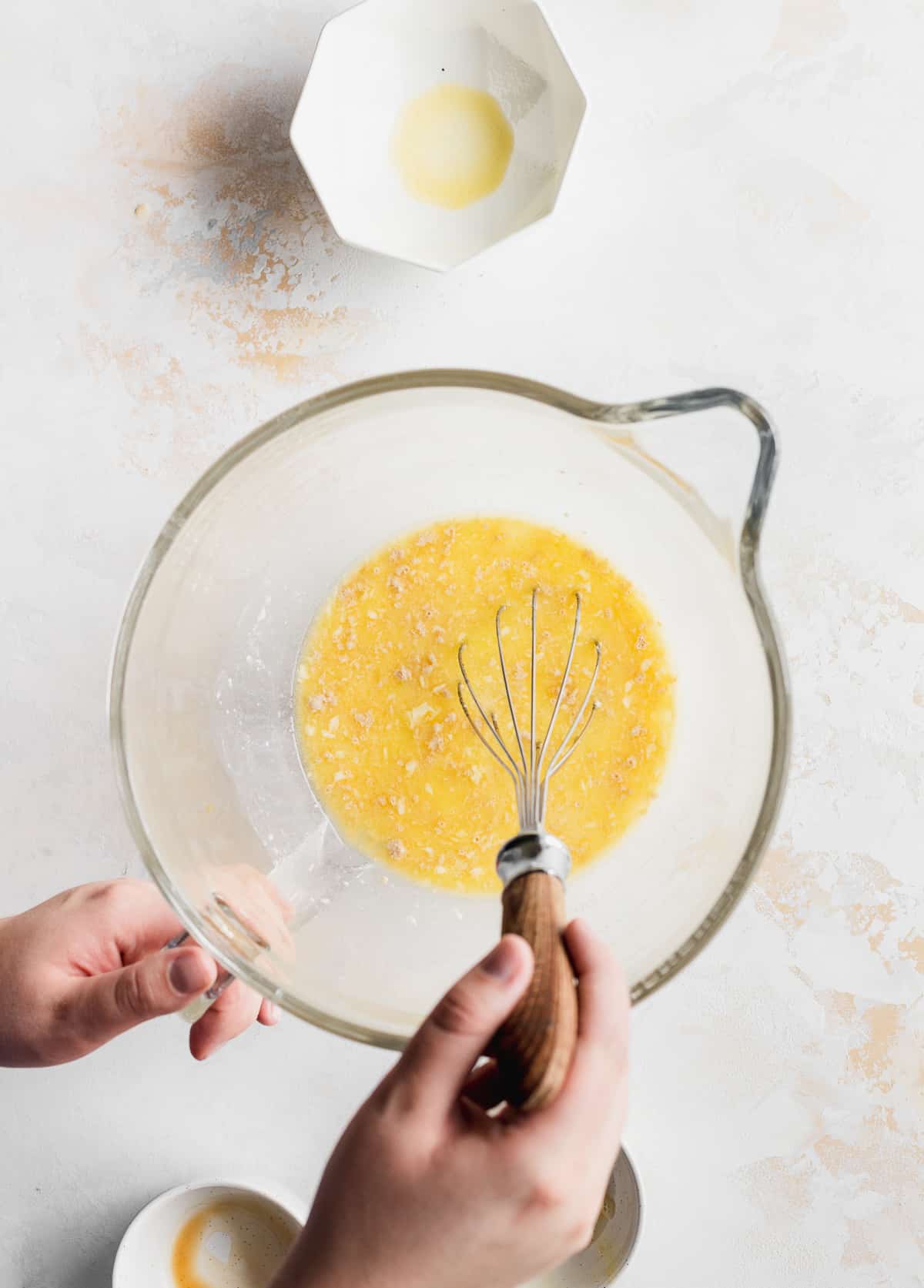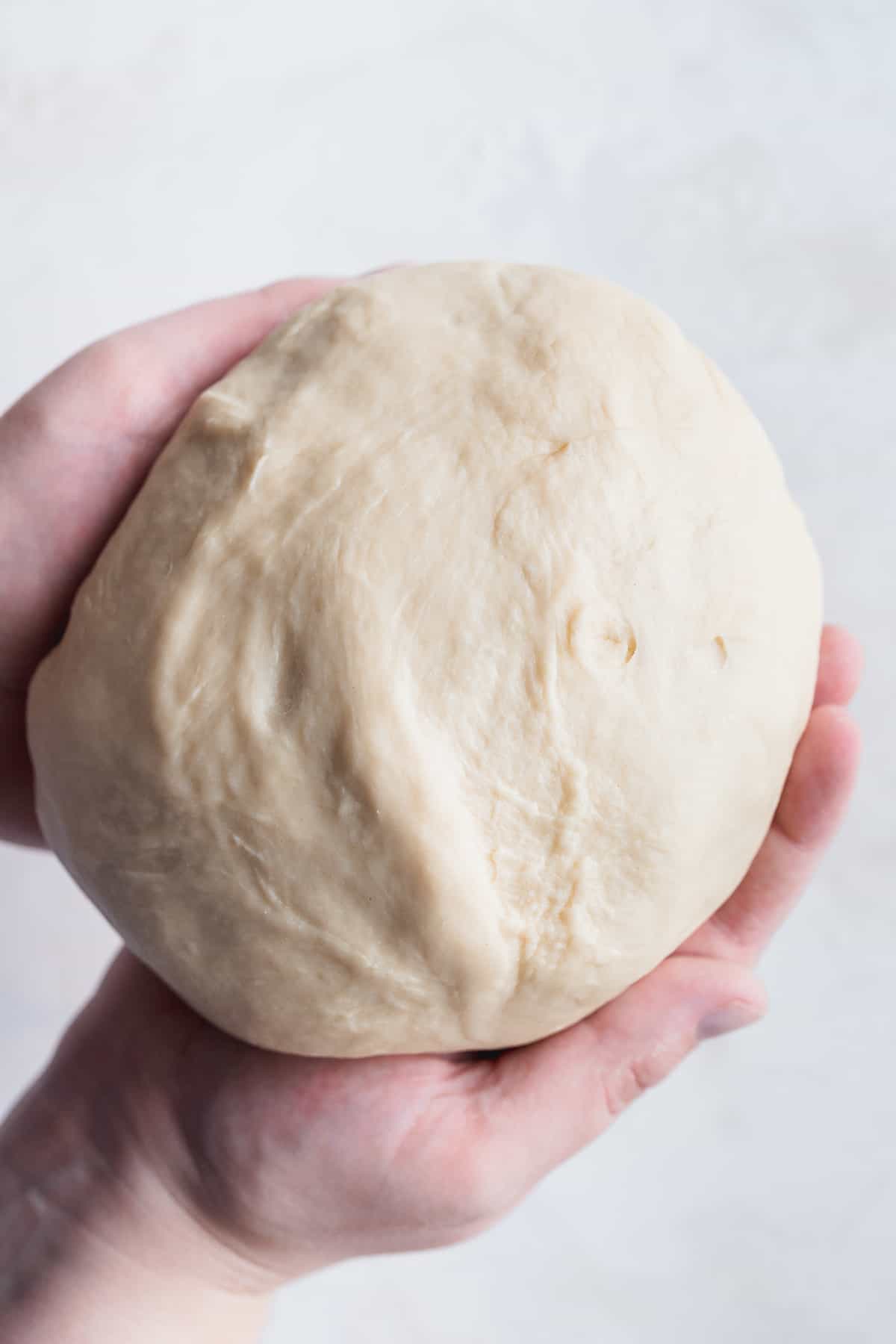 Step By Step Instructions- Frying
STEP 1: Fry the donuts. Next, fry 2 doughnuts at a time. Fry for 1 minute at a time, then flip and fry for another minute. Fry until the doughnuts are lightly golden brown.
You can also fry the donut holes until golden brown.
STEP 2: Decorate the doughnuts. Place the hot fried donuts on a wire rack to cool and drip the excess oil off. Then, dip the donuts in a small bowl of melted butter and a medium bowl or a shallow bowl of cinnamon sugar mixture.
These donuts are best served immediately. They are best with a warm cup of coffee!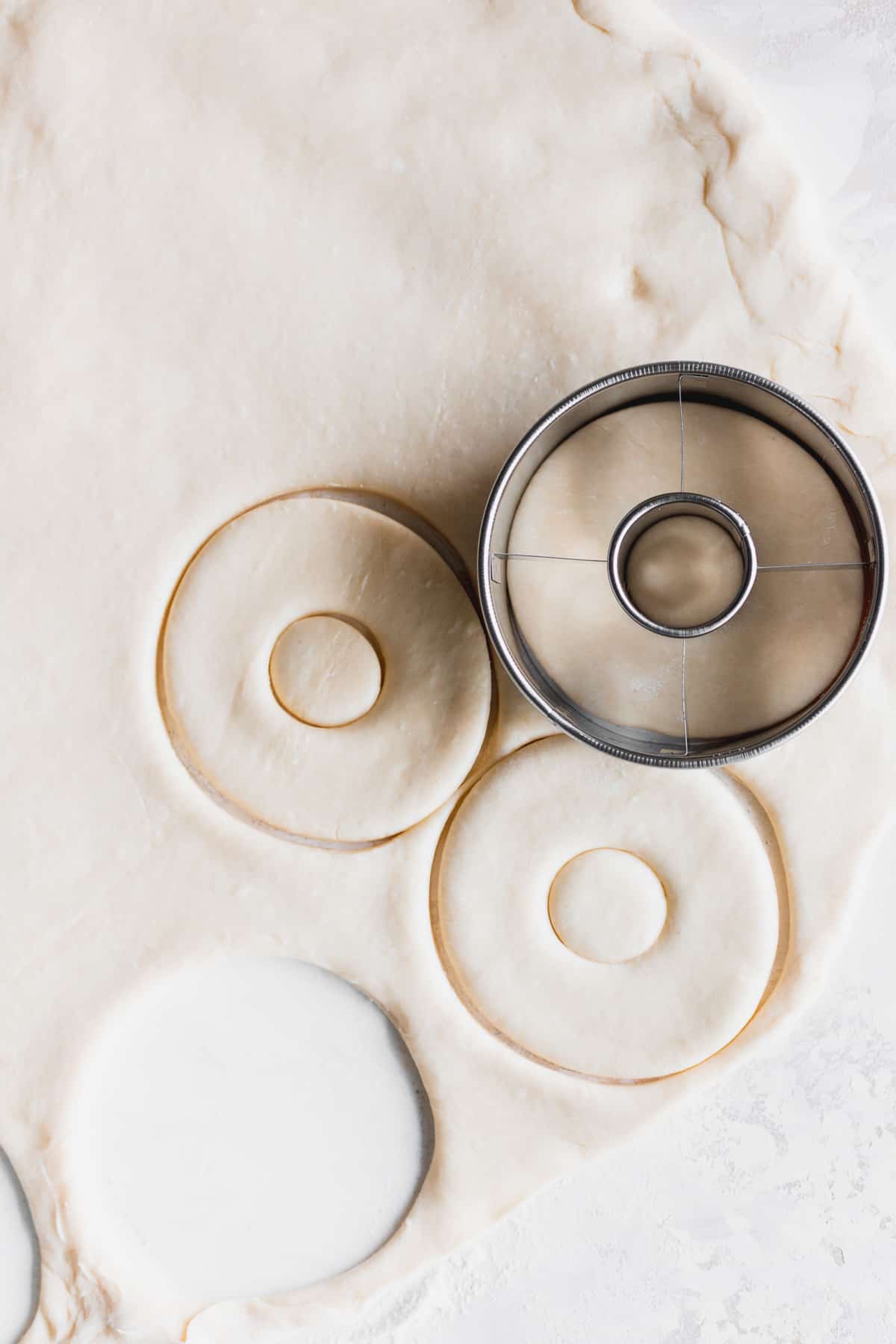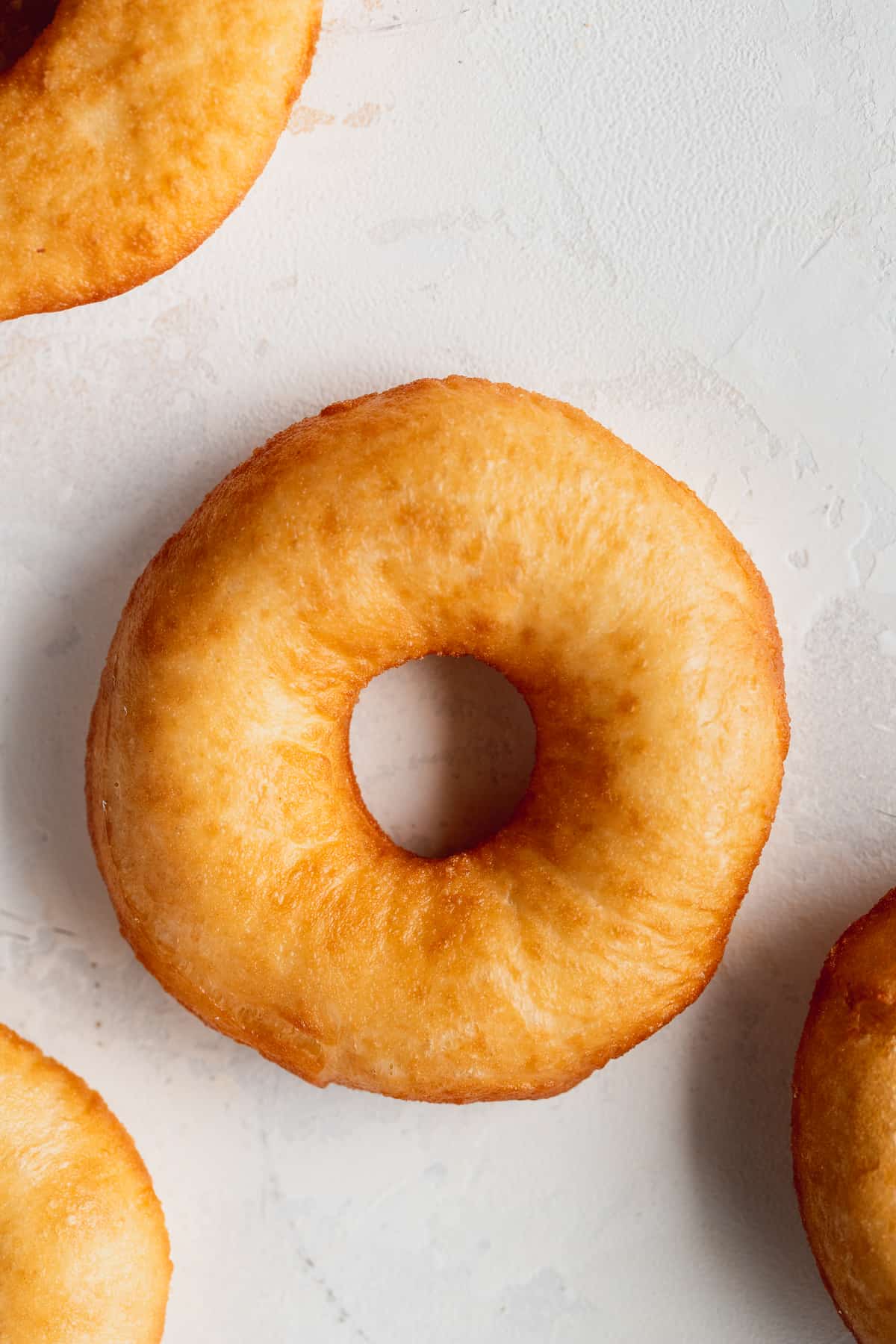 Kneading By Hand Instructions
To make this dough by hand, add all of the ingredients into a large bowl. Then, use a rubber spatula to mix the dough until a dough ball starts to form.
Next, place the dough on a lightly floured surface. Knead by hand for 5-10 minutes. Knead until the dough is tackey in texture.
If you pull the dough very thin and shine at a light and you can see the light through it. This means the gluten has been formed and you can stop kneading.
Follow the rest of the recipe.
Making the Dough Overnight
For the first rise, place the dough in a large bowl spray with nonstick spray. Cover very tightly with plastic wrap. Chill for at least 3 hours or overnight. Don't go past 14 hours.
Follow the rest of the recipe.
Expert Frying Tips
Use a thermometer- This will help to keep the oil at 350F.
Use a large pot- It needs to be deep enough to fry the doughnuts without the dough touching the bottom of the pan.
It is very important to keep the texture at 350F. If it is too hot, it will burn the doughnuts. If it is too cold, the inside of the doughnuts will be raw.
After you fry 2 doughnuts, make sure the heat goes back up to 350F.
Place the doughnuts into the hot oil with the parchment paper. This will make the doughnuts don't get any finger prints in it. Then, you can remove the parchment paper from the oil.
When frying the doughnuts, use a timer, but keep a close on eye on the color. It is very easy to burn doughnuts.
Use a metal spatula to flip the doughnuts.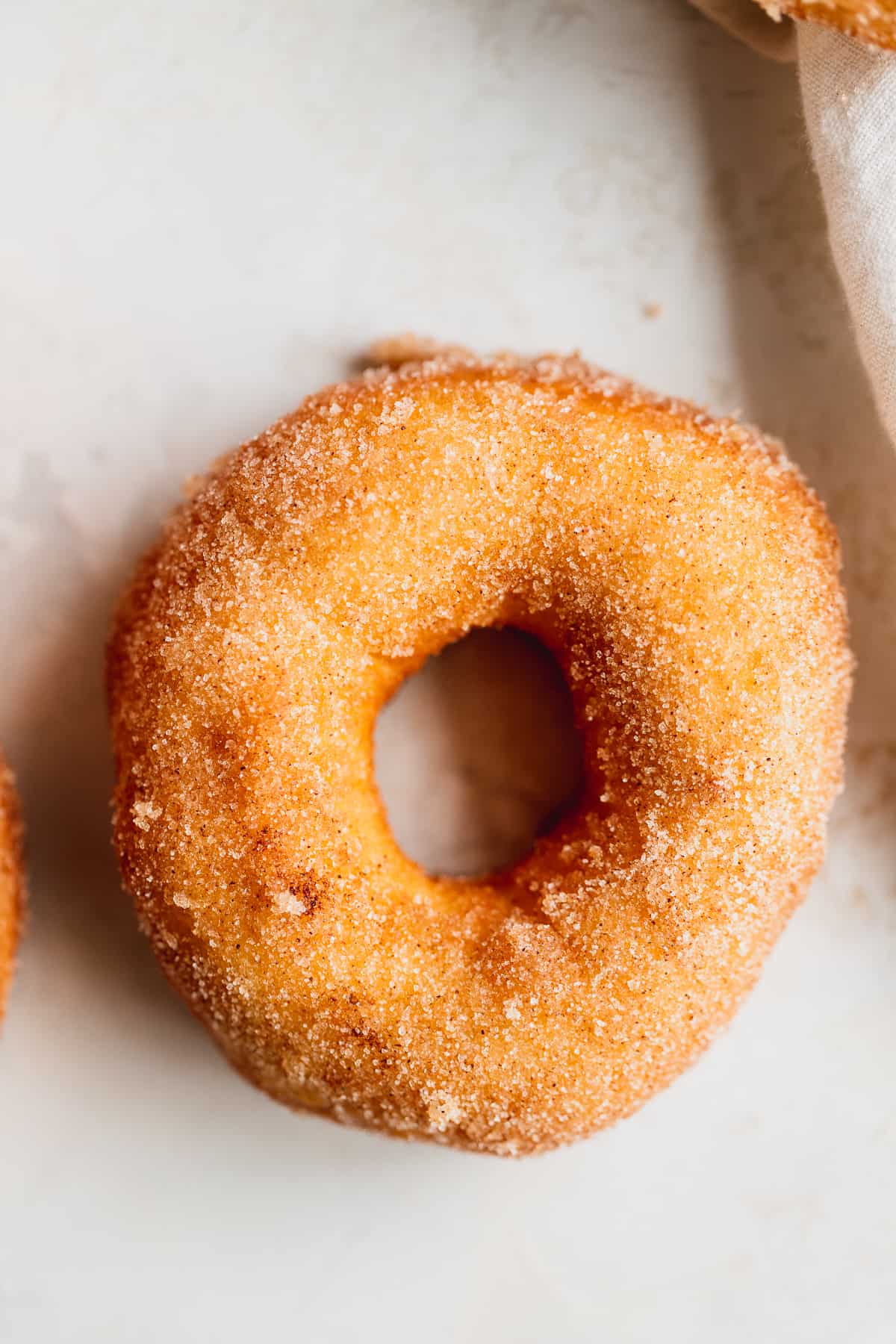 FAQ
Why are my homemade donuts tough?
This is because you are frying these at too low of a temperature. The texture should be very fluffy, make sure the temperature is at 350F.
Can I bake these instead?
No I don't recommend this. Otherwise the texture is going to be more like a bagel versus a fluffy doughnuts
Can I add a glaze?
Yes you can! These doughnuts can be topped with a traditional glaze or chocolate glaze.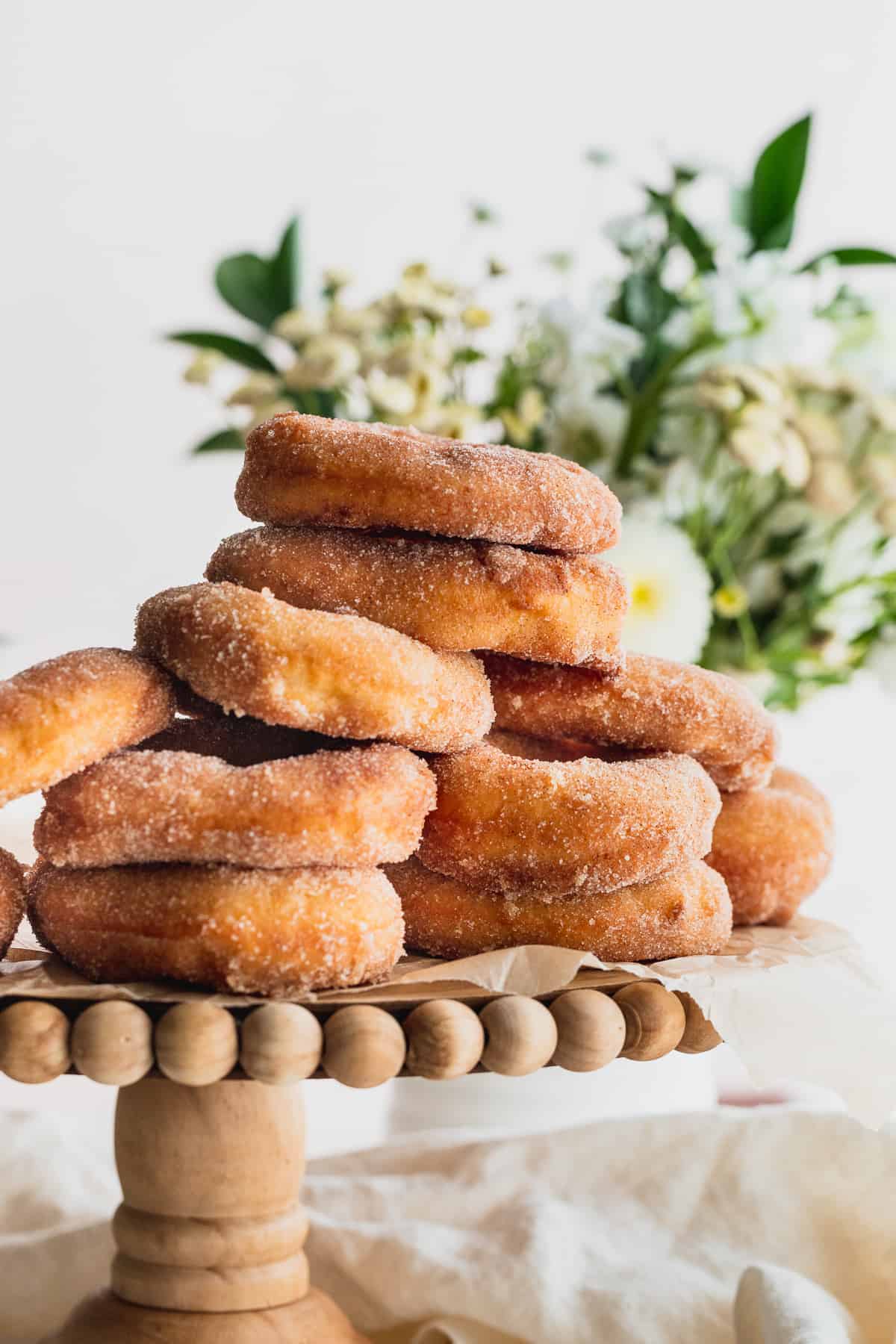 Storing and Freezing
These doughnuts are best served immediately. When frying at home, they don't taste the same the next day. So, I suggest storing in an airtight container up to 2 days.
These donuts cannot be frozen.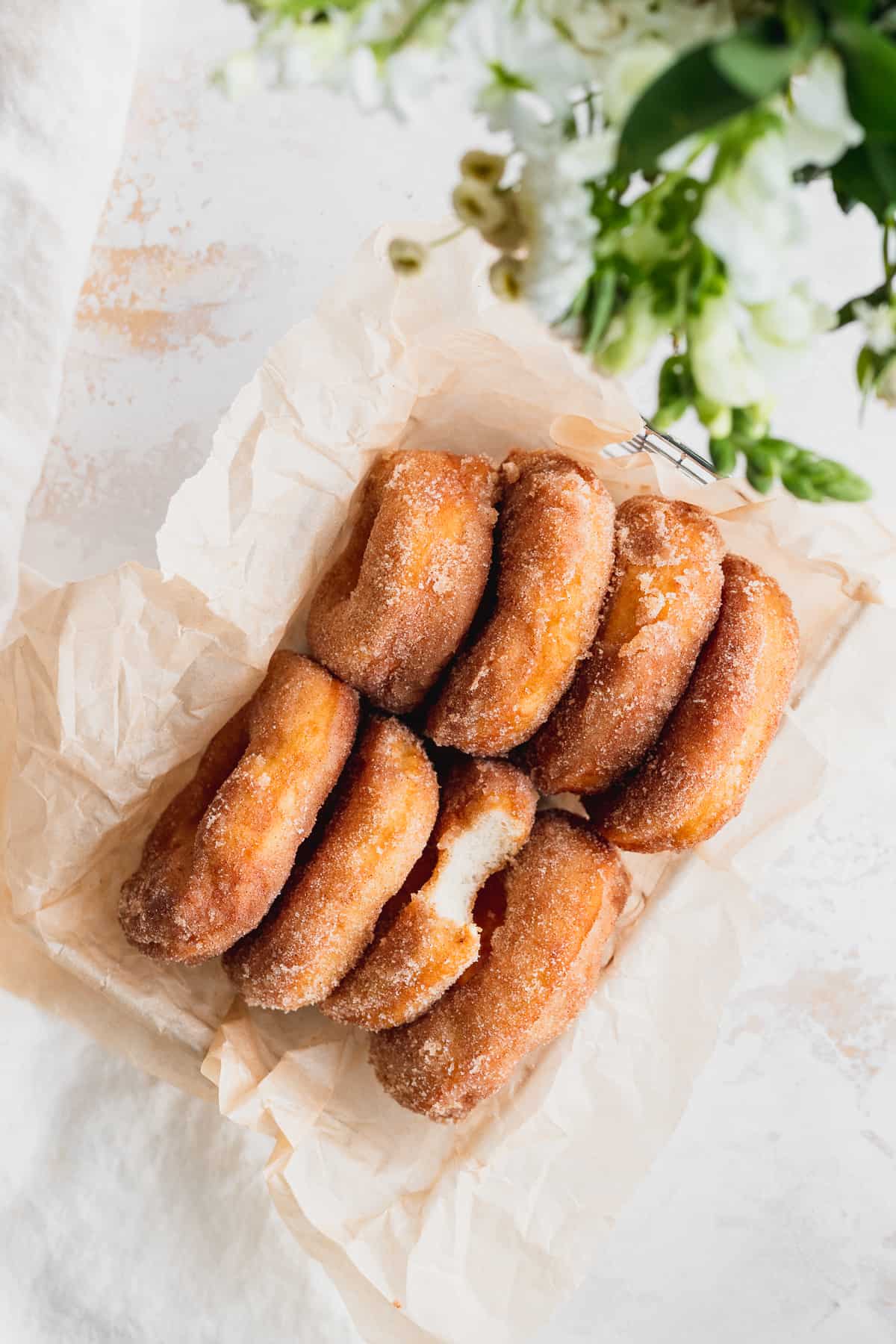 Other Breakfast Recipes To Try
Make sure to leave a STAR REVIEW if you loved this recipe! Make sure to tag me on Instagram @stephaniesweettreats. To get more ideas follow me on Pinterest.
📖 Recipe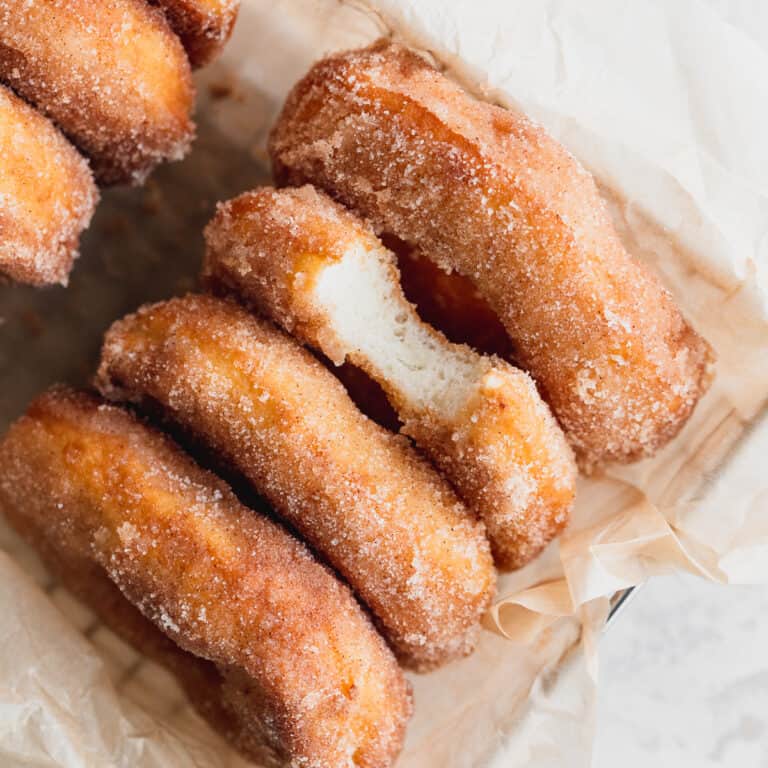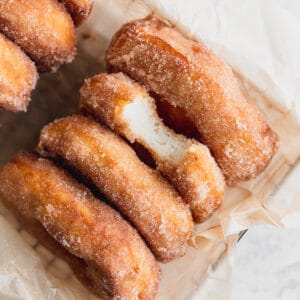 Cinnamon Sugar Doughnuts
These fried doughnuts are super fluffy and easy to make. They are coated in melted butter and cinnamon sugar. They are SO much better than bakery doughnuts.
Ingredients
Dough
½

teaspoon

Salt

¼

cup

White granulated sugar

2 ¼

teaspoon

Fast rise yeast

a whole packet

½

teaspoon

Pure vanilla extract

4

tablespoon

Unsalted butter

melted

1

cup

Milk

warmed to 110°F

1

Large egg

room temperature and slightly beaten

3 ¾

cup

All-purpose flour

6

cups

Oil

canola or vegetable for frying
Topping
½

cup

Unsalted butter

melted

1

cup

White granulated sugar

2

teaspoon

Ground cinnamon
Instructions
Dough
In a large bowl, sift flour and set aside. Heat butter in the microwave until melted. Let sit for 4 minutes to slightly cool. Heat milk in the microwave for 1 minute until 110°F. Too hot or too cold milk can either kill or slow the yeast.

Use a stand mixer, and mix salt, sugar, yeast, vanilla, beaten egg, milk, and butter together. Switch to a dough hook and add in all of the flour.

Mix on low until a dough forms. Switch to medium and let it knead the dough for 5 minutes. Halfway through check to see how sticky the dough is. It should be tacky and not sticking to your fingers. Add ⅛ cup of flour at a time until it is no longer sticky.

Place dough ball into a large mixing bowl sprayed with nonstick spray. Cover with cling wrap and let it rise for 1 hour. Transfer to the fridge and let chill overnight.

Roll the dough out on a lightly floured surface until it is ⅛-1/4 inch thick. Use a doughnut cutter (about 3 ½ inch diameter biscuit cutter) and cut out doughnuts. You can re roll the dough once to get more doughnuts. Save the centers of the doughnuts for doughnut holes.

Place the doughnuts on a cutting board or a sprayed cookie sheet. Wrap in cling wrap. Let rise for 2 hours.

Heat oil in a deep pot over medium. Heat until oil is 350°F. Use a thermometer to watch the temperature the whole time. It should be right at 350°F.

Fry 2 doughnuts at a time. Cook them 1 minute per side. Heat until each side is lightly golden. I used a metal spatula to flip them. Once done. Try to drip off as much oil as you can. Place on a cooling rack lined with paper towel to soak up the oil. Let the oil get back to 350°F before frying the next batch.
Topping
Let the doughnuts cool slightly. Prepare one bowl with melted butter and another bowl with sugar and cinnamon. Dip each doughnut and doughnut holes in melted butter and coat in cinnamon sugar. Place back on cooling rack. These are best enjoyed fresh!
Notes
These doughnuts can be made by hand.
Mix the wet ingredients together. Add in the flour and use a rubber spatula to fold until a dough forms. Transfer dough to a lightly floured surface. Knead for 10 minutes and follow rest of instructions. 
Nutrition
Calories:
369
kcal
Carbohydrates:
57
g
Protein:
5
g
Fat:
14
g
Saturated Fat:
8
g
Trans Fat:
1
g
Cholesterol:
35
mg
Sodium:
118
mg
Potassium:
81
mg
Fiber:
1
g
Sugar:
24
g
Vitamin A:
422
IU
Vitamin C:
1
mg
Calcium:
39
mg
Iron:
2
mg