This peanut butter cheesecake is the ULTIMATE cheesecake recipe! The best part about this cheesecake is that it has a Nutter Butter crust! In the middle is the lightest and creamiest peanut butter cheesecake. It is topped with chocolate and extra Nutter Butters. If you are a peanut butter lover, then you need this!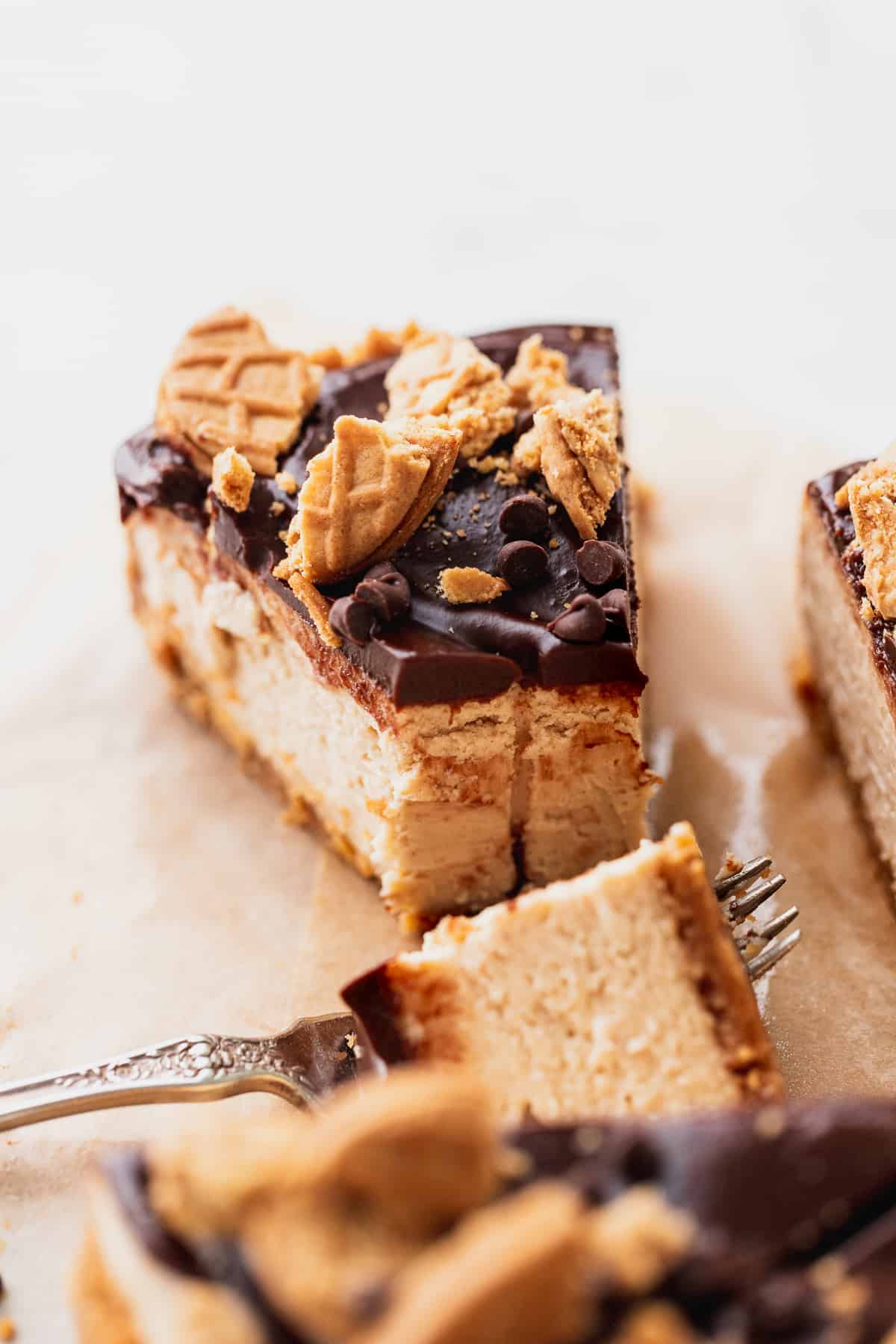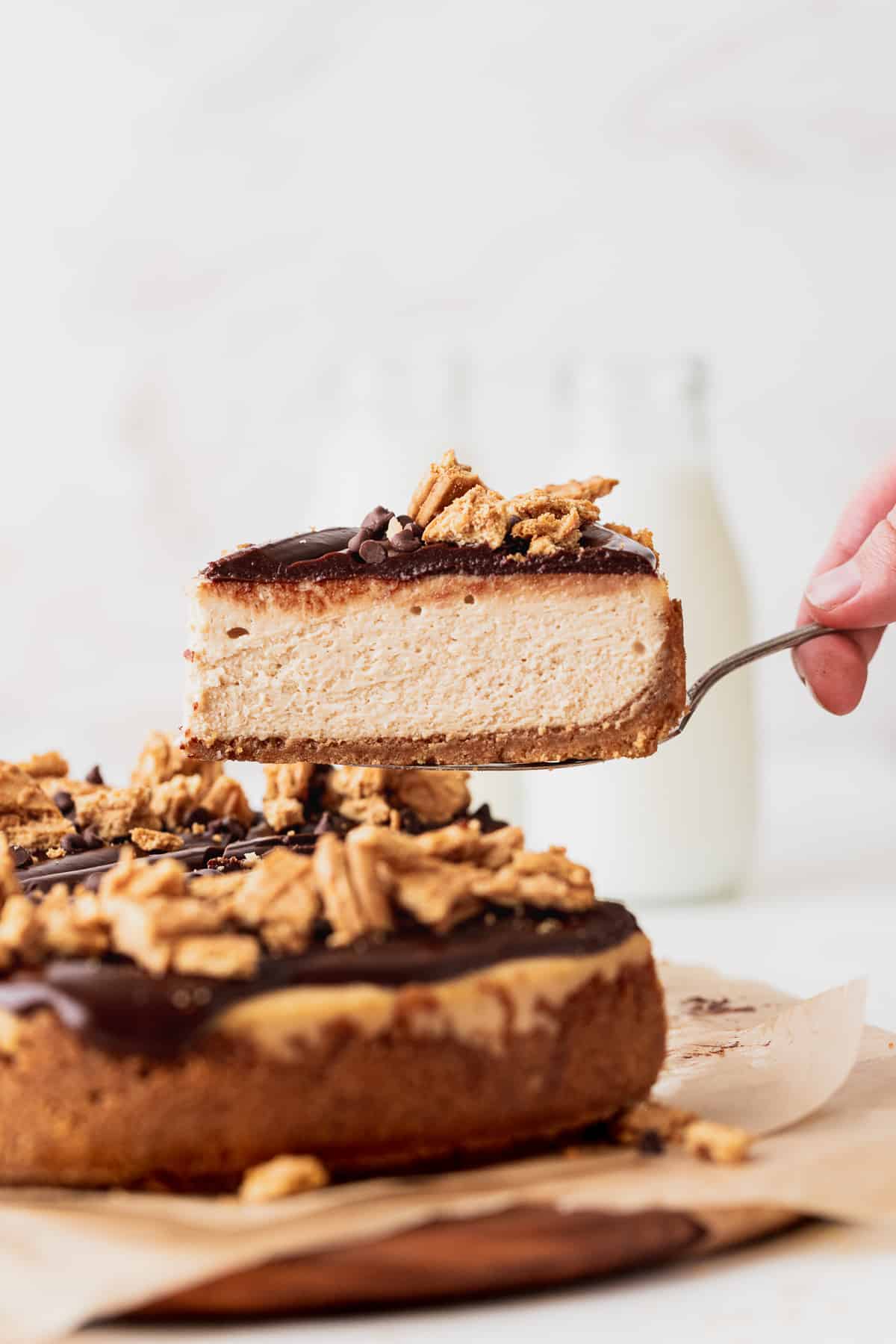 Jump to:
Nutter Butter Crust
When I was thinking of how to make a more unique peanut butter cheesecake I immediately thought of Nutter Butters. They work just like Oreos for a crust. They give it such a strong peanut butter flavor. Luckily you only need 2 ingredients!
Nutter Butters. Use the regular sized and not the minis.
Melted butter
First, crush the Nutter Butters using a blender. It needs to be a very fine crumb. Next, stir in the melted butter. It is best mixed together using a work.
Then, pour the crust into the springform pan. Use the back of a measuring cup (or anything flat and circular) to compact the crust. It should go halfway up the sides of the pan. Bake the crust for 10 minutes to prevent a soggy crust.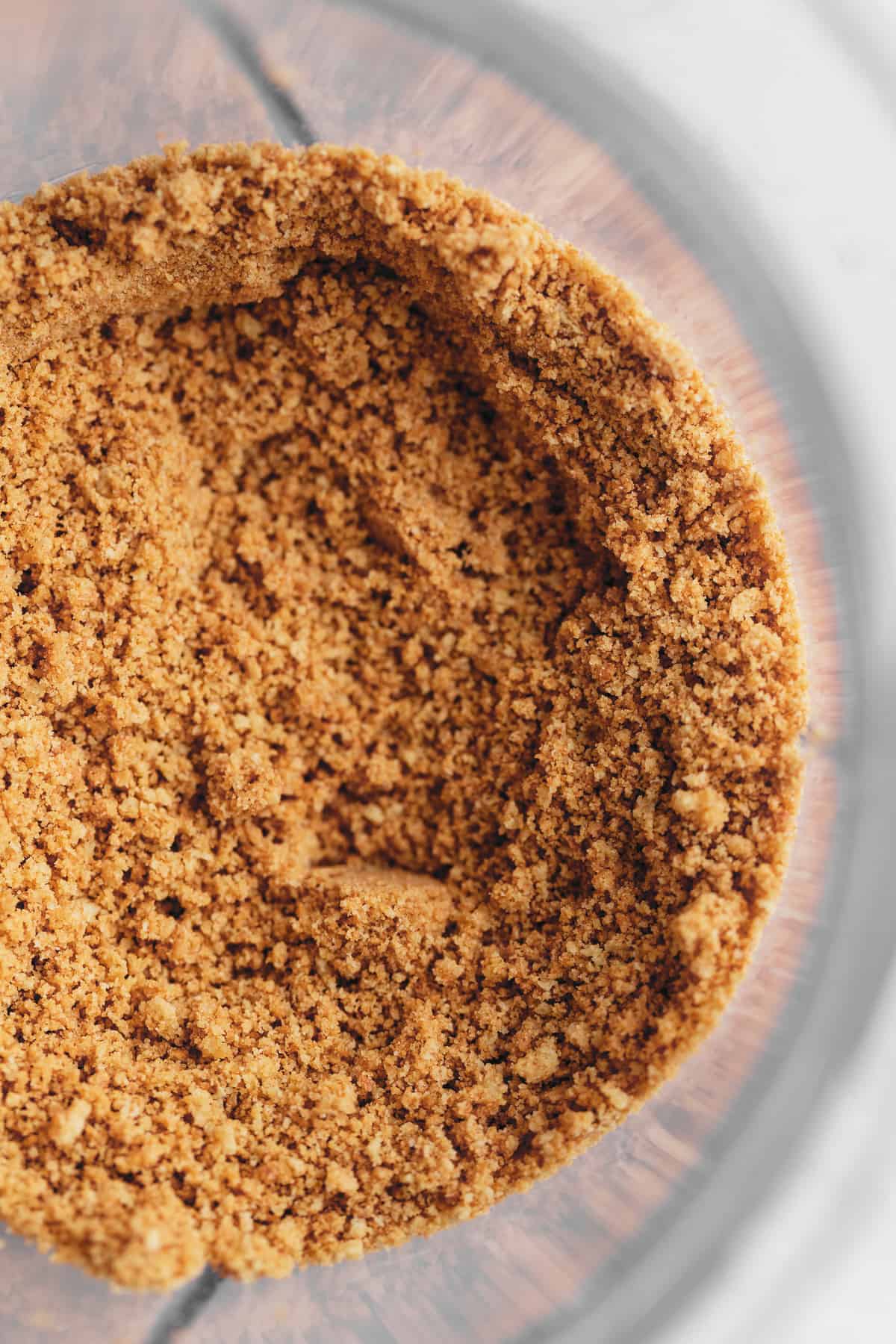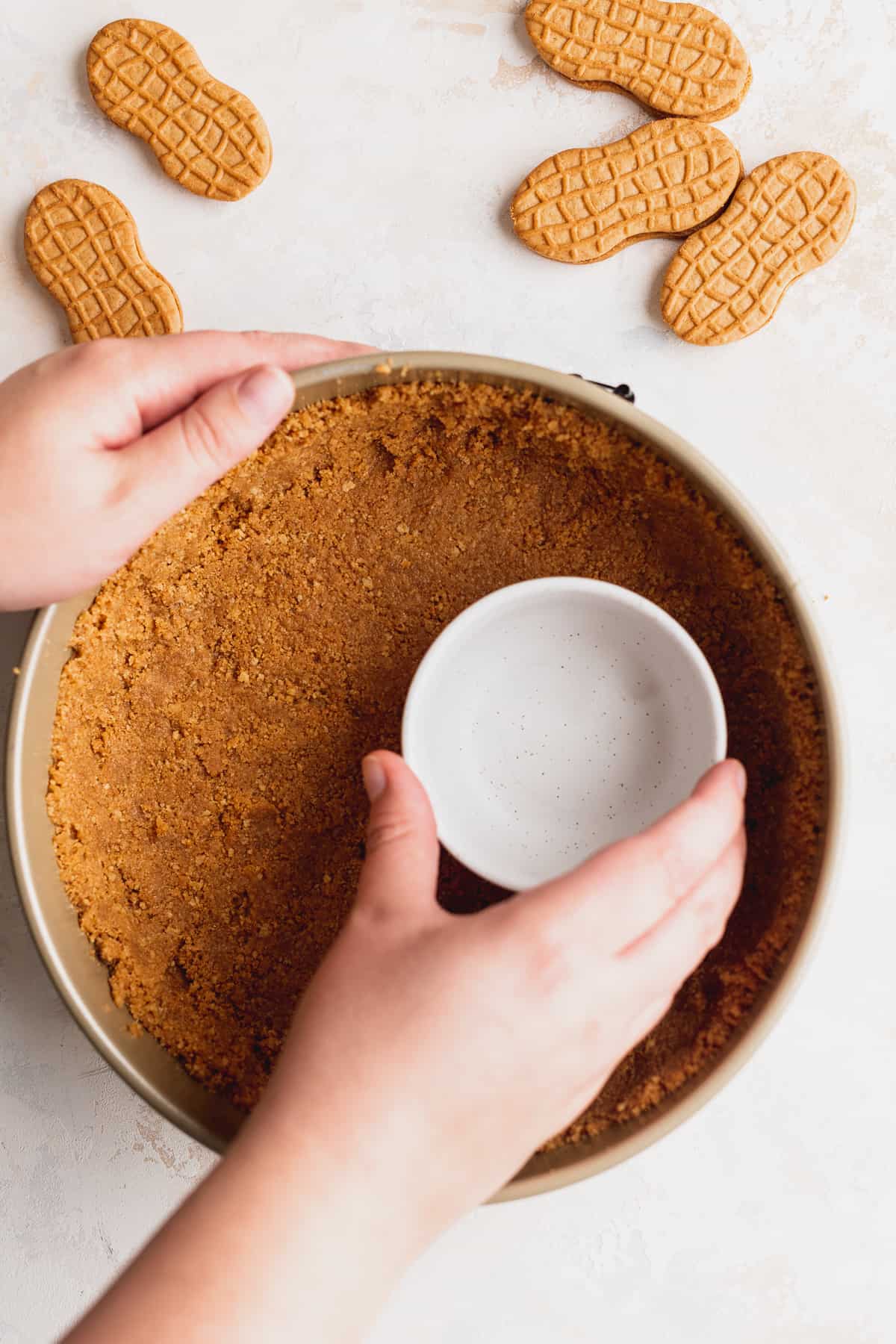 Tips To Make The Cheesecake Batter
Room temperature ingredients- Pull out all the dairy ingredients out at least 2 hours before baking. The cream cheese, sour cream, heavy cream, and the eggs. If any of these are too cold, you will get a lumpy batter.
Full fat ingredients- Use full fat cream cheese, sour cream, and heavy cream. If you use less fat on any of these it will dramatically change the texture and bake.
Peanut butter- Use JIF or Skippy creamy peanut butter. Natural peanut butter is too loose of a texture for this recipe.
Beat cream cheese, sugar, peanut butter- Add these in one at a time, but these all need to be beaten on high. The goal is to make the mixture as creamy as possible.
Add in sour cream, heavy cream, and vanilla- Mix these in, and make sure it is super smooth batter at this point. Lumps can't be fixed after adding in the eggs
Add in the eggs- The eggs need to be mixed in one at a time. Mix these in on low. Right before the last egg is mixed in, scrape the bowl to make sure it is all combined. Stop mixing once just combined. Adding too much air at this step will cause air bubbles that lead to cracked cheesecake.
Scrape the bowl- Scrape the bowl often during this process. This step is crucial.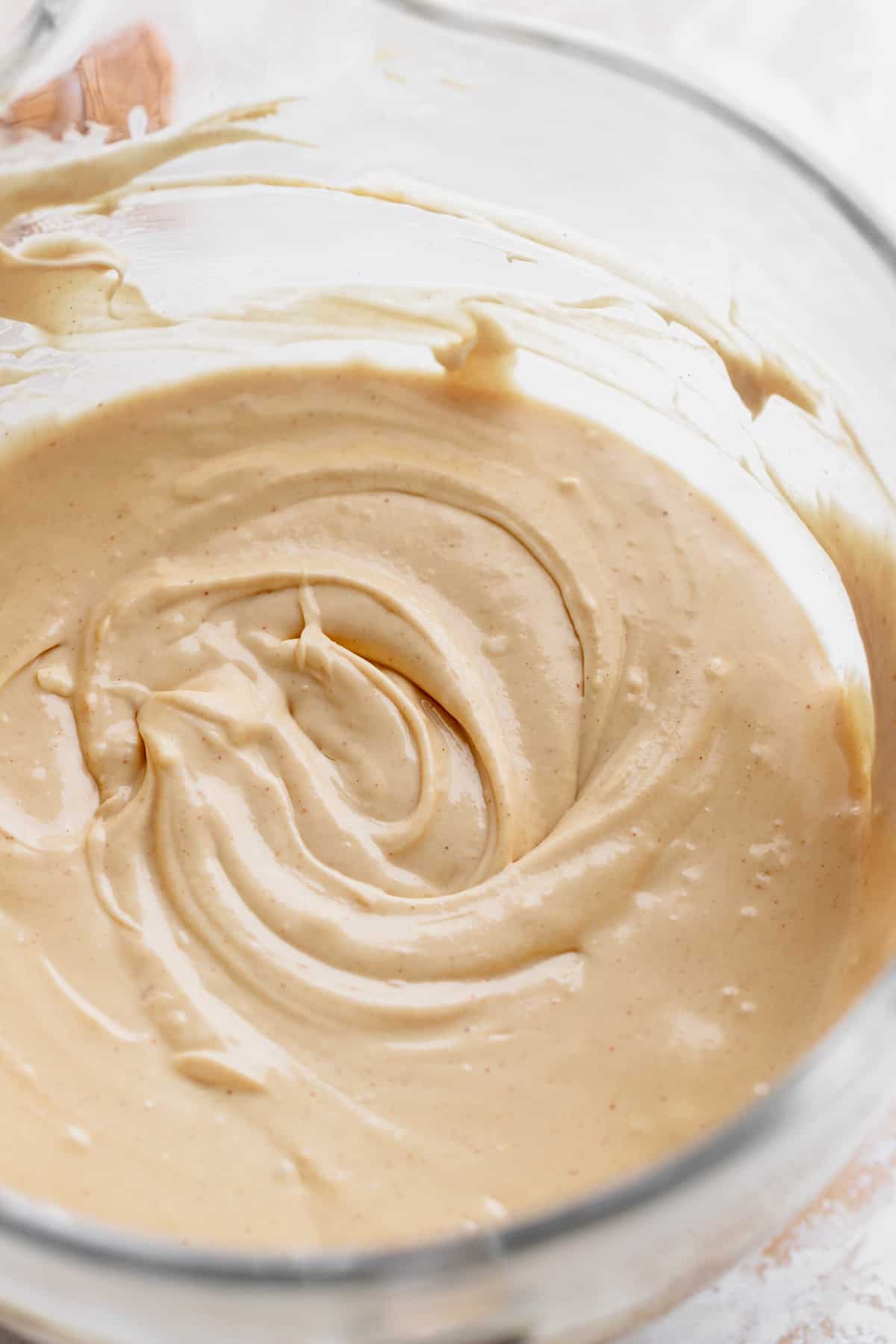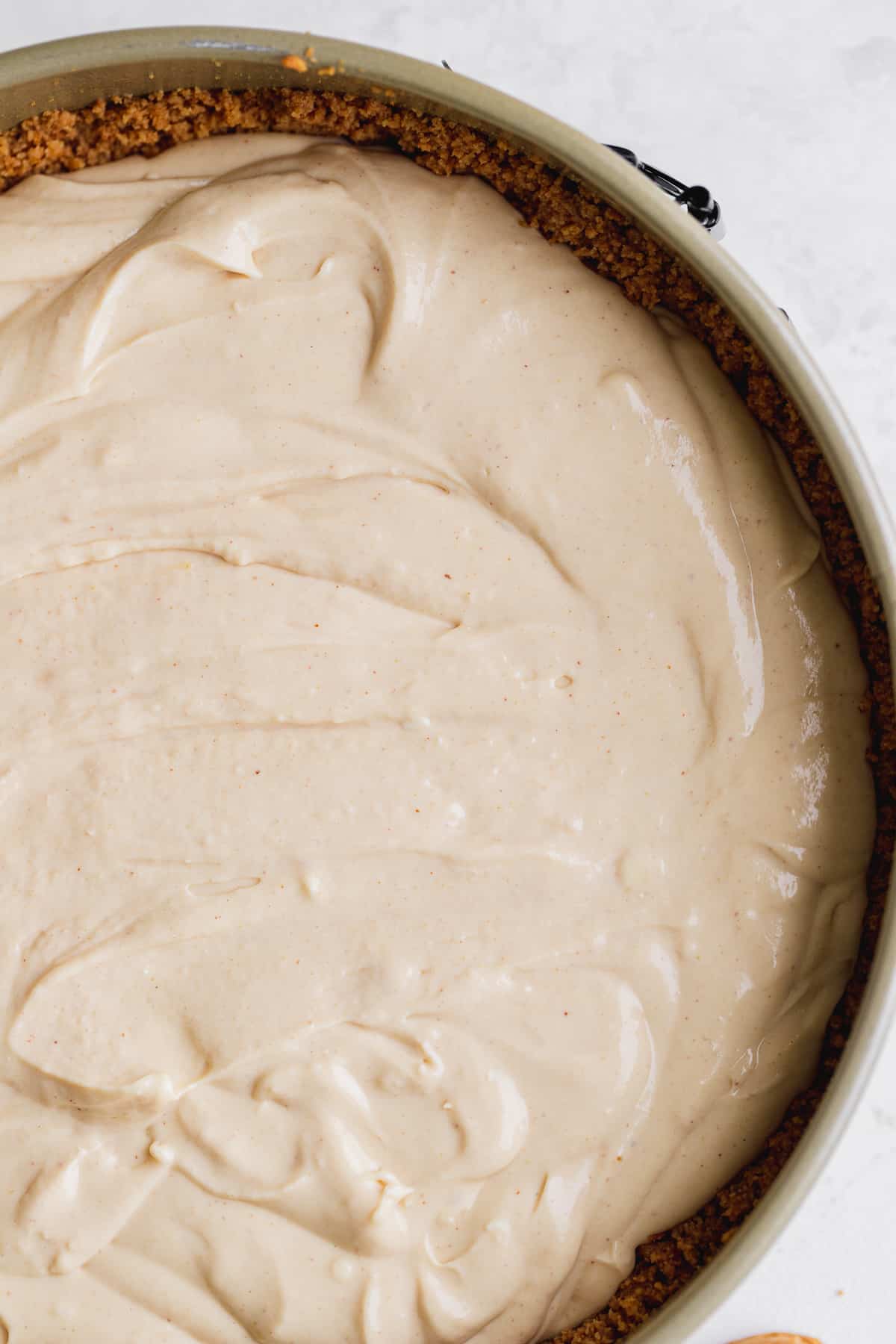 Water Bath Techniques
There are two different water bath techniques. Both require a large roasting pan and hot boiling water.
The first technique is my favorite because it keeps the cheesecake 100% safe from a soggy crust from the water. Place the springform pan inside a 10 inch cake pan. Then, place both in the roasting pan. Fill with the boiling water.
The second technique is to wrap the cheesecake pan tightly with foil. I find that no matter how tightly I wrap, some water still somehow gets in.
Either way you do it, the cheesecake needs a moist atmosphere while baking to prevent it from cracking.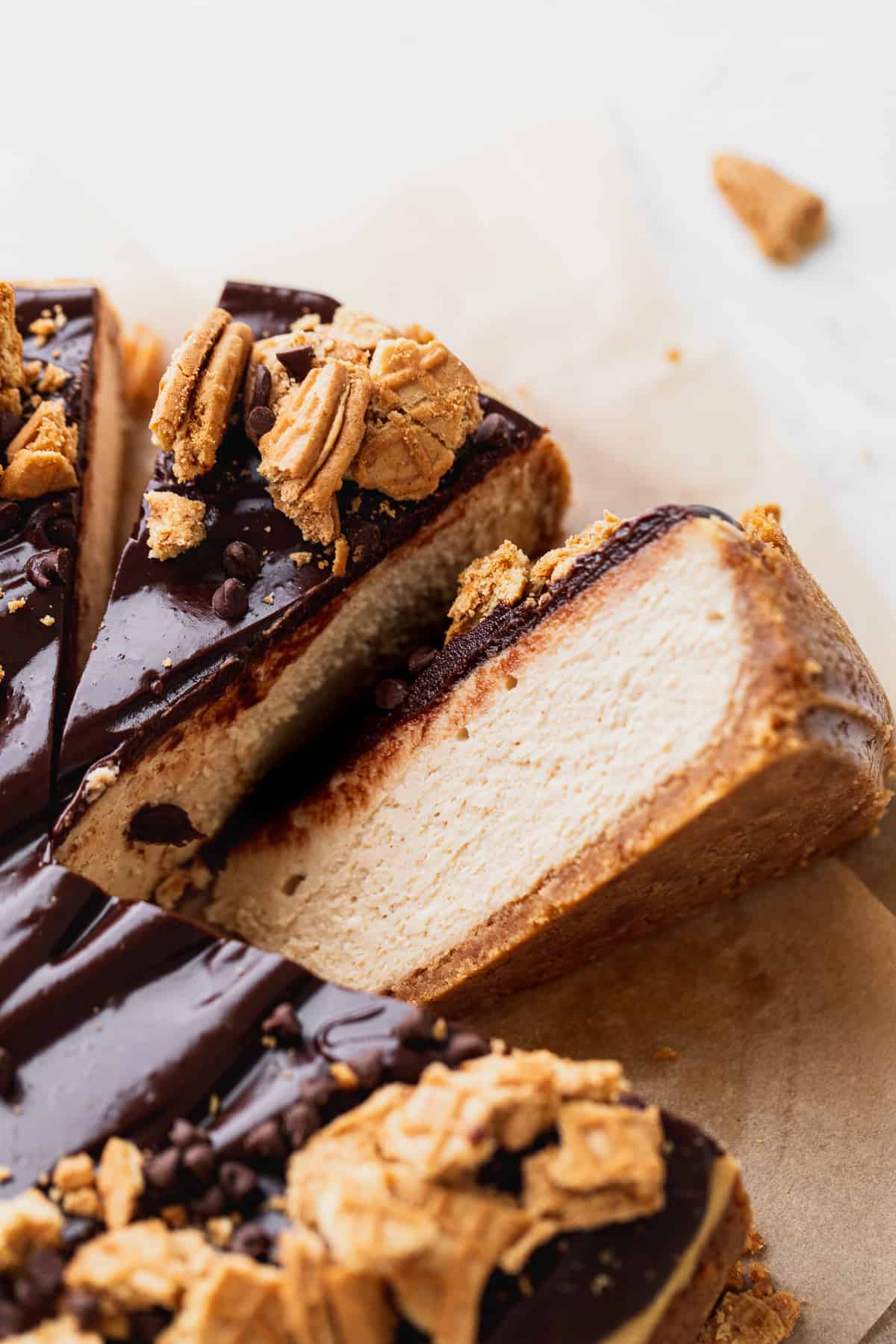 Baking The Cheesecake
Bake the cheesecake for 70-80 minutes. If there is a big jiggle in the middle of the cheesecake, bake for another 10 minutes.
Chilling The Cheesecake
There are 3 steps in the peanut butter cheesecake cooling process. First, is when it is first done cooking. Turn the oven off, crack open the oven door, and let it sit for 30 minutes. This allows the cheesecake to very slowly cool. If it cools too fast, it will crack.
The second step is letting it get to room temperature on a cooling rack. If you place a hot cheesecake in the fridge, the temperature difference will cause it to crack. Let it cool completely.
The third step is to chill in the fridge overnight. You can do 6 hours of chill time, but I strongly recommended an over night chill. While it chills, the texture completely changes. It becomes denser and the flavor intensifies.
Decorating
Once the cheesecake is completely cool, top with the chocolate ganache. After it is covered, place it in the fridge for 10 minutes before adding your extra toppings.
I chose to top this cheesecake with Nutter Butter pieces and mini chocolate chips. It gave it a little extra crunch. Feel free to top with whatever you would like!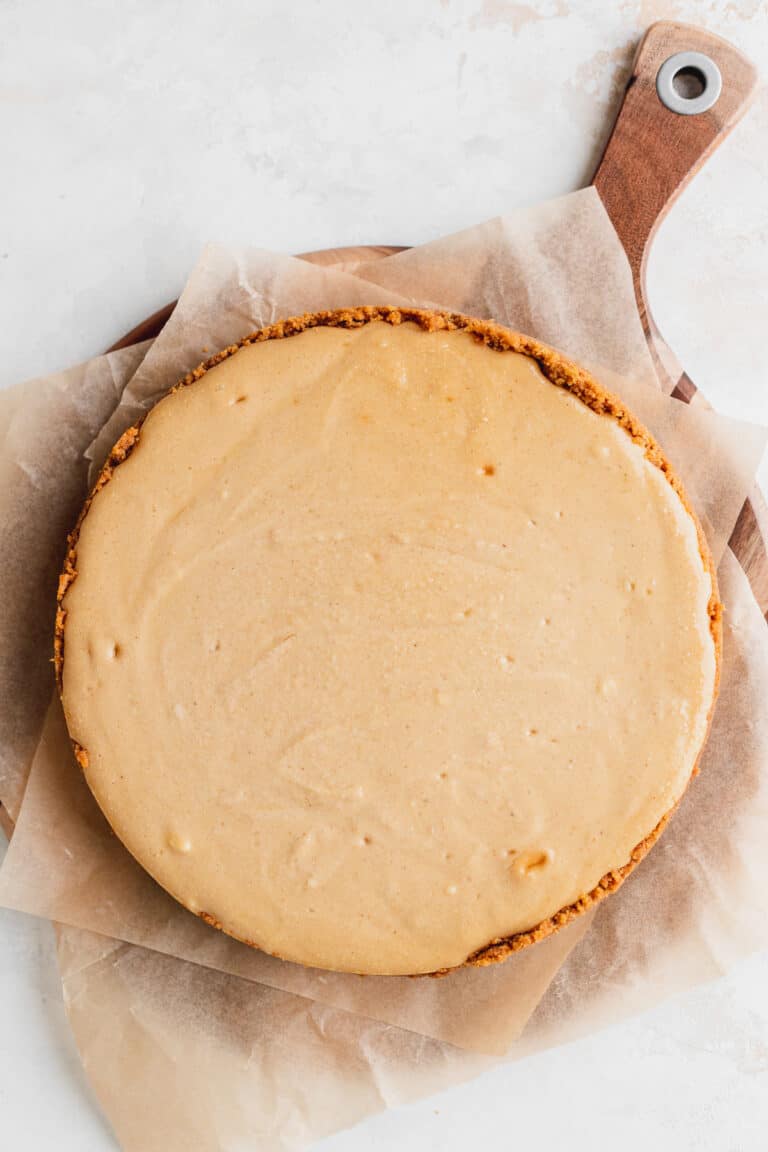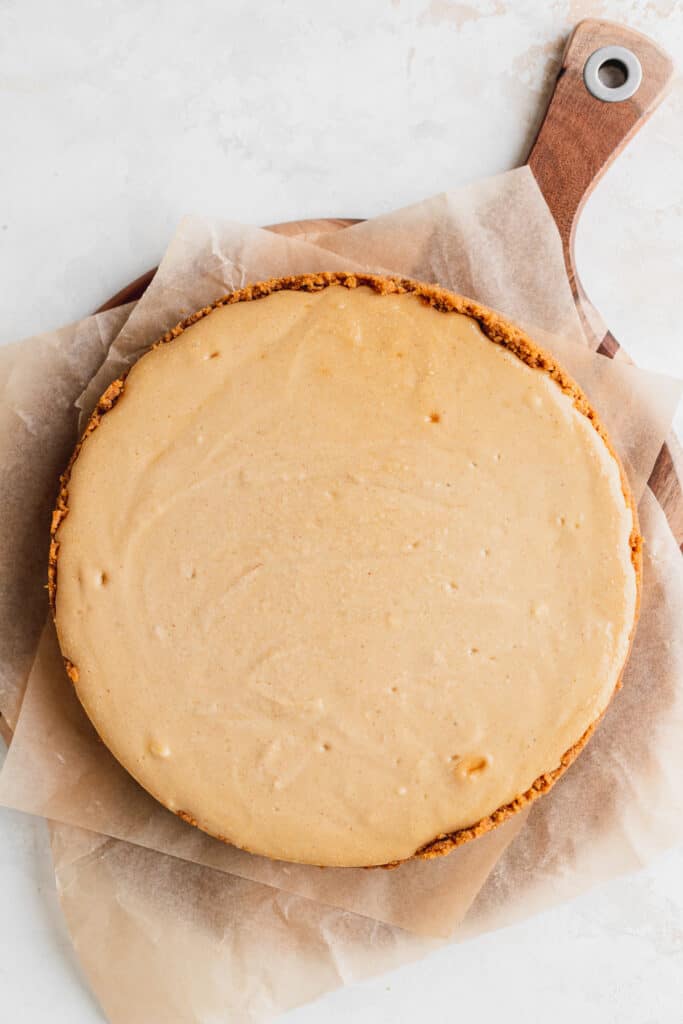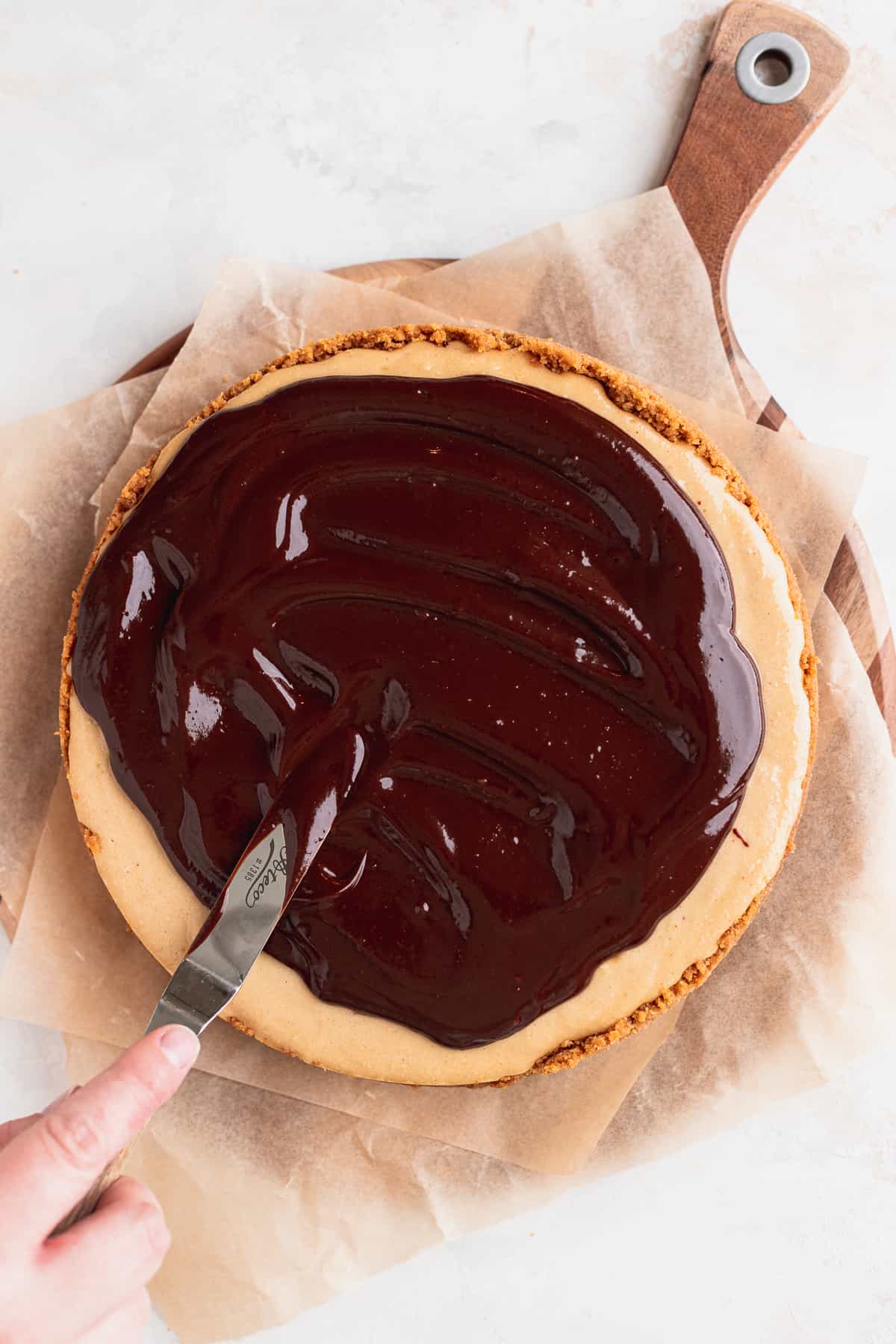 FAQ
What type of pan to use?
Use a 9 inch spring form pan. To prevent the cheesecake from sticking in the pan, use a baking non-stick spray and a parchment paper on the bottom of the pan. Don't forget to remove the pan and parchment paper once it is time to decorate.
Do I have to use a water bath?
Yes. The water bath will keep the cheesecake moist and soft. Without it, it can overbake and the texture will completely change.
What happens if my cheesecake cracks?
Not to worry! The chocolate ganache will cover up all cracks!
Storing and Freezing
Store this peanut butter cheesecake in the fridge in an air tight container like a cake carrier. It will last up to 5 days.
Freezing
You can freeze this peanut butter cheesecake to enjoy later. Especially if you are making this ahead of time before a special event. After the cheesecake originally chills in the fridge overnight, wrap very tightly in cling wrap and foil. (Take out the pan and parchment paper) Place in the freezer up to 30 days.
To thaw, place in the fridge up to 24 hours before serving. Decorate after it thaws.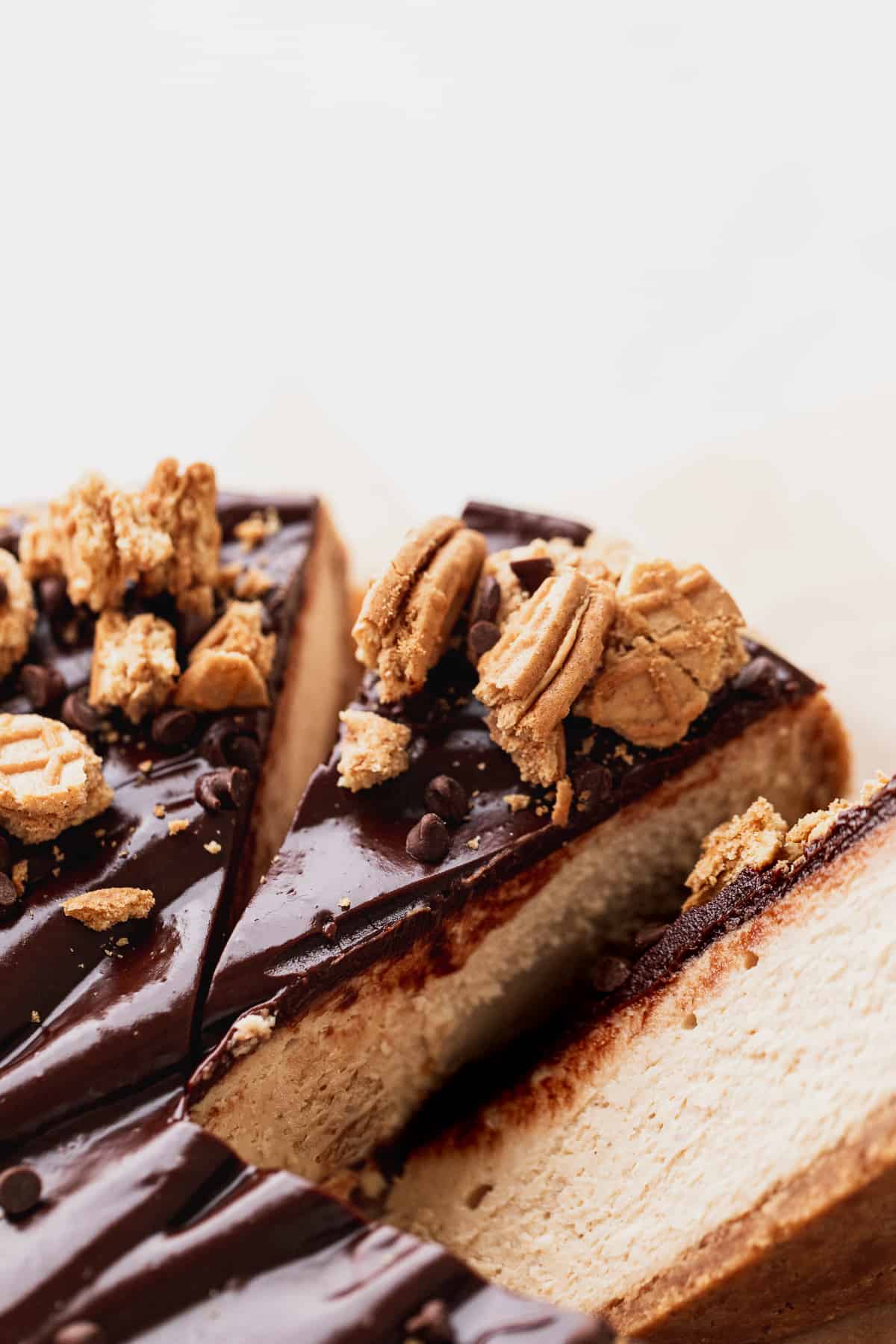 Try Out These Recipes!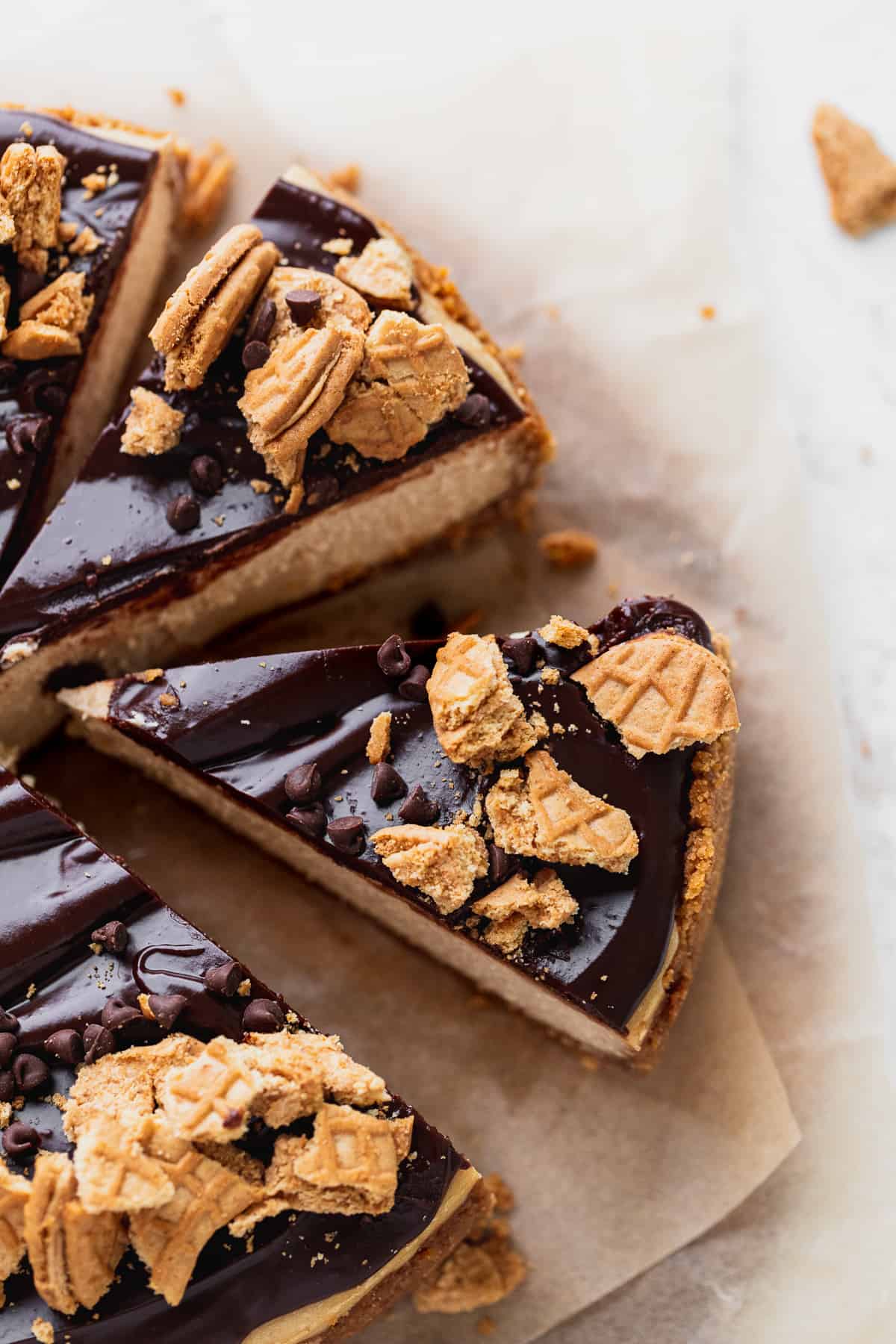 Make sure to leave me a star review below!
Make sure to tag me on Instagram @stephaniesweettreats. I hope you loved it! To get more ideas follow me on Pinterest.
📖 Recipe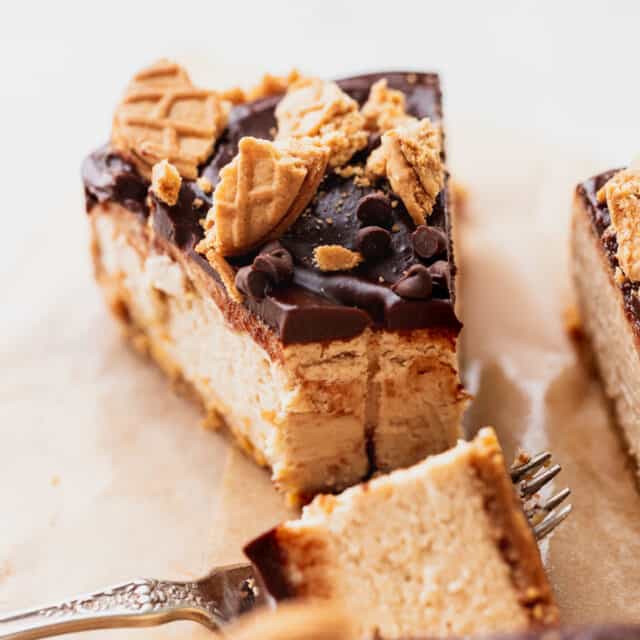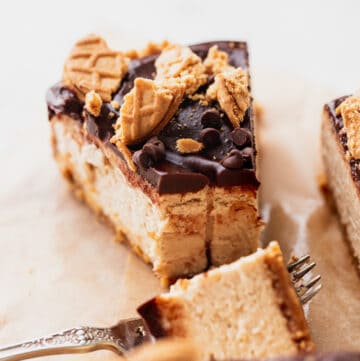 Peanut Butter Cheesecake
This peanut butter cheesecake has a Nutter Butter crust with a creamy baked cheesecake. It is topped with chocolate ganache and extra Nutter Butters.
Ingredients
Nutter Butter Crust
22

Nutter Butters

regular sized cookies, fine crumb

½

cup

Unsalted butter

melted
Peanut Butter Cheesecake
24

oz

Cream cheese

room temperature

¾

cup

White granulated sugar

1

cup

Peanut butter

creamy

½

cup

Sour cream

room temperature

¼

cup

Heavy cream

room temperature

1

teaspoon

Pure vanilla extract

3

Large eggs

room temperature
Chocolate Ganache
1

cup

Semi-sweet chocolate chips

½

cup

Heavy cream

Nutter Butter pieces

for decoration
Instructions
Nutter Butter Crust
Preheat oven to 325°F. Spray a 9 inch springform pan with baking non-stick spray. Line the bottom with a parchment circle. Spray again.

Place cookies into a food processor/blender. Pulse until fine crumbs. Combine crumbs with melted butter. Mix with a fork. Pour crumbs into pan. Use hand to press down the crust ½ way up the sides. Use the back of a measuring cup to compact the crust.
Peanut Butter Cheesecake
Using a mixer, beat the cream cheese on high for 1 minute. Scrape the bowl and add in the sugar and beat on high for 30 seconds. Add in the peanut butter and beat on high for 30 seconds. Scrape the bowl. Mix until the peanut butter is completely combined.

Add in sour cream, heavy cream, and vanilla. Mix on medium until combined. Add in the eggs one at a time. Mix on low until just combined. After you add the last egg, scrape the bowl.

Pour cheesecake batter into the pan. Prepare water bath.

Two ways to do a water bath. Both require boiling/steaming water and a large roasting pan.

1. Place spring form pan inside a 10 inch cake pan. Place cake pan into roasting pan and pour halfway up with hot water. I prefer this so no water gets into the pan.

2. Wrap springform pan with foil twice. Wrap tightly. Place pan into roasting pan. Fill halfway with hot water.

Bake for 70-80 minutes. Bake until the edges are set and the middle has a slight jiggle.

Turn off the oven, and prop open the oven door. Let the cheesecake slightly cool for 30 minutes to prevent cracks. Transfer to a cooling rack. Allow to cool completely. Cover and chill in the fridge for 6 hours or overnight.
Chocolate Ganache
Pour chocolate chips into a small bowl. Heat the heavy cream into a sauce pan on medium-low heat. Heat until hot and steaming. Pour hot cream over the chocolate chips. Let sit for 1 minute and 30 seconds.

Mix until chocolate is combined. If any chocolate chip chunks remain heat in the microwave in 10 seconds intervals until melted.

Take the pan off the cheesecake and remove the parchment circle. Pour the chocolate ganache over the cheesecake. For drips down the side, use an offset spatula to push the chocolate over the edge. Top with Nutter Butter pieces. Keep cold.
Nutrition
Calories:
446
kcal
Carbohydrates:
21
g
Protein:
8
g
Fat:
38
g
Saturated Fat:
19
g
Trans Fat:
1
g
Cholesterol:
82
mg
Sodium:
223
mg
Potassium:
248
mg
Fiber:
2
g
Sugar:
17
g
Vitamin A:
963
IU
Vitamin C:
1
mg
Calcium:
73
mg
Iron:
1
mg